The first time I visited Universal Volcano Bay water park with two teens, I had so many questions before we went. Could we get a locker, how hard was it to get chairs, how does the wristband work, do we need towels, how do we get to Volcano Bay, could we take an Uber?? You get the idea. I took careful notes so that I could share our best Universal Volcano Bay tips with you!
Before I get into the tips, I have to say that Volcano Bay is a class apart from every other waterpark I've visited. It is not often that I can sit in a waterpark, listen to gentle island music, watch the palm fronds sway above, and listen to the splash of a waterfall and actually relax.
Yet somehow, Universal Orlando's Volcano Bay has created an island oasis smack dab next to a highway and nestled up against a mega-resort hotel and theme park.
Don't get me wrong, you won't feel that relaxed throughout the whole park — with its crowded walkways, lines that aren't supposed to be lines, and energetic free-for-all when it comes to snagging a tube on the lazy rivers. That part — not so relaxing. But if you stick to Waturi Beach in front of the massive wave pool and namesake Krakatau Volcano, then you're good.
About Universal Volcano Bay
Universal Orlando's Volcano Bay opened in late May 2017 to much acclaim and high expectations. They turned the water park world on its head with the new Tapu Tapu wristband technology and extensive theming.
The idea behind Volcano Bay is the story of the Waturi people — a fictional Polynesian-type culture that "Water is Life and Life is Joy." Universal Orlando Volcano Bay strives hard to extend this theming from the design, food, experiences, and even music.
With 18 experiences, Volcano Bay now offers the most rides of any Orlando water park. There are six multi-passenger rides, five single-rider riders, and seven family attractions. We didn't hit all of these before the skies opened up and rained out our day (nope, there are no refunds if it rains), but we did find a few favorites.
Not being a ride person, I loved the Kopiko Wai Winding River that takes you into the volcano and the dark Stargazer's Cavern. The TeAwa The Fearless River was also fun, but I was expecting a bit more when it came to the rapids — really it was just a wave or slightly stronger jets.
Hannah and her friend Ruby loved the Krakatau Aqua Coaster, which is a four-person canoe that slides up and down and through the twists and turns in the volcano before going through a waterfall. It was much longer than they expected and the drops weren't as big as they feared. The Honu aka Moana raft rides were also a favorite, with the high walls to ride up and down.
Getting to Volcano Bay
If you are staying on-site at one of the Universal Orlando hotels, you will need to take a shuttle bus directly to Volcano Bay. However, if you are staying at Cabana Bay or Aventura, you can walk through the parking lot to a special entrance offered only for Cabana Bay guests.
If you aren't staying at the hotel, don't be tricky and think you can walk from Cabana Bay — I tried this when I learned I'd have to take a shuttle from City Walk but we were turned away when we couldn't show our hotel room key. Don't make that mistake!
If you are staying off-site but driving, follow the signs to Volcano Bay, but be prepared that you need to then take a shuttle bus from the parking lot to Volcano Bay.
If you are staying off property and taking a taxi or Uber, there is NOT a guest drop off/pick up area at Volcano Bay. You need to get dropped off at City Walk, and then take a shuttle bus to Volcano Bay. It is a pain so build in the extra transit time if you are trying to get there for park opening.
Getting the Hang of the Virtual Queue and TapuTapu Wristbands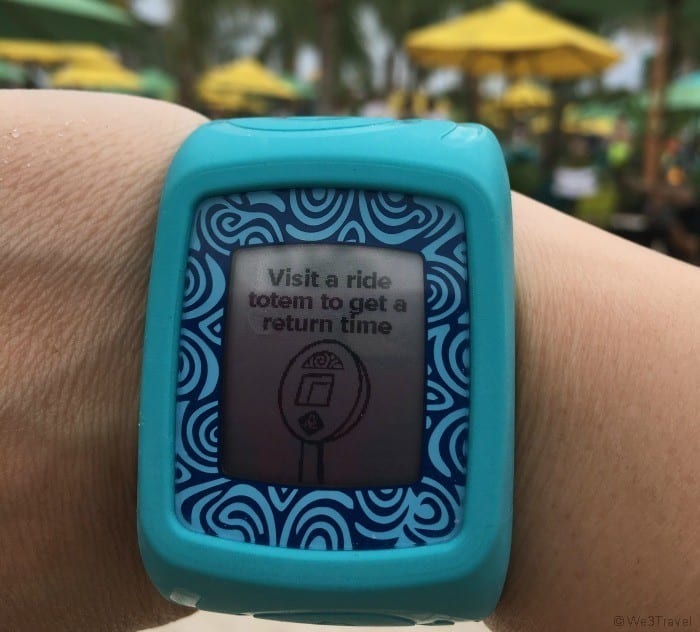 What is really revolutionary at Volcano Bay is the TapuTapu technology. Each guest is given a wristband that serves as a sort of "FastPass" or virtual line.
You tap the wristband to the icon at the waterslide you want to ride and it assigns you a time to return for your ride. The clock on the wristband counts down and buzzes when it is time to return to your selection.
The plus side is that you don't need to wait in line the whole time, the downside is that there might still be an hour or more wait between rides and you can only tap one at a time, so you need to be smart about how you use it.
After all, would you rather wait an hour for the Krakatau Aqua Coaster or do three water slides with 15 minute waits each? Also, when you return to your slide, don't expect to walk right on. There might still be a short wait.
TapuTapu also opens lockers and can be linked to a credit card for cashless payments if you are staying in a Universal Orlando resort. Plus, it unlocks some fun easter eggs (see more below.)
Universal Orlando Volcano Bay Tips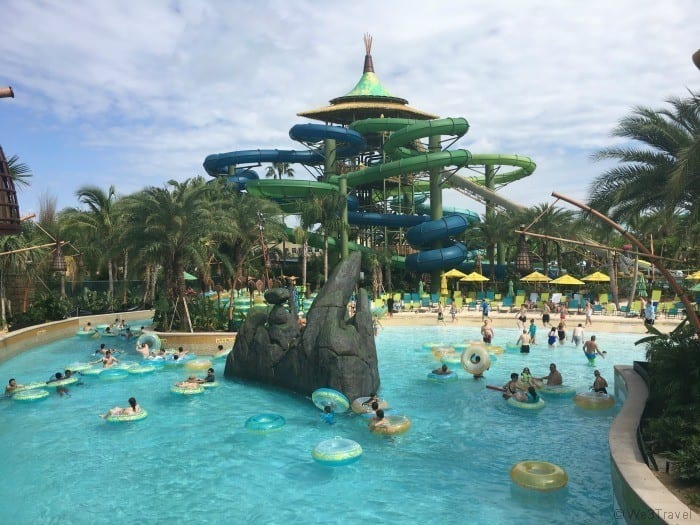 All of these features has made Universal Orlando's Volcano Bay extremely popular! Here are some Volcano Bay tips you should keep in mind to squeeze the most enjoyment out of your stay.
1. Get there early!!
This may not be earth-shattering but it is the most important tip to remember. In high season, the park may reach full capacity by early afternoon. That means that even if you've bought a ticket in advance, if you aren't at the park by the time they reach capacity, you aren't getting in.
2. Stay at Cabana Bay Beach Resort or Aventura Hotel
These "prime value" resorts now have one huge advantage over the other properties and that is easy access to Volcano Bay, located just behind the resort. These are the ONLY resorts where you can get to Volcano Bay without getting on a bus (see more below.) Check rates and reviews.
3. Book your cabana or premium seating in advance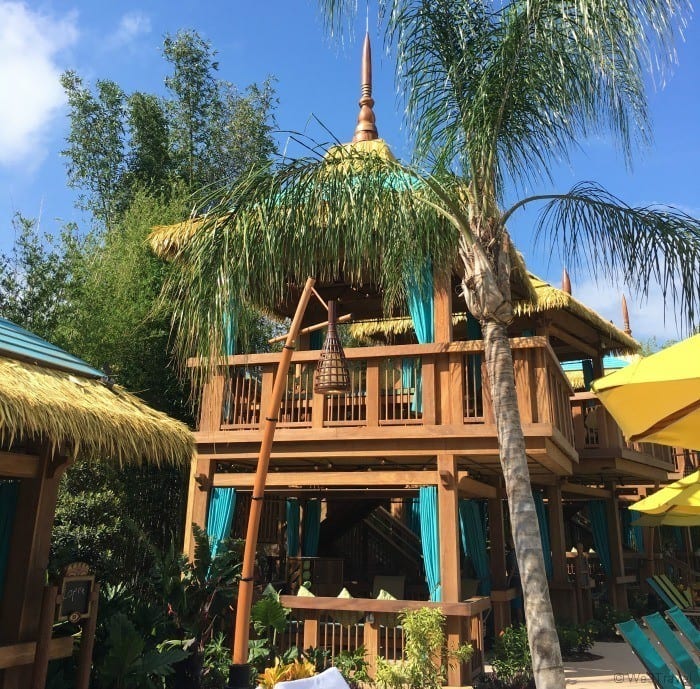 If you want to be guaranteed a prime seat with an umbrella, two chairs, and chair service; you can pay an upcharge to reserve them. But don't be like me and wait until 10 days before your trip to call, only to find them sold out.
And definitely don't expect to be able to do it onsite. You will need to call to make the reservation (just check the "add-ons" options.)
4. Bring your own towels
Towels are available for rent but Volcano Bay isn't like a hotel pool that offers towels to use for free. An easy way to save is simply by bringing your own. We try to travel with some thinner beach towels that don't take up a lot of space in our luggage and can always get left behind if they are soaking wet.
Or, we buy cheap towels at a souvenir shop when we arrive. Another option is to order some from Amazon to be shipped to your hotel but check with your hotel to see if they charge for package deliveries.
5. Can you bring food into Volcano Bay? Seems like.
I also saw a number of people with their own food and drinks. No one was carrying coolers in but security seemed to let through bags with food and snacks. So as long as you don't overdo it, or try to sneak in alcohol, you should be ok.
If anyone in your party has food allergies, you can also let the security guard know that you are bringing in food for them because they have allergies. Universal Orlando is good about that.
6. First stop: secure your chairs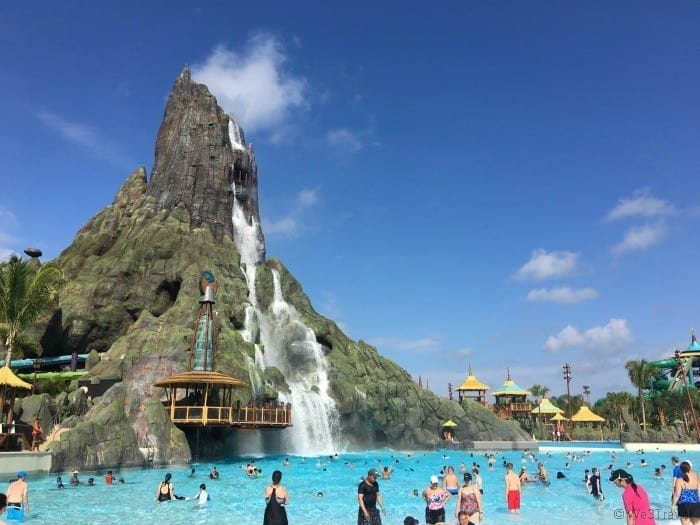 When you first arrive, the first thing you want to do is find some open chairs. The prime spot would be Waturi Beach on the giant wave pool that fronts the volcano.
However, if you don't see something there, don't panic. There are actually plenty of chairs around in different areas. One of the other good options would be back by the entrance to the TeAwa Fearless River (the slightly less lazy river.) There are a mix of adjustable lounge chairs and smaller upright, low beach chairs.
7. Second stop: get your Volcano Bay lockers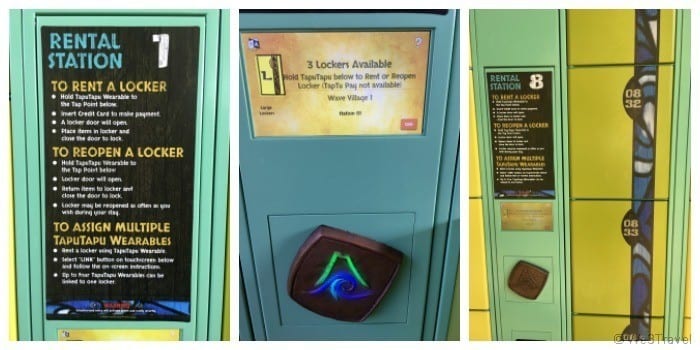 There are locker buildings/bathrooms scattered throughout the park so it shouldn't be hard to find some near your chairs. But they will sell out fast, especially the big ones. There are small, medium and large.
Medium rent for $12 per day and the large rent for $15 (as of June 2017), and you can go in and out of them throughout the day. It is easier to use a credit card than cash, just tap your TapuTapu, insert your credit card, and the locker pops up. Go back later and tap your wristband and your locker will pop open (so as long as you remember your locker station, you don't even really need to remember your number.)
8. Third stop: Pick a ride
This is where it really helps to do some research ahead of time and figure out what you want to ride the most. Just remember, the "big" rides like the Krakatau Aqua Coaster will be the most popular so try to get those in before the major crowds arrive.
What you will need to do is find the ride (try reading the ride descriptions and looking at a map in advance to be prepared.) Outside of the entrance will be a TapuTapu kiosk. Simply tap your wristband and you will be assigned a time to return to the ride.
Don't worry about keeping an eye on a clock. The wristband counts down for you and will buzz when it is time to ride.
9. Don't expect "no lines"
They advertise TapuTapu as a way to get rid of lines. It definitely helps, but don't think you are going to walk right onto the rides.
For many rides you will still have a bit of a line before you can take your turn. Also, don't be surprised to have "virtual" wait times of 60-120 minutes for the most popular slides.
In between, you'll want to cool off in the wave pool, Winding river, or Fearless River (the lazy river that has some waves and a stronger current.)
10. Not every ride has a wait
If the first thing you tap has a long wait time, don't give up yet. Take a walk through the park. There may be some rides that don't have a line so they are "No wait" and you can board immediately while you wait for your other ride.
As the park gets more crowded, that won't be possible so you'll need to chill out in one of the rivers, the wave pool, or relax on the beach for a while.
11. Eat early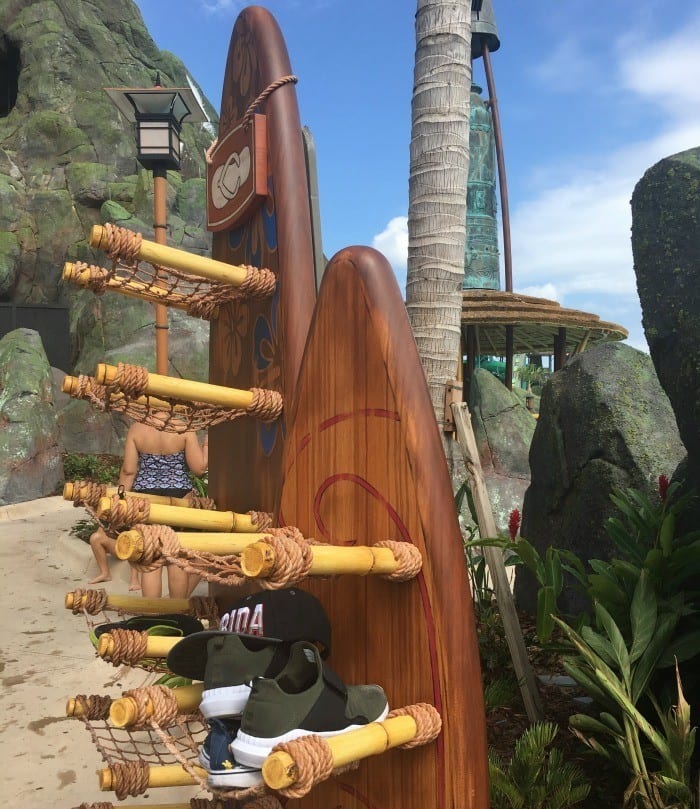 Volcano Bay has done a great job with its menu options and the restaurants get packed at lunch time. If you get there a little before 12, you won't need to wait.
You may also find some good options at some of the shacks around the park. For example, the Feasting Frog offers great Chicken Mole Tacos and Poke Poke bowls.
12. Buy a refillable cup
Just like in the other Universal parks, you can buy a refillable, insulated cup for $14.99 (less if you buy more than one) and refill it throughout the day.
It is a little harder to find the Coca Cola "Freestyle" stations in Volcano Bay (really just in the restaurants), but you can bring them to other huts and they can refill them from the fountain.
We brought our own water bottles to refill at water fountains but the water gets hot so fast in the heat. So we bought one refillable cup to get access to ice and took turns refilling it with whatever we wanted (and just grabbed a couple of regular straws so we could share.)
Just note that you can only refill every so often so sharing won't work if you are all super thirsty. You can also get regular water and ice from these machines as well as sodas, iced teas, and lemonades.
13. Wear your flip flops
Volcano Bay does a good job of cooling the sidewalk with water mist, but you will still be scurrying across some hot pavement. But you don't need to do it in bare feet. There are racks in front of each ride where you can store your shoes and coverup in a little rope hammock shelf until you are done.
14. Look for easter eggs
TapuTapu doesn't just open lockers and secure ride times, it also unlocks some fun easter eggs around the park. Look for the TapuTapu icons, give it a tap and see what happens.
Hint: down by the beach, tap the big clam shell to see what happens.
15. Purchase a multi-day pass
Volcano Bay tickets for one day are less than the other parks. However, if you are also visiting Universal Studios and Islands of Adventure (and you definitely should, especially if you are a Harry Potter fan,) it makes sense to get a multi-day pass.
If you get a four day, three park pass, it is practically like getting the fourth day free. Totally worth it if you are spending at least three days in Universal. Otherwise, it is more economical to get a one-day pass to Volcano Bay and a one day park-to-park ticket for Universal Studios and Islands of Adventure.
[plan-trip]
[/plan-trip]
PIN THIS FOR LATER
Note: We paid full price for our tickets, just like everyone else. All opinions are my own.SaveSave