I had wanted to visit Universal Orlando ever since Harry Potter's Wizarding World opened. Then when Diagon Alley opened last year, I knew it was time to plan a visit. Not being big theme park fans, I searched for tips for visiting Harry Potter World that gave me the information I was looking for — but didn't find what I was looking for. So now that we've been, I'm giving you the inside scoop on how to visit Harry Potter World at Universal Orlando.
Since we don't have a lot of vacation time and we like to spend our limited time off exploring new destinations, it has been hard to find a time to get to Orlando. However, when Thanksgiving found us already in Florida for five days to visit family, we decided to sneak up to Orlando for two days to fulfill our dream of becoming witches and wizards, at least in our imaginations.
We are HUGE Harry Potter fans and entering the park, I was just as excited and choked up when we saw Hogwarts castle as I was eight years ago when my little Princess first saw Cinderella's castle in nearby Disney. This was a whole new kind of magical.
Despite the crowds that I assumed would accompany a holiday weekend (more on that later), we were committed to getting the most out of our visit as possible. We decided to stay at Universal's Cabana Bay Resort, and family (and budget) friendly resort that is a retro throwback to the 1950s. While the amenities at the Cabana Bay, like the two pools, water slide, lazy river, bowling alley and rec room were great; another advantage is that all guests of Universal Resorts get early admission into Harry Potter's Wizarding World.
Not being big ride fans, we were really all about the Harry Potter experiences so an extra hour in the park before others could get in sounded perfect. When I went online to find out about the rides in Harry Potter's Wizarding World, I had a hard time getting the information I was looking for. Was Harry Potter and the Forbidden Journey a rollercoaster or a simulator? Was Escape from Gringotts really the thrill ride it looked like in the movie? Could this motion-sick, scaredy-cat really handle these rides? I wasn't sure. Let me tell you all about what to do at Harry Potter World Orlando.
How to Visit Harry Potter World Orlando — Hogsmeade
First, let me set the stage. Universal Orlando consists of two theme parks (now three with the Volcano Bay waterpark) – Universal Studios and Islands of Adventure. Islands of Adventure contains Harry Potter's Wizarding World – Hogsmeade and Universal Studios is home to Harry Potter's Wizarding World – Diagon Alley.
You will also find other "lands" like the Dr. Seuss area for little kids, Jurassic Park, Toon Lagoon, Marvel Comics, and the Lost Continent in Islands of Adventure. You access both theme parks through Universal CityWalk, an area of shopping, restaurants, and entertainment from movie theaters to mini golf to nightclubs. Neither park is that large, so it is easy enough to walk from one to the other, but each has its own separate ticket.
You can also purchase a "park-to-park" ticket, which allows you access to any of the parks in the same day. Only holders of a park-to-park ticket can ride the Hogwarts Express train ride, which also connects the Harry Potter areas of the two parks.
There are really only five rides in the two Harry Potter areas. In Harry Potter's Wizarding World – Hogsmeade you will find Harry Potter and the Forbidden Journey, Flight of the Hippogriff, Dragon Challenge (currently closed and will be replaced with something new), and Hogwarts Express Hogsmeade Station. In Harry Potter's Wizarding World — Diagon Alley in Universal Studios, you will find the other entrance to the Hogwarts Express (actually just outside of Diagon Alley at King's Cross Station) and Harry Potter and the Escape from Gringotts.
While there are only a handful of Harry Potter rides, that is just the beginning of the experience. In both parks you will find shops and eateries that look just off the set of the Harry Potter movies. In Hogsmeade you will find English-style buildings with snow-covered roofs (yes, even in Florida) and crooked chimneys with smoke wafting out. You will also find familiar looking stores like Honeydukes Sweets Shop, Dervish and Banges wizarding equipment, and Ollivanders Wand Shop.
If you stop by the cart outside of the Owl Post, you can also buy postcards and have them stamped Hogsmeade so you can send them via "Owl Post." Also stop into the bathroom next to the Three Broomsticks pub to hear Moaning Myrtle complaining and getting flushed.
Ollivanders Wand Shop
One experience not to be missed is a stop into Ollivanders Wand Shop. You will often see a line outside the door because, while there is no wait to shop, Ollivanders also offers a demonstration. Groups of 15 people are brought into the shop where Ollivander chooses one lucky participant to select a wand. Actually, the wand selects them.
On our first day at Universal we arrived at the park at 7:30 am (early opening is 8 am and standard opening is 9 am) to line up. We got lucky and they opened the gates at 7:30 and we were already back in Hogsmeade before 8am. Our first stop was Ollivanders and we were quickly ushered into the shop with the only other two families waiting in line. Hannah was the only child decked out in a witch's robe and maybe that was the lucky charm, because she was fortunate enough to be picked for the demonstration. I was giddy with excitement for her, still grinning from my first glimpse of Hogsmeade and Hogwarts.
Ollivander presented her with a wand and she attempted a couple of spells – making some wand boxes fly and bells ring – but it just wasn't right. But after a minute or two they found the right wand and Ollivander presented it to her with a full description of the size, history and physical make up. Of course, if she wanted to take it home, we would have to purchase it. And that is how, even though she brought her perfectly beautiful Hermoine wand from home, we ended up buying another wand. BUT…it was $50 well spent.
The wands at Universal are interactive and come with a map of Hogsmeade and Diagon Alley, identifying locations throughout the park where little witches and wizards can "cast spells." Each charm requires a different hand motion and spell, but when performed correctly they will make pixies squeal, lanterns light, fountains spurt, flowers grow and much more. We had a fabulous time practicing our charms throughout the day. Some were trickier than others, but sometimes there were "trainers" positioned strategically to give tips on where to stand and where to point your wand for optimal results. It was thrilling for us Harry Potter fans to step into the shoes of a Hogwarts student and practice some magic.
See some of the spells…

Flight of the Hippogriff
Our next stop was our first ride, the Flight of the Hippogriff, a small family-friendly roller coaster that even I could handle. This is one of two Harry Potter rides that is part of the Express Pass program (Dragon's Challenge is the other.) Even though we bought the Express Pass to maximize our time during a holiday weekend (more on whether or not the Express Pass is worth it coming soon), it was still before 9 am so there was no line at all and we walked right up and boarded. This really is a very simple roller coaster with one small drop, a few twists and turns and then you are back at the station before you know it.
Harry Potter and the Forbidden Journey
We were all a little nervous about Harry Potter and the Forbidden Journey because we just didn't know what it was. But when we saw that the line was less than 15 minutes at 9am, and knew it would only get to 60 minutes or more later in the day (and no Express Pass), we decided to give it a try. If you don't go on this ride, you don't get a chance at all to go into Hogwarts. The castle sits up on a rocky cliff, mysterious, foreboding, and incredibly impressive. Before entering the queue, you need to store all your bags and loose items in available lockers (free for the first hour).
As you make your way through the line dividers, you eventually enter the castle and come across some familiar characters. You'll see Dumbledore and portraits of each of the house heads, pass the entrance to Dumbledore's office, and even get a glimpse at the pensive. Along the way, you'll also encounter Ron, Harry and Hermoine, as well as plenty of warnings about the motion of the ride. Enough to intimidate but not enough detail to really explain what we were in for.
Eventually we made our way to the ride loading area. Groups of 4 or 5 load into pods seated in a row. Your feet dangle but you are strapped in securely with a comfortingly solid harness. There are small dividers between each rider so you can't really see each other, making me more nervous about how Hannah was going to handle it. The pod moves sideways along a track and in front of you, you'll see parts of the castle, but also screens that simulate flying with Harry and crew through the Quidditch pitch and around the castle grounds.
It was hard to follow the plot line because everything was moving by so quickly. Along the way, the pod goes through dips and turns, jerking this way and that, tipping sometimes almost onto your back or falling forward. We encountered giant spiders (animatronic) and a dragon, which blasted us with his hot, wet breath. That didn't bother me as much as when we were looking at screens to simulate flying. Honestly, I had to keep my eyes closed through a lot of it because I was getting very motion sick. Towards the end, Hannah reached for my hand and I was worried that she was really upset but when we came to a stop and the harness went up, she was grinning and told me she loved it. I nearly fell getting off and had to stand up against a solid wall for a few minutes until I didn't feel like I was still moving (tip: take Dramamine BEFORE you put your bag in the locker.) I thought it was a great ride but my equilibrium couldn't handle it very well. The next morning, the lines were still short so Hannah and Glenn went on it two more times, while I was happily the designated bag holder.
Hogwarts Express – Hogsmeade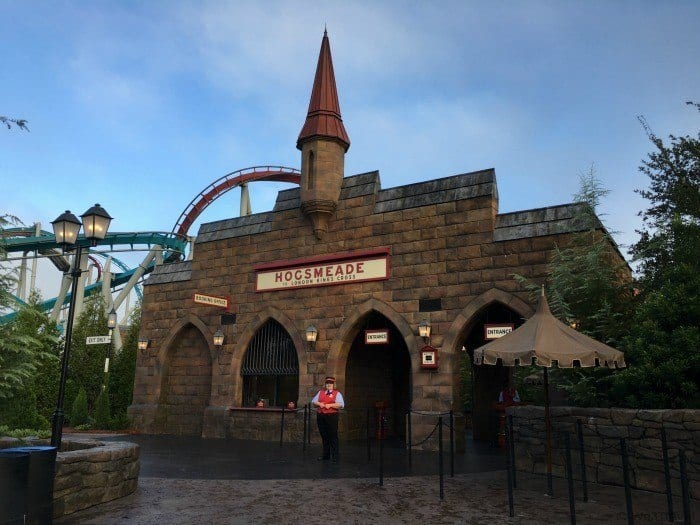 After fully exploring Hogsmeade, we took the Hogwarts Express over to Universal Studios and Diagon Alley. To ride the Hogwarts Express, you need to have a park-to-park ticket. Since it was still late morning, the line wasn't very long at all and we were quickly boarded into our compartment. The train moves slowly and outside the window we saw Hagrid waving us off on the platform. As we wound our way down from Hogwarts and through the forest, the train is accompanied by Firenze and the centaurs. Outside the frosted glass window of the door of the compartment, Harry, Ron and Hermoine pass by looking for an open compartment. On the way to London, the train passes by Malfoy Manor before entering the city. Outside the window we saw the Knight Bus squeezing its way through the busy London streets before arriving at Kings Cross Station. It is a simple ride that is a blast for Harry Potter fans, but could be ho-hum to others.
What to do at Harry Potter World Orlando – Diagon Alley
Whether you enter Universal Studios through the front entrance or arrive via Hogwarts Express at King's Cross Station, you will want to check out a few attractions in the London section before ducking into Diagon Alley. The first is the red telephone booth outside of King's Cross Station. If you step in side and dial the MAGIC, you will be connected with the Ministry of Magic. Just across the way you'll find the Knight Bus. You can pose for pictures with the quirky bus driver but the real comedian is the shrunken head hanging from the bus window. They must have a hidden camera, because the shrunken head made some comments about our "little Gryffindor" (Hannah was still in her robes), which made it really fun. If you stop by Grimmauld Place, look up in the window of Number 12 for a glimpse of Kreacher, the Black Family's house elf, peeking out the window every few minutes.
Shopping in Diagon Alley
Hidden behind a non-descript brick wall near the Leaky Cauldron, you poke around the corner and wander into the fantastic world of Diagon Alley. At first glimpse, you'll feel a lot like Harry did on his first visit, overwhelmed and amazed. At the top of the street, the scene is dominated by the giant dragon perched on the top of Gringotts bank. You won't have to wait long before he'll start to roar and blast the crowd with his fiery dragon breath.
In addition to fun shops like Ollivanders wand shop, Madam Malkin's robe shop, and the Magical Menagerie, you'll find Weasleys' Wizard Wheezes. Here you can buy love potions, chocolate frogs, and other treats. If your little witch or wizard is at all interested in getting a Pygmy Puff, this is the place to get it. For everyone that adopts their first Pygmy Puff is treated to a fun naming ceremony. If you didn't visit Ollivanders in Hogsmeade (or even if you did), you'll have another chance of being selected for the demonstration at the Diagon Alley outpost.
There are also a whole new group of spells to try out throughout both Diagon Alley and the darker Knockturn Alley. By this time, we were getting hungry, so while Butterbeer-flavored ice cream at Florean Fortescue's Ice Cream Parlor sounded great, we needed something more substantial and stopped into the Leaky Cauldron for a traditional British meal. While the tavern is crowded, they have a system that keeps things moving. First you order at the counter, then you are seated at a table, either on your own or family-style. They then quickly deliver your food to the table. We sampled the fish and chips and bangers and mash and they were surprisingly good for an amusement park restaurant.
You'll also want to be sure to try some Butterbeer. It comes in four varieties (regular, frozen, warm and ice cream) and tastes like butterscotch cream soda. You'll find carts throughout Hogsmeade offering both frozen and regular varieties. You'll also see carts with treats like pumpkin juice, "Gilly" water, and fresh fruit. But you really should pop into the Leaky Cauldron or Three Broomsticks for a taste of hot Butterbeer. It is warm, sweet and delicious.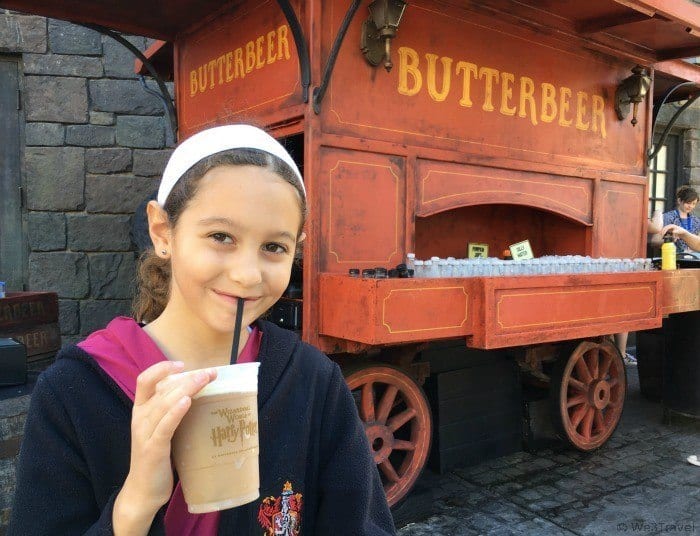 Harry Potter and the Escape from Gringotts
After a fairly successful experience on the Forbidden Journey ride, we were ready to conquer this one. But as we entered the long queue (no Express Pass for this one either), we were greeted with many, many warnings about this ride being a "high-speed roller coaster." Hannah was ready to back out but I encouraged her to give it a try or at least wait until we could ask someone what it was really like. Plus, this was the only way we could get into Gringotts.
Just like the Forbidden Journey, they do an excellent job of entertaining you in the queue once you make your way inside the bank. Inside, Gringotts looks just like in the movie, down to the goblins busy at work counting their gold. These animatronic characters are very life like. I had heard that you could approach the goblins to ask them a question but when we posed a question, we didn't get anything but an angry glare.
You then head down into the vaults. While this ride is a bit more like a roller coaster, it is really a beautifully imagined simulator combined with a ride. This time you are seated in a more traditional car and move forward on the track. At first, we dipped down on a crazy ride through the vaults, being chased by Beatrix LeStrange, a dragon, and even Voldemort himself. Luckily Ron, Hermoine, and Harry were there to help aid our escape. After that first dip in the dark, my leg was shaking so bad that I had to clamp down on it to keep it still. I'm sure it wasn't too bad but I just don't like the feeling of dropping when I can't control my speed, especially when I can't see what is coming.
Once again, despite how nervous Hannah was going into the ride, she loved it enough to go back again the next day. I'm glad I made it through both of them because they were so impressive, much better than any of the other rides we tried at Universal (except maybe the Minions, that was really cute.)
Knockturn Alley
Around a dark corner, jutting off from Diagon Alley, you can enter into Knockturn Alley. You might recall Harry's accidental visit to Knockturn Alley when he made a mistake during his first time using the Floo Network. He ended up in Borgin and Burkes, an antique shop specializing in unusual wizarding artifacts and objects related to the Dark Arts. Everything down Diagon Alley was very dark, so dark that it was hard to see the map or the medallions that provided the instructions on where and how to cast spells with our interactive wand. Luckily, we still had Hannah's Hermoine wand with the glowing tip, which was a huge hit in the dimly lit Knockturn Alley.
There is just one shop to visit, Borgin and Burkes of course, and this is where you can find all the darker Harry Potter souvenirs, like Dark Mark temporary tattoos, Azkaban gear (the Wizarding prison), and everything Slytherin. After completing the three spells in this area and wandering through the shop, we were happy to step back into the light.
Hogwarts Express – King's Cross Station
Even if you've already ridden the Hogwarts Express from Hogsmeade to King's Cross Station, I highly recommend that you also make the return trip. As you wind through the queue, there will be a point near some stacked up suitcases where you will see the line make a sharp left. If you look at a diagonal over the suitcases at the people in front of you, you will see an optical illusion that makes it look like they are walking through the wall at Platform 9 ¾. Unfortunately you can't see it when you actually walk through it, so take a minute to watch the people in front of you. I was able to capture Glenn and Hannah on video.

On the return ride, the view outside the window is similar but different, as you'll see some Death Eaters flying through the sky, tracking the progress of the train. At one point, Dementors walk through the hall outside the compartment door, casting their cold breath on the window in their search for Harry.
If you have a serious Harry Potter fan in your family, they are going to LOVE Harry Potter's Wizarding World at Universal Orlando.
And don't forget to download your Harry Potter photo scavenger hunt for Universal Orlando!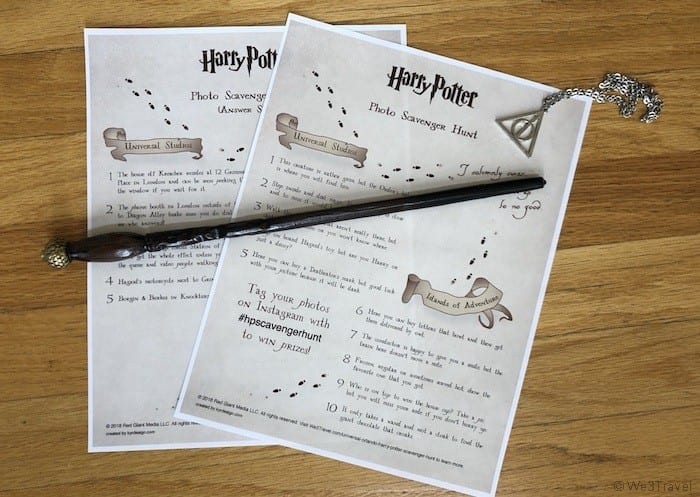 PIN THIS FOR LATER
What is your favorite part of Harry Potter's Wizarding World?
SaveSave