From what I have heard, going to any of the Orlando amusement parks between Christmas and New Year's Day is something of a disaster. There is typically such overcrowding that they often close park entrances by mid-morning. So it is no wonder that I had a bit of trepidation about heading to Universal Orlando at Thanksgiving last year.
But, we really, really wanted to get to Harry Potter's Wizarding World, and we were already going to be in Florida to visit family, so it seemed only fitting to squeeze in a quick trip up to Orlando.
I was prepared for the days around Thanksgiving at Universal Orlando to be just as crowded as it is at Christmas, but I was pleasantly surprised. Here is what we found that may help you plan your trip.
Thanksgiving at Universal Orlando — Special Meals
We arrived on the Friday after Thanksgiving, but if we wanted to spend the holiday at Universal Orlando, the theme parks are open 365 days a year.
Plus, there are plenty of options for Thanksgiving dinner in Orlando at the various Universal Resorts. The Bayliner Diner at the Cabana Bay Resort hosts a traditional Thanksgiving dinner with turkey, stuffing, cranberry compote, mashed potatoes, gravy, candied yams and biscuits.
They also have arts and crafts activities, movies playing in the Fun in the Sun recreation center, and they play the Thanksgiving Parade on their jumbo screens. Dinner is served from 12pm – 11pm and reservations are not required. The cost for adults is $16.99 and children 3-9 are $7.99 plus tax, children under three are free. (check hotel website for current hours and rates)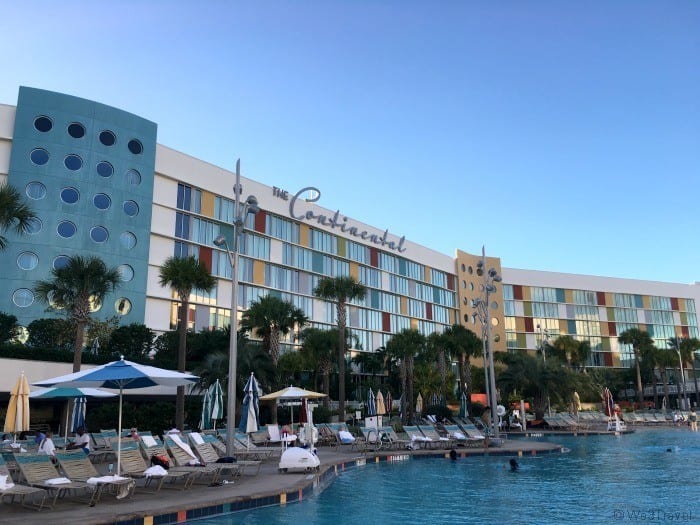 The Loews Sapphire Falls also offers a Thanksgiving buffet in the Amatista Cookhouse, including appearances by Universal Orlando™ characters, face painters and balloonists. The buffet is available from 10am – 9pm and reservations are recommended.
This buffet goes beyond the traditional Thanksgiving foods with options like ceviche, salmon and churasco. The cost is $58 for adults and $24 for children 3-9, plus tax, and children under three are free. (Check hotel website for current hours and rates)
The Loews Royal Pacific also hosts an "islands" Thanksgiving buffet, complete with character appearances, face painters, balloonists, musicians and even hula dancers.
Here the fare is primarily Asian with some Thanksgiving favorites. The buffet is open from 11am – 9pm and reservations are recommended. The cost is $58 for adults and $24 for children 3-9, plus tax, and children under three are free. (Check hotel website for current hours and rates)
If you want a "rocking" good Thanksgiving, the Hard Rock Hotel also offers a Thanksgiving buffet with a chilled seafood bar and a pasta station, in addition to a carving station, kids items and a dessert table.
They have characters stopping by to hang out, Magic Man and kid's cookie decorating activities. Their Thanksgiving meal is served from 11am-4pm and 5pm-10pm. Reservations are recommended and the cost is $59 for adults, $20 for children, plus tax, and children under three are free. (Check hotel website for current hours and rates)
Not to be left out, the Loews Portofino Bay also offers a Thanksgiving feast with characters, kids holiday crafts and activities table, face painter, and a balloonist from 11am – 8pm.
Their feast also has a seafood bar and pasta station, but includes even more options for kids. The cost is $64 for adults and $18 for children 3-9, plus tax, and children under three are free. Reservations are recommended. (Check hotel website for current hours and rates)
Thanksgiving in Universal Orlando — Special Events
Be sure to check the hotel website's for current event hours and rates
We stayed at the Cabana Bay Resort, and walking into the lobby we were greeted by some favorite characters (Scooby Doo!) and a giant Christmas tree.
On Friday evenings on the day after Thanksgiving, the Cabana Bay hosts a tree lighting, followed by live entertainment in the Swizzle Lounge, meet and greets with Santa and Universal Orlando characters, and hot chocolate and chocolate chip cookies for the kids. It was a fun way to kick off our stay in Universal.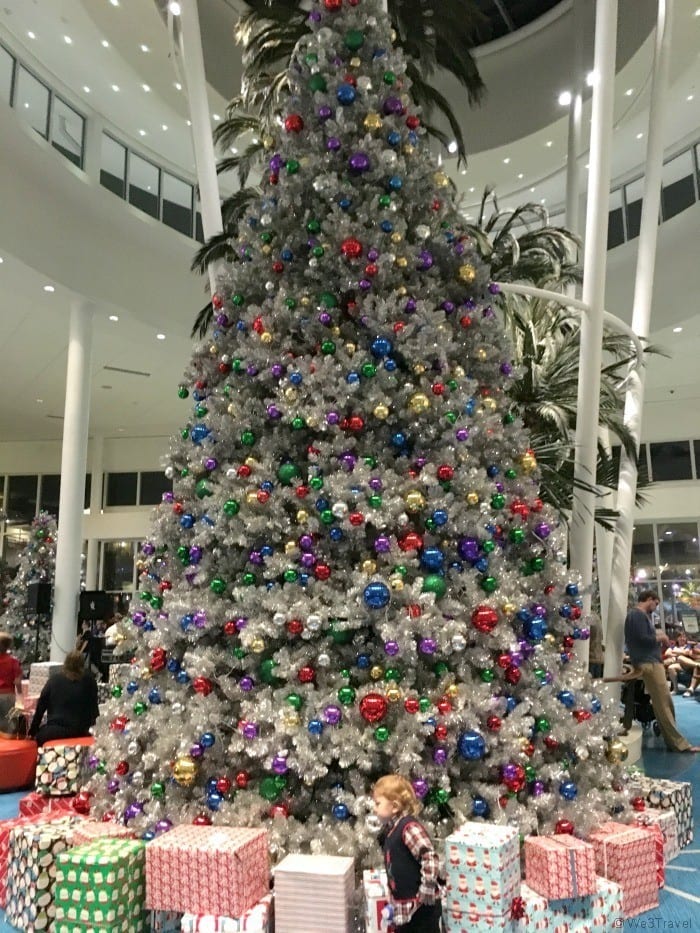 The Loews Portofino Bay also hosts a special evening event on the Friday after Thanksgiving, from 6:30-9pm with live music, a wine tasting and the grand illumination of the Christmas tree. But, unfortunately that event is for adults only.
And, if you are sticking around Orlando for a while, you can even see the Macy's Holiday Parade at Universal Orlando. Many of the balloons and floats from the legendary New York City parade are sent straight to Universal Studios Florida.
Afterwards, there is a tree lighting ceremony with music and lights. The parade begins at 5:00pm on nights for December 3, 2016 – December 18, 2016 and 8:00pm on nights for December 19, 2016 – January 1, 2017.
Holiday Crowds at Universal Orlando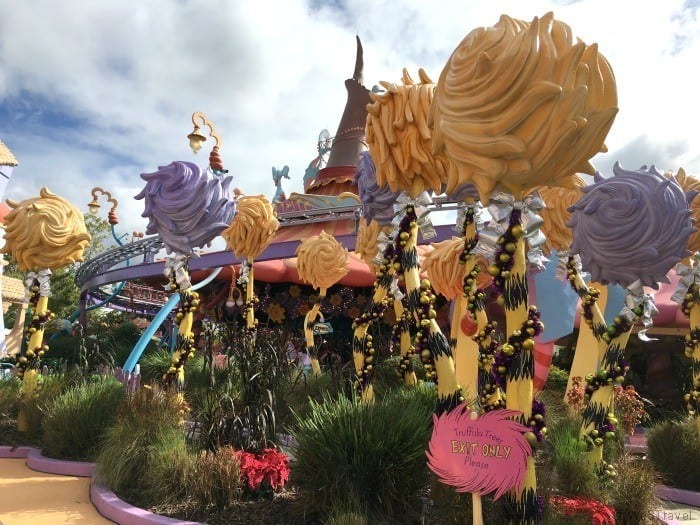 In anticipation of high crowds on the weekend after Thanksgiving, I purchased a one day Express Pass for all of us for the Saturday following Thanksgiving.
In case you aren't familiar with Express Passes at Universal Orlando, they are special passes that allow you to bypass the main queue and line up at the shorter Express Pass queue. There are two different types, the Unlimited Express Pass and the standard Express Pass.
With the Unlimited Pass, you can use it as many times as you want for each ride included in the Express Pass. With the standard pass, you can just use it once per ride. One very important thing to note is that not every ride in Universal offers an Express Pass queue.
A way that you can gauge how crowded the parks are expected to be is to look online at the Express Pass pricing. Pricing is based on supply and demand, with a certain amount available each day.
If the price is higher, that means they are expecting large crowds. You can always roll the dice and take your chances on buying them inside the park, but they may sell out. When I looked online, I was surprised by the cost of the Express Pass (see my post about what it costs to go to Universal Orlando.)
Based on the pricing, I made the investment — but that just goes to show that even the experts can be wrong. I spoke to a customer service representative in the park that day and even she was surprised that the crowds weren't larger for the Saturday after Thanksgiving.
The longest line was 90 minutes for the Minions ride and even the Express Pass line was almost 45 minutes for that one. But for most rides, we walked right on with our Express Passes.
Tip: To skip the line at Minions, go to the queue for no motion. You won't get bounced around but you will get on the ride right away.
I was really glad that I didn't pay for an Express Pass on the Sunday after Thanksgiving because the parks were surprisingly quiet. We were able to go on the Harry Potter rides multiple times with barely a wait, even in the middle of the day. This is a big travel day for people so the biggest lines we saw were at the airport that evening (thank goodness for Pre Check!)
I'm really curious to hear others' experiences from Universal Orlando at Thanksgiving but for us, it was a perfect time to go.
We didn't need to take any vacation time since two days is really all you need for both parks, the crowds were completely manageable, the decorations made it festive, there were fun special events, and the weather was ideal — not too hot and not too cold.
[plan-trip]
[/plan-trip]
Have you been to Universal Orlando at Thanksgiving? Leave a comment below to tell us about your experience.
PIN THIS FOR LATER
SaveSave