Everyone knows that going to any of the Orlando amusement parks during the holiday season between Christmas and New Year's Day is something of a disaster with such overcrowding that they often close park entrances by mid-morning. So it is no wonder that I had a bit of trepidation about spending Thanksgiving at Universal Orlando. I wondered, would it be crowded? Would it be weird to celebrate a holiday at a theme park?
But, we really, really wanted to get to Harry Potter's Wizarding World, and we were already going to be in Florida to visit family, so it seemed only fitting to squeeze in a quick trip up to Orlando.
I was prepared for the days around Thanksgiving at Universal Orlando to be just as crowded as it is at Christmas, but I was pleasantly surprised. Here is what we found that may help you plan your trip.
Thanksgiving at Universal Orlando: FAQs
Nestled in between Universal Orlando's Halloween Horror Nights and Holidays at Universal, Thanksgiving can often be overlooked. After all, this American holiday is often spent at home or taking advantage of flight deals to visit somewhere that doesn't observe Thanksgiving in late November.
Despite the fact that the theme parks are decked out for the winter holidays by mid-November, Universal Orlando is a great choice for a Thanksgiving getaway.
Is Universal Orlando open for Thanksgiving?
If you want to spend Thanksgiving in the Universal Orlando theme parks, they are open 365 days a year, even the Volcano Bay water park (unless it is absolutely freezing outside.)
Can you have Thanksgiving dinner at Universal Orlando?
Note: This post may contain affiliate links. If you click a link and make a purchase, I may receive a small commission. All opinions are my own.
There are plenty of options for Thanksgiving dinner in Orlando at the various Universal Resorts.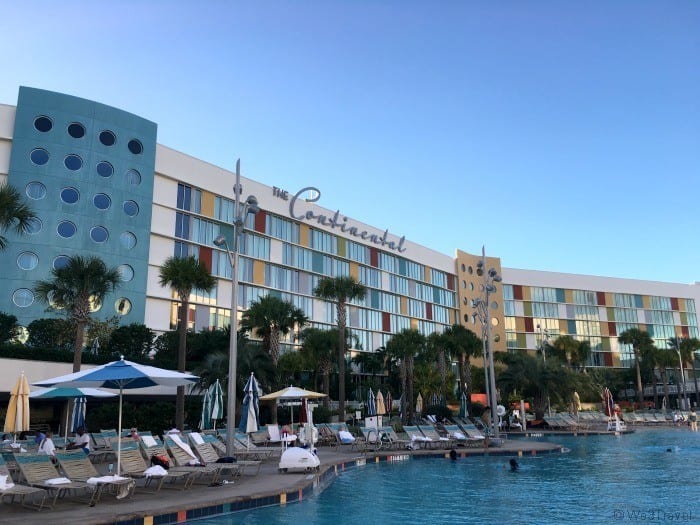 Cabana Bay Resort
The Bayliner Diner at the Cabana Bay Resort hosts a traditional Thanksgiving dinner from noon to 11 pm on Thanksgiving day complete with turkey, stuffing, cranberry compote, broccoli, mashed potatoes, gravy, and biscuits (pie will cost you extra.)
They also have arts and crafts activities, movies playing in the Fun in the Sun recreation center, and they play the Thanksgiving Parade on the jumbo screens. Galaxy Bowl also hosts Turkey Bowling on Thanksgiving Day from 3-10:30 pm. Anyone who gets three strikes in a row gets a "Turkey" and wins a t-shirt. (Check with hotel for current hours and availability)
Loews Sapphire Falls
The Loews Sapphire Falls also offers a Thanksgiving buffet in the Amatista Cookhouse. The breakfast buffet is available from 7-11 am and the all-day buffet is available from 11 am – 9pm and reservations are recommended via OpenTable or calling the dining reservations line at 407-503-DINE.
This buffet goes beyond the traditional Thanksgiving foods with options like a raw bar, ceviche, and a churasco station. See the menu and current rates.
Royal Pacific Resort
The Royal Pacific also hosts an "islands" Thanksgiving buffet in the Islands Dining Room from 11 am – 9 pm and a breakfast buffet in Jake's American Bar from 7 – 11 am.
For dinner, the fare is primarily Asian with some Thanksgiving favorites. The buffet includes sushi, stir fry stations, and more traditional dishes. Reservations are recommended. See the menu and current rates.
Hard Rock Hotel
If you want a "rocking" good Thanksgiving, the Hard Rock Hotel also offers a Thanksgiving buffet with a chilled seafood bar and a carving station, kids items and a dessert table in The Kitchen. Their Thanksgiving buffet is served from 11am- 9 pm and reservations are recommended. Check out the menu and current rates.
Loews Portofino Bay
The Loews Portofino Bay also offers a Thanksgiving buffet in Trattoria del Porto from noon to 9 pm complete with live music and face painters. This feast has salad stations, seafood bar, pasta stations, along with entrees (no turkey though). There is a large dessert station though, along with a buffet for kids. See the menu and current pricing. Reservations are recommended.
Universal Aventura Hotel & Endless Summer Resort
These hotels both offer Thanksgiving meal specials at the Urban Pantry (Aventura), Beach Break Cafe (Surfside Inn & Suites) and Dockside's Pier 8 Market (Dockside Inn & Suites).
Are there special Events at Thanksgiving in Universal Orlando?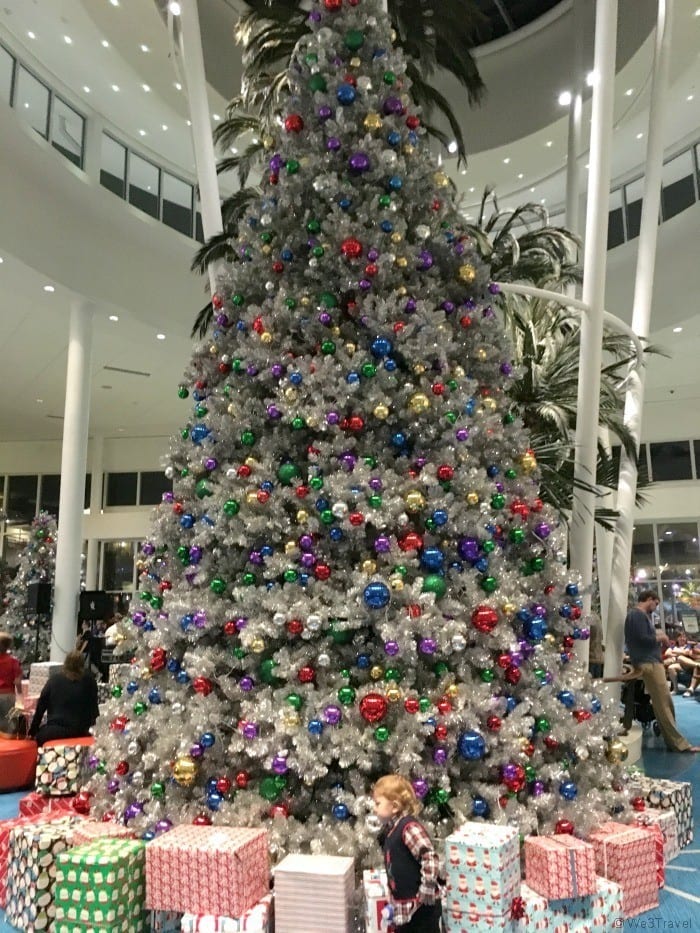 Be sure to check the hotel website's for current event hours and rates
Thanksgiving comes during Universal Orlando's Holidays, which they call the "biggest, loudest, awesomest holiday celebration of the season" — with special events and decor throughout the parks and the hotels.
Universal Orlando Resort Hotels
We stayed at the Cabana Bay Resort, and walking into the lobby we were greeted by some favorite characters (Scooby Doo!) and a giant Christmas tree.
On Friday evening on the day after Thanksgiving, the Cabana Bay hosts a tree lighting, followed by live entertainment in the Swizzle Lounge, meet and greets with Santa and Universal Orlando characters, and hot chocolate and chocolate chip cookies for the kids. It was a fun way to kick off our stay in Universal.
The Loews Portofino Bay also hosts a special evening event on the Friday after Thanksgiving, from 6:30-9pm with live music, a wine tasting and the grand illumination of the Christmas tree. But, unfortunately that event is for adults only. Other Universal Orlando resorts also offer holiday decor and events throughout the season.
Wizarding World of Harry Potter
From mid-November through January 1st, you can see Hogwarts lit up with the Magic of Christmas and festive decor bedecks the streets of Hogsmead in Universal's Islands of Adventure and Diagon Alley in Universal Studios Florida at both sections of the Wizarding World of Harry Potter.
Both the Frog Choir and Celestina Warbeck and the Banshees put a holiday spin on their performances and, best of all, it is the time of year to enjoy a hot Butterbeer (my personal favorite.)
Universal's Holiday Parade featuring Macy's at Universal Studios Florida
Many of the balloons and floats from the legendary Macy's Thanksgiving Day Parade in New York City are sent straight to Universal Studios Florida to make a nightly appearance in the Holiday Parade from November 12 – January 1st. The parade includes appearances by the Minions from Illumination's Despicable Me and some characters from DreamWorks Animation's Shrek and Madagascar films.
Grinchmas at Universal Islands of Adventure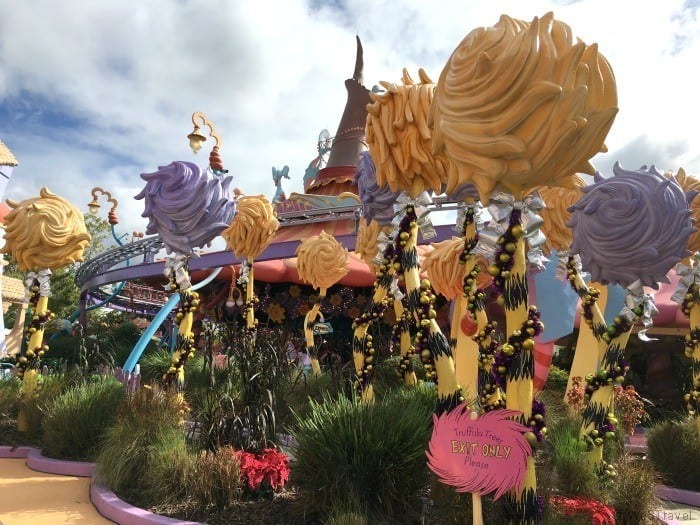 From November 12 – January 1st, Seuss Landing in Universal Islands of Adventure is decorated with the holiday charm and cheer of Dr. Seuss's Who-ville. You can enjoy special music and fun from The Grinchmas™ Who-liday Spectacular and have a chance at a photo opportunity with the Grinch.
Mannheim Steamroller at Universal Studios Florida
On certain nights in early December, the best-selling holiday artist of all time plays live performances in Universal Studios Orlando. Check the website for this year's dates.
Universal CityWalk
Universal CityWalk also gets decorated for the holidays before Thanksgiving and you will find special places like the Mistletoe Pines Village, along with holiday drinks, treats, and merchandise. If you plan on eating Thanksgiving Dinner in CityWalk, make sure you make your reservations weeks in advance, as prime times do fill up.
Is Universal Orlando crowded at Thanksgiving?
The short answer is: not as bad as I expected. In anticipation of high crowds on the weekend after Thanksgiving, I purchased a one day Express Pass for all of us for the Saturday following Thanksgiving. Keep in mind that if you stay at one of the premier Universal Orlando resort properties, Express Passes are included in your stay.
In case you aren't familiar with Express Passes at Universal Orlando, they are special passes that allow you to bypass the main queue and line up at the shorter Express Pass queue. There are two different types, the Unlimited Express Pass and the standard Express Pass.
With the Unlimited Pass, you can use it as many times as you want for each ride included in the Express Pass. With the standard pass, you can just use it once per ride. One very important thing to note is that not every ride in Universal offers an Express Pass queue.
A way that you can gauge how crowded the parks are expected to be is to look online at the Express Pass pricing. Pricing is based on supply and demand, with a certain amount available each day. For example, when I updated this article and looked at the price of Express Passes during Thanksgiving week versus the week prior, there was a significant increase.
If the price is higher, that means they are expecting large crowds. You can always roll the dice and take your chances on buying them inside the park, but they may sell out. When I looked online, I was surprised by the cost of the Express Pass (see my post about what it costs to go to Universal Orlando.)
Based on the pricing, I made the investment — but that just goes to show that even the experts can be wrong. I spoke to a customer service representative in the park that day and even she was surprised that the crowds weren't larger for the Saturday after Thanksgiving.
The longest line was 90 minutes for the Minions ride and even the Express Pass line was almost 45 minutes for that one. But for most rides, we walked right on with our Express Passes. Tip: To skip the line at Minions, go to the queue for no motion. You won't get bounced around but you will get on the ride right away.
I was really glad that I didn't pay for an Express Pass on the Sunday after Thanksgiving because the parks were surprisingly quiet. We were able to go on the Harry Potter rides multiple times with barely a wait, even in the middle of the day. This is a big travel day for people so the biggest lines we saw were at the airport that evening (thank goodness for Pre Check!)
I'm really curious to hear others' experiences from Universal Orlando at Thanksgiving but for us, it was a perfect time to go. Just keep in mind that Florida schools have off for the entire week of Thanksgiving, so it may be quite crowded later in the week and you may have better luck on Thanksgiving Day or the Saturday/Sunday after when people are driving home.
We didn't need to take any vacation time since two days is really all you need for both parks, the crowds were completely manageable, the decorations made it festive, there were fun special events, and the weather was ideal — not too hot and not too cold.
Tips for Visiting Universal Orlando at Thanksgiving
Make dining reservations early for your Thanksgiving meal (I would recommend weeks in advance).
Stay at a premier hotel property (Loews Royal Pacific, Loews Portofino Bay, Hard Rock Hotel) to receive free Express Passes.
If you can't swing the rates at a premier property, stay in one of the economy properties to at least get into one of the parks one hour before the general public for extra time with fewer lines (just do the math to see if purchasing Express Passes separately is a better deal than paying the higher hotel rate.)
The weather at Thanksgiving can be cooler so bring a small backpack that will fit into the ride lockers with light layers.
If you are wearing sneakers, bring flip-flops or water socks to change into for water rides so that your sneakers don't get soaked for the rest of the day leaving you with cold feet. You can otherwise use the "people dryers" if you get wet on the water rides.
See my other tips for maximizing your time in Universal Orlando.
PIN THIS FOR LATER
SaveSave