St. Augustine is best known for being the oldest city that has been continuously-occupied in the United States, but it is also growing in reputation as a foodie destination. Walking through the cobblestoned streets of historic downtown St. Augustine, you will find everything from craft cocktail bars to outdoor tiki bars with live music, cafes serving escargot to seafood restaurants dishing out a blend of southern comfort food and creole cuisine.
With 500 years of history at its back, from early explorers to pirates to industrial-age robber barons, this coastal city in Northeast Florida is truly unique with so many things to do. At the same time, the somewhat kitschy section of Old St. Augustine might remind you of the streets of Key West or even New Orleans.
Yet when you venture into the neighborhoods like Lincolnville, it may feel more like strolling through Savannah or Charleston. (Check out some of the historic hotels in the area.)
Whether you come to St. Augustine for its Spanish-colonial style architecture, checkered history, easy access to beautiful beaches, or a sip at the Fountain of Youth, you always need to eat. So take your pick from a few of our favorite downtown St. Augustine restaurants on your next trip (plus a few nearby if you have a car to explore.)
And see what else we got up to on our St. Augustine girls' weekend too!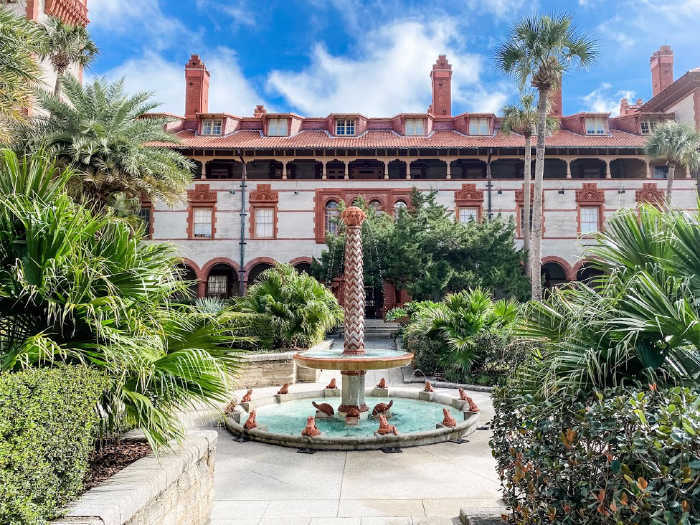 Best Downtown St. Augustine Restaurants for Lunch or Dinner
In St. Augustine you will find strong Greek and Mediterranean influences, along with long and deep connections to Minorca and you will find the datil pepper featured in many dishes.
Catch 27
My favorite discovery on a recent girls' trip to St. Augustine was Catch 27. Located in the heart of downtown just minutes from Castillo San Marcos, Catch 27 focuses on fresh-catch seafood and local ingredients with a southern and Creole flair. You can eat inside in the small dining room or enjoy the relaxed atmosphere of the heated patio.
The deviled-egg BLT appetizer with southern fried oysters and house-made tomato-bacon jam is not to be missed! You can't go wrong with the fish of the day but if you aren't a fish-lover, the fried chicken chicken sandwich is highly recommended.
Catch 27 is located at 40 Charlotte Street, St. Augustine, FL
Old City House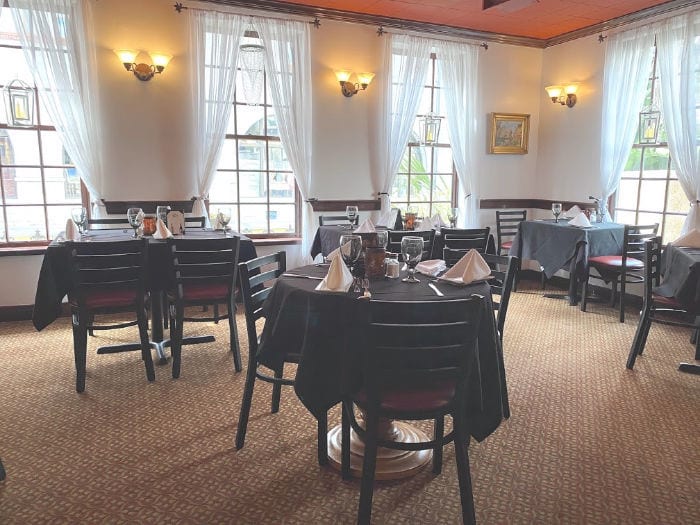 If you are looking for an upscale dining experience in the historic district, Old City House offers creative cuisine featuring fresh seafood, pasta, beef, lamb and pork. Located in a beautifully restored 19th century building, the Old City House offers a selection of world cuisine using the finest ingredients.
While not on the standard menu, I had a delicious entree of salmon with a crab-stuffing crust — and I'm not even usually a fan of salmon.
Old City House & Inn is located at 115 Cordova Street, St. Augustine, FL 32084
Taberna del Caballo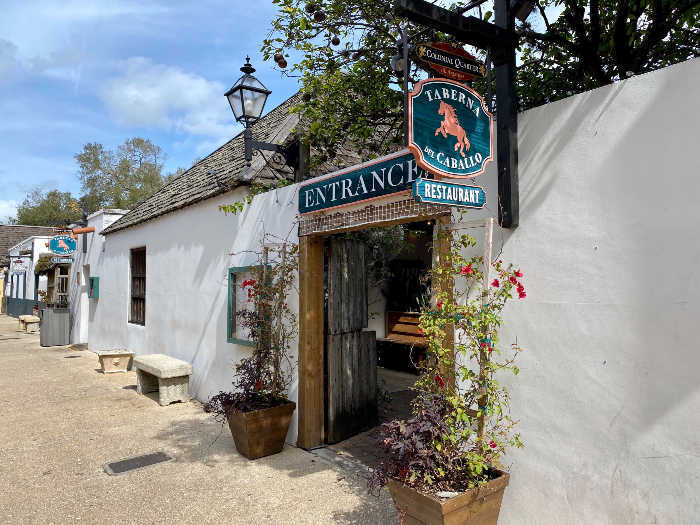 Taberna del Caballo is a great spot for lunch on the shaded patio courtyard. Located in the Colonial Quarter, Taberna del Caballo is an 18th century-style Spanish-inspired tavern offering a menu inspired by Spanish and Latin influences.
Expect the cochinita pibil pork tacos to be a little spicy. If you can only pick one thing, the Taberna dirty rice bowl is amazing.
Taberna del Caballo is located at 37 St George St, St. Augustine, FL 32084
Cafe Alcazar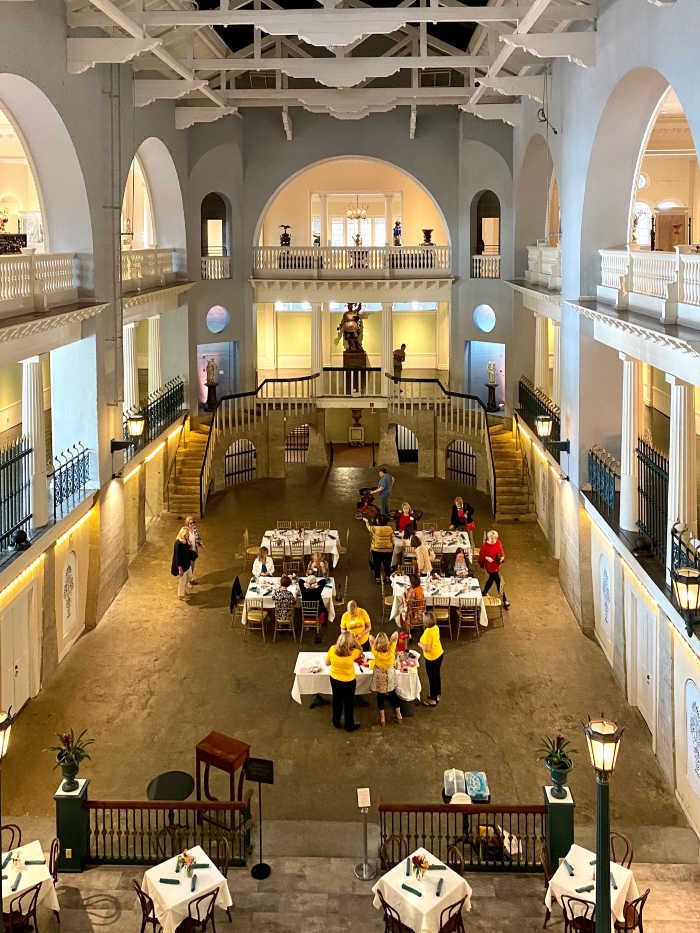 For a truly unique dining experience or a special occasion, make a lunch reservation at Cafe Alcazar, located in the Lightner Museum, with side entrances for non-museum diners. This elegant eatery is situated in what was originally an indoor swimming pool when the museum was the Alcazar Hotel, one of Henry Flagler's many properties in town during the Gilded Age.
Cafe Alcazar has an eclectic menu featuring local and organic ingredients — serving up everything from homemade hummus to Greek-style escargot.
Cafe Alcazar is located at 25 Granada St, St. Augustine, FL 32084
Athena Restaurant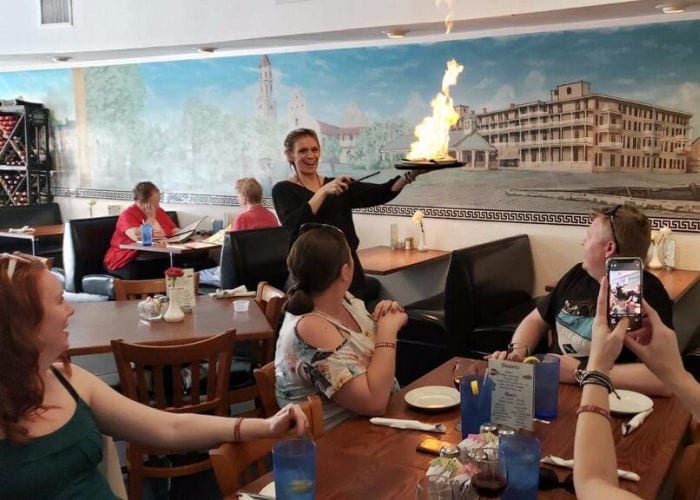 Serving breakfast, lunch, and dinner, Athena serves up classic Greek dishes in a casual setting. This family-run restaurant is located just off the central square in downtown St. Augustine.
Even kids will enjoy the flaming presentation of the Saganaki cheese and the Greek salad with gyro meat is delicious.
Athena Restaurant is located at 14 Cathedral Pl, St. Augustine, FL 32084
Ice Plant Bar
Co-located at the St. Augustine Distillery, everyone I know recommends a meal or at least drinks at the Ice Plant Bar. This vintage bar serves up farm-to-table cuisine and craft cocktails.
Ice Plant Bar is located at 110 Riberia Street, St. Augustine, FL 32084
Aunt Kate's
If you are heading to the beach, you may want to plan to stop for lunch or dinner at Aunt Kate's on the Tolomoto River. You can eat inside or enjoy outdoor dining while the kids romp on the small beach or watch the pelicans trying to steal fish from the docks.
You may want to go for one of the Menorcan dishes (or pick up a bottle of their homemade datil pepper sauce) or enjoy the delicious fried green tomatoes with Key Lime sauce — what a perfect blend of Southern comfort cuisine with Florida flavors! The award-winning fish tacos and soft shell crab sandwich are also a good choice.
Aunt Kate's is located at 612 Euclid Ave, St. Augustine, FL 32084
Kingfish Grill
Just across the Vilano Beach Bridge from downtown St. Augustine, Kingfish Grill serves up the freshest fish and local seafood around. The outdoor patio is a fun setting and the fire pits are a perfect spot for a pre- or post-dinner cocktail.
The Oysters Vilano are decadent and the sushi is incredibly fresh and tasty. All of the fish that we tried were so incredibly fresh and flavorful. I ate more fish in St. Augustine then I typically do in a month at home!
The Kingfish Grill is located at 252 Yacht Club Drive, St. Augustine, FL 32084
Where to go for Snacks in St. Augustine
When your sweet tooth starts begging for a mid-afternoon treat, here is where to stop in St. Augustine.
Peace Pie
This ice cream shop originated on the Jersey shore and has migrated its mellow sweetness down to St. Augustine. Offering gourmet ice cream sandwiches with a layer of pie filling, there are options for every sweet tooth. I didn't try them all, but the salted caramel apple with vanilla ice cream, salted caramel and apple pie filling, with cinnamon shortcake cookies is delish!! I'm not sure how they manage to keep the cookies crisp but not crumbly.
Peace Pie is located at 8 Aviles St, St. Augustine, FL 32084
Hyppo Gourmet Ice Pops
For those craving something cold but non-dairy, pop over to Hyppo Gourmet Ice Pops. The flavors range from champagne mango to pineapple ginger or strawberry basil. I need to stay longer in St. Augustine just to try them all!
Hyppo Gourmet Ice Pops is located at 48 Charlotte St, St. Augustine, FL 32084
Whetstone Chocolates Store and Tasting Tours
Whetstone is a family-run chocolatier offering a store downtown, and at the factory. One-hour factory tours are offered daily and include a four-tiered tasting to distinguish between the characteristics of dark, milk and white chocolate, and cocoa nibs.
Whetstone is located at 139 King St, St. Augustine, FL 32084 and 42 St George St, St. Augustine, FL 32084
Where to go for Drinks in St. Augustine
Prohibition Kitchen
Prohibition is a retro, gastro pub paying homage to the days of the Prohibition and the Gilded Age. There is a large selection of craft beers and handcrafted cocktails poured by aptly-bearded hipster bartenders. Go in the evenings to enjoy live music. If you choose pub grub, beware that the German-style pretzels are humongous.
Prohibition Kitchen is located at 119 St George St, St. Augustine, FL 32084
Casa de Vino 57
Casa de Vino 57 is a cute wine shop / wine bar with an outdoor patio and bar, often featuring live music. They serve up a mean charcuterie board and pour vintage and small batch wines.
Casa de Vino 57 is located at 57 Treasury St, St. Augustine, FL 32084
Odd Birds Bar
Odd Birds is a pop up bar serving craft cocktails and odd bites. Featuring a fun outdoor patio, Odd Birds brings in guest bartenders regularly and utilize a wide variety of spirits from all over the world.
Odd Birds Bar is located at 33 Charlotte St, St. Augustine, FL 32084
Mi Casa Cafe
If you are craving a cold beer and live music, head over to Mi Casa Cafe in Old St. Augustine. They serve up tacos, sandwiches & vegetarian fare and pride themselves on being the best dive bar around.
Mi Casa Cafe is located at 69 St George St, St. Augustine, FL 32084
The Tasting Tours
If you really want to learn about the food scene in downtown St. Augustine, sign up for a food and drinks tour with The Tasting Tours. You know I love a great food tour, and the tour in St. Augustine showcased a wide-variety of cuisines as well as PLENTY of wine!
Before we headed down to St. Augustine, I asked for recommendations on Facebook and Instagram and some other places that popped to the top include:
The Floridian Restaurant – southern cuisine – 72 Spanish St #3638, St. Augustine, FL 32084
Mango Mango's – Caribbean & American – 700 A1A Beach Blvd, St. Augustine, FL 32080
Cap's on the Water – oyster bar and seafood with great sunset views – 4325 Myrtle St, St. Augustine, FL 32084