Panama City Beach is known for the gorgeous beaches that line Florida's Northwest Emerald Coast. But everyone needs a break from the beach scene sometimes. And, there are plenty of things to do in Panama City Florida — off the beach. So hop a boat or take a car across the bridge to check out the Panama City attractions in the historic downtown districts of Harrison and St. Andrews.
But first, let's start with a little background. Panama City was formed in 1909 during the building of the Panama Canal, when Chicago businessman George Mortimer West drew a line between Chicago and Panama City, Panama and decided to invest where it intersected with this area in Florida. Located on St. Andrews Bay, Panama City and its local neighborhoods look more like small fishing villages than a large resort beach town. It is just one of those small towns in Florida that is a hidden gem.
There are four distinct neighborhoods in Panama City, each with its own personality and charm. Downtown, also known as Harrison, is the area's arts and theater district. St. Andrews is a historic downtown on the Bay, with lovely parks with moss-draped live oaks, beautiful bay views, cute shops, galleries, and restaurants that line the sidewalks alongside of a large marina.
Downtown North is the cultural hub of Panama City's African American community, with the African American Cultural Center and the 23rd Street Panama City Shopping District. East of Downtown, Millville is the area's paper manufacturing and shipbuilding center. I recently visited Panama City to experience the St Andrews Mardi Gras and spent most of my time in this quaint district.
What to do in Panama City Florida
Here are some of the many things to do in Panama City Florida:
Fishing / Boating / Dolphin Cruises
Of course even if you want to get off the beach, you should get out on the water at least once. Panama City is popular for its fishing charters, but families can also take a dolphin cruise. Dolphins love the clear water of the bay and if you get lucky, they may even come up to the boat and flirt a bit. I took a dolphin tour with Parramore Offshore Fishing and Dolphin Seafari.
Unlike other dolphin cruises I've taken in Orange Beach, Alabama, Parramore offers smaller boat cruises for private tours — perfect for families. Since you are the only ones on the boat, the agenda is up to you. You can follow the dolphins or snorkel by Shell Island to search for sand dollars. Captain Matt knows these waters well and can tailor your experience to your tastes.
Shopping
Panama City would make a great girlfriend getaway destination too, with its mix of art, food and shopping. In St. Andrews, you can find cute areas like Little Village, which offers a mix of small artisan shops, food, drink, and live music in a peaceful waterfront venue.
There are also cute beachy boutiques like Fiddlestix Gifts and Mariner's Daughter. As well as fun surf shops like Sunjammers, which is a combination of boutique and water sports outfitter. There are also art galleries and paint studios like Floriopolis.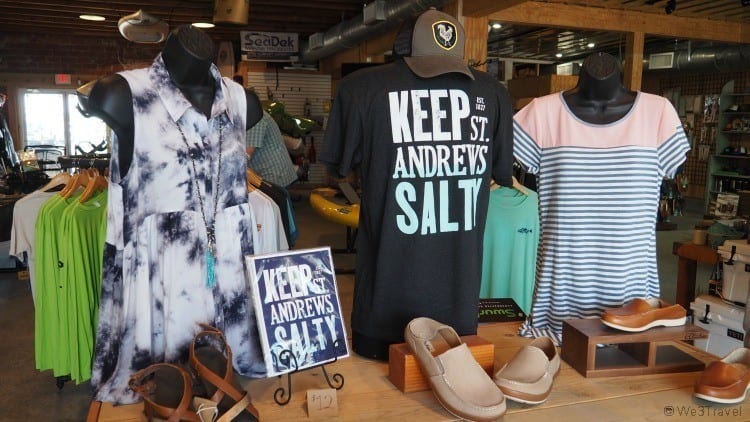 Where to Eat in Panama City Florida
Of course, one of my favorite things to do in any destination is to explore the area through its food. You can take a food tour, but if you want to explore on your own, be sure to check out these options:
Where to Stay in Panama City Florida
The other benefit of staying in Panama City versus Panama City Beach is that you are going to save some money. There may not be any beachfront highrises but you will find options friendly to your budget. I found the Holiday Inn in Panama City surprisingly large and comfortable, with free WiFi and parking, modern walk-in showers, and a full-service restaurant and bar.
One thing I loved about St. Andrews was that it has character and charm. It has a picturesque setting, quaint old-time architecture, and is one of those small towns filled with interesting characters. There is a reason why they want to "Keep St. Andrews Salty."
Do you have other suggestions on what to do in Panama City Florida?
PIN THIS
Note: My visit was hosted by Destination Panama City. All opinions are my own. This post contains affiliate links. If you click and make a purchase, I may make a small commission to support the running of this blog and to keep offering your vacation ideas and tips.