Panama City Beach is known as a spring break and family vacation destination, with its high rises and crowded beaches. But across St. Andrews Bay, Panama City is a whole other story. While it may be the largest city on Florida's northern Gulf Coast, Panama City maintains that small-town charm and funky village vibe, working hard to keep things salty.
With thriving historic districts, diverse dining options, eclectic shops, and galleries paired with dolphin tours, fishing charters, sailing excursions, and access to gorgeous beaches, there are plenty of things to do in Panama City Florida for those looking for a quaint twist to the typical Florida beach vacation.
About Panama City, Florida
Originally founded as a fishing village in 1827, Panama City has a strong maritime history of fishing, shipbuilding and salt mining. During the Civil War, the St. Andrews Bay Saltworks was one of the south's largest salt producers and the two remaining original salt kettles are marked with state historical markers.
In 1909, during the building of the Panama Canal, Chicago businessman George Mortimer West drew a line between Chicago and Panama City, Panama and decided to invest where it intersected with this area in Florida.
There are four distinct neighborhoods in Panama City, each with its own personality and charm. Downtown, also known as Harrison, was the original name of the town and today it is the area's arts and theater district. St. Andrews is a historic downtown on the Bay, with lovely parks with moss-draped live oaks, beautiful bay views, cute shops, galleries, and restaurants that line the sidewalks alongside of a large marina.
Glenwood is the cultural hub of Panama City's African American community, with the African American Cultural Center and the 23rd Street Panama City Shopping District. East of Downtown, Millville is the area's paper manufacturing and shipbuilding center.
Despite its proximity to local beach resort towns, Panama City and its local neighborhoods look more like small fishing villages. It is one of those small towns in Florida that is a hidden gem and well-worth checking out.
One thing I loved about St. Andrews was that it has character and charm. It has a picturesque setting, quaint old-time architecture, and is one of those small towns filled with interesting characters.
How do you Get to Panama City, Florida?
Panama City sits in the center of Florida's Emerald Coast on the northern shores of St. Andrews Bay. It is less than three hours east of Pensacola and two hours west of Tallahassee.
The closest airport to Panama City is the Northwest Florida Beaches International Airport (ECP), which is located approximately 20 miles northwest of downtown Panama City. Several airlines operate flights into ECP, including Southwest Airlines, Delta Air Lines, and United Airlines. The airport offers direct flights from several cities including hubs such as Charlotte and Atlanta.
Things to do in Panama City Florida
Here are some of the many things to do in Panama City Florida:
Take a Dolphin Cruise
Panama City is a great place to take a dolphin cruise. Dolphins love the clear water of the bay and if you get lucky, they may even come up to the boat and flirt a bit. I took a dolphin tour with Panama City Dolphin Seafari Tours.
Unlike other dolphin cruises I've taken in Orange Beach, Alabama, Dolphin Seafari Tours offers smaller boat cruises for private tours — perfect for families. Since you are the only ones on the boat, the agenda is up to you. You can follow the dolphins or snorkel by Shell Island to search for sand dollars. Captain Matt knows these waters well and can tailor your experience to your tastes.
Visit Shell Island
A short boat or shuttle ride away from Panama City is Shell Island. This uninhabited barrier island is approximately seven miles long and is known for its beautiful, pristine beaches and crystal-clear waters. It is popular with visitors for swimming, snorkeling, kayaking, and fishing.
The island is accessible by boat, and several companies offer guided tours to the island or you can also rent your own boats or jet skis to get to the island. Once on the island, there are no facilities, so you need to bring your own food, water, and supplies, making for a peaceful and secluded escape from the busy city beaches.
Take a Fishing Charter
Deep-sea fishing is a popular activity in Panama City and the area attracts both novice and experienced anglers. Fishing charters typically take guests out into the Gulf of Mexico, where they can catch a variety of species such as gag grouper, scamp grouper, bonito, trout, flounder, blackfin tuna, white snapper, and more.
Charters can range from a few hours to a full day and some also offer instruction and guidance for those who are new to fishing.
Go Birdwatching
Located on the Great Florida Birding Trail, Panama City is a great location for birdwatching, with a variety of habitats and ecosystems that are home to many species of birds. There are several sites in the Panama City area on the Trail including the Econfina Creek Wildlife Management Area and the Point Washington State Forest.
Other popular destinations for birdwatchers are St. Andrews State Park, which boasts over 200 species of birds, and Panama City Beach Conservation Park, which features a variety of trails and boardwalks that wind through marshes and woodlands. If you need, the Florida Fish and Wildlife Conservation Commission offers a free birding guide to the Florida Birding Trail, which includes detailed maps, species lists, and birding tips.
Watch a Sunset
Those Gulf Coast sunsets are gorgeous and you need to make sure to see at least one on your visit to Panama City. The St. Andrews Marina is a nice spot to catch a sunset, with the silhouette of the boats at anchor in the foreground.
Take a Historic Walking Tour
To learn more about the unique history of this area, join a guided historic walking tour around St. Andrews. These 90-minute tours take place every Wednesday and Friday at 1 p.m. and meet at the Panama City Publishing Company Museum.
There is also a free walking tour app produced by Florida Stories that you can download to take the tour by yourself.
Rent a Kayak or Paddleboard
Renting a kayak or paddle board is a great way to explore the beautiful waters around Panama City. There are several companies that offer kayak and paddle board rentals in the area, including Bayside Rentals, Katie's Paddleboarding Adventures, and All Inclusive Adventures, the latter two which offer excursions guided by experienced instructors.
For a unique experience, you can take a glow in the dark kayak tour with All Inclusive Adventure using clear bottom kayaks fitted with LED lights that illuminate the bay filled with marine life.
Popular locations for kayaking and paddle boarding in Panama City include St. Andrew's Bay, Shell Island, and the nearby Econfina Creek. For more adventurous paddlers, the Florida Circumnavigational Saltwater Paddle Trail offers an incredible journey around the entire state of Florida, including several stops along the Panhandle coast.
Go Shopping
Panama City would make a great girlfriend getaway destination too, with its mix of art, food and shopping. In St. Andrews, you can find cute areas like Little Village, which offers a mix of small artisan shops, food, drink, and live music in a peaceful waterfront venue.
There are also cute beachy boutiques as well as fun surf shops like Sunjammers, which is a combination of boutique and water sports outfitter. There are also art galleries and paint studios like Floriopolis.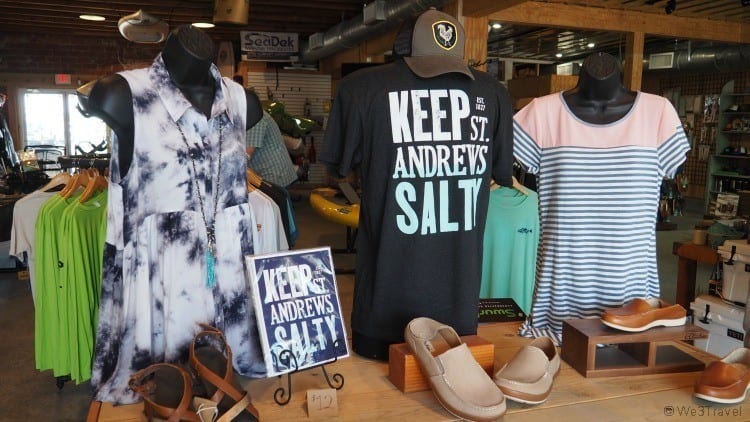 Make a Stop on the U.S. Civil Rights Trail
It surprised me to learn that Panama City has an official stop on the U.S. Civil Rights Trail. In 1963, civil rights activists organized a peaceful protest against segregation at the city's Gulf Coast Community College, which led to the arrest of several demonstrators. The following year, civil rights leader Dr. Martin Luther King Jr. visited Panama City and delivered a speech at a local church, urging the community to stand up against segregation and discrimination. Over the years, many local activists and community leaders worked to challenge segregation and promote equal rights in Panama City.
Today, the city has several historic sites and landmarks that commemorate the civil rights movement, including the Nelson Chapel AME Church and the Dr. Martin Luther King Jr. Memorial on Harrison Avenue.
The historic Bay County Courthouse is also home to the landmark Gideon v. Wainwright case, in which the Supreme Court upheld the U.S. Constitution's 6th Amendment, granting criminal defendants the right to free court-appointed defense counsel and is a stop on the Civil Rights Trail.
Eat Oysters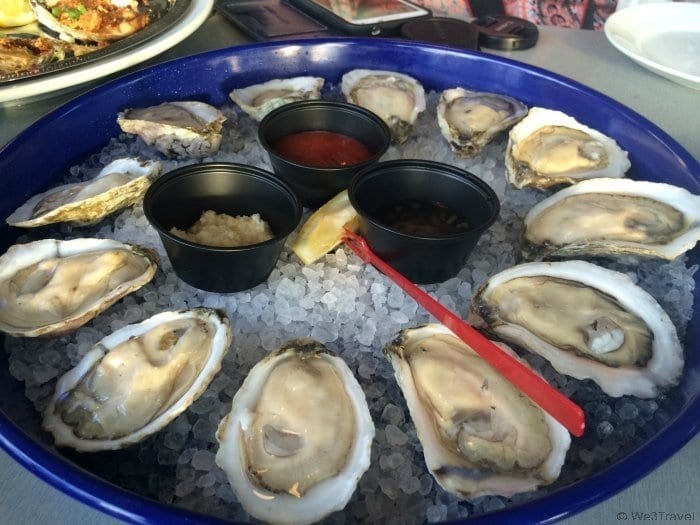 Panama City's history as an oyster fishing town dates back to the early 1900s when oysters were abundant in the nearby Apalachicola Bay and local fishermen would harvest them by hand and sell them to markets and restaurants throughout the region.
Today, oysters are still an important part of Panama City's economy and culture, and the city has developed the Panama City Oyster Trail. This self-guided trail covers over a dozen oyster purveyors and restaurants, including Gene's Oyster Bar, with its own historical marker.
Whether you prefer raw, baked, grilled, fried or sauteed, the Panama City Oyster Trail is a great way to taste them all. And there's an Ale Trail, too, where the craft beer and the atmosphere flow at nine local pubs. And did you know that Panama City native Honor Allen is a four-time National Oyster Shucking Champion with his own documentary, Honor's Best?
Attend a Madri Gras Parade
The Krewe of St. Andrews Mardi Gras celebration is an annual event that has been taking place in Panama City, Florida, for over 20 years. The event takes place in the historic St. Andrews district of Panama City, and typically occurs on the weekend before Fat Tuesday.
The parade features over 30 floats from 14 Krewes, and attracts a large crowd of locals and tourists alike, with an estimated attendance of over 50,000 people. The St. Andrews Krewe Mardi Gras celebration also features a number of other special events, including a pet parade and a family parade, along with live music performances, food vendors, and other activities throughout the weekend. I had the opportunity to attend and ride on a float for the parade and it was so fun, opening my eyes to Mardis Gras beyond New Orleans.
Listen to Music
Panama City is fortunate to have the Panama City Symphony Orchestra, the Panama City Music Association, and the Gulf Jazz Society providing excellent symphonic, classical, opera, modern and jazz music performances each year.
Attend a Festival
The Blessing of the Fleet & Sock Burning is an annual tradition where nearly 50 boats sail by the St. Andrews marina while the community gathers to honors those lost at sea and ask blessings for the safe travels of those who make their living on the water. Afterwards, revelers pull off their winter socks to "free their feet," tossing them into a big tub to be burned and officially usher in flip-flop season. Just one of the ways that St. Andrews stays salty!
Other fun festivals in Panama City include:
See Public Art
Panama City is known for its arts community, from a scattering of art galleries to a range of public art. One of the largest of which is Public Eye Soar, the largest free digital projection art show in the state of Florida. Taking place in November, this festival features art, videos, music, dance, film, and interactive experiences from artists all over the world.
There are also three Chad Gainey sculptures located at Oaks by the Park, which highlight the sea life living in and around Panama City waters.
The Center for the Arts is the artistic heart and soul of Panama City. Housed in a 1926 historic building across from Martin Theater that once served as the City Hall, it is free to visit and hosts 30 exhibits a year and also offers art classes for children and adults.
Take a Food Tour
One of my favorite ways to explore a destination is through its food and the best way to do that is on a food tour. A Taste of Panama City Food Tours offers food tour options in Harrison and St. Andrews, introducing visitors to local history and cultural along the way. The tours cover "Old Florida" cuisine, cajun and creole, Mexican, and other local favorites.
Where to Eat in Panama City Florida
Amavida — this organic, fair trade coffee shop isn't what you would expect to find in a small town like St. Andrews, but if you are a coffee connoisseur, you need to check it out. Even for us non-coffee drinkers, they offer smoothies, delicious pastries and local artwork in a hip setting.
Bayou Joe's — in the summer this dockside staple opens up the deck so boaters can pull right up, sometimes stacking up four-five deep. This is the only place where I've seen an early morning "happy hour," popular with local shift workers, but they also offer an amazing breakfast. I indulged in the irresistible "Garbage Grits" — a giant bowl of grits with cheese, tomatoes and veggies piled high.
Little Village — For yummy fish tacos in a quiet outdoor setting, sit on the back deck at Little Village in downtown St. Andrews.
Where to Stay in Panama City Florida
Note: My visit was hosted by Destination Panama City. All opinions are my own. This post contains affiliate links. If you click and make a purchase, I may make a small commission to support the running of this blog and to keep offering your vacation ideas and tips.
The other benefit of staying in Panama City versus Panama City Beach is that you are going to save some money. There may not be any beachfront highrises but you will find options friendly to your budget. I found the Holiday Inn in Panama City surprisingly large and comfortable, with free WiFi and parking, modern walk-in showers, and a full-service restaurant and bar.
Save this to Pinterest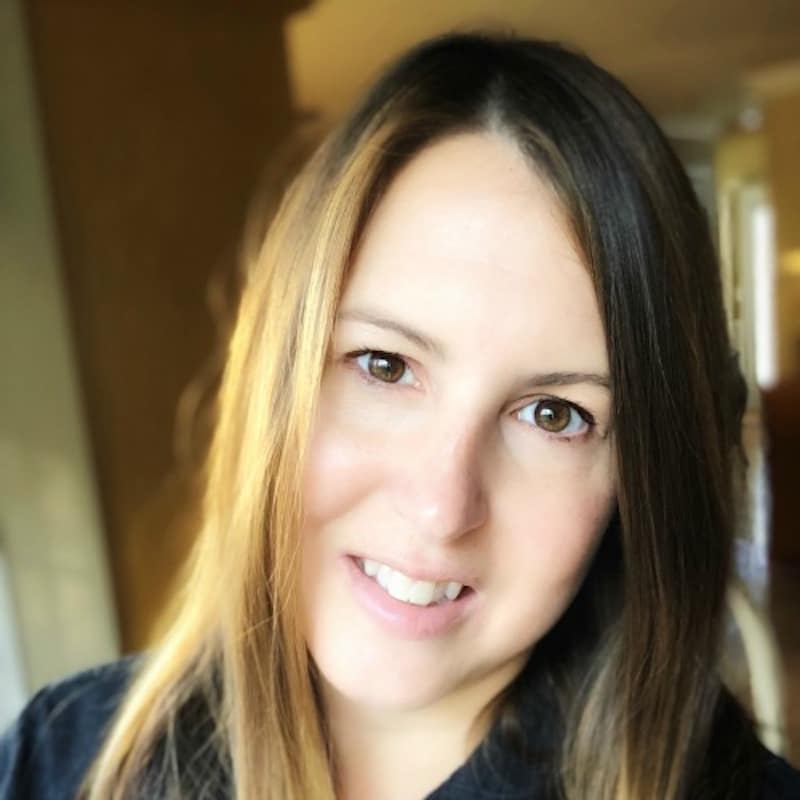 Tamara Gruber is the Founder and Publisher of We3Travel. A former marketing executive and travel advisor, Tamara is an award-winning travel writer and recognized expert in family travel. She is also the publisher of YourTimetoFly and the co-host of the Vacation Mavens travel podcast.