As we observe the birthday of one of the great Civil Rights leaders in the United States, Dr. Martin Luther King Jr., I wanted to share some of the Civil Rights sites that you should visit with your kids if you want to raise them to be anti-racist. N
ot everyone can do a full on Civil Rights road trip along the Civil Rights Trail, like we did one summer. And, while the repetition really drives the message home, you also don't need to visit every sight to teach the lesson that needs to be learned.
So I thought it might be helpful to summarize some of the notable civil rights sights around the country — perhaps not too far from home. With today's political climate, I feel like it is as important as ever to visit these attractions and gain a true appreciation for the violence and hatred the brave participants of the movement faced and why the struggle still persists today.
We all have something to gain by looking back, comparing to the present, and being activated to fight for a better world in the future.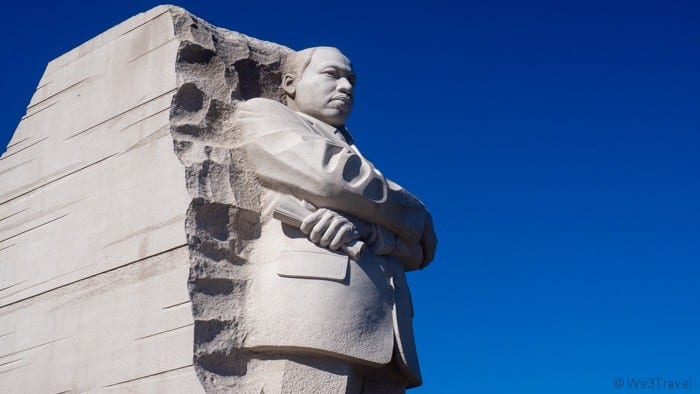 Visiting these sites is made easier with the newly launched US Civil Rights Trail. This trail covers more than 100 locations across 14 states. I have covered a few of these below, as well as some additional sites to consider.
Before you visit, I would also highly recommend investing in a copy of U.S. Civil Rights Trail: A Traveler's Guide to the People, Places, and Events that Made the Movement, published in 2021 from Moon Travel Guides. This post was written in partnership with Moon Travel Guides, all opinions are my own.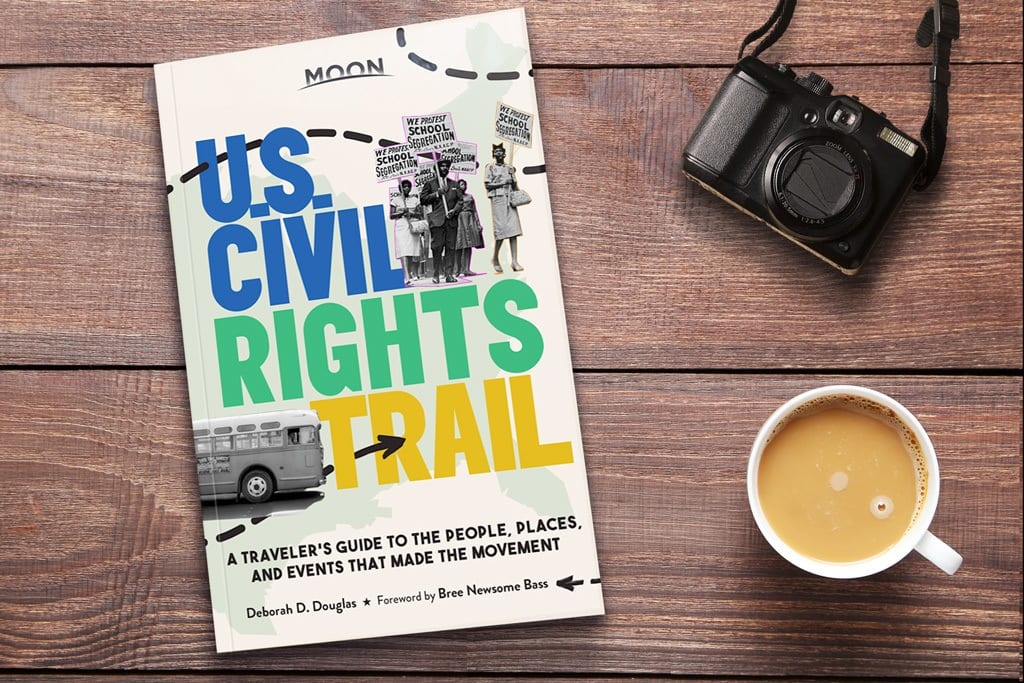 Civil Rights Sites in the United States
Dr. Martin Luther King Jr. Memorial, Washington DC
This is the first memorial on the National Mall to honor an African-American. The design of MLK's image emerging from a mountain came from a link in his famous "I Have a Dream" speech, where he states, "With this faith, we will be able to hew out of a mountain of despair a stone of hope." The carved mountain has a slice pulled out, symbolizing the "stone of hope."
The memorial also connects a line between the Lincoln Memorial, where Luther made his famous speech, and the Thomas Jefferson Memorial, one authors of the Declaration of Independence which was referenced in that speech. While you are there you can also visit the National Museum of African American History and Culture.
See my 3-day Washington D.C. itinerary.
John Brown's Fort, Harper's Ferry, WV
If you follow the path to the civil rights movement all the way back to the pre-Civil War days of the abolitionist movement it will lead you to Harper's Ferry, West Virginia. Hannah and I stopped here on the way back from our two-week road trip through Virginia.
We fell in love with this beautiful town, and its fascinating history. Read more about our visit to Harpers Ferry.
International Civil Rights Center & Museum, Greensboro, NC
I first learned about this museum this summer when I met with the PR team for Visit Greensboro. There were a lot of cool things about this town but what surprised me was a civil rights museum I had never heard of.
They have taken the original Woolworth's building and turned it into the International Civil Rights Center & Museum to commemorate the A&T Four and their role in launching the sit-in movement, keeping the original footprint of the seats and lunch counter.
Dr. Martin Luther King Jr. Memorial Park, Indianapolis, IN
There's a park just north of downtown Indianapolis with an incredible sculpture dedicated to both Dr. Martin Luther King Jr. and Robert F. Kennedy, and how their tragic history was so intertwined. On the night of King's assassination, RFK was due to deliver a campaign speech to an audience in an Indianapolis park that was mostly people of color.
His words encouraged the crowd to continue the legacy of Dr. King and is credited with keeping Indianapolis peaceful that night, when so many other cities erupted in riots. The speech is powerful, and I love that the sculpture itself continues their legacy as peacemakers, and how we can work together toward that vision.
Submitted by Nicole Wiltrout, Arrows Sent Forth
Old Courthouse, St. Louis, MO
While St. Louis may be best known for its skyline-defining Arch, it also has a rich history of civil rights struggles including the landmark Dred Scott trials. In 1847, Mr. Scott filed suit against his owners for his freedom. He lost his first case which was tried in the Old Courthouse, but he was granted permission for a re-trial by the Missouri Supreme Court. His case eventually went to the U.S. Supreme Court where he eventually won his freedom in 1857. The decision was a major turning point in American history as tensions between the North and South grew. Civil war broke out shortly thereafter on April 12, 1861.
If you're visiting the Jefferson National Expansion Memorial, be sure to take some time to walk through the Old Courthouse also. It's only a short walk away and it's a fascinating look back at the history of race and justice in America. Even if history isn't your thing, the architecture is fantastic. Consider visiting between Flag Day and Independence Day where the courthouse is decorated top to bottom with American flags.
See other things to do in St. Louis.
Submitted by: Carrick Buss, Along for the Trip
National Civil Rights Museum at the Lorraine Motel, Memphis, TN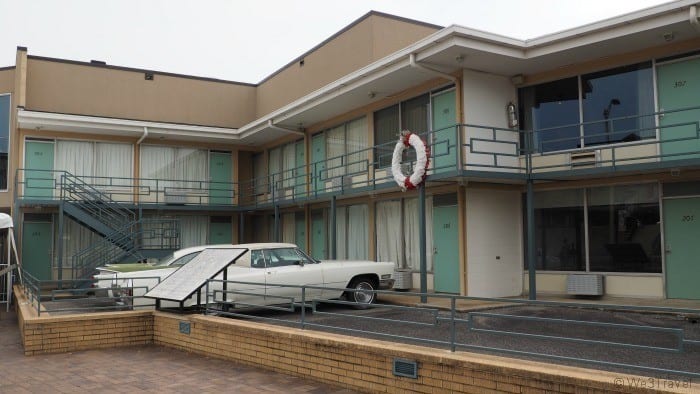 While many civil rights workers and lunch counter protesters were trained in Nashville, the better site to visit is in Memphis. The National Civil Rights Museum at the Lorraine Motel, the place where Dr. Martin Luther King Jr. was assassinated, should be in your top two Civil Rights sites to visit.
It follows the timeline from the beginning of the slave trade through the point of MLK Jr.'s assassination overlooking the rooms he occupied in the Lorraine Motel and the balcony where he was shot. It touches on all the major moments of the movement, from the Bus Boycott to the Freedom Rides, the Selma March, the bombings in Birmingham and the lynchings and killings along the way. It is a powerful experience and by the time you look into where Dr. King spent his last moments, it is hard to hold back tears.
See my 3-days in Memphis itinerary.
Brown v. Board of Education National Historic Site, Topeka, KS
The Monroe Elementary School was one of four segregated elementary schools for black children in Topeka. To memorialize the landmark Supreme Court Case of Brown v. Board of Education, which ended legal segregation of schools, this school was reopened in 2004 as a National Historic Site and civil rights interpretive center.
Your visit starts with a 30-minute film Race and the American Creed, which traces the history of racism and segregation. Other exhibits examine the challenges African Americans faced while trying to receive a formal education before the 1954 U.S. Supreme Court decision, the legacy of Brown v Board of Education, and an example kindergarten classroom.
Little Rock Central High School National Historic Site, Little Rock, AR
Arkansas has its own Civil Rights Heritage Trail, with quite a few sites in Little Rock, including the Clinton Presidential Center, Little Rock Nine Memorial at the State Capitol, and the Little Rock Central High School National Historic Site.
This is where the "Little Rock Nine", the nine African-American students to first be integrated into this all-white high school, faced down the state National Guard and angry protesters who tried to block their way. Today, this still-functioning school is a National Historic Site and civil rights museum with ranger-led tours.
Mississippi Civil Rights Museum, Jackson, MS
You can trace Mississippi's civil rights journey on the Mississippi Freedom Trail. In Jackson, you can visit the Mississippi Civil Rights Museum. While the museum covers the entire Civil Rights Movement, special attention is given to the murders of Medgar Evers and Emmett Till.
Birmingham Civil Rights Institute, Birmingham, AL
The Birmingham Civil Right Institute also traces the path of the Civil Right Movement, but this time with special attention paid to the history in Alabama. It covers Birmingham's very segregated history and once again walks through the major moments of the movement.
While fairly simple, this museum was Hannah's favorite on our civil rights road trip. After a visit, be sure to take a stroll through the Kelly Ingram Park across the street and take in its powerful monuments and memorials. You can also visit the 16th Street Baptist Church, where four young girls were murdered in a bombing.
Edmund Pettus Bridge, Selma, AL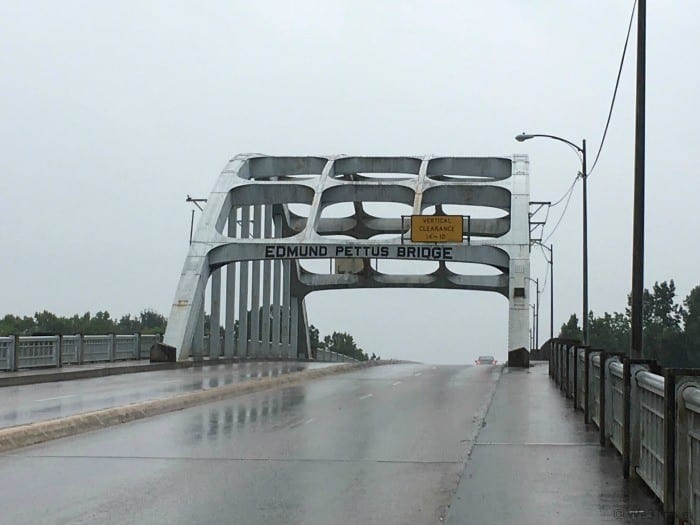 I would recommend watching the movie Selma before walking across Edmund Pettus Bridge in Selma. There isn't much else to see, except a small interpretive center at the foot of the bridge, but seeing the bridge in person after learning about its history is an emotional moment.
Rosa Parks Museum, Montgomery, AL
In the state capital of Montgomery, you can visit Dr. Martin Luther King Jr.'s church, the site of Rosa Parks' arrest and the courthouse of Judge Frank M. Johnson Jr. For museums, the best is the Rosa Parks Museum, which does an excellent job of using video to tell the story of Rosa Parks and the beginning of the Montgomery bus boycott.
I thought I knew the story of Rosa Parks but I was wrong. There were so many facts that I learned that gave even more meaning to the actions of this courageous woman. After the Rosa Parks Museum, you can visit the small Freedom Rides Museum to get the full story of the Freedom Riders and their bravery.
Tuskegee Airmen National Historic Site, Tuskegee, AL
If you have kids that are into aviation, this is the perfect combo of aviation and history. Moton Field in Tuskegee was home to an "experiment" to find out if African-Americans could be trained to be combat pilots. The Tuskegee Airmen fought in World War II as the first African-American military aviators in the nation's history.
Today, the hangars at Moton Field house artifacts related to the Tuskegee Airmen and you can even see a plane they flew. A friend of mine visited this past summer and her kids really enjoyed this site.
National Center for Civil and Human Rights, Atlanta, GA
Of all the museums and sites that I have visited, the National Center for Civil and Human Rights is certainly one of my favorites. Because it is relatively new, the exhibits are very modern and interactive. The most powerful of all is the lunch counter exhibit. Visitors need to be 13 to participate, as it is very emotional. As you sit down, you don headphones, place your palms on the lunch counter, and close your eyes. It makes it seem as if people are all around you, screaming in your ears and hitting the back of your chair. It is raw and disturbing and puts you in the shoes of a protestor the way nothing else can.
I also really enjoyed the Human Rights exhibit, which talked about the ongoing struggle for human rights around the world, profiling both the most evil violators of those rights, and the strongest advocates.
See my Atlanta with teens itinerary.
Women's Rights National Historical Park, Seneca Falls, NY
I can't talk about Civil Rights without also including women's rights. A couple of years ago, we visited Seneca Falls, home to the Women's Rights National Historical Park and the National Women's Hall of Fame.
Here you can learn about women's struggle for equal rights and the right to vote. If you want to be inspired by a group of powerful, smart, and brave women, definitely include a stop at the National Women's Hall of Fame.
PIN THIS FOR LATER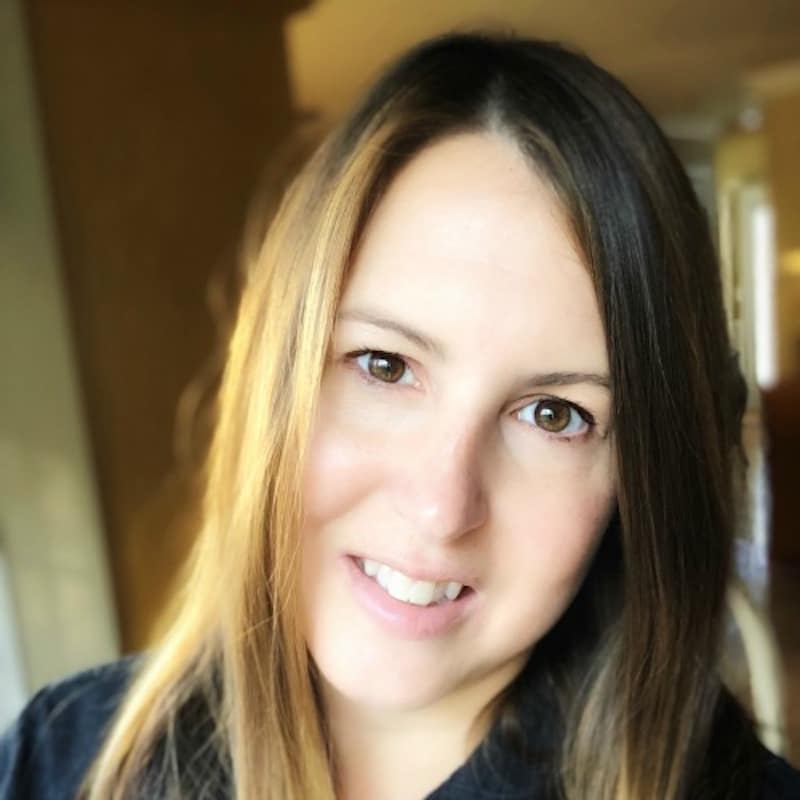 Tamara Gruber is the Founder and Publisher of We3Travel. A former marketing executive and travel advisor, Tamara is an award-winning travel writer and recognized expert in family travel. She is also the publisher of YourTimetoFly and the co-host of the Vacation Mavens travel podcast.