Harpers Ferry, West Virginia squats at the confluence of the mighty Shenandoah and Potomac Rivers, and also at the intersection of both history and adventure. That strategic location is the reason Harpers Ferry exists, why it has played such an important role in history, and what makes a good reason to visit Harpers Ferry with kids.
About Harpers Ferry, WV
In Colonial Days, settlers recognized the power of these rivers and established mills and industry in Harpers Ferry, which was named after Robert Harper and his ferry across the Potomac. After becoming President, George Washington, who had visited the area during his days as a surveyor, established a Federal Armory in Harpers Ferry.
It was this armory that attracted the attention of abolitionist John Brown in the pre-Civil War days. In 1859, to strike back against slavery, John Brown led a raid on this arsenal, holding his ground before being apprehended by none other than Robert E. Lee, but more on that later.
Once part of Virginia, the town sits at a crucial location at the dividing line between the North and the South. Due to this perilous position, the town changed hands eight times during the American Civil War, which is less than nearby Winchester, VA, which was exchanged 72 times!
The fate of this small, scenic town has risen and fallen with the flow of the river. Its early industrial hub caused it to prosper, but vicious flooding dampened the success of the town. While the armory brought it back, the arrival of the B&O Railroad made river and canal transport less critical. The railroads also brought tourists to this scenic town, but floods and the Great Depression washed away its popularity once again.
Today, the river and its scenic setting again attract tourists, as does its historical significance. In Harpers Ferry, adventurers can go white water rafting, river tubing, fishing, zip-lining, and rock climbing.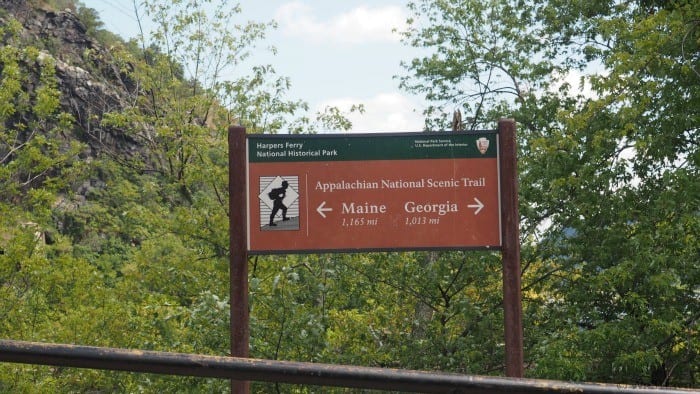 Harpers Ferry is also the home to the Appalachian Trail Conservancy, and the approximate halfway point on the famous Appalachian Trail (AT). As one of only a few towns that the AT passes directly through, hikers also enjoy this way station for a chance to step back into civilization before continuing on their treks.
It was primarily the history and Harpers Ferry National Historical Park that drew us to Harpers Ferry. Not only were we able to round out some of the historical sights we took in on our two-week road trip through Virginia (including Jamestown, Williamsburg, Charlottesville, and Shenandoah Valley and the Blue Ridge Mountains), but we were also able to check another state off of Hannah's list of visited states.
Things to do in Harpers Ferry with Kids
Harpers Ferry is an ideal destination for history buffs and families because of the mix of outdoor adventures, American history, historic sites, fun activities, and interesting things to do. It is also a good stop for those starting or ending their drive on the Blue Ridge Parkway.
Visit Harpers Ferry National Historical Park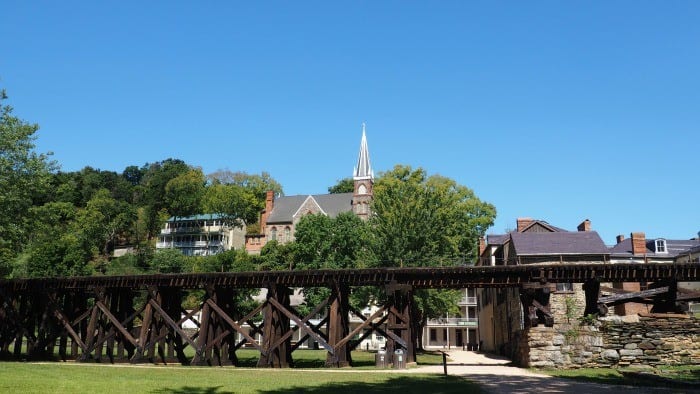 Our first stop was the Visitor Center at the Harpers Ferry National Historic Park. I thought I needed to allocate time to explore both the national park and the historical town, but I soon learned they are one and the same. The park is embedded in the town and the modern town skirts around the original village. The Visitors' Center is really just a place to park for free and take the courtesy shuttle bus down to the historic Lower Town.
On the shuttle, we got a brief introduction to the history of Harpers Ferry, from its beginnings in 1747 when Mr. Harper from Philadelphia settled there and opened a ferry crossing. We were able to tour Harpers Ferry with a local Park Ranger, but if you are willing to read up on a bit of history either before you go or in the various exhibits, you can easily explore on your own.
Harpers Ferry has been attracting visitors for over 200 years, with illustrious visitors such as George Washington and Meriwether Lewis of Lewis & Clark.
The park itself has over 20 miles of hiking trails, but if you are interested in history, you'll want to start at the Visitors Center on Shenandoah Street. As you walk along Shenandoah Street, you can stop in to the bookshop at the Harpers Ferry Historical Association, the Information Center, and a few of the other self-guided exhibits. At the end of the street, you'll find John Brown's Fort.
The event that put Harpers Ferry in the history books happened in October of 1859. Abolitionist John Brown from Kansas came to Harpers Ferry because of the Federal Armory and Arsenal. With him came 21 followers, including five free black men.
At the time, Harpers Ferry was part of Virginia, the largest slaveholding state in the south (West Virginia didn't split off until 1863.) As part of a plan to arm enslaved people, Brown and his followers attempted to capture the armory and during gun battles in the street, four townspeople and ten of his followers were killed.
Brown took refuge in a fire station, now called John Brown's Fort. He holed up there until 90 marines, led by non-other than Robert E. Lee, arrived to negotiate his surrender. When negotiations failed, the marines stormed the tiny building and John Brown and four others were arrested. He was later put on trial, found guilty and hung in nearby Charles Town.
Just a short year and a half later, the Civil War broke out and Harpers Ferry was faced with more turmoil, starting with the Federal troops burning the arsenals when Virginia seceded. During the course of the war, Harpers Ferry changed hands eight times, held 80 percent of the time by Union forces.
After winning Manassas in 1862, Confederate General Stonewall Jackson set a triangular trap around Harpers Ferry in order to capture the Union soldiers stationed there. Jackson captured over 4,000 prisoners, representing the biggest surrender of the Union Army in the Civil War. Two days later, the Confederate soldiers surrendered at Antietam.
After the war, the Freedman's Bureau helped feed, clothe, and shelter the over 30,000 enslaved people in the area. John Storer from Maine donated $10,000 to create a desegregated school, which later became Storer College.
Even after soaking in all this history, there is still more to be seen. But before you go, ask a ranger for a pack of Harpers Ferry trading cards. Apparently, they are available at all Civil War National Parks — but you have to ask for them!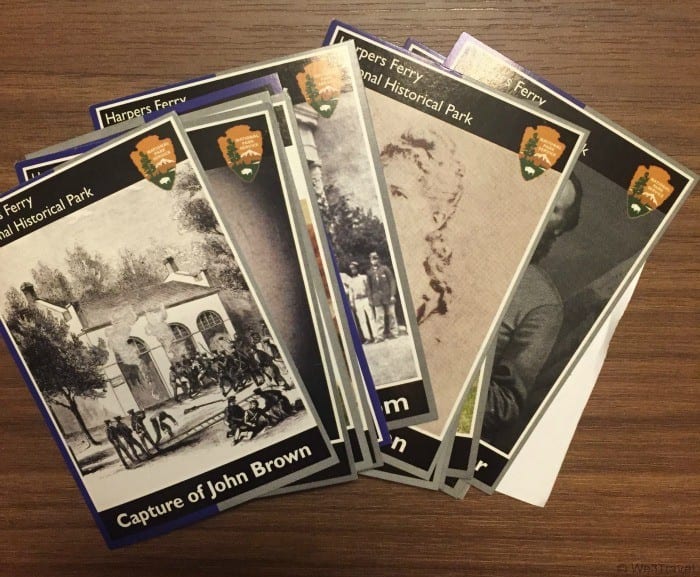 Explore Downtown Harpers Ferry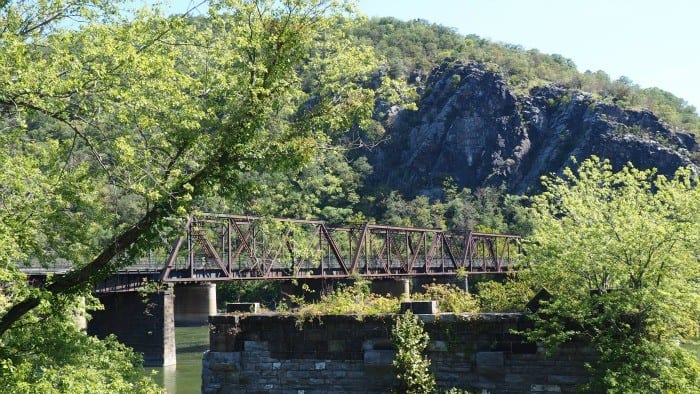 As we climbed High Street, the historical sites gave way to shops, inns, restaurants, and historic buildings. We wandered in and out of gift shops, some catering to hikers coming off the Appalachian Trail. Our favorite shop was True Treats Historic Candy. Unlike any other, this shop claims to be the only historic candy store in the U.S. Arranged by time period, we browsed displays of candies representing eras back to the 1700s. Younger kids will love it.
Enjoy the View from The Point
But Harpers Ferry is not just about history. Its setting at the intersection of the Potomac and Shenandoah Rivers is quaintly beautiful and captivating. To fully enjoy the beauty, walk out to the Point for views of the river. You can also walk down to the river on the Harpers Ferry side and skip some stones or roll up your pant legs and wade in the water when the river is low.
Walk Across the Pedestrian Bridge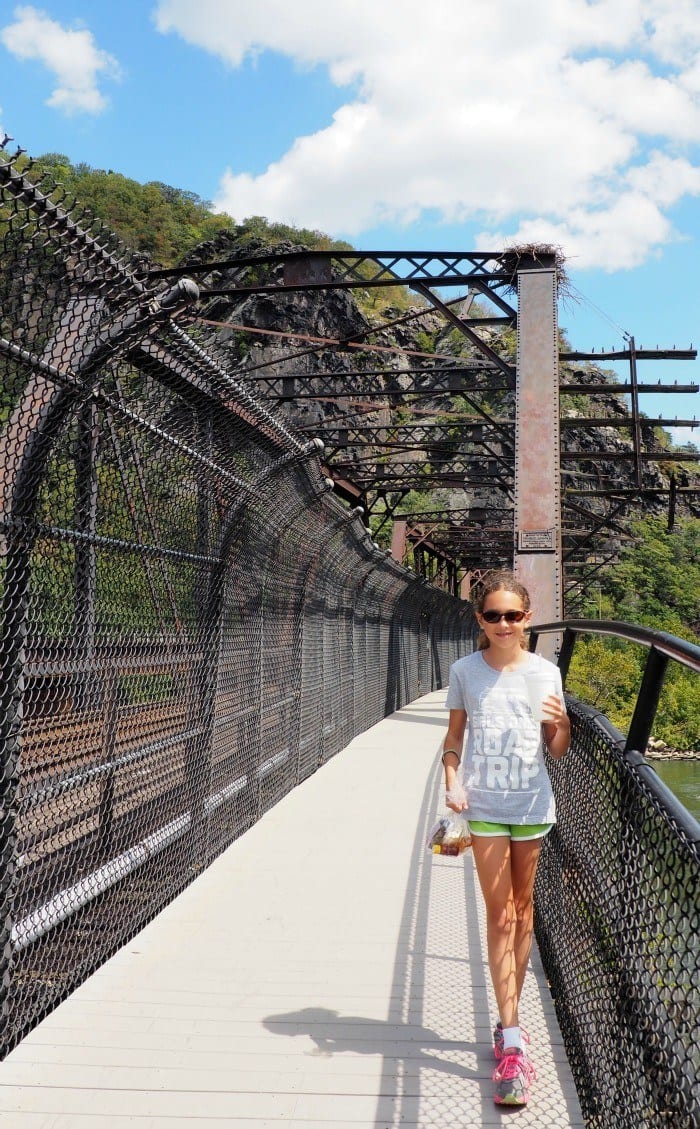 From the Point, you can walk across the river using the pedestrian walkway on the old railroad bridge and hike up the opposing hill or riverbanks for great scenic overlooks. The bridge allows pedestrian access between Harpers Ferry and the Chesapeake & Ohio Canal National Historic Park (C&O Canal Towpath) and Maryland Heights, and connects the Appalachian Trail from West Virginia to Maryland.
Harpers Ferry Adventure Center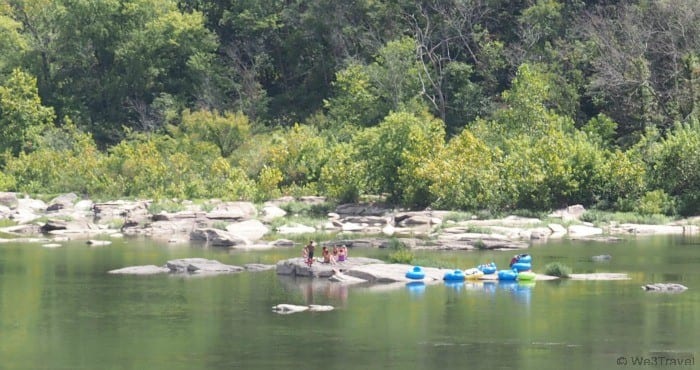 For those looking for more adventure, you can cross over to Purcellville, Virginia to the Harpers Ferry Adventure Center. We stopped in to visit and we were bummed that we didn't have time on this trip to take advantage of some of their offerings — although we would need at least a weekend to do everything they have to offer.
Luckily the Adventure Center has its own campground and cabins so you can stay on-site. The Harpers Ferry Adventure Center offers white water rafting, river tubing (both white water and flat water), zip line canopy tour, kayaking, canoeing, fishing, hiking, segway tours, an aerial adventure park, and even a jumping pillow. Older kids will love the thrills and fun things to do here.
There is more than enough in Harpers Ferry to warrant a visit and we hope to make a return trip. We were very taken with this small town and its natural beauty. I'd like to visit in the spring or early summer when the river is really flowing and we can finally get in some river tubing, or in the fall when the foliage is at its height.
Ride the Potomac Eagle Scenic Railroad
The Potomac Eagle Scenic Railroad is located about 25 miles south of Harpers Ferry, in Romney, West Virginia, and is a great attraction for families (especially those with kids who love trains!) The train ride takes a 3-hour journey through the beautiful South Branch Valley, with beautiful views of the Appalachian Mountains, rolling farmland, and the South Branch of the Potomac River.
The train is a restored diesel locomotive and has vintage passenger cars that offer comfortable seating and large windows for viewing. The highlight of the trip is a section of the route known as the Trough, where the train passes through a narrow gorge with steep cliffs on either side. Passengers can also sometimes spot wildlife from the train, including bald eagles.
During the trip, the conductor provides interesting commentary about the history and geology of the area, making it an educational experience for kids and adults.
Visit the Harpers Ferry Toy Train Museum
The Harpers Ferry Toy Train Museum is a small museum in the historic Lower Town area that features a large collection of vintage and modern toy trains, as well as other model train-related exhibits. It is a great place for families with children of all ages, but it may be of particular interest to younger children who are fascinated by trains
Visitors can view the displays, which include working train layouts, dioramas, and historic artifacts related to the history of toy trains. There are also interactive exhibits, including train simulators and hands-on activities for kids.
Take a Ghost Tour
Harpers Ferry has many ghost stories and there are several companies that offer guided ghost tours of the town, which are a fun experience for older kids and adults.
Day Trips from Harpers Ferry
If you stay a few days in Harpers Ferry, you can also plan a day trip to the surrounding area such as:
Gettysburg, PA: This historic town is home to the Gettysburg National Military Park, where the Battle of Gettysburg was fought during the Civil War.
Shenandoah National Park, VA: Located just south of Harpers Ferry, beautiful Shenandoah features scenic drives, hiking trails, and stunning mountain views.
Antietam National Battlefield, MD: This historic site is the location of the bloodiest single-day battle in American history, fought during the Civil War.
Frederick, MD: This charming town is known for its historic district, which features beautifully preserved 18th and 19th-century buildings.
Berkeley Springs, WV: This picturesque spa town is located about an hour and a half from Harpers Ferry and is known for its natural hot springs and historic baths.
Catoctin Mountain Park, MD: This park features scenic drives, hiking trails, and historic sites, including the presidential retreat of Camp David.
Shepherdstown, WV: This small town is known for its quaint downtown area, historic buildings, and charming shops and restaurants.
Harriet Tubman Underground Railroad National Historical Park, MD: This historic site tells the story of Harriet Tubman's work as a conductor on the Underground Railroad and her efforts to help enslaved people escape to freedom.
Where to Stay in Harpers Ferry
If you plan on staying in or near Harpers Ferry, a few good family-friendly options include:
The Bavarian Inn: This hotel is located in nearby Shepherdstown, WV and features a European-style inn with a restaurant, spa, and outdoor pool. We stayed here and loved the vibe including the infinity pool!
The Town's Inn: This historic bed and breakfast is located in the heart of Harpers Ferry and features rooms with antique furnishings and a complimentary breakfast.
KOA Harpers Ferry: This campground is located just outside of Harpers Ferry and features tent and RV camping, as well as cabins and deluxe cabins for rent.
Find other places to stay in Harpers Ferry:
PIN THIS FOR LATER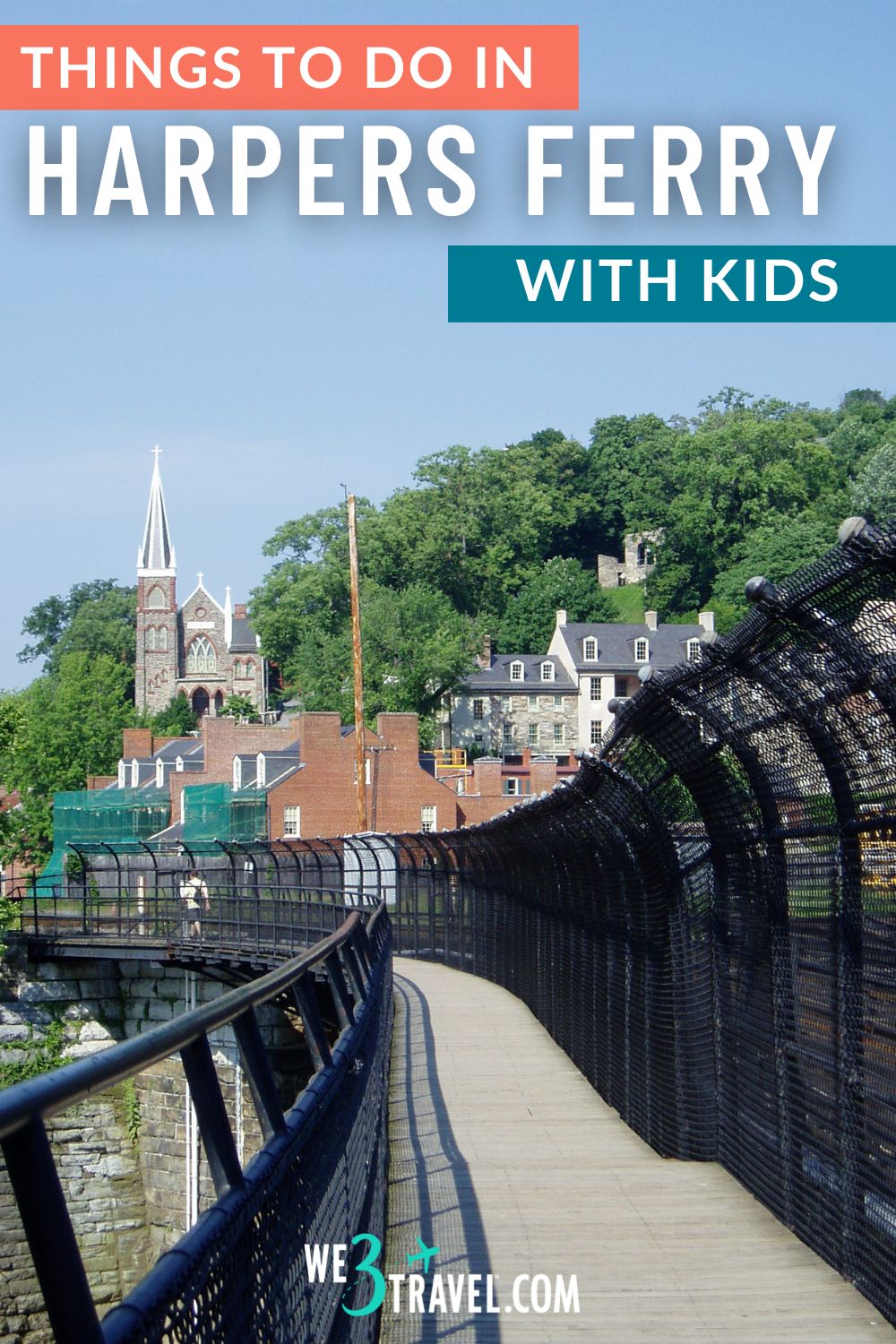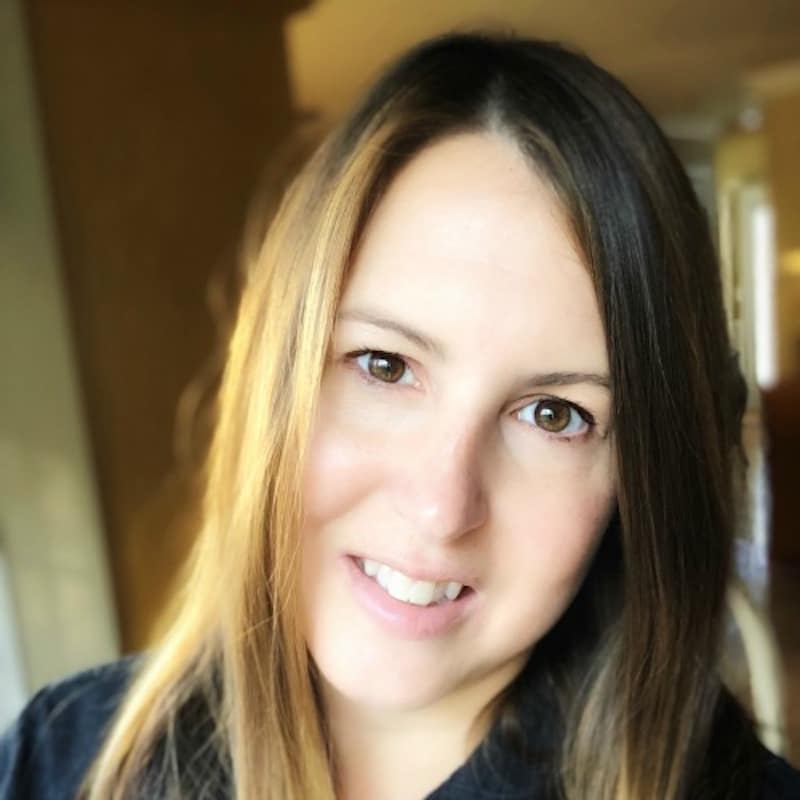 Tamara Gruber is the Founder and Publisher of We3Travel. A former marketing executive and travel advisor, Tamara is an award-winning travel writer and recognized expert in family travel. She is also the publisher of YourTimetoFly and the co-host of the Vacation Mavens travel podcast.