Every winter we start our annual debate on where to go for our family spring break. Since we live in New England, we are usually thinking about somewhere warm. But despite the attraction of theme parks and beaches, flights to these destinations are always outrageously priced at this time of year. We often find that trips to Europe are actually cheaper than a flight to Florida. Imagine that? So then I start brainstorming European spring break ideas for families and researching average temperatures and rainfall.
We have found a few European spring break destinations that we enjoy and to make my future research easier (and hopefully yours as well!), I've asked some of my favorite family travel bloggers to chime in on their favorite spring break destination in Europe. Across the board, some of the benefits of traveling to Europe for spring break — whether that be in March or April — is that it is a more budget-friendly time to visit. Hotel rates will be lower and attractions won't be as crowded as visiting during the high season. Plus, it is nice to visit some of these destinations when you aren't melting from the heat.
European Spring Break Destinations for Families
Basque Country, France and Spain
Your family will fall in love with the beguiling Basque Country! Spanning both France and Spain on the Atlantic Ocean, its language, culture and fantastic food are truly unique. Start with a visit to the Basque Museum to learn about the sport of jai alai and try on traditional costumes – and don't leave pretty Bayonne without trying some of its famous ham. Speaking of food, the pintxo ("pinch-oh") bars in San Sebastián are great fun; kids will especially enjoy pointing to the mouth-watering tapas they want, which signals the bartender to serve them up.
Springtime is a wonderful time to explore the area, and sights remain open during religious holidays. While early spring is on the cooler side, by late spring families can take full advantage of the stunning beaches, from elegant Biarritz to charming Saint Jean de Luz in France all the way to the surfing capital of Spain, Zarautz. Don't miss the fantastical Guggenheim Museum in Bilbao! Much of the modern art is especially accessible to children, including Jeff Koons's flower-covered giant "Puppy," which guards the gorgeous building. Afterward, stroll along the river to a great playground, where the kids can blow off steam with the locals.
Suggested by Julia Slatcher, Inspire World Travel
Budapest, Hungary
Budapest is an affordable option for spring break family travel, with a mix of architecture and indoor and outdoor activities. I would avoid the city on the weekend, when young Europeans come to party. During the week it is much more kid-friendly. We spent 48 hours in Budapest in late March last year and we experience warm weather in the 60s and 70s (Fahrenheit.)
You will definitely want to walk across the Chain Bridge and make the climb (or take the funicular) up to Buda Castle. Walk over to Fisherman's Bastion — which looks like Minas Tirith from the Lord of the Rings. The ceramic tile roof of Matthias Church is a Hungarian marvel but the inside of this church is even more impressive. Back across the river on the Pest side of the city, you can't miss the St. Stephan's cathedral, Dohány Street Synagogue, or Budapest's Central Market. Kids will also enjoy seeing the amazing architecture of the Parliament Building from a river cruise or splashing in one of the city's bathhouses.
Cinque Terre, Italy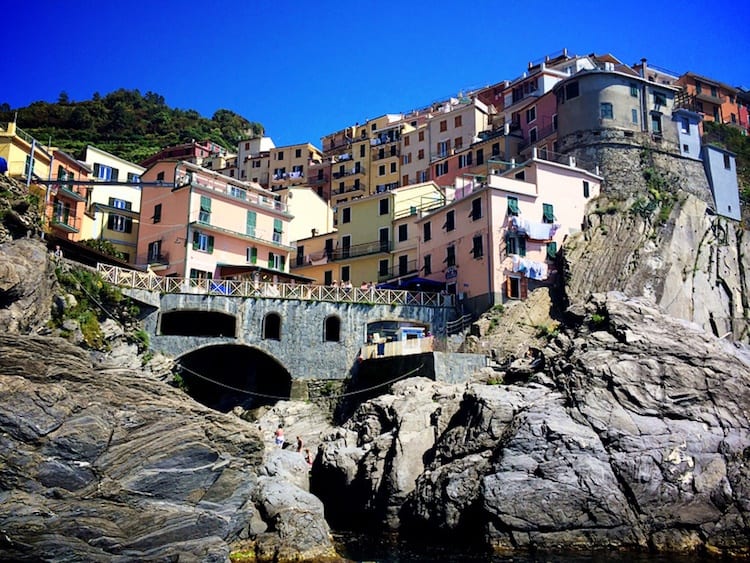 Spring is a perfect time to visit the Cinque Terre, as the temperatures are starting to warm up, but the tourists haven't taken over quite yet. By May the masses will flock to these five small hill towns the beaches and hikes each provides, but March and April are still low season, which means you get a bit of peace and quiet to explore.
Easter can bring an influx of travelers, but there is still plenty of room for all to see the towns and beautiful views from the trail. It is spring though, which means rain can and will fall, so come prepared with your umbrella and rain boots so you won't be trapped indoors. March can also be chilly, with temperatures as low as 45 degrees Fahrenheit, while April will see highs of 65 to 70 degrees Fahrenheit so pack layers to combat the varying temperatures.
The hiking trail that links the five villages together may also be closed due to mudslides that are common in the spring. The ferry and train can still get you to each village, even if you have to skip the hike. Like any destination in spring, you may have to deal with a little bit of Mother Nature's madness, but the flowers that are in bloom and the decreased crowds will make the visit well worth it. See more tips about visiting the Cinque Terre!
Suggested by Keryn Means, Walking on Travel
Ireland
We often visit Europe for spring break and Ireland has been one of our favorite destinations. Cost and crowds are the two primary reasons we choose to travel to Europe during spring break. Both airfare and hotel prices in Ireland were lower and many attractions were not as busy as they would have been during the high season. Temperatures in Ireland were warming by mid-March, flowers were starting to bloom and everything seemed quite green even though the trees were not yet in bud. Being prepared for variable Irish weather is key any time of year, but we were actually quite lucky as we spent eight days and only experienced a few drops of rain on the day we arrived.
This is also a great time of year to visit if celebrating St. Patrick's Day on the Emerald Isle is on your bucket list. We had no issues with closed attractions but some do close for the winter and reopen around Easter weekend, particularly in smaller communities. Visitors should also be aware that some businesses might close on St. Patrick's Day and Easter Monday as both are public holidays. If you don't mind temperatures that are cooler than in the summer then spring break is a great time to visit Ireland! See tips for visiting Dublin with teens.
Suggested by Lisa Goodmurphy, Gone With The Family
Lisbon, Portugal
We visited Lisbon last April and we couldn't have picked a better destination for our family spring break. Lisbon has all we love in a city: a rich history, a stunning location on the mouth of the river Tagus and fresh, glorious food you can taste in its many restaurants and markets. Lisbon is a pleasure to visit in most seasons but spring is the one when the city is at its best.
In spring, Lisbon is blessed with bright sunny days and mild temperatures, perfect for sightseeing. It is warm enough to stroll with bare arms, but not so hot that you need to find refuge from the sun, which is important especially if traveling with young kids. City life is in full swing at this time and since the tourism high season doesn't start until June, you can get a taste of local life you may miss in the height of summer.
Spring is also a good time to take short day trips to the Portuguese coast close to the city. While it is likely to still be too cold for a full day on the beach, at this time you can already enjoy outdoor terraces and long coastal walks. You can read more about how to make the most of your time in Lisbon in our Lisbon family weekend itinerary.
Suggested by Marta Correale, Learning Escapes
London, England
Some of the best parks and gardens on the planet are in London and there is no better time to experience them than when they are full of fresh blooms in the spring. Although the weather can still be chilly and rainy, let's face it, the weather in London can be crummy any time of year, so why not visit when the tourist crowds and pricing are not as intense as during peak summer travel?
St James' Park is relatively compact, beautiful for strolling, and easy to pair with other prime attractions such as Piccadilly Circus, Buckingham Palace, and Trafalgar Square. For something with more thrill, Hyde Park Stables offers horseback riding through its namesake park. Hampstead Heath is another local favorite with playgrounds, ponds, and pretty views. The issue isn't how to find a spectacular park in London, it's how to choose! Not to worry, all the other attractions that make London wonderful and fun indoors and out are up and running in the spring, in fact, there are loads of fun activities happening around Easter Weekend. We also love these easy day trips from London with kids if you have enough time to leave the city. And when traveling with older kids, don't miss these things to do in London with teens.
Suggested by Amie O'Shaughnessy, Ciao Bambino!
Malta
Malta is about as off-the-beaten-path as you'll find in Europe. Indeed, it is an island nation between Italy and Africa and you'll find influences of both when you travel there. But it's an easy (and often cheap) flight from most major European hubs and its far southern location makes it one of the warmest and sunniest destinations in Europe.
I love Malta for families because it offers that perfect mix of beach/pool/outdoor playtime, but also interesting historical and cultural sites to see. My family spent a few hours exploring each day, everything from horse drawn carriage rides through narrow, ancient towns to prehistoric ruins that are older than the Egyptian pyramids, to hiking along the beautiful cliffside rock formations. Just as the kids' eyes began to glaze over from all the history and walking, we retreated to the beach or pool every afternoon. Older teens might enjoy snorkeling, surfing, and scuba diving. While thousands of sun-starved Northern Europeans and cruise day trippers flock here every summer, you'll find quiet beaches in the winter and spring, and fabulous cities like Valletta full of locals for an authentic travel experience.
Suggested by Nicole Wiltrout, Arrows Sent Forth
The Netherlands
If you are looking for a nice place for a spring break in Europe with kids, you cannot go wrong with visiting the Netherlands. Amsterdam has so much to see and do in any season, but if you come in spring (and especially in April), make sure to get outside the city and visit the colorful flower fields that Holland is famous for. One of the best areas to see the flowers is around Lisse, where you will also find the biggest flower garden of Europe – Keukenhof. Kids will love all the colors! The whole area around the park is surrounded by the endless tulip fields that you can easily visit too. I suggest renting a bike and spending the whole afternoon exploring the area.
Don't expect beach weather in the Netherlands in spring, but pleasant spring temperatures are perfect for sightseeing. I also recommend visiting the famous Alkmaar cheese market and the traditional windmills in Zaanse Schans and/or Kinderdijk – all great places to visit with kids. And the best part is that you don't have to change hotels every day; you can easily base yourself in the capital and take various day trips from Amsterdam.
With older kids, don't miss our tips for visiting Amsterdam with teens.
Suggested by Jurga, FullSuitcase.com
Normandy, France
I thought I was dragging them, against their will, into the country. The focus of the trip (and the lifelong dream of our 9-year-old) was Paris. But the Normandy coast was just so close, I couldn't resist booking some time there. I'm a history buff, so we immediately launched into a half-day tour of WW2's Normandy landing beaches. It was brilliant. We were blessed with gorgeous weather and the half-day tour was just right for our daughters. Our girls alternatively stood with the group and listened to the guide, or went off to pick flowers or sea shells, then came back to learn more from the guide.
We spent the rest of our time exploring the fantastic local towns, churches and restaurants, pleasantly surprised to be out of the hustle and bustle of the world's most visited city. As we eventually took the train (first class – which the girls got a kick out of) back to Paris to fly home, we did our usual family critique of the vacation. I was wonderfully surprised to hear from everyone that Normandy was actually their favorite part of the entire trip.
Suggested by Chez Chesak, Tracks & Trails
Paris, France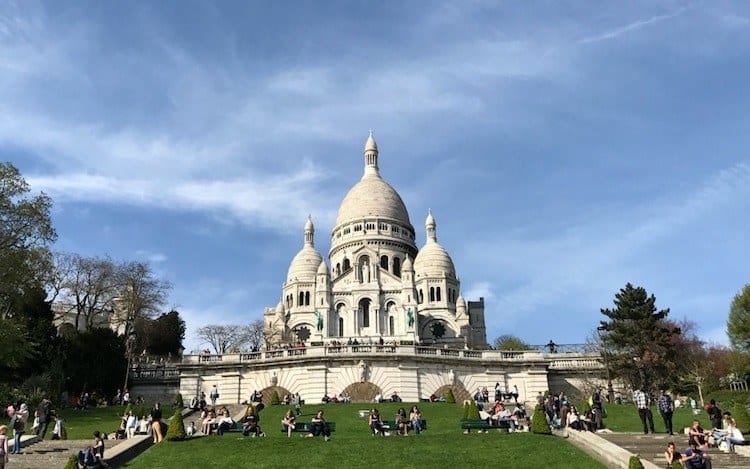 Spring is the perfect time to visit Paris for a family vacation. Flowers are blooming, birds are chirping, and crowds are manageable. There may be a couple of rainy days, so pack a raincoat and umbrella and carry on like the Parisians. Kids will love playing with the sailboats at Luxembourg Gardens, taking a cruise along the Seine, or climbing the Arc de Triomphe for views of the city (lines are shorter than the Eiffel Tower and the view is just as beautiful.) Head out to Versailles and take a bike tour or plan a day at Disney, whatever you choose, kids will be thrilled spending spring break in Paris!
Suggested by Kirsten Maxwell, Kids Are A Trip
Rome, Italy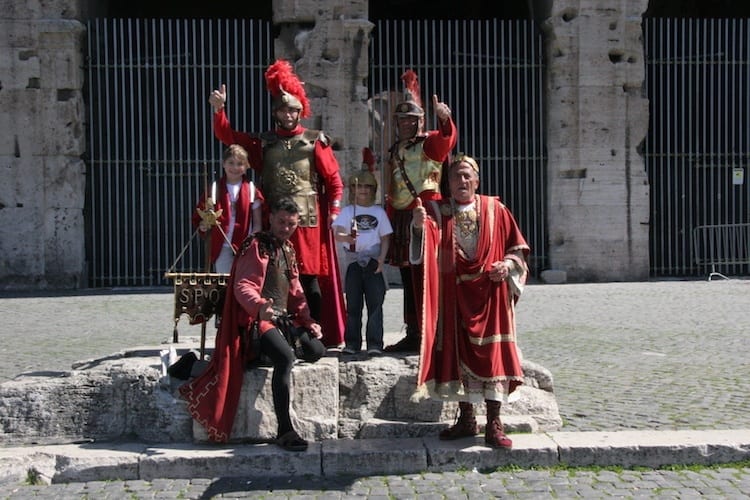 Rome may not seem like a typical choice for spring break. It's busy, urban, and chaotic at the best of times. But families with a sense of adventure and a love of history should think about the Eternal City in the off-season. The beauty of visiting Rome in spring is as lovely as the blooming of a lily, Italy's national flower. All the usual attractions like the Colosseum, Imperial Forum, Pantheon, and Trevi Fountain will be accessible and much less busy than the high season. If there are lines, they'll be noticeably shorter than during summer.
The weather will be in the mid-50s (around 15C), quite comfortable for walking around the narrow streets and neighborhoods. You'll be avoiding the blast furnace temperatures – and closed shops – of ferragosto in August. If your spring visit coincides with Easter, you may get to experience the most important holiday in the Roman Catholic calendar in its historical heart of Vatican City. Insider tip: In addition to the highly-sought-after attractions, check out Hadrian's Villa and the stunning Tivoli Gardens, and don't miss the ancient Roman port city ruins of Ostia Antica, just a short train ride from Pyramide station. [Keep in mind that some attractions will be closed on Good Friday, Easter, and/or Easter Monday and the city will have additional visitors during Holy Week.]
Suggested by Claudia Laroye, The Travelling Mom
Seville, Spain
Even though there was an usual heat wave during our April break in Seville, Spain (as part of our cross-country multi-generational Spanish adventure) a couple of years ago, the average April temperatures in Seville are 65F degrees – which is perfect for touring. And there is plenty to see in this capital city of Andalusia with its Gothic and Moorish architecture and a colorful southern charm. The thing to keep in mind for planning an April visit to Seville is their annual religious festival of Feria, which happens roughly two weeks after Easter (April 17-22 in 2018.) Although it will certainly add even more colors and excitement to your visit, Feria might make booking a reasonably priced accomodation a little more challenging.
Suggested by Victoria Burdman, Celebrate the Weekend
Slovenia
Visiting Slovenia is always a good idea, but it's best if you visit in Spring when everything is in bloom, there are no crowds yet and the temperatures are perfect, somewhere between 15 and 20 degrees Celsius. It's not too hot and there are plenty of flowers, especially if you head into the many mountains Slovenia is famous for.
Slovenia might be small, but it has just about everything, a chunk of the Adriatic Sea and the Alps and everything in between. Destinations and activities on offer can be either family-friendly or adventurous depending on what you chose to do. We recommend spending a couple of days in the capital of Ljubljana, get a cup of coffee next to the river in the shade of a blooming tree. Then head out to Bled with its fairytale island, and don't stop. Drive to lake Bohinj and do some hiking in the mountains. If you like adventures include the visit of the emerald green Soca river, perfect for white water rafting, kayaking, or canyoning. Or you could check out the many vineyards and the excellent wine Slovenia has to offer.
Suggested by Inga, Cool Kidz Cool Trips
Norway
For any families with little Frozen movie fans, how about a Frozen Fairytale Journey that not only makes the fairytale world a reality, but also allows travelers to meet Norway's indigenous people. A highlight of the journey is cultural experiences with the Samis, Europe's northernmost indigenous population. Inspiration for the Northuldra in the movie, the Sami people have lived in harmony with nature for centuries.
Families can enjoy reindeer sledding, ice sculpting classes, dog sledding, snowshoe hikes, outdoor dinners (hopefully under the Northern Lights), and active adventures in the mountains, forests, and fjords of Alta.
Vienna, Austria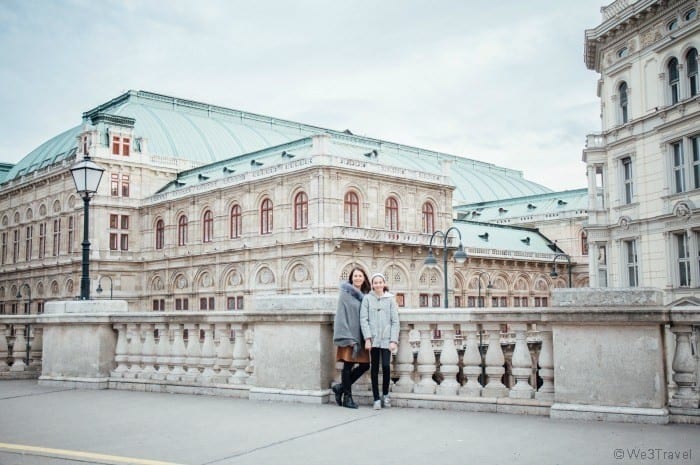 Vienna remains one of our favorite cities in Europe. When we visited in mid-March, the flowers were not quite blooming but you can tell that by April, the gorgeous gardens around Schönbrunn Palace would be absolutely stunning. Even in March, it was comfortable to walk around in a light jacket, just be prepared for the occasional raw and rainy day. There is so much to do for kids from visiting the Spanish Riding School, playing dress up at the Children's Museum in the Schönbrunn, exploring the Museums Quartier, or playing with music at the Haus der Musik. Just leave plenty of time to sit and enjoy the coffee house culture with the local Einspänner and delicious cakes.
PIN THIS FOR LATER
SaveSaveSaveSaveSaveSaveSaveSaveSaveSaveSaveSaveSaveSaveSaveSaveSaveSave