I have traveled to Ireland three times, with kids and without, and I've fortunately managed to get to most corners of this charming island nation, from rural Connemara, to bustling Dublin, to colorful fishing villages like Kinsale, to the stunning Cliffs of Moher. I've also helped about a dozen clients, friends, and family plan trips there. Needless to say, all this trip research, both personal and professional, has helped me wrap my head around the trip to Ireland cost for a family.
Below is an outline of an Ireland trip budget that families can use when planning their visit to Ireland. This includes approximate cost of accommodations in Ireland for families, how much to expect to pay if you choose to rent a car or hire a driver, the best times to visit to save money, and when to splurge on bucket list experiences like a stay in one of the many castle hotels. Fortunately, with the right planning, travel in Ireland can be more affordable than other European destinations.

For setting an Ireland vacation budget, this post will outline pricing for two adults and two children between the ages of 6-11, traveling from the United States in the summer months, and spending nine nights in Ireland.
For purposes of this post, I operated under the assumption that the trip was focused on exploring Dublin and western Ireland. I allocated three nights spent in Dublin, three nights in Killarney (southwest Ireland), and three nights in Galway (due west of Dublin).
You can easily swap western Ireland for southern Ireland or focus on Northern Ireland. These changes would only have a small impact on cost, as prices across Ireland and Northern Ireland are fairly consistent.
How Much Does a Trip to Ireland Cost?
Note: This post contains affiliate links. If you click a link and make a purchase, I may receive a small commission.
I have organized the costs of a trip to Ireland by airfare, accommodations, food, and activities so you can make the best budget decisions for your family. I've included tips and ideas for savings that I used when planning my trips to Ireland, and I've also made recommendations on what I think is worth splurging on based on personal experience and feedback from clients.
Ireland's currency is the Euro (though Northern Ireland uses Great British Pounds). I have converted all prices to U.S. dollars in this post.
Ireland Airfare Costs
Airfare is one of the biggest areas of cost savings for a trip to Ireland when comparing it to other European destinations. In fact, many people end up taking a vacation to Ireland solely because they snagged a great deal on airfare. But before you book that flight, here are a few things to be aware of.
Some of the best deals on airfare to Ireland come from the budget airlines, like Norwegian, which offers direct flights from Providence, Rhode Island and other cities.
Just be sure to read the fine print before you book tickets on these carriers. Often, there are huge fees around luggage, food, water, assigned seats, etc., not to mention the bare bones level of service they offer. Sometimes the cost savings just doesn't add up, especially times four people in a family.
That's not to say it's not worth flying on these budget airlines. Sometimes the cost savings are so significant that it's definitely worth snagging a deal. One exception to consider is Aer Lingus. This is Ireland's home-based airline, and you can expect service more typical of a national carrier.
I find their prices to be about $100 more per ticket than the budget airlines, but also $100-400 less than the more upscale airlines (Delta, United, etc.). Aer Lingus is a good "happy-medium" to consider.
What route you take to Ireland also matters when it comes to cost. Depending on your route through the country, it's not as straightforward as flying in and out of Dublin. Look at flights in and out of Shannon Airport as well. Shannon is located on the west coast of Ireland and has many arrivals and departures to the US daily.
Shannon is only a one-to-three hour drive from many of the major countryside regions that people want to visit, like Killarney, Limerick, Galway, and Connemara. Utilizing this airport saves you from backtracking to Dublin at the end of the trip to fly home (and can ultimately save you money in another night of accommodation, another day of car rental, etc.) It is also much easier to deal with than Dublin, but you can still pre-clear U.S. immigration.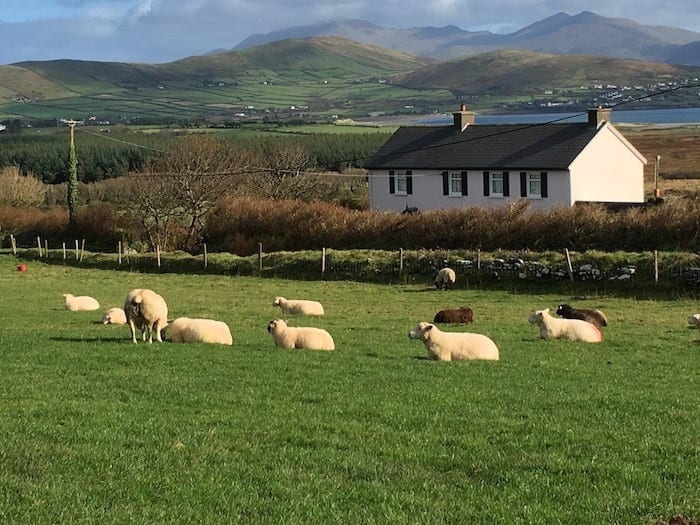 In the summer months, families can expect to pay about $800 per person on flights to Ireland on major airlines. If you're willing to fly the budget airlines, you can expect to pay about $500-600 per person in the summer, bringing costs down considerably.
In the shoulder season of spring and fall, you may find deals for well under that from major U.S. hubs (just avoid the St. Patrick's Day and Easter holidays). Another huge budget saver: consider visiting in winter.
Irish weather is often cold and wet year-round, but it rarely gets below freezing there. Meaning if you dress properly, you can still enjoy the outdoors even in winter, when flight prices drop. This is typically when people score those $100-200 flights on the budget airlines. I'd happily throw on another layer if it means my trip costs drop by more than half!
If you plan on using credit card points to book airfare or hotels, (see my favorite credit cards for earning points).
Total airfare cost: $3,200
Irish Accommodations Cost
A trip to Ireland is a time to forego the nondescript corporate hotel chain in favor of friendly accommodation options that immerse your family in Irish hospitality. Consider booking a stay in a rural bed and breakfast, a farm stay, or a cozy cottage rental.
In general, basic four-star accommodation in Ireland is around $200-300 per night in the summer months, and that includes properties in central Dublin. The caveat is you must plan ahead: most properties have a limited number of rooms that can comfortably sleep four, and these are often booked months in advance.
Once those are gone, you'll have to book two rooms, doubling your accommodation costs. I've helped many clients in the spring for summer travel that had to pay $400-500 each night at a hotel that was half that amount a few months earlier because of this.
If you do opt for a more rustic experience, even if just for a night or two, you can easily find options in the three-star quality range for around $100-150 a night. Rooms will be basic, but clean. On-site amenities will be limited (probably just a small breakfast room and very limited front desk staff), but the service is typically still very friendly.
Just make sure to read reviews and ask about room configurations: some bed and breakfasts and smaller properties don't have larger rooms or connecting rooms to accommodate families.
If your budget is flexible, do consider splurging on a night or two in a five-star castle hotel, like Adare Manor, Ashford Castle, or Dromoland Castle. Summer prices for a family room at these properties range from $1,000-$2,000 per night, so it does come with a hefty price tag but the experience is so memorable.
That said, one of my favorite money-saving tips is that the premier castle hotels (like those mentioned above) often have more budget-friendly sister properties on site. Like the Inn at Dromoland Castle and the Lodge at Ashford Castle, where you can still get a taste of the experience but for hundreds of dollars less per night. Guests at these properties are typically still allowed to utilize many of the on-site amenities at the castle (be advised that many activities are an extra cost, though).
Find top-rated hotels at the lowest prices on TripAdvisor. Check rates now!
Total Accommodation Cost: $1,800 for 9 nights
Car Rental/Transportation Costs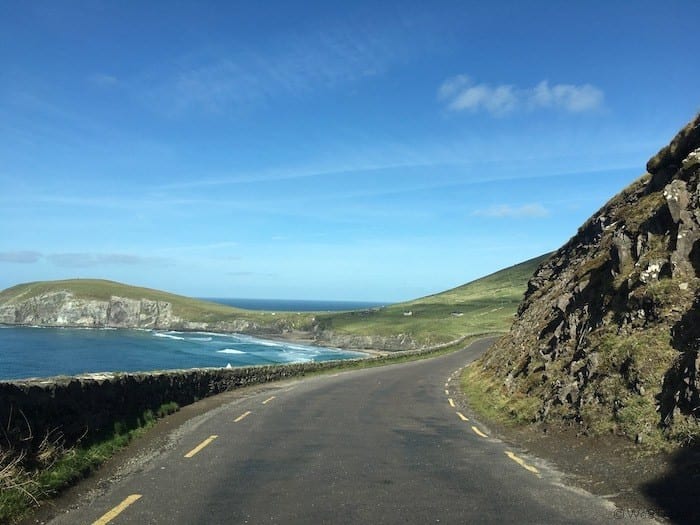 Driving in Ireland is intimidating, yes, but I also find it one of the best ways to explore the country as it allows you to go at your own pace and make some hidden discoveries of your own. With children, it also means you have the flexibility to stop when you want, or let the kids sleep off some jetlag in the backseat on longer travel days.
Do expect to pay a bit of a premium for an automatic car, and be sure to reserve one well in advance as manual cars are more prevalent in Ireland. But the ease of an automatic is definitely worth it.
And check in with your credit card company to determine what level of insurance coverage they provide on car rental bookings abroad. The odds that you'll have a little fender bender with a stone wall on a narrow road isn't that rare for American drivers!
If you're not comfortable driving on the opposite side of the narrow, twisty roads, then consider booking a private driver. This can easily start at $400 per day so you'll need to budget accordingly. One way to keep costs down is to utilize public transportation for your point A to point B travel journeys.
For example, take the train from Dublin to Killarney instead of booking a driver that day. Then book a driver for a day trip instead, to explore places like the Ring of Kerry or Dingle Peninsula. You may consider doing this even if you have rented a car just for the ability to sit back and enjoy the scenery that day.
Another cost saving tip: don't pick up your rental car until the day you depart Dublin. Dublin is relatively small geographically, so you can easily explore on foot and through a few taxi rides during your time there.
Check rates on Car Rentals in Ireland from Auto Europe
Total Transportation Cost: $1,000 (including 6 days of car rental, 1 day of driver service, and a few taxis/public transportation services)
Food Costs in Ireland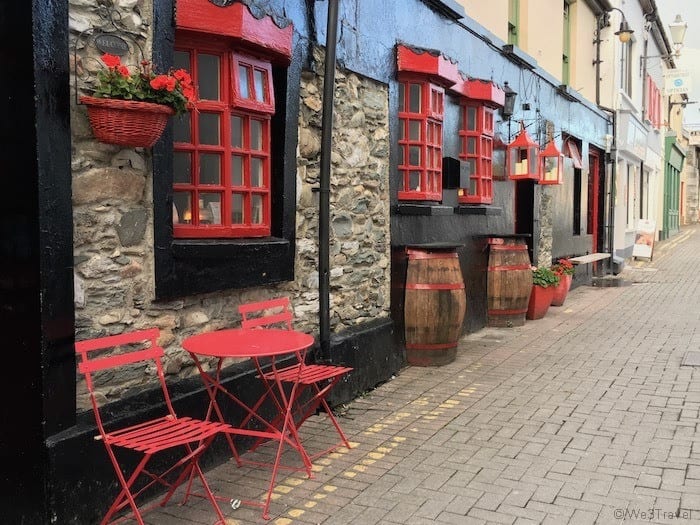 Nearly all hotels include a hearty Irish breakfast in the cost of accommodation, so I encourage families to fuel up on that meal. A light lunch could easily be $10 per person each day at casual spots, allowing you to splurge on a heartier and nicer dinner.
Take full advantage of the local food movement that is revolutionizing Irish cuisine. Allocate $20 per person for dinner, more if you indulge in a fine dining restaurant (particularly in hotels.) In general, budget around $120-150 each day, possibly more if you know your family prefers more upscale dining.
Total Food Cost: $1,300
Tours and Activities
This is the most challenging aspect of budgeting for a trip to Ireland, in part because it's so personal to each family and their travel style. In general, activity costs will be a bit higher while in Dublin, when you want to do more sightseeing and will likely pay more in entrance fees. (Find out 5 free things to do in Dublin.) A guided walking tour is a great idea there, too, so your family can get a better appreciation of the history here. I'd plan to spend about $400-500 in activities in Dublin.
Fortunately, activities in rural Ireland are practically free, especially if your family loves the great outdoors. Plan to do a lot of hiking, some castle visits, etc. Entrance fees to major sites will be less than $20 per person, and many are free or only charge for parking.
If you do want to splurge on a few special experiences, I'd suggest a falconry course, an archery lesson, or maybe an Irish dancing class. For private experiences, expect to pay $200-$500 for these half-day activities.
Total Activity Cost: $700
Total Cost of a Trip to Ireland: $8,000 (for a family of four for nine days)
This is below the typical $1,000 per day budget that is the norm for families traveling at a four-star level in other parts of Europe, which is why I feel Ireland is more of a bargain compared to mainland Europe.
And I also think families can travel to Ireland for under $5,000 in total if they fly a budget airline and do more basic accommodations and fewer pricier activities. That said, if you want to travel in luxury, with castle stays and private drivers throughout, it's easy for the total cost rise well above $10,000.
Still undecided where to go? We also have budget breakdowns for London, Paris, Italy, and Iceland.
[plan-trip]
[/plan-trip]
PIN THIS FOR LATER
This guest post was written by Nicole Wiltrout. Nicole is a freelance writer and travel expert based in Indiana. She has traveled throughout North America and Europe with her children for the past nine years, including three years spent living abroad in England. She has written for a variety of websites and publications and is the author of "Dispatches from England," available on Amazon, which chronicles her family's time as expats. You can follow Nicole's travels on Arrows Sent Forth.