Is a vacation to the Greek Islands on your bucket list? We started researching our trip to Greece cost over two years ago, but recent events caused us to postpone our trip until 2021. But after spending 10 days in Greece this summer for our special anniversary trip, we have a great handle on what you will need for your Greek Islands travel budget (hint: it depends on which island you visit!)
The Greek Islands have never been a budget destination, but these days if you want to go the luxury route for a special occasion trip (like our 20th anniversary trip!), it is downright expensive. So before you pull the trigger and book a Greek vacation, make sure you figure out your own trip to Greece cost.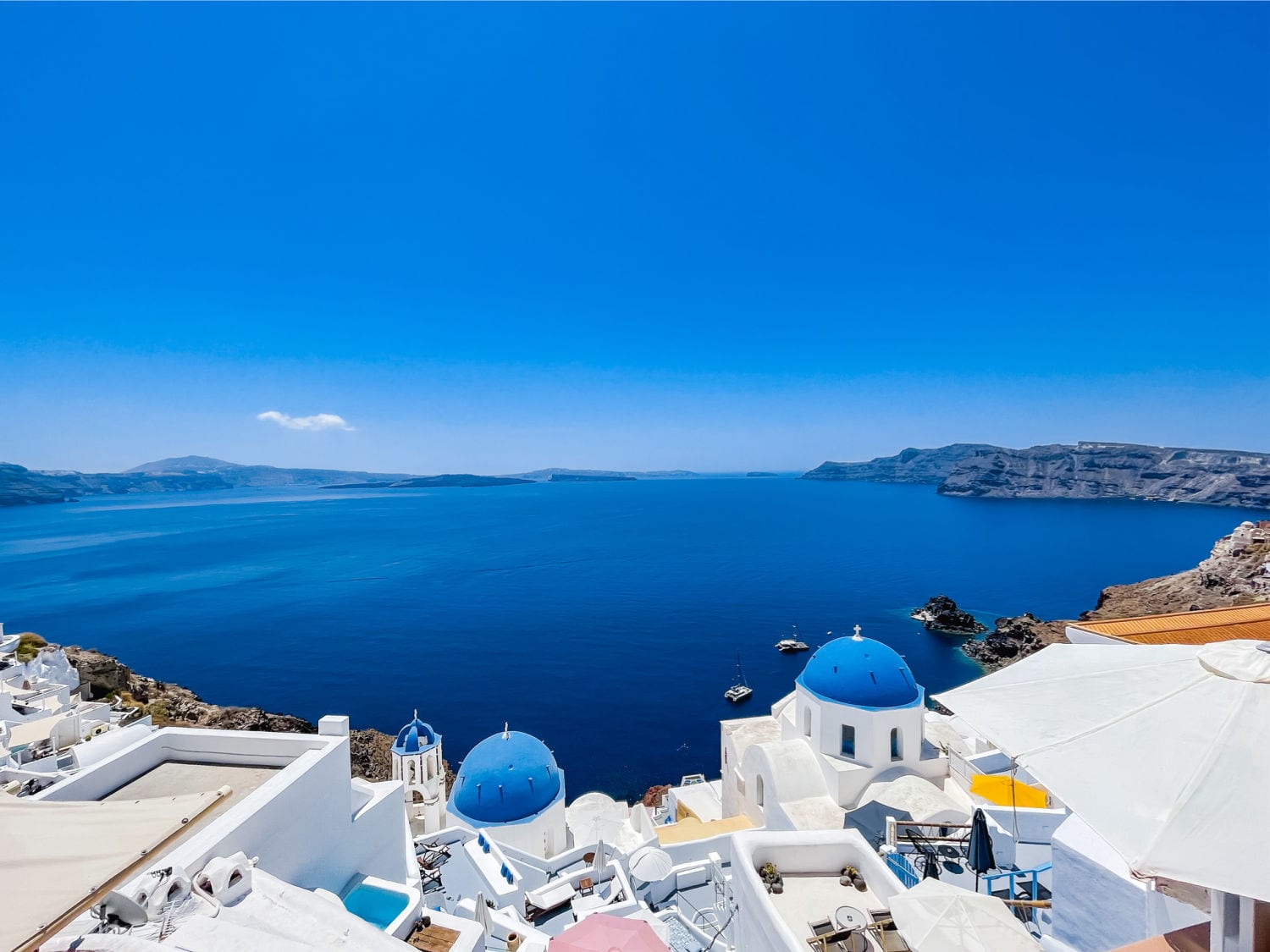 Planning your Trip to Greece
Planning a trip to Greece can get complicated. Coming from the USA, it is easiest to fly directly into Athens (especially this year when travel rules vary by country), but then if you are visiting the Greek Islands, you need to figure out how to get to the various islands. You can also fly into one island and out of another, but you will need to connect somewhere in Europe and depending on the day you leave, there can also be long layovers. And, you still need to worry about getting ferry tickets or flights from place to place. Plus ferry tickets can book up early so you need to plan in advance.
Your first step in planning your Greek Islands vacation is to choose your destinations and figure out how long you want to spend in each location. Are you mostly interested in archeological sites and learning about the Ancient Greeks? Or do you want to relax by the beach for most of your holiday in Greece? Will you travel in high season and deal with the crowds, or opt for the less crowded shoulder seasons? Or maybe visit the mainland during low season and potentially navigate closures, cooler weather, and limited services on the islands?
Which islands you choose makes a difference too. Santorini is notoriously expensive. Mykonos is known as a party island so there are deals to be found, but is that the atmosphere you are looking for. Lesser visited islands like Naxos are much less expensive, but some may not have as much tourist infrastructure built out. Other islands like Crete are so large you need a week or more just for one island.
Want local tips and personalized advice for your trip to Greece? Connect with Luca from Go Ask A Local! He's a local guide and travel agent based on the island of Sifnos who specializes in island hopping and offers trip planning consultations on Zoom.
All of these factors make calculating what a trip to Greece costs a challenge. But to make your budgeting job a little easier, I've put together a sample travel budget for your reference.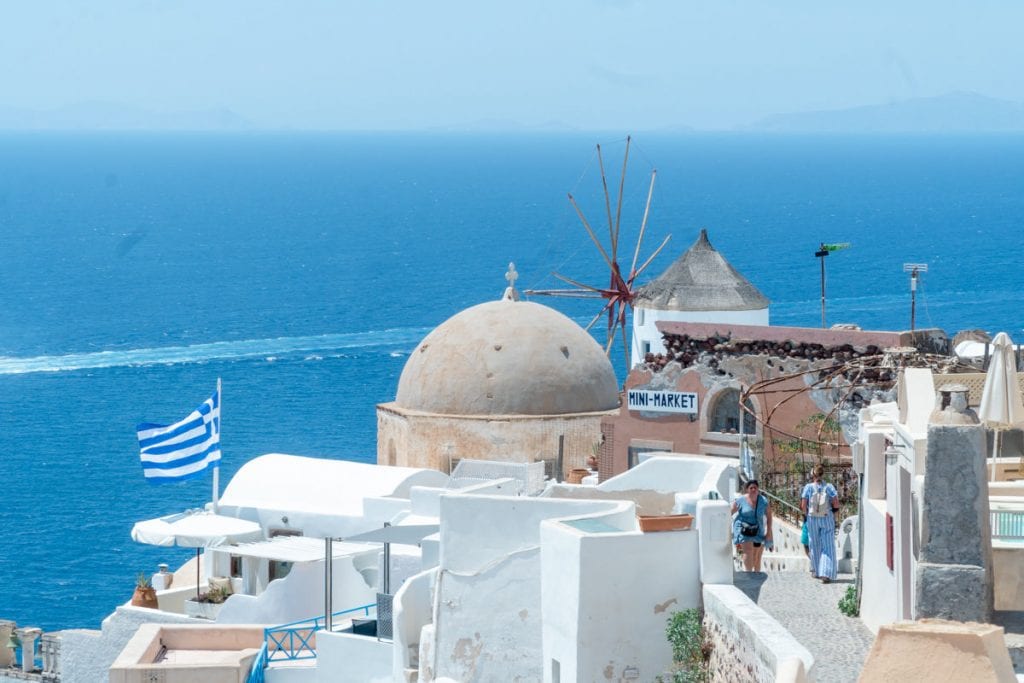 Greece Budget Assumptions
Our trip was a bit of a splurge trip to celebrate a milestone birthday and anniversary, but I've based this budget on a more moderate trip, with what it would cost for a family of four to travel to Greece during the summer months. However, if you are planning a honeymoon, anniversary, or another trip, just adjust the numbers for the size of your party. I've tried to provide some comparisons if you are looking to go a little more upscale to luxury properties. For simplicity, I've also US dollars and typically use xe.com to get up-to-date currency conversion rates.
In order to determine what a trip to Greece costs for most families, I've included approximate pricing for two adults and two children between the ages of 6-11. Let's assume they are traveling from a major airport hub on the east coast of the United States (e.g. JFK) during high season in July and August, and staying for 12 nights, which is just enough time to see a bit of Athens and a couple of the more popular islands.
To create your budget and a general idea of what a trip to Greece costs, I've included the approximate price of flights (both international and in-country), the average cost of a hotel in Athens and in popular island destinations, general guidance around transportation and what it might cost your family to get around, what is considered peak season in Greece vs. shoulder season, and how much money to set aside for special experiences, like a day trip from Athens or sunset cruise around Santorini.
It assumes that your family would visit Athens, Mykonos, Santorini, and Crete. These popular destinations were chosen as they might typically be included in a Greek vacation package.
Keep in mind that if you are traveling on a tight budget, a great way to reduce costs is to stick to the mainland and shorten your trip. You can also choose to visit some of the less expensive islands, like Naxos, Paros, and others. By making those adjustments, you can easily cut the cost of your accommodations practically in half.
The costs in this post have been organized by airfare, accommodation, transportation, food, and activities. As I mentioned, I included some of our actual costs as a comparison.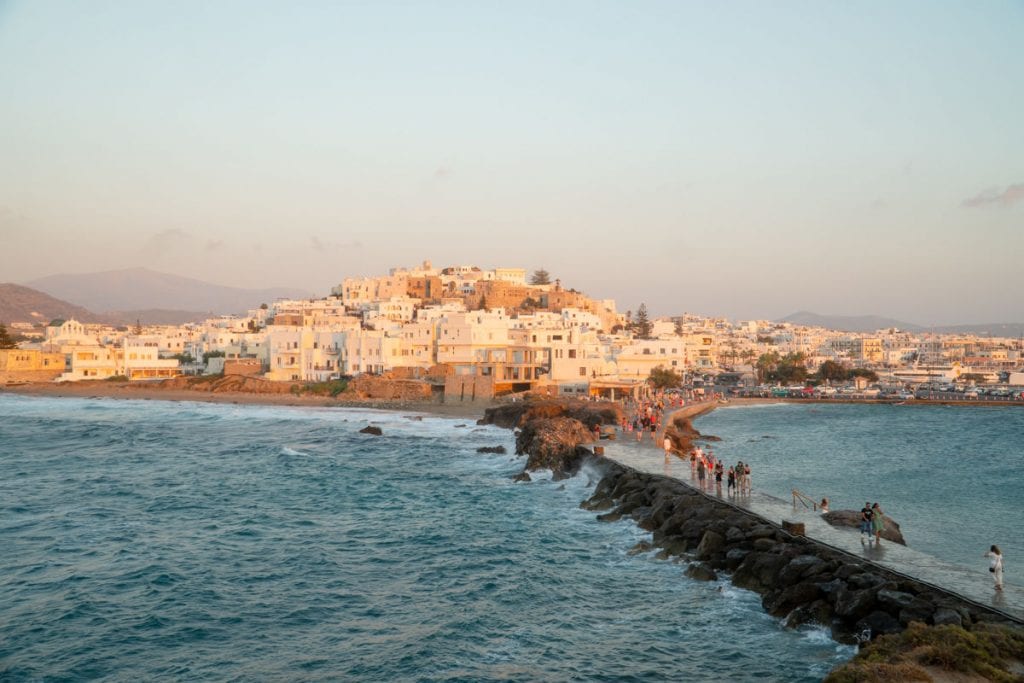 How much does a trip to Greece cost?
Note: This post contains affiliate links. If you click a link and make a purchase, I may receive a small commission. Prices are subject to change.
Airfare to Greece
One of the reasons that airfare eats up a lot of money when budgeting for a trip to Greece is that there are a limited number of direct flights from the U.S. to Athens, and even fewer in the off-season and shoulder seasons.
If you don't live near one of a handful of airports, you'll have to connect elsewhere in the U.S. or Europe before arriving into Athens, and likely pay even more to do so. For our trip, we actually drove down to JFK to fly direct on Delta to Athens.
For daily direct service to and from Athens in July and August (peak season), the main options at present are American Airlines from Philadelphia, Delta from JFK and Atlanta, and Emirates and United from Newark. Average price during this time of year is $1,000 per person.
When we first booked our trip we were flying through Zurich direct to Santorini on Swiss Air and returning from Mykonos through Zurich and roundtrip with business class one direction and economy plus for the return was about $3000. Unfortunately, that flight was canceled and prices had increased substantially from when I booked in December (it was then May) and we ended up getting to use points to fly on Delta direct to Athens but it would have been about $3000 for economy. So book early if you are visiting Greece in the summer!
If $1,000 per person for the international flight is beyond reach, be aware that the price typically drops to $900 in low and shoulder season (fall, winter, and early spring). However, some resorts on the islands won't be open November – April, and some ferry services will not operate on a daily schedule, so it will take some finesse in planning to still see everything you'd like to see.
Given the high cost of airfare, it would be a good time to save your credit card points (see my favorite credit cards for earning points) or airline miles for this trip or consider flying a budget airline that connects through somewhere in Europe.
Most families traveling to Greece and venturing beyond Athens will end up on another flight at some point, especially if they wish to visit Crete. The quickest ferry from Crete to Athens is 7 hours, and the overnight service is a little arduous with children. If you are planning on primarily visiting the Greek Islands, pay attention to your flight times. I've found that it can be hard to get into Athens early enough to catch a ferry to Santorini or Mykonos on the same day if you are connecting in Europe. This will force you to spend a night in Athens despite your plans. If Athens isn't a priority, you may want to fly directly to one of the island airports.
The same will be true on the return trip. Depending on how far the island is away from Athens, it may be a challenge to get back to Athens in time for your flight. Especially considering that Greek ferries don't exactly have a reputation for running on time. That may not be a risk you want to take. Therefore you may need to return to Athens the night before your flight, unless you book a multi-city flight and return from a different island. I also found that some return flights from Athens have exceedingly long layovers on certain days of the week so this is another thing to keep an eye on when you are booking your flights.
Cost for a one-way short flight between Athens and Crete is less than $100 per person (usually $50-75) so this typically makes the most sense for that particular journey.
For this post, I assumed that families would spend $1,000 per person to get to and from Athens from the U.S., and then another $300 total on a one-way domestic flight back to Athens from Crete for all four family members.
Total airfare cost: $4,300
Accommodations Costs in Greece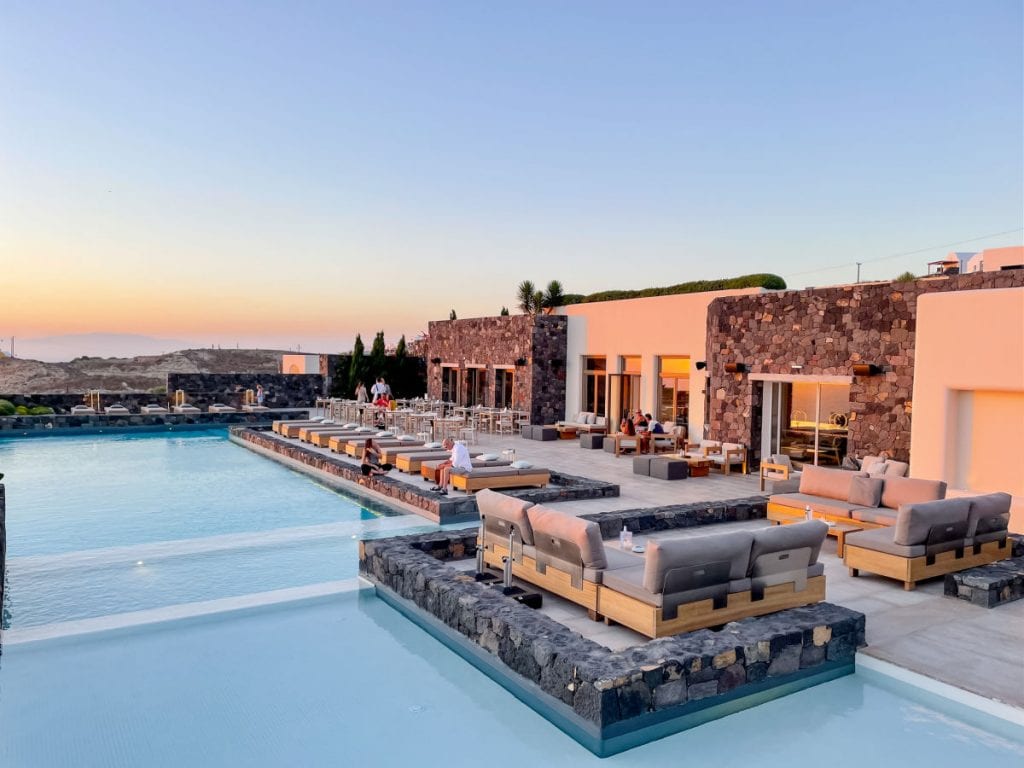 In order to estimate accommodation costs, I allocated two nights in Athens at the start of the trip, two nights in Mykonos, two nights in romantic Santorini, five nights in Crete, and then a final night back in Athens before your return journey back to the United States.
If you don't have two weeks to enjoy Greece, or you need to cut costs, there are many ways to adjust this itinerary. For example, if beach isn't a big priority, you could skip Crete or opt for a few days on the island of Naxos or Paros instead of Crete (they are much closer to Athens and much cheaper then Santorini or Mykonos).
Alternatively, if spending time on the beach and enjoying views of the Aegean Sea is your top priority when planning your trip, then consider simplifying your itinerary by only visiting Athens plus one of the islands in Greece, instead of spending time island hopping around to different locations.
Athens
In Athens, expect to pay $700 or more per night for a room that can sleep four people comfortably at a 5-star property in the summer such as the Hotel Grand Bretagne. Pro tip: we used Marriott Bonvoy points to book a night at the Hotel Grand Bretagne.
More basic 4-star accommodation is around $300-500 per night for a family room. vrbo options or budget hotels often price out under $200 per night, but do choose neighborhoods carefully to ensure you are in a safe area convenient for sightseeing.
Mykonos
Mykonos is one of the most expensive destinations in Greece, especially when it comes to accommodation. Five-star properties are easily $1,000 or more per night in the summer.
Four star hotels are around $400-600 per night. When we were planning to do one night in Mykonos, I found a bit of a "deal" at the Nissaki Mykonos for 520 euros per night. Anything below that price point will likely be a huge sacrifice in quality and amenities (like a pool) or in location. But that isn't to say that there aren't plenty of budget properties available.
Santorini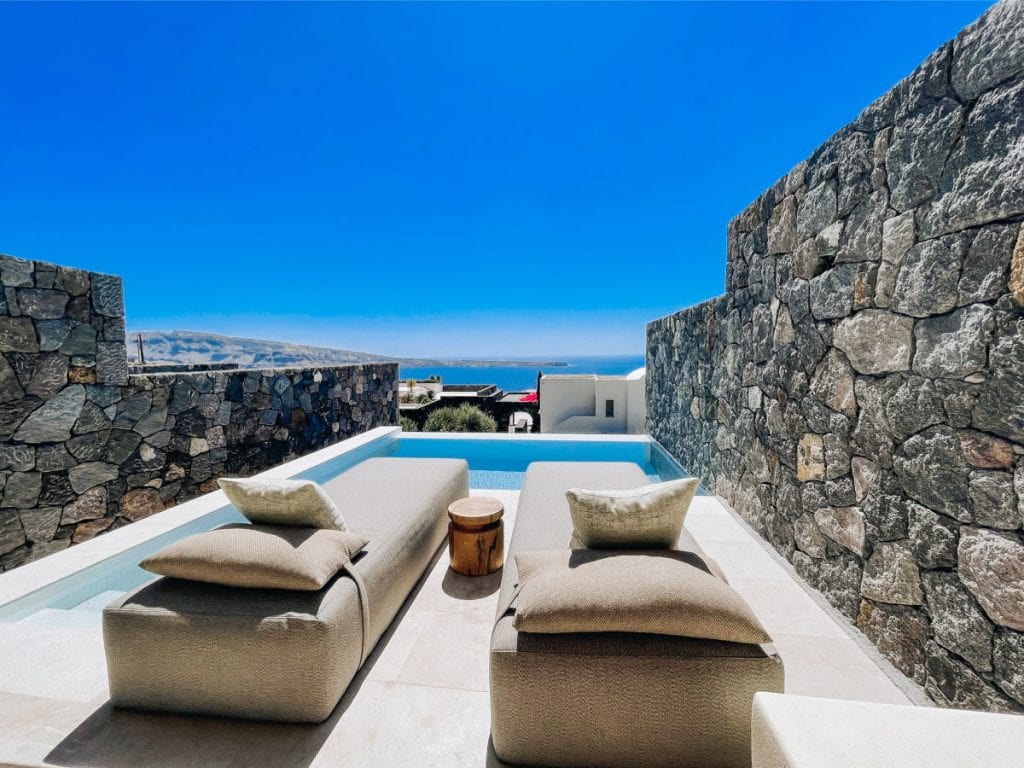 In Santorini, 5-star hotels such as the Canaves Oia or the Vedema Resort start around $900 or more per night in the summer for a family suite. And those gorgeous suites with personal plunge pools or jacuzzis? You could potentially spend $2,000 a night. The town of Oia is the most expensive (but offers the stunning sunsets and blue-domed churches you've likely come here to see).
We went with the slightly more affordable property of the Canaves chain, the Canaves Oia Epitome and the honeymoon suite with the plunge pool was a mere $1,200 a night. It feels insane to spend that much on a hotel room but like I said, this trip was a splurge celebration for us.
Fira is where the ferry port is located and a bit cheaper, with easy access to Oia by bus or taxi. A 4-star hotel in Fira such as the Aria Suites will be around $500 in the summer.
Even a very basic 3-star hotel in Fira is $300+ per night during peak season. Again, Airbnb/VRBO can offer much cheaper options, but many require a three-night stay minimum, so it may require some itinerary adjustment. If you are booking a vrbo in Santorini, be sure to look carefully at their cancellation policy and any additional cleaning or service fees they may tack on.
Crete
Crete is the largest Greek island, and it offers a lovely balance of beautiful beaches plus historically and culturally interesting sites. It also has a well-developed tourism infrastructure and plenty of family-friendly resorts to choose from.
These are all reasons Crete works so well as a home base for a lengthier stay during a trip to Greece. Families can expect to pay $400-700 per night in summer for a 4-star resort or boutique hotel on or near the beach such as the Ammos Hotel or Porto Elounda Deluxe Resort.
For a higher end luxury option, family rooms are usually $800 or more at 5-star properties such as the Daios Cove Resort in July and August.
One cost saving tip is to be aware of affiliations with U.S. chains like Marriott and Hilton. Many Greek hotels and resorts are affiliated these brands, so families can earn a lot of points or use existing points they may already have.
As I mentioned before, you could also skip Crete and choose a closer island in the Cyclades and stay on Naxos or Paros. We didn't have quite as much time so we opted for five nights on Naxos at the Virtu Suites. We got a deluxe sea view suite for just about $700 per night.
To calculate approximate accommodation costs, we assumed families were booking family rooms at 4-star properties in each location, so a $500 average nightly rate was used. You can obviously bring costs down considerably if you book an Airbnb for certain portions of the trip (or the entire trip), or redeem some hotel points for part of your stay. Costs increase dramatically if you opt for a 5-star experience, paying upwards of $1,000 per night in some locations.
Total Accommodation Cost: $6,000 for 12 nights
Transportation Costs within Greece
The most efficient route for getting to these four locations is to take the ferry from Athens to Mykonos, then a ferry from Mykonos to Santorini, and a final ferry from Santorini to Crete. Most families would then fly back to Athens from Crete for their return flight to the U.S., but an overnight ferry is an option for that particular journey. The cost of the ferry and the flight are similar. You can use FerryHopper to check rates and schedules for the various ferry lines and book tickets online.
Each of the ferry journeys outlined above are between two-to-three hours and ferry tickets cost around $200 total for a family of four. You can save a little if you travel on slower ferries or not at peak times, but it's usually not significant. You can also choose first class tickets or VIP tickets with priority boarding and seating, but that will cost a bit more.
Keep in mind when planning your trip that you will need to book ferries at least a couple of months in advance as they do sell out and you don't want to end up stuck without a way to get from island to island.
For families that choose to travel to the typical destinations in Greece (Athens, Santorini, Mykonos, and Crete, for example, as outlined in this post), then a car rental isn't necessary. Hotels can arrange transfers or I used Welcome Pickups to schedule transfers to/from the port in many destinations and it worked perfectly every time and we were relieved to not have to wait in a long taxi line.
If you want to do some off-the-beaten-path exploration, the cost of a private driver in Greece is typically $200-400 per day. On some of the islands, you can also rent an ATV or to explore, but locals strongly advise against ATVs as they see many fatal accidents each year. On our trip, we just took taxis, a hotel shuttle, or booked private tours that helped us explore more of the islands.
For budgeting purposes, lets assume three ferry services at $200 per ride, plus one day of a private driver service or day trip at $200, and an additional $200 for public transport and taxi fares. For a two-week trip, this is actually quite affordable. Opting to stay in the center of walkable cities and full-service beach resorts are key to this cost savings.
Total Car Rental/Transportation Cost: $1,000
Food Costs in Greece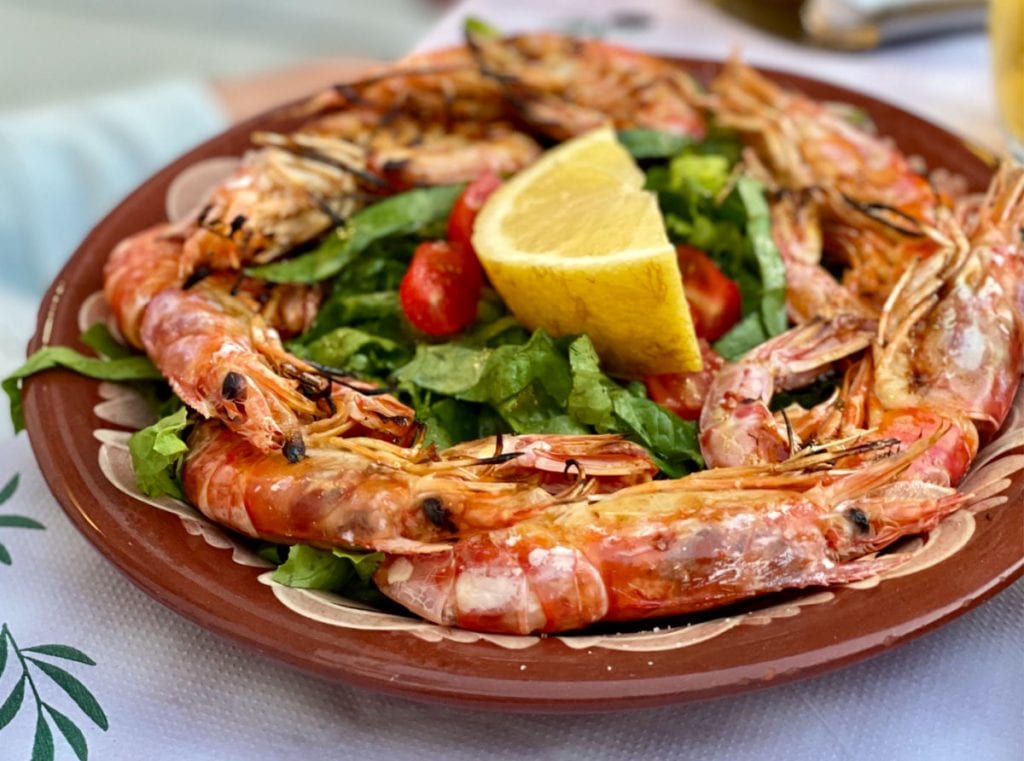 If you're suffering from sticker shock after reading about the cost of flights and accommodations, you'll be pleased to learn that Greece is one of the more affordable European countries as far as food and dining out. First, breakfast is included at most hotels and resorts (but do confirm that before booking.) If not, expect to pay less than $5 per person for coffee and a pastry at a cafe each morning.
The key to saving money on Greek food is to eat at local establishments (and you probably came for the fresh seafood and local food anyway) or try some street food. A large lunch at a taverna is usually $10-15 per person, but many families opt to just grab fast food sandwiches or a light bite and feta cheese from bakeries or cafes so they can picnic on the beach or between sightseeing adventures.
A hearty sandwich or cheap gyros will be less than $5 from local shops or stands. For dinner, expect to only pay about $15-20 per person for a multi-course dinner at local restaurants (less for children who don't yet have big appetites). Of course this all goes out the window if you are dining at a luxury hotel or trying a degustation menu (in Santorini an experience like that with wine pairing can run you $500+ for two!)
A few budget busters in Greece, however, are cocktails or imported wine. Best to stick to beer or the house wine if you don't want to spend a lot of money on drinks.
We assumed families would spend $40 per day on lunch and $80 per day on dinner, but again, you could easily spend less if you didn't sit down for a full-service meal for both each day.
Total Food Cost: $1,440
Tours and Activities Costs in Greece
Another cost-saving perk of a trip to Greece is that much of what you came to see is free, like a day spent enjoying one of the spectacular beaches or wandering the beautiful side streets and alleys of Santorini. That said, you'll definitely want to budget for a few memorable activities.
A private tour of Athens is a must, in my opinion, especially for history buffs. These can be customized to your interests or needs, like a general walking tour as a way of getting oriented on your first day, or to dig deep and learn more about the important archaeological sites like the Acropolis, which is a UNESCO World Heritage site, or even just a food tour. Prices for a half-day private tour in Athens are around $300-500 for a family of four.
An Athens sightseeing pass while in Athens might also make sense if you want to visit attractions like the Acropolis Museum, as most of the landmark historical sites do charge admission. A pass usually results in cost savings for those who plan to see several of the included sites. The price is around $40 per adult.
A sunset cruise while in Santorini, Mykonos, or Crete is usually a highlight for visitors to Greece as well. Done as a small group, it's usually around $200-400 for a family, which sometimes includes a meal or drinks. Done privately, expect to pay around $500-1,000 or more.
Also on Crete, many visitors enjoy a guided tour of the Palace of Knossos or perhaps olive oil tasting. Again, expect to pay $200-300 for a small group experience or $500 for a private excursion. There are also some food tours or wine tours on Santorini and Naxos that can make for a fun afternoon. We did a half-day private wine tasting tour in Santorini for around $350 and a full day food, wine, and island tour on Naxos for closer to $800.
For this Greece trip budget, I estimated $1,000, based on two tours or excursions and a family sightseeing pass in Athens. If the resorts or hotels you book charge for every activity and amenity instead of being somewhat all-inclusive, you may want to increase your activity budget accordingly.
Total Activity Cost: $1,000
Total Greece Trip Budget
Given these parameters, a total Greece vacation budget for a family of four visiting Greece in the summer for a total of 12 nights for two adults and two children would be $13,740. However, if you can find a way to use miles or points for airfare or hotels, a trip to Greece can actually be pretty inexpensive.
If spending nearly $14,000 on a two-week trip is beyond your reach, just know that there are more affordable ways to visit Greece. If your family has the flexibility to travel during April through June, for example, you may find flight prices and accommodation costs to be significantly less (and even better, fewer crowds!)
Also, choosing home rentals through online booking sites is often half the cost of a hotel stay, especially if your family is willing to forego amenities like a pool. Or, opt to visit less popular islands or locations, instead of pricey destinations like Mykonos and Santorini.
| | |
| --- | --- |
| Category | Cost |
| Airfare | $4,300 |
| Accommodations | $6,000 |
| Transportation | $1,000 |
| Food | $1,440 |
| Activities | $1,000 |
| Total Greece Trip Budget | $13,740 |
Don't forget to also budget for travel insurance for a trip to Greece! And don't book anything that isn't fully refundable.
If Greece sounds too expensive, you can also check out our trip budgets for:
PIN THIS FOR LATER