From honeymooners to old marrieds like me, the Greek Islands have long been a bucket list destination for couples. When we started to think about dream destinations to celebrate our 20th anniversary and my 50th birthday, Greece kept floating to the top of the list. While it took an extra year to make that trip a reality, our 10 days in Greece ended up being everything we had possibly hoped for and more.
So for those of you who kept threatening to "steal my itinerary" and do the exact same trip — have at it! I've put together our complete 10-day Greece itinerary just for you. Obviously, this trip was geared toward couples that are looking to splurge on a bucket list trip, but check out this article if you are wondering how much an average trip to Greece costs. If you are planning a family trip, you can also check out my friend Kirsten's Greece travel guide.
10 Days in Greece Itinerary
Note: This post may contain affiliate links. If you click a link and make a purchase, I may receive a small commission. All opinions are my own.
The first step is figuring out where you want to spend your 10 days in Greece. We only had nine nights to spend on our trip to Greece, and we wanted to take time to relax and enjoy the experience, versus being on the go, all the time. To get the most out of the trip, we decided to split our time over two different islands.
The romantic images of Santorini that you see all over Instagram, with those quintessential blue-domed roofs and the white stucco Cycladic architecture, beckoned us and we simply had to spend some time on Santorini. Of course, I'd also heard how over-tourism is a problem in Santorini. However, with crowds everywhere and crazy high prices for hotels and food, I didn't want to spend too long there.
To balance out the crowds of Santorini, we decided to spend the bulk of our time on nearby Naxos, the largest of the Cyclades islands, which is known to be quieter and less visited by American tourists. Plus, it is much more affordable!
We had planned on flying in and out of the islands and finishing out our visit with one quick night on Mykonos (knowing that the expensive party atmosphere wasn't our cup of tea), skipping over Athens entirely. However, our Swiss Air flights that were connecting through Zurich were canceled and we didn't want to risk transiting through another European country, so we decided to fly in and out of Athens on Delta, which meant we needed to spend our final night on the mainland in Athens.
When you are planning your Greece itinerary, pay close attention to the flight times in and out of the islands and how long of a layover you may have if you fly out of the islands. Chances are, you will also find it easier to stay at least one night in Athens, especially as you don't want to risk a tight connection between the ferry and your flight as ferries are notoriously late in Greece.
Keep reading for our full 10 days in Greece itinerary! I will cover where we stayed, our activities and tours, and our favorite restaurants.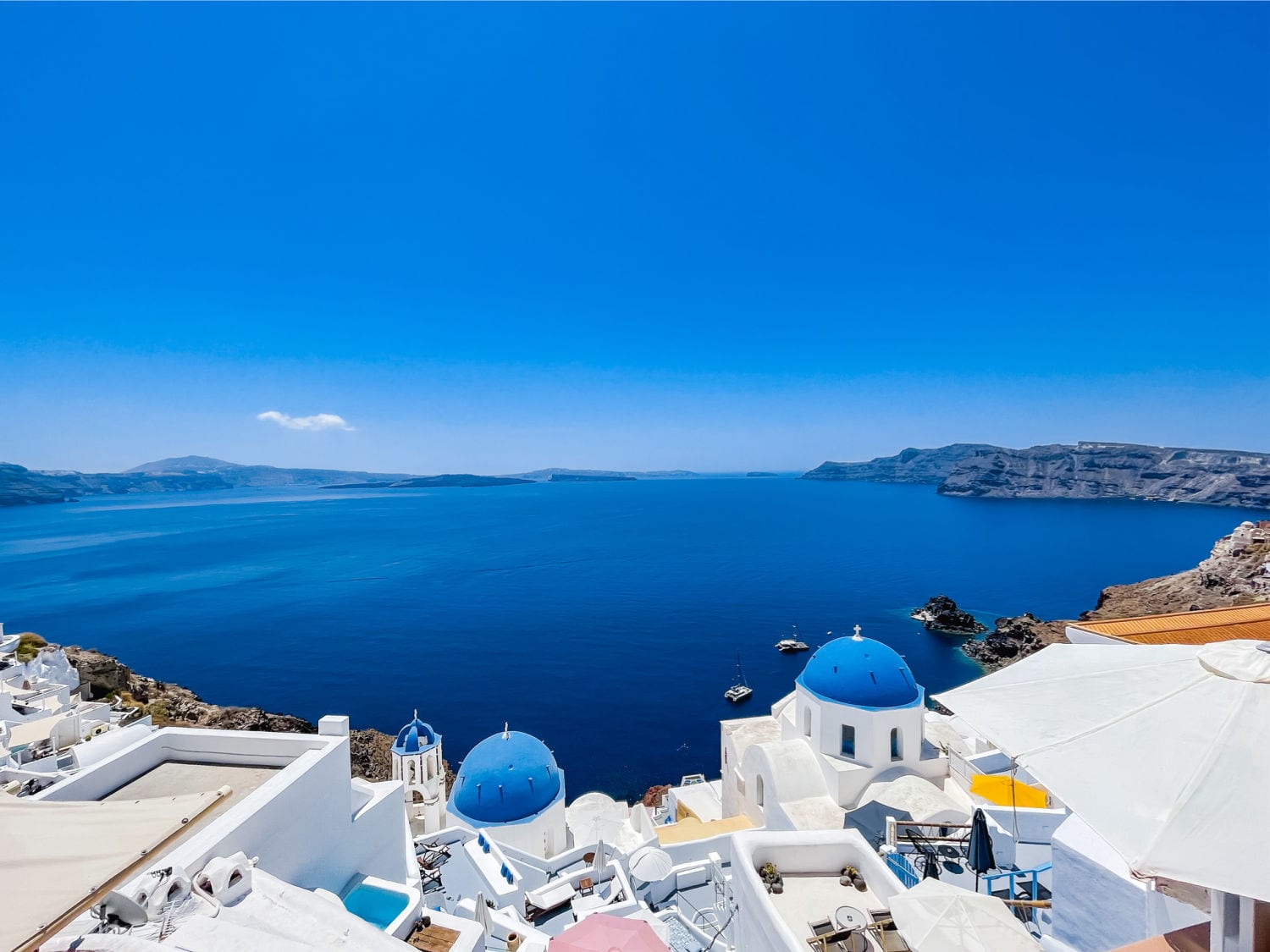 3 Days in Santorini
When I was posting about my trip on Instagram, one of the questions I received was how long to spend in Santorini. My feeling is to spend at least two nights, or three if it is your first day in Greece. But in reality, it is however long you can afford. 🙂
Day One
We flew overnight into Athens and then had a three-hour layover before our short flight to Santorini, getting us to the island around 2:30 pm. You can also take a ferry from Athens to Santorini, but it is long and the departure times didn't align well with our arrival so it made more sense to fly, to avoid spending a night in Athens as a layover. If we had more time, I would have spent the first two days in Athens and taken some more time to explore and tour the Parthenon and the other historic sites of the Acropolis.
Whether you arrive at the port or the airport, I'd recommend pre-arranging your transfer to the hotel so you don't get stuck waiting in long taxi lines. While our hotel was happy to arrange a VIP transfer, we decided to save a little money and used Welcome Pickups instead. We were able to book online and every transfer we arranged worked perfectly, with friendly drivers, clean cars, and some amenities like cold water. I would definitely use them again!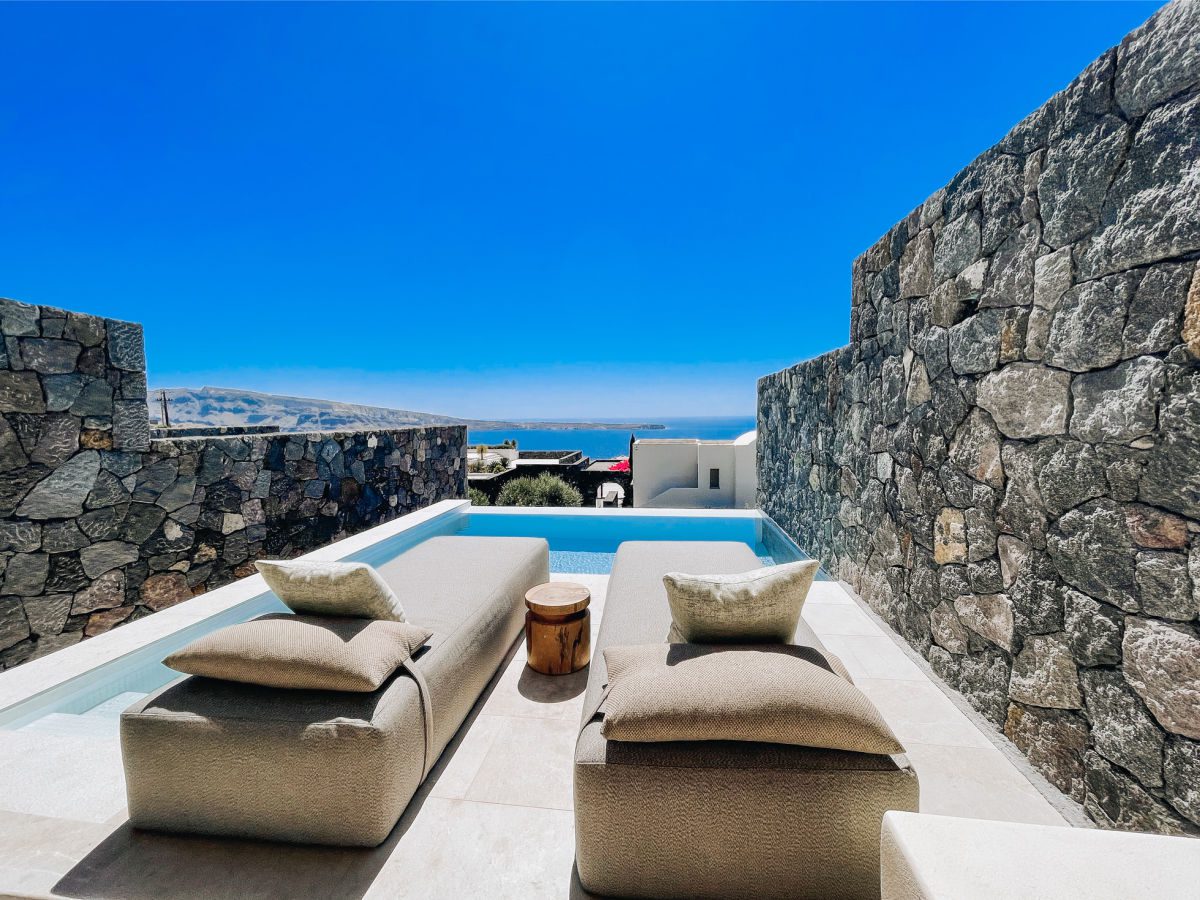 For our three nights in Santorini, I booked a honeymoon suite with a private plunge pool at the luxury hotel Canaves Oia Epitome. You can read my full Canaves Oia Epitome hotel review on my sister site YourTimetoFly. This was certainly a huge splurge for this milestone trip, but it was such a wonderful luxury experience that I don't regret a penny.
The Canaves Oia Epitome is part of the luxury brand of Canaves Oia properties and is the newest of its hotels. Located right outside of the popular town of Oia, the hotel offers gorgeous sunset views from each luxury villa. We loved the location, the service, the room, the food, the pool…seriously, we loved it all.
After a quick nap on our comfy sunbeds by our private plunge pool, we dressed for dinner at Elements, the Canaves Oia Epitome's fine dining restaurant. We enjoyed stunning sunset views while indulging in a seven-course degustation menu that will long be remembered as one of our top all-time dining experiences.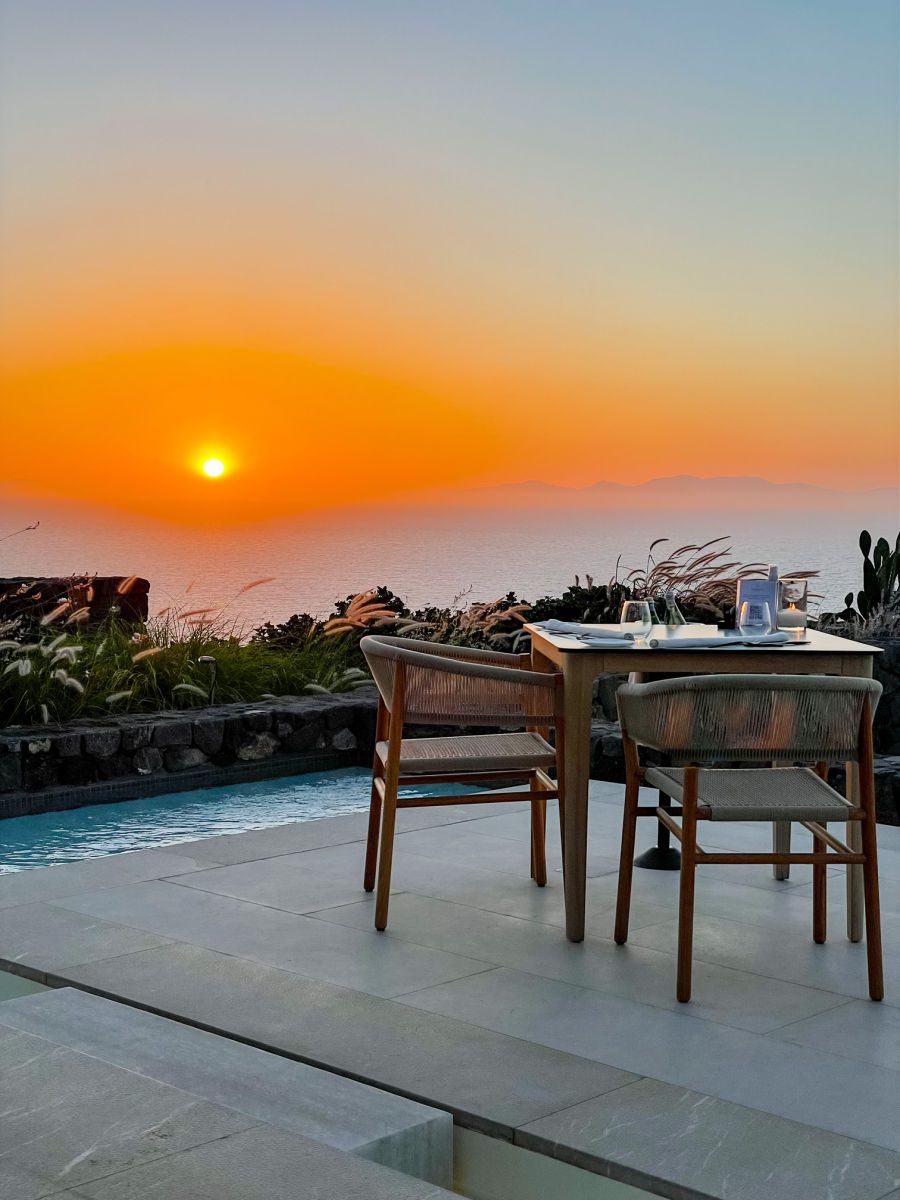 Day Two
On our first full day in Santorini, we decided to explore the gorgeous town of Oia. Just a 10-minute walk (or short hotel shuttle ride) away, we were advised to get an early start to get to experience town before the crowds of day-trippers arrived. Luckily, we visited early in the season and before cruise ships started returning to the Greek Islands, so we had until noon before the streets started getting even a little crowded.
Pro tip: when visit Oia always get a very early start and try to check for days when there aren't any large cruise ships in port, as those bring an extra 5,000-8,000 visitors to an already overcrowded island.
When exploring town make sure to get off the main pedestrian street and poke into the small alleys and wander through the streets that overlook the caldera. If you get hot or hungry, stop in for a cold drink at Terpsi n Oia, which has a rooftop terrace with incredible views.
After we finally worked up an appetite after our decadent meal the night before, we enjoyed another rooftop meal at the gorgeous Oia Gefsis. It was here that I realized I was going to really enjoy dining in Greece. We had considered lunch in the courtyard of nearby Roka or Karma, but I think we made an excellent choice for food and views combined.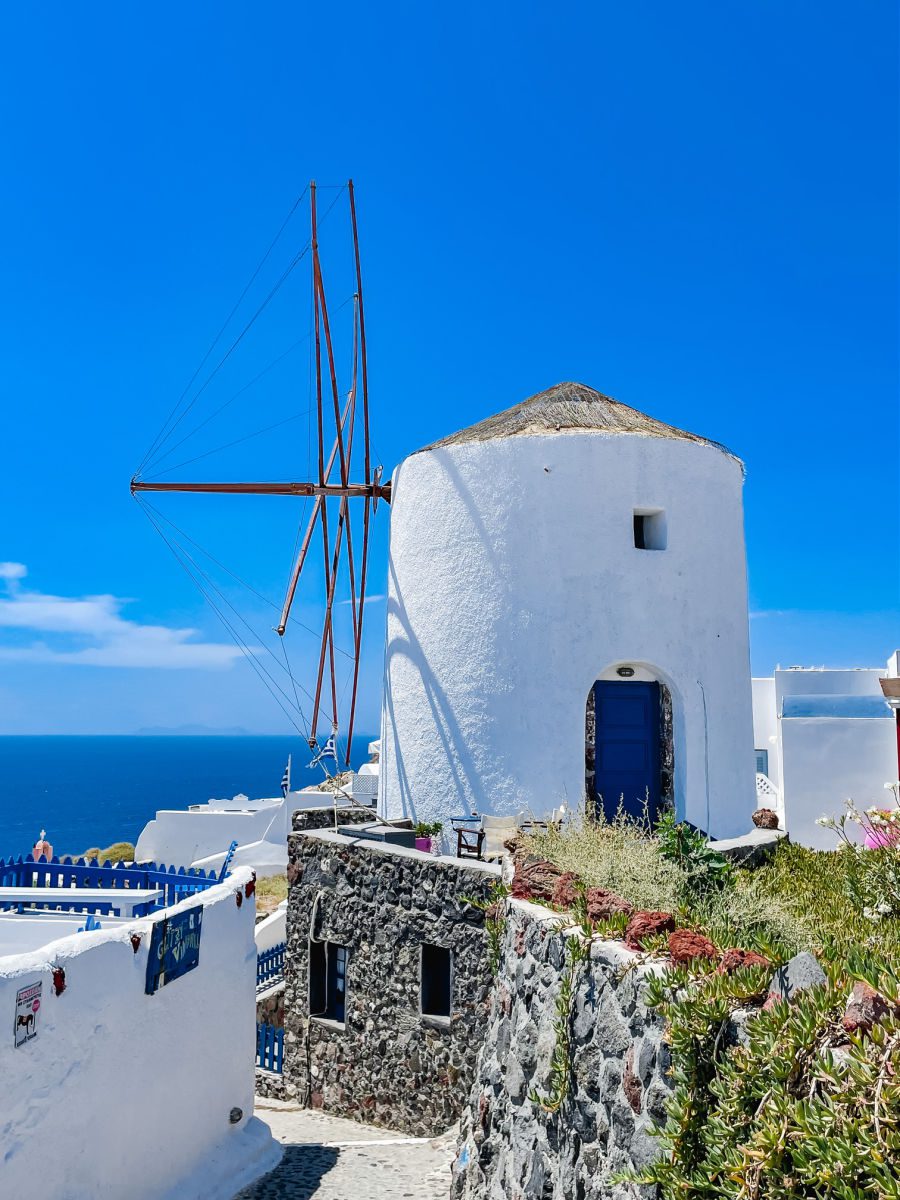 Full from lunch, we headed over toward the castle ruins, where people gather to watch the sunset. It is also a great photo spot looking across the buildings built into the cliffs and the few remaining windmills in town. This is a great spot to explore with gorgeous Insta-worthy views.
By afternoon the heat of the summer afternoon set in and it was time to return to Canaves Oia Epitome for some time at the pool. That evening, we headed back to town for another degustation dinner at Lycabettus.
We had reserved a cliffside table for dinner with an unforgettable view. While this may be one of the more unique dining experiences in Oia, the food and service didn't compare to our previous night at Elements. If you want to enjoy the view, I'd suggest booking a standard table on the terrace and ordering from the menu a la carte.
Day Three
Our third day started early, with a photoshoot with Nikola from Flytographer. (If you book a session through my referral link you will get $25 off.) Nikola did an excellent job finding scenic photo spots, suggesting poses, and capturing our joy in a memorable set of anniversary photos. If you have never tried Flytographer for a vacation shoot, I'd recommend checking it out. We have also used them in Marrakech and it is so wonderful to get professional photos to capture the special memories you make on vacation.
After our photo shoot, we had time for an outfit change and a delicious breakfast at the hotel before being picked up for our half-day wine tour with Santorini Wine Trails. Over the next four hours, our guide Iliana taught us about Santorini wine and agriculture. Despite the challenging growing conditions, there are over 20 small wineries on Santorini, primarily focused on the Assyrtiko grape, with vineyards up to 3,500 years old, as the island wasn't heavily impacted by the phylloxera that destroyed so many of Europe's vines.
Our first stop was in a vineyard where we observed the unique "basket" growing method that protects the grapes from the heat and wind. We then proceeded to visit three distinctly different wineries. Our first was at Gavalas in the town of Megalochori. We tried a few wines, including their version of Santorini's famous Vinsanto, which is entirely different than the Vinsanto you find in Tuscany. The favorite wine here was the Santorini, plus the delicious Santorini tomato paste and Naxos cheese which was served with the wine tasting.
Pro tip: if you find a place to buy Santorini tomato paste to bring home, do it!
The second stop was at Gaia, which is located right on the beach on the east side of the island, in an industrial building that was once used for producing tomato paste and sun-dried tomatoes. Gaia offers such a relaxing and beautiful setting for wine tasting.
The final stop on our wine tour was at Domaine Sigalas, which is closer to Oia. With an outdoor tasting area adjacent to the vineyard, this is a popular spot for tourists and they served a beautiful charcuterie board to accompany our tasting.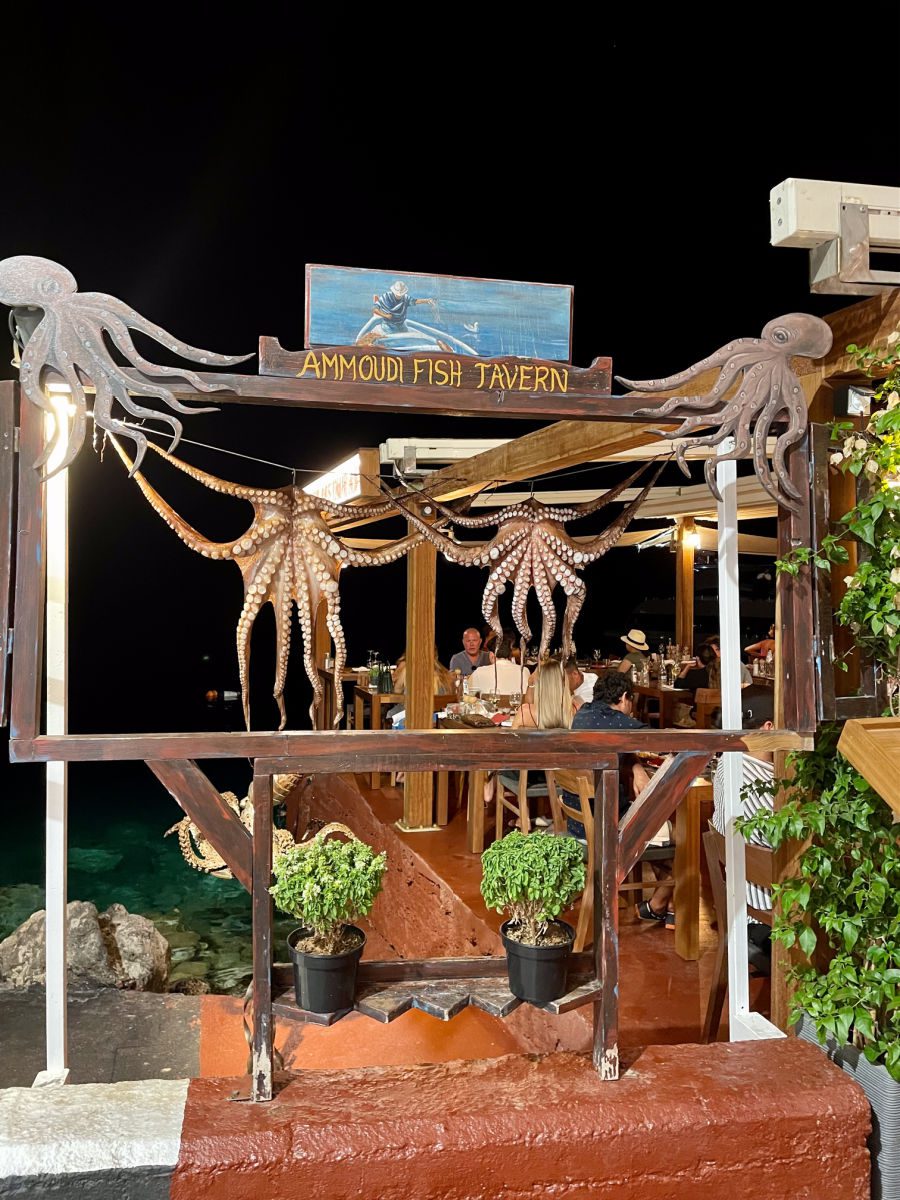 Full on wine and good food, we returned to the hotel with time to relax at our pool once again. That evening, we walked down to Ammoudi Bay for dinner at the Ammoudi Fish Tavern on the water. The entire bay is a line of fresh fish restaurants next to the docks where the sunset catamarans depart.
We considered doing one of these as it is one of the top things to do in Santorini, but we didn't want to deal with the crowd and I'd already booked a private boat tour in Naxos.
5 Days in Naxos
We were sad to say goodbye to Santorini but it was time to move on to Naxos via ferry.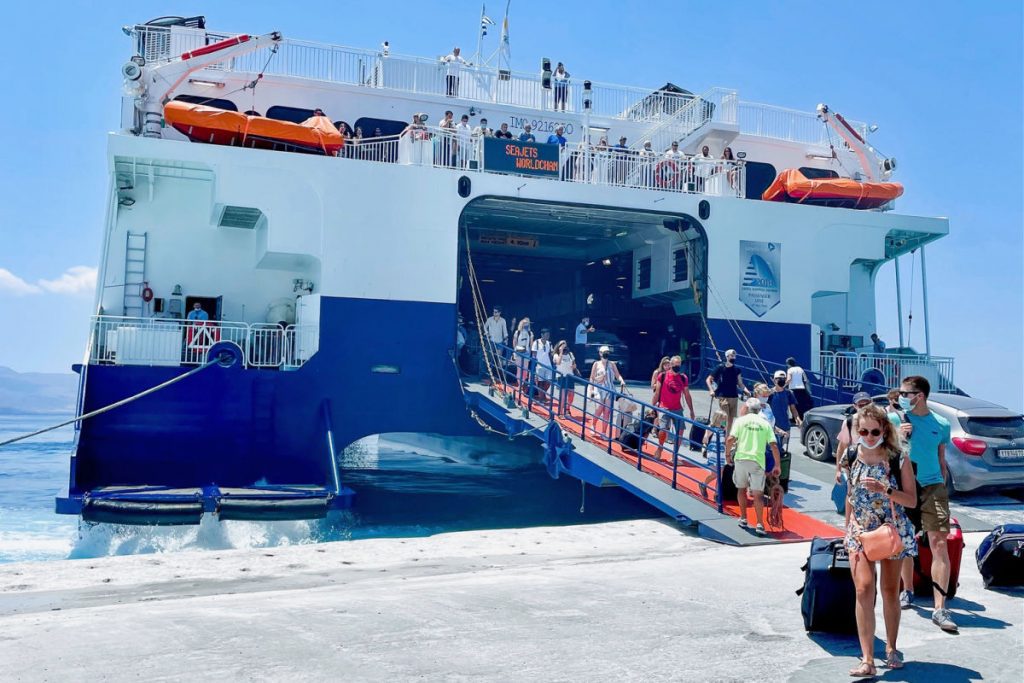 Day Four
We booked a ferry from Santorini to Naxos, as it is only about an hour and a half boat ride. The ride from Oia to the ferry port takes about 45 minutes and is a bit of a hair-raising ride if you don't like heights or cliffside driving, or you get motion sick on the switchbacks like me. Another option would be to fly from island to island.
I talked about our ferry experience on a recent episode of the Vacation Mavens podcast, but here are a few things to keep in mind:
There are many different ferry options when traveling between the Greek Islands. You can use FerryHopper to check rates and schedules for the various ferry lines and book tickets online.
You need to make your ferry reservations often months in advance to get the time that you prefer, they do sell out
If you haven't checked in online and received a mobile boarding pass, stop at the ferry office to print your boarding passes.
Note that the SeaJet World Champion Jet ferry to Naxos is a large boat that also stops at Ios first and then other islands after Naxos so it will be a large crowd herding onto the boat together.
Greek ferries are a bit chaotic when boarding and it can be hard to figure out if you are in the right line. Keep in mind that they make multiple stops so you need to be listening not necessarily just for them to call the name of your island, but for the FINAL STOP on your ferry's route (like finding out which subway train to take.)
Ferries often run late because of weather conditions so they will try to board you in a hurry (think of cattle being herded) but it also makes it a bit harder to figure out which ferry is arriving. Make sure you know your ferry line and name/number.
On arrival in Naxos, we were picked up by Naxos Luxury Transport for the 15-minute (and 20 euro) ride to our hotel in Agios Prokopios. Our hotel, Virtu Suites, is a luxury boutique hotel located right on one of Naxos' most beautiful beaches. You can read my full Virtu Suites review over on YourTimetoFly, but suffice it to say that it was a perfect choice for what we were looking for.
This contemporary hotel utilizes gorgeous bohemian and coastal styles while incorporating classic Cycladic architecture. The use of beach-inspired materials like rope, stone, and driftwood is beautifully incorporated into the room design and outdoor restaurant and bar. While there was a small pool right outside of the door of our Seaview Suite, we opted to spend most of our downtime on the beach, which was right across the street, and the hotel offered padded sun loungers and rope umbrellas, with prime seating reserved for guests.
We spent our first afternoon enjoying the beach and a sunset dinner at the hotel restaurant before taking a short stroll through town.
Day Five
Our first full day in Naxos started with a room service breakfast (included in our stay) before heading out early to meet Captain George of the sailing yacht Annabella for a day on the water with Naxos Sailing. I had booked a full-day private sailing to Antiparos and Paros, as I thought it would be a fun way to get out on the water, while also getting a chance to explore a neighboring island without having to deal with ferry schedules.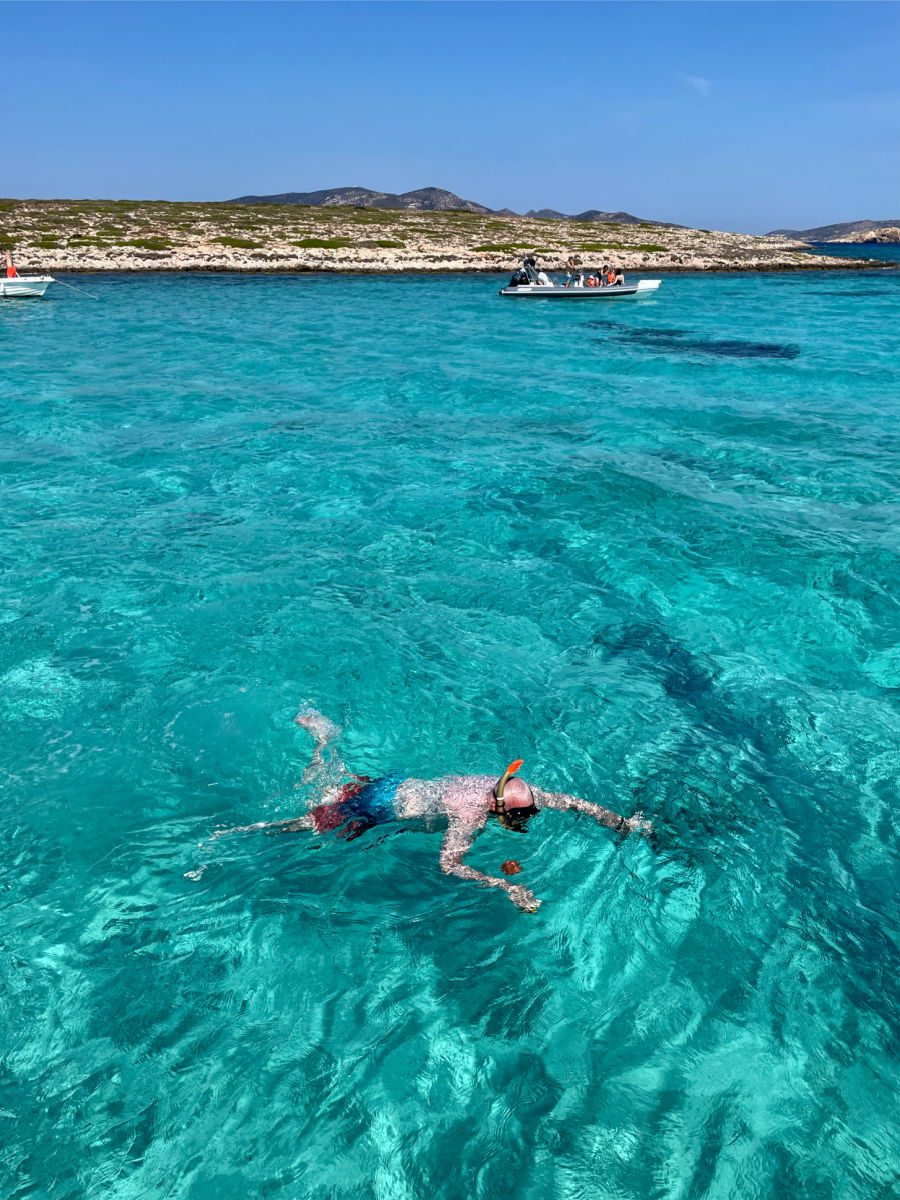 As we sailed out of Naxos, some dolphins made a quick appearance as we headed toward some small islets off Antiparos. After some time spent snorkeling, we headed over to the mainland of Paros to snorkel into a sea cave. The next stop was in the small village of Piso Livadi on Paros. We had the option of enjoying the town or beach here but we decided to take a cab to the main village of Naoussa.
I fell in love with this village and it made me want to return and stay on Paros if we get a chance to go back to Greece. After that, we sailed back to Naxos Town, and Glenn and I even took turns piloting the boat. It was a lovely day that reminded me a lot of the day we spent boating around Capri.
After a long day at sea, we opted to have dinner near our hotel at Spiros. This family-run taverna offers traditional Greek and Naxian dishes in typical huge portions. Seriously, don't over-order! But even if you do, a meal here won't cost you much (like 40 euros for an appetizer, two entrees, and two drinks!)
Day Six
The next day was definitely one of our favorites of the trip, as we embarked on a full-day Cheese, Food, Wine, and Island Tour with Eleni from Philema Food Tours. I can't recommend this tour highly enough (or any tour with Philema Food Tours for that matter) if you really want to understand more about Naxian food, wine, and local culture.
Our first stop was at a family farm of cheesemakers. After meeting the goats whose milk we would be soon turning into cheese, we stepped inside the farm kitchen to a feast of homemade Naxian specialties. Pro tip: don't eat breakfast if you are taking this tour! We then got hands-on and had a chance to help make one of Naxos' most famous cheeses. This was such a fun experience it was almost hard to say goodbye to continue our tour.
The next stop was in a small village with only seven full-time residents and a potter whose family has been creating pottery for generations. We explored the town's olive oil press, watched a pottery demonstration, and browsed through his shop.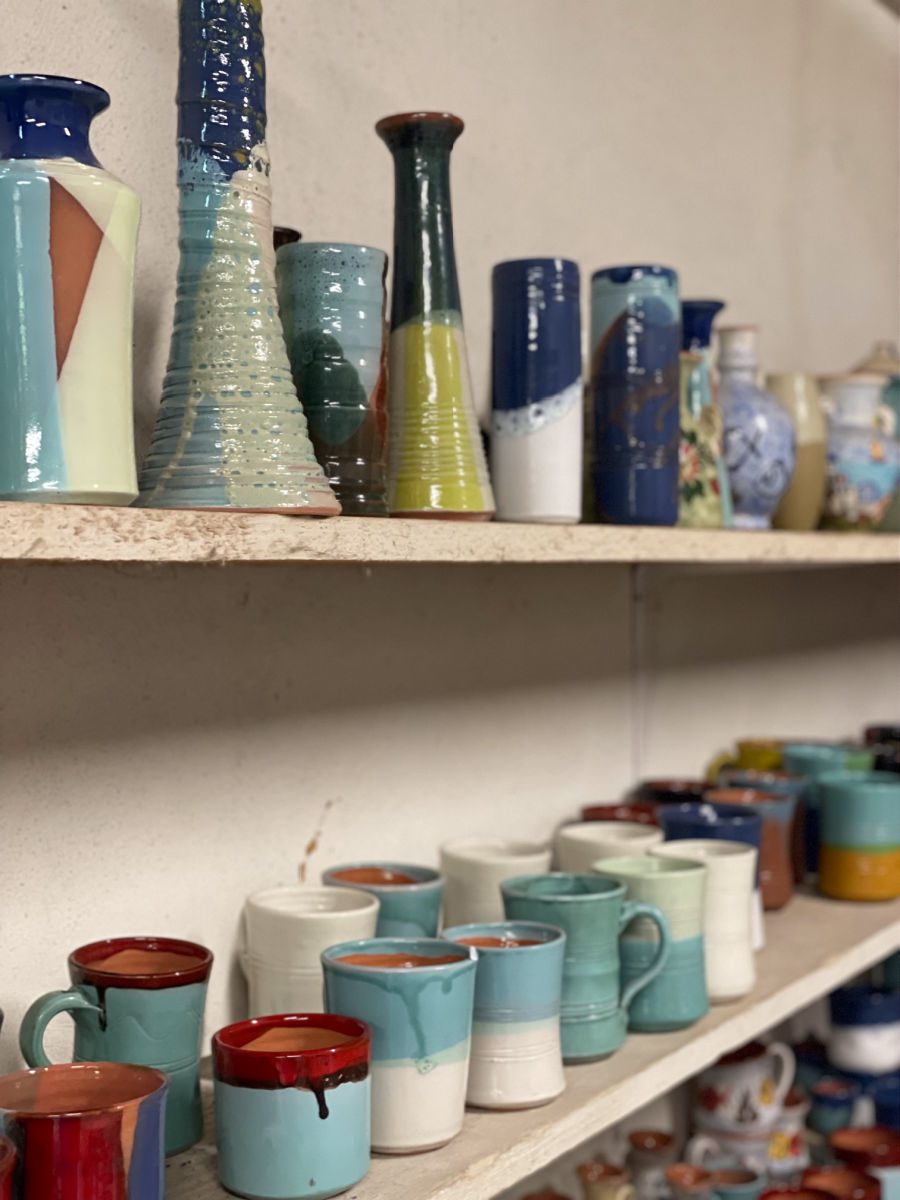 The tour wrapped around the island, winding through the mountains and stopping at a few scenic overlooks for photos. A highlight was a stop in the charming village of Chalki. Most well-known for the Kitron distillery, this town is also a great spot to see artisans in action.
For lunch, we stopped in the village of Apeiranthos. The white streets of this beautiful village are lined with local marble, making it a beautiful place to wander and get lost in the labyrinth of small streets.
We had a delicious lunch at Amorginos Restaurant, where we got to sample two famous dishes in this village — a veal with eggplant, tomato sauce, and cheese baked and topped with yogurt, and roasto. Roasto is pork thigh aged for two months and stuffed with garlic, pepper, and cooked in tomato sauce. While I'm not usually a huge pork fan (unless it is bacon or pancetta), this dish was delicious! If you see it on a menu be sure to try it!
The final stop on our tour was at a vineyard. While Naxos has the most vineyards and vines that go back for millennia, it is not known for its wine-making. In fact, most of the wine on Naxos combines all sorts of grapes and ferments them together, producing a very strong house wine. But one winemaker is looking to change that by producing a more refined wine using traditional grapes from Naxos.
A vineyard tour and tasting was the perfect way to end our tour with Philema Food Tours. That evening we enjoyed another simple, but delicious meal nearby in Agios Prokopios at Giannoulis.
Day Seven
After a busy few days, we wanted to take a day to just relax and enjoy the beautiful beach at Agios Prokopios. In the evening, we headed into Naxos Town to try out Oinohoros, the wine bar owned by the winemaker we met on our tour the day before. While many people choose to have sunset drinks at a rooftop bar in town, we enjoyed this small wine bar tucked into a side street and focused on small lot of Greek wines.
We then walked over to the Portara, or Apollo's Temple, for sunset. Of course, we arrived too late to get an ideal spot but it wasn't so crowded that we couldn't still get a decent view. Dinner that evening was in the romantic courtyard at Doukato, just a short walk from the Temple. The food was just ok but the setting was nice. For something more lively, check out Apostolis in Old Town.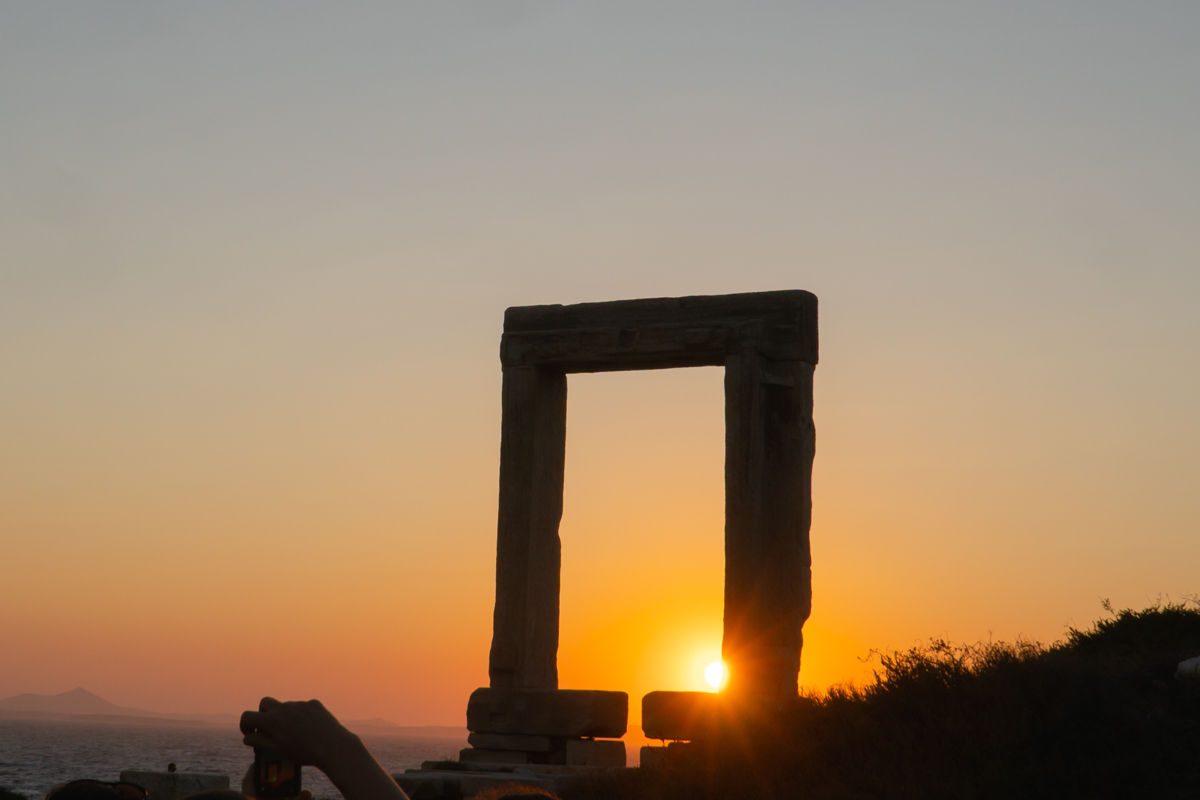 Day Eight
We took our last full day in Naxos to explore Chora, or Naxos Town. After getting lost a few times in the labyrinth of the Old Market the night before, we wanted to explore this area and the castle ruins by the light of day. After a few hours of walking around, we had a quick coffee on the rooftop terrace at the 520 Cocktail Bar & Restaurant, which was much more mellow during the day than it was the night before.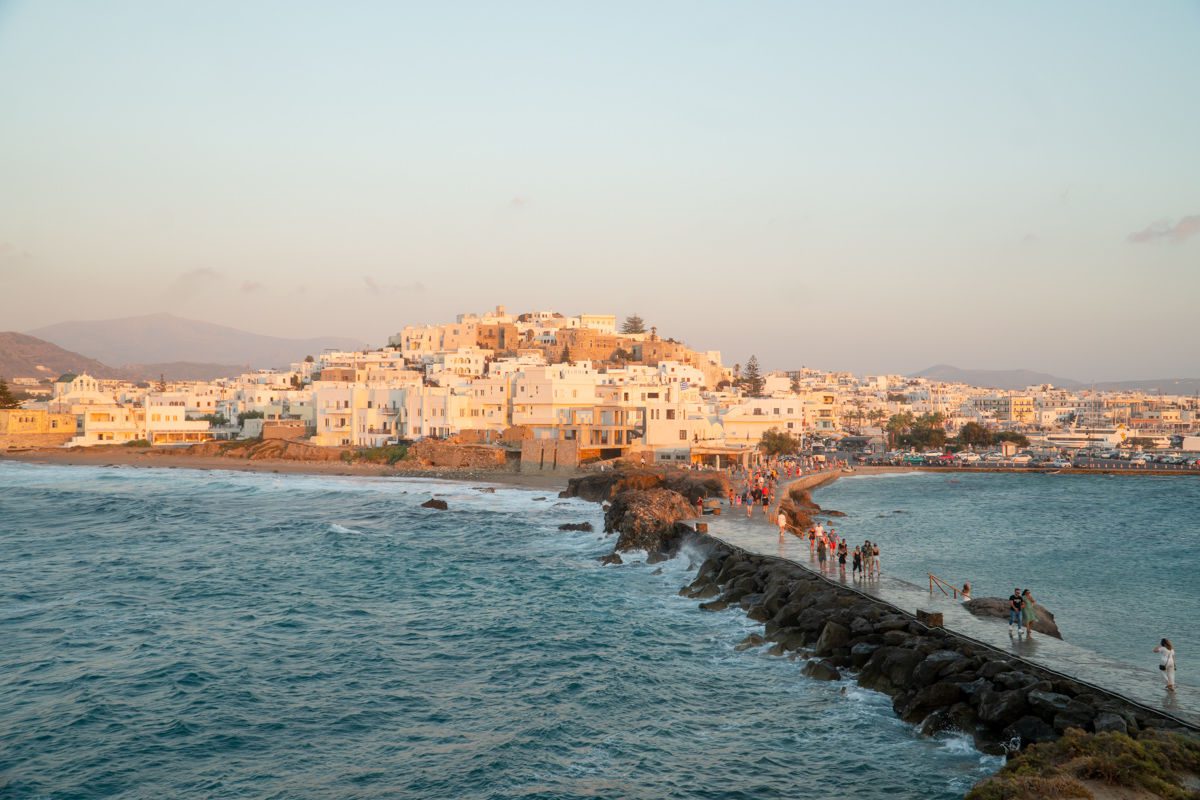 Our meandering also took us over to St. George's Beach and wrapped back around to the port area before catching a cab back to the hotel. After taking some time to relax on the beach, we headed back to town that evening for a fine dining meal at Barozzi. One of the more upscale restaurants in Naxos, we had a lovely meal and excellent service in a beautiful outdoor dining space.
Day Nine
On our final day in Naxos, I had arranged a fast ferry to Athens. Everything I'd heard about the ferries in Greece led me to believe that I didn't want to risk taking a ferry to Athens and then heading right to the airport so we booked one night in Athens before flying home. Flying is also an option but the flight times weren't lining up with our flight back to the USA either so we decided to stick to the ferry. It is a good thing we gave ourselves this extra time because our ferry left about two hours late due to winds slowing them down.
But since we had an afternoon ferry, we were able to enjoy a last morning at the beach before heading into town to catch our ferry. On the way, our driver checked an app to see the status of our ferry and found out it was running 45 minutes late (it ended up being much later), so we walked over to Pikantiko Grill House right in the port for an excellent and inexpensive meal of chicken souvlaki. This was the best souvlaki I had on our trip!
1 Day in Athens
After standing around forever, our ferry finally arrived, but unfortunately, it got us into Athens too late to visit the Acropolis as I had planned. However, our friendly driver from Welcome Pickups drove us by the Olympic Stadium and told us about the Changing of the Guard, in front of the Parliament building in Syntagma Square, which we ended up watching from our hotel balcony.
To finish out our trip, we used Marriott points to book a room at the Hotel Grand Bretagne. This luxury collection hotel has a great location, but its special feature is the rooftop restaurant, which has amazing views of the Acropolis. I had booked dinner at the rooftop restaurant, and we also enjoyed the views the next morning with our complimentary breakfast as well.
This trip was so amazing that we weren't prepared to say goodbye to Greece. If you want to see some of the most famous Athens landmarks, you definitely need at least two full days in Athens. But for us, we took our last few hours to walk around the bustling Plaka neighborhood near the hotel and decided that we must return someday soon.
Day Ten
Sadly, it was eventually time to leave Greece with our hearts full and so many happy memories. The nearly 11-hour flight back to JFK, followed by a three-plus hour drive home to Rhode Island was not fun, but it was worth it for our dream trip to Greece.
Need help PLANning YOUR TRIP TO GREECE?
This article was sponsored in part by Moon Travel Guides. All opinions are my own.
When planning our trip I consulted the Greek Islands & Athens guide from Moon Travel Guides. It has such helpful information to help you choose which islands to visit, sample itineraries, and helpful travel tips for each island including what to see and do, good restaurants, and hotels according to budget. I'd recommend ordering a copy when planning your trip too!
See Also:
Save this to Pinterest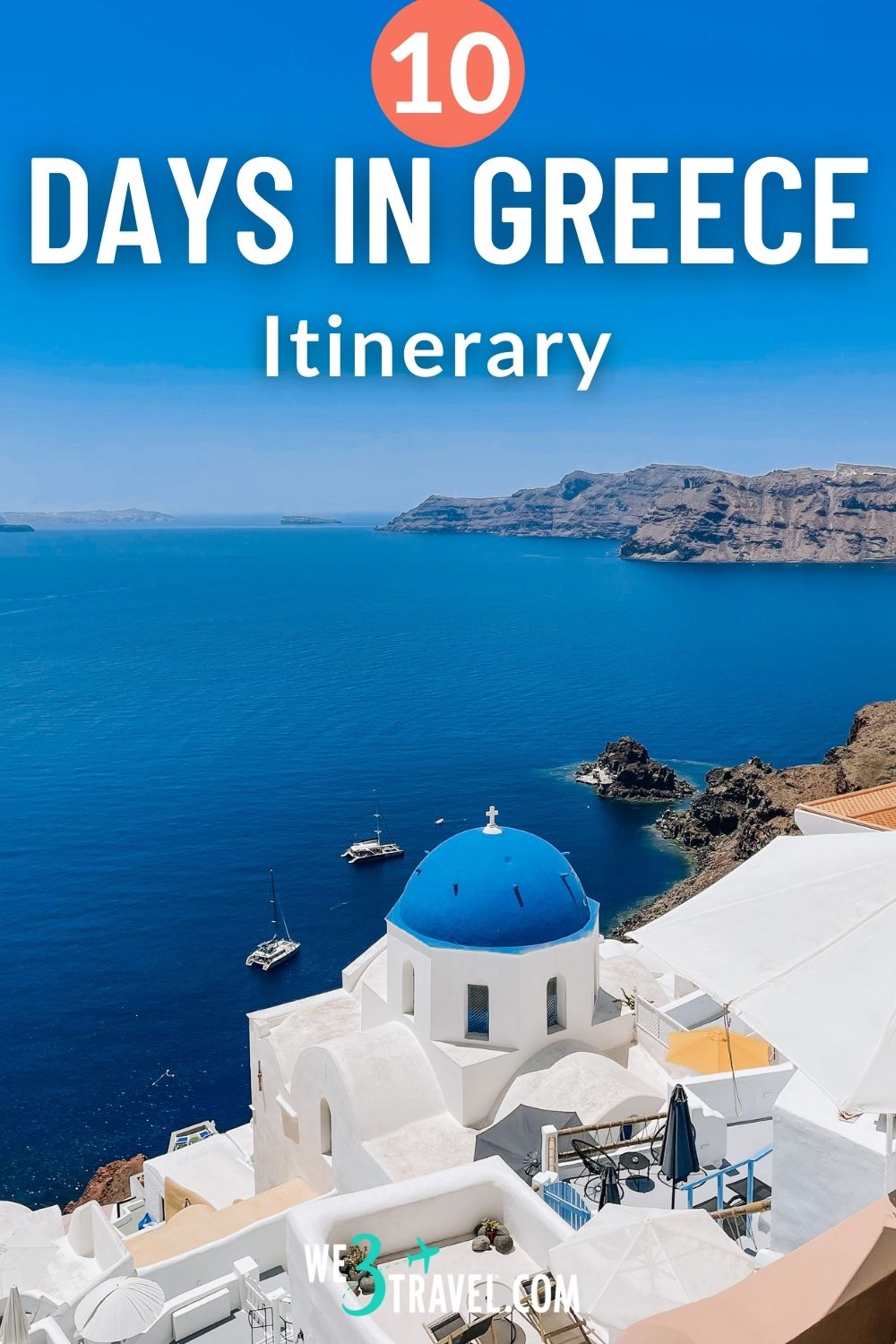 Feature photo by Nikola from Flytographer in Santorini.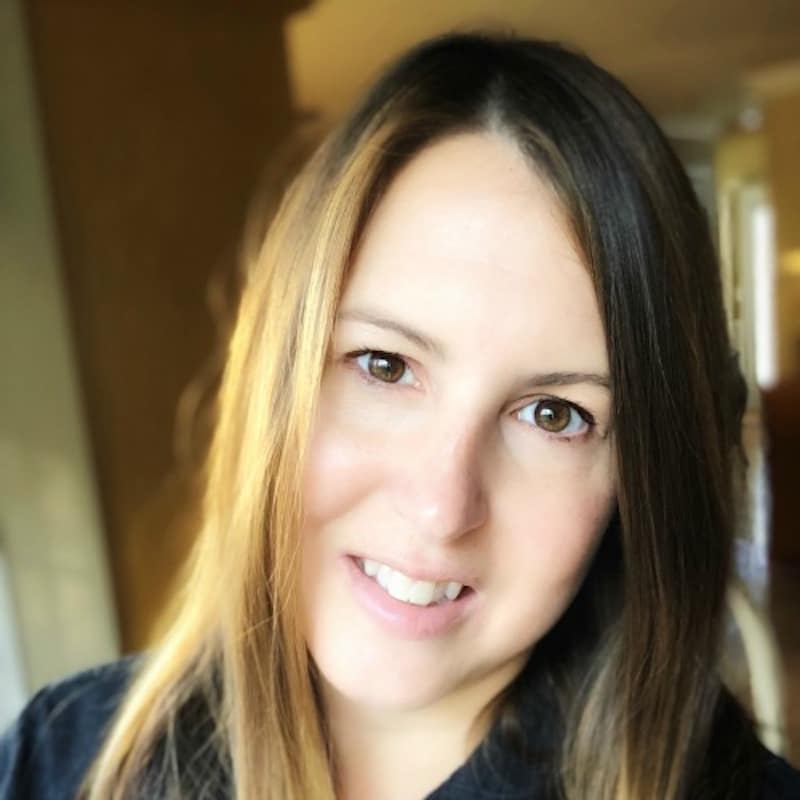 Tamara Gruber is the Founder and Publisher of We3Travel. A former marketing executive and travel advisor, Tamara is an award-winning travel writer and recognized expert in family travel. She is also the publisher of YourTimetoFly and the co-host of the Vacation Mavens travel podcast.