Tokyo may be the most populated city in the world, but it is also a futuristic land of robot restaurants, multi-purpose vending machines, adorable characters, and highly-efficient transportation. You may half expect to see flying cars weaving between the skyscrapers, yet tucked away in every district, you see a peaceful mix of Buddhist temples and Shinto shrines that represent Japan's ancient culture. This blend of new and old make Tokyo a fantastic city to visit and I'll help you figure out how with this Tokyo itinerary.
If this is your first trip to Japan, you will be astounded by how clean and safe the city is, as well as how orderly, polite, and helpful the people can be, making Tokyo a true joy to visit. When we were planning our 2-week Japan itinerary, many people suggested we spend just two to three days in Tokyo, and I'm glad I didn't listen to their advice.
With so much to do, you will have no problem filling your five days in Tokyo itinerary. And that is without visiting the Tokyo Disney or Disney Sea theme parks, or doing a deep dive into anime culture — both of which can be very popular with families visiting Tokyo.
In this Tokyo itinerary, I'll share my suggestions on how to get to Tokyo and ways to get around, where to stay in Tokyo, and a day-by-day five-day Tokyo itinerary that is perfect for first-time visitors that want a mix of ancient and modern culture. I'll share our favorite activities and tours, and tips we learned along the way.
If you are spending more time in Japan, you may also want to read my full two-week Japan itinerary and find out how much a trip to Japan costs as you start your planning. Continuing on to other cities in Japan? Don't miss my Kyoto itinerary and Osaka itinerary too.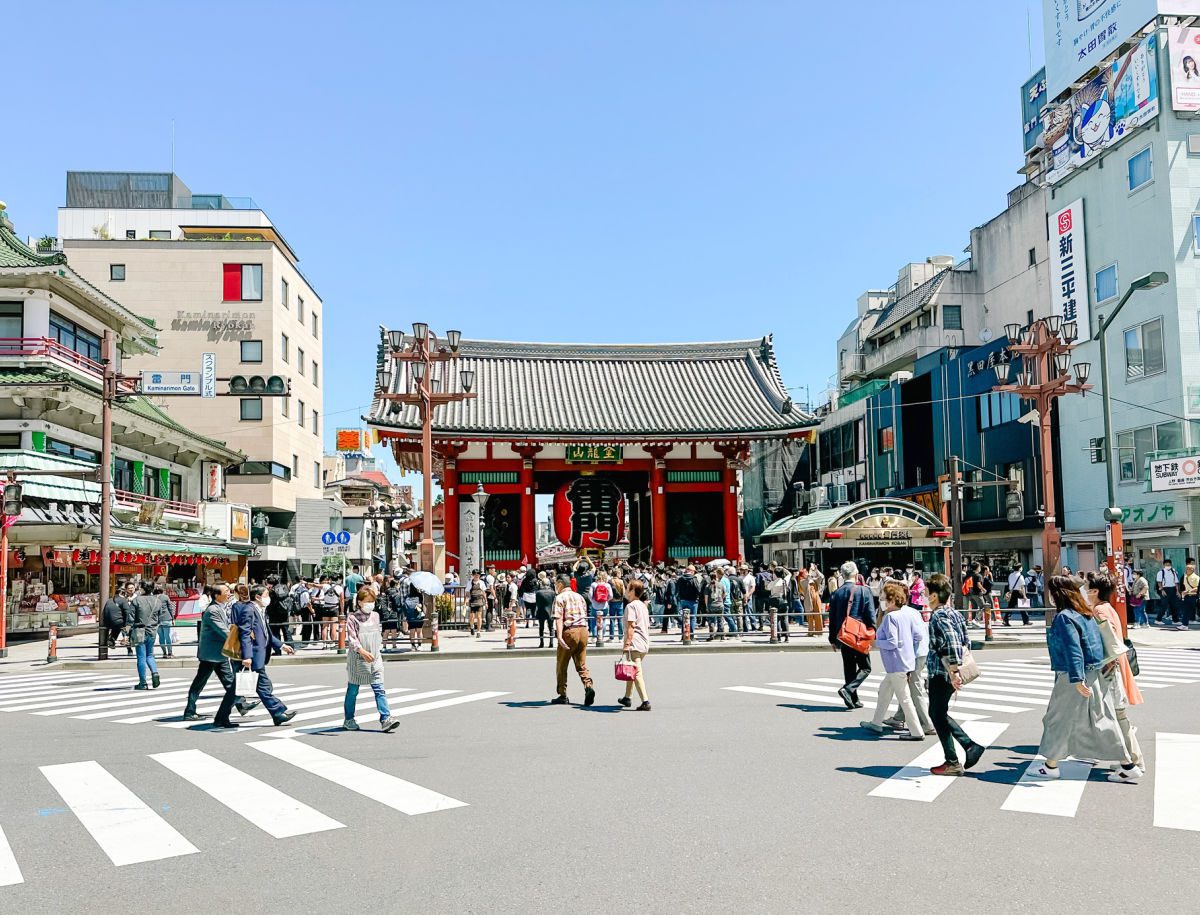 How to Get to Tokyo
Note: This post may contain affiliate links. If you click a link and make a purchase, I may receive a small commission. All opinions are my own.
Tokyo has two main international airports: Narita International Airport and Haneda Airport. Narita International Airport is located approximately 60 kilometers east of central Tokyo and caters to a wide range of airlines including Japan Airlines (JAL), All Nippon Airways (ANA), United Airlines, American Airlines, British Airways, and Cathay Pacific.
Upon arrival at Narita International Airport, there are several convenient ways to reach downtown Tokyo. The fastest and most efficient option is to take the Narita Express (N'EX) train, which offers direct connections to major stations in Tokyo such as Tokyo Station, Shinagawa Station, and Shibuya Station. Alternatively, travelers can opt for the Keisei Skyliner, a high-speed train that connects Narita Airport to Ueno Station in about 40 minutes. Additionally, limousine buses are available, offering door-to-door service to major hotels and key areas within Tokyo.
Haneda Airport, located closer to central Tokyo, is another popular international gateway to the city. It primarily serves domestic flights but also operates numerous international routes including Japan Airlines (JAL), All Nippon Airways (ANA), Singapore Airlines, Korean Air, Cathay Pacific, and Delta Air Lines. Haneda Airport's proximity to downtown Tokyo, at a distance of approximately 20 kilometers, makes it a convenient choice for many travelers.
To reach central Tokyo from Haneda Airport, there are various transportation options available. The Tokyo Monorail provides a direct connection to Hamamatsucho Station, from where travelers can transfer to other train lines to reach their desired destinations. Another popular choice is the Keikyu Line, which connects Haneda Airport to stations such as Shinagawa, Yokohama, and Asakusa. Additionally, limousine buses and taxis are readily available for those who prefer a more personalized and convenient transfer to their accommodations in Tokyo.
Getting Around Tokyo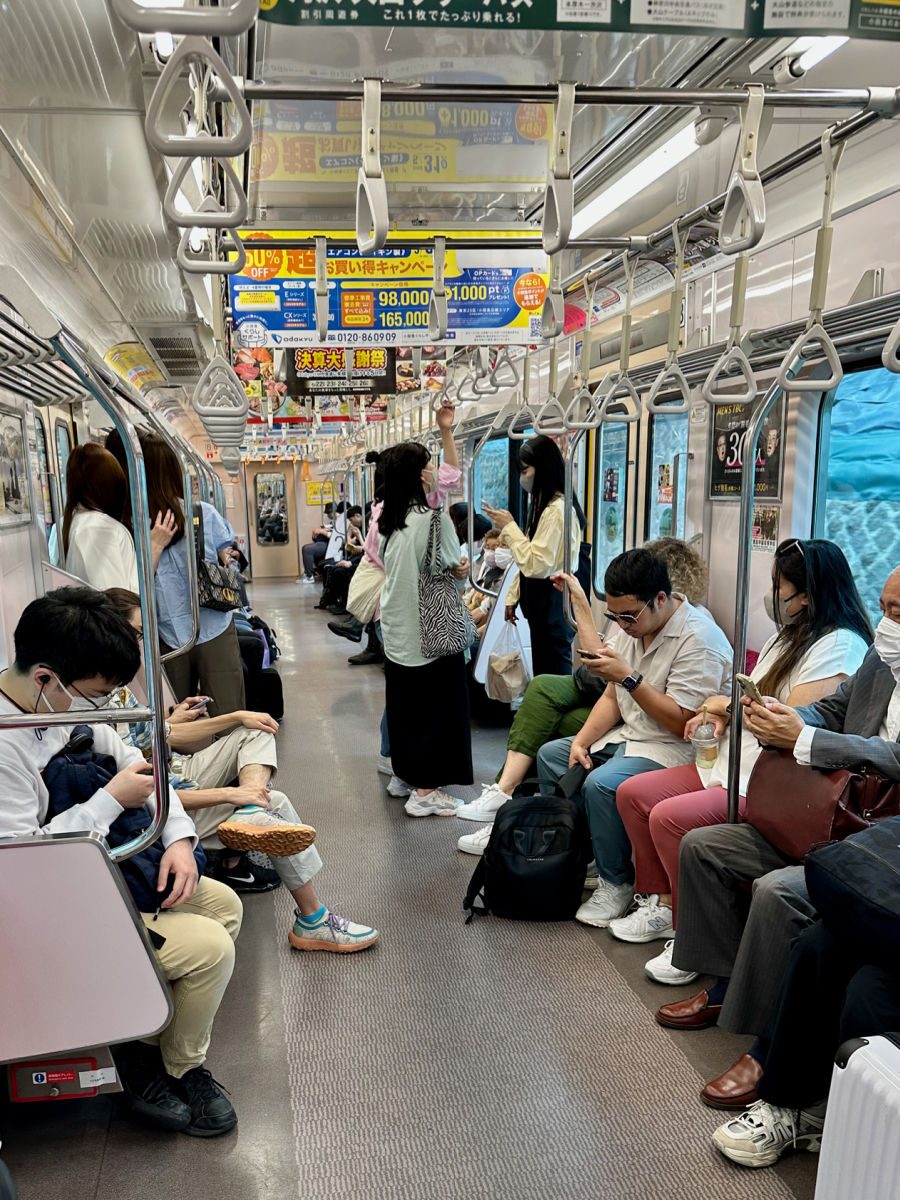 The size of Tokyo can surprise even seasoned travelers and getting from one destination to another can easily take 45 minutes, even when traveling by train or metro. I would not recommend driving in Tokyo (also, FYI, in Japan, they drive on the left) and taxis can be quite expensive so I'd use them as a last resort.
The primary modes of transportation will be by using public transportation including the Tokyo Metro and Toei Subway systems, JR trains (Japan Railways), and local busses. To use the Metro, Subway, and bus system, you will need a refillable IC Card, such as Suica or Pasmo, which can be purchased at the airport or any train station using easy-to-follow machines. Just note that your IC card needs to be loaded using cash, not credit cards.
JR Trains require a ticket or the use of a JR Pass, which can be purchased by international visitors from their home country before they arrive in Japan. It can take a day or two to learn to navigate the train and metro system, but Google Maps is extremely helpful. It will tell you what line to take, the direction, the platform number, which car is best to use if you are transferring, and the best exit from the train station. Finding the best exit from the large train stations can be the most challenging part of the journey.
When using any of the trains, be sure to follow the local custom of standing on the left side of the escalator in the train stations so those in a hurry can walk on the right. There are also often arrows on the floor and stairs in the train station indicating which direction to walk. On the platform, line up in single file lines at the spots indicated behind the yellow line. Once the train stops, let everyone exit before filing onto the train. You may want to try to avoid the commuter rush hour because the crowds on some of those trains can be quite a crush and you may have to wait for the next train.
Also, note that it is impolite to be loud on the train. Most people read or browse on their phones quietly. This also makes it easier to hear the train announcements (in Japanese and English) to exit at the correct stop. No matter which mode of public transportation you use, you will still do a lot of walking in Tokyo, so be sure to bring comfortable walking shoes! During our time in Tokyo, we clocked an average of five to seven miles a day, despite taking a lot of metro rides!
Where to Stay in Tokyo
Tokyo is huge and choosing where to stay can be overwhelming. I had a few criteria: 1) I wanted to be within a short walk to a major train station and close to multiple metro lines; 2) I wanted it to be walkable to restaurants, yet not in the middle of a major crazy tourist area; 3) I opted for an American brand hotel.
While I typically prefer boutique hotels, Japanese hotels are known for small rooms and I wanted to have a bit more space for a five-day stay and access to English-speaking staff and concierge. Plus, it seemed like a good opportunity to rack up (or use) some of my loyalty points. I actually opened up a Hilton Honors American Express card for this trip because I knew the hotel spend would hit the threshold to score major bonus points, plus it gave me 12 times bonus points on our stay. Here is my referral link if you are interested in taking advantage of a similar deal. (There is currently a 150,000 bonus point offer if you spend $4,000 in the first three months.)
For these reasons, we decided to stay at the Hilton Tokyo in Shinjuku. It was a 10-15 minute walk to Shinjuku station (one of the busiest in the world) but in a quiet, business area away from the bright lights and grittier areas close to the station. We could access two different metro lines through an underground passage directly from the hotel. And, I knew that we wanted to visit a number of sights in this area. The hotel also offers a free shuttle bus to Shinjuku station every 20 minutes during hours of operation, if you don't want to walk.
With the exception of hard beds, we were very happy with our stay at the Tokyo Hilton. The rooms were large and our views from the 38th floor were stunning. We booked Executive Club level rooms, which included access to the Executive Lounge for a complimentary buffet breakfast and evening happy hour. We could have also had breakfast at the lobby restaurant, but we found the convenience and speed of the lounge worked perfectly for us.
Service, including housekeeping, was also excellent and the one night that we decided to stay in for dinner and avoid walking in the rain, we had a choice of multiple restaurants. There is also a sweets shop in the lobby (which closes oddly early) and the lobby restaurant even offers a Hello Kitty sweets buffet that is sure to delight some families.
If you are looking for an upscale area with designer shopping and high-end restaurants, I'd recommend staying in the Ginza area. If you are looking for something very authentic feeling, perhaps the Asakusa area. The area near the Tokyo Station is also very central and nice.
Find other places to stay in Tokyo:
See my quick overview of things to do in Tokyo:
Tokyo Itinerary Day 1
Since you will be arriving in Tokyo from an overseas flight, you will be jet-lagged and exhausted. By the time you take care of everything you need to do at the airport, you likely won't arrive and be able to check into your hotel until mid to late afternoon. Take the time to unpack and settle in, but try to stay awake until at least early evening. It helps to get some fresh air, so I recommend taking a walk to explore the neighborhood.
If you are staying in Shinjuku, you can take in the sights around Shinjuku station or take in the views from the free observatory at the South Tower of the Tokyo Metropolitan Government Building (located very close to the Hilton Tokyo.) This was the tallest building in Tokyo until 2007, and it still offers stunning views.
To get there, use the Tocho-mae Station on the Oedo Subway Line, which is located in the basement of the Tokyo Metropolitan Government Building. Alternatively, it is only a ten-minute walk from the west exit of JR Shinjuku Station. The observation deck is open until 10 pm if you prefer to see the sparkling lights of Tokyo at night.
For dinner, I'd recommend lining up at about 4:45 pm (you'll probably be hungry and want an early night anyway) at Fuunji. This no-frills ramen and dipping noodle shop is popular for a reason. There are only about a dozen seats and you order from a vending machine (cash required), then hand your ticket to the person behind the counter and line up behind customers at the counter and wait for an open spot.
This is not a place to linger and you are encouraged to eat quietly and quickly and then make way for the next group. But it is delicious, affordable, and worth the wait. A perfect introduction to Japanese food! I suggest at least one person getting the dipping noodles so you can try both (don't make my mistake and order both! The people behind the counter laughed at me — "for one person?!!" Silly me but I'm glad I got to try both.)
Another nearby option is Udon Shin, but this is also very popular (you will soon learn that Japanese people love to line up to eat way more than tired tourists are willing to do!). You will want to run over there and get a ticket as soon as you arrive at your hotel and get a return time (often 5 hours later.)
Tokyo Itinerary Day 2
Hopefully, after a good night's sleep, your body clock will reset and you will be ready to hit the ground running. Even still, I think it is a good idea to not schedule anything for your first day that can't be pushed back or changed, such as tours, workshops, prepaid tickets, etc. Save those for later in the trip to give yourselves a chance to adjust first.
I also recommend tackling one to two neighborhoods a day, to minimize the time you spend in transit from one attraction to another. Since we were traveling with a teen, an afternoon exploring the teen culture in Harajuku was a must on her list. However, we decided to start with something that made it clear that we were in Japan, so we started our day at the Meiji Jingu Shrine.
Meiji Jingu Shrine
Located in the lush and quiet oasis of Meiji Jingu Gaien Park, the Meiji Jingu Shrine, was established in 1920 to honor Emperor Meiji and Empress Shoken, who played crucial roles in modernizing Japan during the Meiji Restoration. You can access the park using the Tokyo Metro to the Meiji-jingumae station, or the JR Yamanote Line.
After passing through a towering torii gate, you will wind your way through the park to the shrine. One thing you will often notice in Japan is the coexistence of Buddhism and Shinto religions, with Shinto shrines and Buddhist temples sitting side-by-side. While Buddhism and Shintoism are distinct religious practices, they have long coexisted harmoniously in Japanese society.
At the shrine, you can partake in traditional Shinto practices, like writing wishes on ema (wooden plaques) or purchasing omamori (amulets). If you wish to offer a prayer at a shrine, be sure to read the correct practices, which include the proper washing of your hands, bowing, clapping twice, and bowing again.
Harajuku
If you are traveling with tweens or teens, or just want to get a beat on youth culture in Japan, a visit to the Harajuku neighborhood is a must. This area has become synonymous with avant-garde fashion, street style, and unique subcultures. The main thoroughfare is Takeshita Street, which is lined with colorful shops, quirky boutiques, and trendy cafes, attracting both locals and tourists alike. It is also where you will find some of the Instagram-worthy snacks such as rainbow cotton candy at Totti Candy Factory and rainbow crepes at Santa Monica crepes.
Takeshita Street is a hub for snacking and shopping for an array of clothing, accessories, cosmetics, and novelty items, including some of Japan's famous characters (like those from Sanrio.) Harajuku is also associated with Kawaii culture. Kawaii, meaning "cute" or "adorable" in Japanese, is an integral part of Japanese popular culture. It encompasses a wide range of elements, including fashion, music, art, and lifestyle.
In Harajuku, Kawaii culture is on full display, with its distinctive style featuring pastel colors, frilly dresses, oversized bows, and whimsical accessories, often drawing inspiration from anime and manga. Some of it can feel a bit fetish-geared, at least to the Western eye, but it is still quite popular with Japanese teens.
If your teens wants to pick up some fashion items that don't look like everything you see in the U.S., be sure to stop into the shops at CuteCube and SoLaDo. You will find more upscale, familiar brands along Omotesando Street, which runs perpendicular to Takeshita. The LaForet Harajuku shopping mall on Omotesando also offers floor upon floor of affordable teen fashion and Kawaii clothing. Kiddyland is a great spot to pick up toys and character gifts, and Graniph has cute and fun t-shirts and bags for teens.
While it is easy to snack your way along Takeshita Street with spiral-fried potatoes, candy-lacquered strawberries, boba tea, crepes, and more (but please don't waste your money on the rainbow grilled cheese from Le Shiner, it is awful), leave time to explore the backstreets of the Omotesando Hills. This quieter area offers vintage stores and cute boutiques.
I'd recommend lunch at A Happy Pancake. These meringue pancakes are light, fluffy, and delicious, topped with everything from fruit to ice cream.
Another popular thing to do in Harajuku is stop at one of the many animal-themed cafes. I always struggle a bit with the ethics of animal cafes featuring non-domesticated animals in particular, but my husband really wanted to stop into the Harry Harajuku Hedgehog Cafe. I was pleased to see how the animals were treated in this shop by being given rest time, requiring guests to wear gloves, close supervision of how the animals were treated, and the ability to adopt the animals. Since we have never had a pet hedgehog, it was fun to get to feed and hold them for a few minutes.
Memory Lane / Omoide Yokocho
Finish up your day in the area around Shinjuku Station. First, walk through the narrow alley of Omoide Yokocho, also known as Memory Lane. This area invokes feelings of old Japan, with tiny little restaurants and izakayas (little bars) lining the alley, cooking yakitori over small charcoal grills, with smoke pouring out into the alley. There are plenty of spots to stop and eat. Just join a line or grab an empty seat at a counter where something smells good. You will find plenty of yakitori skewers, ramen, and other single-dish specialty shops.
We popped into one spot that had a few more seats and ordered ramen and soba from a vending machine (again, this is an area where you will need cash to pay.) Afterward, the adults may want to head to some of the bars in the Golden Gai area, but it didn't feel particularly family-friendly.
Godzilla fans have to take a walk over to the Hotel Gracery in Shinjuku to get a view of the giant Godzilla on top of the hotel. This area is lined with bars, restaurants, arcades, and "women's clubs" (which seemed more like strip clubs with young girls standing outside in French maid outfits luring people in.) The area is a little gritty at night, but crime is still not a big issue in Japan as it is a very safe country.
Technically, only hotel guests or those eating at the Cafe at Hotel Gracery are allowed up on the terrace to get close to the Godzilla, but no one stopped us (and the cafe was closed), so my husband was in his version of Godzilla-fanboy heaven.
Tokyo Itinerary Day 3
On day three, it is time to venture a little further and explore the areas around Tsukiji, Shiba, Odaiba, and Ginza. It is a busy day so wear your favorite walking shoes!
Tsukiji Fish Market
One of the most famous tourist destinations in Tokyo is the Tsukiji Fish Market. This world-renowned market consists of two main sections: the inner market and the outer market. The inner market, once famous for its bustling tuna auctions and wholesale sales, has been relocated to Toyosu, while the outer market continues to thrive in the original Tsukiji area and is accessible to visitors.
The outer market is a lively and bustling area filled with numerous stalls, shops, and restaurants offering a wide array of fresh seafood, produce, kitchenware, and culinary delights. There is also an inside area where locals pick up fish for daily meals.
We took a brief tour with True Japan, but honestly, it seemed easy enough to explore on your own and just join the queue wherever you see a line if you are hungry.
However, if you really want to find the best places to eat and get to sample specialties instead of just walking around, I'd recommend taking either the Fish Market Tour from Magical Trip or the classic Tsukiji food tour with Arigato Travel.
Sushi Making Experience
One of my favorite experiences on our Japan trip was the sushi-making workshop we took with True Japan (and I don't even like sushi!) Located in the basement of a building across from the Tokyo Tower, I really wasn't sure what to expect when I walked in. But the ladies running the program were absolutely lovely and so kind and fun. We were happy to have booked a private group, instead of joining one of the much larger groups that came later.
We learned all about what it takes to make good sushi (basically good rice, fresh ingredients, and the correct process), from the right way to stir the sushi rice to the six-step process of forming a piece of nigiri sushi. In the end, we each produced five pieces of sushi and two rolls. Then it was time to decorate our plates and eat!
With the sushi making, we also added on a tea and sake pairing experience, allowing us to try various teas and types of sake with our meal. Sushi is the most integral to Japanese cuisine and it was great to get insight into how to produce this quintessential food.
Tokyo Tower
There are many observation decks to get great views of Tokyo including the Tokyo Skytree, Shibuya Sky, and the Tokyo Tower. My husband Glenn is not a huge fan of heights, so we didn't want to go out of our way to visit an observation deck, but since our sushi-making experience was right across the street from the Tokyo Tower, we decided to give it a try.
The Tokyo Tower was built in 1958 and reaches a height of 333 meters (1,093 feet). Smaller than the more modern Skytree, the Tower was designed by architect Tachū Naitō and constructed by the Nippon Television City Corporation to serve as a broadcasting tower for television and radio transmissions.
Inspired by the Eiffel Tower in Paris, the Tokyo Tower offers two main observation decks for visitors to enjoy panoramic views of the city. The main deck, located at 150 meters (492 feet), provides a lovely vantage point to see the sprawling metropolis with its skyscrapers, historical landmarks, and surrounding landscapes. The top deck, which requires its own ticket, is located at 250 meters (820 feet) and offers an even broader perspective, allowing visitors to see Tokyo's urban expanse from a higher elevation.
Both decks are enclosed and the main deck only offers a small patch of glass floor, so except for the glass-enclosed elevator ride up, it is really quite tame even for those afraid of heights. You can either pre-purchase timed entry tickets or take your chances on waiting in line when you arrive. A visit to both decks shouldn't take more than 45 minutes unless you want to spend time at the cafe or at the shops and restaurants below.
TeamLab Planets
TeamLab Planets was another highlight and much-anticipated attraction for our Japan trip. This immersive digital art museum takes you on a journey through a series of interactive and sensorial installations that is unlike anything I've ever experienced. It tops those interactive Van Gogh and other exhibits by a lot!
Created by the interdisciplinary art collective, TeamLab, this museum transcends traditional boundaries by merging technology, art, and nature to create a mesmerizing experience. Timed-entry tickets are required and you should look to purchase them at least a couple of months in advance of your trip. Just keep in mind that this is a multi-sensory experience involving water (you will need to remove your shoes for the duration and walk through water up to your knees at points), darkness, and flashing lights, so it may not be appropriate for some with mobility or sensory issues.
The experience takes about 60-90 minutes to complete and wraps you through the water and garden sections with rooms featuring hanging crystals that reflect off mirrored surfaces, water with projections of swimming koi fish, digital flower projections, and dangling displays of real orchids. The museum's exhibits allow visitors to become active participants in the artwork. I don't want to give too much away, but I haven't met anyone that went and didn't love it.
Ginza
When you finish with TeamLab Planets, you may want to head over to nearby Ginza for dinner (and shopping if your budget allows.) We had dinner at Bird Land, which is a Michelin-star yakitori restaurant specializing in chicken and all its parts. The restaurant was quite pretty and I appreciated being able to make a reservation and sit down after a long day. But to be honest, I had trouble with some of those chicken parts. It is probably better to not ask what you are eating, but sometimes the chewiness gave it away.
A couple of other places we considered were Ginza Sushi Fukuju, which is another Michelin-star restaurant, and Re:Dine Ginza, which is a unique concept where top chefs compete and customers enjoy the results.
Tokyo Itinerary Day 4
Day four brings us to another of Tokyo's most popular tourist areas and most famous sporting events.
Asakusa
Asakusa is a historic neighborhood nestled in the heart of Tokyo. With a rich cultural heritage, this area attracts both locals and tourists seeking to immerse themselves in the traditional side of Tokyo. Asakusa's history dates back centuries, and it was once a bustling entertainment district during the Edo period. Today, it retains its nostalgic charm, with preserved old buildings, narrow streets, and a vibrant atmosphere, as well as theaters and entertainment centers.
One of the most famous landmarks in Asakusa is the Senso-ji Temple. This ancient Buddhist temple, believed to have been founded in the 7th century, is Tokyo's oldest and most revered temple. Visitors enter through the iconic Kaminarimon Gate, adorned with a massive lantern and guarded by two fierce statues. The approach to the main hall, Nakamise Street, is lined with shops and stalls selling traditional souvenirs, snacks, and local street food.
Another notable attraction in Asakusa is the famous "Kappabashi Street," also known as "Kitchen Town." Here, visitors can witness rows of shops selling a wide variety of kitchenware, including the iconic plastic food replicas that adorn the storefronts of many Japanese restaurants.
For those with a sweet tooth, Asakusa is also home to numerous local delicacies. One must-try treat is the melon pan, a sweet bread roll with a crunchy exterior that resembles a melon. Several bakeries and street vendors in Asakusa offer freshly baked melon pan, providing a delightful snack as you explore the neighborhood's charming streets. There are many shops along the covered arcades that also offer sweets such as taiyaki with custard or red bean paste.
Since this is such a historic area, we decided to take a tour with Context Travel, as we have always had good luck with them in cities like Vienna and Budapest. We did learn a fair amount from our guide Patricia, but not as much about the history as I expected. If I was to do it again, I'd consider doing the Cultural and Street Food Walking Tour with Magical Trip.
Before you leave Asakusa, be sure to head to the 8th floor of the Asakusa Culture Tourist Information Centre opposite Asakusa Station for free views of the Tokyo Skytree.
There are plenty of options for lunch in this area, but we loved our tempura donburi at Tempura Akimitsu, just a 10-minute walk from the Senso-Ji Temple. It is a small place so I'd recommend making a reservation. There is an English menu that you can order using a tablet at the table. I'd highly suggest getting the red ginger tempura. This was a new discovery for me on this trip and I loved it!
Sumo Wrestling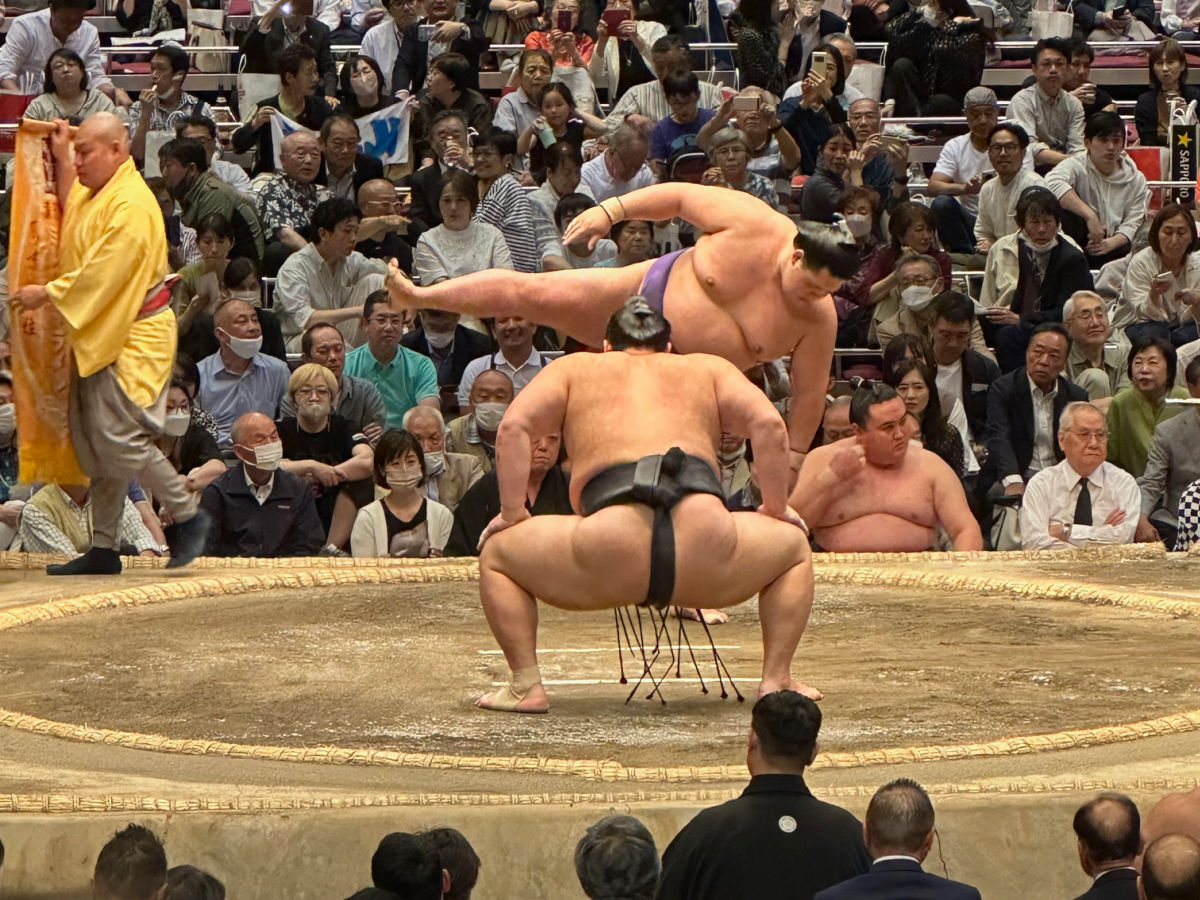 If you are fortunate enough to visit during the Sumo Wrestling Tournaments in January, May, or September, it is an event worth seeing for its dramatic theater and sport. Each tournament lasts around 15 days and the best matches take place later in the day.
You need to book tickets as soon as they open up for sale and each ticket is good for the whole day, but unless you are a diehard fan, I'd suggest arriving around 2:00 – 3:00 pm and staying until the matches finish at 6:00 pm. When you order tickets online, you will need to stop by any 7-11 store to pick up hard copies of the tickets.
You can purchase tickets for box seats on the floor, which is truly a small boxed area on the floor with four cushions, intended to fit four small people sitting cross-legged. However, they more comfortably fit two people with legs extended. You can also purchase regular stadium chair seats in the upper tiers of the stadium.
Each match begins with the ring entering ceremony, where the wrestlers, dressed in their traditional mawashi loincloths, make their way into the dohyo (sumo ring) accompanied by rhythmic drumming and chanting. The matches are conducted under the strict supervision of a referee, clad in a striking kimono. Before the bout commences, the wrestlers engage in a series of ritualistic gestures, such as stomping their feet and performing salt-throwing, which symbolizes the purification of the ring and the summoning of the spirits.
Once the match begins, the wrestlers demonstrate their strength, technique, and agility as they engage in intense confrontations. The objective is to force their opponent out of the ring or make any part of their opponent's body other than the soles of their feet touch the ground. The bouts are fast-paced and can be over in a matter of seconds or extend to a grueling showdown between two formidable opponents.
In between matches, there are banner holders that walk around the ring carrying the flags of the match sponsors. Fans cheer wildly for their local favorites and the whole match is quite a spectacle and it is easy to get caught up in the excitement.
If you aren't in Tokyo during the tournament, you can still visit the Sumo Museum or join a tour of the morning Sumo practice or a Sumo experience that includes lunch.
After Sumo, you can have a soba dinner near the Tournament arena at Tokyo Ryogoku Edo Soba Hosogawa or head back to Shinjuku for dinner at somewhere like Shinjuku Kappo NAKAJIMA.
Tokyo Itinerary Day 5
On your last day in Tokyo, it is best to pursue the attractions that most interest you and your travel companions — and there is so much to choose from!
Museums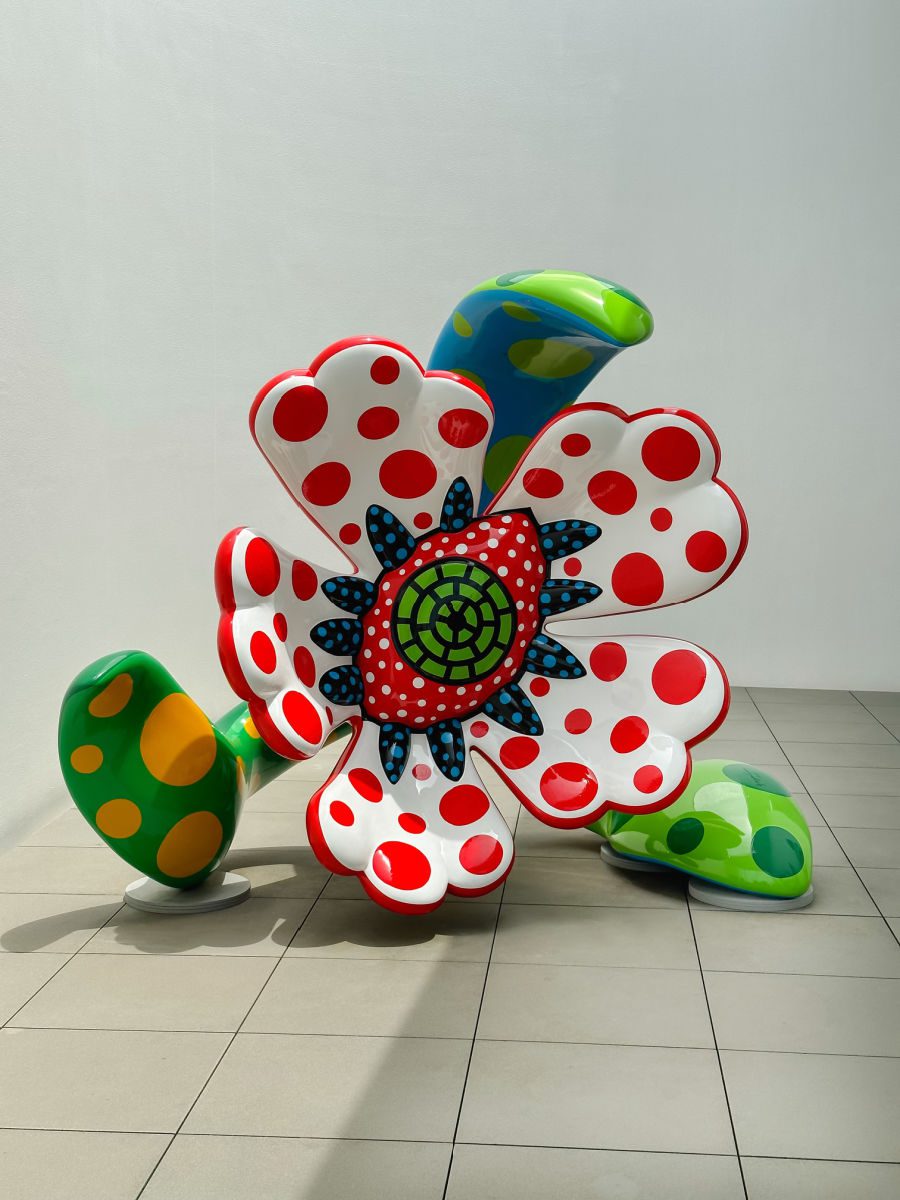 I'm a fan of the polka dot artwork of legendary artist Yayoi Kusama, so we visited the Yayoi Kusama Museum. (Tickets need to be purchased online about a month in advance.) The museum is fairly small and takes no more than 45 minutes to visit.
If this isn't your cup of tea, there are so many other great museums and attractions to visit in Tokyo including:
Tokyo National Museum: The largest and oldest museum in Japan, housing an extensive collection of Japanese art and artifacts.
Mori Art Museum: Located in the Roppongi Hills complex, this contemporary art museum offers stunning views of Tokyo and showcases innovative and thought-provoking exhibitions.
Edo-Tokyo Museum: Dedicated to the history and culture of Tokyo, this museum provides a comprehensive look into the city's past, from the Edo period to modern times.
Ghibli Museum: A must-visit for fans of Studio Ghibli films, this enchanting museum in Mitaka showcases the work of legendary animator Hayao Miyazaki and offers a glimpse into the magical world of Ghibli animations.
National Museum of Emerging Science and Innovation (Miraikan): A science museum that explores cutting-edge technologies, robotics, space exploration, and the future of science.
Odaiba Gundam Base: An interactive museum dedicated to the popular Gundam franchise, featuring life-size models, exhibits, and a shop filled with merchandise.
Pokemon Center Mega Tokyo: A haven for Pokémon fans, this store in Ikebukuro offers a wide range of merchandise, interactive experiences, and limited-edition items.
One Piece Tower: A theme park and museum based on the popular manga and anime series One Piece, featuring attractions, shows, and character-themed areas.
Tokyo Anime Center: Located in Akihabara, this center hosts exhibitions and events dedicated to anime and manga, showcasing the vibrant anime culture of Japan.
Imperial Palace East Gardens
After visiting a museum, it is nice to get some fresh air and enjoy a traditional Japanese Garden with a Walk through Imperial Palace East Gardens. These gardens surround the Imperial Palace and are free and open to the public. It is a relaxing oasis from the bustle of such a large metropolis.
Tokyo Character Street
From the Gardens, it is a short walk over to Tokyo Station, which, in addition to being a major transportation hub, is also home to many restaurants and the main reason we visited — the Tokyo Character Street. This area of the train station is filled with individual shops featuring Japan's cutest characters and international favorites like Pokemon, Dragonballz, and other anime figures. Families will love doing some souvenir shopping here!
Godzilla fans might also want to walk past the Godzilla statue (1 Chome-2-2 Yurakucho, Chiyoda City) for a fun photo opp.
Flytographer Photo Shoot
I think vacations are a great time to have family or couple photos taken (or even solo photos since it is so hard to get pictures of yourself when traveling alone!) and we love to use Flytographer. If you are interested in setting up a Flytographer photo shoot, use my referral link to get $25 off your first photo shoot.
With Flytographer, you can choose your favorite photographer, how long of a shoot you want, and your preferred location. You typically get your final photos within about five days of your photo shoot and they make terrific vacation memories that can easily be turned into prints, photo books, canvases, or other products.
Shibuya
You can't leave Tokyo without exploring the bustling neighborhood of Shibuya, including the famous Shibuya Crossing, known for being the busiest intersection in the world. In addition to making the crossing, you can also get a good view from above from the second level of the Tokyo Department Store at the west exit of the railway station. Also, get a view of Shibuya Crossing from above at the busy Starbucks or the quieter (but more distant) 11th floor of the Hikari Building. Mag's Park and the rooftop terrace also offer good views.
If you want to brave the outdoor escalators of the Shibuya Sky Building and then the glass stairs to the 46th floor, you can reach the 360-degree observatory over Tokyo and even the "Sky Edge" glass balcony that extends beyond the building over the city.
I wish we had more time to explore Shibuya because I would have liked to take the Best of Shibuya Food Tour with Arigato Travel. Alas, it overlapped with the time of our photoshoot, but we did enjoy a delicious dinner at Han no Daidokoro Kadochika, even if it was a Korean BBQ restaurant, they still served up Japanese beef.
A few other restaurants we considered in this area are Hakushu (Kobe/Waygu beef teppanyaki), Sushi Uobe (high-tech sushi with one of Asia's top female chefs), Shibuya Nonbei Yokocho, and Tempura Motoyoshi.
There is so much to do in Tokyo that you will end up wishing for more time. A few other activities we considered are:
Go-karting through the streets in character costumes
Frequently Asked Questions
What is the best time to visit Tokyo?
The best time to visit Tokyo is during spring (March to May) and autumn (September to November). Spring brings mild temperatures, cherry blossoms in full bloom, and lively festivals. Autumn offers pleasant weather, vibrant fall foliage, and fewer crowds. Summers can be hot and humid, while winters are generally mild but chilly. Just keep in mind that it will be very crowded and more expensive during Cherry Blossom season and Golden Week, which happens at the very end of April into early May.
Is Tokyo safe?
Tokyo is considered a safe city for tourists. The crime rate is relatively low, and locals are known for their honesty and helpfulness. We felt extremely safe while we were there, even on crowded subways. It felt safe enough to allow our teenage daughter to explore a bit on her own.
However, it is always advisable to take standard precautions, such as keeping an eye on your belongings, especially in crowded areas. In case of emergencies or if you need assistance, look for police boxes (koban) or ask for help from station staff or hotel personnel. Additionally, it is required to carry your Passport with you when traveling in Japan.
Is it necessary to learn Japanese before visiting Tokyo?
While knowing some basic Japanese phrases can be helpful, it is not necessary to learn the language before visiting Tokyo. English signage, especially in tourist areas and major transportation hubs, is quite common. Many Japanese people, particularly those in the tourism industry, have a basic understanding of English and will try to assist you. However, having a few key phrases, such as greetings and "thank you," can go a long way in showing respect and making interactions more enjoyable.
Are there any etiquette or cultural norms to be aware of in Tokyo?
Tokyo has its own set of etiquette and cultural norms. When visiting temples and shrines, it is customary to bow slightly and refrain from taking photographs in certain areas. It's also important to remove your shoes when entering traditional establishments, such as ryokans, temples, or some restaurants. Politeness is highly valued, so be sure to use basic Japanese greetings like "Konnichiwa" (hello) and "Arigatou gozaimasu" (thank you). When using public transportation, avoid speaking loudly or engaging in loud phone conversations. Line up for trains, restaurants, and restrooms. Finally, remember to sort and dispose of trash properly, as Japan has strict recycling and waste disposal systems and there are very few trash cans around.
Are there any specific customs to follow when dining in Tokyo?
When dining in Tokyo, it's customary to say "Itadakimasu" before starting a meal, which expresses gratitude for the food. It is also polite to wait for everyone to receive their food before beginning to eat. Slurping noodles, particularly ramen, is acceptable and even considered a sign of enjoyment. When using chopsticks, avoid sticking them upright in your food, as this resembles a funeral ritual. Also, don't rub your chopsticks together. Finally, it is customary to leave a small amount of food on your plate at the end of the meal to show that you have had enough.
Should you tip in Japan?
No, tipping is not a common practice in Japan. In fact, leaving a tip can sometimes be seen as confusing or even rude. In Japan, service is generally included in the price, and people take pride in providing excellent service as part of their job. Instead of tipping, expressing gratitude or saying "arigatou gozaimasu" (thank you very much) is the appropriate way to show appreciation for good service. If you try to tip, it's not uncommon for the staff to politely decline the offer.
Visiting Japan? Read more…
If you are planning a visit to Japan, be sure to also check out the following articles:
Save this to Pinterest