Hugging the Danube River on either side, Hungary's capital rose from the ashes of communism to become what is now one of Eastern Europe's most dynamic cities. From extravagant palaces to gaudy cathedrals and synagogues to bubbling hot springs and thermal baths, Budapest truly has it all. To take it all in, either plan a long weekend in Budapest, or add 2 days in Budapest if you are visiting Vienna or Prague.
Walking the streets of Budapest, you soon get a sense that you are in a formerly Communist country. Hungary may still be Central Europe, but it has a much grittier vibe than you'll find in Vienna. You'll find lots of teens and 20-somethings smoking on the street corner, congregating in parks or slipping in and out of the city's famous ruin bars. There will also be those plain Soviet-style buildings tucked in between beautiful examples of classical architecture featuring colorful Hungarian tilework. However, if you dig deeper, you will get a sense of deep Hungarian pride.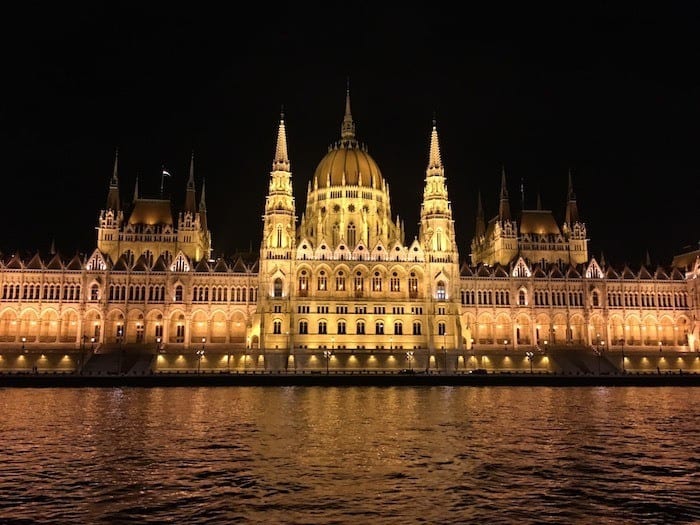 How Many Days in Budapest do you Need?
If you are wondering how many days in Budapest you need, two days is adequate to see the whole city, as long as you're efficient. Three days will allow you to get to more of the top attractions at a slower pace and maybe give you a chance to relax and soak in one of the thermal baths.
You can add a fourth day if you want plenty of time to relax or you are more interested in exploring the nightlife and ruins bars. But if time is limited, follow this guide on what to do in Budapest in two days.
What to do in 2 Days in Budapest
This post contains affiliate links. If you click on a link and make a purchase, I will receive a small compensation.
Just keep in mind that if you are visiting on a weekend, it will be crowded and possibly a little rowdy. Budapest is a popular spot for British Hen and Stag Parties (Bachelor and Bachelorette parties for us Yanks) and is known as a party city for young Europeans that want to check out Budapest's ruins bars.
If you are looking to do Budapest in 48 hours, you will need to plan ahead and follow this Budapest itinerary. We will walk you through how to structure your days to fit in all the main things to do in Budapest.
Want local tips and personalized advice for your trip to Budapest? Connect with Attila from Go Ask A Local! Attila is a born and raised Budapest resident and local guide who's available for trip planning consultations done over Zoom.
Day 1 in Budapest
Morning Walking Tour
A great way to kick off any visit to a new city is with a guided walking tour to get the lay of the land and learn some of the history and idiosyncrasies of a destination. We started with the Intro to Pest tour from Context Travel to explore the Pest side of the city. It was a great introduction to the city, its architecture, and its very interesting history. Plus, with a Context guide, you know you are getting a highly educated scholar that can lead to such interesting discussions about politics and history. If that isn't in your budget, you could try a free walking tour.
Make sure you pop into St. Stephen's Cathedral while you are on the tour and have the guide point out some of its unique features. St. Stephen's Basilica is a lavish neoclassical church that never fails to stun. A tedious climb to the top of the northern tower offers excellent views of the city.
Afternoon
After your tour, either have your guide drop you off at the Central Market, or if they leave you back by St. Stephen's, make your way to the Vörösmarty Tér for lunch at one of the food stands which offer cheap but delicious and authentic Hungarian cuisine. The food in Budapest is delicious — even the traditional touristy food such as the goulash soup and paprika chicken served at practically every restaurant never fails to please one's appetite.
Make sure you do get to chance to visit Budapest's Central Market Hall. This huge food market has a little bit of everything, including handicrafts and local foods like lángos (a deep-fried flatbread). Just make sure you bring cash as most food stalls don't accept credit cards (or Euro, which can be a bit challenging to convert to forint when you are only staying for two days in Budapest, but you need to convert at least a small amount of cash.)
After lunch, take a stroll down the Váci Utca, a thin street lined with stores, each located in a different, beautiful Neo-Classical building. If you walk all the way down the Váci Utca, you'll end up at Ferenciek Tér, where you can catch the metro.
If you really don't need to do any shopping (and honestly a lot of the shops are Western brands that you can find in all large cities), I would recommend that you take the tram along the Danube to Parliament. I just couldn't get enough pictures of this stunning structure from every angle. But if you want to go inside, you need to book a tour in advance. The English tour books up quickly so plan ahead (at least a few weeks.)
At the end of the day, you can wind down and relax in the park at the Szechenyi Baths, a large, wedding-cake-like bathing facility where locals and tourists alike go to relax.
Evening
Seeing the Parliament building and Buda Castle lit up at night is a must-do when visiting Budapest. Be sure to book a night cruise with an open-air upper deck for the best pictures.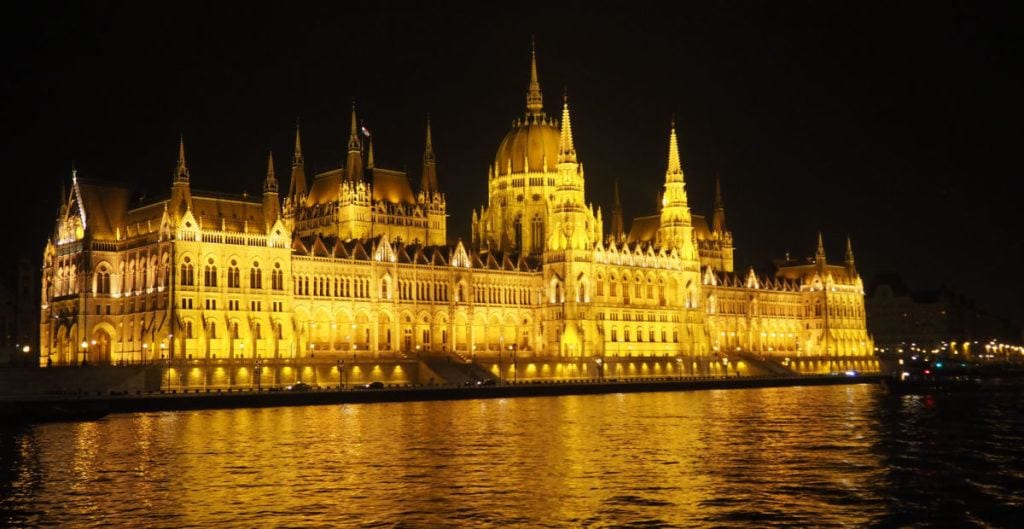 Day 2 in Budapest Itinerary
On your second day, I would encourage you to explore some of Budapest's Jewish history and spend the afternoon on the Buda side of the river.
Morning in the Jewish Quarter
If you have an interest in Jewish history, I'd highly recommend a Jewish Heritage walking tour with Kata Nadas. As the granddaughter of four Holocaust survivors, she is an amazing and passionate resource that keeps the information flowing in an engaging way.
Even if you don't take a tour, be sure to stop by the Dohány Street Great Synagogue. The largest in Europe and the second-largest synagogue in the world, it is unlike any synagogue we have seen before, with two clock towers topped with green onion domes. After visiting inside, walk around back to see the Memorial Tree, which is a beautiful tribute to Holocaust victims.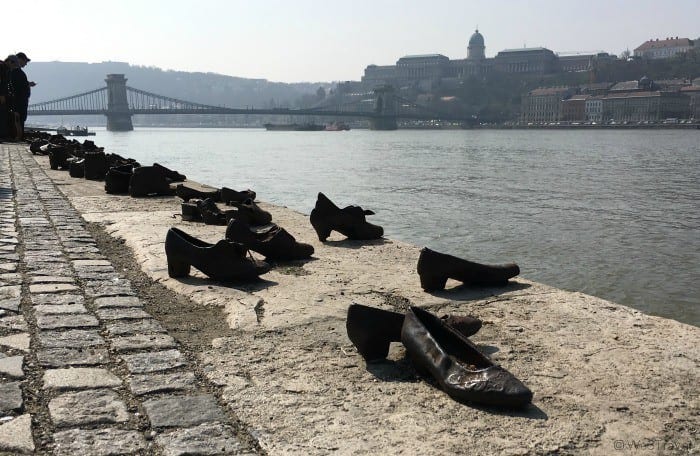 Another must-visit site is the emotionally impactive Shoes on the Danube Memorial. This memorial, which features 60 pairs of bronzed shoes, pays tribute to the 600,000 Hungarian Jews killed in the Holocaust and the 10,000 Jews marched from their homes in the city, told to strip, chained together, shot, and then thrown into the Danube. Give yourself time and space to take in the full impact of this powerful memorial.
After a visit to the synagogue, make your way back to the Deak Ferenc Tér metro station, and take Line 1 to the Hösõk Tér, or Heroes Square.
Here you'll find a massive memorial guarding the entrance to the Varosliget, or the City Park. It is fairly easy to purchase tickets from the machines at the metro stations, just remember to validate the ticket when you get on the metro.
Afternoon in Buda
After lunch and a rest for your feet, cross to the Buda side of the city via the Szechenyi Chain Bridge, probably the most famous monument of Budapest. The beautiful stone and chain bridge spans the wide Danube River, connecting Buda and Pest. The bridge was rebuilt after the Nazis blew up much of Budapest when retreating, as was the palace.
Once in Buda, you can either take the funicular to the top or head to the left to the market and then make your way up the hill through a series of stairs and ramps to the Castle district.
The palace sprawls across the top of a steep hill on the west bank of the Danube River in Buda. Buda Castle, which was once the royal residence, is now home to the Budapest History Museum, as well as the Hungarian National Gallery, a world-renowned art museum.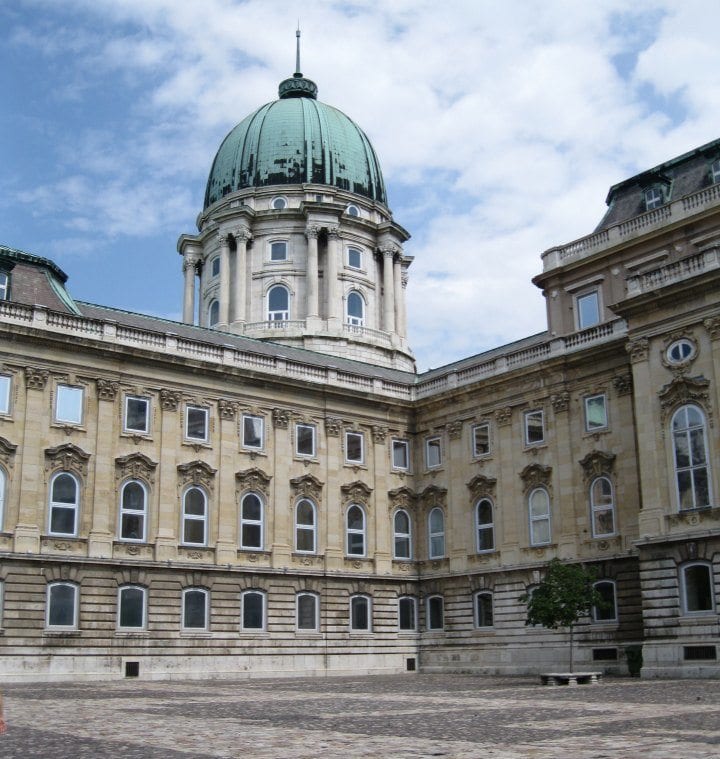 If you are a history buff, you may want to make time for the Budapest History Museum, where there was a great exhibit on the Hungarian Jews that immigrated to Shanghai during World War II. Locals advised us to skip the art museum and spend the time just enjoying the architecture and the views.
Try to time your visit so that you can see the changing of the guard at the palace at the top of the hour.
After a visit to the Castle, head north on Castle Hill towards Mátyás Templom (Saint Matthias Church). The roof of the cathedral is adorned with stunning mosaics, and the inside walls of the cathedral are decorated with Catholic relics and opulent walls and windows.
The church was the site of many of the most important religious events in Hungary since its foundation.
Next to the church is the Fisherman's Bastion, a beautiful white arcade located on a hill next to the Church. Today, however, Fisherman's Bastion is more of a tourist trap, the entrance fee is ridiculously expensive — you get just as good a view from outside the arcade.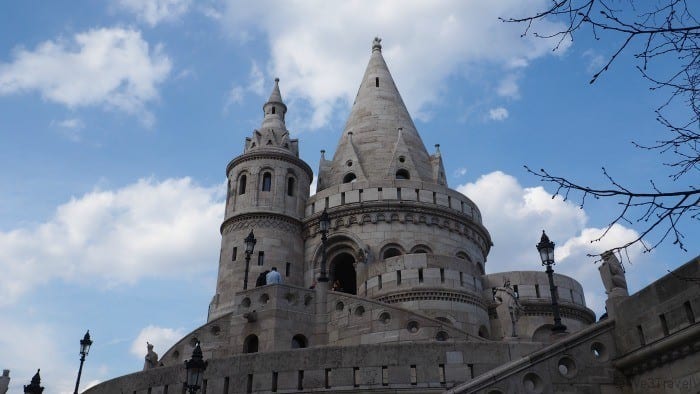 We actually loved hanging out near here and taking pictures because it reminded us so much of Minas Tirith from Lord of the Rings.
After a quick visit, walk north on Fortuna utca, the main street on Castle Hill, lined with shops and plenty of restaurants to dine at, with both inexpensive and expensive choices. If you have time, I'd suggest continuing north on Fortuna until you pass under the Vienna Gate.
Next, it is time to relax and unwind at the Gellért Baths. This bathhouse makes for a very different experience than the Szechenyi Baths, as it was designed in a Turkish rather than Neoclassical style.
If You Have 3 Days in Budapest
If you have 3 days in Budapest, consider beginning your morning with some climbing on the Gellért Hill and in the neighborhood of Tabán. The climb up the Gellért Hill to see the Citadel is tough, but the views are worth it and offer some of the best in Budapest.
The rolling hills are unique to Buda, and the area is one of the greenest in the whole city. From here, make your way to the Batthyány Tér metro station, and take the HEV (Budapest commuter rail) to Aquincum.
Just outside of the station are the impressive ruins of the Roman Aquincum built when Hungary was known as Pannonia and was under Roman influence. The ruins are impressive, so give yourself a few hours. After you visit the ruins, take the HEV back into town.
If you still have a few hours left to sightsee, consider making a visit to Memento Park, a grassy area filled with communist, Soviet-style statues torn down after the revolution in 1989. The hulking statues away from the city represent dark times past, but a bright future for Hungary.
Where to Stay in Budapest
When deciding where to stay in Budapest, you need to determine if you would rather be on the Pest or Buda side of the city. Since Pest is more modern and offered more restaurant options, we chose to stay in Pest. We could not have landed in a better spot than the Aria Hotel Budapest.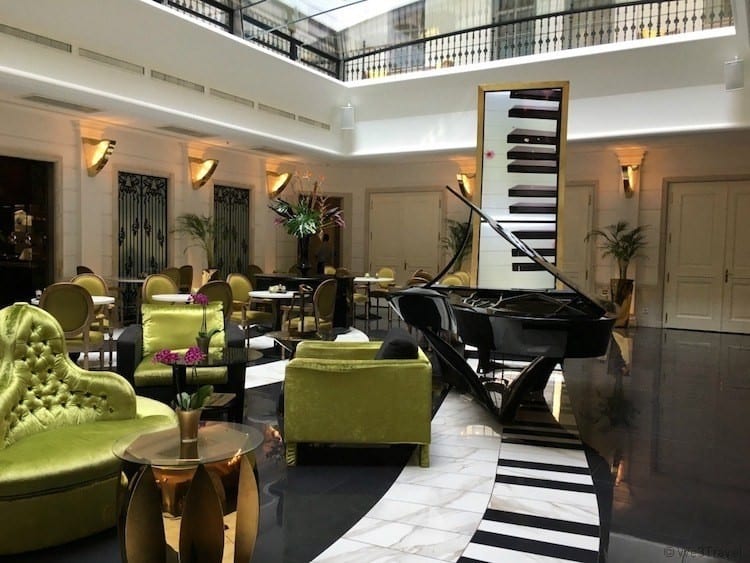 Conveniently located on the Pest side of the city, the Aria is half a block away from St. Stephen's Cathedral. It is easy to walk to many of Budapest's top attractions, including Parliament, the Chain Bridge, and the Synagogue.
The Aria Hotel Budapest is entirely music-themed, from the piano keyboard adorning the walkway through the lobby, to the live music during the free wine and cheese happy hour that is offered to guests daily. Each wing of the hotel aligns with a musical genre — opera, classical, jazz, and contemporary. And each room or suite features a specific composer or artist. You can even borrow music CDs or DVDs from the hotel's musical director to play in your room during your stay.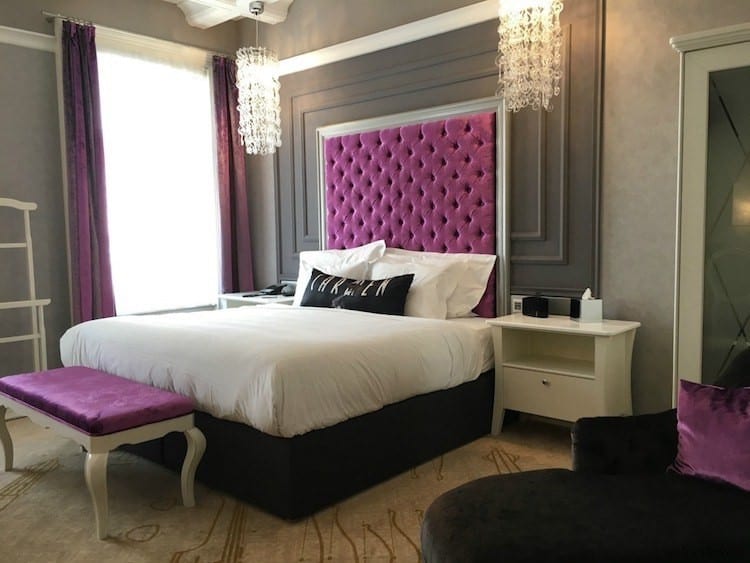 Even if you aren't a music buff, the service and style of the Aria are bound to impress. What made an impression on me was also how many suite and adjoining room options there are for families. Even if it is hard to leave the comfort of your room, you should build in time to relax in the spa.
The spa is open for all guests and features a sauna, steam room, whirlpool, swimming pool, and fitness center. All that relaxing gets you ready to head up to the High Note Sky Bar. This rooftop lounge and 360-degree terrace offer stunning views of the dome of St. Stephen's Cathedral and across the city to the Buda side. It is a happening
nightspot but hotel guests do get seating priority.
We loved our stay at the Aria Hotel Budapest and highly recommend it if you are visiting Budapest. (Note: I received a complimentary stay at the Aria Hotel Budapest. All opinions are my own.)
Where to Eat in Budapest
Food in Budapest is delicious, and it's easy to find an excellent restaurant and have a nice meal without burning a hole in your pocket. Choose a restaurant that you'll remember for your last night in Budapest.
Cafe Spinoza
Although there are several Jewish-style restaurants in the area, Spinoza is one of the only ones that still cooks its food in accordance with traditional Jewish dietary laws — in short, it's one of the only kosher places left.
At the Spinoza Cafe, the food is authentic and good, but you really want to go for the atmosphere. Especially on Friday evenings, when a live klezmer band takes the stage. It is located in the Jewish quarter and is a perfect lunch stop after visiting the Synagogue. The goose matzoh ball soup will warm you up on a chilly day and we finally got to try some authentic Hungarian goulash (not the soup, but the main dish) with spätzle.
Located at Budapest, Dob u. 15., +36 (1) 413 7488, [email protected]
Manna Lounge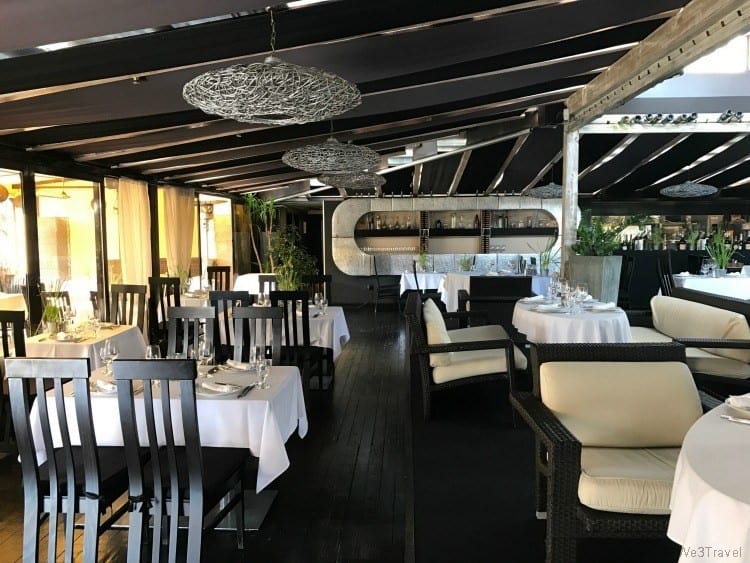 Located on the Buda side, this is a great place for lunch when you are visiting Buda Castle. It is just down the hill but tucked away enough that it is hard to find and completely off the tourist track (we had the place practically to ourselves.) There is an outdoor terrace and a very hip, spacious interior as well. I started with the smoke-flavored pressed pork belly spring rolls and for our mains, we had the chicken paprika and confited lamb with mini eggplant and tzatziki. Everything was delicious. Highly recommend this hidden gem!
Located at 17 Palota Street, Budapest 1013 Hungary, +3620/9999-188, [email protected]
Tama
Our best dinner in Budapest was at Tama — hands down! The presentation was beautiful and the food delicious. But our favorite part was the wine pairing. For each course, our attentive server presented two wine options that paired well with each dish so that we could choose our favorite. I have never seen that level of accommodation.
We started with the shrimp carpaccio with mango — so fresh and flavorful — and a trio with foie gras — also so succulent. For main courses, we went with the Mangalitsa (pork) cheek and porcini risotto, the Angus beef tenderloin, and the homemade tagliatelle with pine nuts and goat cheese. Everything was superb, not a bad bite (or wine) to be had!
Located at H-1051 Budapest, Bajcsy-Zsilinszky street 22, +36 1 227 22 27, [email protected]
Weather in Budapest in March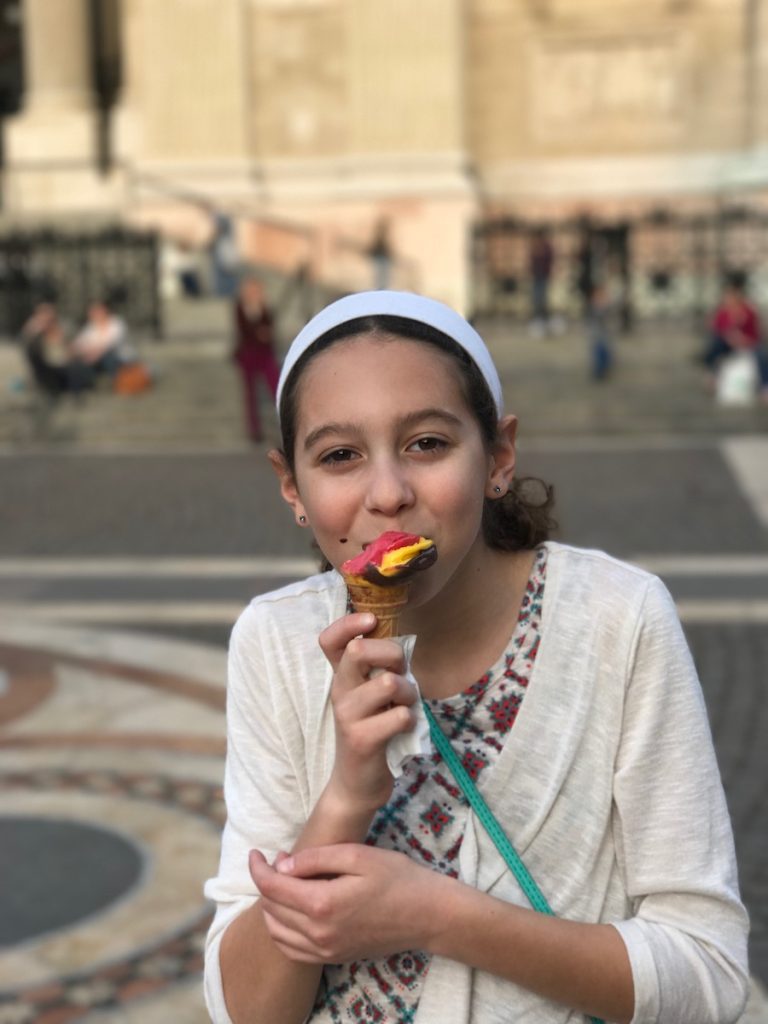 When we visited in mid-March, we really lucked out with gorgeous weather. It was in the low 60s (Fahrenheit) during our stay, which was much nicer than the cold and rainy weather we had in Vienna just before. Average temperatures in Budapest in March are usually a high of 53 degrees and a low of 38 degrees (around 12 and 3 degrees Celsius, respectively), with only a handful of rainy days.
Best Time to go to Budapest
If you want to avoid the bar scene that develops over the weekends, I would suggest you coordinate your visit to Budapest to fall between Monday and Thursday. The city will be quieter and you will get better pricing and availability. We found that spring was a good time to vist as the weather was pleasant, the pricing was shockingly good, and the crowds were light.
Budapest Tours
Tips for Visiting Budapest
Make sure you book your tour of the Parliament building at least one day in advance, especially during peak season. English tours sell out quickly.
Bring your own towels and shower caps to the bath houses. The towels are expensive and you usually cannot enter the swimming pools at the baths without a shower cap or a bathing cap.
How onto your shoes and towels at the baths! It is not uncommon for these to get stolen if left unattended.
Carry at least 400 forints in coins with you at any given time, in case you need to use a public restroom.
Don't trust the taxis — even the locals warned us that they don't take cabs in Budapest! Stick to the public transporation instead.
Remember to validate your ticket when getting on the metro.
There is not Uber in Budapest but if you really need a taxi, there is an called Fötaxi for ordering a standard taxi.
If you are going to be using the trams, you may want to download the BKK Futar app for maps and schedules.
PIN THIS FOR LATER