Vienna, Austria is a beautiful, elegant city full of baroque architecture and sprinkled with its quintessential coffee houses. Full of history, music, and culture, it is also one of our favorite European cities. I think you should spend at least three days in Vienna to full experience the City of Music. This Vienna itinerary will help you figure out how many days you need in Vienna and what to do while you are there.
One warning I would give is that even though there is a lot to do, don't let your Vienna travel itinerary get too full. If you are worried about how many days in Vienna you have, you may be tempted to pack it all into a short visit, but it is nice to take the time to enjoy the coffeehouse culture, the same way you would relax and people watch at a Parisian cafe.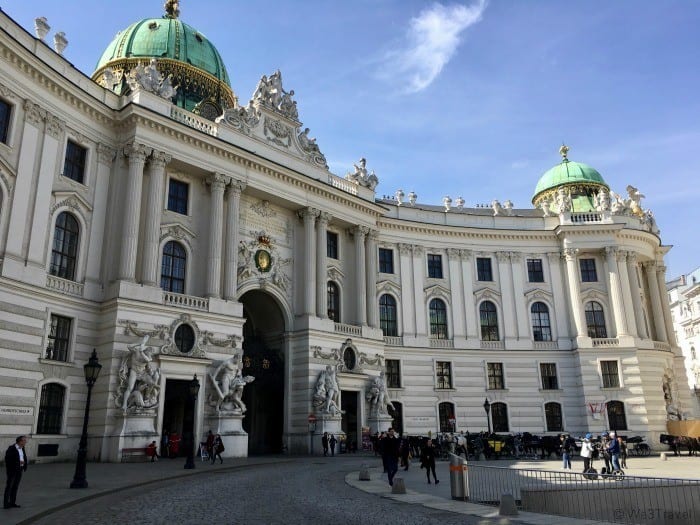 How many days in Vienna do you need?
If you are wondering how many days to spend in Vienna, I suggest you start with at least two full days to get a real sense of the city and have enough time to see the main attractions. If you are planning on flying directly into Vienna from the United States, you are going to need 3 days in Vienna as your first day will be your arrival day and you will be combatting jet lag.
We actually spent five days in Vienna on a combined Vienna-Budapest trip and I was glad to have the extra time. Between the two cities, we preferred Vienna by far and we could have easily spent a week. Ideally, if you want to take any day trips to Salzburg, Bratislava, or Melk Abbey, you would stay up to five days in Vienna.
3 Day Vienna Itinerary
Note: This post may contain affiliate links. If you click a link and make a purchase, I may receive a small commission. All opinions are my own.
If you want to experience the best of Vienna, follow this three day Vienna Itinerary.
Day 1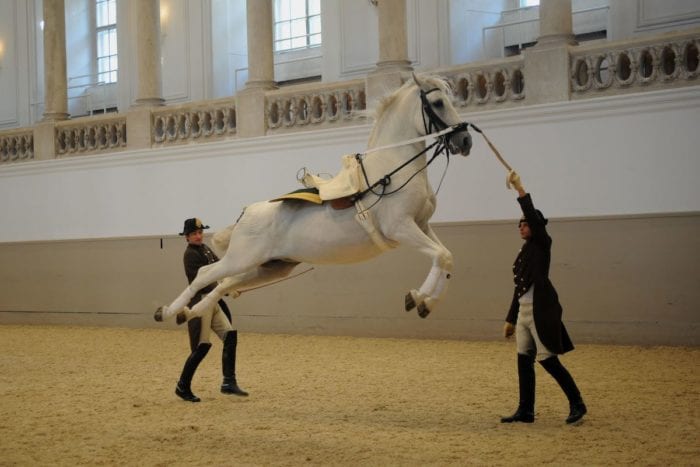 Start at the Hofburg Palace and the Sisi Museum, which is the former Imperial Palace of the Habsburg dynasty, located in the First District right in the center of town. Fans of The Empress series on Netflix will enjoy getting to see and learn more about Franz and Elisabeth.
You can tour the Palace but if you have limited time, just enjoy walking through the gate and around the exterior. From here, you are in close proximity to the Opera House, Museums Quartier, and the Spanish Riding School.
The Spanish Riding School has been practicing the UNESCO-recognized equestrian form of Haute Ecole, a very specialized form of dressage, for over 450 years.
Getting to see these Lippizaner stallions and their riders perform is quite a treat! Be sure to check the schedule before you go to see if you can fit a performance into your trip (tickets must be purchased in advance), or perhaps peek in on one of their morning practices.
After visiting the Spanish Riding School, make a beeline for one of Vienna's famous coffeehouses. If you can arrive before noon the lines will be shorter. I have a whole list of our favorite coffee houses in Vienna, and from the Hofburg, it is a short walk to Demel, Cafe Central, or Cafe Sperl.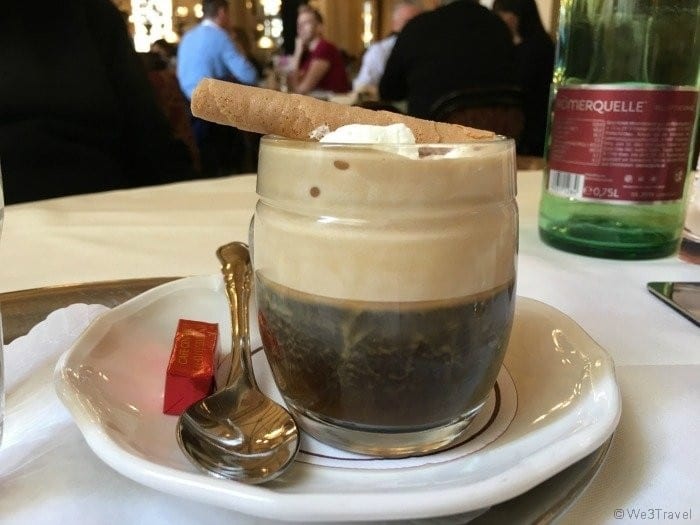 Once you have finished lunch, art history fans should head to the Museum Quarter or visit either the Albertina, Leopold Museum, or Belvedere Museum in the Upper Belvedere Palace, where you can find the "Kiss" by Gustav Klimt, made famous by the "Woman in Gold" movie. If you aren't into art, Vienna has a wonderful Natural History Museum.
When it is time for dinner, be sure to try some traditional wiener schnitzel and strudel. You can get the classic Viennese cuisine at Griechenbeisl or Figmüller (check out my post on where to eat in Vienna for more options.)
Day 2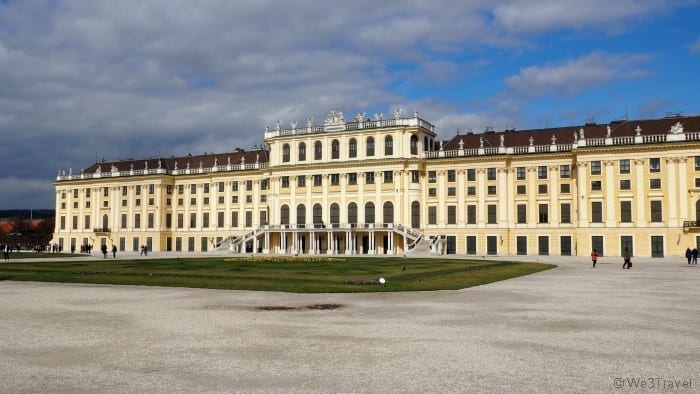 For your second day in Vienna, head out to the Schönbrunn Palace, the summer residence of the Habsburgs. The Schönbrunn was built in the late seventeenth century by Emperor Leopold I, who commissioned the Baroque architect Johann Bernhard Fischer von Erlach to design an imperial hunting lodge for his son, Crown Prince Joseph, who later to became Emperor Joseph I.
Take an Imperial or Grand Tour of the Royal Apartments and Rooms. This is easily a half-day excursion, or longer if you also visit the world's oldest zoo or enjoy any special events that might be happening at the time. The Imperial tour provides insight into the different eras of the imperial monarchy and includes visits to the staterooms and private apartments of Franz Joseph and Sisi.
The Grand Tour also includes 18th-century interiors from the time of Maria Theresia. If visiting with tweens/teens that aren't history buffs, the Imperial Tour is sufficient. But if you want to be awed by ornate interiors, spring for the Grand Tour.
If you are visiting with young children, you must also visit the Children's Museum at Schönbrunn Palace. Here, kids will learn about toys from the past, get to set the imperial dining table, take part in a themed tour, and even dress up as a prince or princess!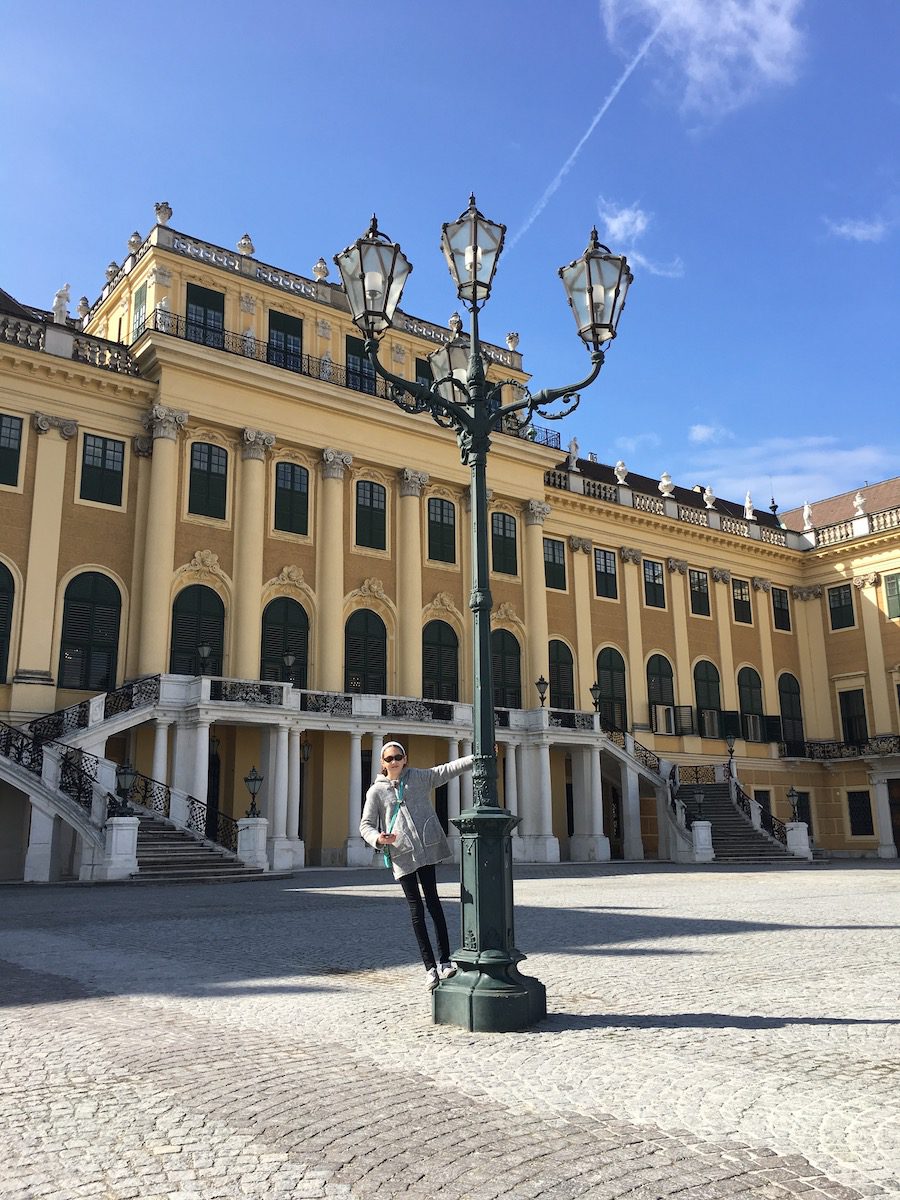 Be sure to leave time to enjoy the outdoor gardens and take a walk up to the Gloriette for sweeping views of the Palace and the city beyond. The lines can be long so I would recommend a skip-the-line tour.
If you have kids, they may enjoy a visit to the zoo next door, Europe's oldest. Families could also spend the afternoon at the Prater amusement park back in Central Vienna, and ride the giant Ferris wheel (find out how to skip the line.) The Prater was once an imperial hunting ground and only accessible to the aristocracy, but today it is an amusement park and green space with swings, roller coasters, the Giant Ferris wheel, and events spaces.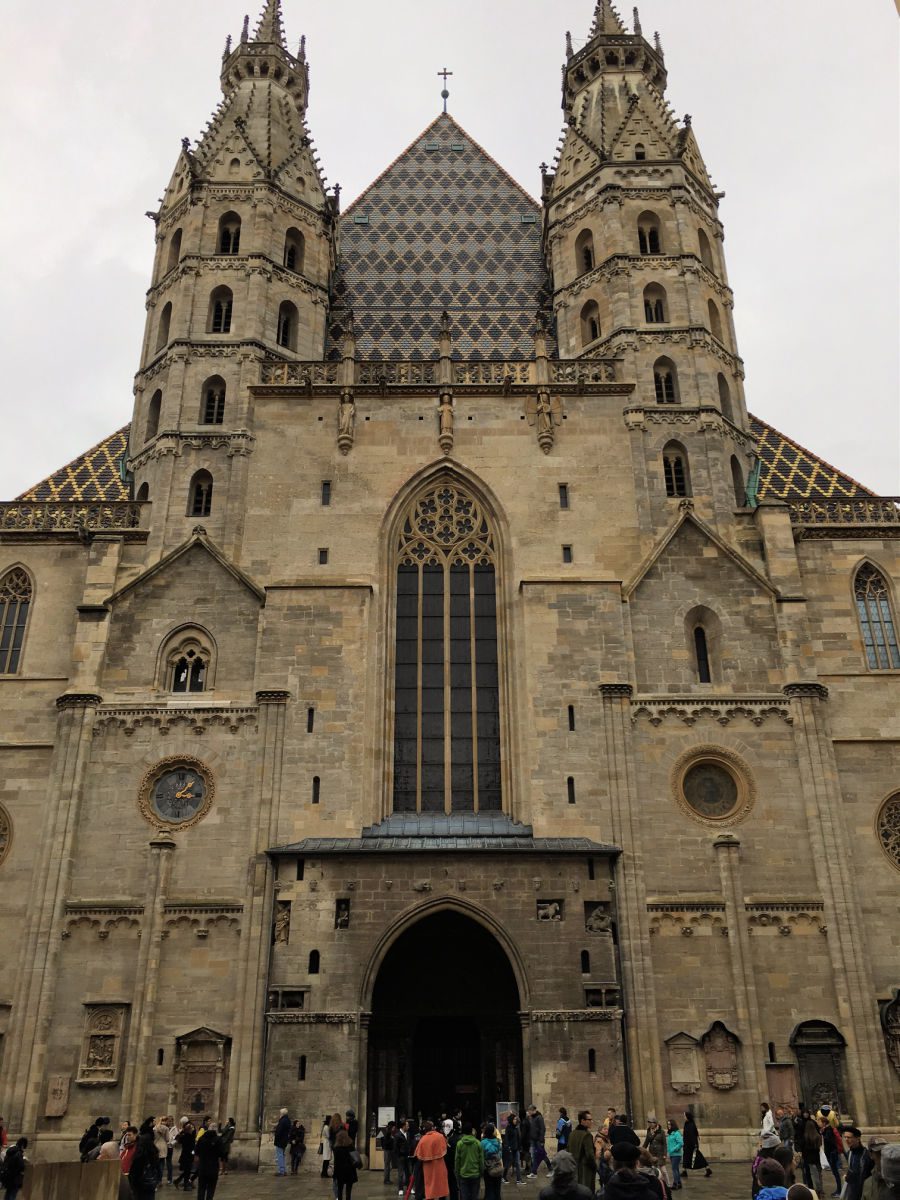 For those not visiting with families (or even if you are!), make time to visit St. Stephen's Cathedral, which towers over the city center. Built in the 12th century, the roof of St. Stephen's is covered in colorful tiles, laid to create the coat of arms of the city of Vienna.
The Cathedral is open to the public, and you can also take a guided tour of the cathedral, catacombs, and two towers. The tower room is quite a climb — 343 steps to the top, but you will be rewarded with beautiful views over Vienna. In the opposite tower hangs the Pummerin, the second-largest free-swinging chimed church bell in Europe.
In the evening, I would also recommend squeezing in a visit to the opera or other musical performance while you are in Vienna. Even if there isn't something playing at the State Opera House, there are other venues in the city. Plan ahead to take in an evening performance, just be sure to research the performance in advance. We went to a very avant-garde performance of Don Giovanni by Mozart and it was nothing like what we expected.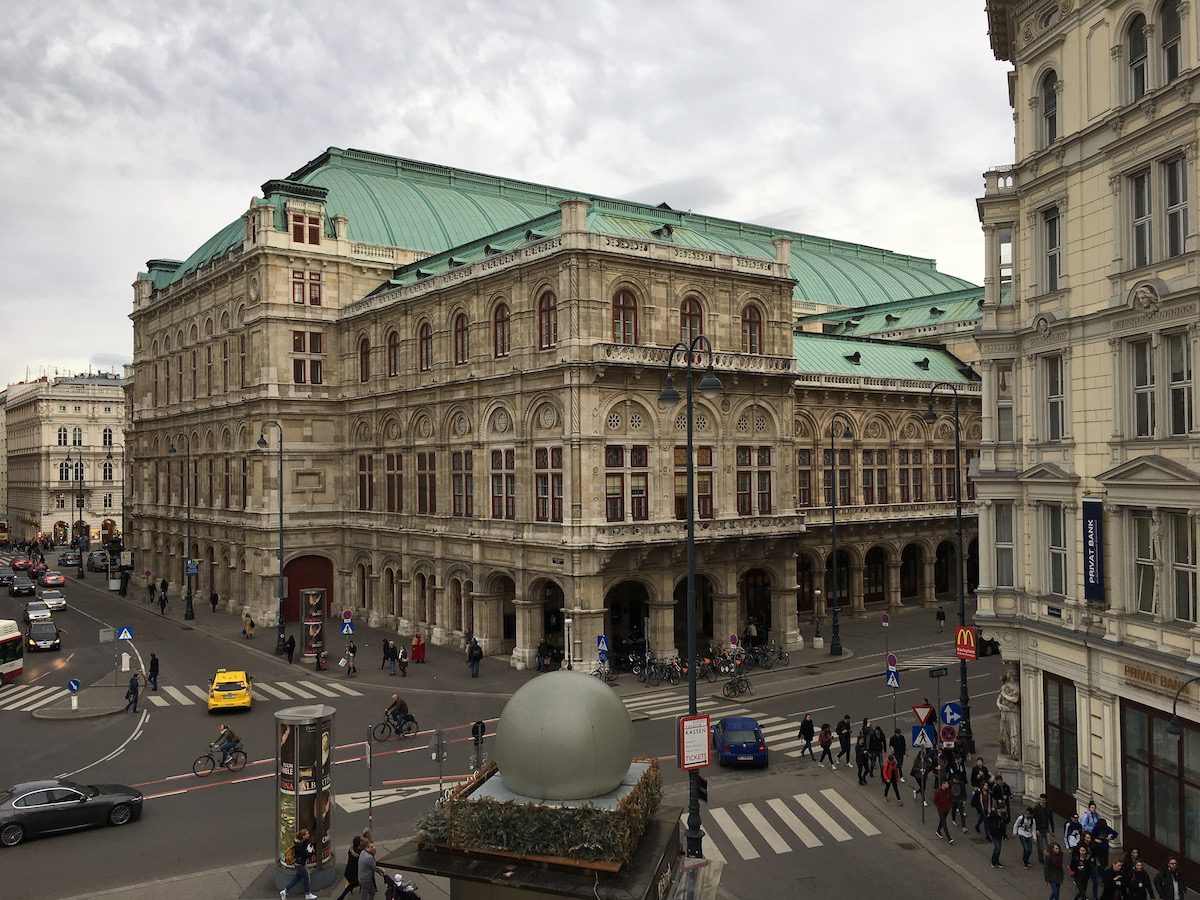 Day 3
If you have 3 days in Vienna, the additional day will give you time to dig a little deeper into the city's culture and history. Start off by following the 2 days in Vienna itinerary above, and then for the third day, plan a guided tour (of course you can always shuffle the days and times around to suit your schedule.)
There are two guided tours that we really enjoyed when we visited Vienna.
Jewish History Tour in Vienna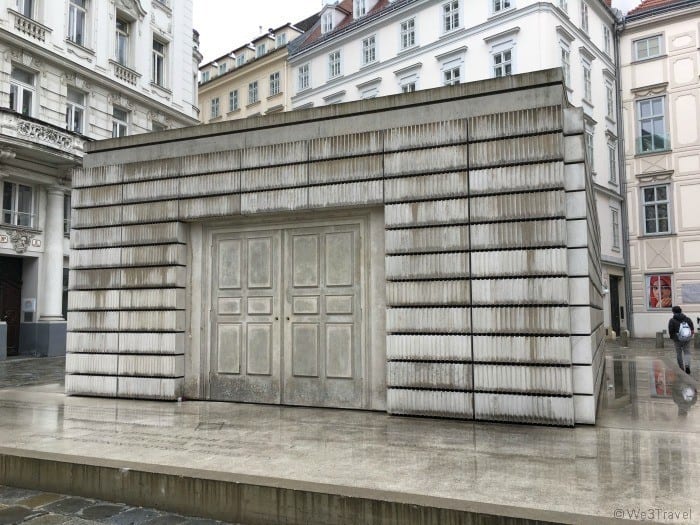 The first was a Vienna Jewish history tour with Context Travel. This three-hour tour led to very interesting discussions about Vienna's past, how its tragic Jewish history is being remembered, and the rebirth of the Viennese Jewish community.
The history of Jewish Vienna goes all the way back to 1190 with the founding of the first synagogue in the city. Yet if you walk around Vienna today, it is easy to pass by the evidence of the once vibrant Jewish community without noticing.
As in the history of Jewish groups throughout the world, the history of Jews in Vienna is quite turbulent, with a series of pogroms and expulsions. After a couple of centuries of relative peace, the Jews were first expelled from Vienna in 1420, when they were suspected of opposing the Habsburgs. Then, in the 17th century when the Protestants and Catholics were at war and they needed money, Vienna brought back the Jews.
In 1825 the City Temple was built and later, in 1867, a move was made to allow for equal rights for all religions in Vienna, ushering in nearly 70 years of prosperity until the Nazi rise to power. By 1938, there were 170,000 Jews in Vienna, representing about one-tenth of the population. Tragically, after World War II, only 5,512 Jews were left in Vienna, and of these, only 3,000 were originally Viennese.
On November 9, 1938, the night of Kristallnacht (or night of crystal or broken glass), 24 synagogues were completely destroyed. Today, there are somewhere between 12,000-20,000 Jews in Vienna and many synagogues have been rebuilt.
Even if this is more time than you want to dedicate, at least take the time to visit the Holocaust Memorial in Judenplatz. This Memorial is in the form of a library, where all the titles face in and the library door doesn't have a handle, representing all the lives with stories unwritten and untold. The symbolism is incredibly powerful.
Vienna Food Tour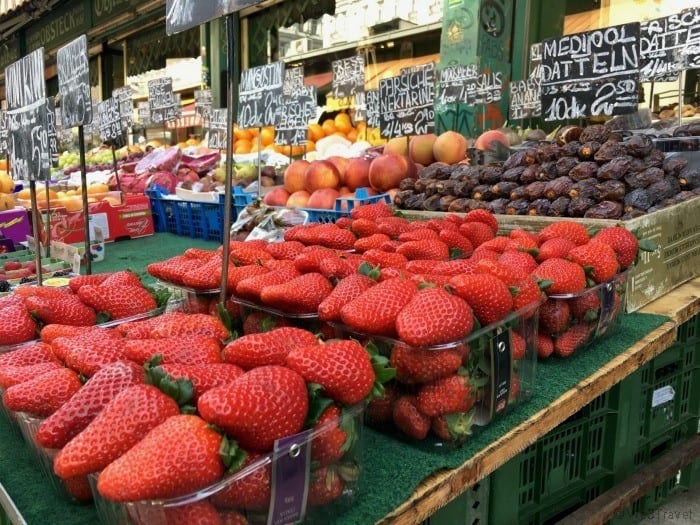 If you are more of a foodie, I'd recommend a food tour with Food Tours Vienna. One of my favorite ways of exploring a city is through its food.
Lukas, our tour guide/chef, showed us quite a few small businesses we would not have found on our own and introduced us to some of Vienna's specialties. Even if you don't take a food tour, spend some time wandering through the kilometer-long Nashmarkt outdoor food market.
We started our tour in one of Vienna's class coffee houses, Cafe Sperl. Built in 1880, Cafe Sperl has long been a favorite haunt for composers, singers, writers, and artists. Today, it maintains its historic feel and local charm and is one of the only cafe that still bakes its own pastries in-house daily.
You can certainly taste the difference and if you visit, be sure to try the unassuming Sperl cake. It doesn't look like much but this chocolate cake is delicious. Of all the cafes and coffee houses we visited in Vienna, Cafe Sperl was in our top two and I liked the Sperl cake way more than the famous Sacher Torte.
One of my favorite stops was at the Bitzringer's Sausage Stand — one of the most famous sausage stands in Vienna. We had already stopped by here the day before, but we were happy to sample another style. Between the smoked and the cheese sausages, the cheese-stuffed was my favorite — not overly cheesy but with lots of delicious flavor.
Unless you order a "hot dog", the sausage is sliced and served on a plate with mustard, ketchup, and freshly shredded horseradish. Be sure to watch through the window as they prepare it if someone orders a hot dog. It is cool to see how they poke a hole in the bun, squirt in some ketchup, and then stuff in the sausage. Definitely make this a stop if you visit Vienna!
We also really enjoyed sampling Austrian wine at Melker Stiftskeller, a cute underground wine bar featuring wines from up near Melks Abbey.
If you need more suggestions on what to see in Vienna in 3 days, stop by the Haus der Musik Sound Museum. It will only take one to two hours but it is a lot of fun to play with the various sounds and learn about Vienna's classical composers. This is a very fun and interactive museum for music lovers of all ages.
What if you have more time in Vienna?
If you have 4 days in Vienna, you will want to spend some time visiting a few more of Vienna's many museums (and coffee shops) and take any tours you may have missed.
With 5 days in Vienna, you will have time to take a day trip to Hallstatt, Salzburg, Bratislava, or Melk Abbey. If you have more than that, you can include a side trip to Budapest or Prague.
Where to Stay in Vienna
We split our stay in Vienna into two neighborhoods to see more of the city and to save on our budget.
Palais Hansen Kempinski Vienna
We absolutely loved our stay at the Palais Hansen Kempinski! The central location was ideal. It was right off the Ringstrasse (Ring Road) and away from the touristy areas, making it super convenient. But it was also quiet and more authentic feeling than the hotels around the Vienna State Opera House. It was steps away from two tram stops and a block from an underground station.
The service at the Kempinski was the best of any hotel we have experienced. Every time we came and went, we were greeted by name. The doormen, bell staff, and concierge were exceedingly helpful. The housekeeping staff was also top-notch, with nightly turn-down service and kid-friendly amenities.
We had booked a Grand Deluxe Room but were very happy to receive the Virtuoso upgrade to a Ring Suite. The suite was so spacious with a very large living room with a pull-out sofa bed and views of the city. The master bedroom featured a comfy king bed, also with a beautiful city view.
One of my favorite things about the Kempinski was the extensive world breakfast buffet (free, thanks to a Virtuoso perk!) The breakfast features champagne, freshly squeezed juices (or a do-it-yourself juicer, eggs made to order, fresh fruits, pastries, meats and cheese, cereals, and even a kid-sized child buffet with cereal, juice boxes, and other snacks.
Airbnb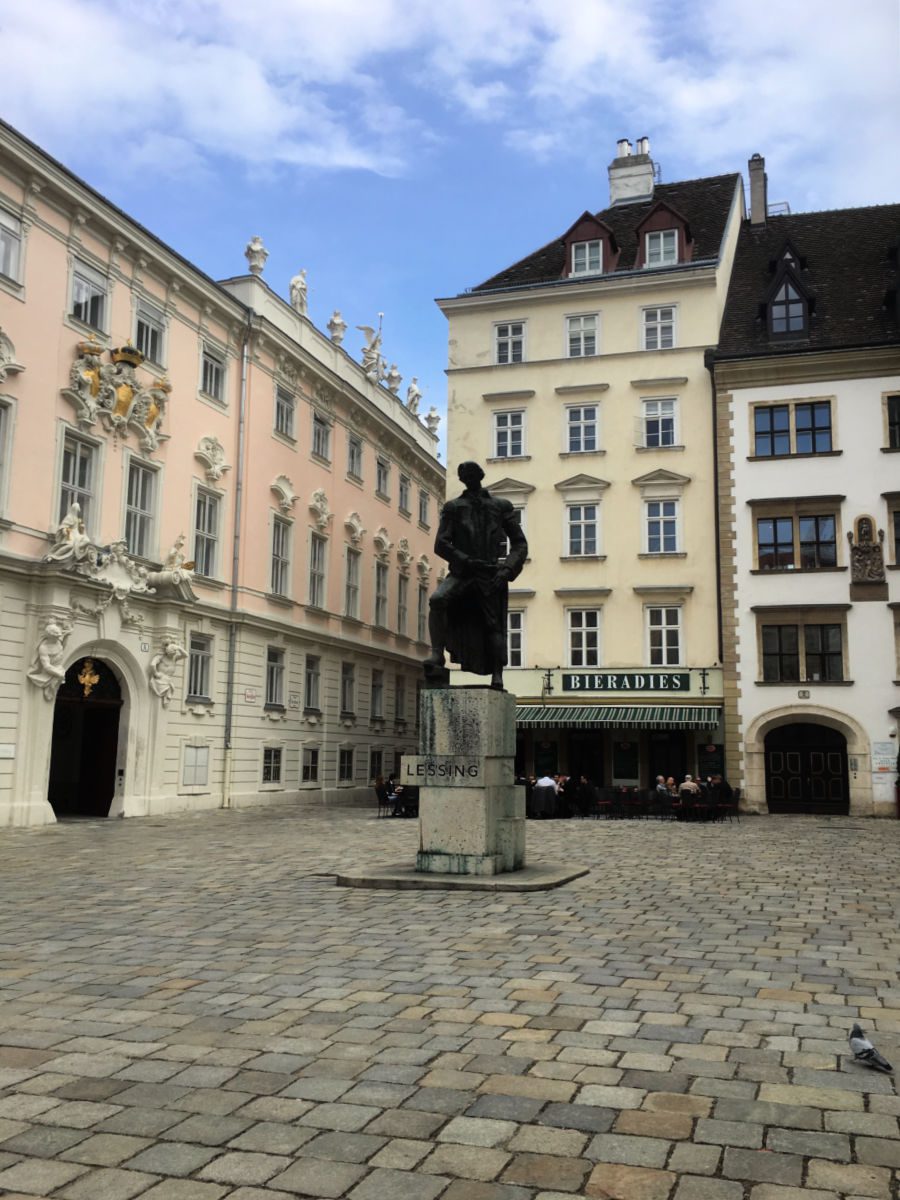 If you are looking for a more affordable option in the city centre, there are plenty of good Airbnb or vrbo options in Vienna, some of which are extremely affordable. When we returned to Vienna, we ended up picking a two-bedroom apartment in a historic building near Judenplatz, very centrally located within the Ringstrasse.
The apartment was very spacious, with two large bedrooms, a full bath with shower and tub, a kitchen, a dining table, and a small sofa. They say it can fit up to six people (two on the sofa bed), and it was more than enough space for the three of us. It was a great option if you are traveling on a tight budget.
Find more places to stay in Vienna:
What is the Best Time to Visit Vienna?
Many visitors flock to Vienna to seek the best Christmas markets in Central Europe in December, especially those embarking on river cruises. However, the best times to the capital of Austria will be in the shoulder seasons of April and May or September and October. At that time you will encounter mild weather and manageable crowds.
In the summer months, you will find larger crowds and higher prices. We actually visited in March on a European spring break trip and found the weather ranged from rainy and chilly to sunny and warm.
Visiting Vienna?
PIN THIS FOR LATER
SaveSaveSaveSaveSaveSaveSaveSaveSaveSaveSaveSaveSaveSaveSaveSaveSaveSaveSaveSaveSaveSave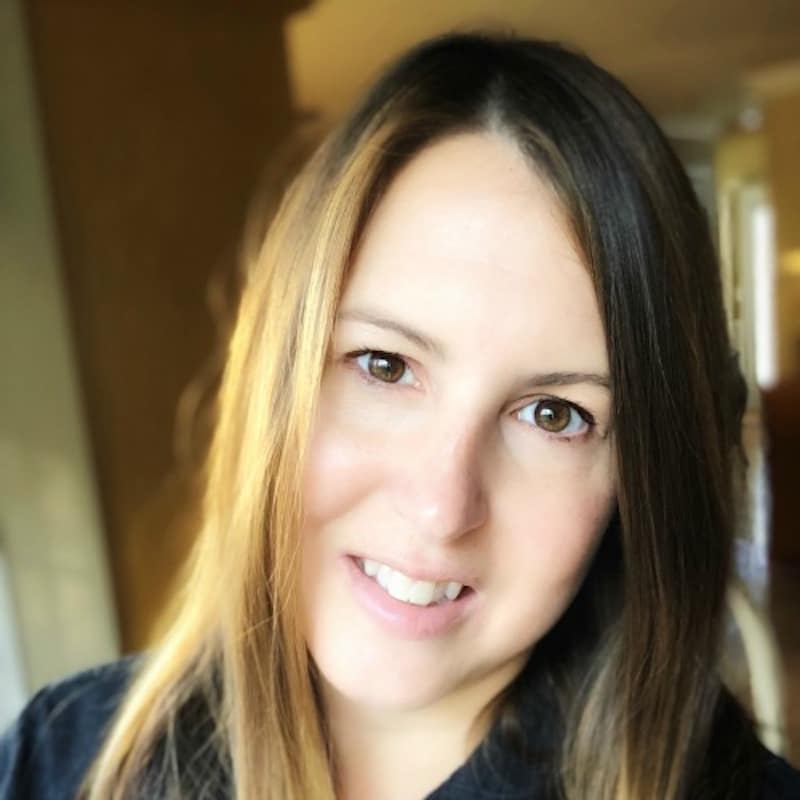 Tamara Gruber is the Founder and Publisher of We3Travel. A former marketing executive and travel advisor, Tamara is an award-winning travel writer and recognized expert in family travel. She is also the publisher of YourTimetoFly and the co-host of the Vacation Mavens travel podcast.