Vienna, Austria is a beautiful, elegant city full of baroque architecture and sprinkled with its quintessential coffee houses. It is also one of our favorite European cities. I've put together these Vienna itineraries to help you figure out how many days in Vienna you want to spend and what to do while you are there.
One warning I would give is that even though there is so much to do in Vienna, don't let your travel itinerary get too full. It is nice to take the time to enjoy the coffeehouse culture, the same way you would relax and people watch at a Parisian cafe.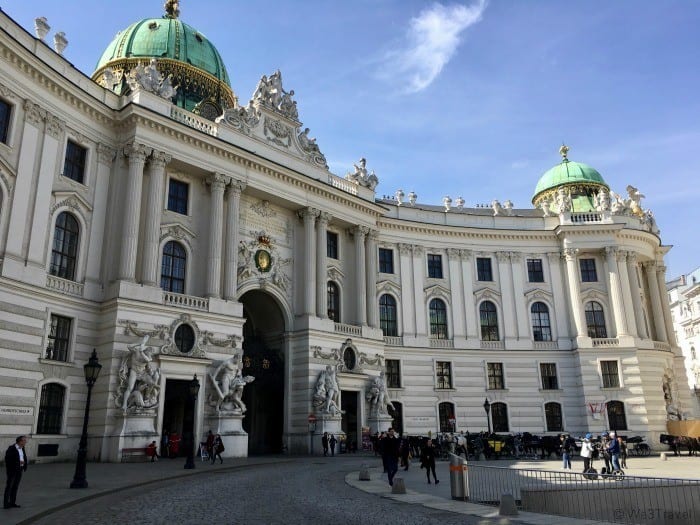 How many days in Vienna do you need?
This past spring, we spent 5 days in Vienna on a combined Vienna-Budapest trip. Between the two, we preferred Vienna by far. If you are wondering how many days in Vienna you will need, I would say you will want at least two full days to explore.
Ideally you would stay up to five days, especially if you want to take any day trips from Vienna, but 3 days in Vienna is really the sweet spot.
Vienna Itinerary 2 Days
Note: This post was written in partnership with Moon Travel Guides. This post contains affiliate links. If you click a link and make a purchase, I may receive a small commission. All opinions are my own.
If you are just looking for the best of Vienna in 2 days, here is what I would suggest. We highly recommend staying in the city centre, where you can easily take public transportation or walk to all the main sites.
Where to Stay in Vienna
We absolutely loved our stay at the Palais Hansen Kempinski, which was just far enough away from the tourist area to be peaceful, but close enough to be convenient.
The rooms were luxurious and the service was superb. Definitely leave time to enjoy afternoon tea in the lobby atrium.(See my tips on where to stay in Vienna.)
Day 1
With just 2 days in Vienna, I would start off at the Hofburg Palace, which is the former Imperial Palace of the Habsburg dynasty, located in the First District right in the center of town.
You can tour the Palace but if you have limited time, just enjoy walking through the gate and around the exterior. From here, you are in close proximity to the Opera House, Museums Quartier, and the Spanish Riding School.
The Spanish Riding School has been practicing the UNESCO-recognized equestrian form of haute ecole, a very specialized form of dressage, for over 450 years.
Getting to see these Lippizaner stallions and their riders perform is quite a treat! Be sure to check the schedule before you go to see if you can fit a performance into your trip (tickets must be purchased in advance), or perhaps peek in on one of their morning practices.
After visiting the Spanish Riding School, make a beeline for one of Vienna's famous coffeehouses. If you can arrive before noon the lines will be shorter. I have a whole list of our favorite coffee houses in Vienna, and from the Hofburg, it is a short walk to Demel, Cafe Central, or Cafe Sperl.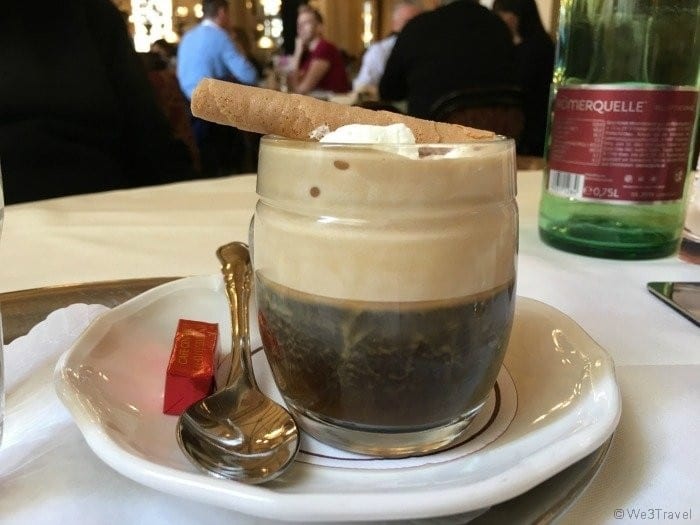 Once you have finished lunch, art history fans should head to either the Albertina, Leopold Museum, or Belvedere (where you can find the "Kiss" by Gustav Klimt, made famous by the "Woman in Gold.") If you aren't into art, Vienna has a wonderful Natural History Museum.
When it is time for dinner, be sure to try some traditional schnitzel and strudel. You can get the classic Viennese cuisine at Griechenbeisl or Figmüller (check out my post on where to eat in Vienna for more options.)
Day 2
For your second day in Vienna, head out to the Schönbrunn Palace, the summer residence of the Habsburgs. Take an Imperial or Grand Tour of the Royal Apartments and Rooms.
Be sure to leave time to enjoy the outdoor gardens and take a walk up to the Gloriette for sweeping views of the Palace and city beyond. The lines can be long so I would recommend a skip-the-line tour.
If you have kids, they may enjoy a visit to the zoo next door, Europe's oldest. You can also head back across town to the the Prater amusement park and ride the giant Ferris wheel (find out how to skip the line.)
While you are in Vienna, I would also recommend squeezing in a visit to the opera or other musical performance. Even if there isn't something playing at the State Opera House, there are other venues in the city. Plan ahead to take in an evening performance, just be sure to research the performance in advance. We went to a very avant garde performance of Don Giovanni by Mozart and it was nothing like what we expected.
3 Days in Vienna Itinerary
If you are looking for 3 perfect days in Vienna, the additional day will give you time to dig a little deeper into the city's culture and history. There are two guided tours that we really enjoyed when we visited Vienna.
The first was a Vienna Jewish history tour of with Context Travel. This three-hour tour led to very interesting discussions about Vienna's past, how its tragic Jewish history is being remembered, and the rebirth of the Viennese Jewish community.
Even if this is more time than you want to dedicate, at least take the time to visit the Holocaust Memorial in Judenplatz. This Memorial is in the form of a library, where all the titles face in and the library door doesn't have a handle, represents all the lives with stories unwritten and untold.
If you are more of a foodie, I'd recommend a food tour with Food Tours Vienna. One of my favorite ways of exploring a city is through its food.
Lukas, our tour guide/chef, showed us quite a few small businesses we would not have found on our own and introduced us to some of Vienna's specialties. Even if you don't take a food tour, spend some time wandering through the kilometer long Nashmarkt outdoor food market.
Both tours will bring you near St. Stephen's Cathedral, which towers over the city centre. Make this a stop post-tour. Built in the 12th century, the roof of St. Stephen's is covered in colorful tiles, laid to create the coat of arms of the city of Vienna.
The Cathedral is open to the public, and you can also take a guided tour of the cathedral, catacombs, and two towers. The tower room is quite a climb — 343 steps to the top, but you will be rewarded with beautiful views over Vienna. In the opposite tower hangs the Pummerin, the second-largest free-swinging chimed church bell in Europe.
If you need more suggestions on what to see in Vienna in 3 days, stop by the Haus der Musik Sound Museum. It will only take one to two hours but it is a lot of fun to play with the various sounds and learn about Vienna's classical composers.
What if you have more time in Vienna?
If you have more time to spend in Vienna, I would grab a copy a Moon Prague, Vienna & Budapest guide to dig into some of the other things to do in and around Vienna. As a Moon Travel Guides ambassador, they are my go-to guidebooks when I am planning my travel itineraries.
For example, with 4 days in Vienna, you will want to spend some time visiting a few more of Vienna's many museums (and coffee shops.)
To make the trip memorable, I can also highly recommend setting up a photo shoot with Localgrapher to get some amazing pictures to remember the trip.
With 5 days in Vienna, you will have time to take a day trip to Salzburg, Bratislava, or Melk Abbey. If you have more than that, you can include a side trip to Budapest or Prague.
PIN THIS FOR LATER
SaveSaveSaveSaveSaveSaveSaveSaveSaveSaveSaveSaveSaveSaveSaveSaveSaveSaveSaveSaveSaveSave