Vienna is an elegant, clean and welcoming city for travelers. Resplendent with gorgeous architecture and monuments at every turn, it is easy to imagine this artistic and intellectual capital in the times of Mozart and Freud. Vienna makes a great vacation choice for families who love Paris, Barcelona, and London. We had an amazing time exploring this city and my daughter has declared it her favorite city she has been to so far. Since this Central European capital is not as well covered as some of its Western counterparts, I wanted to provide a few of my top Vienna tips for tourists.
When to Visit Vienna
Summer is the most popular tourist season so if you want to avoid the crowds, visit in the shoulder seasons of April-May or September-October.
Expect rain if you visit in November or March and possibly snow during the winter months. It was pretty windy and rainy a couple of days that we were there in March, but we also had some lovely warm days as well.
Check a calendar on the Vienna tourism website in advance so you know if there are any big festivals or events going on that may make the city more crowded than usual (such as Carnival and Opera Ball in February, Classical Music concert festivals in March, the OsterKlang Festival around Easter, etc.)
Austrian school holidays begin in July so if you are going in summer, June would be the month to go.
Christmas Market season runs from mid-November to Christmas Day.
Getting Around Vienna
If you are arriving at the airport, the City Airport Train leaves the airport every 30 minutes at :06 and :36 past the hour from 6:06 am to 11:36 pm. However, with a family of three or more, it is going to be cheaper and easier to take a cab or Uber, both of which should cost 30-50 euro with standard pricing, and take about 30 minutes.
The main train station is Vienna Hauptbahnhof, offering train service to other European cities. I'd recommend giving yourself at least 45 minutes to one hour from the city center before your train departure time. The train station was recently redone and it is extremely easy to find your way around and tracks/trains are clearly marked.
Getting around Vienna is easy. If you stay within the inner ring of the city center in the First District, you can easily walk just about everywhere. However, your feet can get tired so there are other options:
Underground – the U-Bahn (underground) is easy to use. You can purchase tickets in the station at machines or ticket windows. Simply VALIDATE your ticket at the entrances before boarding the train. If you have a multi-trip/day pass, you only need to validate it once when you first use it. As an added bonus, children under 15 are free and don't need a ticket! Just look for your line, which are labeled by color and number, and the end point of the direction you are traveling. It is easy to tell which stations are next and the stations are labeled on the platform so you know when you have arrived. There are also LED signs to let you know when the next train is arriving.
Trams – these operate the same as the underground, but they are above ground and offer a better view, although they are a bit slower. Both are clean and easy to use. There is also a ring tram that you can use as a cheap tour of the city. When you get on the tram for the first time, just validate your ticket in the little ticket validator. It is a little harder to track your route as the stations aren't as clearly marked but there should be an LED display inside the tram to let you know what station you are approaching. There are both modern and old-fashioned trams. Children under 15 are also free on trams.
Uber – Uber drivers are plentiful and it is cheap! We found it easier than taking a taxi because you didn't need to worry about how much cash you had or if they took credit cards. You also can call them from anywhere, versus trying to hail a cab or find one waiting outside of major attractions/hotels. Check out these tips for using Uber or Lyft.
Vienna Travel Tips: Eating in Vienna
Reservations are highly recommended!
Many restaurants will accept reservations online through their website or booking sites like bookatable.com, if not, contact your hotel concierge before arrival and they can help you book reservations.
Tipping is expected, although it is more modest than what you would do in the United States. At a café, round up and leave a few coins on the table. At other restaurants, they may make a point of telling you that service is not included and you can add a gratuity (I'd recommend about 10%) when they bring the credit card payment terminal to the table.
Some restaurants do not accept credit cards, so be prepared with some Euro on hand. (Cafe Diglas is one that only accepts cash.)
Coffeehouse culture reigns supreme in Vienna but the most famous ones are going to be crowded. To avoid the wait, get there before 12pm or see if you can make a reservation.
You are unlikely to find a children's menu and many portions are large and/or hearty so you may want to share. When you have had your fill of Wiener schnitzel, boiled beef and goulash, there are plenty of other options available.
Check out my recommendations on where and what to eat in Vienna (coming soon!) and our favorite coffee houses.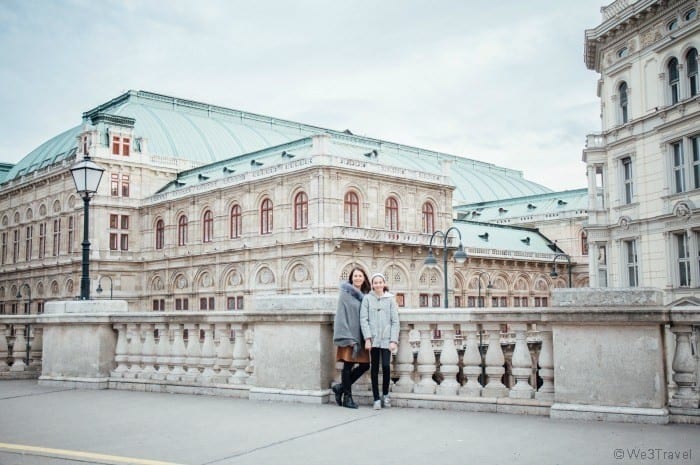 What you Need to Know Before Visiting Vienna
Vienna is an elegant city and its residents dress appropriately. Shorts are certainly frowned upon. For nicer dinners, plan to dress up and certainly if you are attending the opera. During the day, you can get away with nicer jeans, pants, skirts or appropriately accompanied leggings.
You will need to book tickets to performances of the opera, Vienna Boys Choir, and Spanish Riding School in advance.
They use 230 V electrical outlets, so be sure to bring a standard EU adapter/converter like this one that has four USB ports.
Free WiFi is plentiful in cafes, restaurants and museums. Occasionally, there will be time limits but it is usually more than enough to jump online and check email, request an Uber, start Google Maps, etc. so you can get away with not using an International Data plan.
English is pretty widely spoken, even if not proficiently at least enough to get by in most restaurants. It never hurts to learn a bit of German before you go though.
Almost all shops are closed on Sundays. So if you are checking in to an Airbnb on a Saturday, be sure to stock up before the shops close, and if you are arriving on a Sunday, be forewarned that you won't be able to get basic supplies very easily.

Vienna Tips: How to Save Money
The Vienna Card offers options for 24, 48, or 72 hours of unlimited travel on the public transportation lines; as well as discounts at museums, shops and restaurants. Starting April 1, 2017, it will also include a hop on, hop off bus tour. Just validate your card on your first trip on public transportation to activate it.
There are a few free attractions that the whole family will enjoy, like a walk through the Schönbrunn Palace gardens (but you won't be able to enter the Gloriette without a ticket) or the Prater (but you'll need tickets for the rides in the amusement park.) You can also enjoy walking around the Hofburg and Museum Quarter, and admission is not required to walk into St. Stephen's Cathedral.
The Vienna Pass is the way to go if you are planning on visiting a few attractions. They are available for purchase for 1, 2, 3 and 6 days and can be ordered online in advance. You can have them shipped or pick them up at the airport or city center customer service offices. The Vienna Pass gives you free admission to 60 of the city's top attractions, like the Schönbrunn, Hofburg, Belvedere and other museums. You will also get fast track entry and many attractions, as well as a Hop On/Hop Off Bus tour and even a boat cruise.
I have much more to come on what to do in Vienna with kids, how to structure a five days in Vienna itinerary, where to stay in Vienna, and where to eat in Vienna. Plus I'll share our experience learning about Jewish Vienna and our fun food tour with Food Tours Vienna.
PIN THIS FOR LATER
Note: We received free Vienna Cards from Vienna Tourism and complimentary Vienna Passes for purposes of this review. All opinions are my own.
SaveSave
SaveSave