You can't visit Vienna and not spend time sampling the fare from the best Vienna cafes. The Viennese coffee culture is so central to Viennese culture that it is UNESCO protected. During our week in Vienna, we made it a priority to sample coffee and cake across the city to put together our guide to the best coffee shops in Vienna.
Before you go, there are a few things that you should know. First, not many coffee houses accept reservations so to avoid a line, plan to arrive before noon. Next, many (such as Cafe Diglas) are cash only — so be prepared with Euro. In many coffee houses, when you want to order a pastry, you will go up to the pastry counter and make your selection. They will provide a little slip with a number on it that you leave on the table for your server, who will then bring you your selection. Also, expect each coffee to be served with a small glass of water.
If you are looking for more than cake at a Viennese coffee house, some of the typical dishes you will encounter include various breakfast options, soup, goulash, wiener schnitzel, sausages, dumplings and tafelspitz (boiled beef.) Also see my guide to where to eat in Vienna (beyond the cafes).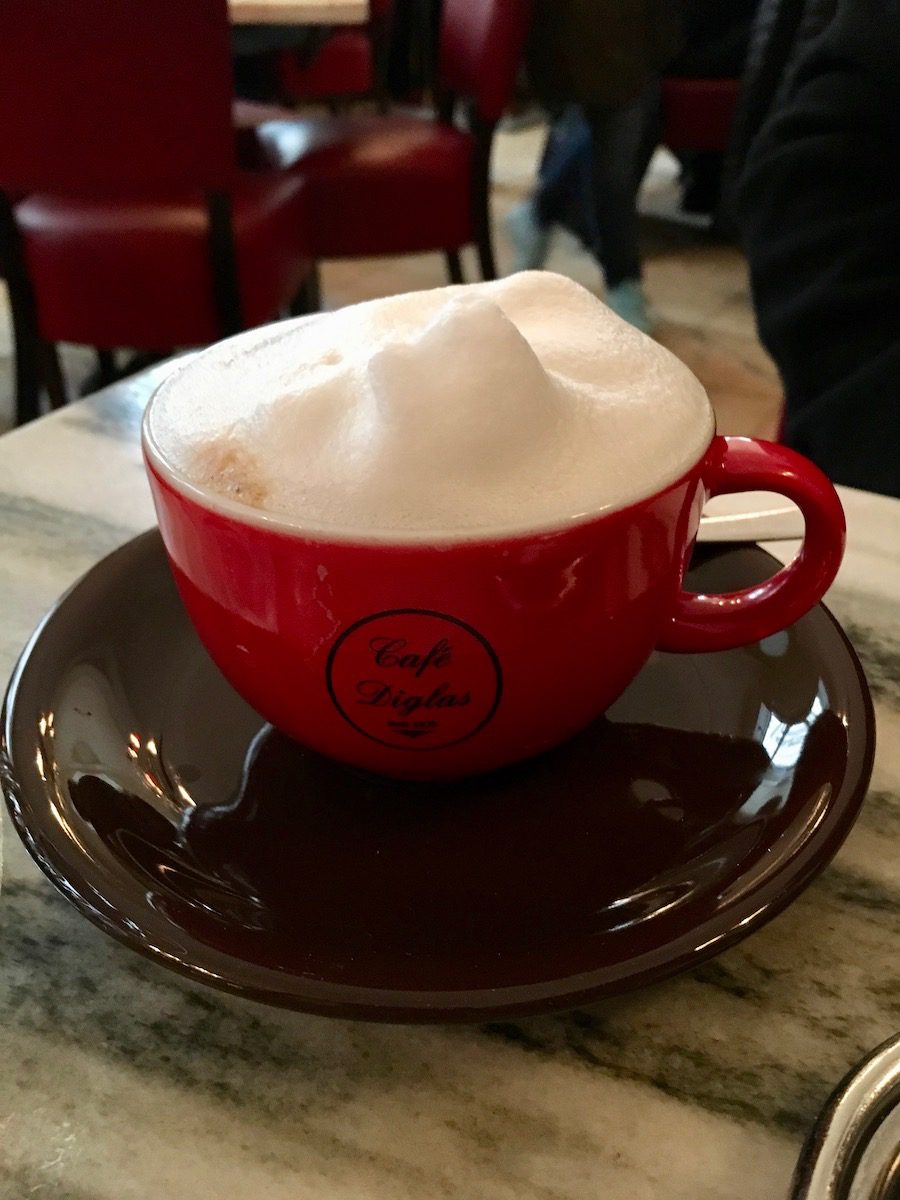 Introduction to Viennese Coffee Culture
Vienna wasn't the first European city to have a coffee house, but it certainly has become a way of life since the first coffee house opened in 1683. It is said that Viennese citizen Georg Franz Kolschitzky was the first to be granted a license to serve coffee and he used beans left behind by the Turks after the Siege of Vienna. A statue has even been erected and a street named in his honor in Vienna's 4th district.
However, strangely enough the first coffee house in Vienna was opened by an Armenian spy Diodato. Since that time, the Viennese coffee houses have evolved to be places for locals and tourists to relax, read the newspaper, meet with friends, or people watch. Today, the modern coffeehouses also serve cake, pastries, alcohol, and full meals.
There are many different styles of coffee (kaffee in German) that you will encounter in Vienna, so be prepared to try them all and pick a favorite:
The classic Viennese coffee is a melange, which is an espresso with steamed milk and topped with milk froth. A melange with whipped cream on top is known as a Franziskaner.
A Kleiner Schwarzer is a single espresso and a Großer Schwarzer is a double espresso. A Kleiner or Grosser Brauner is also a single or double espresso, but served with milk or cream on the side. Verlängerter (which means extended) is an espresso with water added to dilute it.
My husband's favorite is the Einspänner, which is an espresso with whipped cream (schlag) on top and served in a glass mug.
A Kapuziner is like an Einspänner but it is a double espresso with extra whipped cream served in a cup.
You can also get a cappuccino in Vienna, but it will have less milk than you are used to in the States.
There are also specialty drinks such as the Maria Teresia (named after the 18th-century Empress), which is typically a single or double espresso with whipped cream and orange liqueur.
Best Coffee Shops in Vienna
Click on gallery to enlarge
We discovered Cafe Sperl at the start of our Vienna food tour and we were so glad we did! This is one of the only coffee houses in Vienna that still makes their own cakes and pastries. We found their Sperl cake, which uses chocolate and almond flour (although it doesn't taste like almonds), the best cake in Vienna. Their apple strudel was quite good as well.
First opened in the 1880s, Cafe Sperl was a favorite amongst composers, singers, writers and artists. Today, it maintains an authentic and historic atmosphere, right down to the smoke stained walls and dark wood paneling. If you are looking for a historic and authentic Viennese coffee house, Cafe Sperl is your place.
Cafe Sperl is located at Gumpendorfer Str. 11, 1060 Wien, Austria
Click on a photo to enlarge
My favorite Viennese coffee house is Café Central. It is grand and elegant, with high ceilings and spacious banquettes. The center of Café Central is the extensive cake and pastry display. They may not make pastries in house, but they are still delicious. It also offers a full menu with a very tasty schnitzel.
Glenn found the Salon Einspänner to be the best coffee in Vienna. It is a large espresso served mit schlag (with whipped cream.) The thing to know about Café Central is that it is one of the most popular coffee houses in Vienna and if you don't get there before noon, you will be standing in a long line out the door.
Cafe Central is located at Herrengasse 14, 1010 Wien, Austria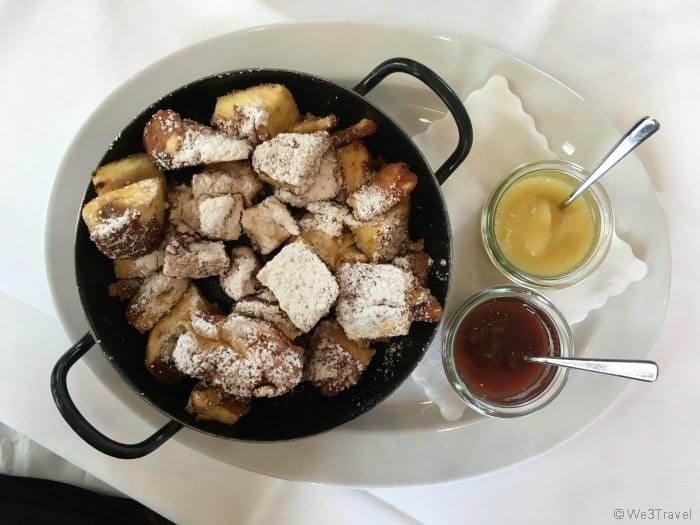 Located close to the opera and the Albertina, Café Mozart has remained popular with musicians, locals and tourists. While overpriced and lacking the charm of either Sperl or Central, the food is quite delicious, making it one of the best Vienna cafes.
Cafe Mozart's kaiserschmarrn, a torn pancake with stewed plums, is delicious. We first tried this treat in Rehoboth Beach, Delaware of all places and it was so fun to try it in Austria where it was invented. I also loved their dish with roasted bread dumplings and eggs and green salad.
Cafe Mozart is located at Albertinaplatz 2, 1010 Wien, Austria
Divided into various salons across multiple floors, Demel embodies the classic coffee house and is always listed among the best cafes in Vienna. It is more elegant than Café Sperl, more authentic feeling than Cafe Central, and somehow less touristy-feeling than Cafe Mozart once you are seated — despite the long lines up the stairs of patrons waiting for tables.
Even if you don't eat there, you should stop into their shop on the first floor to see the beautiful chocolates and pastries. It is a great spot to warm up with a cup of soup or coffee and refresh with light bites or cake while shopping, after a performance at the Spanish Riding School, or before visiting the Albertina Museum.
Demel is located at Kohlmarkt 14, 1010 Wien, Austria
Café Landtmann
Click on picture in gallery to enlarge
Another of the best cafes in Vienna is the classic Café Landtmann. Located along the Ringstrasse and away from the busiest areas, this cafe is less touristy than some of the others and you will feel comfortable relaxing with a newspaper and coffee for a while.
The Large Viennese and Brioche breakfasts will fill you up for a while and give you plenty to savor as you sip your coffee.
Cafe Landtmann is located at Universitätsring 4, 1010 Wien, Austria
Unlike all these classic coffee houses, Cafe Neko is new and nothing special to look at. The coffee, tea and pastries also aren't the main reason to visit. You come to Cafe Neko for the cats. Home to various rescue cats, the fun of the visit is watching them sleep, interact, and play. The cafe has worked out quite a extensive playscape when the cats can summon up the energy to make use of it. This is a perfect one to go to if you are visiting with kids or cat lovers.
Cafe Neko is located at Blumenstockgasse 5, 1010 Wien, Austria
Of all the famous Viennese coffee houses, the only one we really didn't like was Café Diglas. It is so pretty on the outside and has a cute, eclectic decor so I really expected more. But the service was beyond Austrian curtness and went right over to rude, giving it a diner-like feel. I could overlook that for a really good piece of cake but the strudel that they are so famous for was also sorely disappointing. My recommendation would be to leave this one off of your list.
Visiting Vienna? Read More:
Where to Stay in Vienna
Note: This post may contain affiliate links. If you click a link and make a purchase, I may receive a small commission. All opinions are my own.
I would recommend staying in the First District, but avoiding the more touristy area by the Opera House. We loved our stay at the Palais Hansen Kempinski. It had a lovely location just within the ring road but in a quiet area, with easy access to the tram or underground. This elegant luxury hotel has spacious rooms, excellent service, and the best breakfast buffet.
There are also many affordable Airbnbs and vrbo apartment rentals in the city center.
PIN THIS FOR LATER