If you are visiting Vienna and are a foodie like me, you are probably wondering where to eat in Vienna. After all, while Vienna is the City of Music, Baroque architecture, art and culture, you will also want to sample some traditional Austrian food while visiting.
Even in Austria, you can get tired of wiener schnitzel, which is why we scouted out the best restaurants in Vienna during our visit. We sampled tapas, some amazing Italian, and yes, plenty of schnitzel and Austrian dishes to bring you this guide of where to eat in Vienna. Of course, if coffee and cake are more your think, I've also included some of the best coffeehouses in Vienna too.
Since most visitors to Vienna stay within the Ringstrasse in the First District or Old Town, this is where you will find our recommendations for places to eat in Vienna. Most are within easy walking distance to the main tourist areas like St. Stephen's Cathedral, or at most a short 5-6 euro Uber ride.
If you need more help planning your trip to Vienna, be sure to check out my Vienna travel trips and sample 2-3 day Vienna itinerary.
Tips for Eating Out in Vienna
There are a few things to keep in mind before heading out for dinner including:
Like most big cities, reservations are recommended and usually required. If you are coming from overseas, many restaurants will accept reservations online through their website or booking sites like bookatable.com.
Tipping is expected, although it is more modest than what you would do in the United States. At a café, round up and leave a few coins on the table. At other restaurants, they may make a point of telling you that service is not included and you can add a gratuity (I'd recommend about 10%) when they bring the credit card payment terminal to the table.
Some restaurants do not accept credit cards, so be prepared with some Euro.
You will not see a children's menu and many portions are large and/or hearty so you may want to share.
People in Vienna dress elegantly, especially for dinner. So leave the jeans, or at least sneakers, at the hotel and dress up a little, it actually feels good once in the while.
Must Try Foods in Vienna
Even though Vienna is a cosmopolitan city with a range of cuisines, there are still some "must try" dishes that you will find in all of the authentic Viennese restaurants and many of the coffeehouses. These are:
Wiener schnitzel — of course! This is pounded veal (yes, much to my daughter's dismay she had to consume baby animal to try this specialty), breaded and lightly fried. A good schnitzel will be very tender, crisp and not greasy. Squeeze some lemon on top to really bring out the flavor!
Tafelspitz Boiled Beef— this classic boiled beef, served in a pot with its "soup" or on a plate, usually with crispy potatoes and apple-horseradish sauce.
Goulash — Viennese goulash is a bit different than Hungarian, but it is still more of a soup than what I grew up eating as goulash in the United States.
Apple Strudel — coffeehouses compete for the honor of having the best apple strudel. The secret is the very, very thin layers of apples while still keeping a light a flaky wrapper. I refrain from calling it a crust because that is too much like pie or a heavier pastry. A dusting of powdered sugar completes the dish.
Kaiserschmarren — I first had this in Delaware of all places, but it is a must try in Austria. It is hard to describe but imagine torn up pieces of pancake-like dough served with a plum sauce and powdered sugar. It is not overpoweringly sweet, which makes not overeating hard.
Sacher Torte — invented by the Hotel Sacher, people line up to purchase the overpriced chocolate torte pre-packaged for travel at Cafe Sacher. However, you will actually get a more authentic version in a local coffee house (without all those preservatives.) Sacher torte is a chocolate cake layered with a thin layer of apricot jam and covered with dark chocolate icing.
Want to try to cook some of these specialties at home? Try these Viennese recipes.
Where to Eat in Vienna: Best Restaurants
After bringing up all this tasty Austrian food, I need to tell you where to find them. These were our favorite restaurants in Vienna during our stay.
Griechenbeisl
Griechenbeisl is very touristy, but that doesn't mean it isn't good. It was a perfect spot for your first night in Vienna. The decor reminded me of Peter Luger's back in New York (except the steaks aren't as expensive.) They had my favorite apple strudel of the trip, and a very good schnitzel too. (Figmüller is another good option for classic Viennese, but they don't take reservations on the weekends.)
Griechengasse 9, Fleischmarkt 11, A – 1010 Vienna, +43 1 5331977
Brezl Gwölb
Brezl Gwölb is also Austrian cuisine, but tucked away and a little harder to find, making it much less touristy. Housed in a basement and ground level, it has a very cosy decor with a warm fire that is perfect on a chilly night.
Don't fill up on the giant pretzels, because the schnitzel and tafelspitz boiled beef are quite good here as well. And, even though everything is cooked to order, the dishes come out fast. My favorite dish was their goulash, served with an egg on top and some very dense and heavy bread dumplings. I think this meal could have fed us all. I loved this little "find" that was also a lot lighter on the pocketbook.
Ledererhof 9, 1010 Wien, +43 1 533 88 11
Bitzinger
If you are looking for authentic street food, you really can't miss a stop at the Bitzinger sausage stand near the Albertina. My favorite is the one stuffed with cheese. You can get the sausage on a plate or "hot dog style", where they cut a hole in the top of the bun, squirt in some ketchup, and then stick in the sausage so you can eat it easily standing up with one hand. They even sell beer!
Bodega Marques
I did not expect to find authentic Spanish cuisine in Vienna but I was pleasantly surprised by Bodega Marques. Don't be put off by the smoky bar, this tapas and wine bar near Judenplatz has a glassed off dining room to keep the smoke out. The tapas were as good as any we had in Barcelona or Madrid. As much as I love schnitzel, it was nice to have a switch from Austrian food and we always find tapas restaurants to be good for families.
Parisergasse 1, 1010 Wien, +43 1 533 91 70
Fabio's
On our last night we splurged for our most expensive meal of the trip, but even that wasn't too pricey. It is amazing how inexpensive good wine is in Austria! You will definitely need a reservation at Fabio's and you will want to dress nicely. It isn't fancy, but it is trendy. More NYC than Rome. The food is superb and the white truffle risotto is beyond delicious.
Tuchlauben 4-6, 1010 Vienna, +43 (0) 1 532 22 22
Naschmarkt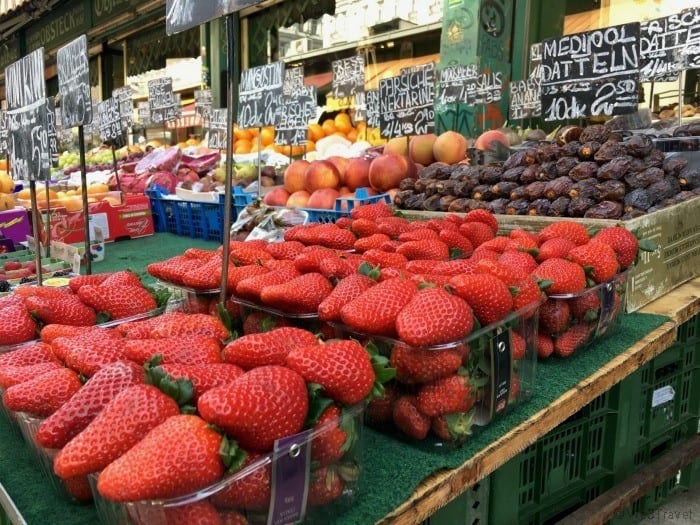 Foodies will also enjoy at stop at the Naschmarkt. This outdoor public market is a kilometer long with everything from a vinegar shop to fresh flowers. There are also restaurants and bars, or tables where you can stop and enjoy the goods. This is a perfect spot for a casual lunch or pre-dinner drinks and snacks.
Melker Stiftskeller
Since it is not all about food, oenophiles will enjoy a stop into the Melker Stiftskeller wine cellar for some local wine tasting or craft beer. They also offer food with dishes that include venison, goose, pate, and other regional specialties.
Schottengasse 3
Café Mozart
Located close to the opera and the Albertina, Café Mozart has remained popular with musicians, locals and tourists. Cafe Mozart's kaiserschmarrn, a torn pancake with stewed plums, is delicious. We first tried this treat in Rehoboth Beach, Delaware of all places and it was so fun to try it in Austria where it was invented. I also loved their dish with roasted bread dumplings and eggs and green salad.
Albertinaplatz 2, 1010 Wien, Austria
Café Central
My favorite Viennese coffee house is Café Central. It is grand and elegant, with high ceilings and spacious banquettes. The center of Café Central is the extensive cake and pastry display. It also offers a full menu with a very tasty schnitzel.
Glenn found the Salon Einspänner to be the best coffee in Vienna. It is a large espresso served mit schlag (with whipped cream.) The thing to know about Café Central is that it is one of the most popular coffee houses in Vienna and if you don't get there before noon, you will be standing in a long line out the door.
Herrengasse 14, 1010 Wien, Austria
Café Sperl
Cafe Sperl is one of the only coffee houses in Vienna that still makes their own cakes and pastries. We voted their Sperl cake, which uses chocolate and almond flour (although it doesn't taste like almonds), the best cake in Vienna. Their apple strudel was quite good as well (although my favorite was still at Griechenbeisl.)
First opened in the 1880s, Cafe Sperl was a favorite amongst composers, singers, writers and artists. Today, it maintains an authentic and historic atmosphere, right down to the smoke stained walls and dark wood paneling.
Gumpendorfer Str. 11, 1060 Wien, Austria
Where to Stay in Vienna
Note: This post may contain affiliate links. If you click a link and make a purchase, I may receive a small commission. All opinions are my own.
I would recommend staying in the First District, but avoiding the more touristy area by the Opera House. We loved our stay at the Palais Hansen Kempinski. It had a lovely location just within the ring road but in a quiet area, with easy access to the tram or underground. This elegant luxury hotel has spacious rooms, excellent service, and the best breakfast buffet.
There are also many affordable Airbnbs and vrbo apartment rentals in the city center.
PIN THIS FOR LATER
SaveSaveSaveSaveSaveSaveSaveSaveSaveSaveSaveSaveSaveSaveSaveSaveSaveSave