Are you ready to embark on a bucket list journey through the Land of the Rising Sun? This ultimate 14-day Japan itinerary has been specifically designed for first-time visitors to make it easier to tackle planning such an epic trip, and also prepare you for the sensory overload you will experience upon arrival.
I know planning a trip to Japan can feel very overwhelming, but don't let that dissuade you from visiting. There is a reason why Japan is often one of the first countries in Asia that Westerners choose to visit. It is culturally different enough to transport you to a world of ancient traditions, while its ultramodern cities still feel familiar enough to make anyone comfortable navigating a large city feel at home. With most signs and train announcements offered in Japanese and English, getting around is fairly easy and any communication gaps can be bridged through the marvels of Google Translate.
This two-week Japan itinerary covers some of this island nation's most popular destinations including Tokyo, Kyoto, and Osaka, with day trips to Nara, Hiroshima, and Miyajima, making it a perfect introduction for first-time visitors.
This Japan itinerary gives you a full taste of Japan — from the ancient and culturally vibrant shrines and temples of Kyoto to the pulsing metropolis of Tokyo, with its futuristic attractions, neon lights, and towering skyscrapers, and the vivacity of the Osaka street food scene. You will leave Japan enchanted, with a full sense of its allure and an understanding of why foreign visitors are flocking to Japan in droves.
If you are planning a visit, be sure to also read my Japan travel tips before you leave!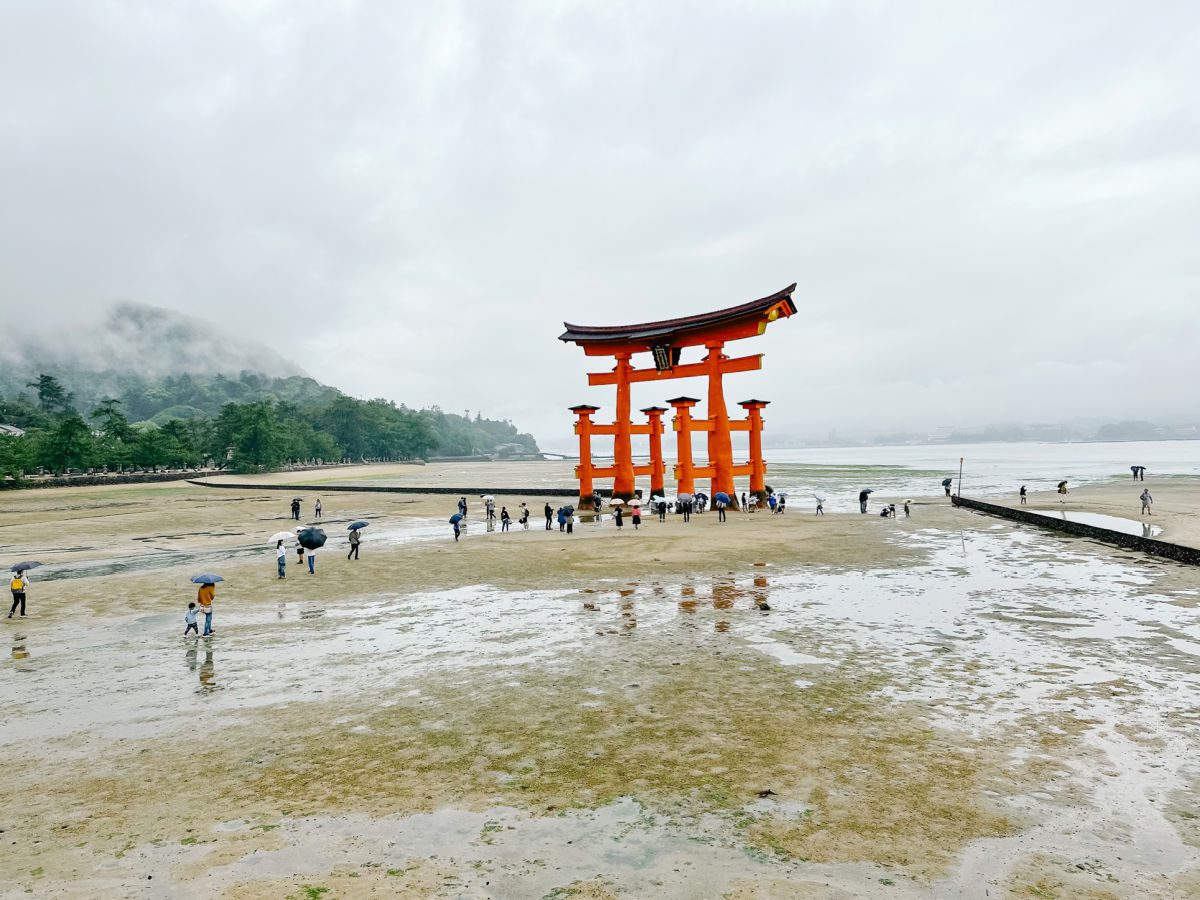 2-Week Japan Itinerary
This article is written in partnership with Allianz Travel Insurance. We highly recommend purchasing travel insurance for every trip, especially when traveling internationally, which is why I have been a loyal customer of Allianz Travel Insurance for many years now.
Note: This post may contain affiliate links. If you click a link and make a purchase, I may receive a small commission. All opinions are my own.
How long you spend in Japan often depends on how much vacation time you have and your budget (see my article about how much a trip to Japan costs.) But if you are visiting from the United States (or any destination of some distance), you will probably want to make the most of your time in the country to make that long flight worth it (see my tips on what to pack for a long haul flight.)
This is why I highly recommend spending at least two weeks in Japan for your first visit. I'd suggest spending five days in Tokyo, five days in Kyoto, and three to four days in Osaka. This will give you a couple of extra days for day trips or more attractions within a city (for example, if you wanted to visit Tokyo Disney or Universal Studios Japan in Osaka.)
What to do when you arrive in Japan
Before you arrive in Japan, complete the forms required for customs and immigration on the Visit Japan Web site. After completion, you will receive a QR code to show upon arrival and you won't need to fill out any additional paperwork on the plane or in the immigration area. This makes your arrival quite painless.
If you fly into Tokyo, you will arrive at either at Narita Airport (NRT) or Haneda Airport (HND) in Tokyo. Narita is over one hour from the city center, while Haneda is a lot closer. In either instance, taxis from the airport will be quite expensive and it pays to look into alternative transportation options.
Since we flew on Delta, we arrived at Haneda Airport, which is connected to Tokyo via a monorail or train options. We didn't want to deal with transferring trains and metros with our large luggage after a full day of travel, so I booked the Airport Limousine Bus, which provided door-to-door transfers from Haneda airport to our hotel (the Hilton Tokyo) at a very affordable rate.
Before you leave the airport, there are a few important things you need to do first!
Go to an ATM and withdraw about 50,000 Yen to start. Remember you want to withdraw as much as you think you might need in one chunk versus multiple smaller withdrawals to avoid extra fees. While Japan has moved to be more contactless post-Covid, there are still many smaller restaurants, shops, and food stalls that only take cash. And even the high-tech machines you use to get your IC Cards only take cash (bizarre, I know!)
Purchase an IC Card. An IC Card is a rechargeable, prepaid travel card that is used to access public transportation including metros, busses, and some ferries throughout Japan. Many vending machines also accept IC cards as payment and you can also use them to rent lockers in train stations. There are different flavors of IC cards such as the Pasmo or Suica card. Some require a 500 Yen deposit. However, at the airport, you can use a touch-screen machine (with an English option) to purchase a Welcome Suica card, which does not require a deposit. You must pay cash to load money onto your IC card. I'd recommend putting about 3,000-5,000 Yen on each card to start for a 14-day trip.
Keep in mind that each person in your party needs their own card. You cannot use the same card to swipe multiple people through a turnstile. When you go to use the card, you tap it on the reader at the turnstile and then tap again to exit the station. On a bus, you typically only tap it to exit.
Pick up a mobile hotspot or international SIM. Unless you are using an eSim, you may want to reserve a mobile hotspot or purchase an international SIM card for your two weeks in Japan. These work out to be cheaper than paying for most international calling plans. For example, Verizon charges me $10/day for data and throttles the speed after a certain threshold is met. But, we rented a mobile hotspot from Ninja WiFi for $98 for unlimited data for 14 days. This allowed all three of our devices to stay connected for much less than we would pay for one phone's international plan. There are many shops to rent a hotspot or purchase a SIM card at the airport and you just drop it off before your flight home.
Exchange your JR Pass vouchers. If you plan on using a Japan Rail Pass, you need to purchase it online before you leave home. You will be sent a voucher that you exchange upon arrival in Japan at certain JR ticket offices. The ticket offices in the airports will exchange your voucher for a pass, but you may need to visit a JR ticket office at one of the major train stations to make seat reservations (depending on which level pass you purchase.)
Given that the cost of the JR Pass is going up significantly in the fall of 2023, you really need to do some math to see if getting the pass is still worthwhile versus buying individual tickets. We used our JR Pass for the bullet trains between cities, as well as local trains in Kyoto, Osaka, and Hiroshima (and the ferry to Miyajima). In Tokyo, we only used our IC cards but you can also use JR trains if you are taking day trips or depending on where you are going within the city. Also keep in mind that if you are traveling with checked luggage size bags, you will need a luggage reservation on the bullet trains (and these are limited), or you can arrange to ship your luggage ahead.
Japan Itinerary: Tokyo
Ok, now let's dig into the actual Japan itinerary, starting off with Tokyo. Tokyo is really about the ultramodern, so hit a few historic spots but save a lot of that for Kyoto, so you don't get shrine fatigue, and enjoy the uniqueness of modern Japanese culture.
I have included the highlights here, but for all the details, restaurant recommendations, and tips, be sure to also read my 5 Day Tokyo itinerary.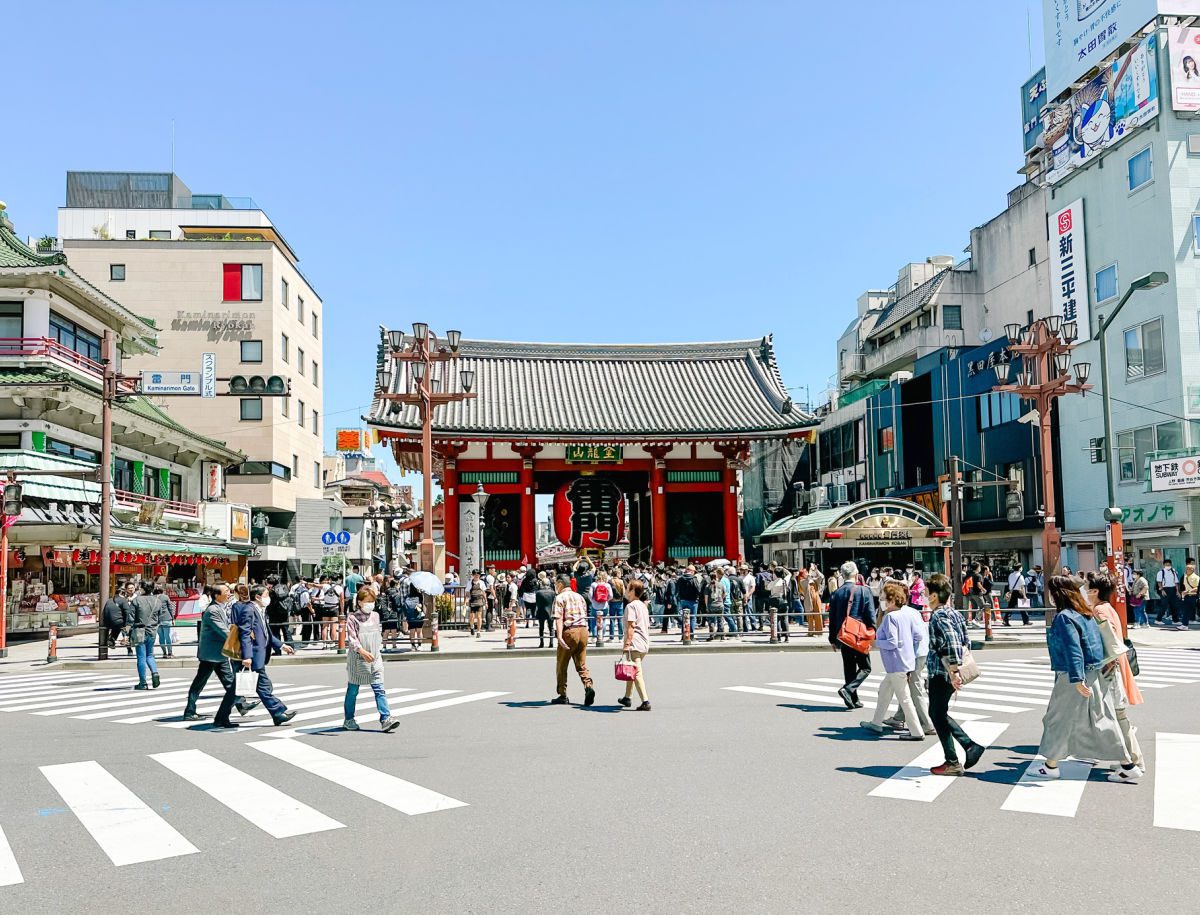 Where to Stay in Tokyo
We were very happy with our stay at the Hilton Tokyo in Shinjuku. It was a 10-15 minute walk to Shinjuku station (one of the busiest in the world) but in a quiet, business area away from the bright lights and grittier areas close to the station. We could access two different metro lines through an underground passage directly from the hotel. The hotel also offers a free shuttle bus to Shinjuku station every 20 minutes during hours of operation, if you don't want to walk.
Find other places to stay in Tokyo:
Tokyo Day 1
Since you will be tired, after arriving from the airport, take a walk to explore the neighborhood and get over jetlag. You can take in the sights around Shinjuku station or take in the views from the free observatory at the South Tower of the Tokyo Metropolitan Government Building (located very close to the Hilton Tokyo.) This was the tallest building in Tokyo until 2007, and it still offers stunning views.
For dinner, I'd recommend lining up at about 4:45 pm (you'll probably be hungry and want an early night anyway) at Fuunji. This no-frills ramen and dipping noodle shop is popular for a reason. There are only about a dozen seats and you order from a vending machine (cash required), then hand your ticket to the person behind the counter and line up behind customers at the counter and wait for an open spot.
Another nearby option is Udon Shin, but this is also very popular (you will soon learn that Japanese people love to line up to eat way more than tired tourists!). You will want to run over there and get a ticket as soon as you arrive at your hotel with a return time (often 5 hours later.)
Tokyo Day 2
Start off day two with an introduction to Japanese culture — both ancient and modern. Start off with an introduction to Buddhist and Shinto traditions at the Meiji Jingu Shrine.
Meiji Jingu Shrine
Located in the lush and quiet oasis of Meiji Jingu Gaien Park, the Meiji Jingu Shrine was established in 1920 to honor Emperor Meiji and Empress Shoken, who played crucial roles in modernizing Japan during the Meiji Restoration. After passing through a towering torii gate, you will wind your way through the park to the shrine.
Harajuku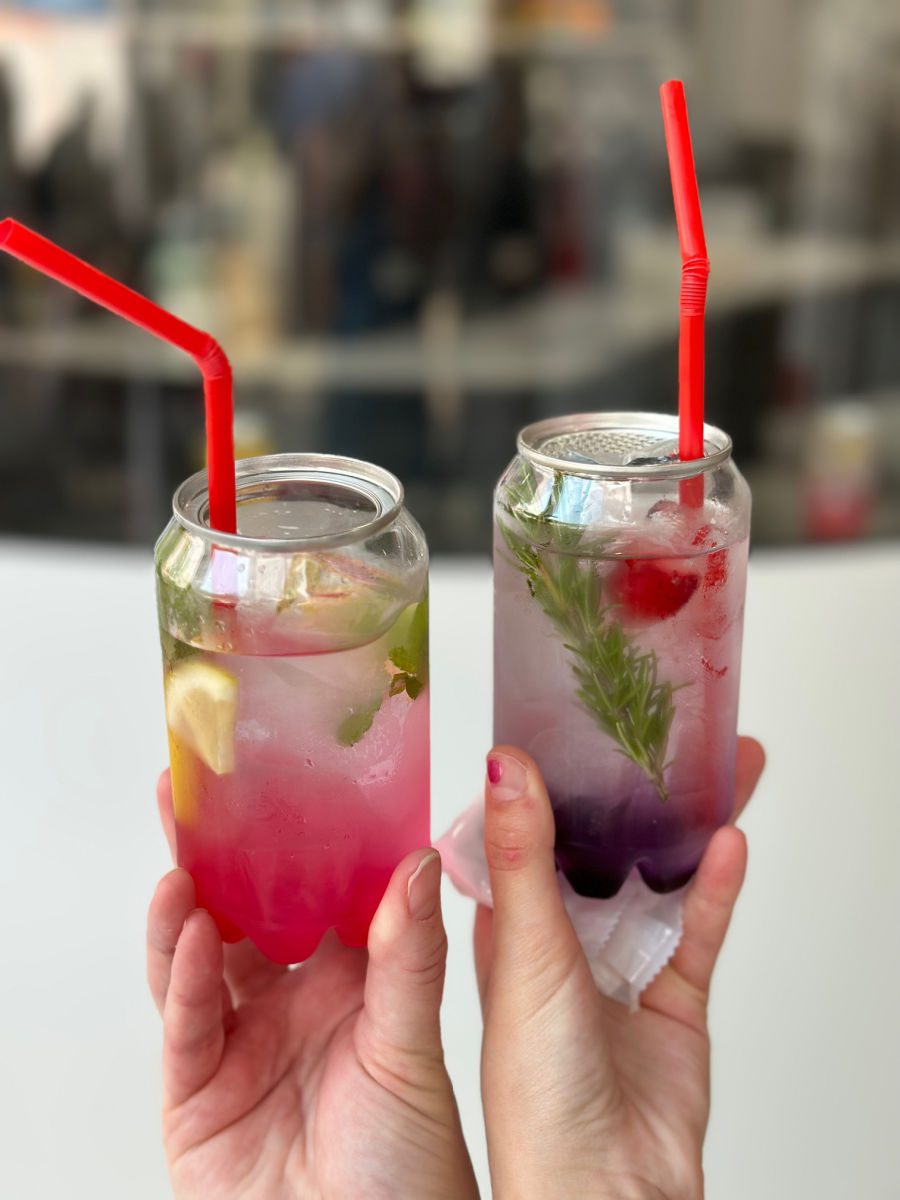 Your next stop to get an introduction to modern youth culture in Japan is the Harajuku neighborhood. This area has become synonymous with avant-garde fashion, street style, and unique subcultures. The main thoroughfare is Takeshita Street, which is lined with colorful shops, quirky Kawaii boutiques, and trendy cafes, attracting both locals and tourists alike. It is also where you will find some of the Instagram-worthy snacks such as rainbow cotton candy at Totti Candy Factory and rainbow crepes at Santa Monica crepes.
If you want to pick up some fashion items that don't look like everything you see in the U.S., be sure to stop into the shops at CuteCube and SoLaDo. You will find more upscale, familiar brands along Omotesando Street, which runs perpendicular to Takeshita. The LaForet Harajuku shopping mall on Omotesando also offers floor upon floor of affordable teen fashion and Kawaii clothing. Kiddyland is a great spot to pick up toys and character gifts, and Graniph has cute and fun t-shirts and bags for teens.
I'd recommend lunch at A Happy Pancake. These meringue pancakes are light, fluffy, and delicious, topped with everything from fruit to ice cream.
Another popular thing to do in Harajuku is stop at one of the many animal-themed cafes. We stopped into the Harry Harajuku hedgehog cafe and I was pleased to see how the animals were treated in this shop by giving rest time, requiring guests to wear gloves, close supervision of how the animals were treated, and the ability to adopt the animals.
Memory Lane / Omoide Yokocho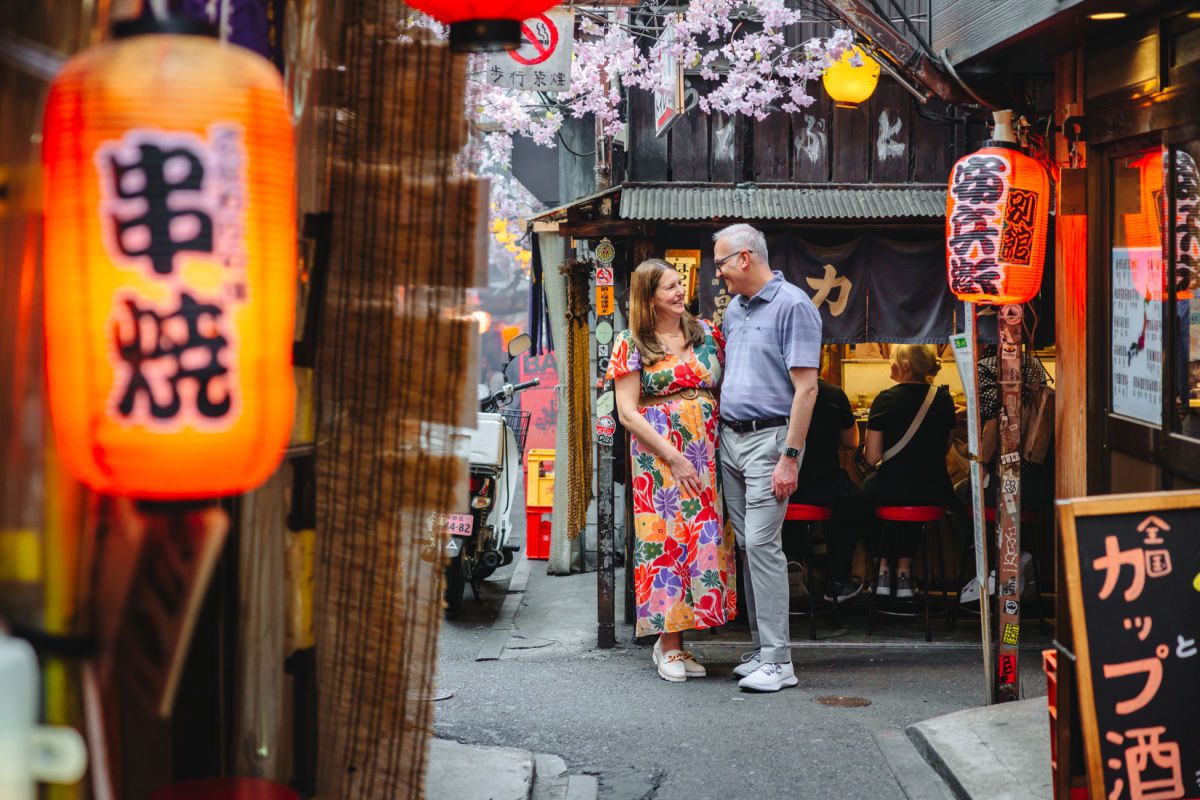 Finish up your day with a walk through the narrow alley of Omoide Yokocho, also known as Memory Lane. This area invokes feelings of old Japan, with tiny little restaurants and izakayas (little bars) lining the alley, and chefs cooking yakitori over small charcoal grills. Afterward, the adults may want to head to some of the bars in the Golden Gai area, but it didn't feel particularly family-friendly.
Godzilla fans have to take a walk over to the Hotel Gracery in Shinjuku to get a view of the giant Godzilla on top of the hotel. Technically, only hotel guests or those eating at the Cafe at Hotel Gracery are allowed up on the terrace to get close to the Godzilla, but no one stopped us (and the cafe was closed), so my husband was in his version of Godzilla-fanboy heaven.
Tokyo Day 3
On day three, it is time to venture a little further and explore the areas around Tsukiji, Shiba, Odaiba, and Ginza. It is a busy day so wear your favorite walking shoes!
Tsukiji Fish Market
One of the most famous tourist destinations in Tokyo is the Tsukiji Fish Market. This world-renowned market consists of two main sections: the inner market and the outer market. The inner market, once famous for its bustling tuna auctions and wholesale sales, has been relocated to Toyosu, while the outer market continues to thrive in the original Tsukiji area and is accessible to visitors.
The outer market is a lively and bustling area filled with numerous stalls, shops, and restaurants offering a wide array of fresh seafood, produce, kitchenware, and culinary delights. There is also an inside area where locals pick up fish for daily meals.
If you really want to find the best places to eat and get to sample specialties instead of just walking around, I'd recommend taking either the Fish Market Tour from Magical Trip or the classic Tsukiji food tour with Arigato Travel.
Sushi Making Experience
One of my favorite experiences on our Japan trip was the sushi-making workshop we took with True Japan (and I don't even like sushi!) The ladies running the program were absolutely lovely and so kind and fun.
We learned all about what it takes to make good sushi (basically good rice, fresh ingredients, and the correct process), from the right way to stir the sushi rice to the six-step process of forming a piece of nigiri sushi. In the end, we each produced five pieces of sushi and two rolls. Then it was time to decorate our plates and eat!
With the sushi making, we also added on a tea and sake pairing experience, allowing us to try various teas and types of sake with our meal. Sushi is the most integral to Japanese cuisine and it was great to get insight into how to produce this quintessential food.
Tokyo Tower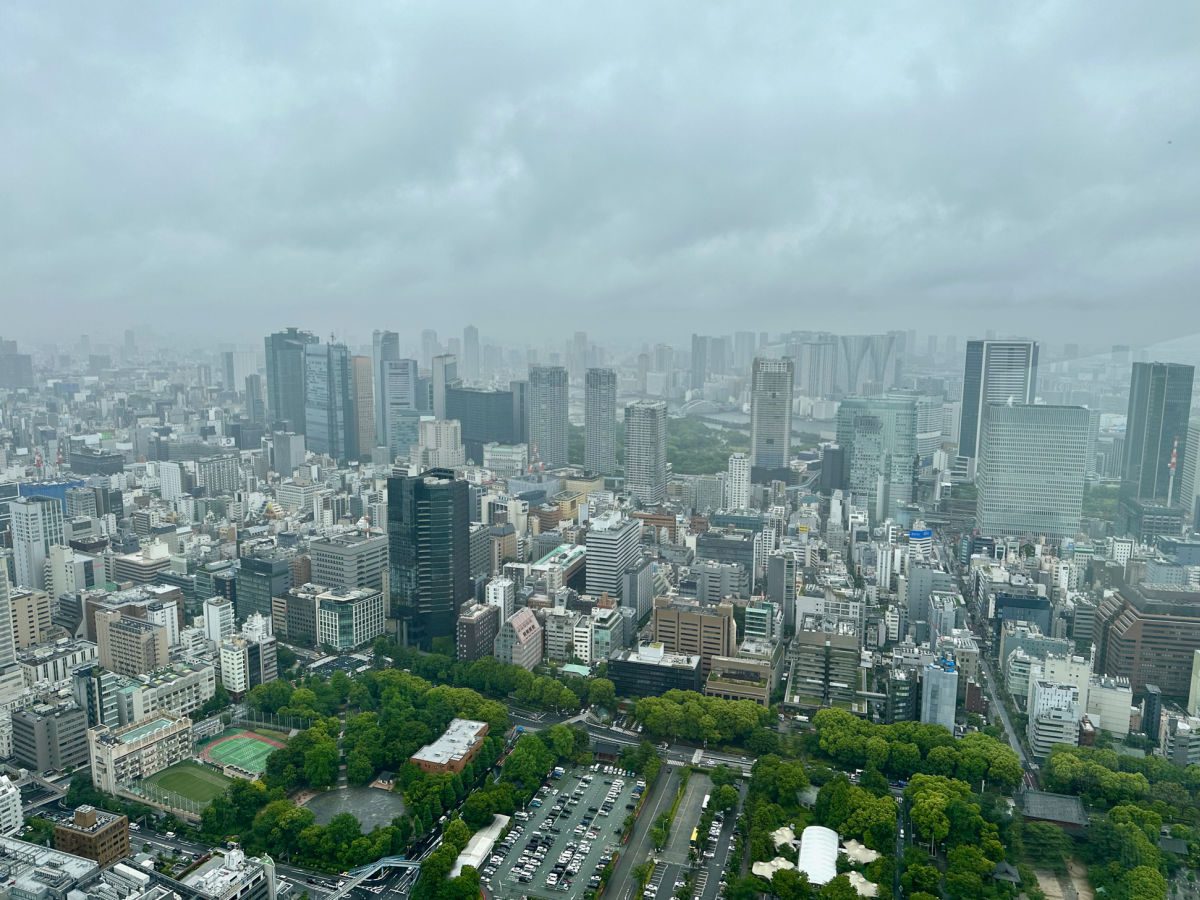 There are many observation decks to get great views of Tokyo including the Tokyo Skytree, Shibuya Sky, and the Tokyo Tower. My husband Glenn is not a huge fan of heights (just the opposite), so we weren't going to make this into a big part of our trip but since our sushi-making experience was right across the street from the Tokyo Tower, we decided to give it a try.
Inspired by the Eiffel Tower in Paris, the Tokyo Tower offers two main observation decks for visitors to enjoy panoramic views of the city. The main deck is located at 150 meters (492 feet) while the top deck, which requires its own ticket, is located at 250 meters (820 feet) and offers an even broader perspective, allowing visitors to see Tokyo's urban expanse from a higher elevation.
TeamLab Planets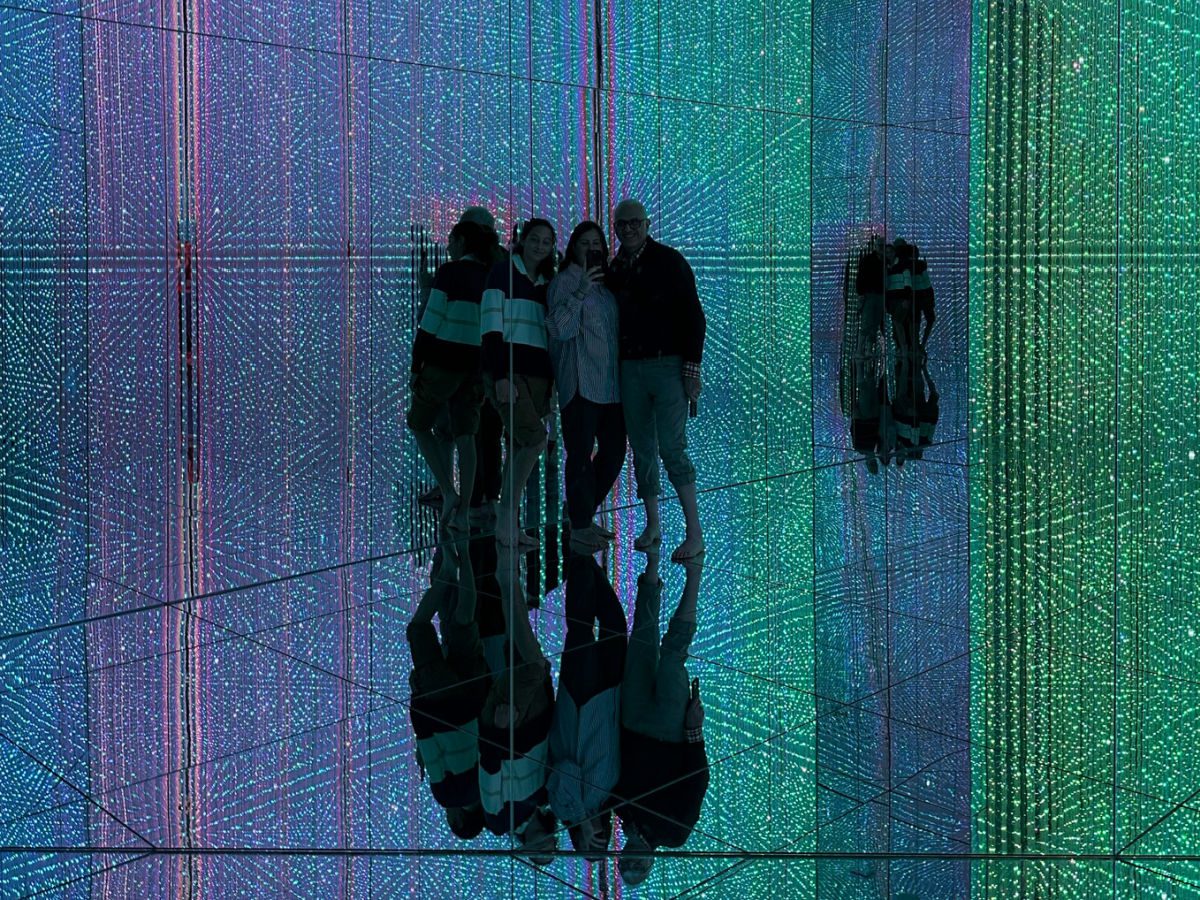 TeamLab Planets was another highlight and much-anticipated attraction for our Japan trip. This immersive digital art museum takes you on a journey through a series of interactive and sensorial installations that is unlike anything I've ever experienced.
TeamLab transcends traditional boundaries by merging technology, art, and nature to create a mesmerizing experience. Timed-entry tickets are required and you should look to purchase them at least a couple of months in advance of your trip. Just keep in mind that this is a multi-sensory experience involving water (you will need to remove your shoes for the duration and walk through water up to your knees at points), darkness, and flashing lights, so it may not be appropriate for some with mobility or sensory issues.
Tokyo Day 4
Day four brings us to another of Tokyo's most popular tourist areas and most famous sporting events.
Asakusa
Asakusa is a historic neighborhood nestled in the heart of Tokyo. Asakusa's history dates back centuries, and it was once a bustling entertainment district during the Edo period. Today, it retains its nostalgic charm, with preserved old buildings, narrow streets, and a vibrant atmosphere, as well as theaters and entertainment centers.
One of the most famous landmarks in Asakusa is the Senso-ji Temple. This ancient Buddhist temple, believed to have been founded in the 7th century, is Tokyo's oldest and most revered temple. Visitors enter through the iconic Kaminarimon Gate, adorned with a massive lantern and guarded by two fierce statues. The approach to the main hall, Nakamise Street, is lined with shops and stalls selling traditional souvenirs, snacks, and local street food.
Another notable attraction in Asakusa is the famous "Kappabashi Street," also known as "Kitchen Town." Here, visitors can witness rows of shops selling a wide variety of kitchenware, including the iconic plastic food replicas that adorn the storefronts of many Japanese restaurants. I'd suggest doing the Cultural and Street Food Walking Tour with Magical Trip.
Sumo Wrestling
If you are fortunate enough to visit during the Sumo Wrestling Tournaments in January, May, and September, it is an event worth seeing for its dramatic theater and sport. You need to book tickets as soon as they open up for sale and each ticket is good for the whole day, but unless you are a diehard fan, I'd suggest arriving around 2:00 – 3:00 pm and staying until the matches finish at 6:00 pm.
You can purchase tickets for box seats on the floor, which is truly a small boxed area on the floor with four cushions, intended to fit four small people sitting cross-legged. However, they more comfortably fit two people with legs extended. You can also purchase regular stadium chair seats in the upper tiers of the stadium.
Once the match begins, the wrestlers demonstrate their strength, technique, and agility as they engage in intense physical confrontations. The objective is to force their opponent out of the ring or make any part of their opponent's body other than the soles of their feet touch the ground. The bouts are fast-paced and can be over in a matter of seconds or extend to a grueling showdown between two formidable opponents.
If you aren't in Tokyo during the tournament, you can still visit the Sumo Museum or join a tour of the morning Sumo practice or a Sumo experience that includes lunch.
Tokyo Day 5
Your last day in Tokyo is your opportunity to pursue the things that interest you the most — anime, history, theme parks, etc.
Museums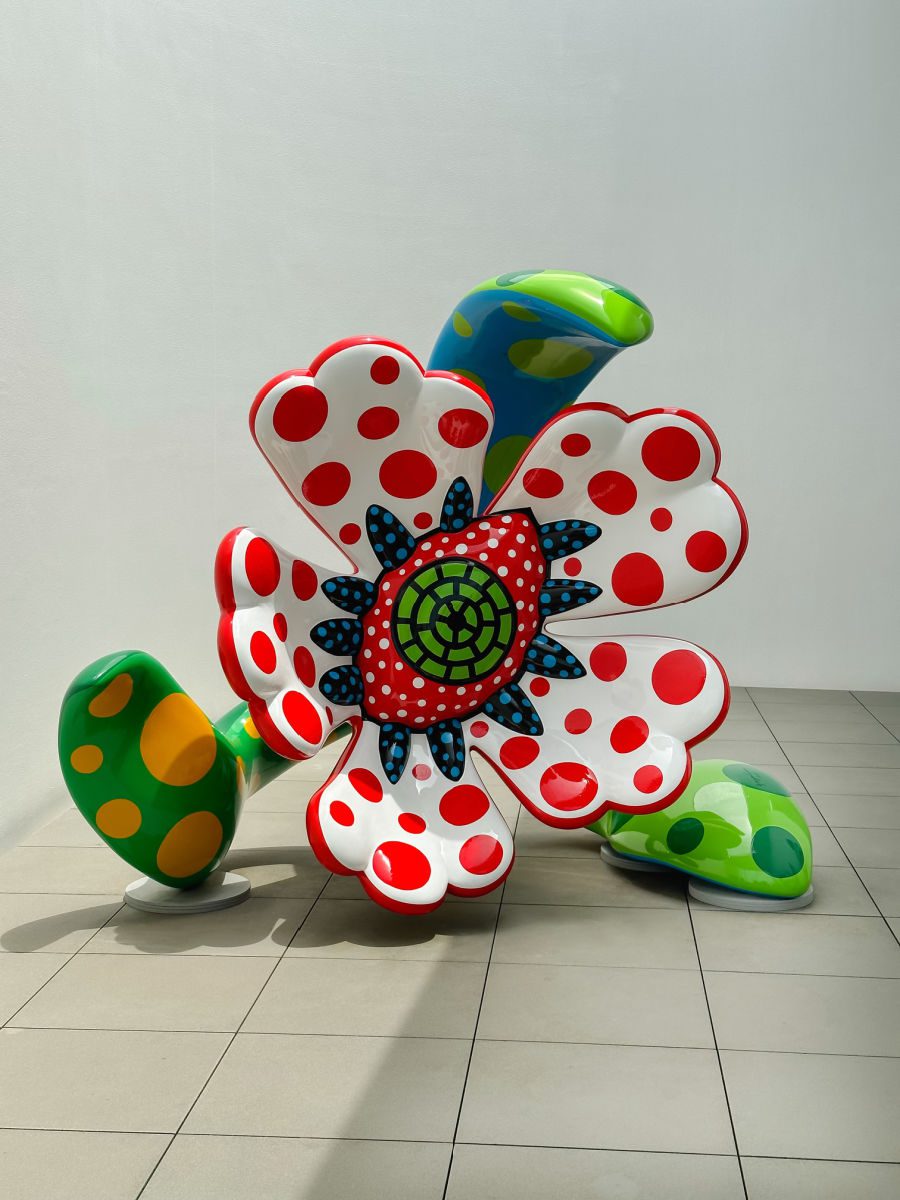 I'm a fan of the polka dot artwork of legendary artist Yayoi Kusama, so we visited the Yayoi Kusama Museum. (Tickets need to be purchased online about a month in advance.) The museum is fairly small and takes no more than 45 minutes to visit.
If this isn't your cup of tea, there are so many other great museums and attractions to visit in Tokyo including:
Tokyo National Museum: The largest and oldest museum in Japan, housing an extensive collection of Japanese art and artifacts.
Mori Art Museum: Located in the Roppongi Hills complex, this contemporary art museum offers stunning views of Tokyo and showcases innovative and thought-provoking exhibitions.
Edo-Tokyo Museum: Dedicated to the history and culture of Tokyo, this museum provides a comprehensive look into the city's past, from the Edo period to modern times.
Ghibli Museum: A must-visit for fans of Studio Ghibli films, this enchanting museum in Mitaka showcases the work of legendary animator Hayao Miyazaki and offers a glimpse into the magical world of Ghibli animations.
National Museum of Emerging Science and Innovation (Miraikan): A science museum that explores cutting-edge technologies, robotics, space exploration, and the future of science.
Odaiba Gundam Base: An interactive museum dedicated to the popular Gundam franchise, featuring life-size models, exhibits, and a shop filled with merchandise.
Pokemon Center Mega Tokyo: A haven for Pokémon fans, this store in Ikebukuro offers a wide range of merchandise, interactive experiences, and limited-edition items.
One Piece Tower: A theme park and museum based on the popular manga and anime series One Piece, featuring attractions, shows, and character-themed areas.
Tokyo Anime Center: Located in Akihabara, this center hosts exhibitions and events dedicated to anime and manga, showcasing the vibrant anime culture of Japan.
Imperial Palace East Gardens
After visiting a museum, it is nice to get some fresh air and enjoy a traditional Japanese Garden with a Walk through Imperial Palace East Gardens. These gardens surround the Imperial Palace and are free and open to the public. It is a relaxing oasis with the bustle of such a large metropolis.
Tokyo Character Street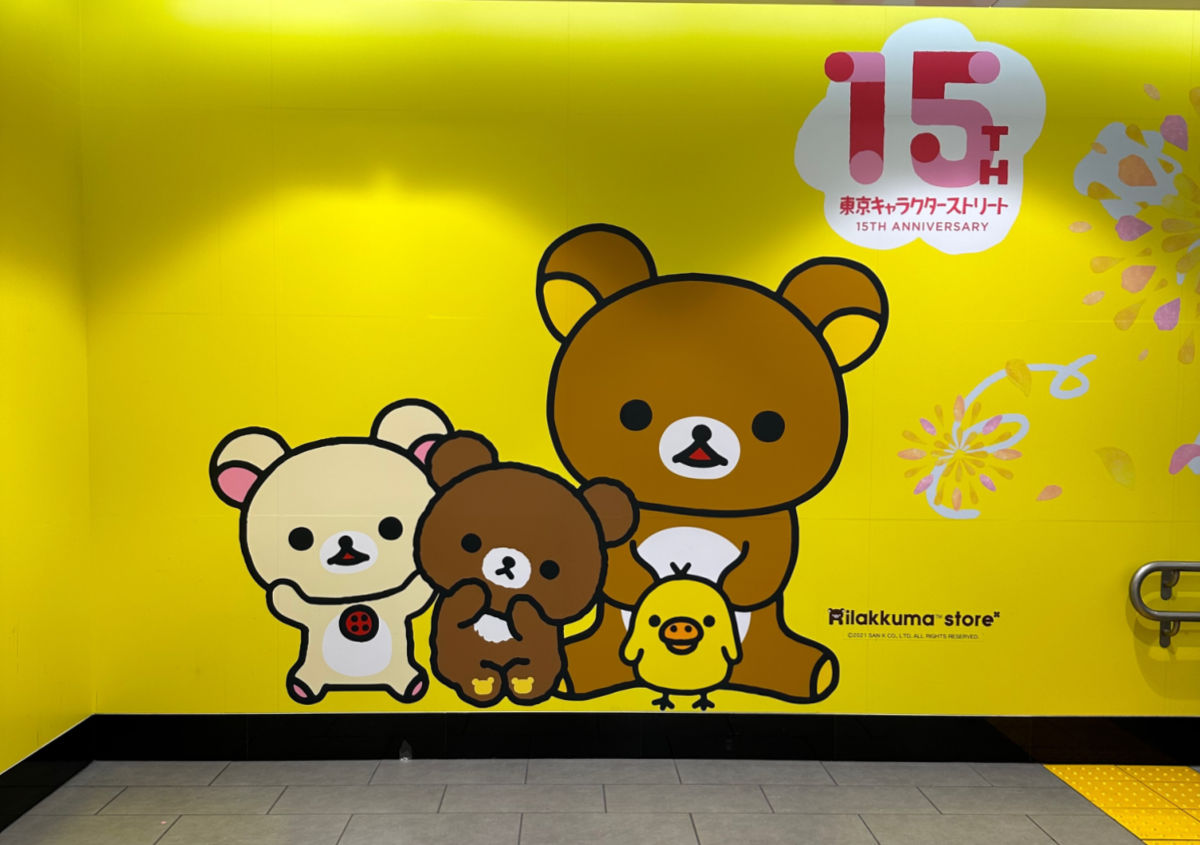 From the Gardens, it is a short walk over to Tokyo Station, which, in addition to being a major transportation hub, is also home to many restaurants and the main reason we visited — the Tokyo Character Street. This area of the train station is filled with individual shops featuring Japan's cutest characters and international favorites like Pokemon, Dragonballz, and other anime figures. Families will love doing some souvenir shopping here!
Shibuya
You can't leave Tokyo without exploring the bustling neighborhood of Shibuya, including the famous Shibuya Crossing, known for being the busiest intersection in the world. In addition to making the crossing, you can also get a good view from above from the second level of the Tokyo Department Store at the west exit of the railway station. Also, get a view of Shibuya Crossing from above at the busy Starbucks or the quieter (but more distant) 11th floor of the Hikari Building. Mag's Park and the rooftop terrace also offer good views.
If you want to brave the outdoor escalators of the Shibuya Sky Building and then the glass stairs to the 46th floor, you can reach the 360-degree observatory over Tokyo and even the "Sky Edge" glass balcony that extends beyond the building over the city.
I wish we had more time to explore Shibuya because I would have liked to take the Best of Shibuya Food Tour with Arigato Travel.
There is so much to do in Tokyo that you will end up wishing for more time. A few other activities we considered are:
Go-karting through the streets in character costumes
5 Days in Kyoto
After five days in Tokyo, it is time to move on to Kyoto. For full details including food recommendations, see my 5 days in Kyoto itinerary, but I've included the highlights here.
To get to Kyoto, the easiest way is by taking the Shinkansen bullet train from Tokyo Station to Kyoto Station. Remember, you will need to make a reservation for your seat and luggage if you have large bags, or you can use one of many shipping services to ship your luggage ahead. Try to get seats on the right side of the train to get great views of Mt. Fuji on a clear day during your trip to Kyoto.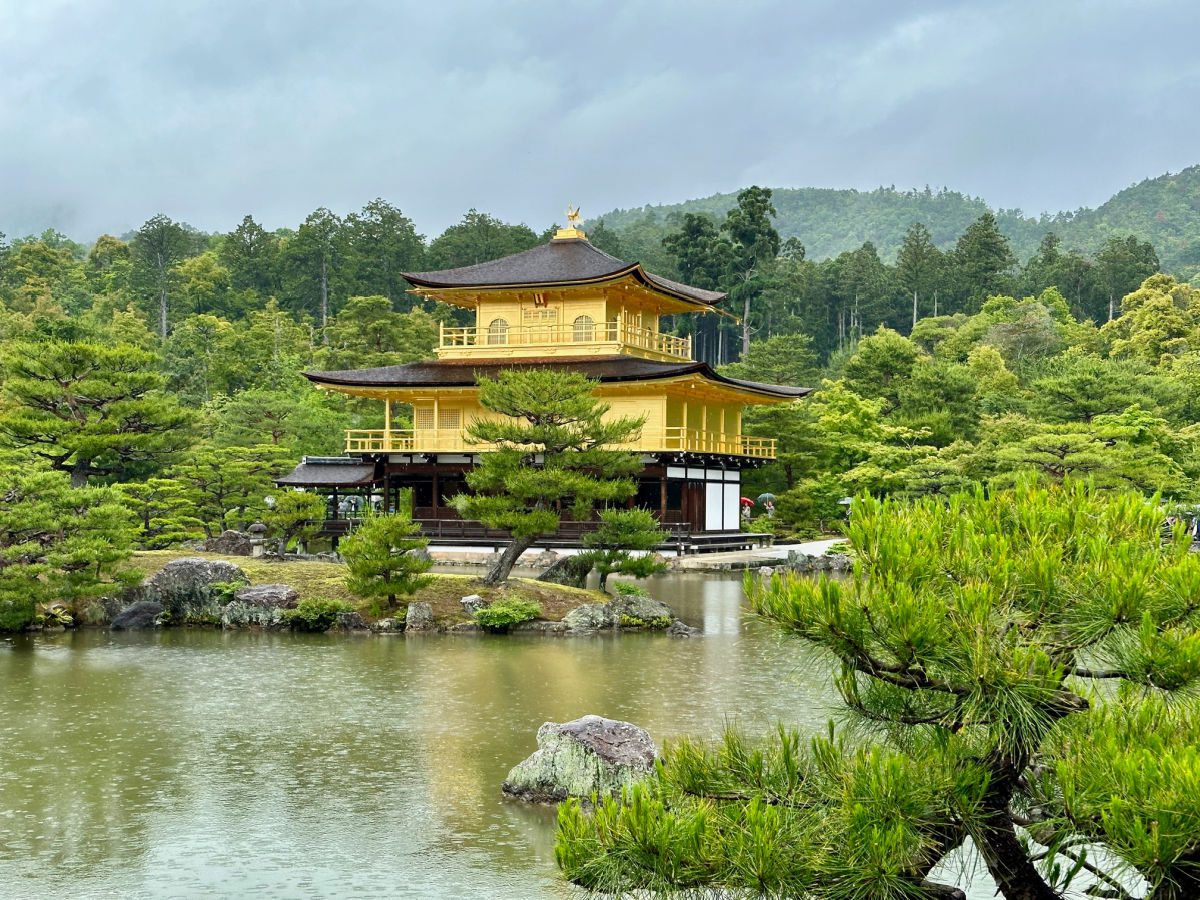 Where to Stay in Kyoto
When choosing where to stay in Kyoto, I wanted a hotel that was within walking distance of some major attractions and with easy access to public transportation. I chose the Hyatt Regency Kyoto because it was right next to a bus stop that went to the main train station for the JR train and it was also within a less-than-10-minute walk to the Kintetsu train station. The hotel also provides a complimentary one-way taxi ride using MK Taxis from the train station to the hotel.
The service at the Hyatt Regency was exceptional and we really enjoyed the rooms. The beds were comfortable, housekeeping was good, and we loved the location.
Find other places to stay in Kyoto:
Kyoto Day 1: Day Trip to Nara
As you leave Tokyo, it is easy to add a day trip to Nara before you settle into your accommodations in Kyoto. Take the Shinkansen (bullet train) from Tokyo Station to Kyoto Station. Here, you will need to switch to the JR Nara line (or the faster Kintetsu line, which is also closer to the Nara attractions — but isn't included in the JR Pass.
When you arrive in Kyoto, simply store your bags in one of the lockers (lockers cost about 400-600 yen and you can pay using your IC card) to retrieve them when you return, and then jump on one of the local trains. You can then take a bus from the JR train station or walk from the Kintetsu line to the main attractions in Nara.
Nara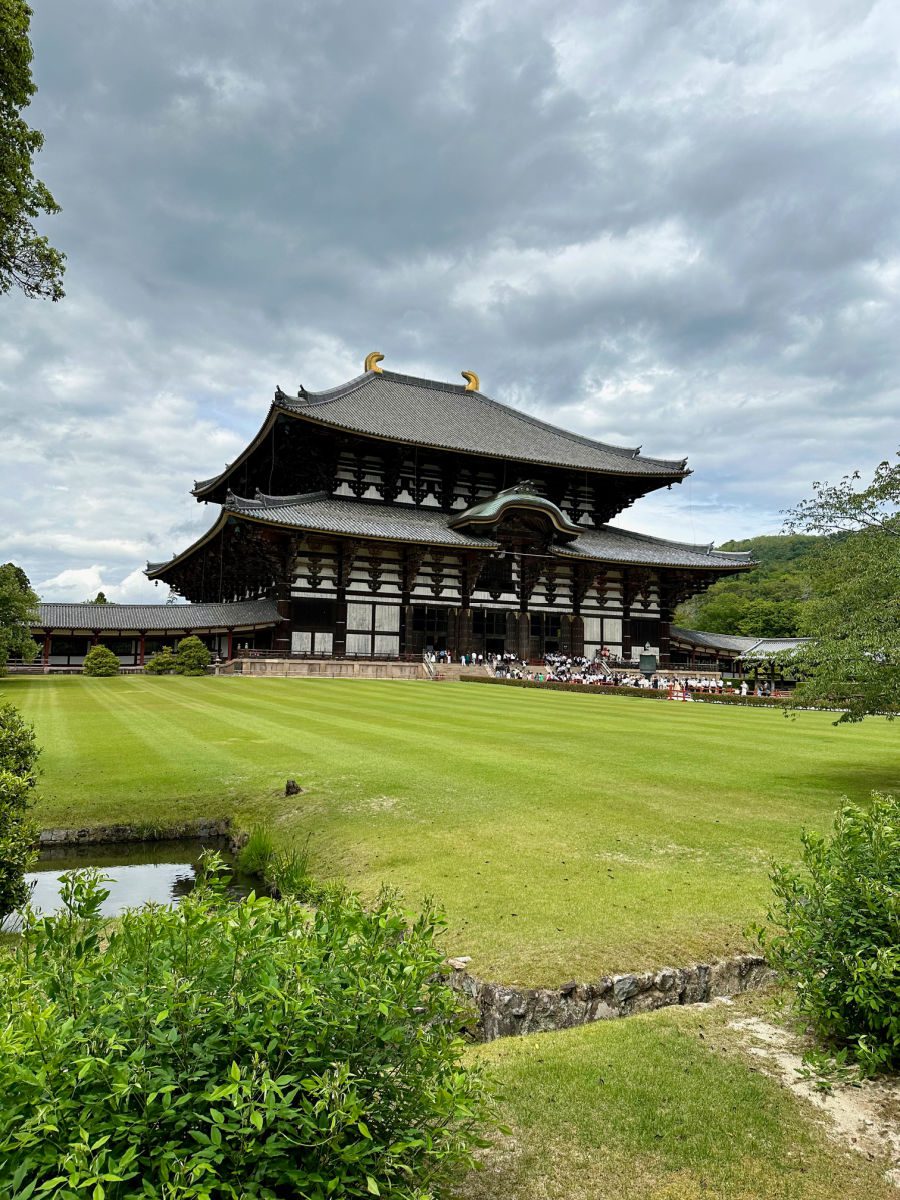 The main attractions in Nara are the Todaiji Great Buddha Temple, a UNESCO World Heritage site, and the Kasuga Shinto Shrine. You get to both by walking through the Nara Deer Park. The deer can be quite aggressive and if you purchase crackers for the deer, you will be stalked. They nipped at us, pulled on our shirts, and even chased us.
Built in 752 by Emperor Shomu, the Todai-ji Temple is an incredibly impressive structure and is reputed to be the largest wooden building in the world. It also houses one of the world's largest bronze statues of Buddha, standing around 15 meters (49 feet) tall.
If you have more than two hours in Nara, you can also explore the Isuien Garden or stop at the small museum near the temple. With a whole day in Nara, you would have time to hike up Mount Wakakusa for a panoramic view of Nara city and its surrounding landscape.
Gion District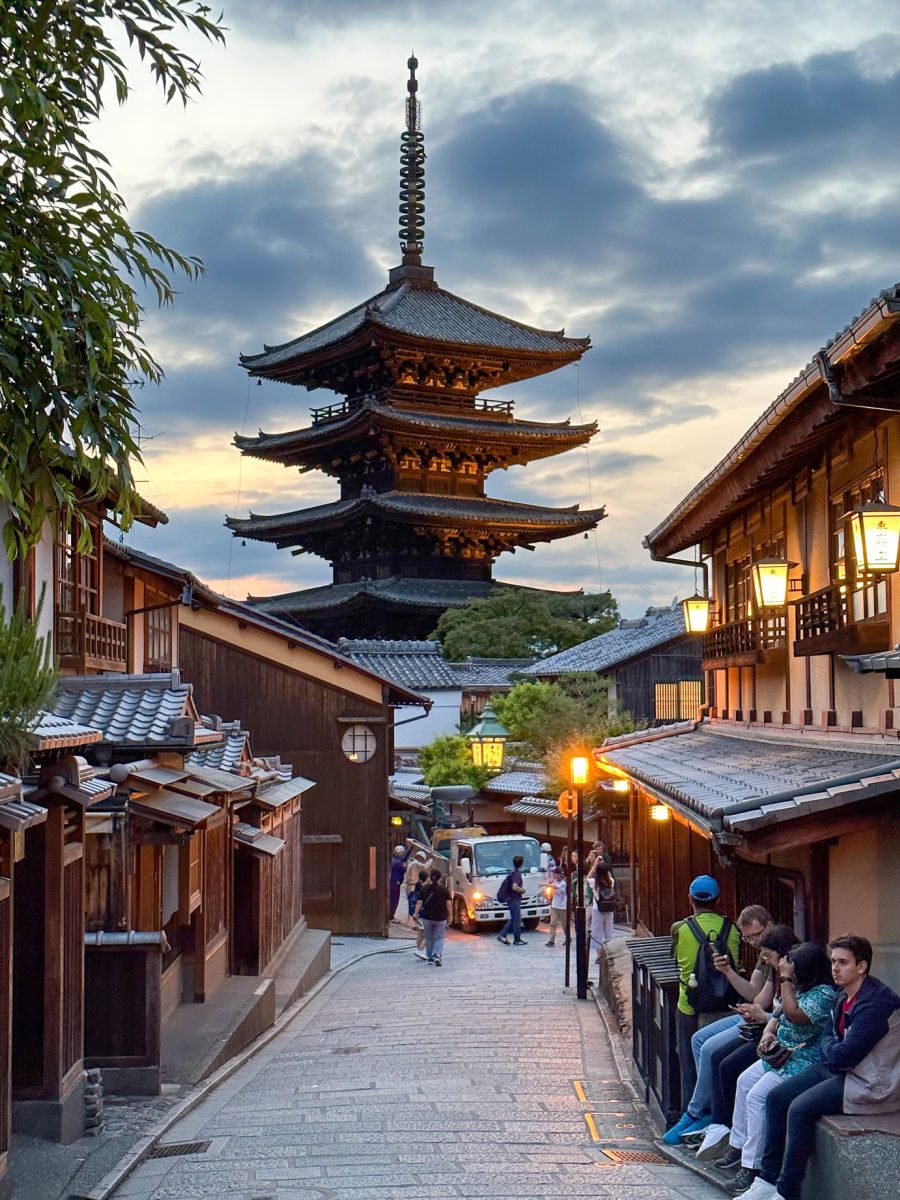 Plan to arrive back in Kyoto in time to check in to the hotel around 4:00 pm. To get a sense of the city's most popular tourist district, I booked a Gion Night Walk tour with Kyoto Fun. The tour starts off in an area where you can often see Maiko (apprentice geisha) and Geiko (what they call geishas in Kyoto) heading off to their evening appointments.
We then strolled past the Kenninji Temple (Japan's oldest Zen Temple), through other smaller shrines, past the Yasaka Pagoda just as the sun was setting, and then through the Ninenzaka path and other small streets before ending at the Yasaka Shrine. We really loved this tour and getting to explore this area at night with a guide that explained so much about the culture and history.
Kyoto Day 2
On our second day in Kyoto, we decided to explore the Fushimi district, which is a bit south of the city and home to the Instagram-famous Fushimi Inari shrine, which has a pathway through 10,000 vermillion torii gates. This is one of the most important Shinto shrines in the city and also one of the most popular tourist attractions.
Fushimi Inari Shrine
The Fushimi Inari Shrine is dedicated to Inari, the Shinto deity of rice, agriculture, and prosperity. Inari is often represented by foxes, and you can find numerous fox statues throughout the shrine grounds. It is ideal if you can visit during a weekday (although still expect crowds) and arrive early before the tour busses start to roll in.
If you choose to climb all the way to the top, your entire visit will take about two hours, perhaps longer depending on how fast you climb and how many shrines you stop at along the way. Keep in mind that there any many flights of steep steps (my Apple Health app tracked it as 59 floors) so dress comfortably and wear good walking shoes.
At the top, you will find another shrine, which is a bit nondescript albeit for the small sign that says "top", which is a relief to see after all the climbing. Here you can offer prayers or make a donation to see your fortune.
If you are short on time, I would recommend just climbing to the scenic overlook. By then the crowd should have thinned out sufficiently to get a few nice photos and you will have gotten the feel for the experience without having to make the entire climb.
Fushimi Sake District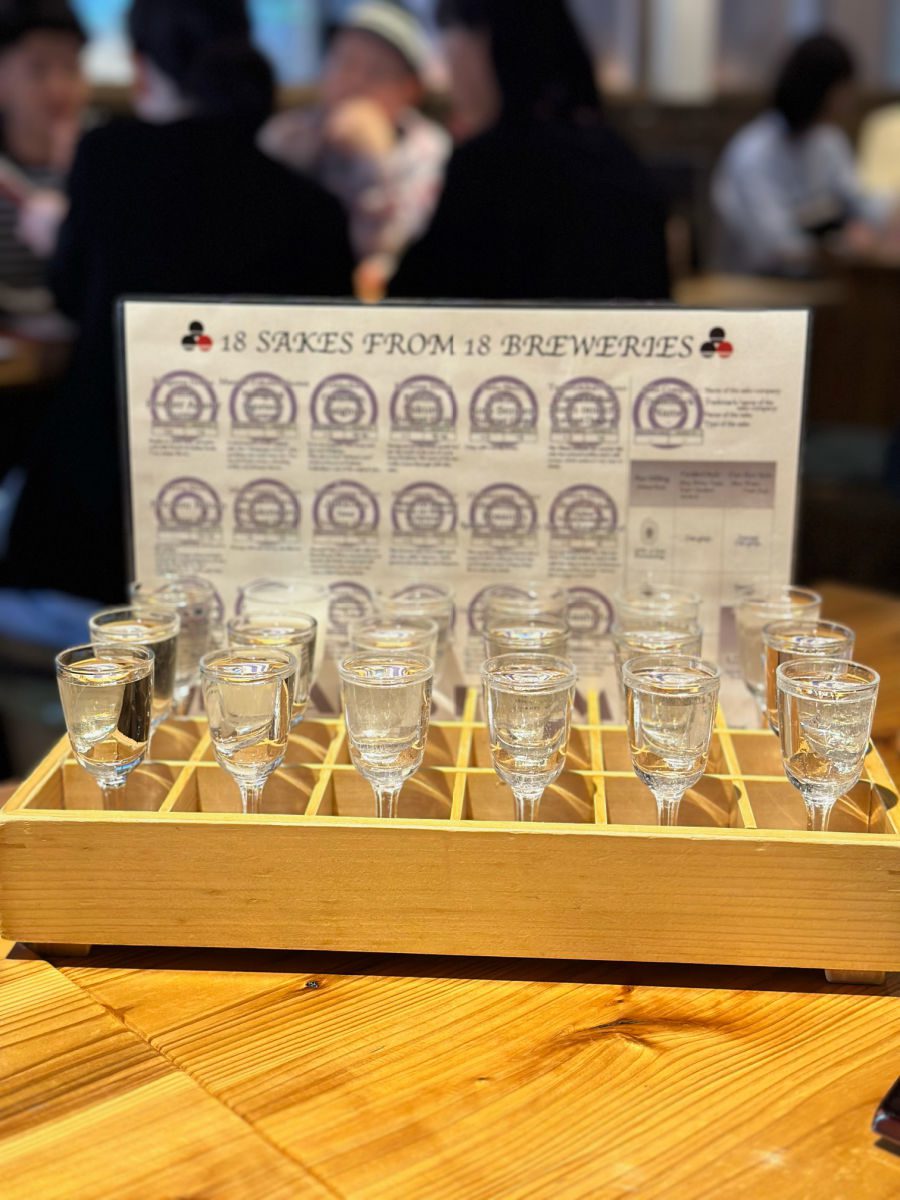 After all that climbing, you will want to reward yourself with a drink and some good food. You can find both in the Fushimi Sake District. Located just a short train ride from the Fushimi Inari Shrine, this area is off of the main tourist path and home to over 30 sake breweries.
One of the highlights of the area is the Gekkeikan Okura Sake Museum, which provides insight into the sake-making process and the history of sake brewing in the region. In addition to the museum, Fushimi offers plenty of opportunities to explore the local breweries and sample different types of sake. There are a number of sake-tasting tours that you can take in this area, but you have to be 20 (Japan's drinking age.)
If the tours don't work for you (like us with our 19-year-old), you can still sample sake from many of the local breweries at the Fushimi Sake Village. Within the Fushimi Sake Village there are multiple restaurants and multiple tasting bars, but you can get a table in the center and order a Sake sampler of up to 18 different sakes, along with food from multiple restaurants.
Aside from the sake-related activities, the Fushimi sake district is also a picturesque area to explore, with charming streets, traditional machiya (wooden townhouses), and scenic canals. To enjoy the canals, you can take a ride on a traditional Jikkokubune boat, which is especially beautiful during Cherry Blossom season or fall foliage.
Private Kaiseki Dinner with a Maiko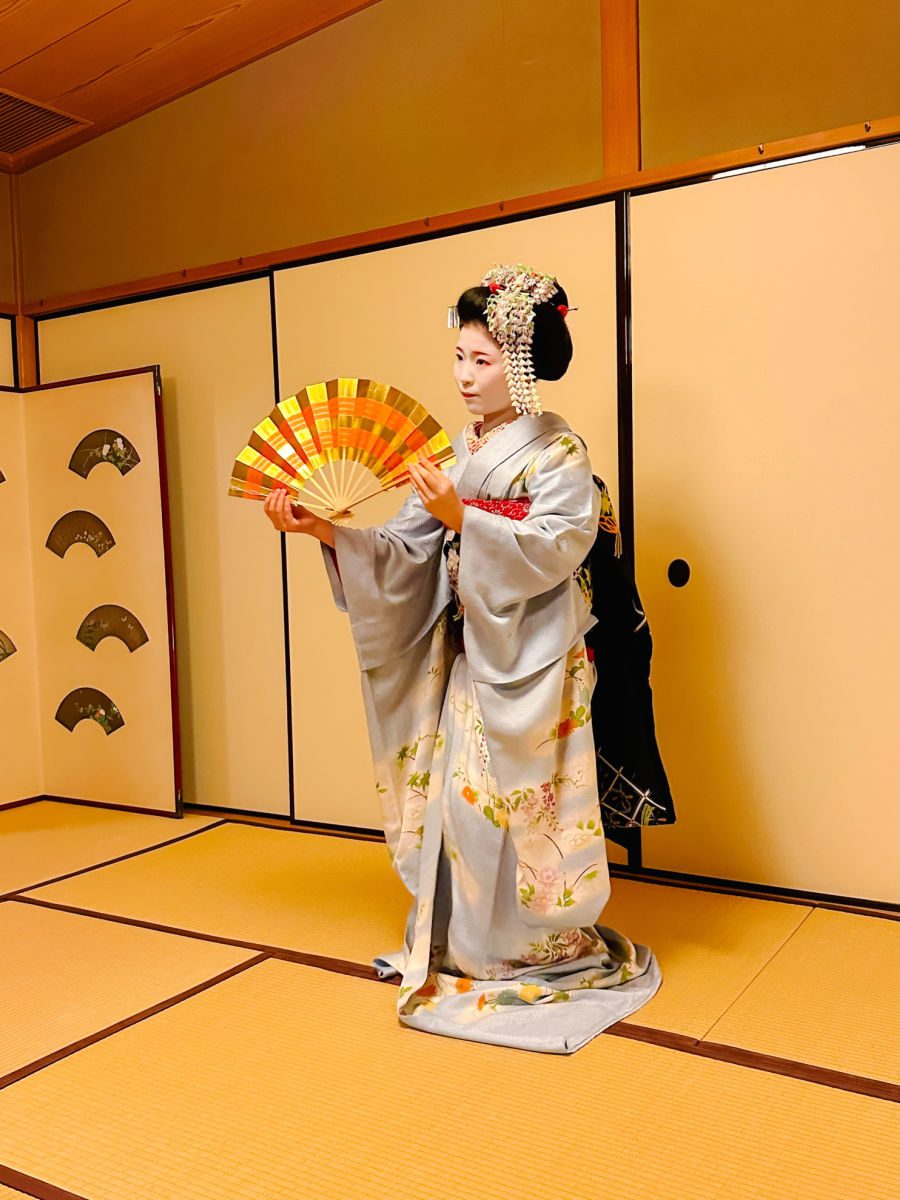 If you are willing to splurge for a truly unique and memorable cultural experience, I'd recommend booking a private kaiseki dinner with a maiko and/or geiko. It is not easy to make a direct booking with a teahouse, so you may want to reach out to your hotel concierge. I was able to arrange this through a third-party booking service and tour company.
Throughout our multi-course traditional kaiseki meal, we were able to chat with the girls through our interpreter and learn so much about this tradition and culture, including the training, the attire, the skills, and the differences in appearance between a maiko and a geiko.
After dinner, both girls gave a short dance performance and then we played some rhythm games together. It was so interesting to see how this culture is preserved, but also the modern influences, such as various geiko or maiko houses having an Instagram account.
Kyoto Day 3
For our third day in Kyoto, we wanted to explore more of the eastern side of the city and the Higashiyama ward, including some of the famous temples, shrines, and shopping areas. Since we were staying right next door at the Hyatt Regency, we started the day at the Sanjusangendo Temple. While you can't take pictures inside, this temple houses 1001 almost life-sized carved and gold-plated images of Kannon, the goddess of mercy. It only takes a few minutes to visit, but it is quite a sight to see.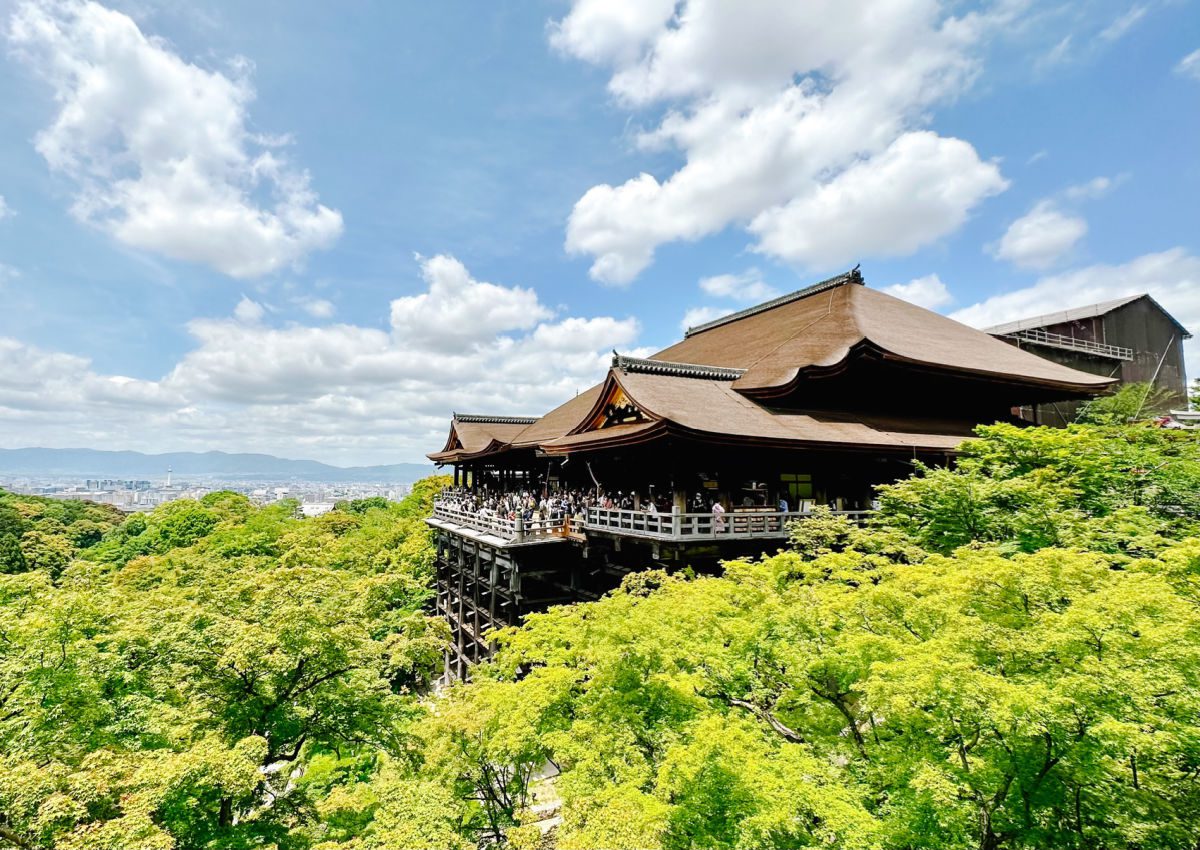 From there, it is a 20-minute walk to Chawan-zaka or 'teapot lane', which is a good spot to shop for pottery with beautiful handcrafted designs. Follow this road up the hill to Kiyomizudera Temple.
Built in the 8th century, this UNESCO World Heritage site sits on a hillside, offering panoramic views of the city below. The temple's most iconic feature is its wooden terrace, which juts out from the main hall and provides a vista of the surrounding landscape. Another popular spot to visit within the temple grounds is the Otawa Waterfall, which is believed to have sacred waters with healing properties.
After visiting the temple, walk through the Gion district and explore the many shops and stalls offering sweets and street food. The most popular shopping streets are Sannenzaka, just down the hill from the temple, and Ninenzaka Street, where you will even find a Starbucks.
Next, you can visit the Kodai-ji Temple and the Yasaka Shrine, which you may have already seen during the evening Gion walking tour. By this time, you may be getting temple fatigue, but there is one more that you shouldn't miss — Ginkaku-ji Temple. However, if you have the energy, you can first visit the Nanzen-ji Shrine and then walk along the Philosopher's Path (Tetsugaku-no-Michi), which is a stone path following a canal running through the Higashiyama district. The Philosopher's Path connects the Ginkaku-ji Temple and the Nanzen-ji Temple.
The Ginkaku-ji Temple is also known as the Silver Pavilion because it was originally intended to be covered in silver leaf (in contrast to the Golden Pavilion, which is covered in gold leaf.) This renowned Zen Buddhist temple was built in the late 15th century and is an example of Japanese aesthetics and Zen philosophy, offering a peaceful atmosphere if you can manage to escape the crowds.
The temple grounds feature perfectly landscaped gardens, including the iconic sand garden known as the Sea of Silver Sand. Designed to mimic the ripples of a calm sea, the Zen garden provides a tranquil space. Other attractions within the temple complex include moss-covered pathways, a stone garden, and a picturesque pond adorned with stone bridges.
Kyoto Day 4
On day four in Kyoto, it is time to explore the Western side of the city.
the Golden Pavilion & The RYOAN-JI TEMPLE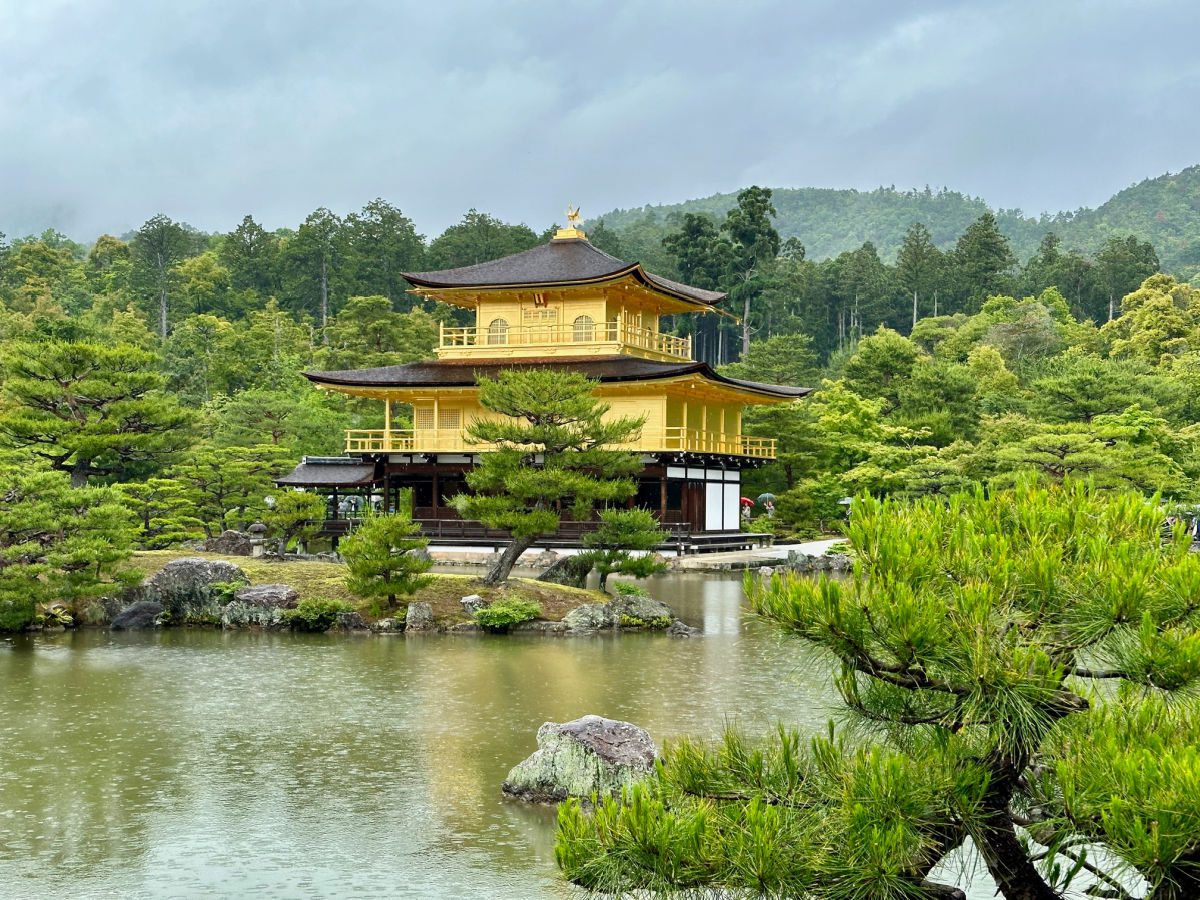 The Kinkaku-ji Temple, also known as the Golden Pavilion, is one of the most iconic and popular tourist attractions in Japan. The temple's shimmering golden exterior has captivated visitors for centuries and you will often find pictures of it on guidebooks and other tourism materials.
Built in the 14th century, the temple was initially a retirement villa for shogun Ashikaga Yoshimitsu. However, upon his death, the villa was converted into a Zen Buddhist temple, as per his will. What sets Kinkaku-ji apart is its remarkable exterior covered in gold leaf, which represents the Buddhist concept of the Pure Land, a realm of enlightenment, and is a nod to the opulence and aesthetic preferences of the time.
From the Kinkaku-ji Temple, it is a short bus ride to the Ryoan-ji Temple. The Ryoan-ji Temple is most famous for its zen rock garden, which is said to be created at the end of the Muromachi Period around 1500 by a highly respected Zen monk, Tokyo Zenketsu. The garden measures only 25 meters from east to west and 10 meters from south to north and features 15 rocks spread out throughout the area on a bed of white gravel.
We couldn't determine any rhyme or reason for the layout or the significance of the number of rocks, but it does have a peaceful quality if you can grab a spot on the edge of the platform to sit and contemplate for a few minutes.
For lunch, take a walk through the Nishiki Market, known as Kyoto's Kitchen, which specializes in all things food related and is a great place to find seasonal foods and Kyoto specialties, such as Japanese sweets, pickles, dried seafood, and sushi. In addition to these staples, there are many stalls offering prepared food specialties that you can eat on the spot.
From the Nishiki Market, it is only a 15-minute walk to the Japanese tea ceremony at the Jotokuji Temple. Through the experience, you will be taught the fine art of drinking matcha tea and learn about the importance of the ceremony. If that tea ceremony experience doesn't work with your schedule, there are others to choose from, including this one located very close to the Golden Pavilion.
Pontocho Alley
For dinner, you will want to explore Kyoto's famous Pontocho Alley. This narrow and atmospheric pedestrian street runs parallel to the Kamogawa River and is renowned for its traditional teahouses, restaurants, and bars with a long history dating back to the 16th century.
We ate in Pontocho Alley twice, trying different cuisines, and would recommend both Yamafuku for a shabu shabu hot pot experience and Ukiya Pontocho for soba noodles and tempura.
Kyoto Day 5
I've saved the best for last, which is the Arashiyama ward, located on the northern outskirts of Kyoto. This area is most famous for its beautiful bamboo forest, which gets absolutely swarmed with tourists. While the conventional wisdom is to get there early (before 8:00 am), but we went in the mid-afternoon and didn't have to fight any large crowds and there was plenty of space to get some photos without a million other people around.
Arashiyama Monkey Park
Walk through town and across the Togetsukyo Bridge to the Arashiyama Monkey Park to see the Japanese Macaques, also known as snow monkeys. Be prepared for a steep, 20 to 30-minute climb up Mt. Arashiyama, where you can then observe and interact with the monkeys in their natural habitat. You can pay to feed the monkeys from inside a building (with the monkeys reaching through bars from the outside), or just spend some time observing them and taking in the view.
Tenryū-ji Temple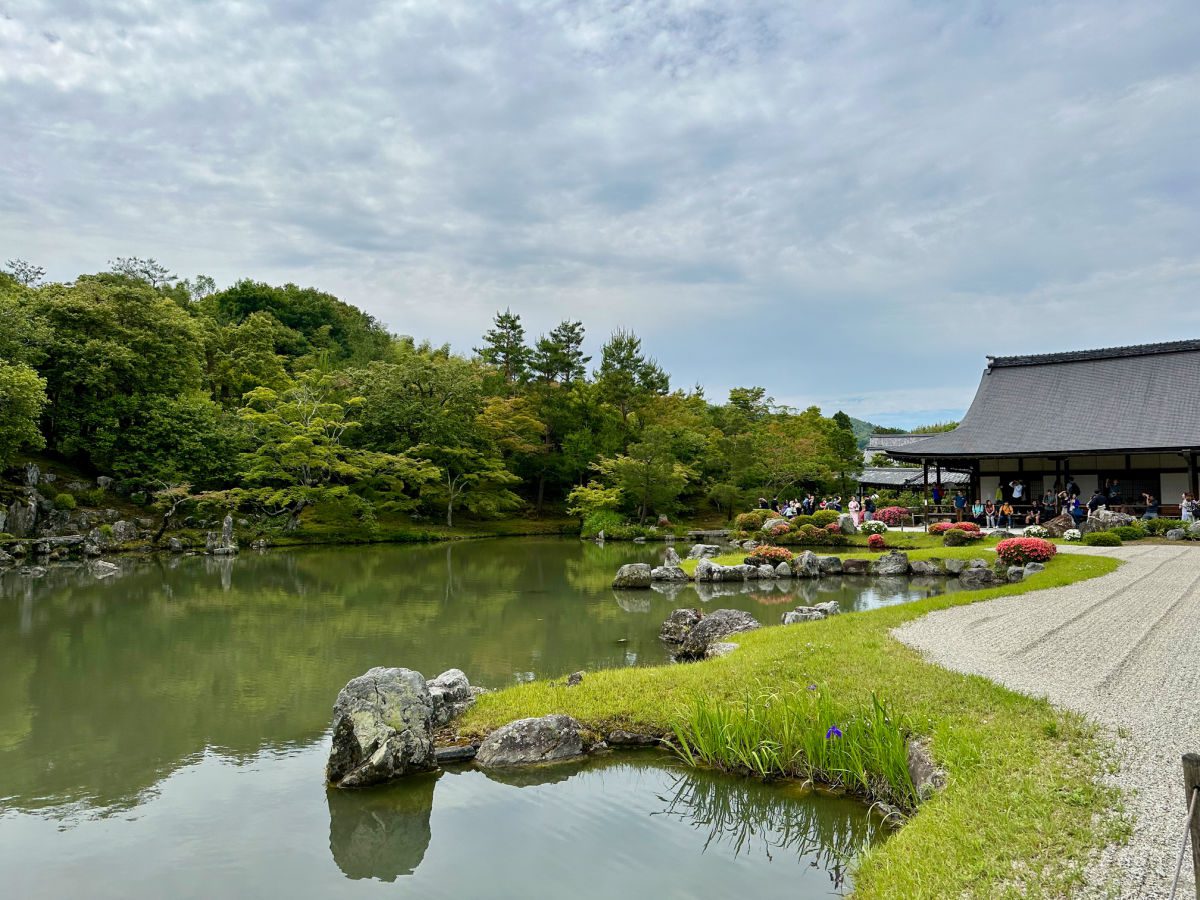 From the Monkey Park, you can walk back across the river and explore the cute shops and food stalls along the main street. These were surprisingly nice for such a touristy area, and there are so many delicious sweets to try including mochi, taiyaki, soft ice cream, and everything matcha.
Before you get to the turn-off for the Bamboo Grove, you will arrive at the Tenryū-ji Temple. I recommend stopping here first, partially because it helps you avoid the main crush of people walking from the train station straight to the Bamboo Grove.
As a UNESCO World Heritage site, Tenryuji Temple is renowned for its stunning architecture, serene gardens, and connection to Japan's Zen Buddhist tradition. However, I think the best part of the Tenryū-ji Temple is not in the main hall, but in the Hatto Hall, which is home to the Tenryū-ji Cloud Dragon painting by Kayama Matazo. Completed in 1997, the Cloud Dragon is painted on a lacquer and clay base covering the ceiling and it is rendered in the happo-nirami style, in which it appears to look directly at you, no matter which direction you view it from. This illusion is truly fascinating!
If you purchase a combination ticket for the temple and the Sogenchi Garden, you can then exit the garden at the beginning of the main bamboo grove.
Arashiyama Bamboo Grove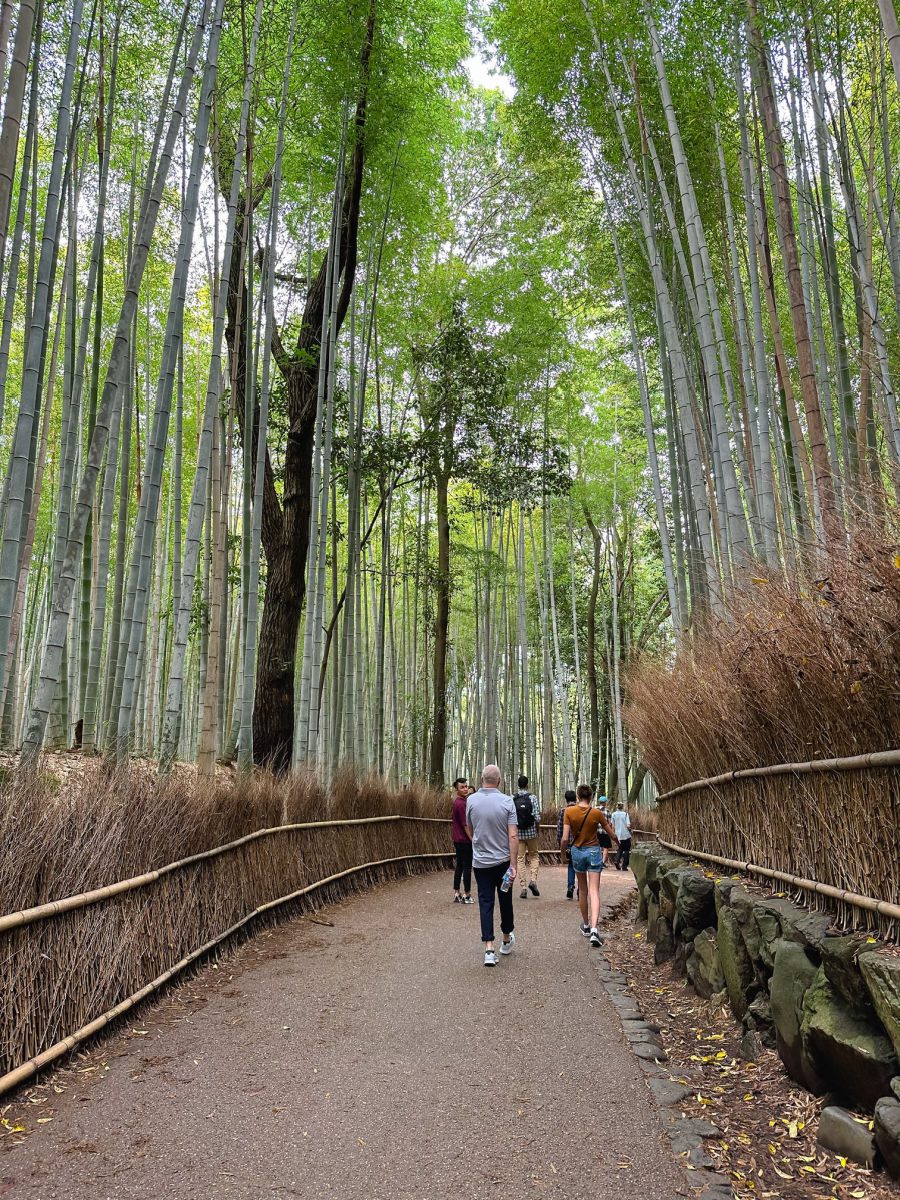 The Arashiyama Bamboo Grove covers an area of approximately 500 meters with towering bamboo stalks and pathways through this magical forest. Due to its photogenic nature, the bamboo grove is a very popular attraction, especially during the mid-day. If you make a day (or a half-day) of exploring this whole area, a visit to the Arashiyama Bamboo Grove is definitely worth it.
3 Days in Osaka
After five days in Kyoto, it is time to move on to Osaka, Japan's kitchen. For all the details and food recommendations, see my Osaka itinerary, but I'll share the highlights below.
Osaka is only 15 minutes from Kyoto via the Shinkansen bullet trains that arrive at Shin-Osaka station, which is about a five-minute local train ride from the main Osaka Station. However, you can also take a local train from Kyoto to Osaka Station in 30 minutes.
Where to Stay in Osaka
The Umeda area around Osaka Station provides easy access to public transportation, restaurants, and shopping and we couldn't have been happier with our stay at the Intercontinental Osaka.
Since I booked through the American Express Fine Hotels program using my AmEx Platinum, we were given an early check-in at 12 pm, along with a $100 food and beverage credit and daily breakfast for two. Instead of booking two rooms as we had in other cities, I decided to spend just a tiny bit more to reserve one of the two-bedroom residences. It was a worthy investment as we all enjoyed spending time together in the living room, eating room service one night at our dining table, and utilizing the kitchen amenities, including the washer/dryer combo.
I'd highly recommend the Intercontinental Osaka if it is within your budget, otherwise, there are many other choices:
Osaka Day 1
If you are staying in the Umeda area near Osaka Station, head over to the Umeda Sky Building for a walk around the rooftop outdoor observatory.
Umeda Sky Building
One feature that makes this observation deck different from others is the glass-enclosed escalators that you take between the two towers from the 39th floor where the ticket office is located to the 40th floor and the entrance to the observation deck. These escalators give the appearance of being suspended in air, which can either be a thrill or a fright, depending on how well you do with heights. Once at the top, the 360-degree observation deck lets you take in the city from all angles.
Shopping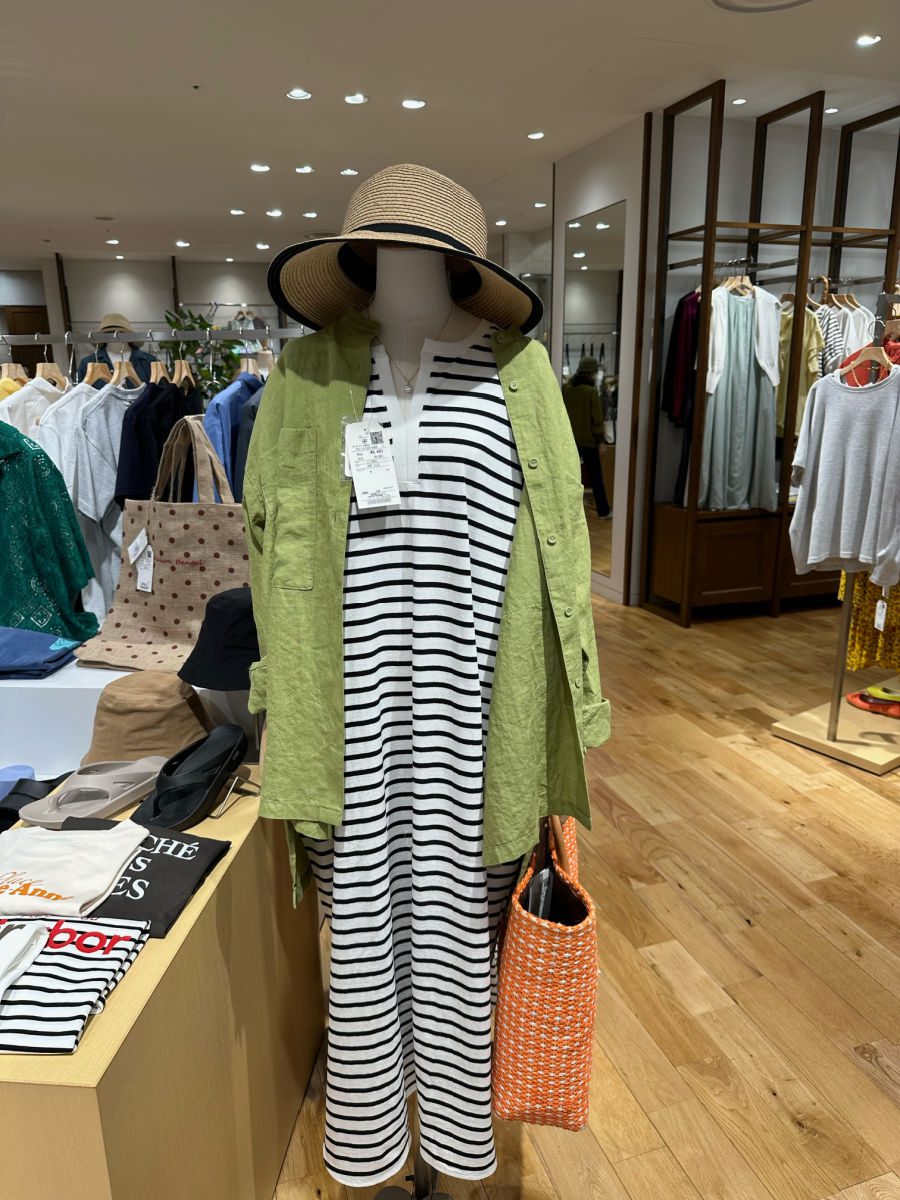 It is hard to leave Japan without doing a little shopping and taking advantage of finding unique fashions that you won't find in the stores at home. For high-end shopping, the Grand Front Osaka has some familiar names and Hankyu Sanban Gai is another option. However, teens will love the affordable youthful fashions at the HEP Five shopping center. You will find floor after floor of trendy styles and even find a giant Ferris wheel (something you see frequently in Osaka.)
While these are both adjacent to the Osaka Train Station and within a few minutes walk of the Umeda Sky Building, another option is to take the metro to the Namba Parks shopping mall, which features a multi-floor rooftop garden with cafe, restaurants, and lush green spaces.
Osaka Castle
Finish your sightseeing with a visit to the Osaka Castle and surrounding gardens, one of the most iconic sites in Osaka. Built in the late 16th century, the castle serves as a symbol of power and prestige, harking back to the tumultuous feudal era. The impressive five-story exterior is a perfect photo backdrop to memorialize your stay in Osaka.
ORIX Buffaloes Baseball Game
If you are a baseball fan and visiting during the baseball season, I would suggest getting tickets to see a game at the Kyocera Dome. Buying tickets can get a little complicated, as you need to first register and set up an account. However, there are also third-party services that will purchase your tickets for you and deliver them to your hotel.
When we were in town, we were fortunate to get to see the Osaka ORIX Buffaloes play the Hiroshima Carp, which is quite a rivalry. The whole game had the energetic feel of a college game, as both teams had bands and large cheering sections that brought the noise for the entire game. We had a blast cheering for the home team and getting to see how the Japanese have adopted such a love for baseball.
Osaka Day 2
Plan to dedicate a whole day in Osaka to exploring the city's rich street food culture. We took a food tour of the Shinsekai district with Arigato Food Tours that we loved! Arigato also offers food tours of the Dotonbori area, but I felt like that was easy enough to explore on our own.
Shinsekai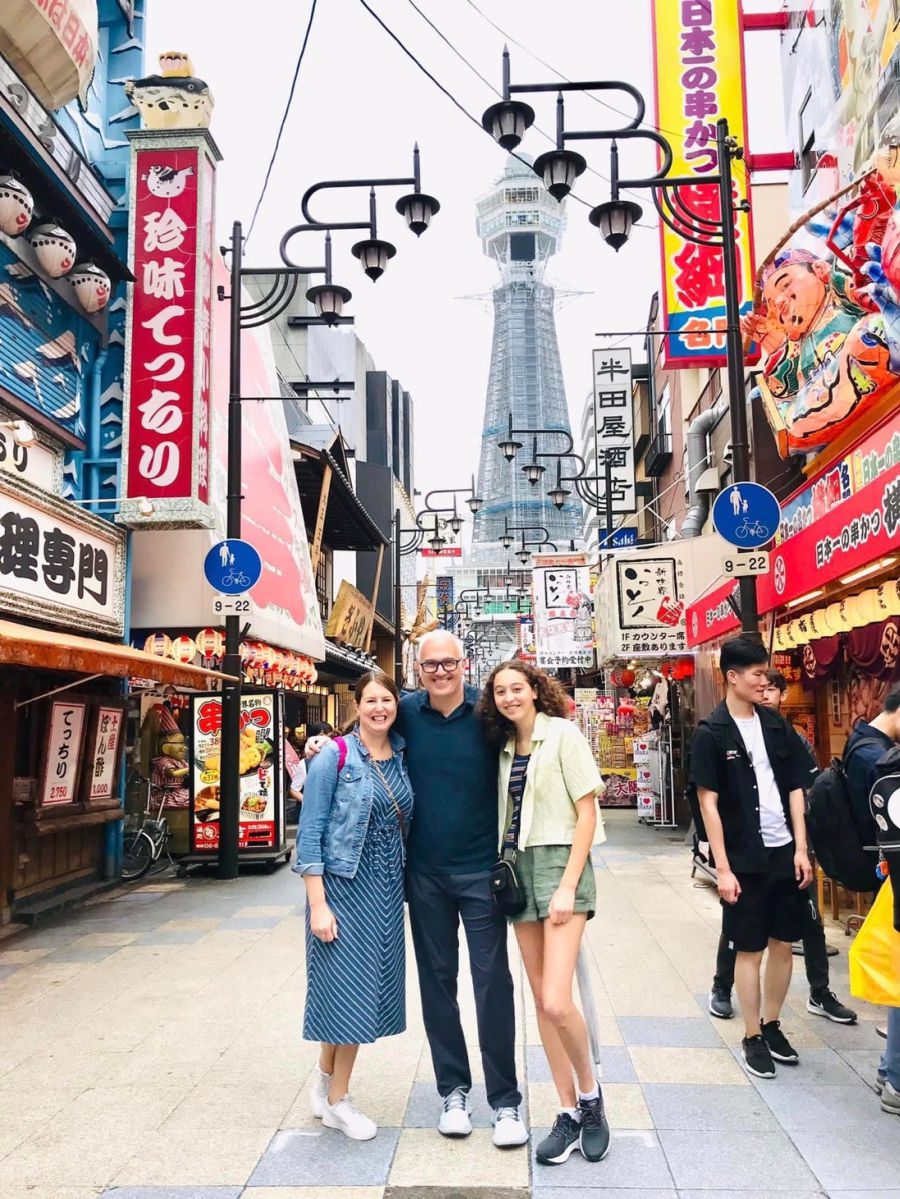 This vibrant neighborhood was developed to mimic the cities of Paris and New York, Coney Island in particular. It is known for its retro charm and unique atmosphere. The primary landmark of Shinsekai is the Tsutenkaku Tower. Originally built in 1912 and standing at a height of 103 meters, the Tsutenkaku Tower bears a resemblance to the Eiffel Tower. Today, you can go to the top of the observation deck and even take a slide down the side of the tower.
You will not leave an Arigato Food Tour hungry! In addition to filling up on delicious foods like kushikatsu (deep-fried skewers) and takoyaki (octopus balls), we learned so much about this area and the local culture (plus found an excellent shop to purchase Japanese knives!) that we just wouldn't have discovered on our own.
Dotonbori
Dotonbori is one of the most popular districts in Osaka, renowned for its vibrant nightlife, colorful neon signs, and delicious street food. Located along the Dotonbori Canal, the area is a hub of entertainment, shopping, and dining, with iconic landmarks like the famous Glico Running Man and the Ebisu Tower Ferris Wheel.
Start off by taking a stroll along the canal and immersing yourself in the vibrant ambiance or take a canal boat cruise to view the sites from the water.
When it comes to food, Dotonbori is a food lover's paradise. The streets are lined with countless eateries, food stalls, and restaurants. Takoyaki, the ubiquitous octopus balls, is a must-try snack if you didn't get your fill in Shinsekai. Another local favorite is okonomiyaki, a savory pancake layered with ingredients like cabbage, meat, and seafood. You can also find sushi, ramen, kushikatsu (deep-fried skewers), along with many, many sweets.
Personally, I fell in love with the melon pan bread ice cream sandwich, but you can also try the towering "long" soft ice cream cones, the 100 Yen pastries filled with cheese or other ingredients, and taiyaki or mochi with red bean paste.
A few other places to see in the area include:
Hozenji Yokocho, which is a narrow, atmospheric alley with well-preserved traditional architecture, stone-paved paths, and traditional lanterns that illuminate the area during the evening, creating a magical atmosphere. The highlight of Hozenji Yokocho is the Hozenji Temple, a small Buddhist temple that dates back over 1,400 years. The temple is famous for its moss-covered Fudo-Myo statue, which is believed to grant wishes. Visitors to the temple often partake in the ritual of splashing water onto the statue for good luck and cleansing purposes.
Round1 Stadium, which features a variety of indoor sports and leisure facilities, including bowling alleys, arcade games, batting cages, billiards, darts, karaoke rooms, and much more. It has an extensive selection of arcade games from classic retro games to the latest virtual reality experiences.
Amerikura, also known as "America-mura" or "Amemura," is a vibrant neighborhood located in the Shinsaibashi district not far from Dotonbori. The name "Amerikura" stems from its association with American culture, as the area was originally influenced by American trends and fashion in the 1970s. Now it is known for its unique and alternative fashion scene, with numerous independent boutiques, vintage stores, and trendy clothing shops lining its streets.The area also has colorful and eye-catching street art, graffiti, and murals, adding to the artistic and edgy atmosphere. Aside from fashion, Amerikura offers a vibrant nightlife scene with an array of bars, clubs, and live music venues that come alive at night.
Osaka Day 3: Day Trip to Hiroshima and Miyajima
Osaka is under two hours from Hiroshima by Shinkansen and a visit to Hiroshima or Hiroshima and the neighboring island of Miyajima make for a great day trip and a good way to end your trip to Japan. You can definitely explore these sites on your own, but I decided to book a full-day private tour with JGA (Japan Guide Agency) through Get Your Guide, and we loved our guide Eiji.
Hiroshima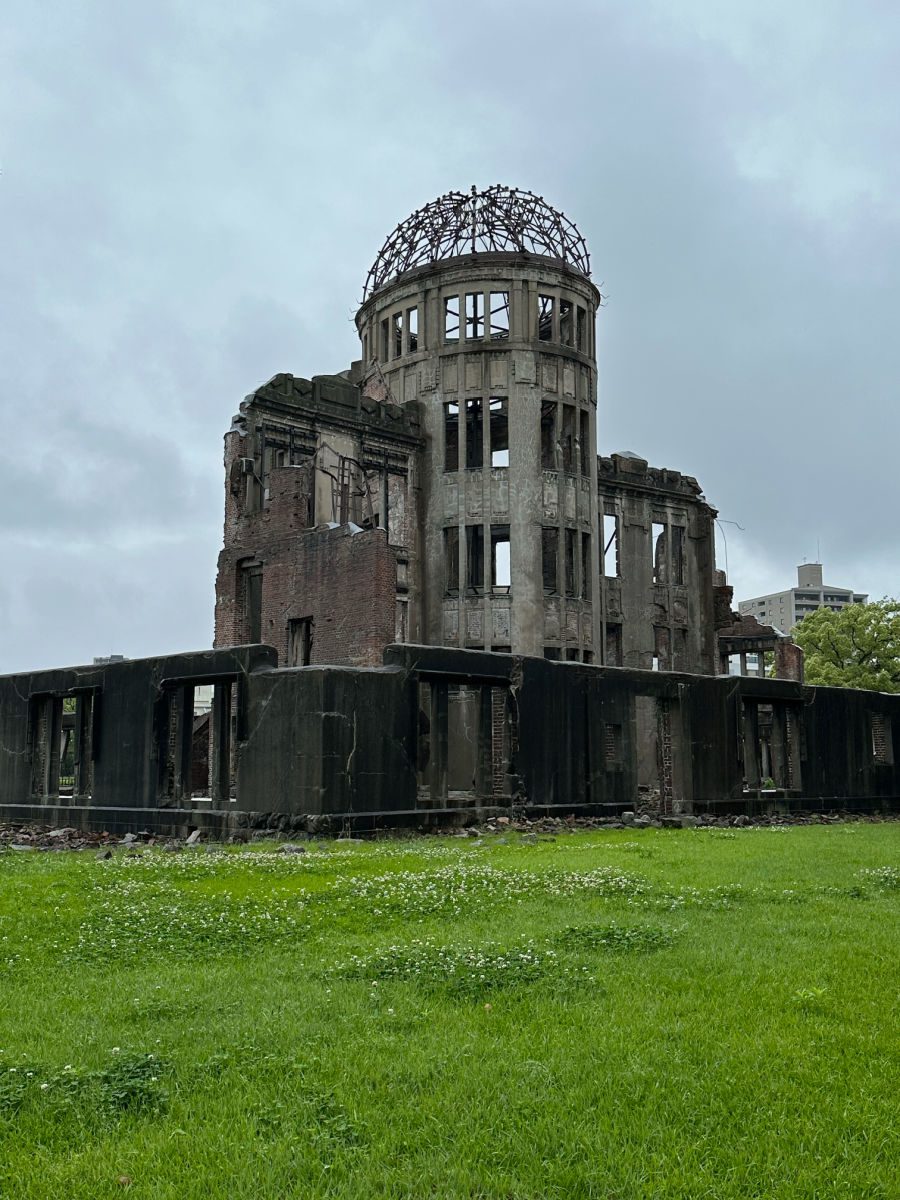 We started our visit with a quick bus ride to the hypocenter of the nuclear blast that killed approximately 140,000 local citizens at 8:15 a.m. on August 6, 1945.
From there, we walked over to the A-Bomb Dome, also known as the Hiroshima Peace Memorial. It is the remnants of the Industrial Promotion Hall, which is one of the few buildings left standing near the epicenter of the atomic bomb explosion. It has been preserved in its ruined state, with its skeletal framework and crumbling walls, to honor the memory of the lives lost and to convey the horrors of the atomic bombing.
In the Peace Memorial Park, we also visited the Children's Peace Monument. This monument is dedicated to the children who lost their lives due to the bombing and the long-lasting effects of radiation. It features a statue of Sadako Sasaki, a young girl who became a symbol of peace through her story of folding 1,000 origami cranes.
In addition, we walked past the Peace Memorial Cenotaph, which holds the names of all the known victims of the atomic bomb, and the eternal flame, which they vow to keep lit until nuclear weapons are eradicated.
Our final stop in Hiroshima was a visit to the Peace Memorial Museum, which provides a comprehensive account of the atomic bomb attack and its devastating consequences. It exhibits artifacts, photographs, and personal stories, allowing you to gain a deeper understanding of the human impact of the bombing. It dealt not just with the attack that day, but the long-term impacts on the people and the city.
It was heavy and a lot to take in, but an important part of history is to respect those killed and remind ourselves to not let this happen again. After a dark morning, it was a very pleasant change to spend the afternoon on Miyajima.
Miyajima
Miyajima is a picturesque island located in Hiroshima Bay in Japan. It is famous for its iconic floating torii gate of Itsukushima Shrine. The town streets, beautiful beach, mysterious mountains, and classic Japanese architecture make Miyajima feel quite magical.
To get to the island, you can either take a short ferry to the island from a ferry terminal, which is about 30 minutes from the train station by local train, or take a boat tour from the Peace Memorial Park directly to Miyajima, which takes about 45 minutes.
The main attraction is the Itsukushima Shrine, a UNESCO World Heritage Site. The shrine's iconic red torii gate appears to be floating on the water during high tide, creating a mesmerizing sight. During low tide, you can go out on the beach and walk through the gate. The gate was put in the water because visitors from Hiroshima would visit the shrine by boat, and enter through the gate.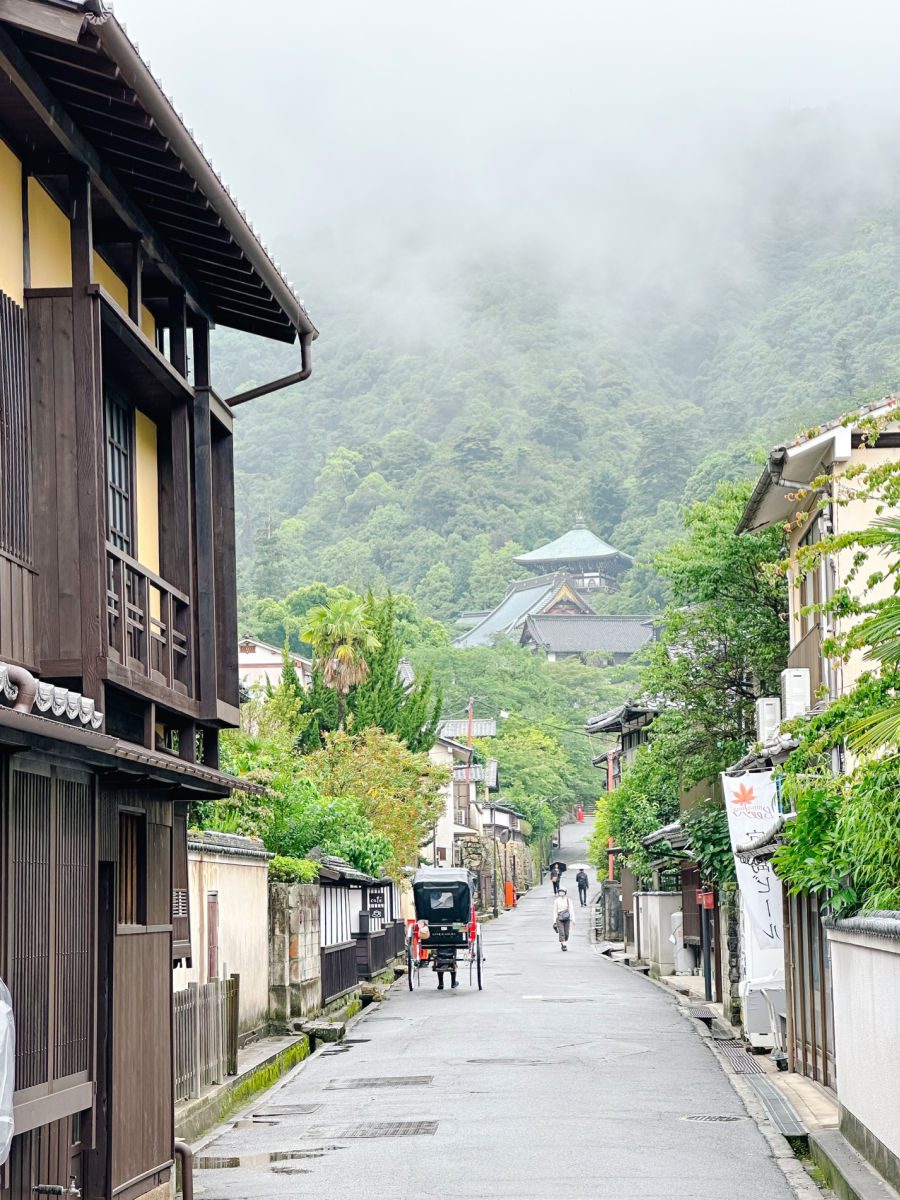 Another popular attraction is Momijidani Park, which is a scenic spot known for its beautiful maple trees, which are especially lovely during the autumn season. Throughout the island, you will also encounter wild deer. Unlike in Nara, you aren't allowed to feed them, but the deer can still be aggressive if you have paper or food in your hands. One actually followed me into the visitor center and grabbed a brochure off of the counter and started eating it. The staff had to chase it outside and wrestle the paper away from the stubborn deer.
You will want to leave time to walk along Omotesando Street, where you will find street food stalls and shops selling traditional crafts, souvenirs, and Miyajima's famous wooden rice scoops known as "mokugyo" (we bought one to bring home.) Here you can try Hiroshima-style okonomiyaki and Hiroshima fresh oysters, straight from the oyster farms that you pass by on the ferry. These are fairly large oysters, which are grilled and served up either plain or Rockefeller style. If you are an oyster lover, don't leave the island without giving them a try.
I really fell in love with Miyajima and it made me want to visit more of the smaller towns in the Japanese countryside on a future visit. If I returned to Miyajima, I'd also book a night in the traditional Ryokan and enjoy the island after the day trippers leave.
Final Day: Travel Home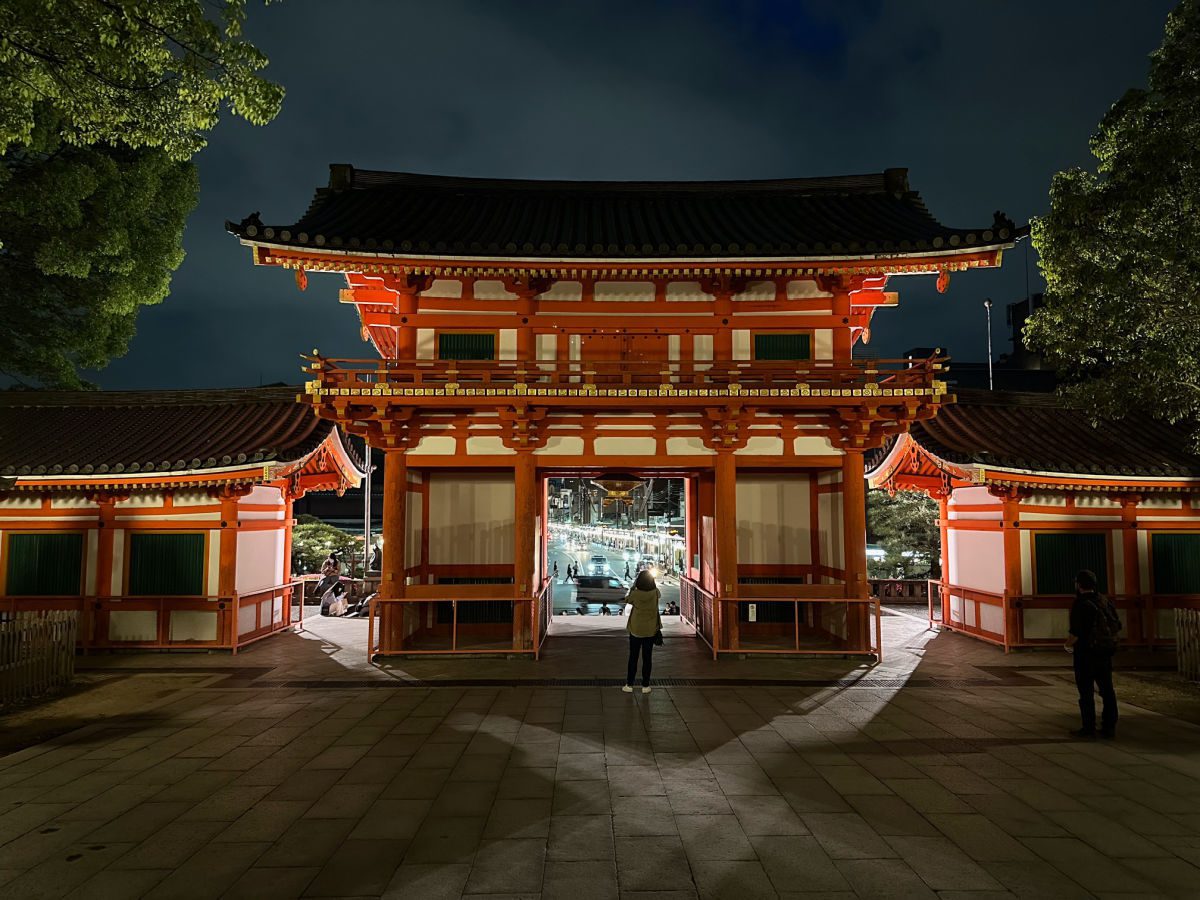 If you have an extra day in Japan, you may want to add in a visit to Universal Studios Japan or the TeamLab Botanical Garden. However, for many who have just two weeks in Japan, it is time to start the long journey home.
It is often cheaper and easier to book a round-trip ticket to and from Tokyo, versus flying into Tokyo and out of Osaka. However, you may want to consider adding an extra night in Tokyo before you fly out. Since our flight wasn't until 6:25 pm, our plan was to take a bullet train to Tokyo with plenty of time for our flight.
Unfortunately, heavy rains shut down the trains from Osaka to Tokyo that day and all the flights from Osaka to Tokyo that could get us there in time for our flight were booked, so we were forced to change our flight and spend an extra night in Osaka.
This brings me to my next topic…travel insurance!
Don't Forget Travel Insurance!
There are many reasons to purchase travel insurance for any international trip, especially one as complex and, frankly expensive, as Japan. Depending on your policy, travel insurance can cover you in the event of trip interruption (like what happened to us), trip cancellation, medical expenses, medical transportation, lost or stolen luggage, and provide you with a 24 x 7 concierge contact in case of any difficulties.
Most of all, travel insurance gives you peace of mind. It is stressful enough when something happens on a trip, you want to know that if or when you have an issue, you are covered financially. I've carried an annual travel insurance plan with Allianz Travel Insurance for years and they have been there for us during illnesses and other travel mishaps.
Visiting Japan? Read more…
If you are planning a visit to Japan, be sure to also check out the following articles:
Save this to Pinterest