I remember well how nervous I was boarding my first 10-hour flight, scared about how I was going to manage sitting in one place that long, wondering if I would sleep, and anxious about whether or not I had everything that I needed. So if you are wondering what to pack for a long flight, don't stress — I've got you covered! Luckily now after countless long-haul flights, I have my packing routine down to a seamless system.
And if you are flying with kids, I can give you some advice about that too! My daughter completed her first long-haul flight at the age of six, from Newark to Honolulu. And that was before iPads and mobile apps for kids (yes, I know this is aging all of us!) In-flight entertainment and technology sure do make long flights more tolerable, but sometimes it is still good to have some old-fashioned entertainment with you as well.
In this article, I'll talk you through what airplane essentials to pack in your personal item and carry-on bag to stay comfortable and entertained on a long flight. Plus, I'll share some of my favorite carry-on bags and products that have become my go-to essentials for long flights.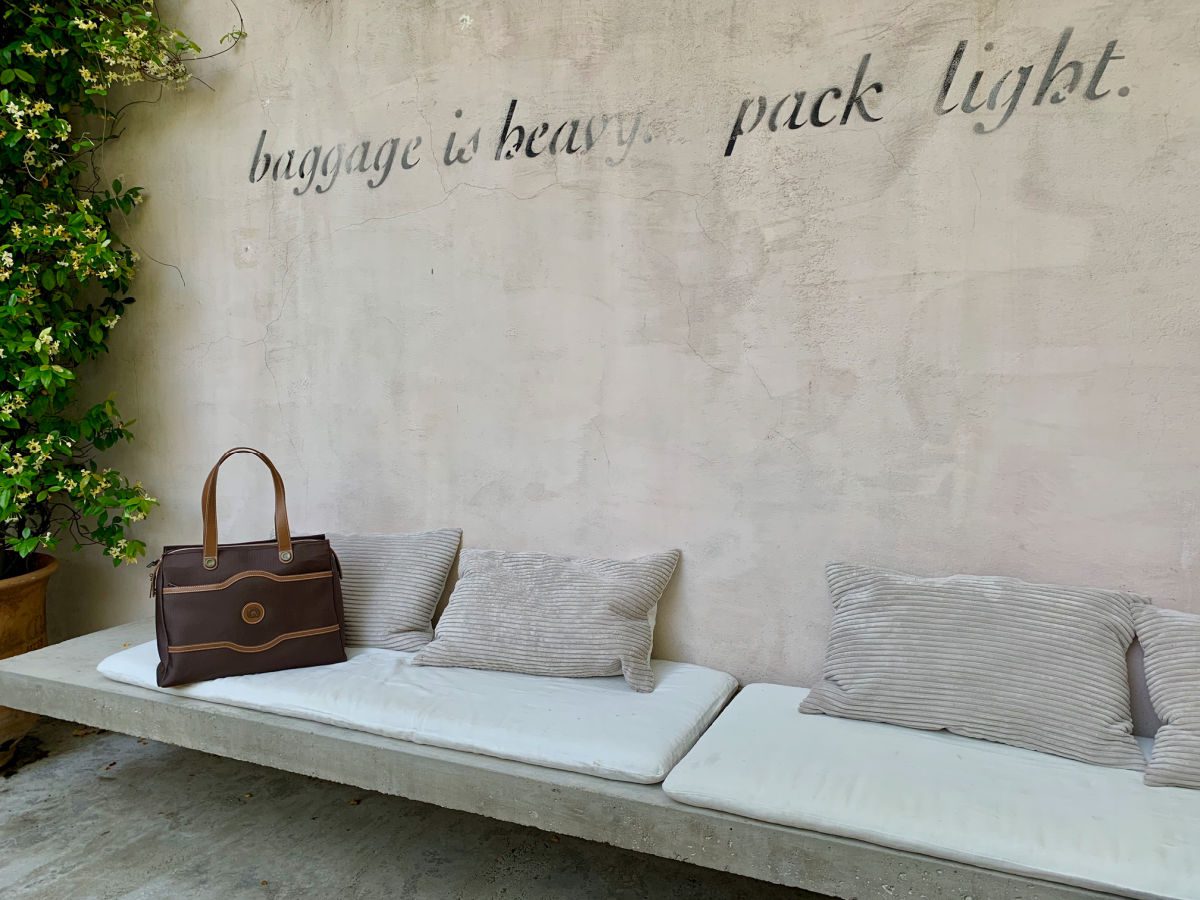 Tips for Surviving Long-Haul Flights
Note: This post may contain affiliate links. If you click a link and make a purchase, I may receive a small commission. All opinions are my own.
Before I get into what to pack for a long-haul flight, I want to share a few of my best tips to make your experience on a long-haul flight more comfortable.
Hydrate well before your flight! Dehydration is always one of my most significant issues with long-haul flights. I'm constantly thirsty (and need to use the bathroom too frequently to sleep well), my skin and lips get so dry, and I get headaches. It is important to hydrate well before the flight (and not just guzzle a bottle of water while boarding.) Sadly, this also means foregoing alcohol in the lounge or on your flight.
Dress as comfortably as possible. This goes for your kids too! Try to wear things that have stretch and give to them (e.g. leggings over jeans) without itchy tags or poky underwires. Ladies — I love my wire-free bras from True & Co. Not only will they not set off any alarms at security, but they are also comfy for the whole flight. It is also important to dress in layers as most flights are chilly, but some can be quite warm. Comfortable shoes that slip on and off easily are also helpful, although for space purposes I do try to wear my heaviest shoes on the plane. (Here are some great travel shoes.)
Avoid seats near the bathroom. On a long-haul flight, you do not want to be in one of the rows right next to the bathroom where people line up or congregate. Not only will it be very hard to sleep with the movement and the bright light going off and on, but it sometimes gets stinky after a few hours.
Question whether or not you want a bulkhead. Grabbing a seat in a bulkhead row sounds very enticing because of the extra legroom. However, these seats also have drawbacks. First, you can't store anything at your feet during take-off or landing, which means that you need to keep your most important essentials in your pockets. Next, the crew often uses the overhead compartments above these rows for either their own luggage or for essentials like emergency kits or extra blankets. This means you have less space to store your stuff and more stuff to store since your carry-on bag AND personal item need to go up above. You may end up with your belongings a couple of rows back, which is a big pain both during the flight and when you go to disembark.
Try to board early. Ok, that sounds counterintuitive that you want to get on the plane early for a very long flight. But if being in one of the early boarding groups means that you can store your belongings directly above your seat versus stressing about finding a convenient spot for your luggage makes it worth it. Most airlines offer family boarding for those with young children, and that is something you should take advantage of if possible. Otherwise, it is helpful to have status with an airline or have an airline credit card, which gives you boarding priority.
Remember to move around. I know on overnight flights you will want to get as much sleep as possible, but don't forget that on long flights it is important for your body to move around. If you are in the window or middle seat, try to get up before the aisle person goes to sleep. A good time is usually after the first meal or beverage service and about an hour before the flight is scheduled to land before the flight attendants come around for another service.
Avoid certain foods. Long flights tend to mess with our digestive tracts a bit. Some swear by drinking ginger ale. I say avoid fried, fatty, and spicy foods, or salty foods that make you retain water. Anything that makes you feel bloated, gassy, or with an upset stomach is not ideal for a long flight.
Charge before you go. Before you leave for the airport, make sure all of your devices and back-up battery packs are fully charged. If you use your phone or computer while waiting for the flight, try to charge up in the lounge or gate area. Luckily, my planes now also offer in-seat charging, but it is not reliable.
Download at home. Before you leave home, be sure to download the airline app (it may be necessary for in-flight entertainment and it is essential for mobile boarding passes, gate change alerts, and making changes in case of a delay or cancellation. Also, be sure to download some movies, shows, music, or books while on your strong WiFi at home because the WiFi at the airport or on the plane are not good for streaming or downloading large files.
What to pack for a long flight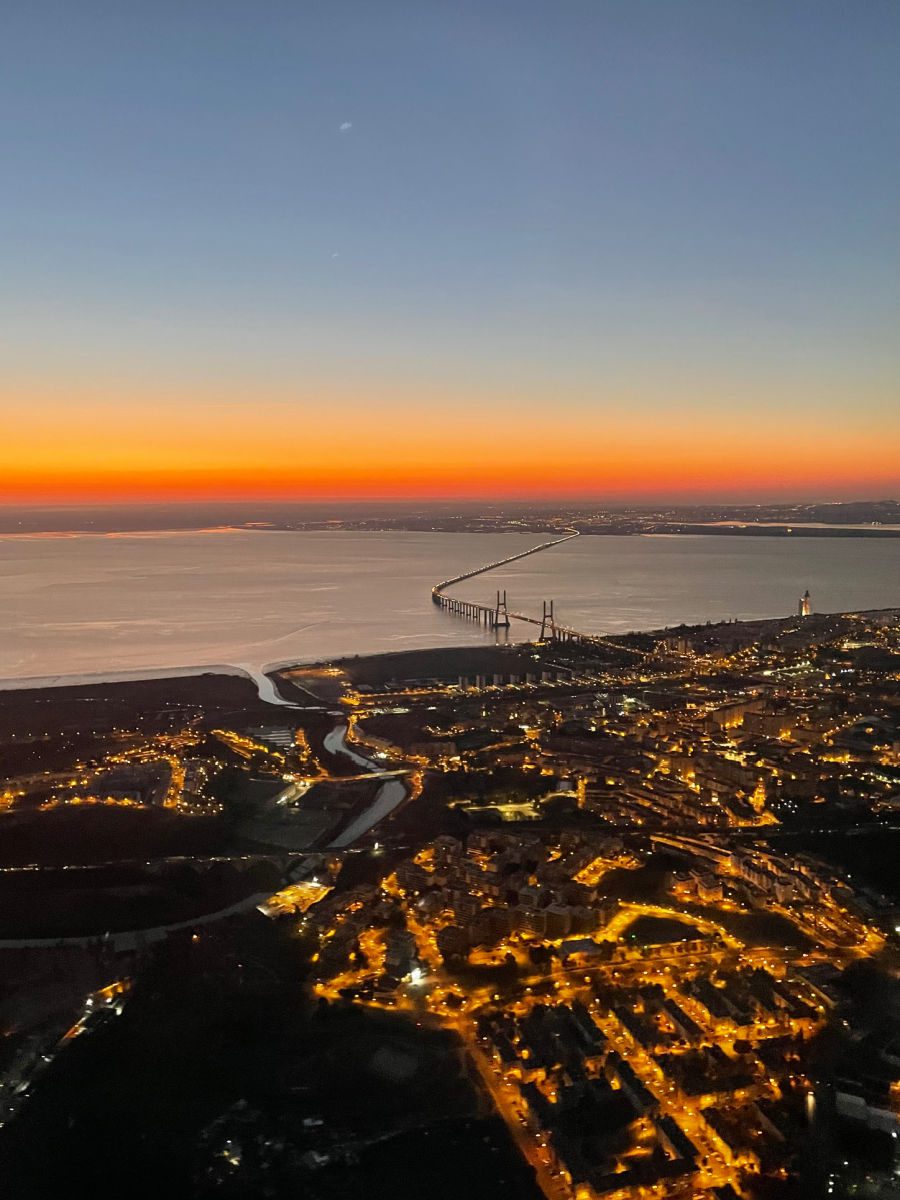 Ok, now let's get to the good part — what to pack for a long flight. Keep in mind that you are allowed to bring on one carry-on bag (dimensions vary by airline, sometimes international flights have slightly smaller dimensions) and one personal item that can fit under the seat in front of you.
If you carry a separate purse, this needs to be combined with your other items for boarding. Personally, I like to keep some of my personal essentials in a small bag or purse inside my backpack/tote in case there is room up above to store my personal item and I can keep just what I need by me at my seat.
Hand sanitizer and sanitizing wipes
Most airlines will now provide you with one sanitizing wipe, but I still want to bring along a travel pack of Wet Ones antibacterial wipes and a small bottle of hand sanitizer to clean up before/after meals, wipe down the tray table, screens, and seatbelt, and to use after touching the bathroom door.
Moisturizer and Lip Balm
Long flights are very dehydrating and it is important to bring along a nice, thick hand moisturizing cream (not thin body lotions) and a good lip balm or tube of Vaseline. Be sure to apply regularly, especially after washing your hands or using sanitizer.
Eye Drops
Between the hours of dry air on the long plane ride and a possible lack of sleep, your eyes tend to get quite dry on an airplane. I always bring moisturizing eye drops (not Visine!) with my long flight essentials.
Tissues
Pack at least one small pack of tissues in your carry-on items. If your nose gets dry, you may get nose bleeds, or the chilly air can make your nose run. Either way, I prefer to be prepared. It can also be helpful in the unfortunate instances when the bathroom runs out of toilet tissue.
Mints / Gum / Toothbrush
Even if you don't fall asleep, long flights will get you dehydrated and that tends to cause bad breath. It is nice to bring along some mints or gum to refresh before getting off your flight. If I do fall asleep, I like to brush my teeth before getting off the flight or at the arrival airport. You can bring along a small travel toothbrush and toothpaste, or a couple little Colgate Wisps (although I prefer to avoid single-use products these are super convenient.) Just remember that if you are going to brush your teeth on the plane, bring your water bottle into the bathroom with you because the sink water isn't drinkable.
Travel Deodorant
If you are expected to hit the ground running or the possibility of not being able to check into your hotel right away, I like to bring a small travel deodorant (Native has a nice little one that is perfect and doesn't take up much space.)
Body Wipes
I really like these body wipes to refresh after a long flight. When you can't take a shower after your overnight flight wet wipes are the next best thing!
Melatonin
I bring along Melatonin or sleep aids when I travel to help me more easily adjust to new time zones and sleep schedules. It isn't a drug so it isn't going to knock you out, but it can help you have a more restful sleep.
Travel Pillow
It took me years to find the perfect travel pillow for my taste! I tried the Trtl travel pillow, but found it a little confining. The traditional u-shaped pillows are bulky and I hate putting my face on something that has touched the ground. I love the Cabeau Evolution Cooling Pillow. It rolls up small into a carrying case that clips onto a bag handle. It adjusts to give the right support and the cooling memory foam keeps me as comfortable as I can be while sitting upright on a plane.
Sleep Mask
I tuck a sleep mask into the pocket of the carrying case on my travel pillow. While I typically just use one that I've gotten in an amenity kit on a previous flight, if you want something silky soft that won't mess up your hair too much, choose a nice mulberry silk eye mask.
Brush
For a long flight, I bring a small hairbrush in case I get bad bed head on the plane. Nice soft hair ties or scrunchies are also good for keeping your hair looking nice when you arrive at your final destination.
Noise-canceling Headphones
Don't underestimate the benefits of noise canceling headphones in making a long flight more comfortable. While the Apple AirPods Pro have great noise-canceling qualities, the battery life is rather short. I still also travel with my Bose noise-canceling headphones. Luckily, now there are many great options for over-the-ear or in-ear noise-canceling headphones that are wireless or wired. If you are traveling with kids, you may also want to bring a Bluetooth splitter.
If you don't want to listen to music or watch movies, I also always travel with my Bose Sleep Buds for sleeping in hotels (so much better than standard ear plugs!) The noise cancellation is great and you can play sleep sounds to help ease you into sleep.
Mobile Phone & Chargers
I can't imagine the panic I would feel if I left on a trip without my phone. Once I left it in the car and ran back to the parking garage to get it. Not only will you need to bring your phone, make sure you put it on Airplane mode and have it fully charged and all your apps and entertainment downloaded. Unfortunately, in-seat entertainment often isn't working and you don't want to be stuck with nothing to do. Be sure to pack your charging cable and charging block as well.
Back up Battery Pack
Another thing not to leave home without on a long flight is a back up battery power bank (fully charged of course!) You don't want to arrive at your destination with no charge left on your phone. Just make sure to also bring along its related connector and charger cords for the portable charger.
USB Data Blocker
Those seat back USB ports are very helpful for charging or connecting to entertainment systems, but they can also be rife with viruses. One way to protect your phone and your data is with a USB data blocker. This tiny little device plugs into the USB port and then you plug into the device for security protection.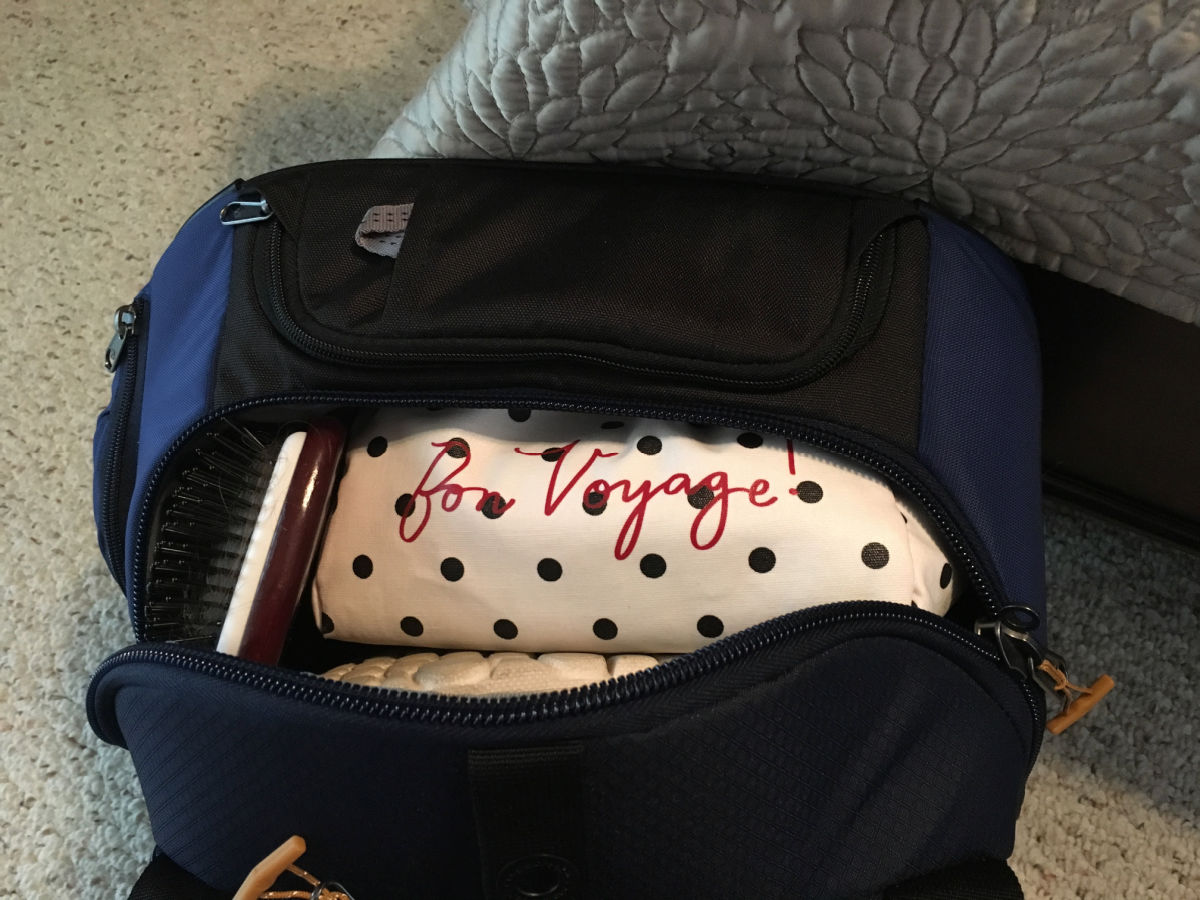 Kindle or Book
Sometimes it is easy to get lost in a movie or a show while on a plane, but it can also be a perfect time to catch up on your reading or dig into a good book on a long trip. I like traveling with a Kindle because it has a great battery life, isn't too bright and hard on my eyes, and I can download so many books for my trip on one tiny device.
Refillable Water Bottle
As I mentioned earlier, it is really important to stay hydrated on a long flight. I always bring a refillable water bottle on every trip and be sure to fill it up at a bottle refill station in the terminal. To be honest, I drink so much water and I find the one to two cups I'm served on a long haul flight completely inadequate so in addition to my reusable water bottle, I'll also also buy another large bottle of water in the terminal or bring two bottles. Just note: you can always go to the galley and ask flight attendants for some more water too.
Snacks or Protein Bars
Even on long-haul flights, the airplane food options on planes can be disappointing and even the meals or snack boxes for purchase may sell out or not be available. I always try to bring along a few snacks just in case. These typically include a protein bar/ granola bars, something salty, and something sweet.
Compression Socks
I'm a convert when it comes to wearing compression socks on long haul flights to help prevent DVTs/blood clots, and just make your legs and circulation feel better. Since I don't like to wear a pair of compression socks longer than necessary, I typically bring them on the plane and put them on before take off (or before boarding) and then switch back to regular socks on arrival. Comrad is my brand of choice.
Slipper Socks
If I'm able to slip off my shoes on the flight, I'm going to be more comfortable. However, my toes tend to get cold, especially if I'm in the window seat. I like to bring along a pair of slipper socks or thick socks that I can put over my compression socks to keep my toes warm.
Blanket Scarf
While I always dress in layers on a plane, I find I can sleep better if I can cocoon myself under a blanket. Unless you are traveling in first-class, the blankets provided by the airline are pretty thin, and sometimes I like to use them to pad the armrest or provide more back support. I bring along a nice large scarf that can function as a travel blanket as well.
Change of Clothes
If you aren't traveling with a full carry on (meaning you have checked a bag with most of your clothes), you still should bring along a change of clothes and your basic toiletries just in case your luggage gets lost. It is also helpful to have a change of clothes readily accessible when you arrive at your destination, especially when you are arriving in a different climate. Just remember to keep all of your toiletries under 3 ounces and use a clear TSA-approved toiletry bag.
Medicine
Never pack your prescription medications or required over the counter medicines in your checked bag just in case that bag gets lost. Always bring them in your carry on, along with corresponding prescription information.
Pen
If you are traveling internationally, you may be required to fill out forms either before or on arrival in your destination. It is helpful to have at least one working pen for everyone that you are traveling with to make filling out these forms faster and easier.
Ear Planes
Even when we leave for a trip perfectly healthy, it isn't unusual for someone to pick up a head cold on the trip. If you have any sinus issues, flying can be pretty miserable. I have bought so many little packs for Ear Planes in airport gift shops that I now just travel with a set in my carry-on bag. Ear Planes help regulate the pressure in your head and relieve ear pain when used correctly.
Hydrating Mist
To help combat dehydration and arrive feeling refreshed, I like to bring along a travel size of the Dermalogica Antioxidant Hydrating Mist. It helps combat jet lag too! You can also bring a moisturizing face mask but to me, those take too long in the bathroom and I'd rather not put them on at my seat and get weird looks from my fellow passengers.
For more suggestions, you may want to look at my suggestions for gifts for business travelers and my favorite travel toiletry kit. Also, don't forget to add your passport (for international flights) or Real ID, credit cards, ATM card, and any other relevant travel documents (like your vaccination card) to your packing list.
What to Pack for a Long Flight with Kids
If you are flying with kids, there are some other things you may want to bring along including:
Extra Snacks
Always bring more than you think you need. I remember bringing snacks for a short flight from Florida to Boston during a non-mealtime and still running out after being stuck on a runway for over three hours and then the airline ran out of the meals you could buy on-board by the time the flight was underway.
I bring a variety of snacks, trying not to go too salty because of the water retention, and make sure to include some protein or meal replacement bars (ideally not the kind covered in chocolate since those tend to melt). You might also want to get ideas for kid-friendly airplane snacks.
Two Changes of Clothes
Ideally you will have a change of clothes for everyone in the party in case your luggage gets lost, but at least bring one-two changes of clothes for your kids (especially if they are still potty training) and a change of shirt for the grown ups (for spills, vomit, etc). I remember running through the airport with my recently potty trained daughter and she almost made it. We were in the bathroom stall when all let loose. Luckily I only had to wait until our luggage was retrieved to get out of my peed on clothes and I had packed a change for her.
Sweater or Sweatshirt
Even when planes start off hot they tend to get cold so I like to layer…tank top/cami, t-shirt, then a light sweater or sweatshirt for everyone. Basically you want to do everything in your power to make sure your kids are comfortable because flying with kids is hard enough! I hate having the unnecessary weight once I arrive in a sunny destination so I try to avoid jackets or big, bulky hoodies.
Travel blanket, Pillow, and Sleep Mask
For long flights when you might want to get some shut eye and definitely for overnight flights, a good travel set is required. You can no longer count on planes to provide these for all passengers. Even in first class coming back from Hawaii on U.S. Airways the blanket they provided was so thin I could read through it. I froze!
Also note, while those critter pillows that wrap around the neck and look like an animal are really cute, think about whether your kid can really sleep on top of a stuffed dog's head. And while not every kid can tolerate a sleep mask (mine actually sleeps in one every night), it can be very helpful in blocking the light and giving them a cocoon that is sleep inducing. One on a plane back from Hawaii we were seated in the bulkhead in front of a 40″ TV screen showing movies all night. There is no way to block out light like that without a decent eye mask. I was wrapping whatever t-shirt I could find over my kid's eyes but it didn't work.
Travel Journals
The plane ride can be a great way to start a travel journal by capturing what they are excited to see and do, or writing down memories from the trip. For younger kids, they can draw a picture of something they saw in the airport, what they hope to see on the trip, etc. It is a great habit to get into and a good time killer in restaurants as well. Just print out my travel journal printables for kids before you go and you have a ready made kid travel journal.
Ear planes, Gum, and Decongestant
After a few trial and errors we learned that Ear Planes for Kids work pretty well, as long as they are used as directed and put in BEFORE taking off or starting descent. I like to carry one of the pre-filled spoons of Benadryl or chewable tablets just in case of some unknown allergy but also to help with sinus pressure issues. Then, of course, the old standby of chewing gum on take off and landing can help to get those ears to pop. Kids are much more sensitive to that pressure than adults.
Devices and Chargers
If your kids bring their phones or tablets, you may want to bring one of the Bluetooth splitters I mentioned above, or also a multi-outlet charger to keep all those devices charged. Don't forget that if you are traveling internationally you will also want to bring travel adapters.
Old Fashioned Activities
Electronics are great for travel but sometimes you need something else in your bag of tricks. Here is what I put in mine:
Crayons and paper / coloring sheets

Bendaroos — those bendable strips of wax that you can use to create all kinds of things (and hopefully leave behind as you go)
Sticker books – although the way my kid went through these, slapping stickers on at random, they rarely lasted very long
Playing cards / Uno / SkipBo
Worksheets / school assignments — how about for every worksheet or assignment completed they earn souvenir money or points towards something special on the trip?
A paperback book
A map / tourbook / copy of your itinerary — so you can show them where you are going, what you are going to see, and give an overview of what you expect to do each day. It is a good idea to keep reviewing this throughout the trip so the kids know what to expect.
Something New
With all the stuff listed above, I try to include at least one thing that is totally new for each kid, whether it is a book, game, coloring book, etc. Starting off with not all the same old stuff helps time go just a little bit quicker.
Carry-on Travel Bags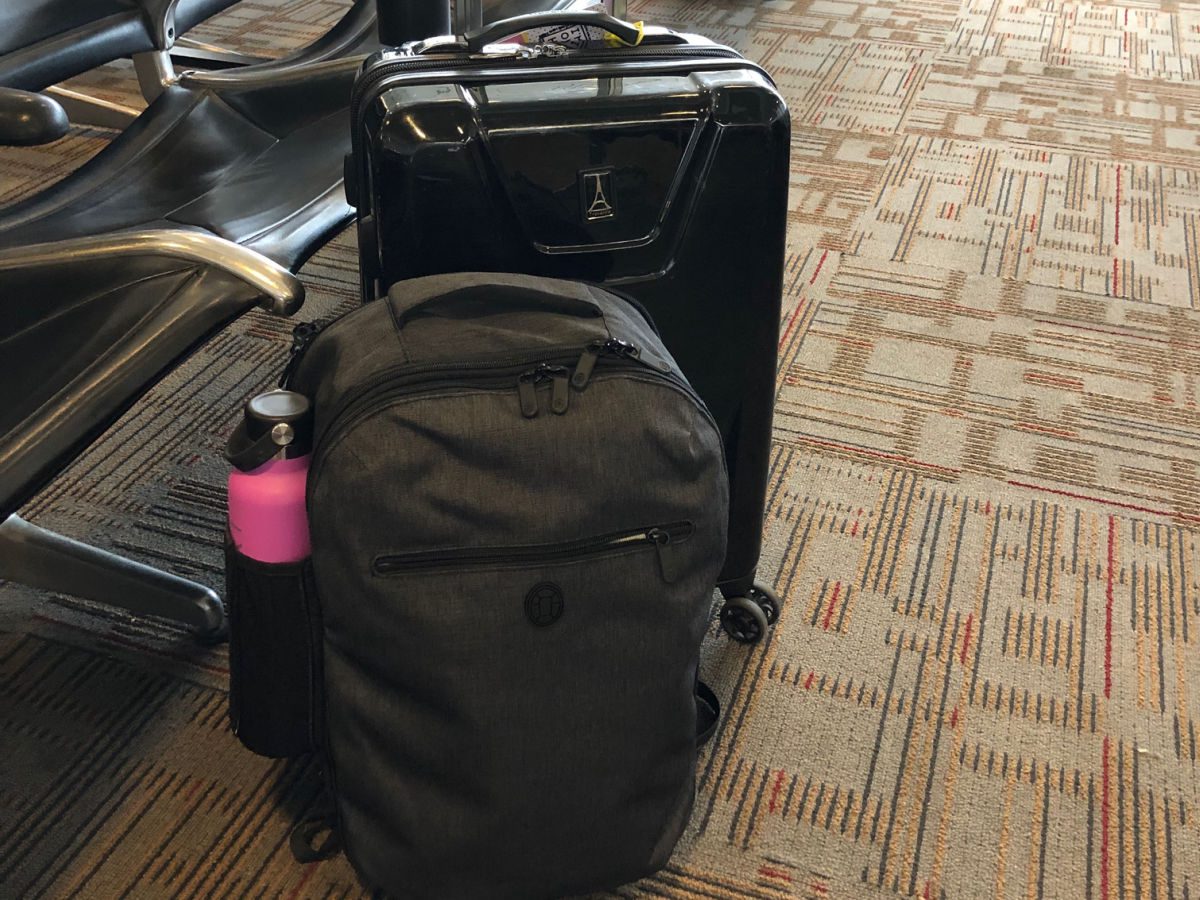 I'm not the best at packing light so many long haul flights also mean longer trips and I'm often checking a bag. However, if I am able to travel carry on only, I prefer a carry-on roller back that uses four-wheels, also known as spinners. My favorite brands are TravelPro and Delsey Paris as I prefer a hard-shell case for carry-on luggage.
For hand luggage, the personal item bag tends to get a little trickier. My typical go-to bag is the Tortuga backpack because it fits all of my electronics but has a nice large open area that also fits my camera, purse, and other items mentioned above. It has a pocket for everything and a sleeve to easily slide over the handles of my carry on so that I don't need to hurt my bag carrying it through the airport.
For something more stylish when I don't have as much to carry, I bring my Delsey Paris Chatelet shoulder bag.
I hope that these tips help you have a comfortable flight! Bring these important things on your next trip and don't forget your long haul travel essentials.
Save this to Pinterest
SaveSave