Japan is a great first destination for American tourists looking to travel to Asia. It offers a unique taste of East Asian culture, albeit in a highly-developed, Western-influenced setting. Japan is a truly spectacular destination. But if you are wondering "how much does it cost to go to Japan?", that answer can sometimes be a lot. Unlike other popular Asian destinations like China or Thailand, it is very easy to go broke in Japan.
However, while Japan is an expensive country, there are options for budget travel in Japan. The trip to Japan cost depends on your travel style, but it need not be as expensive as you thought. This Japan trip budget breakdown will show you how and where to save on your visit.
Japan has so much to offer, but for a first trip, splitting your time between Tokyo, Kyoto, and maybe Osaka over two weeks in Japan is best. I've created a 14-day Japan itinerary and you can also see my friend Vaness'a suggestions for two weeks in Japan.
Your first experience with Japan is a total assault on the senses, so you really should slow down and stick to just a couple of destinations. If you return, you can then follow this longer 3-week Japan with kids itinerary or visit places like Hokkaido, the western coast of Honshu and Kanazawa, Shikoku, and Okinawa.
How much does a trip to Japan cost?
Note: This post contains affiliate links. If you click a link and make a purchase, I may receive a small commission at no cost to you.
I based this budget on my personal experience of what it costs to travel to Japan and broke it down by airfare, accommodations, transportation, activities, and food. This breakdown assumes you are visiting Japan with kids for the following:
A family of four with two adults and two kids under 12
Two-week trip, including two travel days, with 12 nights in Japan
Six nights in Tokyo and six nights in Kyoto
Traveling during high or shoulder seasons (although not the top peak travel dates during Cherry Blossom season, then you can expect to pay premium pricing across the board.)
Independent travelers that are comfortable exploring on their own and not looking to book a package tour or use private guides
Airfare to Japan
The first big expense for a trip to Japan is, of course, airfare. Economy class flights to Japan from New York during shoulder and high seasons will likely start at around $1,300 per person and easily go up to $2000.
Air Canada and Delta with layovers in Toronto and Detroit, respectively, are common offerings at a price point like this. If you are looking to fly nonstop to Japan on United or one of the more upscale Asian carriers like Japan Airlines will probably cost around $2,000 from the East Coast.
West Coasters might find slightly cheaper fares, but whichever coast you start from, it is a good trip to use your frequent flier miles and points as that will really help with your Japan trip budget. It is best to book airfare at least six months in advance, or as early as possible.
Total airfare cost: $1,300+ each x 4 travelers= $5,200+
Accommodations in Japan
The good news is that airfare is definitely the most prohibitive cost for a trip to Japan. The accommodation options are actually not that bad. A night in a 4-star hotel in Tokyo will range anywhere from $250-$400 per room, with an average of $350 per night for a room large enough to sleep four.
Find a Hotel in Tokyo
Hotel prices in Kyoto are wider-ranging, perhaps because there are far fewer options than in Tokyo. The overall average comes out to about $240 per room, per night for a 4-star property that will fit a family of four.
Find a Hotel in Kyoto
If you are traveling as a family, you will probably want more space than what you find in a typical Japanese hotel room (even beyond the capsule hotels). If you want to save money and get more space, I would recommend renting an apartment through vrbo or Airbnb.
You can get a nice, family vacation rental for about $130 per night (and a really nice one for about $180 a night). The best part is that you'll have a kitchen and a dining room where you can bring prepared food home to eat or even try cooking yourself, which is helpful for budgeting since eating out in Japan can be pricey.
Rental options in Kyoto are much more limited and more expensive, but it is possible to find something affordable and really cool. A lot of the rentals in Kyoto are in older houses built in traditional Japanese styles. The apartment where I stayed in Kyoto had beautiful woodwork, tatami mats, and rice paper screens.
Total accommodations cost if you stay in hotels: $350 times 6 nights in Tokyo + $240 times 6 nights in Kyoto = $3,540
Total accommodation costs if you stay in apartments: $180 times 6 nights in Tokyo + $200 times 6 nights in Kyoto = $2,280 (but it can be cheaper)

Transportation Costs in Japan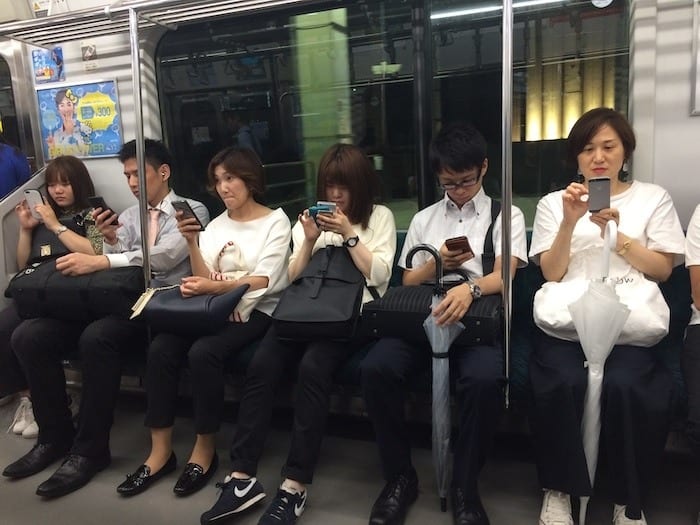 Transportation is another pricey part of traveling in Japan. I don't recommend traveling by taxi very often in Japan, since they are quite expensive, but there will be times when it is the best choice, especially in the heat of summer. Taxis in Japan work similarly to taxis in the U.S., charging a higher starting fee for the first couple kilometers of travel with additional costs added on for any further distance.
For example, you will be charged about ¥500 for the flat fare and an additional ¥200 for each additional kilometer. (Japan Guide gives a detailed explanation of how taxi fares work in Japan.) A typical taxi ride from the center of Kyoto to Higashiyama, for example, would probably cost upwards of ¥2,000 (or about $15.)
Japan's public transportation networks in metropolitan areas are feats of modern urban planning. Trains arrive and depart at the precisely scheduled second. They are perfectly clean, they run smoothly, and they take you to wherever you need to go.
It can be a bit daunting if you have no knowledge of Japanese to make sense of the transit system maps, but you will eventually get the hang of it. Buying a train ticket isn't too complicated either, as there is usually an English-language option on the self-service booth screens.
In Tokyo, one-day tickets for the metro are ¥600 (about $4.50) for adults and half that for children. In Kyoto, the metro is a little more expensive, with one-way fares costing about the same as the one-day tickets in Tokyo do.
For traveling longer distances in Japan, suburban trains and the Shinkansen (bullet train) are the way to go. If you are planning on taking several railway trips, then it makes sense to get a rail pass. Rail passes are sold by duration (i.e., each week costs an extra amount of money), and they are not cheap.
A regular fare for the JR 7-day rail pass is about $224, and a 14-day pass is $353 (children's passes are half the price.) This does not include shipping and handling and any other processing fees. Make sure to book rail passes far in advance.
You cannot buy them in Japan— they have to be purchased within the United States with a valid passport several weeks before traveling to Japan. There are several websites where you can buy passes including Japan Rail Pass and JR Pass.
The rail pass comes with added perks, which include not having to reserve a seat on long-distance trains, the ability to use the pass on suburban JR trains, as well as free access to the Narita Express between downtown Tokyo and Narita International Airport.
Rail pass costs: $353 per full price JR pass x 2 +$180 per children's price JR pass x 2 = $1,066, plus
Metro ticket costs: [2 x $4.50 metro tickets x 2 + 2 $2.50 children's price metro ticket x 2] x 12 days = $169, plus
Taxi fare: $20 per occasional taxi ride x 4 = $80
Total transportation costs: $1,314

Sightseeing and Activities Costs in Japan
One of the best parts about budgeting for Japan is that it is easy to sightsee on your own without a guide and many of Tokyo and Kyoto's most famous attractions are free.
Temples and museums charge small entrance fees, usually ¥600 (about $4.50) per adult, half price for children. This includes things to do in Tokyo like Senso-ji temple, and the Tokyo National Museum in Ueno Park.
Most of Kyoto's attractions and temples typically charge similar small entrance fees, like Ginkaku-ji temple, Temple of 10,000 Buddhas, and the Iwatayama Monkey Park near Arashiyama.
There are a couple of major attractions that will cost, most notably the Tokyo Sky Tree, which charges about $15 per adult ticket (not including Fast Track), with a reduced fare for children.
Tokyo Dome charges about $30 per ticket with reduced fares for children, but that ticket covers all of the amusement park– the individual museums there (like the Japanese Baseball Museum) are about the same price as most temples would be. The Mori Art Museum also charges higher than usual ticket prices, but the ticket includes access to multiple galleries, as well as Tokyo City View.
Japan's fascinating history has produced a rich and complex culture. Tourists looking for traditional Japanese experiences have plenty of options when it comes to cultural activities. They come with a price tag though.
Option 1: Attending a Sumo Practice or Match
Watching Sumo wrestlers hone and practice their martial art is a stunningly beautiful cultural experience. Tournaments are only held seasonally, and tickets need to be booked in advance. Not to fear if you won't be in Japan for a tournament though, Sumo practices are held in Sumo-beya (Sumo Stables) throughout the rest of the year.
General admission tickets for Sumo Matches are only about $2, but if you want better seats, a cheap seat will go for about $35, with a lower-end family box going for about $110. Expect to pay several times as much for a better ticket or box.
Total per family: about $200

Option 2: Kabuki
Kabuki is a type of traditional Japanese theater. The costumes and masks are beautiful, and the performances are fascinating, even if you can't really understand what is going on. The typical places to watch Kabuki are the Kabuki-za Theatre in Tokyo and the Minami-za Theatre in Kyoto.
Tickets can cost anywhere from $27-$220, based on the seat quality. There are tablet rental services for ¥500 available for tourists who don't speak Japanese that attach to your seat during the performance so you can get a better sense of what is going on.

Total per family: about $160

Other options for cultural activities include tea ceremonies, origami classes, calligraphy classes, and kimono sampling classes. A rough estimate of the price for each of these activities is probably somewhere between $50-$80 per person. If you're in Japan for a little under two weeks, I would recommend picking 1-3 cultural activities, depending on your budget.
Total sightseeing costs: 2 $5.50 adult fares per attraction + 2 $2.75 child fares per attraction x 2 attractions per day x 12 days of sightseeing = $396

Cultural activity costs: 2 cultural activities times $220 per family = $440 (this cost will vary greatly depending on the type of activity and how many you choose, i.e, expect to budget a lot more if you're planning on experiencing Kaiseki).

Total sightseeing and attractions costs: $836
Food Costs in Japan
If you aren't going to Japan at least partially for the food, then you're doing it wrong! Eating Japanese food is a really special experience, no matter your price point. With such a unique cuisine, it is impossible to get bored of eating on a visit to Japan— that is, if you are an adventurous eater.
Eating out in Japan can be expensive. Moderate-range restaurants and Izakaya (restaurants with bars) will cost about $15-$20 per person for lunch, and $25-$35 for dinner. The good news is that it is possible to experience great Japanese food without eating in these types of venues all the time.
Specialized restaurants, like ramen bars, are Japanese staples that serve up specific types of food and are perfect for those doing Japan on a budget. It is possible to find amazing ramen bars (including some Michelin-starred ones) that charge between $5-$15 for a large bowl. These types of venues exist for many other types of Japanese foods, like gyudon, tonkatsu, udon, okonomiyaki, curry houses. An example of a cheap place like this is Curry House Coco Ichibanya.
There are also shokudo and teishoku, which are smaller restaurants that serve meals that are less fancy, but often equally as tasty as Izakaya. Prices are about the same as what you would find at ramen bars— sometimes more, sometimes less. Some of these restaurants are chains where you order set meals, either from a paper menu or on these chunky, vending machine-looking devices that spit out tickets.
Another option for eating out is picking up bento boxes from the prepared foods sections of department stores, like Daimaru, Takashimaya, Mitsukoshi, and Isetan. The food is actually very high quality and is painstakingly prepared, as is often the case with anything in Japan. You can find almost anything at the department stores, including sushi, karaage, tonkatsu, yakisoba, zaru soba, eel, gyoza (dumplings), yakitori.
Good-sized meals at higher-quality department stores will probably cost around $15 per person. They are easily transportable and a great option to eat great quality Japanese food at a lower price point. Konbini (Japanese convenience stores) offer similar options, albeit in smaller quantities and of lower quality.
Street food is also great in Japan. Since Japan is a highly developed country, eating street food is pretty safe, unlike other countries in Asia where Americans need to be more cautious. Japanese treats like taiyaki, takoyaki, yakitori, and other fan favorites can be purchased, usually for cheaper than the food you will find even at ramen bars. Japan also has a proliferation of high-quality vending machines almost everywhere that spit out great Japanese snacks and drinks for cheap.
Breakfast in Japan is a smaller meal that consists of various fish and rice dishes, as well as soup. A decent quality breakfast shouldn't cost more than $10. It is also easy to make a DIY breakfast, especially if you're staying in a flat if you pick up prepared and easy-to-prepare foods from konbini.
Total food costs in Japan: $150 per person, per day x 14 days = $2,100
This cost is subject to vary greatly, depending on whether or not you're staying in a hotel or in a rental, how fancy a restaurant you prefer, whether or not you're willing to shop for your own food in the department stores, whether or not you want to splurge for special meals, etc.
Total Japan Trip Budget
If you stay in apartment rentals and don't overdo it on food or activities, you can spend 12 nights in Japan for a little under $1,000 per day. Of course, this assumes average-priced flight tickets during the high season, staying in good quality vacation rentals rather than hotels, and eating at lower-to-mid price range restaurants.
If you want an English-speaking guide to attractions, or if you take a lot of tours, your activities costs will go up significantly.
| | |
| --- | --- |
| Category | Cost |
| Airfare | $ 5,200 |
| Accommodations | $ 2,280 |
| Transportation | $ 1,314 |
| Activities & Attractions | $ 836 |
| Food | $ 2,100 |
| Total Japan trip budget | $11,730 |
Clearly, this number can be higher or lower based on how you choose to travel.
How Much Does it Cost to Go to Japan?
The bottom line is that for a family of four, with two young children, staying in one room or a rental apartment, a 12-night trip to Japan with 6 nights in Tokyo and 6 nights in Kyoto will cost approximately $11,730 including flights. This assumes you are using public transportation, eating at casual restaurants or picking up takeaway food, and limiting the number of activities. This comes to approximately $244 per person, per day.
Keep in mind that this cost will go up significantly if you want to take private tours, private transportation, or enjoy more cultural activities or fine dining.
If Japan sounds too expensive, you can also check out our trip budgets for:
PIN THIS FOR LATER
Today's guest post is written by Max Levine. Max has been traveling ever since he can remember with his family. In recent years, he has been the one who plans vacations for his family and for himself, from researching airfare and railway tickets to crafting itineraries. Max has traveled a lot both in the US and internationally. He has also developed a penchant for writing. Max hopes to continue pursuing opportunities to travel and write both in college and beyond that. All photos by Max Levine.