With something for everyone, Dublin, the cosmopolitan capital of Ireland, will enchant you and lure you back again and again. This compact city blends the old with the new. Whether you are into history, literature, nature, music, clubbing, politics, food, or shopping, Dublin delivers…big time! If you have a long weekend in Dublin you can hit the highlights and even get out to the countryside.
Dublin's size makes it easy to explore this wonderfully walkable city. On our most recent visit to the Emerald Isle, we spent two days in the city center and one on a whirlwind day trip to the countryside and Belfast. Follow this three-day Dublin itinerary to launch your trip to Ireland.
If you are looking for the perfect Ireland itinerary, start in Dublin and then add on time in Northern Ireland, Kilkenny, Waterford, Killarney, and explore the Wild Atlantic Way. And, if you are traveling with your family, see the best things to do in Ireland with teens.
Is Three Days in Dublin Enough?
Yes! Three days is a perfect amount of time for exploring Dublin. Even if you want to visit all the sights, from Dublin Castle to St. Patrick's Cathedral and the Guinness Storehouse to the many amazing museums in Dublin, you will have time to fit it all in. Or, you can just hit a few attractions and then soak up the culture in the pubs. Frankly, because Dublin is fairly compact, you can see the highlights in two days and still have time for a day trip to Northern Ireland.
Want to see more of Ireland? Purchase a 10-day Ireland road trip itinerary with 37 pages of day-by-day instructions, daily itineraries, tested tours, and maps!
Dublin Long Weekend Itinerary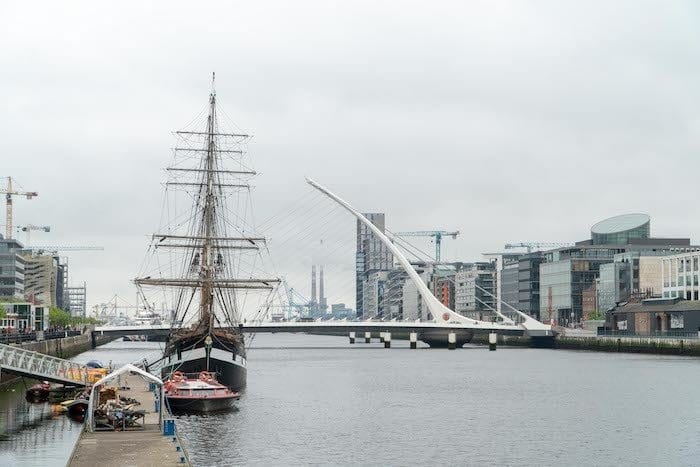 Dublin Itinerary Day 1: Welcome to Dublin
DISCLAIMER: Lisa and her daughter were provided with discounted and/or complimentary tours so that she could try them and review them for your information. All opinions are her own. This post contains affiliate links. If you click a link and make a purchase, I may receive a small commission.
Morning in Dublin
Once you land for your long weekend in Dublin, you will want to fight the jet lag and hit the ground running. We recommend you take a private transfer or airport shuttle into town and driving in Dublin isn't easy, even if you are fully rested.
Start your day by getting acquainted with Dublin on a "pay-as-you-wish" tour with Sandeman's New Europe Free Walking Tour. The guides are knowledgeable and typically quite humorous too! This tour hits many of the highlights of the 2,000-year history of this city, such as the Dublin Castle and Temple Bar area.
After the tour head over to Ireland's Harvard equivalent, the famed and picturesque Trinity College. Simply wander around campus or join the thirty-minute light-hearted tour, where a co-ed will keep you entertained while highlighting the school's history, neoclassical architecture, and countless legends.
Just make sure you see the crown jewel of Trinity College with a self-guided tour of the world-famous Book of Kells Exhibition and Long Room, located in the middle of campus. After taking a peek at the illuminated manuscript of the Book of Kells, Ireland's best-known cultural treasure and one of the world's most famous medieval manuscripts, enter the highlight of the Trinity experience — the Long Room of the Old Library.
This magical 200-foot-long room teeming with 200,000 books conjures up images of Hogwarts. The aroma of leather and old books is a dream come true for avid readers. To avoid waiting in very long lines, consider getting tickets to this top-selling attraction online well before you arrive in Ireland and book a timed-entry ticket.
Afternoon in Dublin
After lunch on Grafton Street or in the Temple Bar area, it is time to pick your afternoon adventure一either to follow in the footsteps of Irish literary greats or soak in the atmosphere of the urban oasis which surrounds you.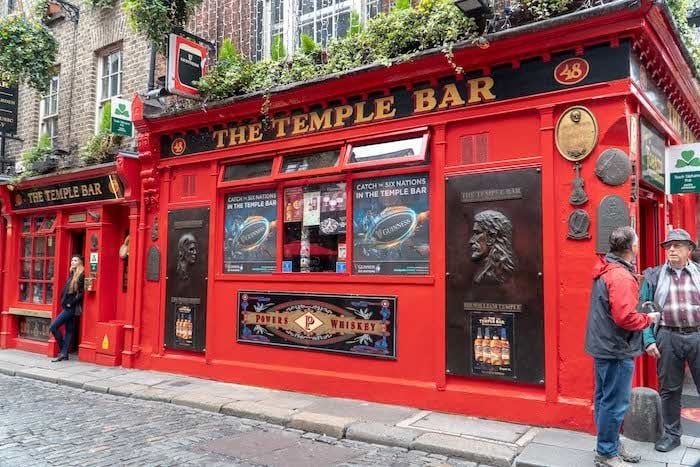 Bestill the hearts of devoted fans of Irish literacy giants like Wilde, Beckett, Joyce, and Swift…Dublin is a UNESCO City of Literature! Other places to explore depending on your interests include the James Joyce Center, the Dublin Writers Museum, and the National Library of Ireland. You can also take an Irish literature walking tour that includes the Dublin Writers Museum, the National Library of Ireland, and several favorite pubs of famous authors.
James Joyce fans, like my daughter, should drop into the historic Victorian-era Sweny's Pharmacy, featured in Joyce's "Ulysses." Some days the pharmacy even hosts group Joyce readings!
For those who crave a zen break after all this touring, pick from your favorite nature options. Look for deer in Phoenix Park, Europe's largest center city park. Or, step back in time as you stroll the lush 22-acre St. Stephen's Green (younger children will enjoy the duck pond). In the summer, St. Stephen's Green holds free outdoor concerts.
Evening in Dublin
For dinner, we followed the locals to Red Torch Ginger, my daughter's favorite meal in Dublin. This busy and trendy upscale Asian restaurant full of native Dubliners offers a fabulous menu and the most personable staff. Check out Red Torch Ginger's well-priced early bird menu.
We finished our introductory day by joining the locals and tourists in the Dublin ritual of pub hopping! Your trip to Dublin would not be complete without experiencing the fabulous live music scene.
Pubs serving food welcome under-18 teens during the day and into the early evening. Those over the drinking age of 18 can grab a pint, and enjoy the raucous party scene. Head to the winding streets of the world-famous Temple Bar neighborhood and pub hop to your hearts' content.
Whether you are looking for wild or serene, pop music or Irish ballads, you will find them here. Yes, it's super touristy! But that is what makes it so much fun! Sing along, people-watch, and relax after a long day of sightseeing!
Dublin Itinerary Day 2: A Day of Dublin Delights
Morning Food Tour
Food tours are always a hit with our family, including ones in Vienna, Amsterdam, and Rome. Book a food tour for a delicious introduction to Dublin's foodie scene intertwined with learning about the city's history.
Our enthusiastic guide led us on our journey to sample a variety of treats including a gourmet breakfast at an award-winning historic café, a full lunch at a famed atmospheric pub, a well-known Irish seafood dish, mouth-watering artisanal ice cream, a spread of local cheeses in a uber-cool food emporium, and Irish whiskey samples for those 18 and older. The tour ended with full stomachs, new friends, and a desire to continue exploring this city's culinary delights!
Afternoon Exploration
After the tour, take your choice between shopping or museum hopping. Dublin abounds with boutiques, markets, and department stores. Start by strolling down Dublin's pedestrian-friendly, uber-famous Grafton Street, full of buskers, crowds, restaurants, and all types of shops.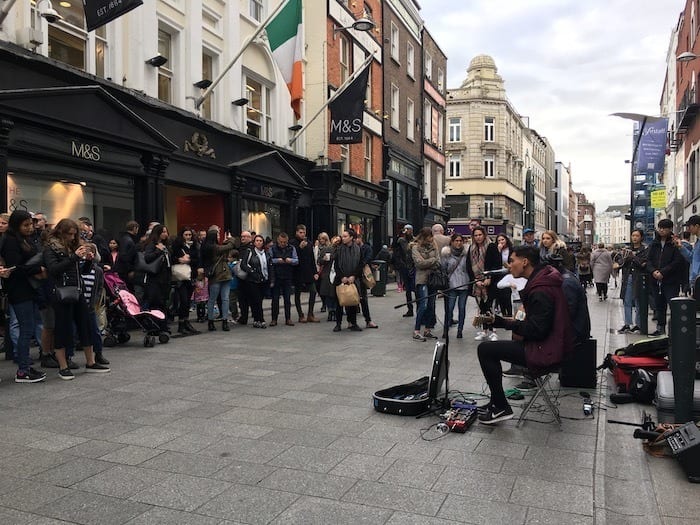 Gawk at the architecturally grand Powerscourt Townhouse Centre, a high-end boutique shopping center housed in a grand Georgian townhouse. Wander the narrow lanes of George's Street Arcade, a Victorian Shopping Center dating from 1881, full of quirky and eclectic shops.
A huge plus for families traveling to Dublin is the bounty of high-quality FREE museums! Consider popping into the National Gallery, the Natural History Museum, the Dublin City Gallery, the Irish Museum of Modern Art, or the Science Gallery. Our favorite free museum is the gorgeous Chester Beatty Library full of ancient books, religious scrolls and so much more.
Or, if you have the time and are willing to pay the ticket fee, we can't recommend the EPIC Irish Emigration Museum highly enough! This interactive museum is very engaging for all ages and each gallery tells the story of different groups of Irish people who have made a lasting impact on the world and their emigration journeys.
If you have the time and stomach for it, take a tour of the Kilmainham Gaol. This fascinating hour-long tour of a historical, and at times spooky, prison that operated from 1796 through 1924 will captivate your crew. Listen to the stories of tragedy and heroism surrounding the Gaol, which housed many of Ireland's most famous political and military leaders including the likes of Charles Stewart Parnell, the 1916 Rising leaders, Eamon de Valera, and Robert Emmet.
Your gang will thrill in wandering this abandoned facility, including the ominous death row, the eerie execution courtyard, and the grand cavernous Victorian-era room where you will be surrounded by jail cells. Stepping into one of the narrow cold cells provides a glimpse into what it would have been like to be a prisoner.
Since this attraction is popular, consider booking your tickets in advance, and save time for the well-curated museum at the end of the tour. Just take care with kids that are frightened easily.
Evening Indulgences
Now, it's time to make a pilgrimage to the Guinness Storehouse. This temple of all things Guinness is a hit with teens and adults alike. A highlight is toasting with pints at the spectacular 360-degree view from the top-story Gravity Bar!
You can sign up for self-guided tickets, a connoisseur experience, or even combine it with a visit to the Jameson Distillery.
For the grand finale of this day of culinary decadence, we headed to Pacino's which serves delicious authentic Italian dishes. Once your dinner is done, those of age should consider ending the night at the same restaurant's uber-cool hidden speakeasy called The Blind Pig!
Dublin Itinerary Day 3: Belfast and Beyond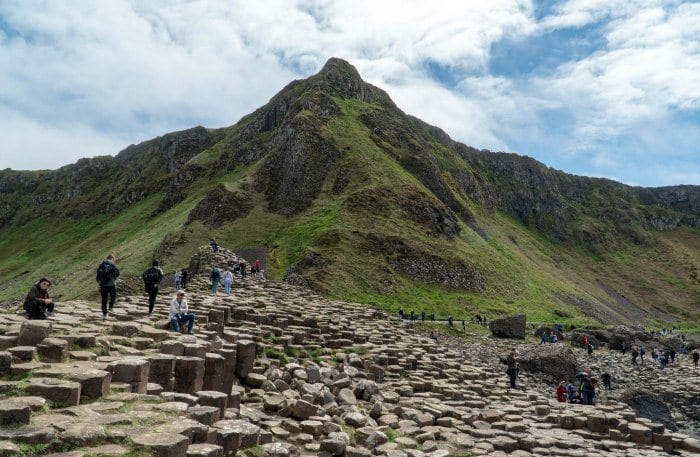 Any visit to the Emerald Isle deserves at least one day beyond the city limits. We craved an exhilarating and educational day…and boy did we get it! There are many possible day trips from Dublin, but our highlight was taking the top-rated Giants Causeway, Belfast City & Carrick-A-Rede Rope Bridge Day Tour from Dublin by Wild Rover Tours. This company lived up to its fabulous reviews!
In one whirlwind day, we set off to experience a "best-of" tour of the Irish countryside. Thanks to Wild Rover we were able to pack a week of exploring into one marathon day trip. Plus, a trip to Northern Ireland meant we got to visit two countries in one weekend! The all-day bus adventure took us to Belfast where we had the choice between touring the state-of-the-art Titanic Museum or taking a Black Taxi Tour.
We opted for the taxi tour guided by a local which included a walk along the Peace Wall which divides the two religious/national communities of east Belfast as well as hearing about the heart-wrenching tales of the troubles of this region.
Our next stop was the dramatically beautiful Giant's Causeway, a UNESCO World Heritage Site, with approximately 40,000 basalt columns emerging from the sea. Kids (and adults!) will have a blast scaling the piles of columns. Finally, we mustered the courage to walk across the Carrick-A-Rede Rope Bridge, high above a deep chasm! Our expert and enthusiastic guide Lisa kept us on schedule, provided relevant background information, and treated us all so professionally. It was an absolute pleasure to have no worries about driving ourselves to manage this excursion on our own.
Tip: Wear sneakers or sturdy shoes! This all-day tour provides plenty of time to walk up hills and across rocky areas that may be slippery from the rain. Also bring along a bottle of water, snacks, and waterproof jackets. During the tour, you will have time to stop for a quick lunch in the Titanic Museum's cafe (which was surprisingly very good) or at the Giant's Causeway cafe.
Returning from the trip, we were starving and dressed in casual clothes. We decided it was time to pub hop again. After a long day, a pint with some pub grub hit the spot!
Where to Stay in Dublin
The Conrad Dublin is the perfect well-located luxurious base for your stay. This award-winning hotel faces the beautiful gardens of St. Stephen's Green and looks out on the iconic National Concert Hall.
We loved the modern rooms inspired by Dublin's literary heritage filled with books and famous quotes. The staff lived up to their stellar reputation, especially when they had delicious breakfast-to-go packed for us before our early morning departure.
Check rates, read reviews, and see photos on TripAdvisor
Other good choices for three days in Dublin would be:
The Davenport Hotel near Trinity College. It offers smart luxury without being overpriced.
The Morgan Hotel in the Temple Bar area is hip and attractive to millennials or families with teens.
What to Pack for a Long Weekend in Dublin
Be sure to pack layers, even in summer! Bring a raincoat or umbrella every day. Locals say you experience four seasons in one day…and they are right! If you plan to explore the countryside, pack a pair of sturdy walking shoes or sneakers.
You don't need to get too dressy in Ireland. Jeans, sweaters, and comfy shoes will fit right in. Get a full Ireland packing list here.
Gourmet food, family-friendly attractions, historical gems, spectacular countryside…and so much more. We will never forget our magical three days visiting the Emerald Isle…and can't wait to return to explore more of this magical country!
Plan Your trip to Ireland:
About the Author
PIN THIS FOR LATER