Everyone has heard of Waterford Crystal, but not everyone knows that there are many other reasons to visit Waterford Ireland. Located in the southeast, in Ireland's Ancient East region, Waterford has the benefit of being in the sunniest part of the country.
This small city has the honor of being the oldest city in Ireland, founded in 914 A.D. by the Vikings. It has an important history as a major trading port, and is still Ireland's fifth most-populous city.
Waterford City is 2.25 to 3 hours south of Dublin, and two hours from Cork City, so you could fly into either airport. There is enough to do to spend at least two nights in Waterford as part of a larger Ireland trip, or you could stay longer if you wanted to make day trips. (Check out my Ireland travel tips for ideas on planning a trip!)
For so many Americans that I have spoken to, they know Waterford is home to the Crystal factory, but have no idea what else to do in the area. After spending a couple of days in and around Waterford, I have some ideas on other things to do in Waterford.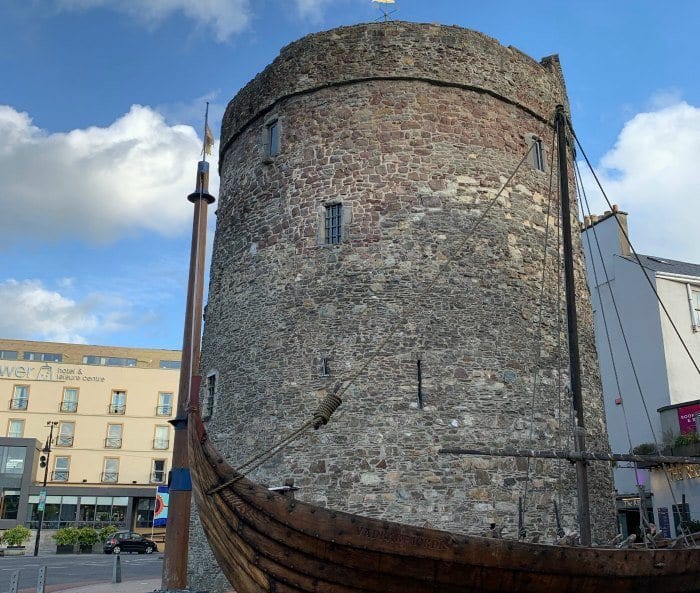 Things to do in Waterford Ireland
Note: I was a guest of Tourism Ireland and Steller Stories. All opinions are my own. This post contains affiliate links. If you click a link and make a purchase, I may receive a small commission.
King of the Vikings
There are three museums in Viking Triangle in the heart of Waterford, including the world's only Viking virtual reality experience. The King of the Vikings experience takes place in a replica Viking house in the ruins of a 13th century Franciscan friary.
After a short introduction, you strap on the virtual reality goggles and headphones and immerse yourself in Viking history. They can only take 10 people at a time so it makes sense to pre-book a time slot or at least stop by early in the day to reserve your experience.
Virtual reality can make me motion sick and there were definitely times when I had to close my eyes. Even though my body was still, the movement on screen could get a little much. However, everyone else was fine so I think I'm just ultra-sensitive. I would still recommend this experience as a very unique way to learn history and I think it would be a big hit with kids that aren't too sensitive to the violent history.
Waterford Museum of Treasures
Also located in the Viking Triangle next to Bishop's Palace, the Waterford Museum of Treasures represents 1,000 years of history. In addition to many valuable artifacts, there are also two medieval chambers incorporated into the museum, a 13th-century Choristers' Hall and 15th century Mayor's Wine Vault, which is accessible by a winding set of spiral stone stairs.
Some of the major pieces in the Medieval Museum are Great Charter Roll, artifacts from King Henry VIII, and medieval vestaments. The Great Charter Roll is a scroll that was presented to King Edward III to present the case of why Waterford should retain control of the harbor and therefore the wine trade with Europe. The cloth of gold vestment was found buried under a church after being lost there for over a century.
Waterford Crystal Visitor Center
Waterford of course is known as the home of Waterford Crystal. Just across from the Bishop's Palace in the Viking Triangle, the Waterford Crystal Visitor Center offers guests the option to explore the gift shop and cafe, or take a guided tour to see some of Waterford's 50 master craftsmen at work. Factory tours are available seven days a week from March through October and it saves you money to book your tickets ahead of time.
Master craftsmen have to apprentice for a total of eight years to achieve that designation in just one of the disciplines: glass blowing, engraving, or cutting. The tour gets you up close to the action and gives you a deep appreciation for the skill and hard work that goes into each piece of Waterford Crystal.

Waterford Street Art
Within the walled city of Waterford, you will find a great deal of public art and wall murals.
Every year, the town invites world-class national and international street artists to paint the city's walls. In addition to the programming around the event, you can take a guided art trail walk or just explore town and see how many murals you can find on your own. While you are walking around town, be sure to seek out landmarks like Reginald's Tower, the Christ Church Cathedral, and the old city walls.
High Tea at Waterford Castle
When you are visiting Ireland, you need to plan to have afternoon high tea at least once, and what better setting than a castle? Waterford Castle and Golf Resort is located on its own private island, accessible by car ferry, about 30 minutes from downtown Waterford.
Reservations are required for Afternoon Tea, and it can be taken in The Fitzgerald Room, The Leinster Room, Entrance Hall and The Conservatory. The Afternoon Tea menu changes seasonally to utilize the best of fresh, local ingredients and can be customized based on dietary requirements.
In addition to a selection of teas, you will feast from a tiered tray of treats including finger sandwiches and pastries. Of course, the Waterford Castle would also be a lovely place to stay, both in the elegant manor house or one of the family-friendly lodges.

Waterford Greenway
The Waterford Greenway bike path runs 46 km from Waterford to Dungarvan along an old railway line. Bike rentals are available from Greenway Waterford Bike Hire, located at the WIT Sports Arena just outside of downtown Waterford. You don't need to cycle the whole thing. You can either bike out and back or arrange a shuttle pick up.
The Greenway offers a lovely ride along the river and railway line, with beautiful views and quiet scenes. If you bike far enough, you can cross trestle bridges and go through an old railway tunnel. Of course, you can also bike just a short distance and stop and enjoy Mount Congreve Gardens.
Mount Congreve Gardens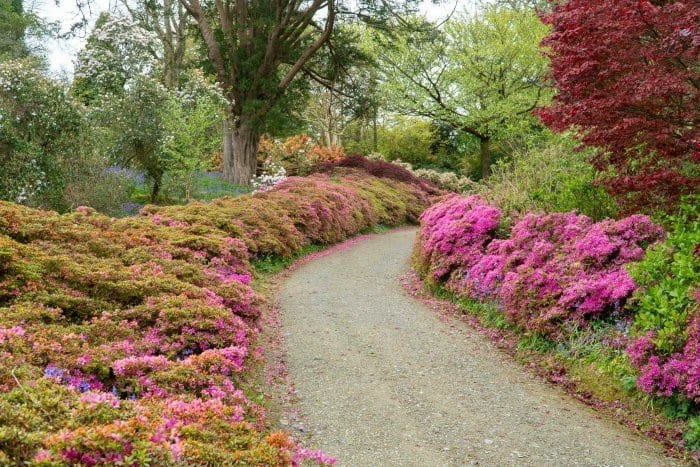 Located just 15 minutes out of Waterford, and a few kilometers on the Greenway, Mount Congreve Gardens is an oasis of color in a sea of green. The house and gardens were first built in the 1740s. The Woodland gardens were founded by Mr. Lionel N. de Rothschild, who was known as the greatest landscaper of the 20th century and a very clever hybridist.
These gardens were expanded and developed by Ambrose Congreve, who, along with Mr. Herman Dool, built Mount Congreve up to be one of the greatest gardens in the world. Today, the gardens cover 78 acres with 16 km of walking trails, which have routes of 45 minutes to up to two hours.
The Walled Gardens are divided into two sections, with fruit trees and vegetable gardens, flowers, and a water lily pond. The Woodland Gardens peak from February through May and offer wonderful bursts of color. There are also special paths like the Bluebell Walk and 1 km of hydrangeas.
Where to Stay in Waterford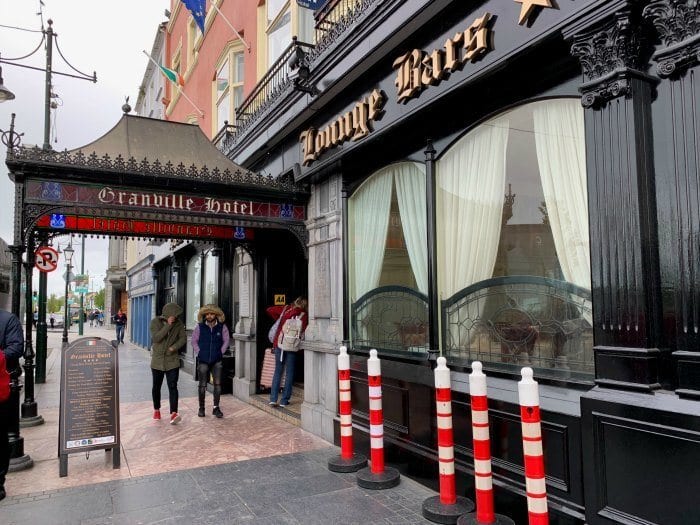 Of course, my first choice would be to stay at the gorgeous Waterford Castle. However, if you are looking to stay in town, the Granville Hotel is a classic choice. The Granville is located on The Quay and overlooks the harbor.
The rooms can be a little tight and those facing the water can be a little noisy, so you may want to request a rear-facing room. Don't miss the interesting bar scene (especially on Saturday nights) in the pub, and make time to enjoy breakfast in the dining room. The scones and jams are made by hand and they offer a touch of whiskey in the porridge for a morning kick.
Where to Eat in Waterford
There are a number of traditional Irish pubs in Waterford, but if you are looking for something more sophisticated, Everett's on High Street is a perfect choice. Set in the remains of the 15th century John Collyn House, Everett's offers modern Irish cooking in a warm and cozy atmosphere.
For dinner, I would recommend the crab gazpacho, followed by the Kilmore Quay Cod with chorizo and parsley sauce. But definitely save room for the salted peanut, banana, and raspberry dessert.
Day Trips from Waterford
Dunbrody Famine Ship – New Ross
Just 30 minutes from Waterford is the town of New Ross, famous for its ties to John F. Kennedy's family. New Ross is JFK's ancestral home, and the John F. Kennedy Trust was founded in 1988 to commemorate his historic legacy. The trust developed the Irish Emigration Database and built the Dunbrody Famine Ship in 2001. The eternal flame that burns out front was brought from Arlington cemetery and was lit by JFK's sister Caroline Kennedy.
The Dunbrody Famine Ship was built as an authentic replica of an 1840's emigrant vessel. These famine ships transported thousands of people over a period of 25 years. Originally built as a cargo vessel, after the famine started in 1845, it was outfitted to transport 200 to 300 people across the sea to New York and Quebec over a seven-week journey.
The Dunbrody Famine Ship experience starts with a video presentation to give you the history of the famine. Visitors then step onto the ship for a guided tour with costumed performers who provide insights into what it was like to be a passenger aboard one of these ships, both in third-class and in first-class.
Kilkenny
The medieval city of Kilkenny is also only about 40 minutes from Waterford in southeast Ireland. In Kilkenny, you can visit the 12th-century castle, as well as St. Canice's Cathedral and the Black Abbey Dominican priory from the 13th century.
Kilkenny is a very walkable town, with craft shops lining winding lanes. Nearby, you can visit sites like Jerpoint Abbey and Jerpoint Park.
PIN THIS FOR LATER