When visiting Northern Ireland for the first time, I expected picturesque green fields dotted with sheep and bordered by hedges. I was not prepared for a stunning coastline of dramatic cliffs, sandy beaches, rocky shores, and crystal clear water. If you are visiting Northern Ireland, I highly encourage you to plan a road trip along the Causeway Coastal Route from Belfast to Derry, in order to see this beautiful coastline.
The biggest mistake you can make when driving from Belfast to Giants Causeway is to rush and not give yourself time to stop at every scenic overlook or stroll on any beach you desire.
I would recommend spending at least four nights in total. Start with two nights in Belfast. Belfast has its own airport, but not as many international flights as Dublin. You may find it easiest to fly into Dublin and drive the 90 minutes up to Belfast.
Also give yourself a night in Bushmills or Ballintoy along the Coastal Causeway, and finish with a night in Derry. You can then return to Dublin (about 3.5 hours) or continue on into the Republic of Ireland and later fly out of Shannon.
Where to Stop on a Northern Ireland Road Trip
Note: my trip was hosted by Northern Ireland Tourism, Tourism Ireland, and Steller. All opinions are my own. This post may contain affiliate links, if you click a link and make a purchase I may receive a small commission.
Belfast
Years ago no one wanted to visit Belfast, the Northern Ireland capital city torn apart by violence during the decades of "The Troubles." But since the Good Friday Peace Accords in 1999, the city has rebounded and today is a popular tourist destination. Sure, Game of Thrones and Titanic Studios may have played a hand in that during recent years, but Belfast has a youthful vibe and from my opinion, is a city on the rise.
I sincerely hope that whatever happens with Brexit doesn't change that and rip a scab off a wound too recently healed. It does help to have an understanding of the Troubles before visiting, beyond just that there was a conflict between Catholics and Protestants or those that wanted to remain in the U.K. and those that wanted to join with the Republic of Ireland. I just finished a book called Say Nothing: A True Story of Murder and Memory in Northern Ireland, which helped really frame the conflict and give voice to some of the main figures of the time, which you will see referenced in Belfast.
Where to Stay in Belfast
We stayed at the high-rise Grand Central Hotel in Belfast and I loved the location in Central Belfast. It was easily walkable to restaurants and many of the more popular districts with pubs and entertainment. If you stay, definitely make sure to have a drink at the Observatory Lounge for beautiful views of the city.
Check rates and ratings for the Grand Central Hotel
If you are looking for a luxury, five-star hotel, friends have raved about The Fitzwilliam Hotel in Belfast. Also, the Titanic Hotel is a historic, boutique hotel that is completely charming.
Where to Eat & Drink in Belfast
What to do in Belfast
You need at least two days to explore the various quarters of Belfast. A few Belfast highlights include:
Dark Hedges
The Dark Hedges isn't along the Causeway Coastal Route, but it is worth the detour. This picturesque avenue of Beech trees was planted by the Stuart family in the 18th century. It is a popular site for Instagrammers and photographers, especially since it was featured on Game of Thrones as the Kings Road.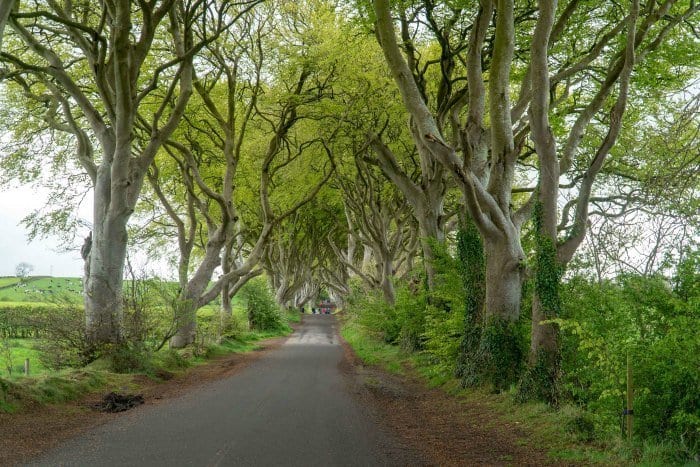 If you can, try to get there early to beat the crowds, or visit just before sunset. Ballinlea Road is busy and parking along the road, and especially not on the road with the trees, is forbidden. Unfortunately in recent years a few trees have fallen after people parking underneath them damaged their roots. You can park nearby at The Hedges Hotel, but be prepared to pay a fee.
You may need to wait for groups of tourists to pass so that you can get a clear photo. Plan to spend at least an hour here because, if you are like me, you will want to walk the length of the road and take pictures from every angle. These trees seem magical.
Carrick-a-Rede Rope Bridge
The rope bridge at Carrick-a-Rede was first put up more than 350 years ago by fishermen. But don't worry, this site is now part of the National Trust and a new, sturdy bridge was installed not that long ago. I have heard of this site for years, but always thought it was just a rope bridge. I had no idea that a gorgeous coastal walk was a big part of the attraction, or that the views would be even more exciting than the rope bridge.
There is a large car park and it is free to park and walk along the coastal route. However, to cross the bridge you will need to purchase a ticket. Tickets must be purchased at the reception hut BEFORE starting the walk along the coast. If you take the kilometer walk only to arrive without a ticket and be turned away, you will be very disappointed.
The walk along the coast takes about 15-20 minutes at a brisk pace, with a few hills that can slow you down on the return trip. Once you arrive at the bridge, you will need to wait your turn for one-way traffic to cross the bridge (and pose for their selfies), before getting to the island that the bridge connects to the mainland.
Give yourself time on the island to explore and take in the views. There is also a fisherman's cottage, which is open to the public on select weekends. Coffee, tea and light refreshments, as well as public toilets, are available on site.
Ballintoy Harbour
Just down the road from Carrick-a-Rede you will come across Ballintoy Harbour. This raised beach and fishing harbour can be accessed at the end of a small narrow steep road down Knocksaughey Hill.
The village has some shops and restaurants and makes a cute stop along the coastal route. The Harbour was also used as a Game of Thrones filming location, as the exterior of Pkye and the Iron Islands. It is also where Theon first encounters his sister Yara.
Giants Causeway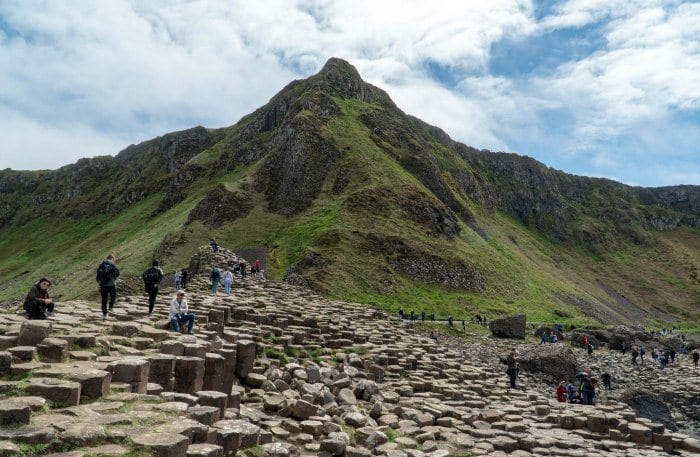 Giants Causeway is the crown jewel of the Causeway Coastal Route, welcoming over one million visitors per year. Like Carrick-a-Rede, there is plenty of room to explore and get away from the crowds, especially if you take a walk along the cliffs above the causeway.
Giants Causeway is made up of 40,000 interlocking basalt columns, caused by an ancient volcanic fissure eruption. Now a UNESCO Heritage site, these columns form stepping stones along the coast. There are also other rock formations that may catch your eye (although some take a little imagination), like the Giant's Boot, the Camel, the Wishing Chair, and the Organ.
You can access the Giants Causeway for free, but to enter to the Visitor's Center upon your return (and use the facilities), you will need to purchase a ticket. The walk downhill to the Grand Causeway is easy, but on the way back uphill, you may prefer to pay 1 GBP to ride the shuttle bus.
Bushmills Inn
The lovely Bushmills Inn in Country Antrim makes a perfect pitstop on your way from Belfast to Derry. I would recommend an overnight stay, or at least visit their restaurant for a delicious meal.
While you are there, you can plan a visit to the nearby Bushmills Distillery for a tour and whiskey tasting.
Dunluce Castle
Not far from Bushmills, you will come across the ruins of Dunluce Castle, which was built on the Antrim coast in the 16th century by the McDonnell family. In 1639, the earth under the kitchen crumbled into the sea, taking part of the building and staff with it.
Dunluce Castle still belongs to the McDonnell family, but it is managed by the Northern Irish Environment Agency. These days you can visit daily between 9:30 am and 4:30 pm. My recommendation would be to visit in the morning, when the sun isn't directly overhead, as you will be able to get better pictures of the ruins.
Derry / Londonderry
The final stop on your Northern Ireland coastal road trip will be Derry, also known as Londonderry. Derry also has a history of protests that have turned violent and strikes me as a city trying hard to move on, but isn't quite there yet.
It makes sense to stop here and explore for a day, but expect the city to be a bit grittier and dirtier than what you will find in Belfast. Of course fans of the show Derry Girls will find it familiar (and want to seek out the Derry Girls mural.)
Where to Stay in Derry
I would recommend staying at Bishop's Gate Hotel, just within the walled city. This boutique hotel offers a full service restaurant and interesting Edwardian architecture. My tip would be to request a room with a balcony, as they are larger and offer the better view.
Where to Eat in Derry
What to do in Derry
If you are visiting Ireland, you may enjoy these related articles:
PIN THIS FOR LATER