Bumping along the cobblestone streets of Lisbon, certain that I might bounce out of the back of our tuk tuk if not for my seatbelt, it was clear that Lisbon had me at "hello" (or should I say olá?) I had 3 days in Lisbon to explore this beautiful city, and a busy Lisbon itinerary to fit it all in.
For years I have dreamt of visiting Lisbon and walking the black and white-tiled sidewalks. My visit last month was a case of love at first sight. The moment when your blind date actually does look as good as his profile picture.
Sure there are always some hidden flaws, like how quickly the smooth curves of tile patterns turn into treacherous slip and slides when it rains, the ever-present lurking of pick pocketers in tourist centers (learn how to avoid pickpockets), and the ubiquitous graffiti tagging that competes with the city's red hot street art scene. But these aren't enough for a break up.
In fact, just as in humans, what some view as flaws others perceive as charm. Take, for example, the seven hills that make up Lisbon on either side of the valley that is the city center. My quads and lungs may not appreciate them as much as my eyes enjoy the views from the multiple miradouros overlooks that offer sweeping views of the city skyline.
There are many reasons why tourists are starting to discover the gem that is Portugal, making it one of 2018's hot destinations and Lisbon the new "capital of cool." To start, it is a relatively safe country. Portugal has been named the most peaceful country in Europe and the third most peaceful in the world.
You can see this in the attitude of the people. Everyone I encountered was warm and welcoming. Even the drivers don't yell or honk as you attempt to cross the street. That doesn't mean I would want to drive in Lisbon, with its narrow, hilly, labyrinth of streets. But I would certainly find it less intimidating than Rome.
Portugal is also a fairly inexpensive destination. Even though it operates on the euro, the prices harken back to the days of individual country currencies when a few bucks could buy you a nice meal. Today, even the famous pastéis da nata (custard tarts) can be purchased for one euro and a filling lunch at a local taberna can be had for only six euro. And trust me, it is much tastier, fresher and healthier than a fast food value meal.
There are so many things to do in Lisbon in 3 days, soaking in the architecture, history, culture and food. If you are visiting with a family and have young children, be sure to check out these recommendations for Lisbon with kids and also invest in a sturdy stroller or try out a backpack carrier for navigating the hills and streets. Otherwise, it might be best to wait until the kids have the energy for climbing on their own.

3 Days Lisbon Itinerary
You could technically "do" Lisbon in two or three days, but if you are traveling from overseas especially, I would recommend adding in an overnight or a day trip to Sintra.
Note: My trip was hosted by Martinhal Resorts, TAP Air Portugal, and Tivoli Hotels. All opinions are my own. This post contains affiliate links. If you click a link and make a purchase, I may receive a small commission.
Lisbon Itinerary – Day One
If you are arriving from an overnight flight, you will want to take it easy on your first day. I have two favorite ways for combatting jetlag and getting a feel for a new city. First, get out into the famous Portuguese sunshine to wake your body up. I think a walking tour is a great introduction to a city but since you will be tired, why not take a tuk tuk tour instead?
A tuk tuk tour is much more personalized than a hop-on, hop-off bus and can get into the little alleyways where busses can't. Just keep in mind that you will be getting in and out quite frequently and the bumps can be quite jarring, so be sure to wear your seatbelt and it is best for those that are fairly agile.
Since you will be whisked around the city, possibly facing backwards, it helps to know a little bit about the major city landmarks and neighborhoods before you go. I'm such a planner that it was painful for me to not have done my usual level of research before my visit. But since it was a last minute media trip, I needed to go with the flow and hit the ground running. Beyond a few blog posts and quick references to my Lonely Planet guidebook, it was very much a learn as you go experience.
On our three-hour eco tuk-tuk tour, we drove through Baxia district with quick looks at the Elevador de Santa Justa, whizzed past the Triumphal arch and central Parço do Comerçio, before our first stop at the Lisbon Cathedral.
After a quick peak inside, we went up to Miraduoro das Portas do Sol and then the Miraduoro da Graça, two of the prettiest overlooks in the city. Along the way we stopped to see some street art and passed through a local flea market on the way.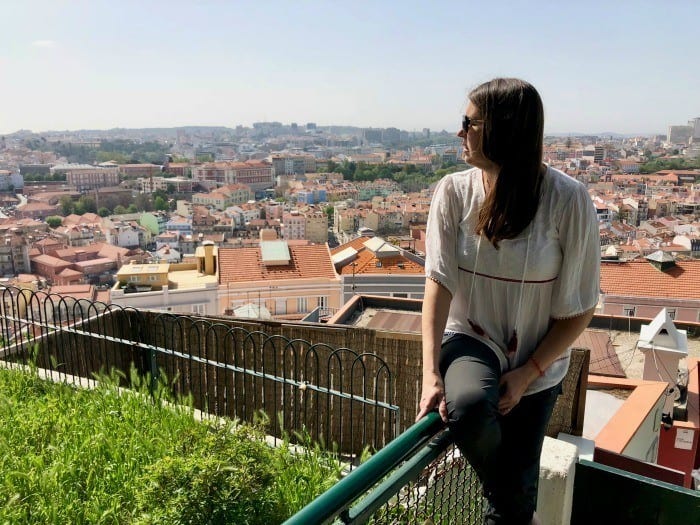 Throughout the tour, our guide introduced us to the brief history of Portugal, an overview of its neighborhoods, and some insight into the local arts from tilemaking to fado to street artists.
We finished with a stroll through the ancient Alfama district, the oldest district in the city. The Alfama is full of narrow alleys with laundry hanging off of balconies and local busybodies peaking out to trade the daily gossip. Equal parts touristy and authentic neighborhood, the Alfama district is not to be missed, but it was nice to explore this labyrinth with a guide.
You will also find small fado bars (fado is a soulful musical Portuguese tradition) and plenty of locals and shops with streetside tables for tasting the local specialty of ginja, a sweet cherry liquor. If you visit in June, the streets are lined with people grilling sardines, garlands draped across the streets and music playing around every corner to celebrate the sardine festival. Even in late April we could drink in the sweet aroma of the orange blossoms (does anywhere have orange juice as fresh and tasty as Portugal?) But if we visited a couple of weeks later in May, we could have seen the city blooming with purple jacaranda blossoms.
A tuk tuk tour will provide you with a good overview of the city and introduce you to neighborhoods that you may want to return to and explore in more depth. Although my friend Kim had a good point, in that it would be helpful to bring a map and have the guide point out all your stops along the way to help with orientation. Even better, bring a highlighter and have the guide highlight your route and circle your stops for a handy reference when you try to figure out what the heck is in your photo.
Even if all you did was climb in and out of the tuk tuk, you will still be tired and the perfect way to end your first day is with a trip to the spa. I find spa treatments are great jet lag busters. They will usually refresh and detoxic your skin and rehydrate your body. Plus, I can usually sneak in a little snooze during one. The water massage at the Spa at the Tivoli Avenida Liberdade, which is a combination of body treatment and massage, seems like the perfect solution.
That should refresh you just enough for a light meal before calling it an early night.
Lisbon Itinerary – Day Two
On your second day in Lisbon, you will want to spend time getting to know the city's many neighborhoods. I would start out with a visit to the Castelo de Sao Jorge. This Moorish castle from the 11th century overlooks the city from a hilltop and offers visitors a chance to learn more about Portuguese history.
After your visit, you could head back down to the Alfama historic district, or check out the Mouraria neighborhood, where you will find street art dedicated to fado, a musical style developed in this part of the city on Rua da Guia. In fact, on weekends from June through September you will find outdoor fado concerts here.
Next, I would head down the hill to the Baixa and Chiado neighborhoods, filled with fashionable shops and restaurants. Take time to stroll the Rua Augusta main pedestrian street, stopping for lunch or a drink at one of the many sidewalk cafes.
I loved just handing out in Parço do Comerçio and doing some people watching. However, if you want a good bird's eye view, 2.50 euro will get you a ticket to the top of the Arco Monumental da Rua Augusta (the Monumental Arch).
When evening comes, you will want to climb the steep hill to the Bairro Alto neighborhood, which is bustling with bars and restaurants that come alive at night. However, you can take the Ascensor da Glória funicular to save some tough climbing, just be prepared to wait a while for your turn.
At the top, you can take in the views at the Miraduoro São Pedro de Alcântara. There is a cute market here where you can pick up a snack or drink while enjoying the view (but please watch for pickpockets!)
Just before sunset, make your way over to the Park Bar. This rooftop bar is hard to find (you need to go into a parking garage and take the elevator up to the top and then walk up the ramp, Calcada do Combro, 58 Floor 6 in Bairro Alto.) The sunset views here are amazing!
If you prefer a more upscale and professional fado experience, book a reservation at O Faia (Rua Barroca 56), just be prepared to pay the minimum cover charge for your meal and drinks.
Lisbon Itinerary – Day Three
You definitely want to spend one full day in the neighborhood of Belem, on the outskirts of Lisbon. You can get there by tram, train, or cab/Uber, but cab/Uber is faster and about the same price or cheaper for a family.
The main attraction is the gorgeous Jerónimos Monastery, a 500 year old former monastery and UNESCO heritage site. You will want to arrive early to beat the crowd or purchase a skip-the-line ticket in advance because waits can be well over one hour to get in. We were given the great tip that you can also purchase tickets at the Archeology museum, which is adjacent to the monastery. You can purchase a combo ticket or just the Monastery ticket, and then head past the line into the center entrance. The secret is out though because that line can be long too, but when we visited it was half the length of the main monastery line.
Give yourselves at least an hour to enjoy the building, more if you want to visit the various exhibits inside which detail the history of Lisbon and Vasco da Gama. If you also want to visit the chapel, expect to wait in another line. Entrance to the church is free but it is a separate entrance so you have to exit the monastery and queue up again for the church. But if you get there early, you can do the church first and then use your skip the line ticket to visit the monastery.
If you need a snack after, walk over to the famous Pasteis de Belem, the bakery that made those ubiquitous custard tarts famous! Everyone swears that they are the best, but are they worth waiting in another line? You can decide. There are two lines for the outside counters and a third line for indoor seating so choose your poison. Personally, I thought the pasteis da nata from Manteigaria in the Time Out Market were just as good (and no line!)
You can then cross under the street from the monastery to the Discoveries Monument. The monument celebrates Portugal's age of discovery and the monument represents a three-sailed ship ready to depart. There are 16 carved figures on each side, representing monarchs, explorers, cartographers, artists, scientists, and missionaries. You can also go inside and up to the top for gorgeous views of the Tagus River and Vasco da Gama bridge.
Before you leave Belem, take a stroll along the river to the Torre de Belem, or the Belem Tower. This is another spot where you will want to pre-purchase skip the line tickets to avoid a long wait. This tower was built in the 1500s to protect the river and today it is a UNESCO site.
If you have extra time in Belem, there are many museums to visit, or you could spend time people watching. It is definitely a touristy area, but with good reason. A day trip to Belem is not to be missed when visiting Lisbon.
When you get back to town, have a light dinner at Meson Andaluz (Travessa do Alecrim, 4.) Make a reservation first but this tapas restaurant in Chiado offers delicious food and a cozy atmosphere with fun outdoor seating.
Lisbon Itinerary – Day Four
If you are lucky enough to spend four days in Lisbon, you can spend the last day visiting the Parque das Nações (Park of Nations) neighborhood. This is a newly redeveloped area was rejuvenated for the Expo of '98 and has been designed to include green spaces, public art, and theaters. One of the main attractions here is the Oceanarium, the largest indoor aquarium in Europe. You can also ride a cable car over the park and enjoy the views.
Lisbon Itinerary — Day Five
If you have five days in Lisbon, you must take a day trip to Sintra. If you can, stay overnight even so you can really see everything Sintra has to offer!
One Week in Portugal
If you have one week in Portugal, I would add on two days relaxing in the seaside town in the seaside town of Cascais. Here you can find windsurfing beaches, small sandy shores, scenic bike paths, and a cute downtown. Bonus tip: enjoy a pitcher of sangria on the rooftop bar at Cafe Galeria House of Wonders.
Getting to Lisbon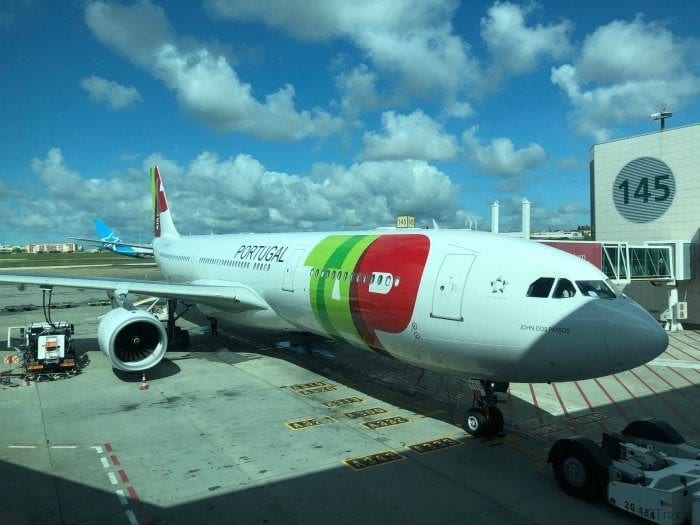 Getting to Lisbon can be easy and affordable. The national carrier TAP Air Portugal flies non-stop to Lisbon from New York (JFK), Newark, Boston and Miami. All of TAP's fares beyond Portugal (to Africa, Europe and even South America) include a stopover in Lisbon for up to five nights with no additional airfare, making it easy to add Lisbon to your next trip to Europe.
I found the seating quite comfy for economy (except when the person in front of my fully reclined.) There was a good selection of movies and entertainment (even games for kids.) And the food was fairly good for airline standards. And bonus, the meal includes a glass of wine! I found TAP on par with other national carriers such as Swiss Air (minus the chocolate bars), Alitalia, etc. and much better than our experience on Aer Lingus and certainly the budget approach of Norwegian.
Getting Around Lisbon
If you don't mind some walking and aren't afraid to tackle hills, getting around Lisbon is easy using public transportation. There are plenty of trams (Tram 28 is particularly popular with tourists but also very crowded), tuk-tuks for hire, and Ubers are readily available (and priced about the same as cabs from a quick comparison of Chiado to Belem.) There are also funiculars to help with those steep hills.
Where to Stay in Lisbon
We stayed two different neighborhoods to really get a sense of the different neighborhoods.
Tivoli Avenida Liberdade
If you are looking for five-star luxury with high-touch service, the Tivoli Avenida Liberdade is an ideal choice. Located on the posh, tree-lined Avenida Liberdade, it is still an easy walk straight down to the river and Parço do Comerçio. They offer full service with two excellent restaurants, spa, outdoor pool, and an excellent concierge staff.
There are plenty of room options for families from connecting rooms to family suites. The suites are quite spacious, with a pull out couch in the living area, a large dressing area, and a huge bathroom.
Read my full Tivoli Avenida Liberdade review!
Martinhal Chiado
If you prefer a family-friendly suite hotel right in the heart of Lisbon, you can't find a more perfect choice than the Martinhal Chiado. This brand was designed from the ground up to be family friendly. Each of the 37 suites offer a full kitchen, washer/dryer, dishwasher, and a living area. All the details have been considered, from baby-proof furniture with rounded edges to a high chair and child size utensils to a potty seat and step stool in the bathroom. Plus, if parents want a night out or time to explore on their own, Martinhal includes access to the kid's club or nighttime pajama party at no additional cost (except meals for the kids.)
There is also a quick service restaurant off the lobby, as well as room service. Trust me, enjoying a relaxing and quiet breakfast in my suite while appreciating the view was a taste of luxury right there!
Read my full Martinhal Chiado review!
PIN THIS FOR LATER
SaveSave
SaveSave
SaveSave
SaveSave
SaveSave
SaveSave
SaveSave
SaveSave
SaveSave
SaveSave
SaveSave
SaveSave
SaveSave
SaveSave
SaveSave
SaveSave
SaveSave
SaveSave