The Douro Valley in Northern Portugal is known for its terraced vineyards, Port wine, and gorgeous river valley. While being an excellent destination for wine enthusiasts, it isn't as easy to find activities that cater to the younger crowd. Many families choose to just take a day trip to the Douro from Porto, but if you would like to spend a few days in the countryside to balance out your city tour, I have some suggestions on where to stay in the Douro Valley with kids for a family vacation.
First, don't be discouraged from visiting the Douro Valley with your family. My partner EPIC Travel has an excellent reputation for finding unique and fun activities for kids throughout Portugal, including the Douro. These can include scenic boat rides, hiking, picnics, workshops, water activities, and more. Depending on your interests and activity level, you could potentially stay up to a week, but probably two to four days is the sweet spot. If you are planning a trip to Portugal, I highly recommend you check out EPIC Travel. If you end up booking a trip with them, be sure to mention that you heard about them on We3Travel and you will receive a free VIP welcome gift!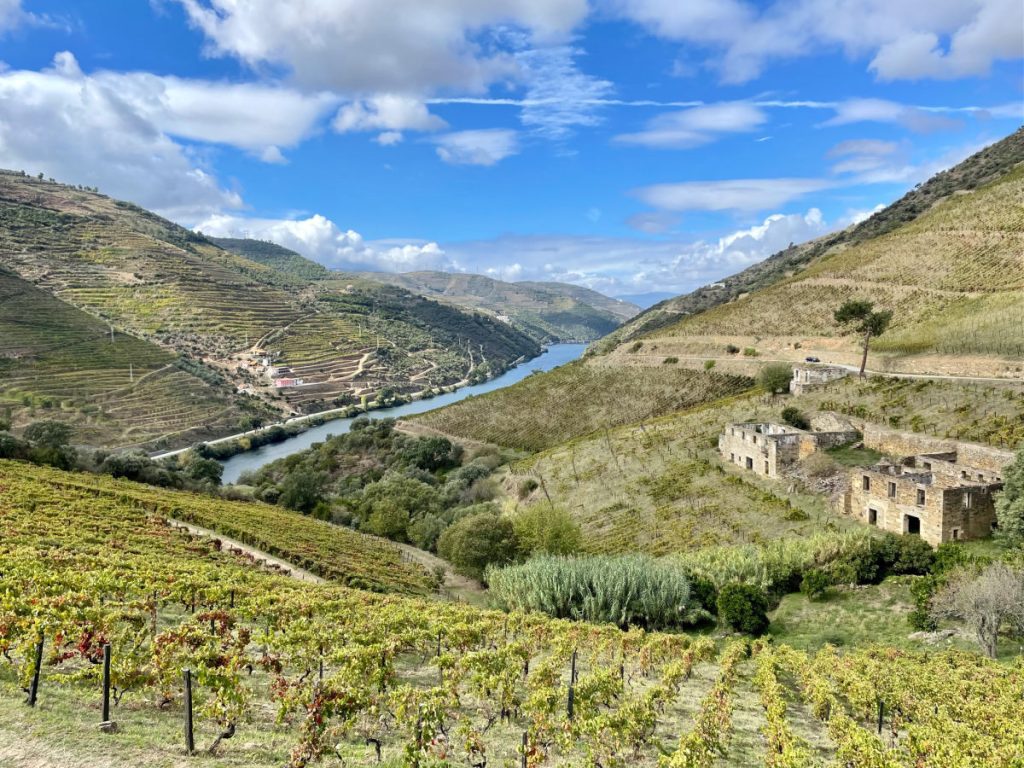 Where to Stay in the Douro Valley
Note: My trip was hosted by EPIC Travel and its travel partners and my hotel accommodations were complimentary to facilitate these reviews. All opinions are my own.
Six Senses Douro Valley
It is probably no surprise that one of the best places to stay in the Douro Valley with kids is also one of the most expensive. However, a stay at the Six Senses Douro Valley may be worth it. This 19th-century manor home has been refurbished and expanded into a luxury property worthy of the Six Senses brand. But while it is posh, it is also warm and welcoming, with plenty of activities on-site, including many geared toward the younger bunch, making it ideal for families. Kids will especially enjoy a warm welcome from Acqua, the hotel dog that likes to oversee the lobby.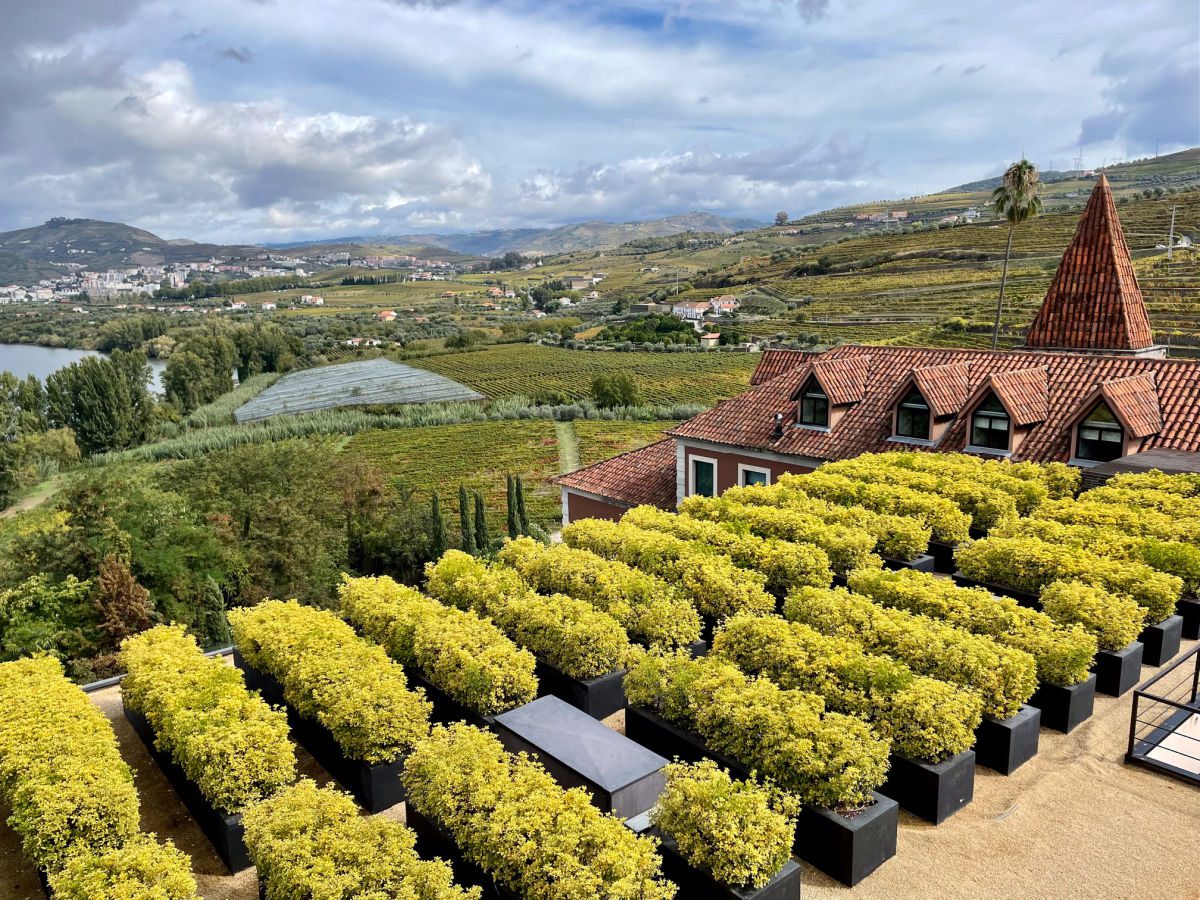 Location
Located in Samodães, and not far off the main highway, the Six Senses is in a good location for exploring the Douro Valley by car. Located on a bend in the river, you can awake to views of the terraced vineyards with a town in the background, and enjoy walks in the 10-acre protected woodland on the property. The hotel's gardens and forest have been awarded a quality seal by the Portuguese Association of Historical Gardens and include a waterfall and a pond.
Guests can enjoy garden tours, or arrange for a picnic in one of the secret rest areas situated throughout the property. A garden tour also includes a visit to the organic garden, full of herbs and colorful edible flowers and used to supply the kitchen, bar, and spa.
Dining
The menus at the Six Senses Douro Valley focuses on the fresh ingredients grown in its organic garden and gathered from the surrounding local countryside. At the Vale de Abraão restaurant, guests can enjoy either the Open Kitchen or the Dining Room, with options to suit foodies or small critics, and everyone in between.
Guests can also gather at the Quinta Bar and Lounge for a quiet drink and some tapas, or afternoon tea and some local cheeses. In the warmer months, visitors can enjoy a Garden Barbeque in the Summer Garden, but when it is cooler, the perfect place for pre-dinner drinks is at the Wine Library and Terrace. The hotel can also arrange culinary experiences including a wine tasting, alchemy bar workshop, cooking class, or Chef's Table dinner.
Rooms
The Six Senses Douro Valley is a perfect size, with just 60 guest accommodations including bedrooms with panoramic Douro valley views, spacious suites with floor-to-ceiling windows, private balconies, and wooden bridges leading to secret gardens.
The bedrooms are large, with suites offering panoramic vineyard views. Inside, you will find high-end amenities and fixtures, with everything from your choice of pillow options to a wine fridge to chill your local purchases.
Amenities & Activities
What makes the Six Senses a good choice for families is the range of on-site amenities as well as the on and off-site activities they can arrange. A stay should include a visit to the spacious Six Senses Spa, which occupies 23,700 square feet with 10 treatment rooms, a heated indoor pool with water jets, and a refreshment bar. The spa also includes a gym with the latest exercise equipment and professional guidance and a large outdoor yoga deck. The Alchemy Bar in the Spa, where potions of herbs, salt, grapes, and a range of exotic ingredients are individually blended for scrubs and masks, is also used to host complimentary workshops for guests.
For wine enthusiasts, there are many wine-related activities including wine and dine river cruises, interactive oenology courses, visits to nearby wineries, and even, during harvest, the chance to stomp grapes! Other cultural activities include tile painting and workshops such as pickling at the Earth Lab.
If you choose to be more active, you can enjoy e-bike tours, tree climbing, mountain biking, kayaking, paddleboarding, or riverboat tours. Beyond wine tasting, you can also discover the nearby medieval town of Lamego, with its centuries-old palaces and Cistercian monasteries, which is just a 30-minute drive from the resort.
Check rates and reviews at the Six Senses Douro Valley
The Vintage House
The Vintage House hotel enjoys a tranquil riverside location in the small town of Pinhão, in the authentic heart of the Douro Valley. This elegant hotel, with its classic decor, reminds you of England's strong ties to the Port industry and the Douro Valley. Located right across from the Douro River, you will want to sit on your balcony and enjoy a morning coffee while watching the riverboats cruise up and down the river, or sip an evening cocktail on the terrace as the sunsets.
Location
With a central location in Pinhão, The Vintage House is ideal for a short stay while exploring the highlights of the Douro Valley. Families will enjoy hopping on board a riverboat for a cruise on the Douro in a boat that previously was used to transport barrels of Port down to Porto. It also is an excellent home base if you want to arrange a wine tasting tour, visiting the various Quintas and wine estates in the area. For this, I'd highly recommend using LAB Portugal Tours to both arrange your visits according to your tastes, and serve as an excellent guide for exploring the region.
Dining
The Rabelo restaurant at The Vintage House has the sophisticated, yet warm and welcoming charm of a country estate dining room. Foodies should consider booking the gastronomic program, which includes both breakfast and dinner with a nightly rate. Dinner will consist of a 3-course menu (starter, main course, and dessert) and is accompanied by a selection of wine pairings. These guests will also receive a bottle of Port wine upon arrival.
Rooms
The Vintage House offers a selection of rooms including Junior Suites and very spacious Master Suites. Even the standard rooms have balconies providing breathtaking views over the Douro River, letting you enjoy the sunlight and the amazing sunset. They all feature twin beds that can be joined together to create a king-size bed, en-suite bathroom with shower over bath, working desk with lamp, LCD TV, telephone, dryer, safe, satellite channels, and minibar. While the furnishings are more traditional, British style than you might find throughout Portugal, it exudes Victorian charm!
Amenities and Activities
The Vintage House features a riverview outdoor swimming pool, complete with a pool bar featuring light fare while in season. Guests can also enjoy the on-site tennis courts, or choose to spend days exploring the Douro Valley. The hotel offers gourmet wine tasting at its Wine Academy or can arrange for riverboats trips, visits to the region's wine estates, or to the Douro Museum.
Check rates and reviews at The Vintage House
Quinta de Ventozelo
If you would prefer to be a little more off-the-beaten-track, and enjoy a very authentic experience, a stay at the Quinta de Ventozelo could be the perfect pick.
Location
Perched on a hill overlooking the Douro, across the river from Pinhão, this wine estate offers unique accommodations, especially for families. Located on 200 or so hectares, this wine estate near Ervedosa extends from the banks of the river to the farm's high point at above 500 meters. With over a million vines, Quinta de Ventozelo produces Port, table wine, and even gin.
Dining
The hotel features an on-site restaurant, which is not common at many Quintas that offer accommodations. The Cantina de Ventozelo uses ingredients produced at the Quinta and from other regional producers, assuring sustainability and a low ecological impact. Even if you don't stay at the Quinta, you may want to visit for a leisurely lunch on the terrace overlooking the vineyards. That's what we did and fully enjoyed our meal and the accompanying wine pairing (once again grateful that LAB Portugal Tours was doing the driving!)
Rooms
There are 29 rooms and houses spread throughout the estate, each with its own unique design and personality. Some houses include up to five to seven bedrooms, making this an ideal (and affordable) option for families. Some of these unique spaces utilize stone domes that were previously used to house farm animals.
Casa Grande is the largest house, with six superior double rooms located around a central cloister and includes a library, living rooms, dining room, and even a private infinity pool right over the river.
Amenities and Activities
Guests can enjoy specially designed wine tasting flights, seven walking trails with accompanying audioguides, gastronomic activities like cooking classes, daily bird watching, and other seasonal and agricultural activities.
Check rates and reviews at the Ventozelo Hotel & Quinta
Douro41 Hotel & Spa
While technically not located in the UNESCO World Heritage recognized Douro River Valley, the Douro41 Hotel is on the Douro River, and it is absolutely perfect for families — especially those who can't swallow the price tag of the Six Senses. This riverfront hotel offers the opportunity to relax after a visit to Porto, with plenty of nature activities on-site and nearby. I think one of the reasons I absolutely loved this hotel was all the various guest experiences that they can arrange.
Location
Located on the Douro River in Castelo de Paiva, Douro41 is about 40 kilometers from Porto and a little over an hour from the central Douro River Valley. You will want a car if you are staying at the Douro41 to try restaurants in town and explore the nearby parks, such as the Arouca Geopark, which has the world's largest suspended pedestrian bridge. While there are many on-site activities for younger children, I especially think Douro41 is well-suited for families with active teenagers.
Dining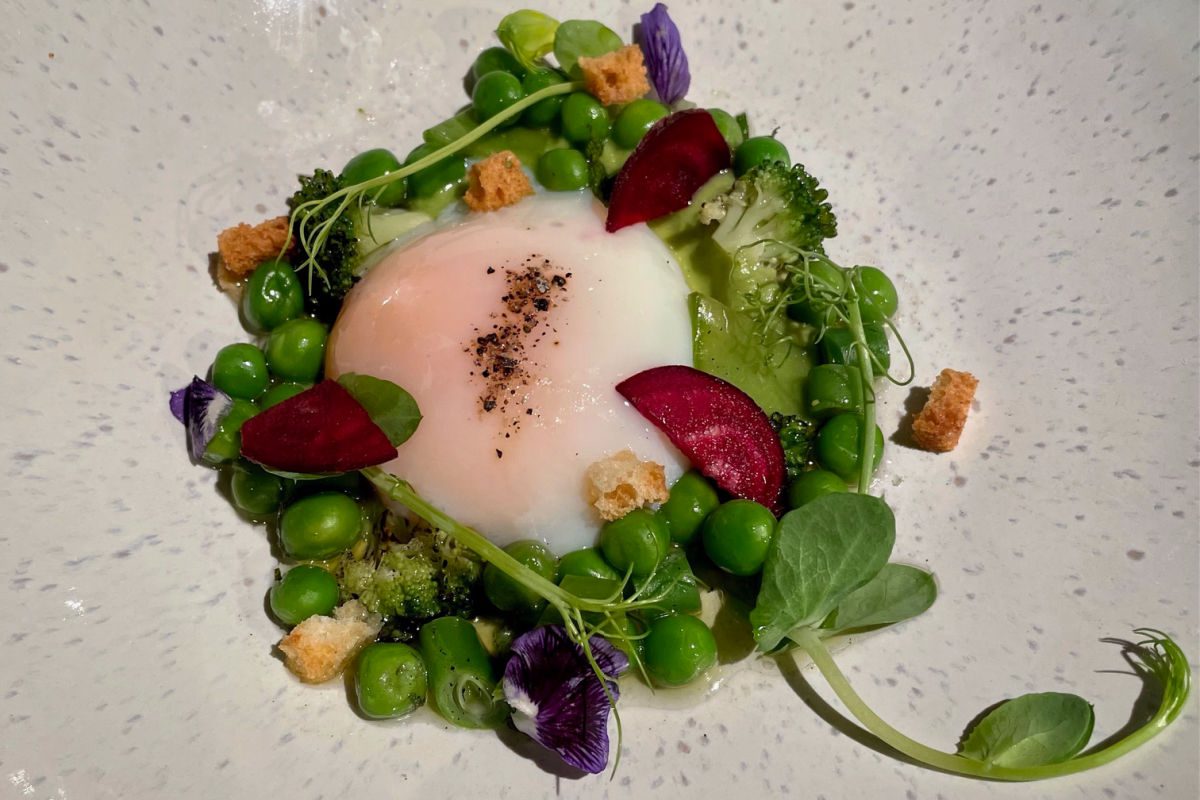 You are in for a treat when dining at the Douro41. Downstairs, you will find the À TERRA Bar & Canteen, offering pizza from its wood-burning oven and a simple menu with modern, comfortable, and comforting food featuring local ingredients.
Upstairs, the RAIVA restaurant is more refined, with choices between the best regional delicacies or Chef Dárcio's signature courses. I'd highly recommend the Chef's Tasting menu and wine pairing for foodies! With a full chef's experience, you will meet one-on-one with the chef and then have a private dinner arranged in the garden or a cozy setting in the library.
Rooms
Douro41 strives to be in harmony with the landscape, both the river and the mountains surrounding it. The construction is unobtrusive, built into the terraced hillside, stretching down almost to the water's edge. Built in schist and glass, the Douro41 feels like an eco-hotel, and while the stone can at first appear cold, the welcoming staff and comfortable rooms make you quickly feel at home.
When you walk into one of the rooms or suites, you are immediately drawn to the panoramic view from the floor-to-ceiling windows, which make you feel like you are truly on the river. The Douro41 offers suites with private balconies or terraces and can combine some rooms types to accommodate families. With neutral tones and minimalist, yet sophisticated furniture, you can't help but want to lie in bed and soak up the view.
Amenities and Activities
The amenities and activities offered at Douro41 really set this property apart from the others. On-site, there are two outdoor pools, including one reserved just for adults. The main pool features a pool bar and restaurant (in season) and incredible river views. The spa at Douro41 offers an indoor pool, fronted with glass windows that overlook the serenity of the river below, giving the impression of an infinity pool. The indoor pool can be used by families during specific hours.
The spa also features five treatment rooms, a shower sensations circuit, and sauna, and a Turkish bath. To complete the newly opened Spa, Douro41 also offers a 24-hour fitness center. In addition to the spa, the hotel has many cozy and comfortable corners to explore and play including a games room with a snooker table and games for young children, the movie corner with comfy seating and evening viewings, and the library.
Some of the other experiences that Douro41 can arrange include:
A guided walk along the 8 km route of Paiva boarded walkways, which crosses what has always been the most remote area of the valley
An off-road tour and a visit to the Arouca suspended pedestrian bridge
Douro River boat tours on the hotel's private boat
Walks along the Douro River
Canyoning adventures that include diving into clear water lagoons and rappelling down waterfalls
Wine tasting in the Wine room with old, middle, and new aged wines with a matching cheese and meat journey
Workshops with local farmers and producers
Private picnics in the gardens
Water skiing, paddle boarding, kayaking, and other water sports
Check rates and reviews at the Douro41 Hotel & Spa
Planning a Trip to the DOuro Valley?
If you are planning a trip to the Douro Valley and other regions in Portugal, be sure to reach out to EPIC Travel. EPIC is a boutique travel agency focused on Portugal and Morocco. They create custom itineraries for families and adventurous travelers who want to travel deeper and enjoy a journey full of rich cultural experiences and authentic accommodations. Mention We3Travel and receive a free VIP welcome gift when you book with them.
Also be sure to check out my tips for planning a trip to Portugal and ideas on what to do in Lisbon and the Azores.
Save this to Pinterest