Stepping out of the tour van at our first miradouro, or scenic viewpoint, on São Miguel, I had to rub my eyes. While I was only a two-and-a-half-hour flight from Lisbon and the humid air was warm against my face, I felt as if I'd been transported to Iceland, with its dramatic, moss-covered cliffs and black lava-strewn coasts. The more I explored, the more the Azores took on a mythical quality, compelling me to go deeper, stay longer, and enjoy all the adventurous things to do in São Miguel.
São Miguel is the largest of the nine Azores islands in the Portuguese archipelago, and home to the primary airport that connects these islands in the middle of the North Atlantic Ocean with North America and the European mainland, the João Paulo II Airport in Ponta Delgada (PDL). It is the easiest to get to, thanks to direct flights from Boston and soon-to-be New York, and multiple connections to the mainland including Lisbon and Porto, making it also the most popular island for tourists.
While São Miguel is only 40 miles long and six miles wide, don't be fooled into thinking you can cover it in a day or two, or that you are going to plop yourself on a beach for a few days and just relax. The Azores are not those kinds of islands. They are places where you want to explore, see, and DO — because the mountains, valleys, and coast beckon adventurers. [Make sure you read my other tips for planning a trip to the Azores before you book, and keep reading as I'll share some practical tips for visiting São Miguel below!]
Most Beautiful Places to see in São Miguel
This post was written in partnership with EPIC Travel, a boutique travel agency focusing on creating bespoke custom itineraries in Portugal and Morocco. If you book a trip with EPIC Travel, please mention that you learned about them on WE3TRAVEL and you will receive a free VIP welcome gift on arrival. All opinions are my own.
On São Miguel not only can you experience all four seasons in one day, but you may also think you have been transported to the Napali Coast on Kauai at one point, or the fields of Ireland, but dotted with black-and-white dairy cows instead of sheep, at the next. The architecture in its towns is a darker, more gothic version of mainland Portuguese cities. Roll that all up and you have a truly unique destination with so many places to see and fun things to do in São Miguel in the Azores.
While so much of what there is to do on São Miguel involves outdoor adventure and activities, this is also an island where you can fill your day driving around and taking in all the natural beauty and enjoying the attractions. You can be as active or sedentary as you want, but you will want to spend many days exploring. Just driving around the island is a treat, especially in the summer when the hydrangeas are in full bloom. These bushes beautify the island but their roots also serve to soak up water and make the ground more stable to protect roads from washing out.
Here are the not-to-be-missed places and most beautiful spots in São Miguel:
Ponta Delgada
As the main city on São Miguel, you will want to check out Ponta Delgada, but I honestly wouldn't recommend spending a lot of time there. Your time is better off spent exploring some of the more scenic parts of the island. However, take an afternoon to explore the downtown and waterfront.
Many people recommend stopping at the Mercado da Graça public market for fresh produce, meat, and fish, but I will say that it is pretty small and meant more for locals shopping for dinner than tourists. However, there is a nice cheese shop and deli next door called Rei dos Queijos.
I'd recommend strolling along the waterfront and exploring the area near the central square and taking in the architecture of the churches and the archways of the city gates, as well as the tiled sidewalks and cobblestone streets.
Ponta da Ferraria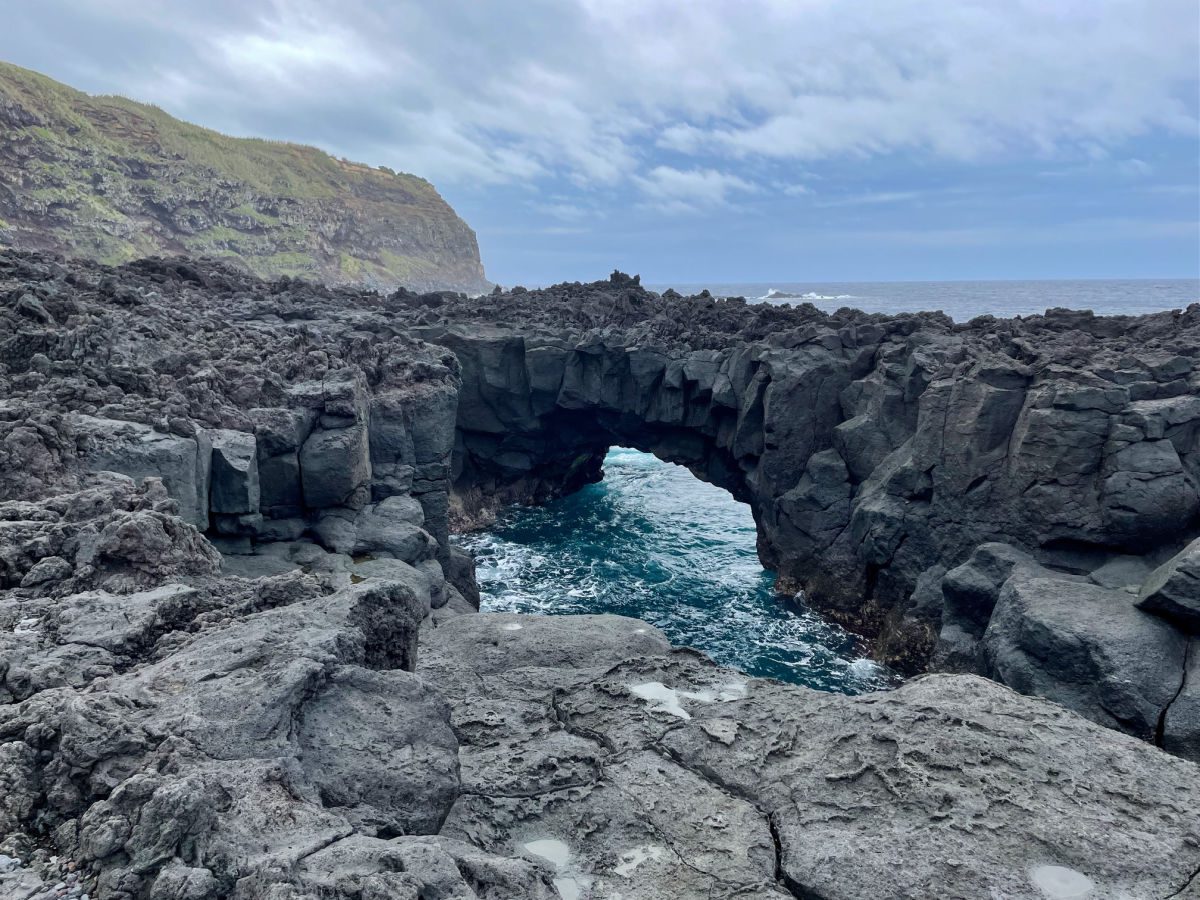 Located on the western tip of São Miguel, Ponta da Ferraria is the vista that reminded me of Iceland, with towering cliffs and a rugged, black lava-strewn beach. You can stop at a viewpoint above the beach at Pico das Camarinhas Ferraria, but no matter what the weather it is worth driving down the narrow, winding road to the sea.
Here you will find a large parking lot for the spa and swimming pool at Ponta da Ferraria. While those have a charge, there is also a free natural, geothermal swimming pool in the ocean. You will probably want to look up the tide chart and visit at low tide if you can, when it is safe to soak in the natural pool and you won't be swept away by the waves. Just be careful as some spots might get dangerously hot at low tide. This would also be an incredible spot to try to catch a sunset if the weather cooperates.
Ponta dos Mosteiros
Another great spot to watch the sunset, Ponta dos Mosteiros in the northwest part of the island. The black sand beach is tucked into a small cove but the real draw is to see the dramatic basalt sea stacks that jut out from the sea. There is a great viewpoint at Miradouro Escalvado, which was once used as a lookout for whales (see the view in the photo above.)
Lagoa das Sete Citades
Sete Citades is one of the most famous sites in the Azores and included in the "7 Wonders of Portugal." This volcanic crater on the western side of São Miguel is home to the twin lakes that are the most photographed in the Azores. One lake appears blue and one appears green, and the locals have a romantic, yet tragic, folk tale of how the lakes got their colors.
You can take a short hike along the lakefronts from a small parking lot by the bridge that cuts between the two lakes. No motorized boats are allowed on the lake but you can paddleboard or kayak with a company such as Futurismo Azores Adventures, which also offers bike tours in the Sete Citades and other adventure activities.
One of the most popular ways to see the Lagoa das Sete Citades is with a hike to Miradouro da Boca da Inferno. Unfortunately when we visited, the fog rolled in and we weren't able to take this hike. However, depending on weather, you can also see the view from Miradouro da Vista da Rei and Miradouro do Cerrado das Freiras. If you need lunch while in the area, stop for an authentic buffet at Restaurante Lagoa Azul in Sete Citades.
Miradouro do Lagoa de Santiago
Another viewpoint in the Sete Citades area is the Miradouro do Lagoa de Santiago. While it doesn't have a view of the Blue or Green Lakes, it does have a pretty view of Santiago Lake, which is a very unique shade of green from the reflection of all the lush greenery surrounding it.
Ribeira Grande
Ribeira Grande is a small town on the north central part of the island (see map below for details) and personally, I found it more charming than Ponta Delgada. There is a lovely town square with a cafe, which makes a perfect spot to have a coffee and people watch for a while. The river runs through town and there are a mix of shops and restaurants.
Praia do Areal de Santa Barbara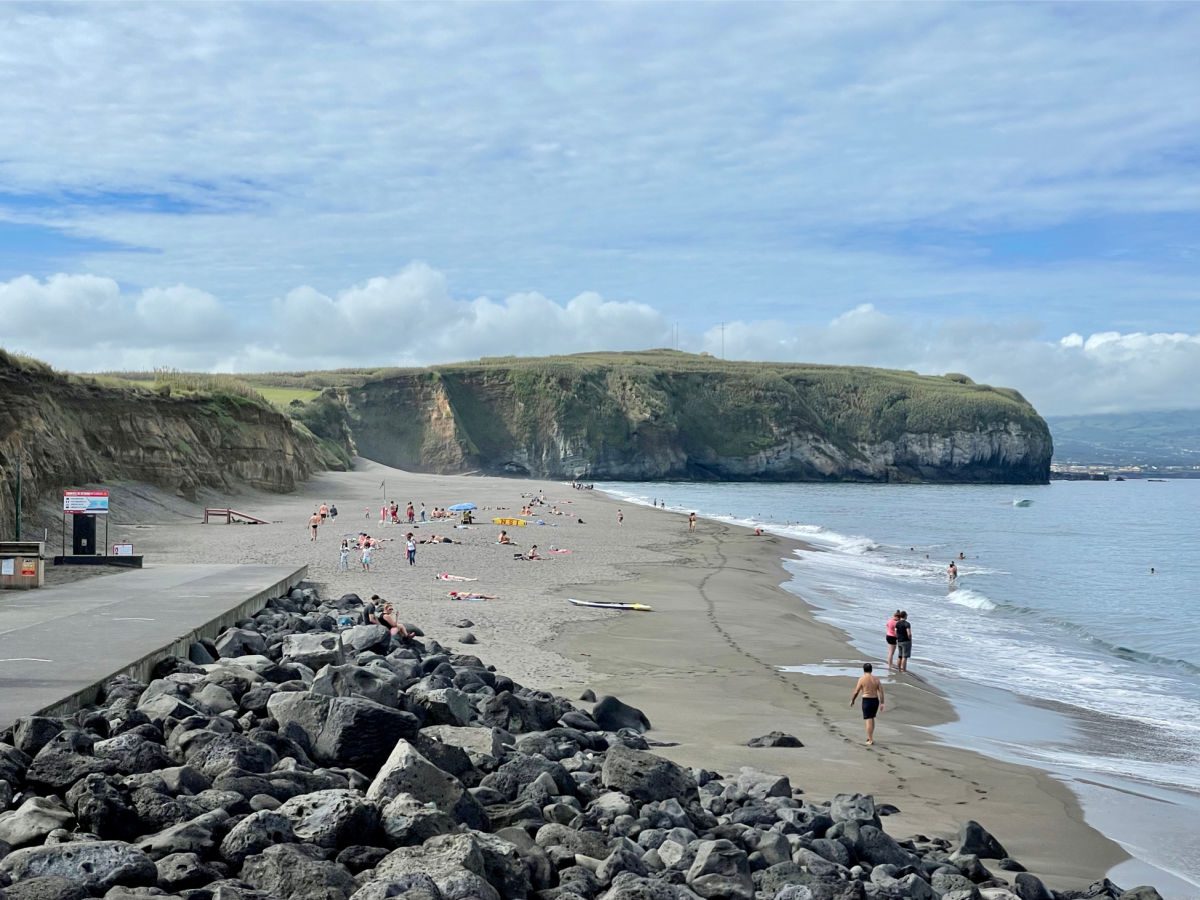 Located next to Ribeira Grande, the Praia do Areal de Santa Barbara is one of the best beaches on the island, and a popular spot for surfers. You can even take surf lessons here or just enough a nice walk on the beach. I'd highly recommend stopping for lunch at TukáTulá beach restaurant for a great meal with an incredible view.
Miradouro de Santa Iria
When you are driving around São Miguel, there are endless numbers of scenic viewpoints offering gorgeous views. I don't need to list all of them here, because many you will discover on your own. But Miradouro de Santa Iria, near the tea plantation, has a stunning view of the cliffs and green fields, and also rewarded us with a beautiful rainbow after a rain shower.
Parque da Ribeira dos Caldeirōes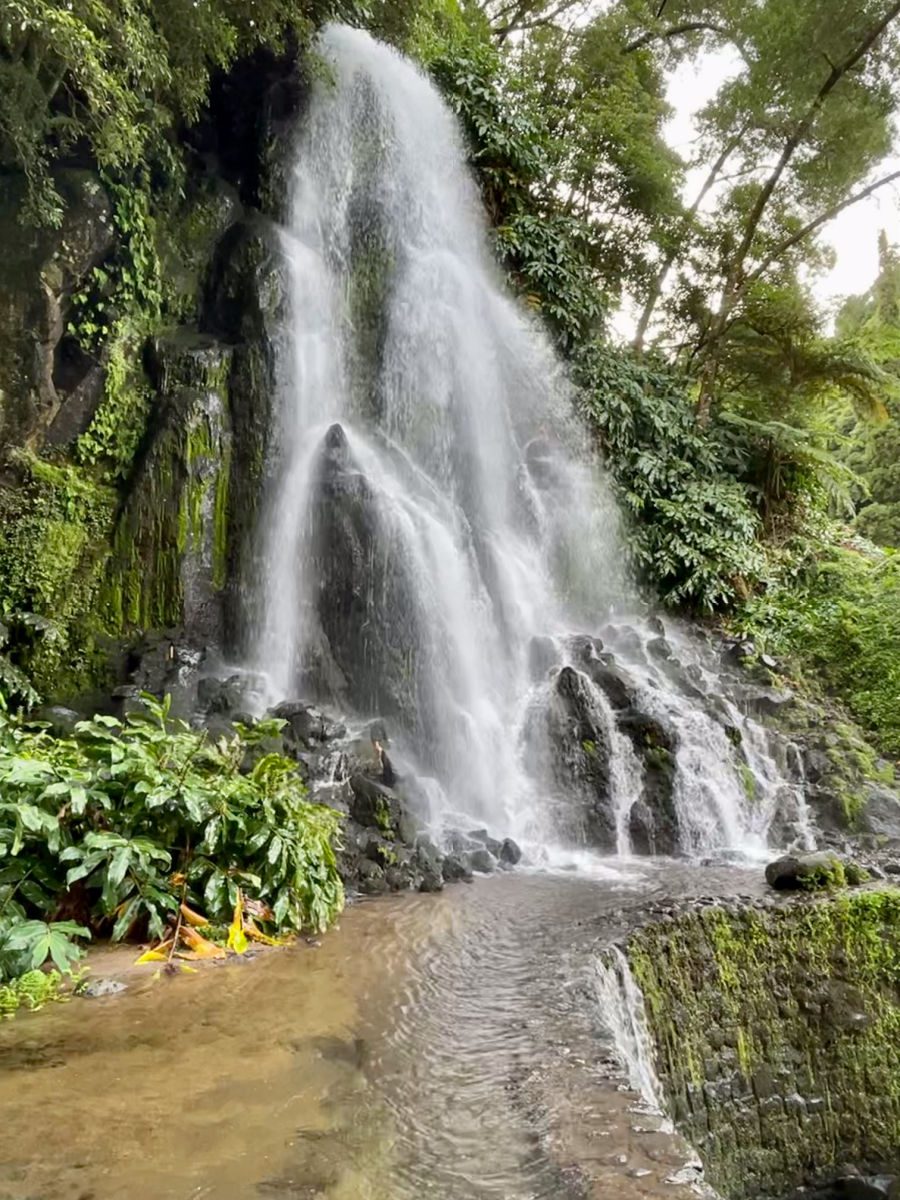 One of my favorite sights on São Miguel is the Parque da Ribeira dos Caldeirōes. Here you can find waterfalls and also visit old watermills and see what rural life was like in Nordeste in the 16th century. There are waterfalls to explore and hike to, and the old village and cafe look like something from a fairytale. Everything is pristinely maintained, lush and beautiful.
Nearby there are the Caldeira Velha thermal springs with a waterfall. There is a fee to enter and you can rent lockers and enjoy a soak in the hot springs. Just make sure that you wear an old swimsuit as the iron-rich water can turn light colors orange, and keep in mind that the parking lot can fill up early.
Lagoa do Fogo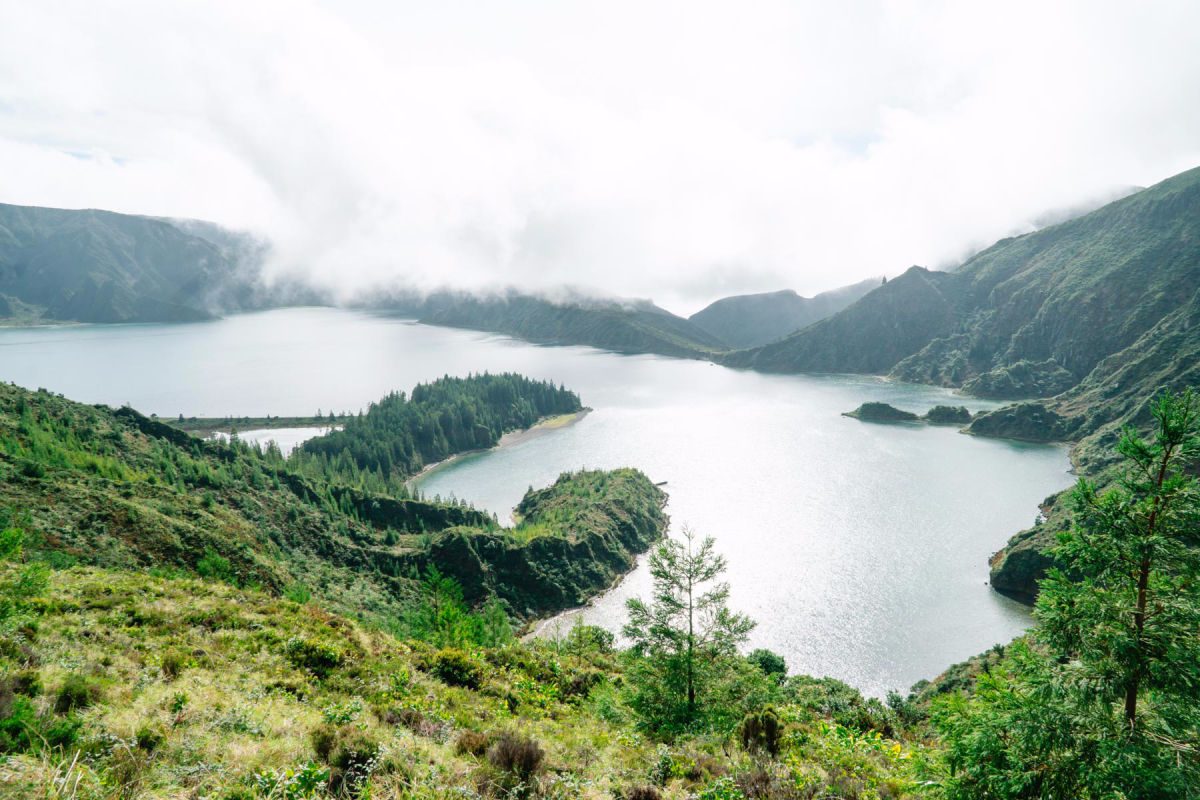 Lagoa do Fogo (Lake of Fire) is another one of the most popular sites on São Miguel. This is a crater lake within the Água de Pau Massif stratovolcano. It isn't unusual for the highest viewpoints to get socked in with fog, so try to pick a day to visit when the forecast looks clear.
Swimming or boating in the lake is not allowed, but you can hike down to it from the Miradouro da Lagoa do Fogo, or try the longer, 13-mile round trip hike on the Praia-Lagoa do Fogo trail. You can drive all the way up to the top of the mountain above the lake at Miradouro do Pico da Barrosa, or stop for views at the Miradouro da Lagoa.
Caloura
Another of my favorite spots, and more of a hidden gem, is the small fishing village of Caloura. Follow the road past the 17th Century Caloura Convent to the fishing port. You will find a jetty with a small lighthouse and a staircase built into a cliff that leads to the secluded Baixa d'Areia Beach. Locals enjoy fishing with a long pole off the jetty, and you can also swim in a saltwater swimming pool that is connected to the sea. If you are hungry, you will find some of the best seafood on the island at Bar Caloura.
There are many other viewpoints along the Caloura coastline that stunning views of the rocky, black coastline. This is a popular area for coasteering as well (see more about that below).
Nossa Senhora da Paz Chapel
This 16th Century chapel was rebuilt in 1764 and restored numerous times since. The stairs leading up to the chapel have 10 landings, which represent the Lord's Prayers of the Joyful and Sorrowful Mysteries and the steps represent the respective Hail Marys, corresponding with two-thirds of the rosary.
The lush green fields, vibrant purple and blue hydrangeas, and the black and white dairy cows grazing behind the church make this a worthwhile stop on its own. Plus, you can see amazing views of Islet Vila Franco do Campo below.
Islet Vila Franco do Campo
You can see views of the Islet Vila Franco do Campo from the Miradouro Senhora da Paz, but if you are spending some time on São Miguel, you may want to consider a day trip by ferry ride or boat tour to Islet of Vila Franco do Campo. This uninhabited island is part of a protected nature preserve, and is popular for swimming and cliff diving. In fact, the Red Bull Cliff Diving World Championship has been held on Islet of Vila Franco do Campo. Otherwise, there isn't much to do on the island beyond some walks/hikes and swimming/diving.
LagoA dos Furnas
If you get a chance to move around the island and stay in different areas, I'd recommend a night or two in Furnas. Lagoa dos Furnas is a beautiful lake for hiking, kayaking, and paddle boats. But one of the real attractions are the geothermal springs that are used to cook the local specialty meal — Cozido das Furnas. Many restaurants and locals use these holes in the ground to cook this meat and vegetable stew using geothermal heat. It is fun to watch the large pots being taken out of the ground and brought to the restaurants.
If you take a walk around the lake, you can stop at the Nossa Senhora das Vitórias church, built by a local dignatary, and see the "pink" house nearby. For a good view of the lake from above, stop at the Miradouro Pico do Ferro.
Terra Nostra Gardens
The Terra Nostra Hotel in the town of Furnas is home to the Terra Nostra Botanical Gardens. You can lose yourself in these gorgeous and lush gardens, and soak in the hot springs. There is a fee if you aren't staying at a hotel, but it is worth a visit. For a casual lunch or dinner, I'd recommend stopping in at A Quinta or enjoying a meal at A Terra at the Furnas Boutique Hotel.
Adventurous & Fun Things to do in São Miguel
While there are many scenic viewpoints and beautiful places to see on São Miguel, which I detailed above, it is also an incredible destination for adventure activities, including the following:
Whale Watching
The Azores are home to sperm whales, humpback whales, blue whales, bottlenose dolphins, and more. Pick an operator that is certified as a Responsible Whale Watching tour provider that follow the rules to make sure that you can see these beautiful creatures without disrupting their natural habitat. Some will also provide the opportunity to swim near wild dolphins. Most tours leave from Ponta Delgada for half-day tours in Zodiac or fiberglass boats.
Hot Springs & Thermal Pools
The Azores are founded upon 1766 volcanoes, nine of which are still active. This volcanic activity results in lava caves, calderas, crater lakes, fumaroles, and thermal water springs. As we mentioned above, there are many spots around the island to soak in geothermal hot springs or thermal pools in the sea, such as the Furnas Boutique Hotel, Terra Nostra Gardens, and the Caldeiras Velha. Just remember, don't wear your best swim suit as the iron-rich water will turn light colors orange, and be sure to pack a quick-dry towel and water shoes for your adventures.
Book a Cozido Experience
Cozido das Furnas is one of the "must try" Portuguese foods when you are in the Azores (although I'll admit upfront that getting to see how it is cooked was more appealing to me than the dish itself.) Cozido is a hearty stew which often includes a mix of meats such as pig ears, chorizo, chicken, beef, ham, pork belly, and blood sausage. You will also find some potatoes and vegetables mixed in. The ingredients are combined in a pot, which is then placed in the ground and buried for a few hours. The geothermal energy cooks then cooks the cozido until it is done.
Restaurants have dedicated cooking holes where they cook their cozido, and there are also public cooking holes at Furnas Lake that locals use to cook their meal (first come, first serve). For the full experience, you can help the chef prepare the ingredients, and then accompany them to the lakefront to bury the pot. You can then head off to enjoy your day and return later to watch the pot being removed from the ground and then you can enjoy the hearty meal. If you don't have a full day for the experience, try to visit Furnas Lake during mid-day, when many of the restaurants will come to remove their Cozido das Furnas pots from the ground. À Terra at the Furnas Boutique Hotel is a good place to try the traditional meal (just book in advance!)
Canyoning
With so many cliffs, canyons, and waterfalls, the Azores are a perfect destination for adventurous travelers to try canyoning. On these tours, you will really get to enjoy the natural landscape. Local tour operators will take you hiking through canyons and to secret waterfalls where you can then rappel down the waterfalls (or jump if it is safe and you are daring) and swim in hidden swimming pools. They provide all the equipment and experienced guides, just bring your sense of adventure!
Coasteering
If you love to swim, dive, and learn about the local marine life, a coasteering adventure tour is a great way to get to explore the São Miguel coast. Your tour operator will take you to the coast where you will swim in the sea and jump from the volcanic rocks. The guides will tell you all about the wildlife and geological patterns and its volcanic history.
Kayaking & Paddleboarding
Sete Citades is the best spot on São Miguel to enjoy kayaking or paddleboarding. The green and blue lakes are also one of the most beautiful places on the island. You can combine a kayak or SUP rental with a bike tour or hike to have a full day in the Sete Citades.
Hiking
There are hikes for all fitness levels on São Miguel, but experienced hikers will really enjoy some of the longer, full-day hikes on the island. If you are worried about finding your way on your own, I'd recommend joining a hiking tour, where you will also get to meet locals and learn more about the landscape, history, and local fauna and flora. Popular hikes on São Miguel are the Boca do Inferno hike in Sete Citades, hiking down to the lake at Lagoa do Fogo, Hike of 1,000 Lakes at Serra Devassa and Nascentes do Canário, and Agrião.
Off-roading
I'm personally not a huge fan of the environmental impact of ATVs and other off-road vehicles on fragile ecosystems, but another popular way to explore the island is on a full or half-day off-road or 4WD Jeep tour. This is the only way to get off the main roads and explore some of the more remote parts of the island. I'd much rather do a Jeep tour with a professional driver, as I haven't had the best luck driving ATVs in the past (I prefer the Polaris side-by-sides for safety.)
Surfing
The beach at Santa Barbara (Praia do Areal de Santa Barbara) is a popular spot for surfers, but even newbies can take surf lessons or rent boards at the Azores Surf Center at the beach. This is also a popular spot for paddle boarding, but you will need some good core and arm strength to work against the current.
Try Pineapple Liqueur at a Pineapple Plantation
The pineapples of the Azores were first introduced to São Miguel in 1850. Today, they are grown in glass greenhouses using traditional techniques and then exported to Europe. The Augusto Arruda Pineapple Plantation offers free visits, as well as free tastings of its A. Arruda Pineapple Liqueur in its gift shop. Visitors can also purchase and taste various products made with pineapple, such as pineapple juice, pineapple cake, pina colada, pineapple mojito and, of course, pineapples.
Visit a Tea Plantation
The Chá Gorreana tea plantation is the oldest, and now the only tea plantation in Europe. This fifth-generation, family-owned business has been growing tea since 1883. Today, they grow black, green and Oolong tea using traditional methods and machines that date back to 1840. You can visit the tea factory for a brief tour and insight into the processing and manufacturing, or stop into the tea room and gift shop to sample some of the teas.
How to Get to São Miguel
As mentioned earlier, there are direct flights to PDL airport on São Miguel on Azores Airlines/SATA Airlines from Boston. Starting in 2022, United is introducing daily direct flights from Newark beginning in mid-May. From Europe, there are also direct flights from London, Brussels, Amsterdam, Paris, Barcelona, Porto, Lisbon, and many other cities on TAP Airlines, Ryan Air, British Air, SWISS, and others.
If you are also visiting mainland Portugal, you may want to take advantage of TAP Airlines' free layover program to add on a visit to the Azores.
Best Time to Visit the Azores
You are probably wondering, what is the weather like in the Azores and São Miguel. Well, that can change on a dime but for the most part the weather is pretty temperate thanks to the warm waters of the Gulf Stream. Summer brings the most sunshine, and the most beautiful hydrangea blooms throughout the island, making it ideal to visit between June and September when average temperatures are in the 70s F. Although the tropical feel and humidity can make it seem warmer.
Temperatures are cooler in the winter but not cold, averaging in the mid-to-high 50s, with ocean water temperatures never dipping below about 60 degrees. You will certainly avoid the crowds if you visit in the winter or early spring, but some of the activities you want to do may not be available.
Getting Around São Miguel
If you don't mind navigating towns with extremely narrow streets or driving through the fog or rain along narrow, cliff-side roads, then, by all means, rent a car. This will be the best way to explore independently, as the public transportation system isn't geared toward tourists. However, if either of those things gives you pause, or if you just want the reassurance of traveling with someone that knows the areas to avoid due to weather, mudslides, or washed-out roads, then hire a private driver-guide or join a tour with a pick up for some of your activities.
I've worked with my partner EPIC Travel to plan and book a custom itinerary for our trip, which utilized private tour guides and made everything so enjoyable and stress-free. If you book with EPIC Travel and mention that you read about them on WE3TRAVEL, you will receive a free VIP welcome gift on arrival.
If you want to extend your visit beyond São Miguel, my first choice would be Pico Island and I'd recommend booking a small group tour with Oh My Cod Tours! This hand-curated tour showcases Pico island through adventure, food, and wine. And trust me, after visiting São Miguel and tasting Pico wine, I'm joining this tour as soon as I have the opportunity! You can save 10% with promo code WE3TRAVEL.
Where to Stay in São Miguel
Note: My accommodations were complimentary as part of a press trip but all opinions are my own.
If you are planning a holiday to the Azores and your goal is to explore, you may want to consider either staying in a very central location during your visit to São Miguel or breaking up your stay between a couple of different hotels to experience different parts of the island. EPIC Travel can also arrange for private villas, if you would prefer to be more autonomous.
Santa Barbara Eco Beach Resort
The Santa Barbara Hotel in Ribiera Grande was my favorite hotel of the three that I got to experience. Located just above the Santa Barbara beach, this boutique hotel features 14 studios, seven one-bedroom villas, and nine two-bedroom villas in a coastal setting. Each has a small kitchenette and living space, with either a balcony or porch to soak in the views.
With the feel of an eco-resort, the Santa Barbara focused on natural materials, primarily the use of local wood, cork and bamboo in its construction, and incorporates traditional Azorean decorative accents, which is truly lovely. I stayed in one of the Blue & Green Studios, which offered access to a shared salt-water plunge pool from its deck.
The service at the Santa Barbara was also top-notch, from the front-desk staff who greeted us to the friendly server in the restaurant, and the help that put together a generous breakfast box for our pre-dawn departure. My only regret was not having more time to stay and enjoy the pool, beach, and other hotel amenities.
Furnas Boutique Hotel
While the rooms at the Furnas Boutique Hotel are small, the service-oriented staff and lovely public areas made you want to spend more time enjoying the hotel than holed up in your room anyway. Located in the small town of Furnas, within walking distance to a couple of restaurants and the botanical gardens, the setting was engineered for relaxation.
Guests can enjoy the hotel's private hot springs, or take a dip in the natural pool. This is also a great spot to relax and enjoy some of the spa services at the hotel. Just make sure to have a meal at À Terra, the hotel restaurant, where you can try the local cozido stew. The hotel also offers a range of complimentary or optional activities each day and can arrange for local excursions.
AZOR Hotel
If you are planning a short car-free stay, or want to spend some time in the main city of Ponta Delgada, then the AZOR Hotel is a good pick. Located on the waterfront, this modern hotel is within walking distance to the main town area. The rooms are fairly spacious, by European standards, and many offer great sea views.
The real star here is the À Terra restaurant, which serves up a fantastic breakfast buffet in the morning, but also caters to foodies with a chef's tasting menu that highlights many of the islands' specialties. A dinner here is quite memorable!
Remember, if you need help planning your trip to the Azores, be sure to reach out to EPIC Travel to have them create a custom Azores itinerary for you. Tell them We3Travel sent you to receive a VIP welcome gift on your arrival.
Save this on Pinterest
Best places to go in Sao Miguel web story.