Quirky, free-spirited, laid-back, eye-opening, oozing with charm…. Amsterdam welcomes you and your teens to fill your time with a vibrant music scene, top-rated museums, a rich history, stunning architecture, Instgram-worthy spots, and surprises at every turn. Lace up your sneakers and grab your teenager because there are so many fun things to do in Amsterdam with teens!
You can unwind at a cafe, jam at a concert, dive into the art scene, or just wander the supremely-walkable cosmopolitan capital of the Netherlands, which still looks much like it did in the Golden Age of the 1600s. When planning your trip to Amsterdam, also carve out at least one day to take one of these day trips from Amsterdam.
10 Fun Things to Do in Amsterdam with Teens
This post contains affiliate links. If you click a link and make a purchase, I may receive a small commission.
1. Explore and get lost
Start your visit with a Free Walking Tour of Amsterdam to get an overview of the city center and its history. The knowledgeable and enthusiastic guides work hard for their tips! This guided tour covers many of the city highlights and orients you before setting out on your own.
Next learn why Amsterdam is known as the "Venice of the North" as you head to the Jordaan neighborhood and Nine Streets, which your kids will love. Every direction invites teens to take the most fabulous selfies overlooking picturesque tree-lined canals! It is quintessential Amsterdam and home to boutique shopping, cozy cafes, and the most emotional stop on our trip, the Anne Frank House. Make sure you book your tickets as far in advance as the website permits.
The charm of this city lies is in the details! Turn down the narrow side lanes…glance up to catch the gabled buildings… and look down to see the canals teeming with boating activity. Spend an afternoon relaxing on one of the many canal boat tours, seeing this city from a completely different angle.
Be prepared for interesting conversations with your teen as you pass the city's "coffeeshops" (hint – this is NOT the place to get a dark roast coffee) and the Red Light District. While hitting the spots on the list below, be sure to save time to wander and just get lost.
2. Time to soar
Here are two ways to fly over the city! Spend one enjoyable hour visiting This Is Holland, which includes a nine minute 5D flight experience (similar to Soarin' at EPCOT) and an entertaining comedic summary of the Netherlands' history narrated by a bumbling, but lovable character. This Netherlands intro is child friendly, with an easy-to-understand version for kids (and adults) of all ages.
If your gang is into thrills, waaaaaay up high is the intimidating A'DAM Lookout with the "Over the Edge" attraction, which is Europe's highest swing and skydeck (we were too wimpy to try this one).
3. Eat your way around the city
Food tours are always a hit with our teen, including ones in Vienna and Rome. Book the top-notch Hungry Birds Food Tour for a delectable introduction to the Amsterdam "melting pot" culinary scene. Our well-curated gastronomic adventure was a highlight of our trip! This tour incorporated culture, history and food in an engaging way. As we visited different eateries and wandered through the stalls of the famed Albert Cuyp Market, we had fun experimenting with new local and international foods and heard stories from the chefs. You can select from a variety of tours in different neighborhoods and varying lengths of time.
Our enthusiastic and charismatic guide Zosia, who is also one of the co-owners, led us in our quest to sample a variety of international and distinctively Dutch treats including freshly-cooked stroopwafels, world-famous herring, flavorful Surinamese and Chinese specialties, mouth-watering pastries called poffertjes, the most delectable cheese platter, and so much more!
After the tour, we continued to explore this foodie town. Here are some of our favorite dining experiences.
We enjoyed a canalside meal featuring traditional fare while people-watching on the terrace at the historic Cafe 't Smalle, a former liquor distillery and tasting room dating to 1786.
When in the mood for mammoth mouth-watering sandwiches, we popped into the top-rated casual hole-in-the-wall Lombardo's. We drooled over our Cheesy Freakburger and Grilled Free-Range Chicken Sandwich. This is a three napkin meal!
For a true authentic Italian experience, we delighted in our pasta dinner at the charming Italia Oggi neighborhood restaurant. Be sure to meet the friendly host, Massimo, and chat with the hospitable staff.
When energy runs low, buy your teen (and you) a piece of heaven, a warm chocolate gooey cookie from the secret tiny Van Stapele Koekmakerij.
4. Rock out at a concert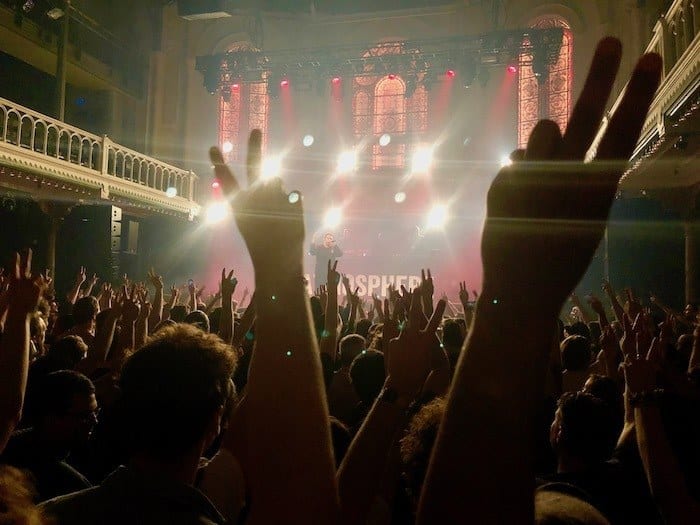 Teens love music! Iconic venues near the Leidseplein, a focal point of Amsterdam nightlife, include Melkweg (a former milk factory with many different-sized spaces) and Paradiso (a spectacular repurposed church with colorful stained glass windows, a sweeping balcony and high ceilings).
Both spots offer a wide-range of cost-friendly musical options. I won mother-of-the-year when I invited my daughter to pick any concert she wanted which landed us at a hip-hop concert at the Paradiso….her top nighttime memory of the trip. Check to see if there are age limits for the concert you plan to attend.
5. Tiptoe though the Tulips
If you are fortunate enough to be able to visit the Netherlands during the world famous Tulip Mania that grips this region, make a beeline for the one-of-a-kind out-of-this-world Keukenhof Gardens (March 21 – May 10, 2020). Spend a few hours or ALL DAY meandering the picture-perfect colorful rows and themed displays of seven million tulips and other flowers.
Instagram-fabulous for your teenagers who crave that perfect shot! Tour a windmill, pop into greenhouses, and float through the rainbow-like fields on a boat. Younger children will enjoy a treasure hunt, petting farm, maze and playground. Keukenhof takes about an hour to reach from the city by public transportation. Consider purchasing a combi-ticket which includes transportation and admission.
6. Experience Amsterdam's Art & History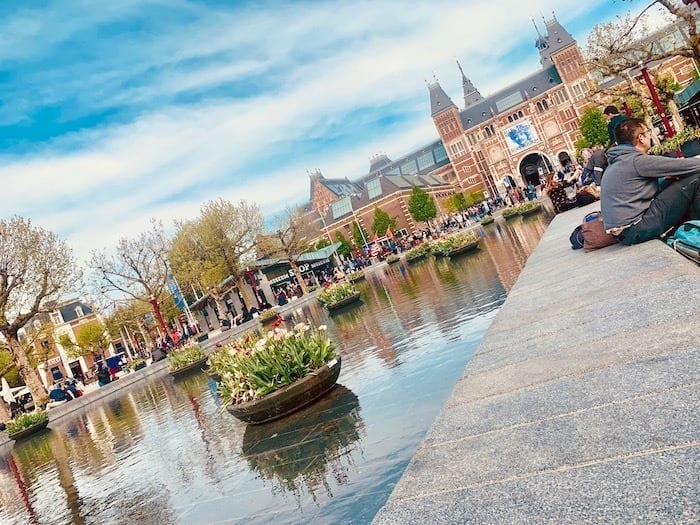 If art museums are your teen's thing, head to the buzzing Museum Quarter where you can fill your day visiting the iconic Van Gogh Museum; the most famous museum in Amsterdam, the Rijksmuseum, full of Dutch Masters; the ultra cool modern art Stedelijk Museum; or the hip kid-friendly Moco Museum, featuring Banksy.
You can also explore the city's historic Jewish Cultural Quarter, including the grand renovated Portuguese Synagogue dating from 1675, the moving Holocaust Memorial and Dutch Theater, and the informative Jewish Historical Museum.
7. Visit the Temple of Beer
For those not into art or history, join the masses lining up at the temple of beer, the Heineken Experience. Yes, it's uber cheesy…but it's also a hit with teens! This commercialized light-hearted tour takes you through the beer-making process, the history of Heineken, and a multimedia immersive experience. It reminds us a lot of the Guinness Storehouse experience in Ireland.
You can even sing karaoke, take beer-themed pictures in a photo booth, play some electronic sports games, and end up in a fraternity feeling (yet family-friendly) bar area where you can compete against others for the title of the perfect pour and taste some beer (or for those under-18, sample soft drinks).
8. Escape to the Countryside
With efficient trains and buses, it's a breeze to zip through Holland to some of the more quaint towns such as Zaanse Schans (a Disneyesque town full of clogs, cheese, windmills and more), Zandvoort (a quiet beach town), the Hague (the political capital), or Gouda (home of the famous and entertaining cheese market).
We chose to ride a train fifteen minutes to Haarlem, a romantic version of Amsterdam in miniature. Stolling the medieval cobblestone streets transported us back almost 800 years. While Haarlem has plenty of windmills and museums, we opted for an afternoon of boutique shopping and lunch at Jopenkerk Haarlem Brewery (a former church with a gorgeous stained glass window and antique wood interior.) Join the locals checking out the flea markets, clothing on Mondays and general on Saturdays, and take a break at a cafe in Grote Markt (the square in the center of town.)
9. Go on a hunt
Challenge your teen to spot the oh so touristy – but Instagram-worthy I AMSTERDAM sign, with its larger than life bold red and white letters! One I AMSTERDAM sign is located outside the entrance to the airport. The second set is moved to different locations around the city. Teens love taking selfies next to the letters to post to Instagram, and younger kids like playing hide and go seek around them.
10. Take part in the love story of Hazel and Gus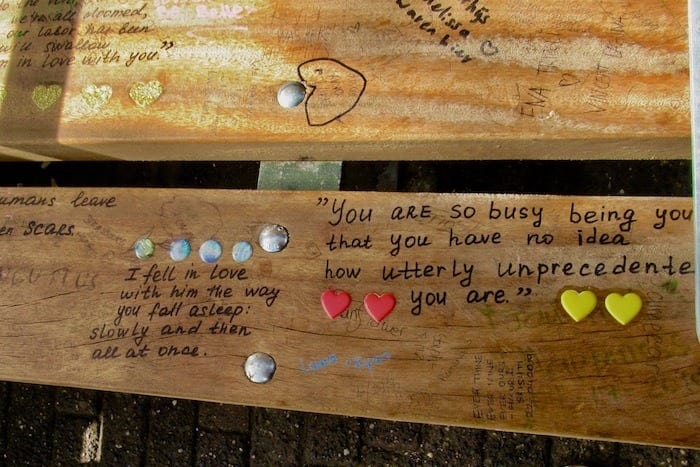 Cue the swooning! If (you or) your teen is a fan of John Green's The Fault in Our Stars, you can find the bench on the Leidsegracht along the canal where they shared a kiss, meander the Rijksmuseum where Ansel and Gus held hands, and follow in their steps by touring the Anne Frank House.
Tips for Acing this Trip
The Doubletree Amsterdam Centraal was the perfect Amsterdam hotel home base for our adventures. The helpful staff answered all our questions and contributed to our positive experience in this city. A huge perk of this hotel for teens is the top floor SkyLounge with its fabulous panoramic views. Visit during the day for lunch or when the sun sets and it becomes a nightclub pulsating with music with tasty cocktails (mocktails for teens).
The waterside Doubletree is just steps from the train station, tram stops, NEMO Science Museum, and even features an in-house bicycle rental company. Save your appetite for the signature dessert at the Eastwood Beer & Grill – the Eastwood Bucket which is literally a bucket of ice cream or sorbet surrounded by mini-glasses of various tempting toppings. Mmmm!
Purchase an I amsterdam City Card to save time and money. The freedom that comes with this card was fabulous. The card enables users to hop on public transportation, enjoy a canal cruise, sample some treats, get a discount at various stores and restaurants, and includes admission to more than 60 museums and attractions.
Pre-book online your tickets to all popular attractions including the Anne Frank House, the Van Gogh Museum, Keukenhof Gardens, and the Heineken Brewery Tour. Teens hate to wait in lines!
About the Author:
PIN THIS FOR LATER