With only 100 miles of coastline, it is easy to forget that the Peach State has beaches, let alone consider the islands scattered off the coast of Georgia. On the east coast of the U.S., usually when people think about vacationing to the islands, they are thinking of the Caribbean — or maybe a few islands in Florida like Captiva, Amelia Island, or the Florida Keys — not the Georgia Islands.
Yet there are 15 Georgia barrier islands, from Tybee Island off the coast of Savannah, to Cumberland Island, just north of Jacksonville, Florida. The sandy beaches are generally wide and flat with waves meant for jumping and body surfing.
The salt marshes are ideal for kayaking and fishing, and the laid-back vibe makes for the perfect family vacation destination in the state of Georgia. You won't find rowdy boardwalks and party people here. It is a spot for appreciating nature and good, old-fashioned family fun.
Georgia's Barrier Islands are not just for locals either. With plenty of flight options into Savannah, Jacksonville, or even the smaller Brunswick airport, the Georgia coast is an accessible getaway for many, including New Englanders like me.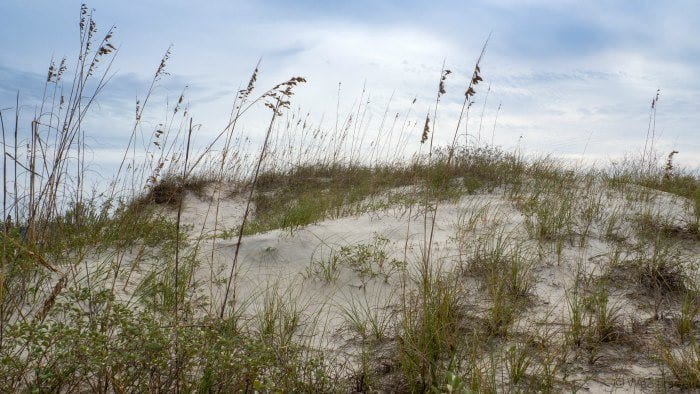 The hard part when planning a vacation to Georgia's Golden Isles, especially when you aren't from the area, is figuring out which island to choose. I grew up in New Jersey. There you just instinctively come to know which of the New Jersey beaches (we call it the Shore) are right for you. Want to party like you are on MTV? Yeah, that's Seaside. Prefer a quieter scene with a beach house and fewer public beaches? Try LBI. Quaint beach town with great food? How about Cape May? You get the idea.
But as many times as I've drooled over the ads for Sea Island or browsed through the websites for hotels on Jekyll Island, I could never quite wrap my head around whether I would prefer Jekyll or St. Simons, Sea Island or Tybee. Sometimes you just need to experience it yourself.
I recently headed down to the Georgia coast with a mission to figure this out for myself, as well as create a guide to make it easier for other first-time visitors to choose between the many gems of the Georgia Islands.
Guide to the Georgia Islands
Note: This post contains affiliate links. If you click a link and make a purchase, I may receive a small commission. All opinions are my own.
Tybee Island
Tybee Island is just 20 miles from Savannah, with the short drive making it Savannah's beach and a popular day trip for people visiting the city as well. Here you will find long stretches of sand and salt marshes teeming with wildlife, especially at low tide. You will also find a mix of local hotels and bed and breakfast inns. What you won't find, however, are chain hotels and high rises.
Tybee Island first came onto my radar when my niece was attending Savannah College of Art and Design. When my sister and family would go to visit, they often posted pictures from Tybee Island, with its lighthouse in the background.
Tybee Island is ideal for those looking to combine a beach vacation with some sightseeing and history. Spend a few days in Savannah strolling through Forsyth Park and the many squares dripping in Spanish moss, hop on a trolley tour, and enjoy some delicious southern cuisine before heading over to Tybee Island. My friend Lesli at 365AtlantaTraveler wrote a great guide about things to do on Tybee Island (including where to eat and stay.)
St. Simons Island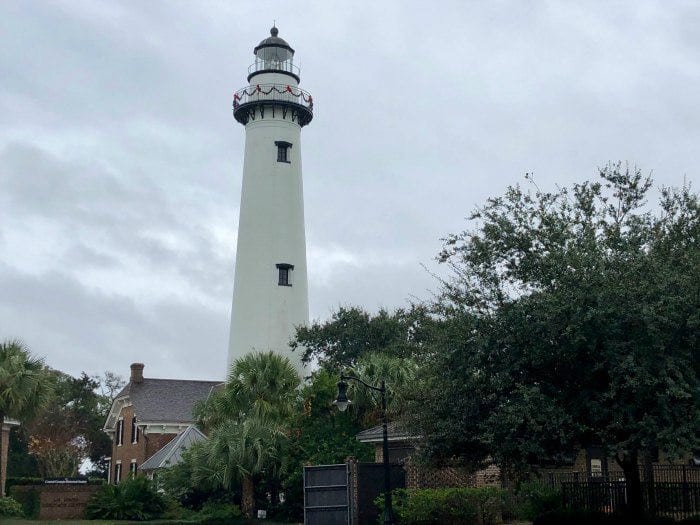 On my recent visit, I concentrated my stay on the Golden Islands of Georgia: St. Simons Island, Little St. Simons Island, Sea Island, and Jekyll Island. Although these small islands are clustered together near the city of Brunswick, they each have a different personality.
St. Simons Island is the largest of the Golden Isles. It has been voted "America's Most Romantic Town" and "Favorite Beach Town" by Travel + Leisure. Its moss-draped oak trees line quaint streets, and its rich history and beautiful beaches have attracted many over the years to become full-time residents or at least purchase a vacation home, giving this island a local vibe instead of feeling like a holiday beach destination. The main Village is larger than you will find on Jekyll Island, and so are many of the homes, indicating a quiet wealth.
On St. Simons Island you will find plenty of shops and restaurants, ideal for vacationers that want to eat out and explore. The island also has plenty to do off the beach, with bike trails, golf courses, the St. Simons Island Lighthouse, and sites like the Fort Frederica National Monument, historic Christ Church, and plantation-era ruins for history buffs. There are also many romantic things to do on St. Simons for a weekend getaway.
The place to stay on the island is the historic King and Prince Beach and Golf Resort, which has been welcoming travelers for over 80 years. The King and Prince offers oceanfront accommodations, with three oceanfront pools, but it is also walking distance to the island's main Village. However, you may prefer to stay at one of the many local bed and breakfasts in town.
Families also love Massengale Park, which offers easy beach access, shaded picnic areas, and a playground. The Coast Guard Station also offers facilities with plenty of parking (and ADA accessible beach access.) Gould's Inlet is the place to go for peace and quiet, as well as fishing, bird watching, and sunrise viewing.
For those that want to be active, you can rent bikes at Two Brothers Bikes and spend the day exploring the wilderness of Cannon's Point Preserve. SouthEast Adventure Outfitters also runs guided kayak tours, fishing charters, and eco-cruises.
Overall, St. Simons Island is a good choice for a long weekend or for those that want more of a "town" feel to a beach destination, with plenty of activities and places to eat.
Little St. Simons Island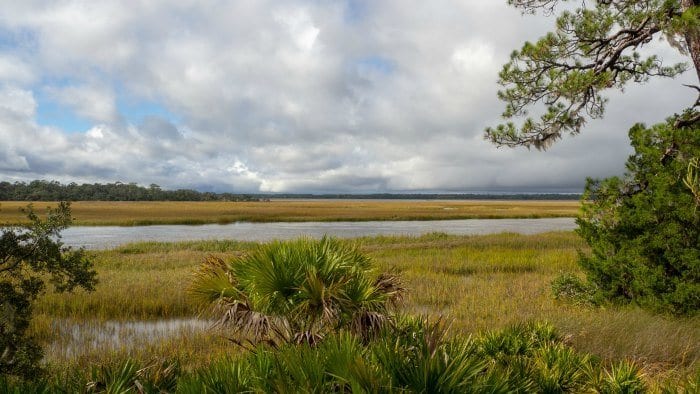 I had the privilege of being hosted at Little St. Simons Island, which is an eco-lodge set up on a private island. This beautiful paradise, accessible only by boat, is perfect for nature lovers seeking peace and quiet. There are 11,000 acres of natural beauty to explore, as well as seven miles of wide, flat pristine beaches. All for the enjoyment of only 32 overnight guests per night. (Although day visitors are also allowed, their numbers are limited.)
It is no surprise that The Lodge on Little St. Simons Island was voted the "Top Resort in the South" for three years running by Condé Nast Traveler.
A rare all-inclusive resort on the U.S. east coast, Little St. Simons Island reminded me of our dude ranch vacation with its schedule of daily activities to join, family-style meals served on schedule and a scattering of cabins and lodges throughout the compound.
If you really want to pull your kids away from the distractions of everyday life and have them connect with nature, this is the perfect getaway. While there is WiFi, you won't find any TVs. But that doesn't mean you will be bored. Little St. Simons Island offers daily naturalist-led activities, included in your stay. You can track down armadillos, search for sand dollars on the beach, take a forest safari to spy abundant wildlife, or glide through the salt marsh on a kayak tour.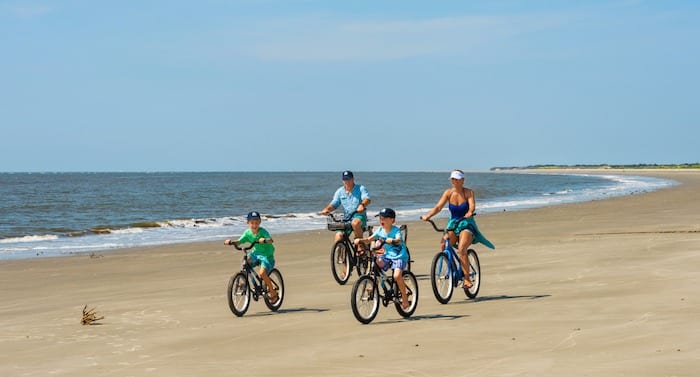 Those that want to go out and explore on their own have miles of hiking and biking trails to get lost and spend the day without seeing another soul. The level of staff, especially those dedicated to environmental education, to guest seems impossible to manage, yet they manage to do so without exorbitant rates considering all that is included.
And while the accommodations were originally a hunting lodge, with cabins and lodges added to accommodate guests in the late 20th century, the rooms have been made extremely comfortable. The little touches like a stocked fridge in the cabin and daily cookies for snacking take the Lodge at Little St. Simons Island to the next level in hospitality.
Little St. Simons Island is the perfect place for a three-to-five night stay for nature lovers looking for comfort and refuge. Visit in the cooler months to avoid the humidity and mosquitos, and be prepared to see some wildlife on this nature preserve. The mild climate and fewer insects makes late fall a perfect time to visit.
For more details, read my full review of Little St. Simons Island.
Sea Island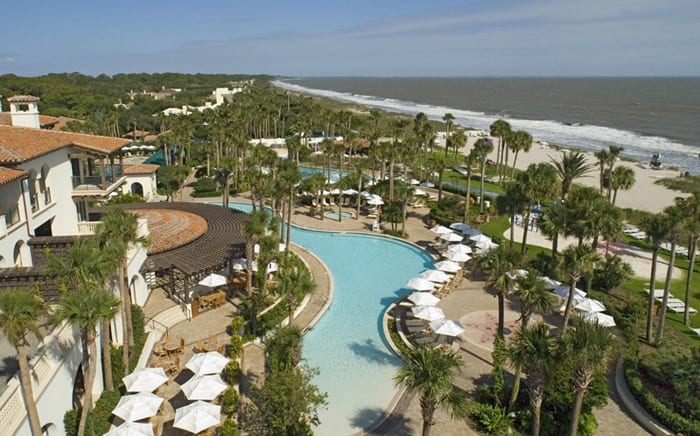 While Sea Island is accessible via a bridge from St. Simons Island, it is a private resort that is open only to hotel guests and members seeking the island lifestyle off Georgia's coast. Since 1928, Sea Island has been a destination for those seeking luxury and it is still on my bucket list.
Guests can stay at The Cloister at Sea Island, The Lodge at Sea Island, or rent a cottage. (Note: The Inn at Sea Island is actually located on St. Simons Island but has access to many Sea Island amenities.) On the island there are five miles of private beach, three championship golf courses, a yacht club, and plenty of activities for children.
My friend Sue has a great write-up on The Cloister at Sea Island. Sea Island is definitely the choice for families accustomed to five-star luxury and service but still want the peaceful setting of the Georgia coast.
Jekyll Island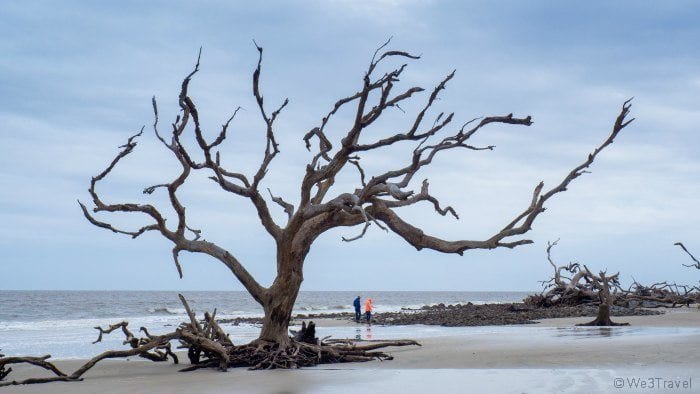 Jekyll Island, the southernmost of the Golden Isles, is my pick for families seeking sandy shores and a pure beach vacation. Here you will find gorgeous stretches of beach, with oceanfront hotels on the Atlantic coast, in a natural and peaceful setting. (See my guide to Jekyll Island beaches.)
I was surprised to learn that only a few decades ago, the island didn't have the best reputation, as it was mostly known for its campground and low-rent motels. Especially because it was purchased in 1886 to be a private retreat for some of the world's wealthiest families from the Pulitzers to the Vanderbilts.
Recent renovations and hotel development have returned the island to its former glory, making it a popular island for families. Yet it continues to limit development just 35 percent of available land area to preserve its wildlife and protect natural habitats, striking just the right balance in a beach destination.
The island on Georgia's coast is home to 10 miles of beaches, including the famous Driftwood Beach. There are also 20 miles of fairly flat and beautiful bike trails that circumnavigate the island.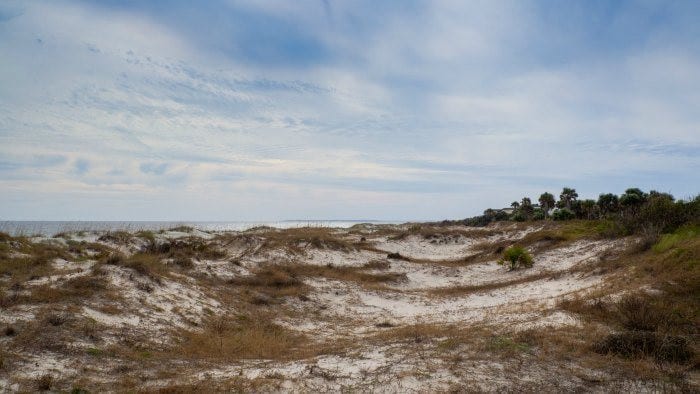 While there are some full-time residents on Jekyll Island, the homes are modest and the "town" centers are the historic district and the newer Beach Village. These provide enough variety of restaurants to make it through a week of dining out, but not so many that you are struggling to choose where to go.
The main attraction away from the water is the Georgia Sea Turtle Center. This small educational center packs a big punch. Visitors receive a card to stamp throughout the exhibits after learning about various aspects of a sea turtle's life cycle and the challenges they face.
After learning inside, you can head out to the turtle hospital, where live sea turtles are treated and rehabilitated. Kids and adults alike will love reading the story of each turtle, where they were found, what was wrong with them, and how they are responding to treatment. A stop at the Georgia Sea Turtle Center is a must on any visit to Jekyll Island.
You can also take a tram through Jekyll Island's National Historic Landmark District and visit the historic Jekyll Island Club Resort. I spent two nights on Jekyll Island but I would gladly spend a week hopping from beach to beach and biking around the island.
Unlike Tybee, new development has brought chain hotels to Jekyll Island, but everything is fairly new and fresh, with some new options still going up. I stayed at the ideally-located Westin Jekyll Island. There are also other great options on the beach including the Jekyll Ocean Club, Villas by the Sea, and the Holiday Inn Resort.
Jekyll Island is a great year-round destination, with its beachfront conference center bringing in all sorts of festivals and a special Christmas celebration around the holidays.
Cumberland Island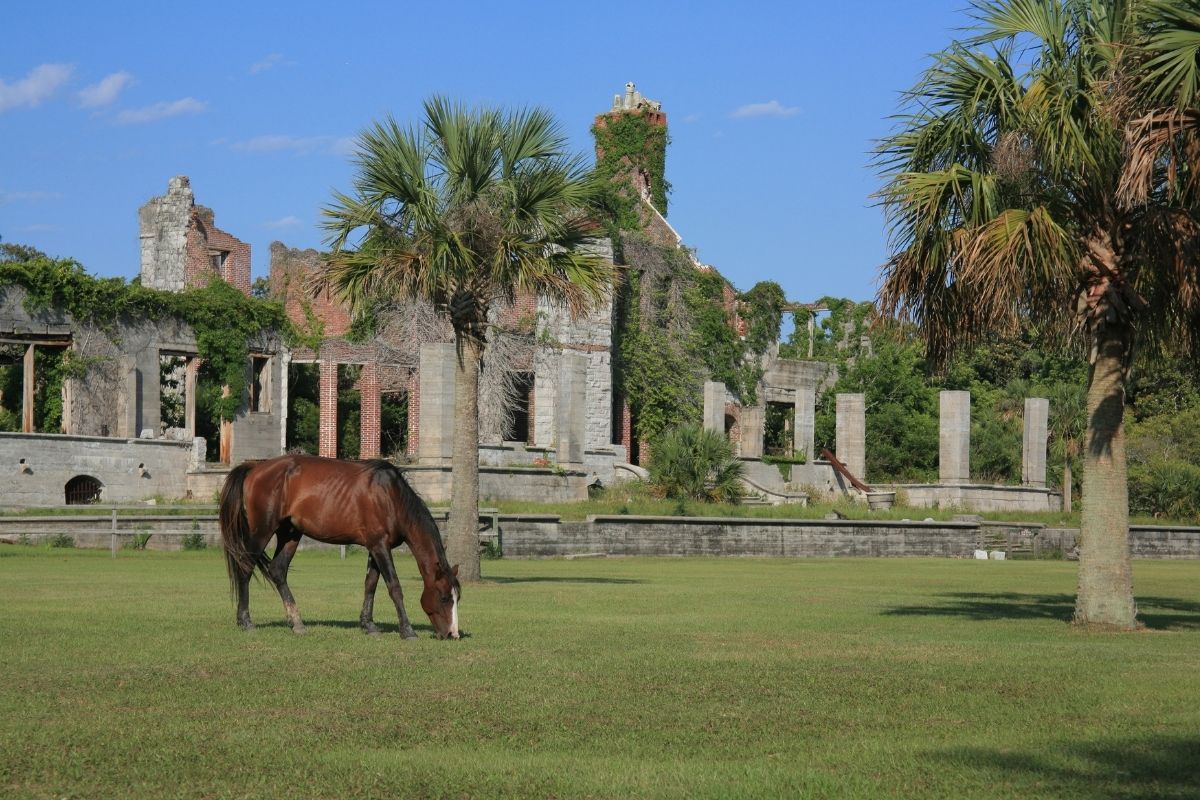 Cumberland Island is located down by the Florida border, not far from Amelia Island and Jacksonville, Florida. It is the largest of Georgia's Barrier Islands and home to the Cumberland Island National Seashore. The Conservancy works along with the National Park Service to maintain the natural, cultural, and historical resources of Cumberland Island.
There are only two lodging options on Cumberland Island. You can either stay at the Greyfield Inn, a Carnegie family mansion, or you can book a campsite with the National Parks Service. Visiting for the day is also limited, as it is only reached via ferry.
The National Park Service operates a ferry from St. Mary's, Georgia (except during the government shutdowns), but the schedule is limited, meaning you need to dedicate an entire day to a visit to Cumberland Island (if you aren't staying overnight.) The Greyfield Inn also runs a ferry from Fernandina Beach, Florida.
The National Park Service offers guided ranger tours of the island, but most visitors come to Cumberland Island because it is the best place to have close encounters with wild horses. Cumberland Island is also home to loggerhead turtles, armadillos, feral hogs, and plenty of birds. You can also hike, swim, fish, and bike on Cumberland Island.
PIN THIS FOR LATER