Amelia Island, located just northeast of Jacksonville on the Florida-Georgia state line, is known for its golf courses and beaches. But the cuisine also reflects its blend of southern and Floridian influences. You are as apt to find key lime pie as fried pickles and hush puppies on the menu.
Once the end point of a railroad built by David Yulee in the 1850s and later, a vacation destination for cruise steam ship passengers, Amelia Island has been popular with tourists for over a century.
And as you might expect from a tourist town, there is a range of cuisine from fine dining to your typical tourist traps. When I was in town, I was able to stay at both the Omni Amelia Island Plantation Resort and The Ritz-Carlton, Amelia Island and had a chance to sample the cuisine around town — and quiz the locals on their favorites.
So if you are looking for the best restaurants in Amelia Island and Fernandina Beach, I've got you covered.
Best Restaurants: Amelia Island
Note: My trip was hosted by Amelia Island Tourism and our Chef's Adventure Tasting Dinner was hosted by The Ritz-Carlton, Amelia Island. My taste buds and opinions are wholly mine.
Salt at The Ritz-Carlton, Amelia Island
If you are a foodie, than you just have to experience the Chef's Adventure Tasting Menu in the dining room at Salt in The Ritz-Carlton Amelia Island. The Chef integrates contemporary techniques with salts from around the world to stimulate your taste buds. I'm always a fan of salt and I have sea salt, pink Himalayan salt, Celtic grey salt and even Icelandic volcanic salt in my cabinet at home so this experience was right up my alley. I was wowed again and again throughout our six course tasting menu.
Our dinner started with a foie gras gelee with pear compote, oat crumble, and micro celery for an amuse bouche. I prefer my foie gras seared but this was smooth and rich…don't let the "gelee" fool you. Our first course consisted of king crab meat with cauliflower gelee, clementine, pickled radish and caviar, and the second course for most was the tuna tartare.
But it was the next three courses that brought the "ooos" and "ahs", so if you go, don't fill up too quickly (although the fresh bread with butter and a variety of salts makes it soooo tempting!) The third course were Key West pink prawns, served with goat cheese, smoked tomato, and green tomato marmalade. But it was the presentation that wins the night here. Each dish arrived under a glass cloche, smoke swirling, which when lifted made for a big reveal.
It was the fourth course that won my stomach. The butternut squash soup arrived in a kabocha squash on a bed of toasted, spicy aromatics with cranberry foam and spiced pecans. This dish was sublime — more like dessert than dinner. Sweet, smooth and full of flavor.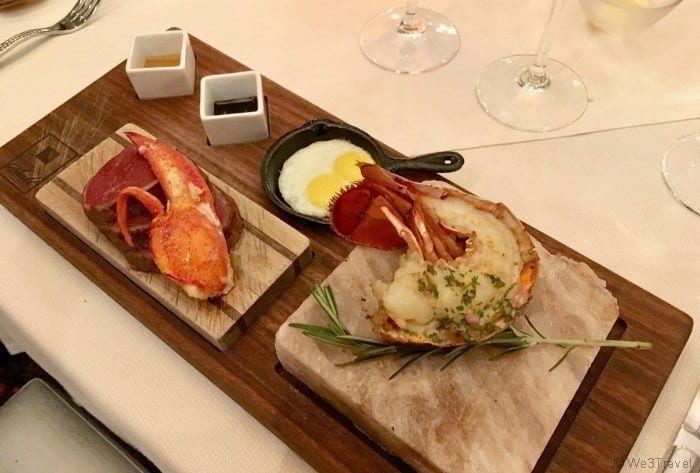 The "Steak, Eggs & Lobster" came out still cooking on a sizzling Himalayan salt block. It looked amazing and the presentation was stunning. The meat was rare and I was able to cook it to my liking on the hot salt. The contrast to the lobster tail was so perfect surf and turf, but the quail egg was just overkill at that point of the evening.
By the time the s'mores soufflé arrived, with graham cracker, smoked vanilla ice cream, and Nutella anglaise, I was glad I don't like marshmallows because I couldn't manage more than a nibble.
Le Clos
Although my stomach could only handle one meal of that magnitude, I did get recommendations for other fine dining options on the island including Le Clos, a French restaurant just off Center Street in the historic district of Ferdinanda Beach in a quaint home.
I've been told that the meatloaf with foie gras and the flourless chocolate cake are the things to get here.
Le Clos is located at 20 South 2nd Street, Fernandina Beach, Florida 32034, (904) 261-8100
Burlingame Restaurant
Another Ferdinanda Beach restaurant that came highly recommended was the Burlingame Restaurant. The chef was formerly at The Ritz-Carlton, but joined with the owners to open Burlingame. The restaurant focuses on coastal cuisine and fresh, local ingredients.
Burlingame is located at 20 South 5th St, Fernandina Beach, Florida 32034, 904-432-7671
Timoti's Seafood Shack
Timoti's is a classic seafood shack with a cool, slightly hipster vibe. They offer minimal indoor seating but have a family-friendly, covered patio eating area with a playground.
The food is casual, focusing on wild-caught seafood including fried fish baskets, tacos, sandwiches and salads. I tried the fried oyster po boy (yum), and others in my group really enjoyed the seaweed salad, fish tacos, and the poke bowl.
Timoti's is located at 21 N 3rd Street, Ferdinanda Beach, FL 32034, 904-310-6550
The Salty Pelican
One of my Floridian friends recommended The Salty Pelican and we stopped here once on a road trip dow to Orlando. This beach bar with an outdoor patio also offers fresh seafood, oysters, catch of the day, as well as a variety of sandwiches, salads and starters. At night it turns into a happening hot spot.
Salty Pelican is located at 12 North Front Street, Fernandina Beach, FL 32034, (904) 277-3811
Sliders Seaside Grill
Sliders is located right on the ocean front in downtown Fernandina Beach, with a large indoor dining room, outdoor tiki bar and patio seating. Plus, they have a fun playground for the kiddos. You'll want to try one of their specialty drinks for some beach fun.
The menu is diverse, making decisions tough, but I'd recommend the shrimp tacos, grouper sandwich or the steak and fry salad.
Sliders is located at 1998 South Fletcher Avenue, Fernandina Beach, FL 32034, 904-277-6652
Beach Diner
f you are like me and enjoy a good breakfast, all the locals I asked suggested Beach Diner, serving specialties like "eggs on the bayou" benedict from 6 am to 2:30 pm.
Beach Diner is located at 2006 S 8th Street, Fernandina Beach, FL 32034
Ms. Carolyn's
Another place the locals recommended for breakfast is Ms. Carolyn's but they told me you should plan on getting there before 9. Her specialties include quiche, cinnamon rolls, pumpkin cheesecake, and coconut cake.
Ms. Carolyn's is located at 2120 Sadler Road, Fernandina Beach, FL 32034, 904-261-6277
Fernandina Beach Bars
Green Turtle
The Green Turtle is great for drinks with a large outdoor patio and live music. Just keep in mind that the patio bar has a limited selection so you many need to wait on the line inside for the good stuff.
The Green Turtle is located at 14th South 3rd Street, Fernandina Beach, FL 32034, 904 321 2324
Amelia Tavern (at Amelia Island Brewing Co.)
Amelia Tavern does offer some amazing looking food but I put it under bars because they have a great selection of local beers, including some they brew. I had fun trying out a beer sampler flight but my friend would also recommend the Key Lime pie martini.
Amelia Tavern is located at 318 Centre St., Fernandina Beach, FL 904-310-6088
Visiting Florida? You may also be interested in:
PIN THIS FOR LATER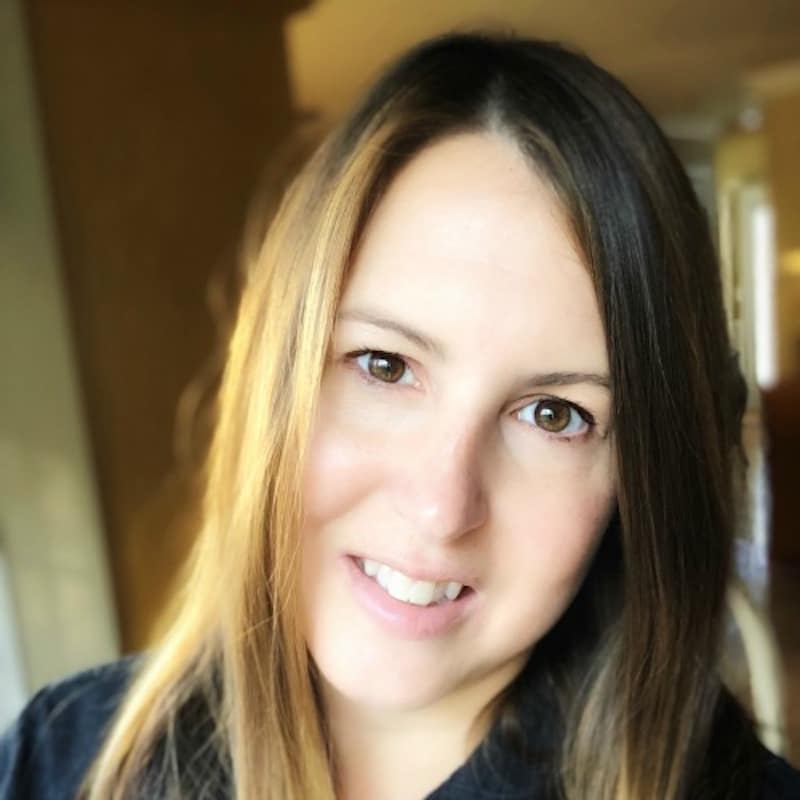 Tamara Gruber is the Founder and Publisher of We3Travel. A former marketing executive and travel advisor, Tamara is an award-winning travel writer and recognized expert in family travel. She is also the publisher of YourTimetoFly and the co-host of the Vacation Mavens travel podcast.