After years of reading and hearing about Georgia's famed Golden Isles including Jekyll Island, St. Simons Island, Little St. Simons Island, and Sea Island, I finally had a chance to visit for a long weekend. Of course I wanted to see the historic downtown and visit the Georgia Sea Turtle Center, but what I really wanted to do was explore Jekyll Island beaches.
I have seen so many pictures of the wide, flat beaches of the Georgia coast and know it to be a place for us Northerners to escape our rocky coastlines and colder temperatures. But seeing pictures and experiencing it yourself are two different things. So when the opportunity arose to visit, I seized the chance to finally explore this area.
Visiting in the off-season is perfect for avoiding crowds and taking advantage of lower rates. If you are visiting in the warmer months, be sure to give yourself at least four to seven days to relax and enjoy all the island has to offer, including the gorgeous Jekyll Island beaches. And don't leave anything behind with this handy beach packing list!
Guide to Jekyll Island Beaches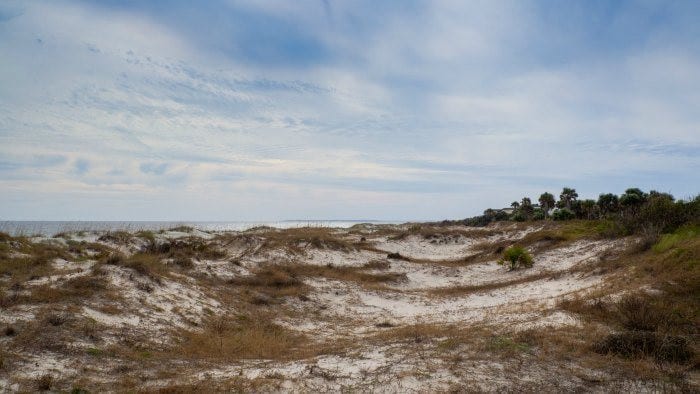 There are six main public beach areas, soon to be seven with the opening of Oceanview Beach Park, which is currently under construction. Each has its own character and different levels of facilities and accessibility so if you are a first-time visitor, use this guide to pick which Jekyll Island beaches you want to visit.
First up, there are a few things you need to know about visiting Jekyll Island beaches:
There is a $6.00 daily parking fee required to enter Jekyll Island. This can be paid at the tollbooth when entering the island using cash or credit card. A seven-day pass is also available.
Jekyll Island experiences two high tides and two low tides per day, with approximately 12 hours and 25 minutes between high and low tide.
There is a six to nine-foot difference between high and low tide so you may want to check the tide charts before heading to the beach. Depending on the beach, there may not be much sand visible at high tide. You can check tide charts here.
The ocean water off Jekyll Island is brownish. Don't worry, it isn't dirty. The large tides pull water from the marshes into the ocean, bringing along microscopic plant and animal life from the marsh, which can make the water a little murky. It isn't polluted.
Pets are allowed on the beach, as long as they are leashed and cleaned up after. The only exception is between South Dunes Beach Resort and St. Andrews Beach Park.
At certain times, areas, particularly in the dunes, will be marked off for the safety and preservation of sea turtle nests.
You can find and collect empty shells, and even sand dollars.
If you are coming from beyond driving distance, you can fly into nearby Brunswick Airport, or both Jacksonville and Savannah are only about 1.5 hours away and offer more flight options.
Driftwood Beach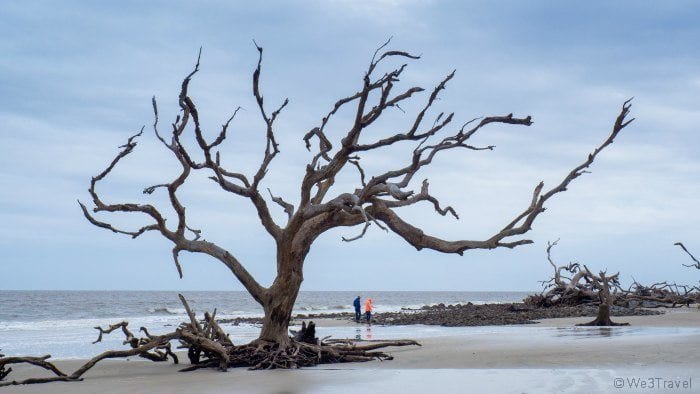 The most famous beach on Jekyll Island is Driftwood Beach. It has been voted one of America's most romantic beaches, but it isn't for the long sweep of sand or ultra-romantic seclusion. Driftwood Beach is romantic because of its beautiful, otherworldly backdrop.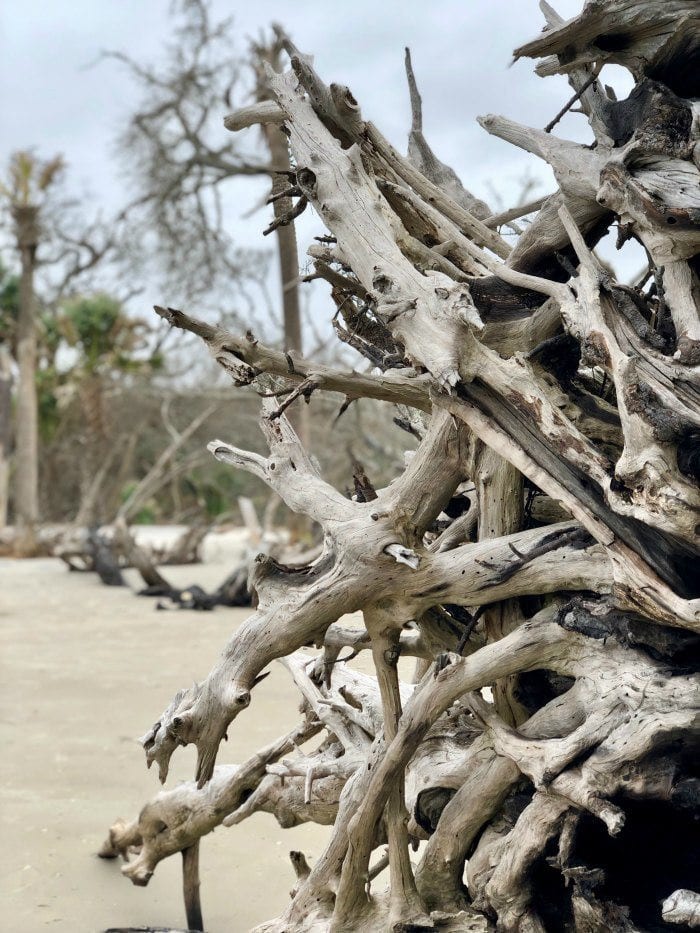 When you think of driftwood, you typically think about random logs swept up onto the beach by storms, weathered and gnarly and somewhat mysterious. On Driftwood Beach, you will find a lot more than logs. There are entire uprooted trees strewn across the beach.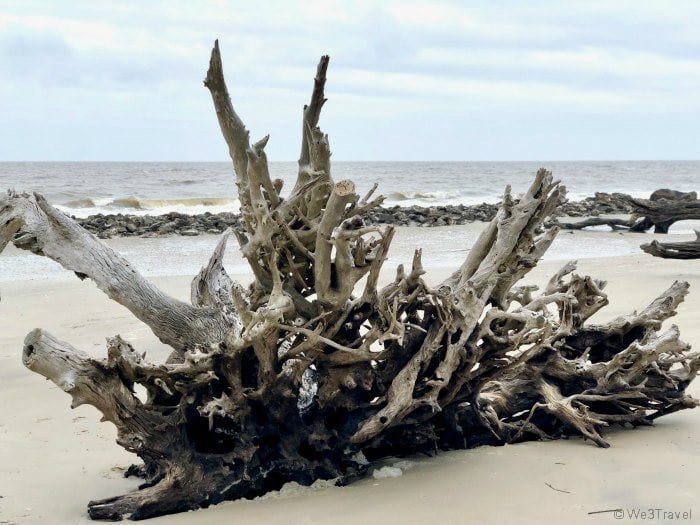 The entire place looks like a giant natural jungle gym of downed trees to crawl around and explore. It is hard to stop taking picture after picture of the beautifully twisted roots and weathered trunks. While it isn't a place where you will pack a picnic, spread out a blanket, and play in the ocean all day, you will want to leave yourselves plenty of time to explore. If you are feeling ambitious, check the tide schedule and pick a day to visit at sunrise for some truly spectacular photo ops.
What you need to know:
There is not a parking area or any facilities at Driftwood Beach. In fact, if you were just driving by on Beachview Drive and didn't see any cars parked along the side of the road, you would likely drive right on by.
This lack of parking can make access tricky if you are visiting at a busy time so try to go off-hours. When you head to the north end of Jekyll and see some small pullouts on either side of the road, start looking for a spot. Parking on the road is prohibited so if you don't see an opening in these pull-outs, you may need to turn around and try again.
Clam Creek Fishing Area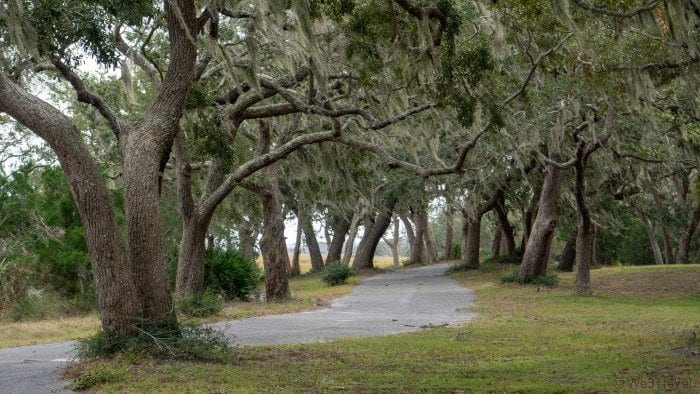 While not really a beach, I thought it was worth mentioning Clam Creek Fishing Area, which is just north of Driftwood Beach and right across from the Jekyll Island Campground. The drive into the area is beautiful, with its big oaks dripping in Spanish moss, like something from a Southern novel.
What you need to know:
On the grounds, you will find an ample parking lot, covered picnic pavilions, and public restrooms. From here you can walk out onto the fishing piers that give you a view of St. Simons Island. There is also a nature trail to follow and access to a small beach. When I visited, the bike trail connecting this to Driftwood Beach was currently closed.
Great Dunes Beach Park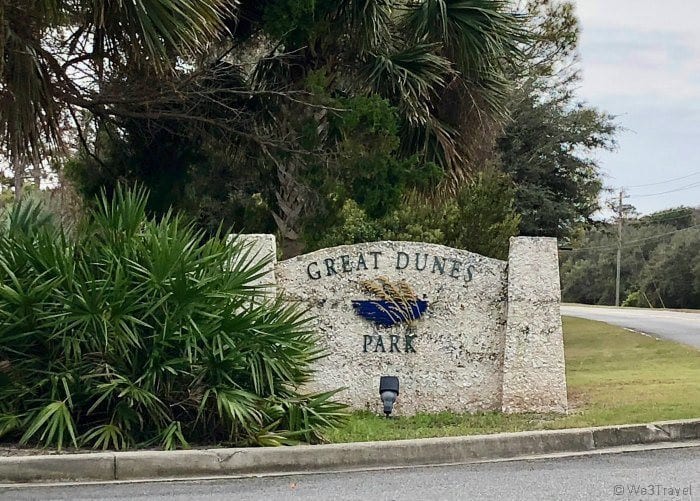 As you drive south past the Villas by the Sea, you will currently pass the Oceanview Beach Park, which is under construction, before arriving at Great Dunes Beach Park. Oceanview Beach Park will have a parking lot, public beach access, restrooms, and showers.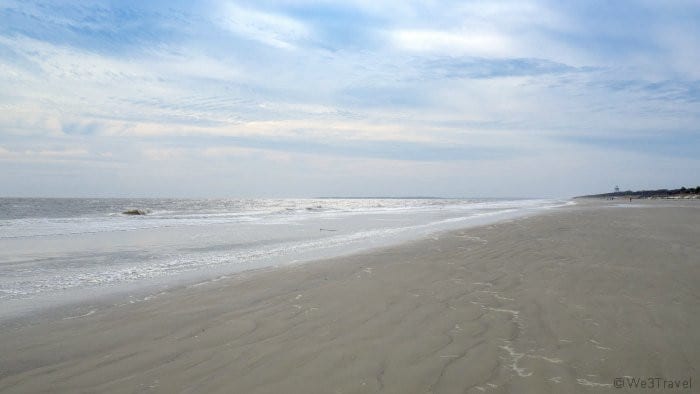 Great Dunes Beach Park is Jekyll Island's most popular beach for families, with a wide-open beach for playing and all the facilities families need. There is plenty of room on this long, wide beach, especially at low tide. The waves are perfect for body surfing but not so intense to scare away families.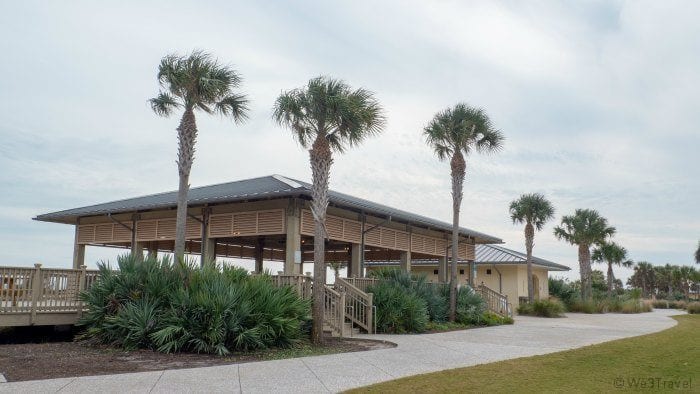 What you need to know:
There is a large parking area, covered picnic pavilions, grassy play areas, and even bocce ball and volleyball courts.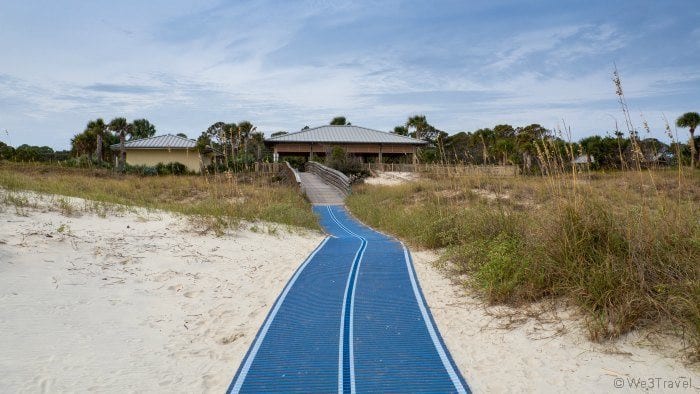 The bike path that wraps along most of the island passes right by this popular beach. You will also find public restrooms, showers, and wheelchair-friendly beach access. (Beach-going wheelchairs are available at no charge by calling 912-635-2368.)
Corsair Beach Park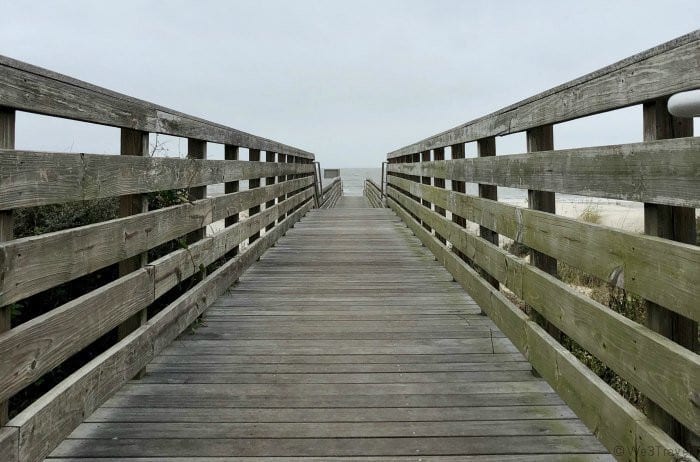 Just across from the shopping and dining options in Beach Village, and in front of the Westin Jekyll Island, you will find public beach access at Corsair Beach Park. The beach here is very similar to Great Dunes Beach Park, nice and wide with fun waves.
What you need to know: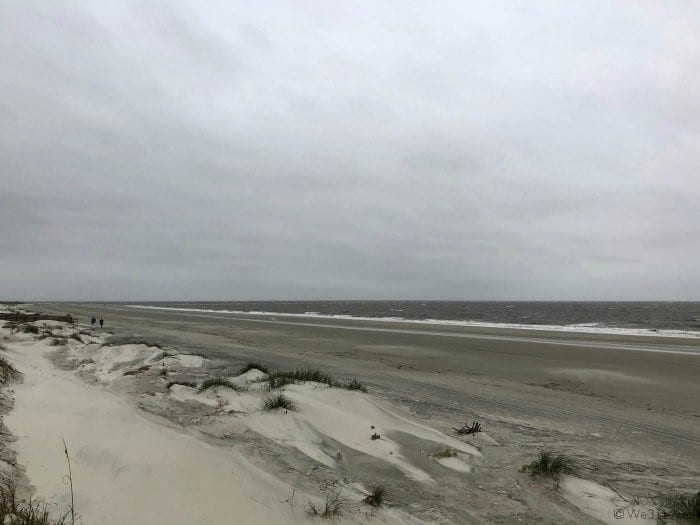 Parking is limited in Beach Village and this beach may be best for those staying at the hotels nearby. However, there are also showers and restrooms for public use. You will just need to navigate a short boardwalk to gain access to the beach.
South Dunes Beach Park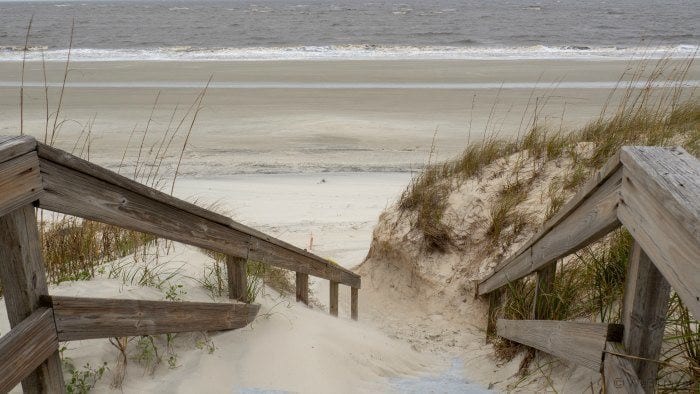 The South Dunes picnic area is wooded and shaded, with plenty of covered picnic pavilions and grill areas. However, you can also take a short walk out to the beach. There is an elevated boardwalk that crosses 20-foot sand dunes.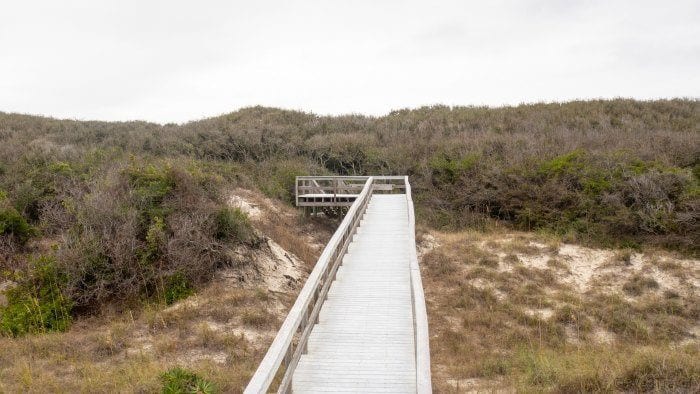 The beach itself is a wide, flat beach that is great for playing, although families may have difficulty getting all of their stuff out there.
What you need to know: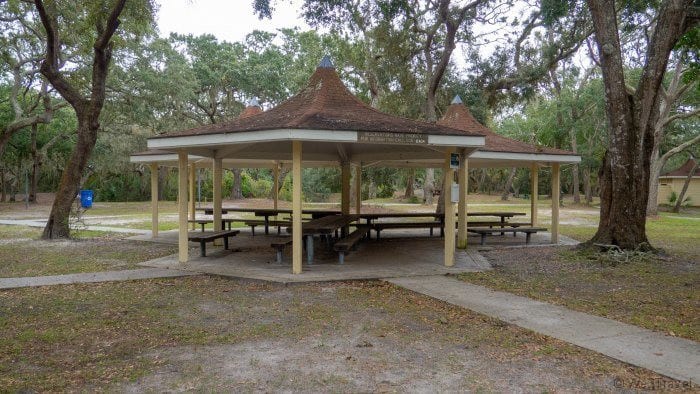 There is ample parking at South Dunes Beach Park, but not as much as at Great Dunes. You will need to climb down stairs from the elevated boardwalk to the beach (and back up again on the way home), so it is not ideal for families with young children or carrying a lot of beach gear and relying on wagons or trolleys.
Glory Beach Park
Glory Beach is on the south end of Jekyll Island, offering beautiful views of sea oats and pristine sand dunes. Its wide beach was also used to film portions of the movie Glory.
What you need to know: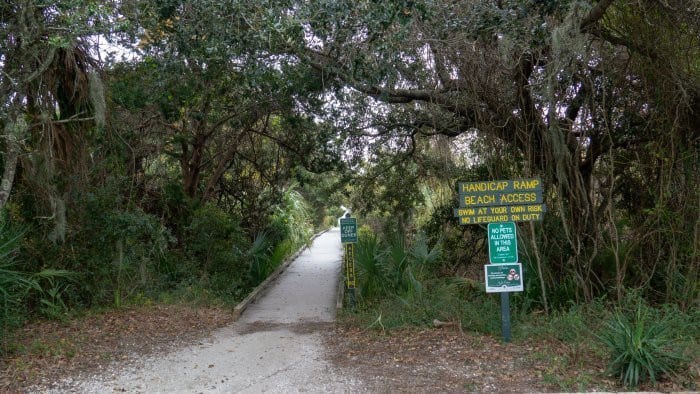 It is easy to drive past Glory Beach (I sure did), so look for the Soccer Complex. There is a parking lot at the back, past the soccer fields, with a pathway entrance to the beach.
St. Andrews Beach Park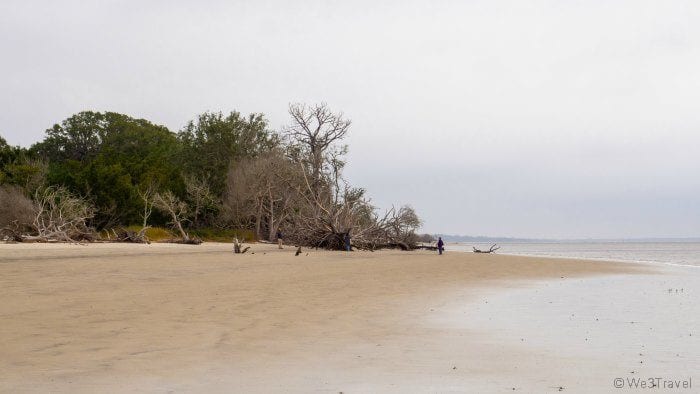 At the very southern tip of Jekyll Island, a short walk from Jekyll Point, you will find St. Andrews Beach Park. It is a popular spot for bird watching and also spotting dolphins.
The small picnic area offers restrooms and access to a two-story wildlife viewing platform and the Wanderer Memory Trail. The beach is really better for strolling and wildlife viewing than spending the day swimming.
What you need to know: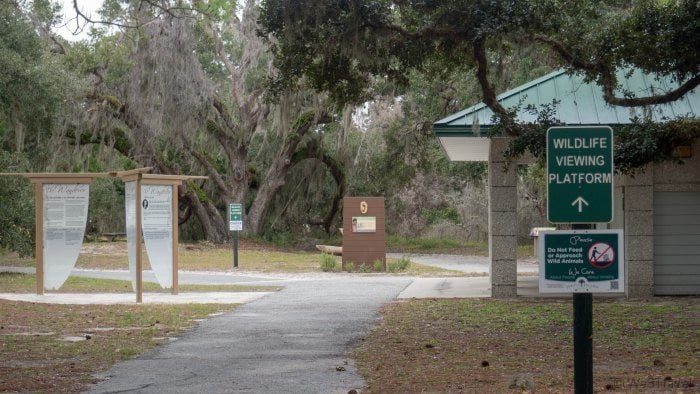 Parking is somewhat limited and at high tide, there will not be much beach visible. Recent hurricanes have made an impact on Jekyll Island and those forces may be at play here too. I would definitely recommend checking the tide schedule before heading out.
Note: This post contains affiliate links. If you click a link and make a purchase I may receive a small commission.
PIN THIS FOR LATER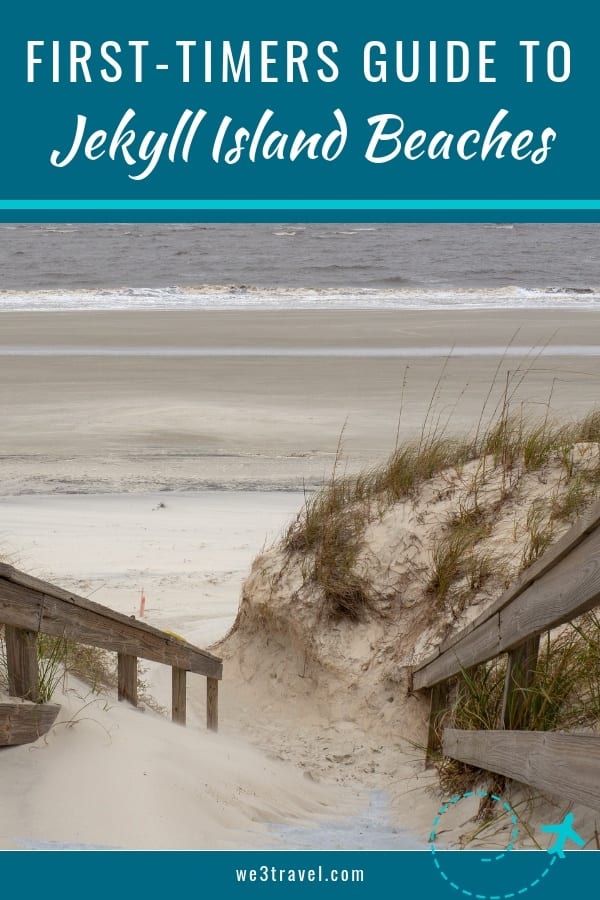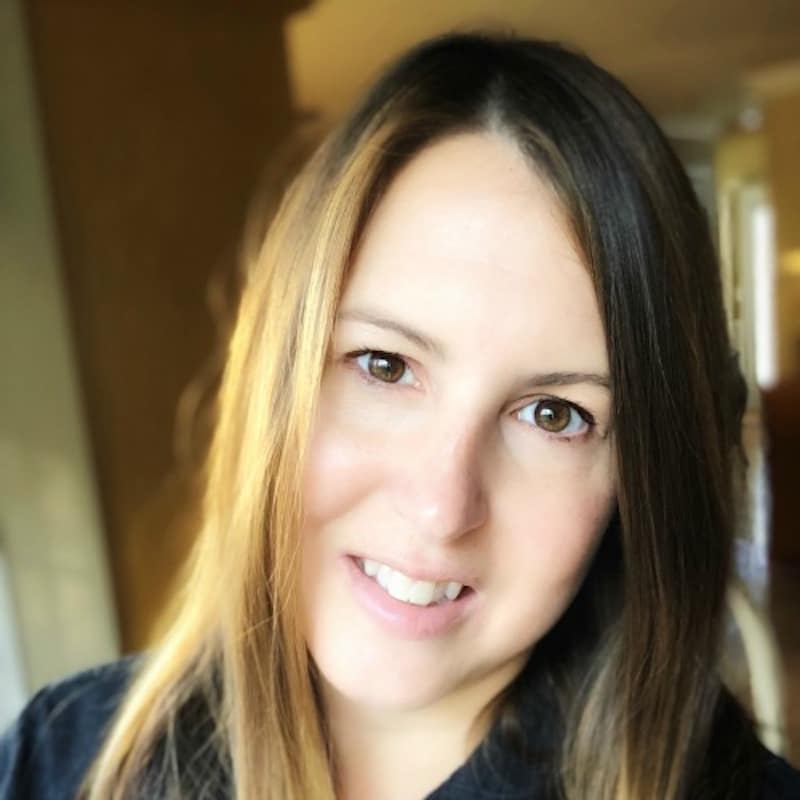 Tamara Gruber is the Founder and Publisher of We3Travel. A former marketing executive and travel advisor, Tamara is an award-winning travel writer and recognized expert in family travel. She is also the publisher of YourTimetoFly and the co-host of the Vacation Mavens travel podcast.