How many resorts in the world offer a seven-mile long beach for the exclusive use of its 32 overnight guests and a small number of day visitors? Well, Little St. Simons Island is unlike any other all-inclusive resort you have visited.
While the words "all-inclusive resort" may conjure up images of sprawling hotel complexes, music blasting by the pool, mediocre buffets, and endless activities, Little St. Simons Island offers something quite different.
At the Lodge at Little St. Simons Island, you will find the most comfortable beds you have ever slept in; low-country Southern cuisine featuring the crispiest, tastiest bacon you have ever eaten; a soundtrack of crickets and birds; and a full-agenda of naturalist activities (none of which involve limbo dancing.)
Many people don't even realize a place like Little St. Simons exists in the United States. Maybe you might find something similar at an eco-lodge in Costa Rica, but easily reachable off the coast of Georgia? Who knew?
Little St. Simons Island: A Unique All-inclusive Resort in Georgia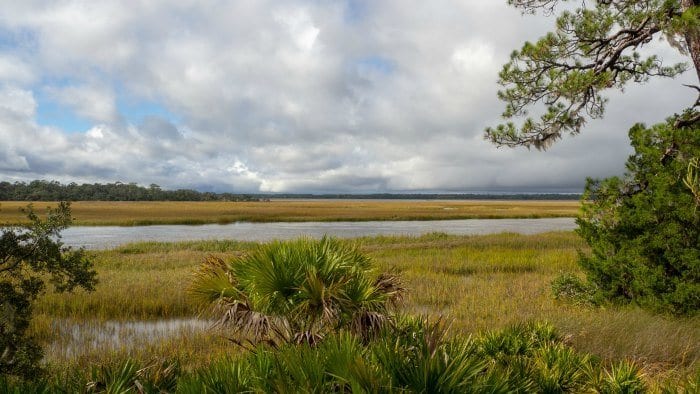 Note: I received a complimentary hosted stay on Little St. Simons Island for purposes of this review. All opinions are my own.
After spending generations under the ownership of plantation owners, the island we know as Little St. Simons was sold to Eagle Pencil Company in 1908. Luckily for us, the island's trees weren't actually ideal for pencil production. However, the company owner Philip Berolzheimer purchased the island from the company and set it up as a private retreat for family and friends.
In 1917, Berolzheimer began a policy of conservation, preservation, and hospitality. This private retreat was first opened to the public in 1979, starting its role in the tourism industry. The current owners, Hank and Wendy Paulson, purchased the property in 2003. They recently placed Little St. Simons Island under a permanent conservation easement with the Nature Conservancy, which means this special place will be protected in perpetuity.
Getting to Little St. Simons Island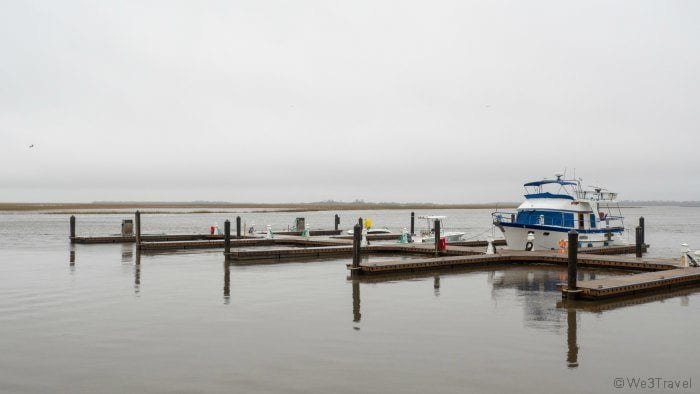 Little St. Simons Island is an 11,000 acre private barrier island located three miles off of Georgia's southern coast. The island is part of Georgia's Golden Isles, which also include Jekyll Island, St. Simons Island, and Sea Island. It is midway between Savannah, Georgia and Jacksonville or Amelia Island, Florida, at about one to one-and-a-half hours from both.
Since Little St. Simons is a private island, it isn't somewhere you can just go and explore on your own. The island is accessible only by boat and guests can take one of two private ferries per day. This 15-minute ride leaves from the northern end of St. Simons Island and delivers guests directly to the dock in front of the lodge.
The island is open to overnight guests and does accept a small number of day trippers. Little St. Simons offers day trips for $95 per person per day and this includes the boat ride, introduction to the island, access to the facilities, and lunch.
Accommodations at the Lodge at Little St. Simons Island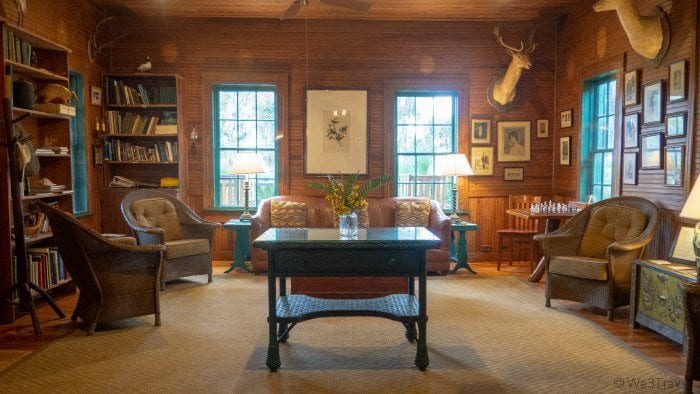 All of the accommodations on the island are situated in the main compound area, which consists of the Hunting Lodge, various lodges, houses, and cottages, as well as the Barn and organic garden surrounded by live oaks. There are a total of 16 fully air-conditioned guest rooms on property, which can accommodate no more than 32 total overnight guests.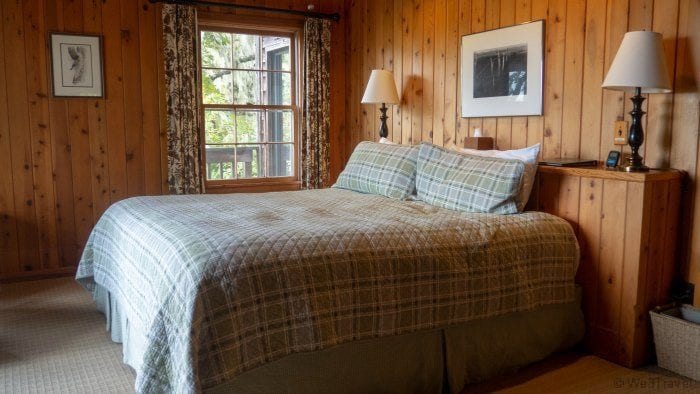 They do their best to group families together and arrange room assignments based on your group make up and preferences. While the accommodations aren't ultra-luxe, they are far from rustic and incredibly comfortable. Each room features individual climate controls (which I appreciated when returning after a chilly afternoon exploring), and little luxuries like waffle robes, flashlights for evening exploration, high-quality bathroom amenities, coffee makers, and complimentary refillable water bottles, bug spray, and sunscreen.
There are two rooms within the hunting lodge, the three-bedroom and three-bath Helen House, the two-bedroom and three-bath Michael Cottage, and Tom House, which is a quaint one-bedroom cottage.
In addition, there are two lodges at the Hampton River's edge, the River Lodge and Cedar House. Both offer four large bedrooms, the front two of which face the water. The bedrooms open onto a shared great room with a large stone fireplace, screen porch, and wrap-around decks. These structures are also stocked with in mini fridge with complimentary beverages and a washer and dryer.
I stayed in Room 2 at the River Lodge, with a beautiful view of the river. I found the bed so comfortable I didn't want to climb out for breakfast in the morning. The bathroom was small, but equipped with everything I needed.
There were many comfortable spots to curl up with a book or relax and enjoy the view: the armchair in my room, the sofas in the living room, and the swing on the porch, and I could access them all without having to leave the lodge.
All room rates are based on double occupancy. Large families can get rooms in one of the lodges or cottages, while a rollaway may be brought into one of the larger rooms to accommodate a family of three. Rates start at $450 per night in the value season (January-February and mid-July through mid-September) and $600 per night for Prime Season.
An additional adult in the room is $200 per night and an additional child under 12 is $100 per night. Remember that these rates include three meals a day, beverages (including soft drinks, beer and wine), boat transfers, and all activities, including the Naturalist-led excursions and use of all recreational equipment.
Dining on Little St Simons Island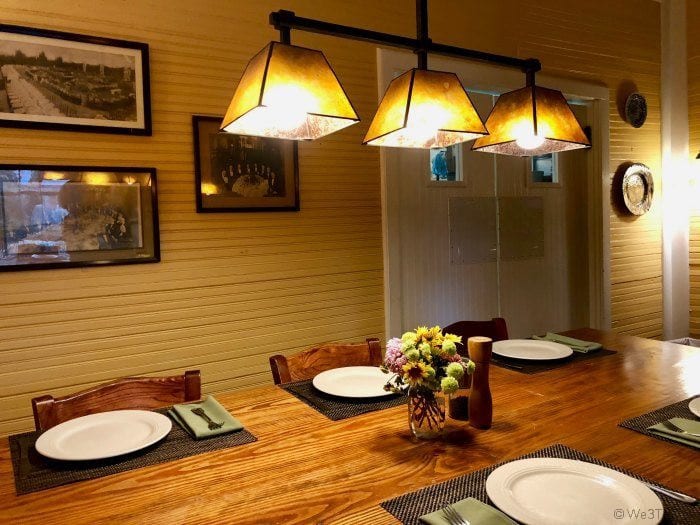 The chefs on Little St. Simons Island focus on low-country, farm-to-table cuisine and utilize the island's certified organic garden and surrounding waters. Three meals a day are included, as well as access to snacks (fruits and trail bars), the "cookie of the day," and evening hors d'oeuvres served during happy hour.
If you are an early riser, you can have access to coffee, tea and light snacks. But since I'm not a morning person, I appreciated that breakfast wasn't served until a little later. All meals are served family style in the two dining rooms located in the main Hunting Lodge, but there isn't any assigned seating so you are welcome to mingle and get to know the various guests.
During my visit breakfast consisted of an egg bake, pancakes, fruit salad, and some of the best bacon I've ever had. Food is also plentiful so you don't need to worry about restraining yourself on the bacon, although I'm sure the staff appreciates any leftovers during team meals.
Lunch is served at the Lodge, or could be at a picnic location or the beach. For those that want to explore on their own for the day, the chefs will also pack you up a boxed lunch.
Lunch during my stay was delicious fried chicken, stewed okra, black-eyed peas, and homemade biscuits. Water, lemonade, and sweet tea are available throughout the day in the dining room and soft drinks are also available (and included.)
Each evening before dinner, the Lodge hosts a social hour. The bar is opened for complimentary local beers and wine, and make-it-yourself cocktails are available for an additional fee through the honor system. Social hour also includes hors d'oeuvres, like stuffed mushrooms.
After spending time getting acquainted with other guests, everyone is invited into the dining room for dinner served family style (and there is even an actual dinner bell.) The whole set up reminded me so much of our time at the Nine Quarter Circle Ranch, and in actuality, a vacation on Little St. Simons Island does share a number of similarities with a dude ranch vacation.
For dinner, I had shrimp served over indigo grits, which were absolutely delicious. In fact, the food was so good that I eagerly scoped out the posted menu each day to see what to look forward to next!
Little St. Simons Island Activities
You will not be bored on Little St. Simons Island. In addition to twice-daily scheduled Naturalist-led activities, there is plenty to do on your own.
Fishing & Boating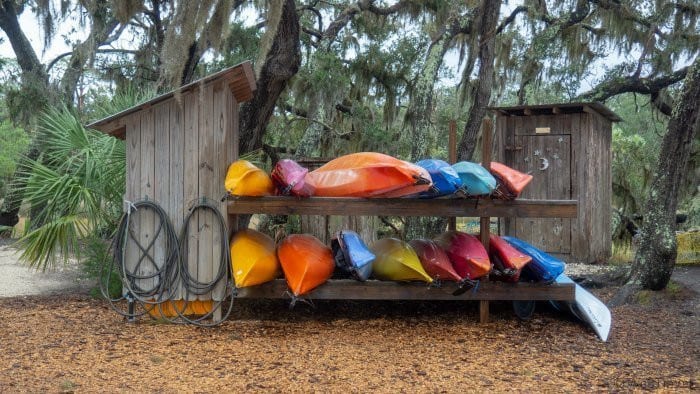 You can explore the tidal marsh creek in kayaks, canoes, or 13′ motorized skiffs.
If you like to fish, there are marshes, rivers, estuaries, and of course, the Atlantic Ocean. Georgia fishing licenses are required, but the lodge provides a selection of spin reel gear, spin surf rods for beach fishing, and fly fishing gear for the creeks. Local fish include redfish, black drum, spotted sea trout, flounder, southern kingfish, tarpon, and various sharks and rays. If you get lucky and catch something, the chef will even cook it for your dinner.
Birding & Wildlife Viewing
Birdwatchers will appreciate the island's location along the Atlantic Migratory Flyway and within the Western Hemisphere Shorebird Reserve Network. Little St. Simons Island is a seasonal home to more than 330 species of birds. They have built bird blinds throughout the property that are used by amateurs and devoted birders alike.
In addition to the birds, there are also several species of wildlife that you have the opportunity to see during your stay on the island.
Hiking & Biking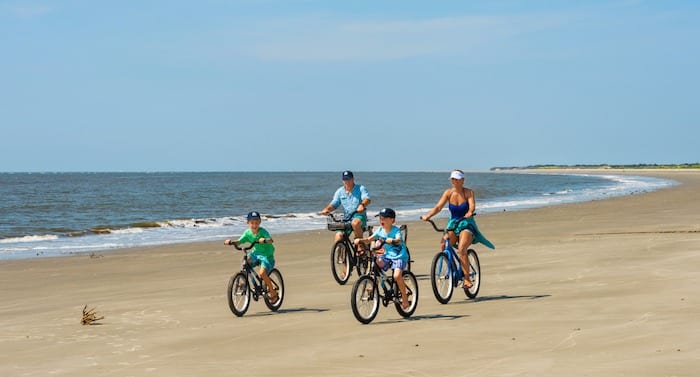 There are also 20 miles of forested trails and roads for hiking and biking. The resort provides an impressive fleet of 26″ coaster-style bicycles, kid's bikes, and trailers.
Swimming
Of course one of the highlights of the resort is the seven-mile long private beach facing the Atlantic Ocean. This wide, flat beach is perfect for swimming, shelling, fishing, biking, kite flying, and over all play. Guests can either walk out to the beach, bike, or arrange a ride in one of the Naturalists' trucks.
There are not any restrooms or showers by the beach, but there is a covered area with a couple of tables, a hose to clean off feet and toys, and beach carts to haul gear onto the beach. Seasonally you can also find beach toys to borrow.
If you prefer not to swim in the ocean, the resort also offers a Junior Olympic size swimming pool near the Hunting Lodge, with an adjacent playroom featuring a ping ping table. Beach and pool towels are provided in the rooms.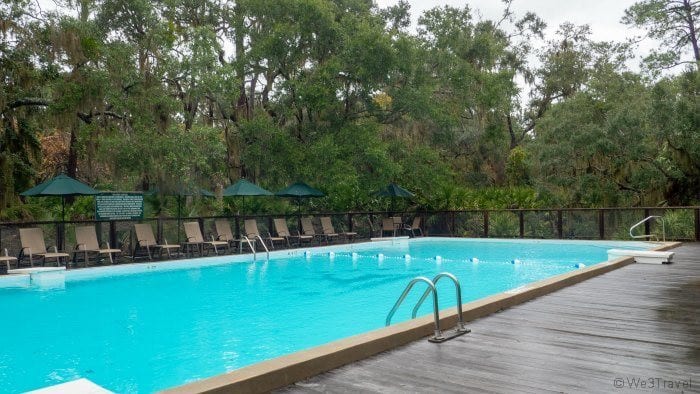 Games
On property you can also find horseshoes, corn hole, bocce ball, croquet, and other games and puzzles to keep the calls of "I'm bored" at bay.
Naturalist Guided Activities
Of course, the crowning jewels of Little St. Simons Island are the Naturalist-guided activities. Activities are offered every morning and afternoon, as well as evening options like Sea Turtle Walks (when sea turtles are nesting from May through August), owl prowls, and other presentations. Before arriving on Little St. Simons, guests are sent a survey asking what sort of activities they are interested in.
Then, based on guest interests and weather, Naturalists offer morning and afternoon activities. At breakfast and lunch, the Naturalist on duty will stop in to talk with guests and see what they are interested in doing that day. This allows for a very customized experience.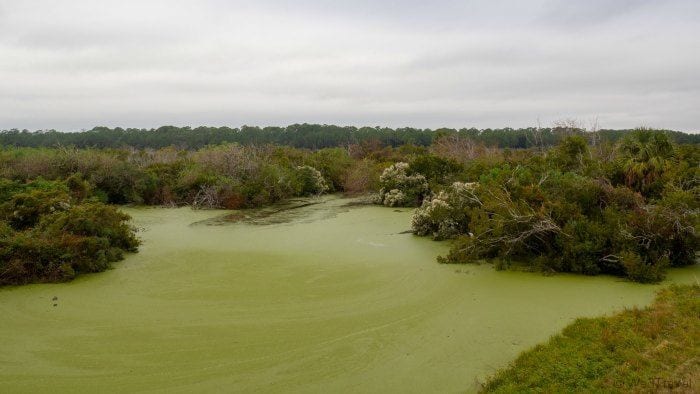 When I visited, there was a large group attending a painting retreat and just one other couple on the island. Since the couple had already been there for a few days, they were going to head out on bikes to explore on their own. That left me with a private tour of the island!
It doesn't always work out this way but guests are welcome to sign up for the activities that interest them. Each Naturalist truck can fit up to 15, depending on size.
Naturalists will guide a range of activities including hikes, birding at Myrtle Pond, botany excursions, history excursions, bike adventures, reptile amphibian safaris, kayaking trips, garden walks, and fishing.
The level of staff to guest ratio is unprecedented and this level of service is evident with the naturalist program. These passionate and highly-educated naturalists share their love of the island and all of its inhabitants while adjusting the information and presentation depending on the audience's age and interests.
I fell in love with Little St. Simons Island. Even though I only spent one night (the average stay is more like three or four nights and usually the minimum is two), I immediately felt my shoulders drop as I exhaled the stress.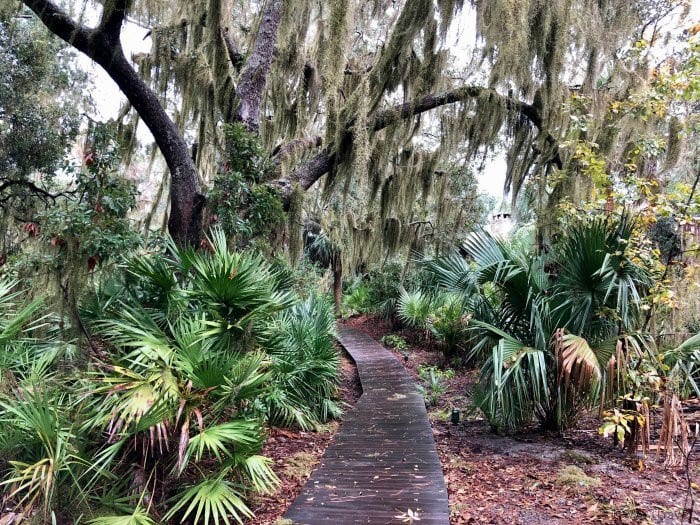 It is the perfect spot to recharge and reconnect with nature. Even though there is WiFi, you are more likely to be drawn into conversation with other guests than dive into your cell phone during meals. There is so much space that you can spend the day barely seeing another soul outside of meals — although you may run into a few armadillos or maybe a raccoon.
Little St. Simons Island is an ideal choice for those that love nature. Just keep in mind that as a nature preserve, there are bound to be some wildlife encounters and during some months, the mosquitos can get quite pesky.
But for a family that wants to unplug and enjoy peaceful a time in the great outdoors with the simple pleasures and good old-fashioned fun, Little St. Simons Island is the right all-inclusive pick. See more tips for visiting Little St. Simons Island.
Feature photo courtesy of Little St. Simons Island.
PIN THIS FOR LATER