When sunshine and palm trees are calling your name, it is time to start planning a weekend in Los Angeles. With so many direct flights and a plentitude of free or affordable attractions, a weekend in Los Angeles is a perfect last-minute weekend getaway.
But in such a busy metropolis, planning a weekend in LA can feel a bit overwhelming. Hollywood, Beverly Hills, Downtown LA, Santa Monica, and all the neighborhoods in between. Where should you start? This two-day Los Angeles itinerary hits all the highlights.
Staying longer? Try this 3 day Los Angeles itinerary or add in one of these weekend getaways in Southern California.
Weekend in Los Angeles Itinerary: Day 1
This itinerary includes attractions and neighborhoods that are great to explore if this is your first time in Los Angeles.
Los Angeles County Museum of Art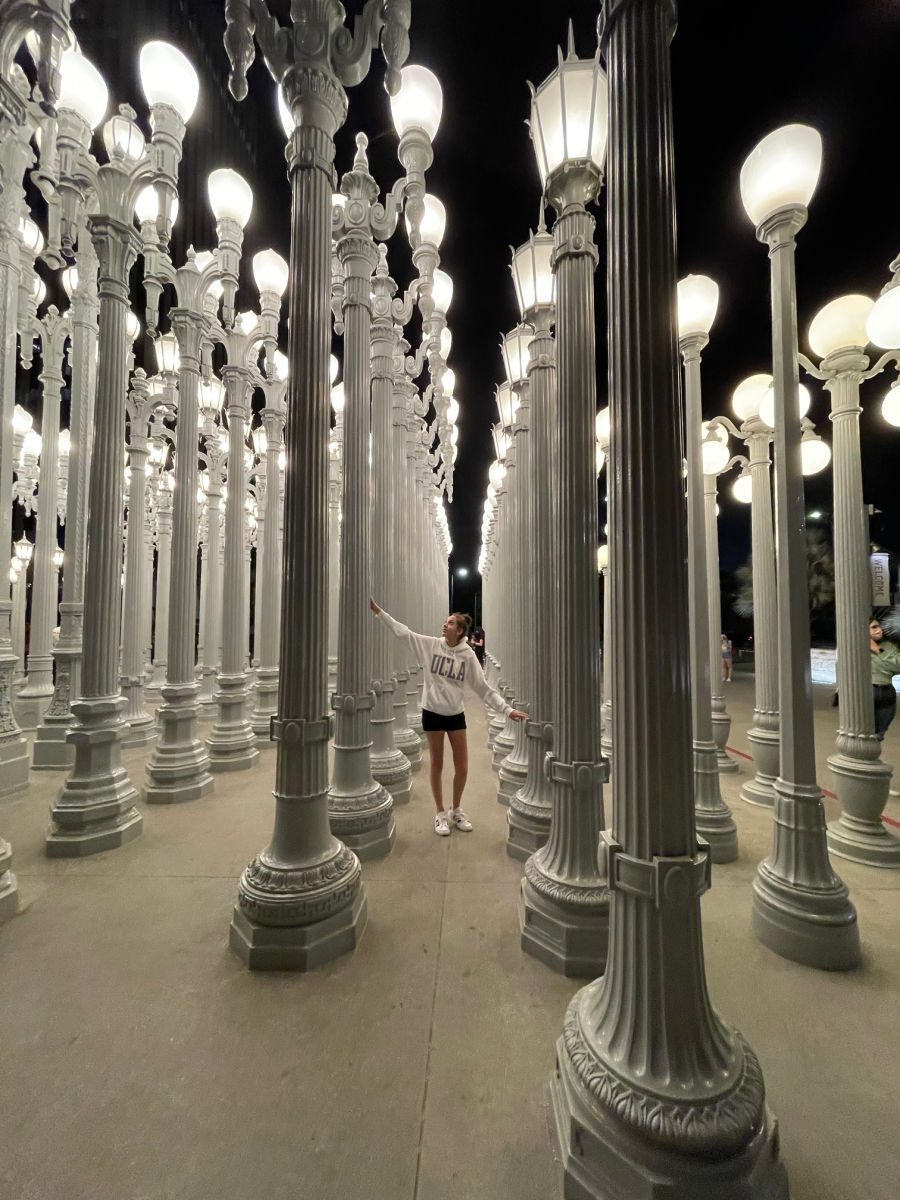 To start off your first morning in the City of Angels, head to the Los Angeles County Museum of Art, more commonly known as LACMA. You will recognize the "Urban Light" exhibit on the south side of the museum from pictures and movies.
LACMA is really more of an entire complex than it is a museum. Although the museum is undergoing extensive construction and renovations until 2024, LACMA still maintains a wide range of exhibits on modern art in bright buildings, all constructed in thought-provoking designs.
If you need to budget your time for LACMA (or if you are not big on museums), pick two exhibits to enjoy at a slow pace, rather than trying to rush through the entire complex. I would suggest selecting one of the temporary exhibits and one of the permanent collections to visit.
If you are visiting with kids that aren't interested in art, you can substitute the La Brea Tar Pits, a premier Ice Age excavation site located adjacent to LACMA which are a great alternative to the museum.
The Grove
Head over to The Grove for lunch by walking across to the north side of the museum. The nicest way to get from LACMA to The Grove on a clear day is by walking— you will pass by some great street art on your way— but otherwise, taking a rideshare or a rentable scooter (like Lyft, Bird, Lime, etc.) is probably your best bet.
The Grove is admittedly glitzy in a typical LA fashion. It is home to some middle-of-the-road to higher-end shopping, but the glam of The Grove is nothing like what you might find on Rodeo Drive.
The Grove's toned-down LA style is more suitable for a relaxing weekend. You can also visit The Original Farmer's Market to browse the stands and shops for snacks or a meal— this is a nice place to have a quick, affordable lunch in a comfortable, outdoor setting.
Santa Monica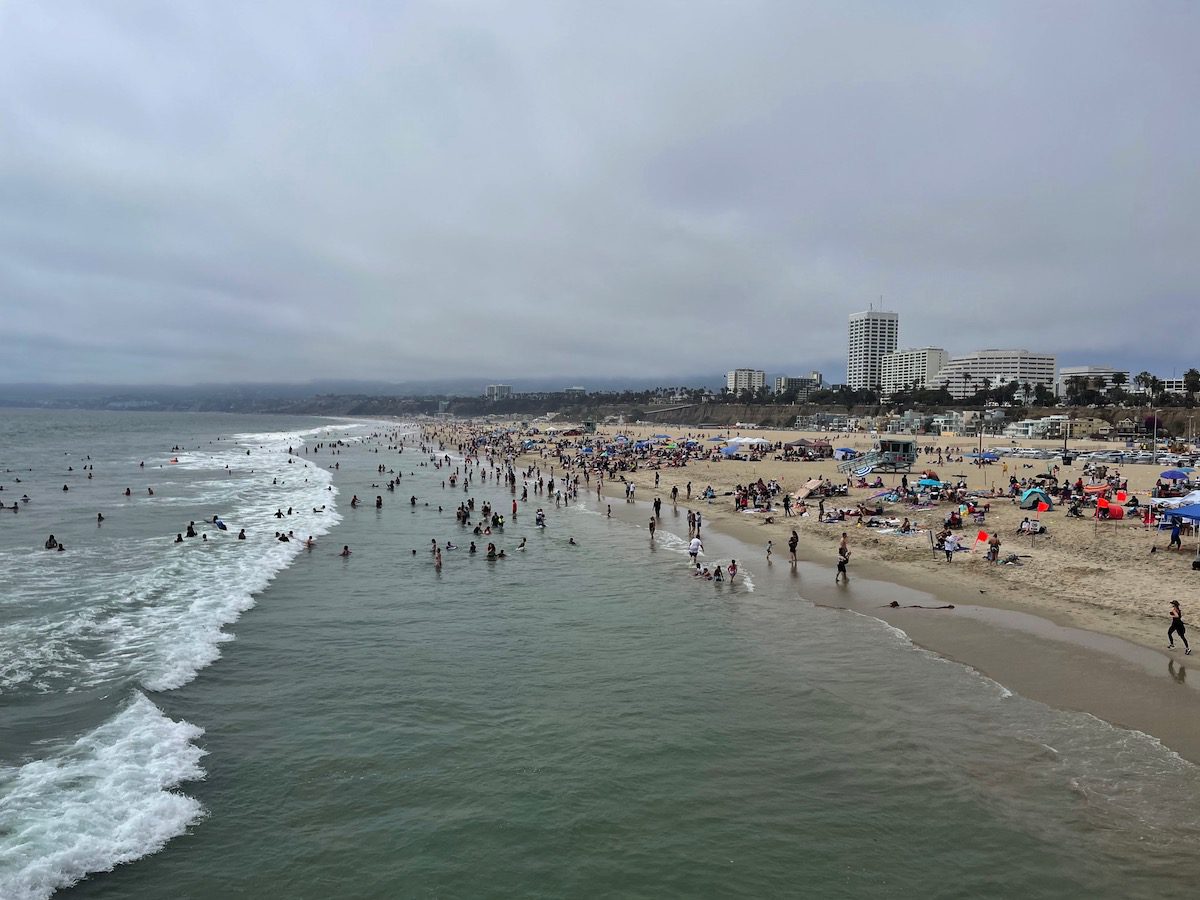 To experience Los Angeles' beach culture, make your way to Santa Monica after The Grove. Santa Monica is one of LA's nicest neighborhoods— relaxed, situated on the water, and home to great eating and shopping, it is the perfect place to spend a low-key getaway.
As per usual in LA, the easiest way to get from The Grove to Santa Monica is by rideshare. However, if you are looking to use public transportation, take a metropolitan bus to the Metro Rail stop at La Cienega/Jefferson and then hop on the Expo Line towards Santa Monica, which takes you right into the center of the neighborhood.
Los Angeles gets a bad rap for having horrible public transportation but it is clean, user-friendly, cheap, and convenient enough— it just does not often get portrayed this way. Overall, taking the LA Metro is a great way to save money on rideshare fares, which can start to pile up on a trip to LA if you are not careful.
To get a good feel for Santa Monica, start with walking up 2nd Street or 3rd Street Promenade before turning left and heading towards the beach and Ocean Avenue. You will have a hard time resisting the salty breeze that beckons for any passersby to come down from the path to the boardwalk and the beautiful strip of beach that Santa Monica is so famous for.
Santa Monica State Beach is a state beach so it is completely free to use, so make sure to pack your swimsuits and towels. There is an additional paved path that runs adjacent to the beach which is perfect for running or cycling. If none of this appeals, Santa Monica Pier is appropriately touristy but can easily gratify whatever entertainment you are looking for.
Daring kids may enjoy Pacific Park, which is home to a host of amusement park rides. There are also tons of typical snack food stands to satisfy whatever fried or sugary carnival food it is that you are craving.
Be sure to stick around for a beautiful sunset over the water. For dinner, there are a lot of great places to eat just a few minutes' walk from the beach. I recommend Sugarfish, a popular, authentic Japanese restaurant that has several locations in LA as well as in other major cities in the US.
If you are visiting without the kids, this area of LA is great for shopping, too. If you are looking for good nightlife after dinner, West Hollywood is well-known for its bar scenes and live music, plus it is not too arduous of a trek from Santa Monica.
Weekend in Los Angeles: Day 2
Start off your next morning with Mexican-style brunch at a Guisados location somewhere in the city. Guisados offers a wide range of breakfast tacos, delicious agua fresca, and other Mexican classics. The original Guisados is located in Boyle Heights, but there are now several locations throughout the area. Try the one on Santa Monica Boulevard in West Hollywood on your way to Griffith Park.
Sunset Strip & Griffith Park
Walk a bit along Sunset Strip to experience more of LA's trademark quirkiness before making your way to Griffith Park. If the weather is not too hot and you are feeling extra adventurous, there are lots of hiking and running trails to enjoy.
Regardless, make sure to stop by the Griffith Observatory at the top of the park. Built in 1935, the architecture alone is spectacular. The exhibits inside the planetarium are excellent, too, but the real draw of the observatory is its beautiful vantage point. The observatory building is surrounded by a couple of low walls from which you can stare out at all of LA that sprawls out from the bottom of the park.
To the west is a great view of the Hollywood sign. To the north, there is a pretty view of the foothills of the San Gabriel Mountains. There is a nice, grassy space to relax in front of the observatory, as well as a nice glassed-in balcony area with tables where you can eat food prepared at the observatory or picnic-type food that you can bring with you (think still-warm tamales picked up from Guisados). If you are looking to walk a bit more, there are some easy paths that you can find near the top of the observatory.
If you don't plan on spending much time in Griffith Park, you could add on a visit to Hollywood and the Walk of Fame. Both are close by, as is Rodeo Drive. If you are visiting with teens, you may want to check out youthful Westwood Village, home to UCLA and the UCLA Botanical Gardens.
Koreatown
For the last evening of your Los Angeles weekend getaway, try some of LA's great Korean food. Koreatown itself is located just outside of Downtown LA, but if this is too far out of the way for you, there is great Korean food to be found in lots of areas of LA. BCD Tofu House has great soondubu (soft tofu stew)— an LA Korean classic— and bulgogi, Korean barbecued beef.
Los Angeles is a big city, but if you are efficient and selective in what you choose to see and do, it is a great city for a relaxing weekend getaway or a long weekend trip. If you have more time and are visiting with your family, here are recommendations on things to do in nearby Orange County with kids. Or, plan a Joshua Tree day trip for something different.
PIN IT FOR LATER
Today's guest post is written by Max Levine. Max has been traveling ever since he can remember with his family. In recent years, he has been the one who plans vacations for his family and for himself, from researching airfare and railway tickets to crafting itineraries. Max has traveled a lot both in the US and internationally. He has also developed a penchant for writing. Max hopes to continue pursuing opportunities to travel and write both in college and beyond that. All photos by Max Levine.