We have all learned about General George Washington in school and the harsh winter Washington's army spent encamped in the Valley Forge area during the American Revolution. I had this fuzzy recollection of Valley Forge park as a place where Washington and his soldiers wintered in tents, dying of cold and starvation before crossing the Delaware River on Christmas Day to surprise the Redcoats in Trenton, New Jersey. BUZZZZZ! Nope. Wrong.
That's the cool thing about visiting Valley Forge with kids (or as an adult) — you learn the true history. On our visit to Valley Forge National Historical Park, we were able to absorb information in a much more engaging way than you may get in school. So not only did this visit straighten out the facts in my head, but they sunk into Hannah's brain in a way that simply reading about a place cannot.
As much as we love visiting beautiful National Parks like Yellowstone, Glacier, and Grand Teton, the National Park Service also operates many national historical parks that are perfect for history buffs, like Gettysburg, Harpers Ferry, and Independence Hall. We had a chance to add one more to our list with a visit to Valley Forge National Historic Park in Pennsylvania.
If you are considering a trip, keep reading for tips on visiting Valley Forge with kids and fun places to go nearby during your stay.
What Happened at Valley Forge?
So what did happen at Valley Forge? Valley Forge National Historical Park is where General Washington and his troops spent six months from December 19, 1777, to June 19, 1778, a year after Washington crossed the Delaware River on Christmas Day. The camp consisted of 12,000 soldiers and 400 women and children, which, at the time, made up the fourth largest city in America.
Instead of tents, they built 1,500 log cabins and two miles of fortifications. During that time, about 2,000 people did die, but primarily from disease, which spreads easily in camps like these. Most of what we know about the encampment comes from the memoirs of Private Joseph Plumb Martin. So no battles took place here, no major events, but it was where many hygiene and army organization procedures were put in place, forming the foundation of the modern United States Army.
It can be a good stop on a history road trip through the north east.
Tips for Visiting Valley Forge with Kids
Note: We were given a personal tour of Valley Forge National Historical Park to facilitate this article. All opinions are my own. Our stay was hosted by Valley Forge Tourism and Convention Board and the Hilton Garden Inn. This post contains affiliate links, if you click on a link and make a purchase, I may receive a small commission.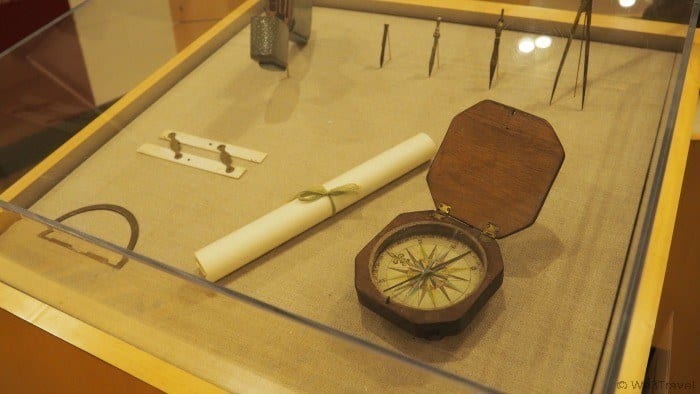 Entrance to the Valley Forge National Historical Park is free of charge, and many locals use the park's 26 miles of trails to walk, run, or even horseback ride. Your first stop should be at the Visitor's Center, where you can view some of the artifacts recovered from the site, as well as watch an 18-minute film, "Valley Forge: A Winter Encampment."
While at the Park's visitor center, be sure to inquire about any Park Ranger programs and pick up a Junior Ranger booklet for the kids to complete in order to earn their Junior Ranger Badge. The Park Rangers are always so incredibly passionate about what they do and the history and ecology of the park.
Some of the Park Ranger programs include:
Ranger-led walks
Living history demonstrations
Artillery demonstrations
Ranger talks
Junior Ranger program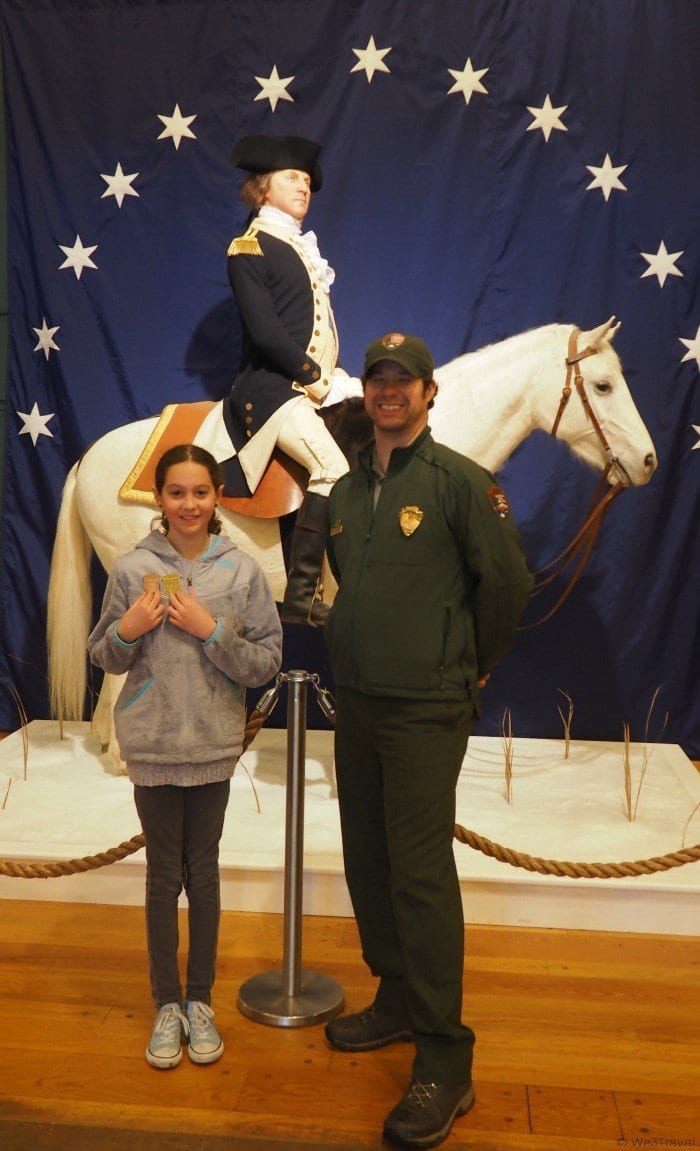 You should plan to spend at least half a day at the Park. There are many ways to tour the park, including a self-guided, driving tour of the encampment, which makes a loop through the park. This 10-mile encampment tour is a driving tour comprised of 9 major tour stops, although you can make other stops along the way at additional monuments. These self-guided tours take from 20 minutes to 2 hours to complete.
The major encampment tour stops include:
Visitor Center at Valley Forge
Muhlenberg's Brigade – the site of the encampment of troops led by Brigadier General Peter Muhlenberg during the winter of 1777-78. Today the area consists of nine reconstructed log soldiers' huts facing a gravel company street.
National Memorial Arch – this arch was built in the early 20th century on the road where soldiers marched into Valley Forge on December 19, 1777. The monument commemorates the arrival and the sacrifices of General George Washington and the Continental Army at Valley Forge.
Anthony Wayne Monument – the Wayne statue shows Brigadier General Wayne on horseback, facing is home in Chester County.
Washington's Headquarters – also known as the Isaac Potts House, is the structure used by General George Washington and his household during the 1777-1778 encampment.
Redoubt 3 – this is a reconstruction of one of the five earthworks fortifications built by soldiers to defend against possible attack by British soldiers.
Artillery Park – this was the central location used during the encampment to keep cannons at the ready in case of a British attack.
Von Steuben Statue – the bronze statue of Friedrich Wilhelm August Heinrich Ferdinand von Steuben, more commonly known as Baron von Steuben, overlooks the Grand Parade at Valley Forge. Although it was originally located on Outer Line Drive beyond the Anthony Wayne Statue.
Washington Memorial Chapel – the Washington Memorial Chapel sits on private land and is not managed by the National Park Service. The impressive building was constructed between 1903 and 1917, and features a Gothic Revival style.
If you prefer something a bit more novel to entertain the kids, hop on one of the seasonal Trolley Tours, which depart from the front of the Visitor Center and make extended stops at Muhlenberg's Brigade and Washington's Headquarters. Trolley Tours are 90 minutes long, ADA accessible, and administered by The Encampment Store. The only downside is that you are constrained by the timeline of the group and you can't go at your own pace.
There are also cell phone tours, which use your cell phone to provide information about the park as you drive by calling 484-396-1018, and an audio tour, which you play in your car as you drive. The audio tour is available for purchase as an audio CD, a downloadable MP3 file, or for streaming using a smartphone or tablet. You can purchase and listen to the Audio Tour by visiting The Encampment Store website.
There are also a few picnic areas throughout the park, including a shaded area near Wayne's Woods, making it easy to bring a picnic and spend the day. Wayne's Woods picnic area overlooks the National Memorial Arch and the landscape of Valley Forge. A public restroom and outdoor water fountain are also available seasonally.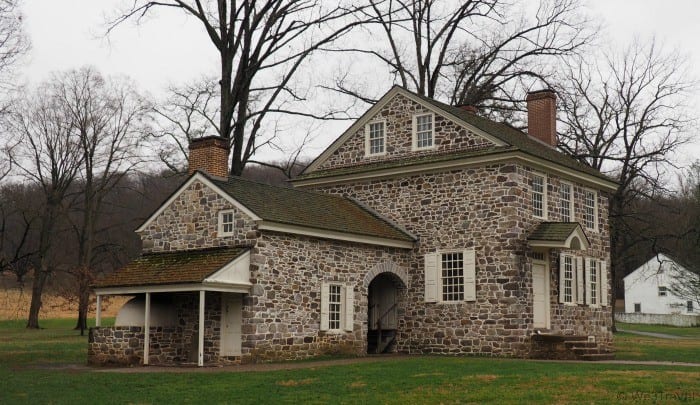 Preparing to Visit Valley Forge with Kids
As always, I'd recommend reading up a bit about the Revolutionary War, George Washington, and Valley Forge before a visit. Some ideas include: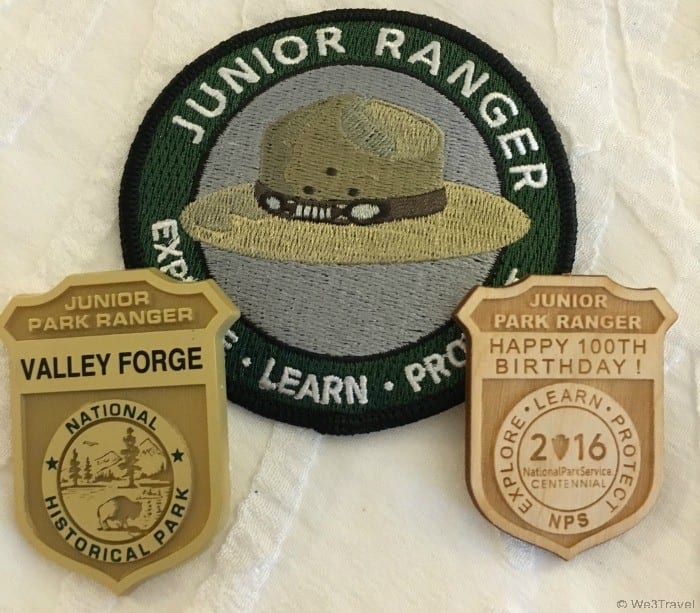 Things to do Near Valley Forge, PA
If you don't bring along a picnic lunch, plan to stop by the nearby historic Black Powder Tavern for lunch or dinner (try the short-rib grilled cheese, it is delicious!)
Visit the Morris Arborteum
Technically within the Philadelphia city limits, Morris Arboretum is just a hop-skip-and-a-jump from Valley Forge (or about 20 minutes by car with traffic.) Before you roll your eyes at the thought of your kids in an arboretum, let me tell you that this one has so much to offer kids.
Morris Arboretum was started by brother and sister duo John and Lydia Morris, whose family made their fortune iron manufacturing. When they saw Philadelphia quickly expanding, the decided to set aside some land to preserve the natural beauty and traveled the world bringing back ideas and plants that they implemented on the land that is today the Arboretum. Today, the Arboretum spans 92 acres, featuring 12,000 plant and trees species.
They have set up many family-friendly programs, including story times, Japanese tea ceremonies during the Cherry Blossom Celebrations in April, Mother's Day Brunch, Circus Week in July, and special programs on Wednesdays throughout the summer. No matter when you visit, they make exploring fun with specially printed educational cards to bring along on walks and a passport that explorers can stamp at stations throughout the grounds. These feature a wetlands scavenger hunt, bird watching checklist, and ideas for becoming a tree scientist.

One of our favorite parts of the Arboretum was the "Out on a Limb" exhibit featuring a giant birds nest perched 50 feet above the ground. Here kids can truly get a birds eye view, plus have fun on the nets and platforms high up in the air.
I wish we could have visited when the rose garden was in full bloom, but even without the riot of color that you might see in the spring and summer, it is easy to spend half a day exploring the various regions of the Arboretum and making your way along the loop that runs through the property.
Morris Arboretum is located at 100 E. Northwestern Avenue, Philadelphia, PA. Visit www.morrisarboretum.org for program schedules, hours, and admission information.
Explore The Wharton Esherick Studio
When you have had your fill of the outdoors, it is time to climb inside the cozy, crooked little studio of gifted woodworker and designer Wharton Esherick. Don't worry if you have never heard of him. You don't need an art degree to appreciate his whimsical, yet beautifully crafted designs.
From the Winnie the Pooh outside of the visitors center, to the winding, treehouse-like staircase inside the studio, the designs of Esherick will enchant all ages. (But given the open stairs, it is probably best for those eight and up.)
Wharton Esherick (1887-1970) got his start as an artist and later got into woodcuts. He soon discovered a passion and talent for woodworking, which is what has made him famous. Today, his furniture and furnishings can be found in major American museums and private collections, as well as the 200+ works exhibited in the Studio.
He designed the fairy-tale like home that seconded as his studio with thoughtful care. Built over a 40 year period, it features barn-like stone walls that curve out like a tree trunk, with a patchwork floor of wood pieces. Inside you will find his ingeniously-designed lamps, tables, and cabinets, alongside some of his wooden sculptures. He paid close attention to every detail from the latches and hinges to the sinks and steps.
I was certainly surprised by how much we enjoyed this short visit and was glad to have discovered this hidden gem.
The Wharton Esherick Studio and Museum is located at 1520 Horseshoe Trail in Malvern, PA. Tours are by appointment only.
Enjoy Elmwood Park Zoo
If you are saying ok, that all sounds good but what about something truly for kids…here you go. Elmwood Park Zoo is small but packs a big punch. Here you will find otters, cheetahs, bald eagles, moose, prairie dogs, and our favorite…red pandas!
If zoos are not your thing, they also offer a small treetop adventure and zipline course.
Elmwood Park Zoo is located at 1661 Harding Blvd in Norristown, PA.
Shop at King of Prussia Mall
If you are traveling with teens or just like to shop, you may want to check out the King of Prussia Mall, which is home to over 450 retailers. It is also a good spot to grab a casual dinner, with options like Buffalo Wild Wings, California Pizza Kitchen, Legal Seafoods, Outback Steakhouse, and many more.
King of Prussia Mall is located at 160 N Gulph Rd, King of Prussia, PA 19406
Where to Stay Near Valley Forge
We stayed at the nearby Hilton Garden Inn in Phoenixville, PA. I'm a big fan of the Hilton Garden Inn because they are so reliable and great for families. Our room was spacious, with free WiFi, free water for Hilton Honors members, and great public space in the lobby. With this one, just request a room that doesn't face the highway, as it can be noisy at night.
Find other places to stay near Valley Forge:
---
Consider combining a visit to Valley Forge with a few days in Philadelphia, or make a big road trip to cover Philly, Valley Forge, Lancaster, Gettysburg, and Hershey/Harrisburg.
PIN THIS FOR LATER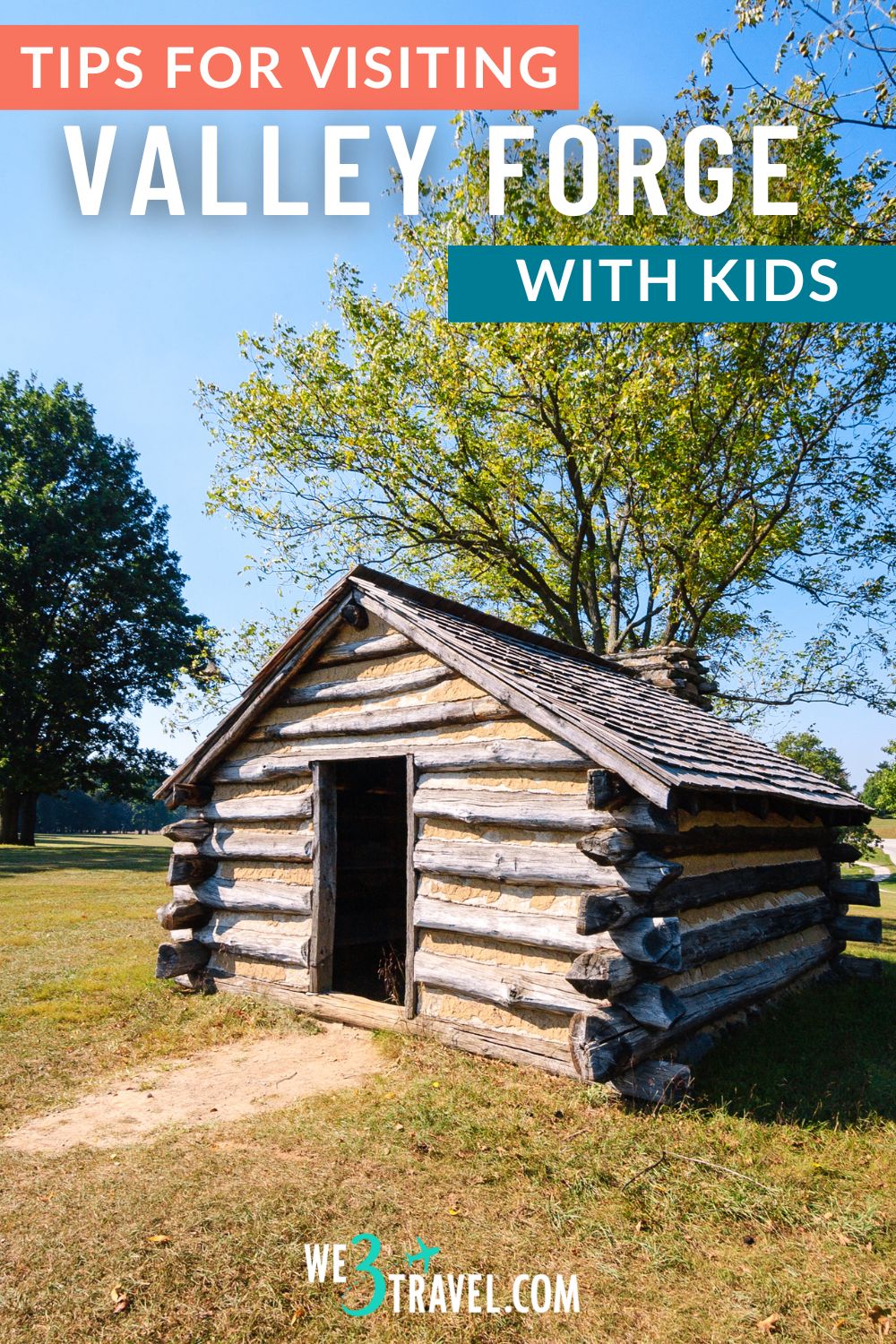 SaveSave