Philadelphia is the birthplace of the United States of America. The Declaration of Independence was conceived, drafted and signed at Independence Hall. Eleven years later, as the newly formed U.S.A. was foundering, the country moved from a confederacy of independent states to one with a national government with the drafting of the Constitution in those same hallowed halls. As a result, there are so many Philadelphia historical sites throughout the city.
Symbols of freedom and liberty persist throughout the Old City — from the Liberty Bell, to Independence Hall, to the National Constitution Center, to the myriad of museums and historic buildings that are jam packed into a few block radius.
With so much to see, it is easy to spend days wandering from historic site to site, but families traveling with children might have trouble keeping their interest through all these attractions, so here are some tips for touring historical Philadelphia with kids.
Tips for Visiting Philadelphia Historical Sites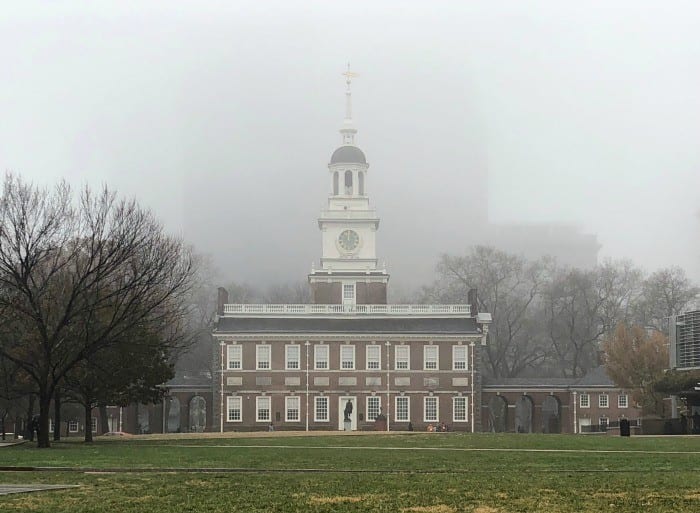 1. Get an early start.
There is a lot to see and some attractions, like Independence Hall, require timed entry tickets that sell out quickly. For example, when we arrived around 11:30 am, we were lucky to get tickets for a 4:00 pm entry. If we had been much later we would have missed the opportunity for the day.
2. Start at the Independence Visitor's Center.
Located in the heart of historical Philly, the Independence Visitor's Center is going to be your home base. When you arrive, go directly to the Independence Hall ticket line.
It is a National Park (don't forget your National Park Passport to stamp), so there is no charge but you will need a ticket to enter Independence Hall. Tours are taken every 15 minutes with timed entry tickets and if you don't get one, you aren't going to be allowed inside.
At the Visitor's Center you can also use the restroom, charge your phone, listen to history talks, and learn about other tours and activities around the area.
3. Visit the Liberty Bell late in the day.
The line for visiting the Liberty Bell can be exceptionally long. If your kids aren't up for waiting 30 minutes to an hour to see a cracked bell, make this one of the last stops of the day when the line is a bit shorter. Plus, you'll have the advantage of not taking pictures of the Liberty Bell directly into the sun.
Of course, if you are able to visit mid-week, or on a Sunday during the slow season, you are likely to find no line at all.
4. If you are pressed for time, see the back of the Liberty Bell from outside.
Visiting the Liberty Bell is free, you'll just have to wait in a very long line. Once you enter the building, you will walk through a self-guided exhibit about the history of the bell before taking a look at the historic Bell itself.
Its famous cracked front is facing the inside but if you are pressed for time, the back of the Liberty Bell is facing a glass wall and can be easily viewed from the outside.
5. Visit the National Constitution Center first.
Unless you are lucky enough to grab early tickets to Independence Hall, start your touring at the National Constitution Center. You will need to purchase tickets and receive a timed entry, but these are much more readily available and flexible than Independence Hall.
We bought our tickets early but ended up visiting after the Liberty Bell and there was no problem. Your visit will start off with a performance of "Freedom Rising" in a 360 degree theater utilizing a live narrator and multimedia. This is a good overview of the history around the Declaration of Independence, Revolutionary War, and Constitution.
It should prepare kids for what they will see on the rest of the trip. After this presentation, you can explore the main exhibit, which includes over 18 hours of material in a number of very well-done interactive exhibits. Plan on spending 1.5 – 2 hours here at a minimum.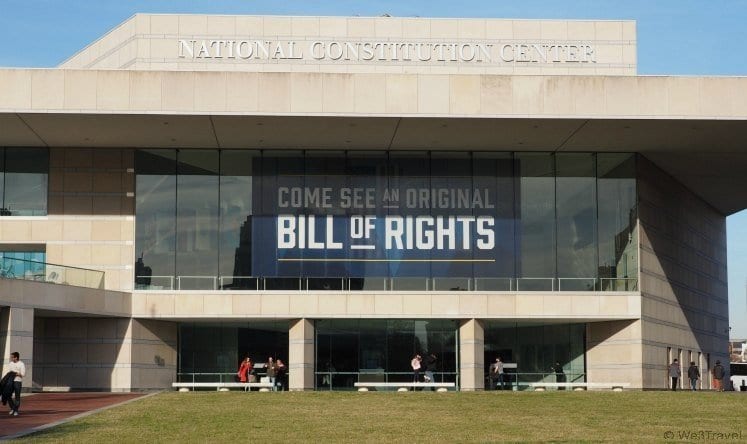 6. Be sure to include a visit to Independence Hall.
Getting tickets to Independence Hall can be a challenge and the tour itself doesn't have the whizbang interactivity that you'll find at the National Constitution Center, but the Park Rangers do a great job of bringing history to life and instilling their passion for history in kids.
The actual tour is only 30 minutes and moves through three rooms so kids aren't having their attention spans challenged too much. It is worth the stop to see such an important place in the nation's history.
Just be sure to arrive 30 minutes early to get through security and then line up in the ticket holders line (not the waiting line for people with later tickets who hope to get a spot.)
7. Don't miss the new Museum of the American Revolution.
Located near Independence Park, the newly opened Museum of the American Revolution is outstanding. Through short films, interactive exhibits, and small galleries, the museum does an incredible job of telling the story of the War for Independence. It addresses things you didn't learn in history class, like the Native Americans who fought in that war (and every war since.)
Even kids will enjoy learning history in this setting. Be sure to leave at least 1.5-2 hours for this museum.
8. See the Betsy Ross house from the outside.
If you or your kids are as enthralled with Betsy Ross as I was as a kid, then go ahead and visit her house, which has been preserved as a historical landmark. But if you don't want to pay the ticket price, you can see the outside of the house and a flag from the courtyard.
Inside, the self-guided tour takes no more than 10 minutes, walks through the home to peek in at a couple of rooms and you get to "meet" Betsy in her upholstery workshop and ask her questions if you'd like. Altogether there isn't that much to see.
9. Take a break to eat.
If everyone in your family wants something different, you can also stop by the Reading Terminal Market, which is like a giant food court, just about five blocks away.
A bit closer you will find the newly-opened Bourse Food Hall. We walked just a couple blocks through Washington Square Park for a quieter meal at Talula's Daily, a market/cafe with salads, sandwiches, cheese boards, and some hot items.
10. Stay nearby.
You will be doing a lot of walking so it will be easiest if you book a hotel nearby if you are staying overnight. There are a number of hotels in the Old City area, including Hotel Monaco right near Independence Hall. I stayed there recently on a press trip and I loved the style and you absolutely can't beat the location!
When we went as a family, we stayed just a short 5-10 minute walk away in the Society Hill/Penn's Landing and had a lovely stay at the Sheraton Society Hill.
11. Ask the Rangers Questions
When at Independence Hall, if you ask a Park Ranger a question, they will give you a special trading card. Or, if they ask you a question and you answer correctly, you will get a trading card (this may be just for kids.) PLUS, if you ask a safety enforcement officer a question, you will get a trading card of their special police dog. Give it a try and let me know how it goes!!
If you really want your kids to get the most out of their visit, you'll be well served by introducing them to some American History and its main players before you go. If they haven't studied the Revolutionary War in school, here are some books that might help:
[plan-trip]
[/plan-trip]
PIN THIS FOR LATER