Many people have favorite holiday traditions, whether it is seeing The Nutcracker or the Radio City Christmas Spectacular, a visit to NYC to see the tree in Rockefeller Plaza, or simply enjoying holiday decorations in their local community. For those in the greater Philadelphia area, those traditions may include experiencing the magic of Christmas at Longwood Gardens.
Even though I no longer live nearby, in recent years I have visited Longwood Gardens at Christmas a couple of times, once with family and once with friends. My mom is a consummate gardener and it was a joy to take her to Longwood Gardens for Christmas as part of her present.
Since this is such a popular event, be sure to follow the following tips to get the most out of your Longwood Gardens Christmas experience.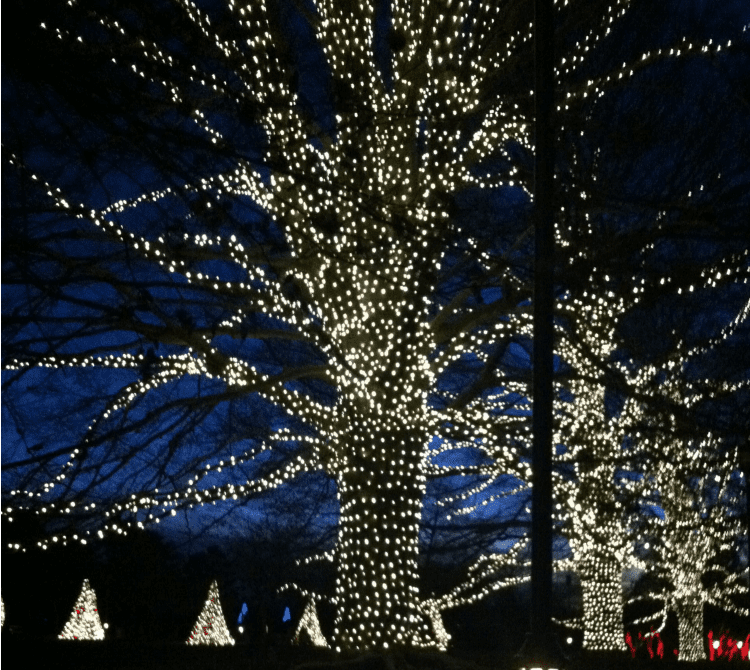 Christmas at LongWood Gardens
For those of you not familiar, Longwood Gardens is one of the premier botanical gardens in the United States, covering over 1,000 acres in Kennett Square, Pennsylvania, in the beautiful and historic Brandywine Valley (also famous for its mushrooms!)
As with many attractions in this area, Longwood Gardens was once owned by one of the du Pont family, Pierre S. du Pont, who began the tradition of opening the estate to visitors. He left most of his estate to the preservation and maintenance of these gardens and the foundations have continued to open the gardens to the public (for a fee, of course.)
A Longwood Christmas is a blend of indoor and outdoor botanical displays, hundreds of thousands of lights, fountains that dance to seasonal music, organ music, holiday caroling, and even special events like breakfast with Santa. Displays change each year so even if you have visited once, it is still fun to return as it is a new experience each time.
When Is A Longwood Christmas?
Longwood Gardens' special celebration "A Longwood Christmas" opens to the public in mid-November and continues through the first week of January. The gardens are open daily from 10:00 am through 11:00 pm, but timed entry reservations and tickets are required.
What is the best time to visit A Longwood Christmas?
The closer you get to Christmas, the busier it gets at Longwood Gardens, especially on the weekends. To avoid crowds and cold, I would recommend visiting A Longwood Christmas in late November or early December. A midweek visit will have fewer crowds.
To enjoy the gardens by day but also experience the magic of a Longwood Christmas after the lights come on at dusk, I would recommend purchasing tickets for the mid-afternoon (considering it will be dark by 4:30-5:00 pm.) This way you get the best of both worlds but can also avoid the late-night cold. An entrance ticket between 3:00-4:00 pm is ideal.
By entering at this time, you are able to avoid the incredibly long lines coming off the highway to the entrance later. Also, you will be able to park within a close walking distance (avoiding a wait for a parking shuttle).
How much does A Longwood Christmas cost?
Timed entry tickets are required for entrance to A Longwood Christmas. Prices are subject to change, but for 2022 the pricing is as follows:
Adults: $30
Seniors (62+): $27
College student (with ID): $27
Youth (5-18): $16
Children (4 and under): Free
U.S. Military or Veteran: $23
Museums for All and PA Access card holders: $2
To get your ideal time slot, it pays to make reservations in advance. Print your tickets at home or use your mobile phone for paperless ticketing. The Gardens are open rain or shine and if the weather isn't ideal, you will enjoy warming up or drying off in many of the conservatory's tropical rooms.
There are also firepits and warming spots throughout the grounds where you can wrap your hands around a warm cup of hot cocoa to take off the chill.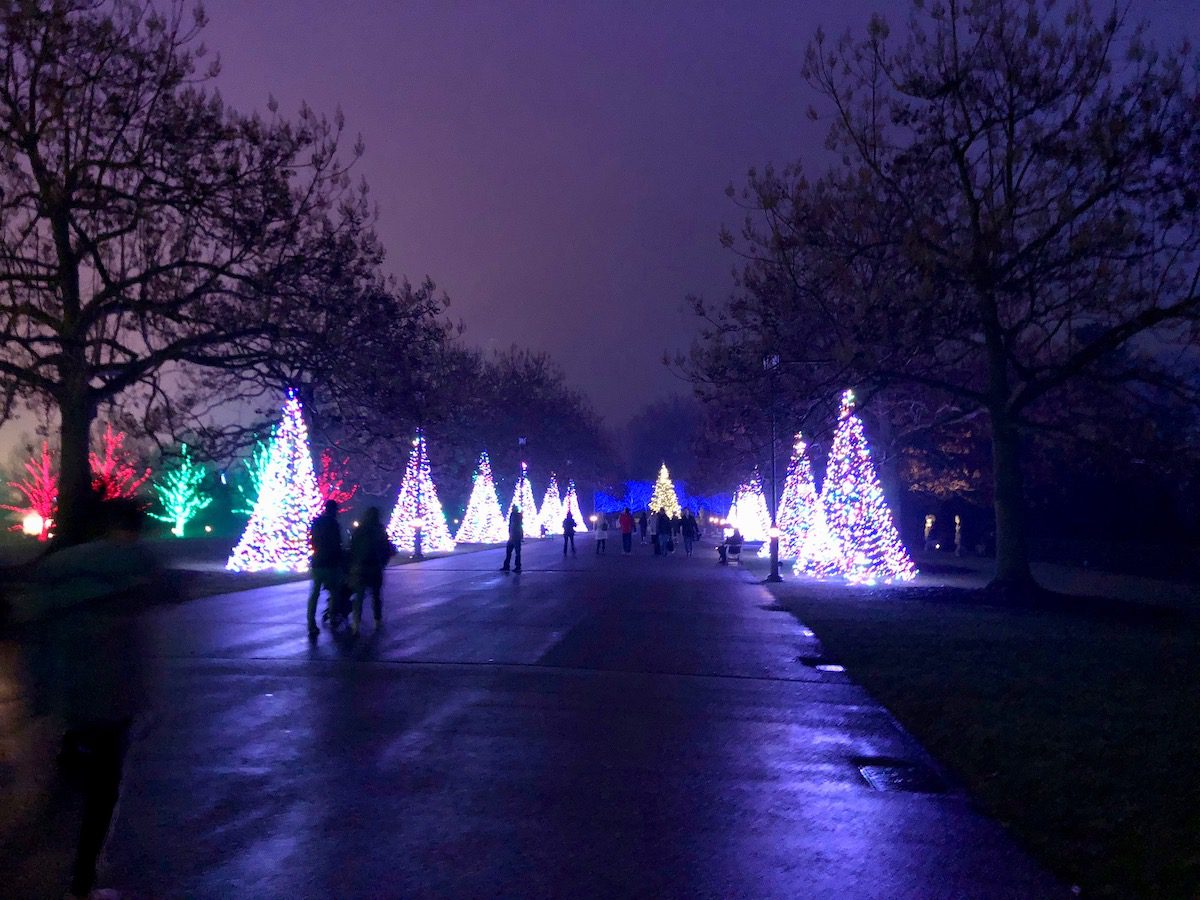 How Long Does it Take to Walk Around A Longwood Christmas?
How long you spend exploring A Longwood Christmas depends on the crowds, how many pictures you want to take, and how cold it is! Plan on spending at least an hour walking through the four-acre conservatory greenhouses. You will likely want to spend another hour or two walking through the grounds while enjoying hot chocolate and watching the dancing fountains or train sets.
A Longwood Christmas Must-See Exhibits
There is so much to see at Longwood Gardens at Christmas, but there are a few spots that you definitely don't want to miss. If visiting with kids, you may want to hit the model train area first (grab a map or download the interactive map before leaving the visitor center to get yourself oriented.) Otherwise, I'd recommend starting with the Conservatory so that you can see all of the beautiful plants, trees, and decorations in the daylight.
The Conservatory
The Conservatory is a great spot to get family photos in front of some of the beautiful Christmas tree displays, which is another reason to go while the sun is still out. Also, be sure to check out the program of events early in your visit to see what special events you might want to attend.
For example, you may want to scope out seats for the organ performances and holiday sing-a-longs. Otherwise, go with the flow and wind your way through acre after acre of beautiful displays. In the main hall, you will find a display of Christmas trees.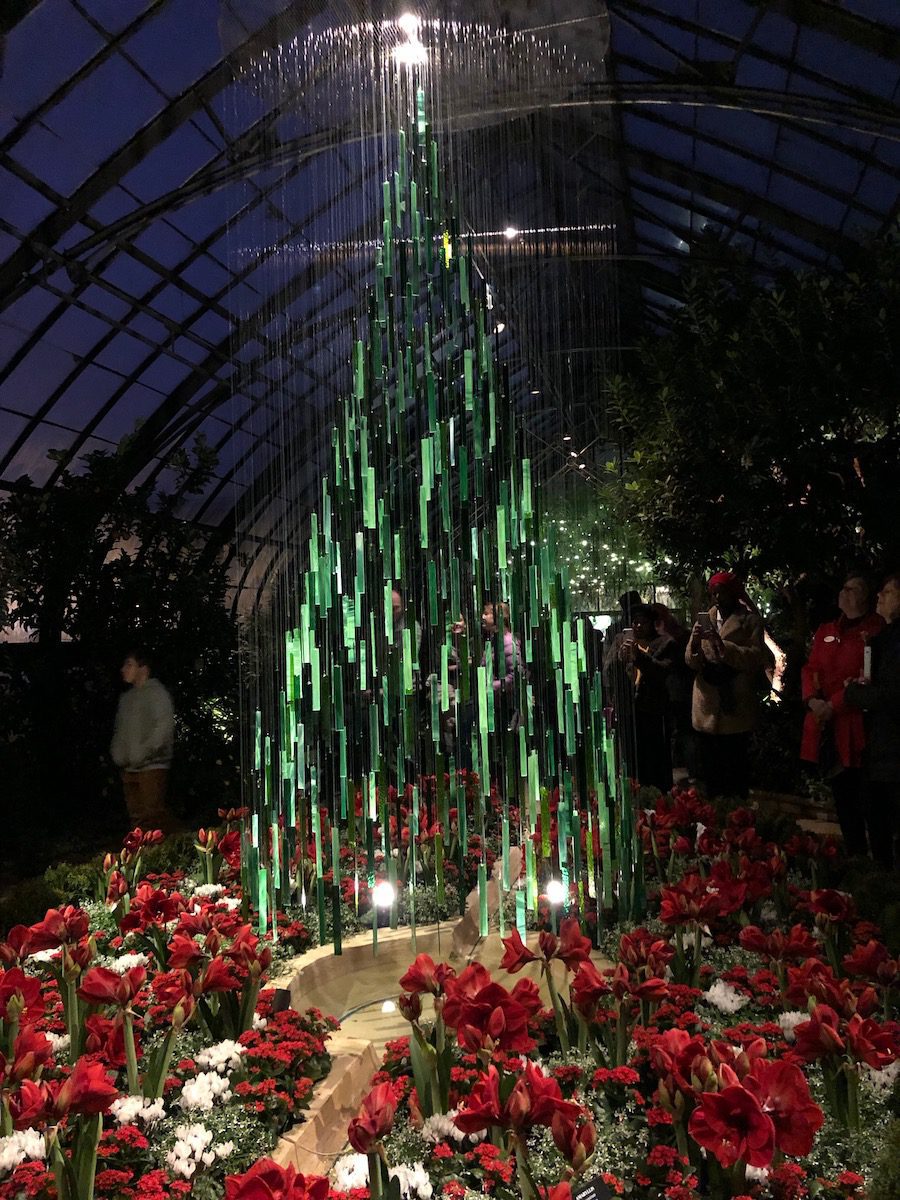 In the Exhibition Hall, you will see a large table set for a lavish Christmas ball, with a different theme each year. Along the way you will see orchids, rose gardens, tropical plants, bonsai displays, Chinese gardens and so much more.
Treehouses and Garden Railway
Head outside as it gets dark to enjoy one of the most beautiful displays of lights I have ever seen. Some sights not to miss are the treehouse (great fun to climb with kids) and the Garden Railway featuring an enormous outdoor display of miniature trains (perfect for any Thomas the Train fans.)
Open Air Theater Fountain
There are beautiful fountain displays throughout the grounds but you can't miss the fountain show at the Open Air Theater fountain. Featuring 750 jets in changing patterns, these illuminated sight and sound shows take place every five minutes after 3:30pm.
Arrive just as the previous show finishes to get a good seat. I'd recommend a seat in front so your pictures and video aren't all the people with cameras held aloft in front of you.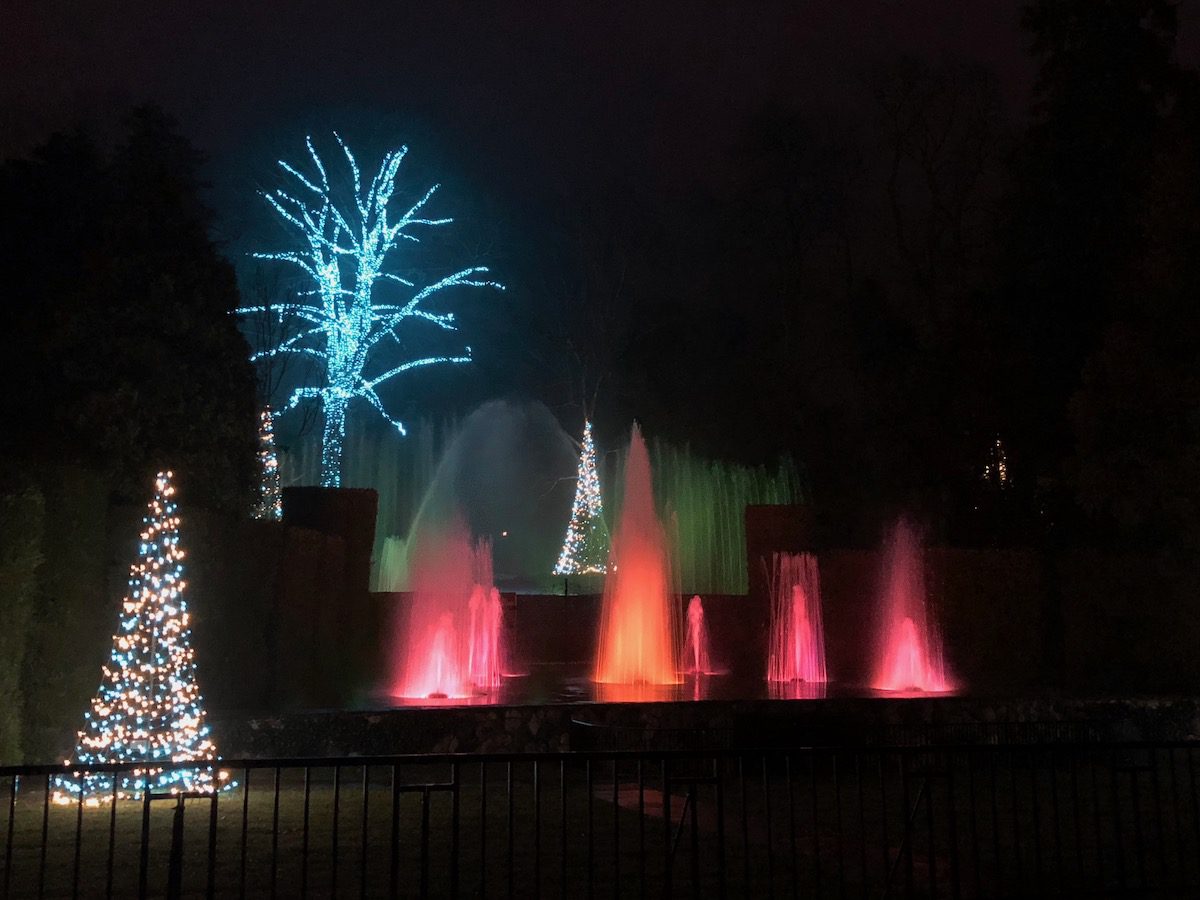 Eating at LongWood Gardens
To make an evening out of a visit to A Longwood Christmas, you can get dinner or snacks at one of the Gardens' eateries. There are food stands with hot chocolate, eggnog, and other sweets. For something more substantial, try one of these:
Café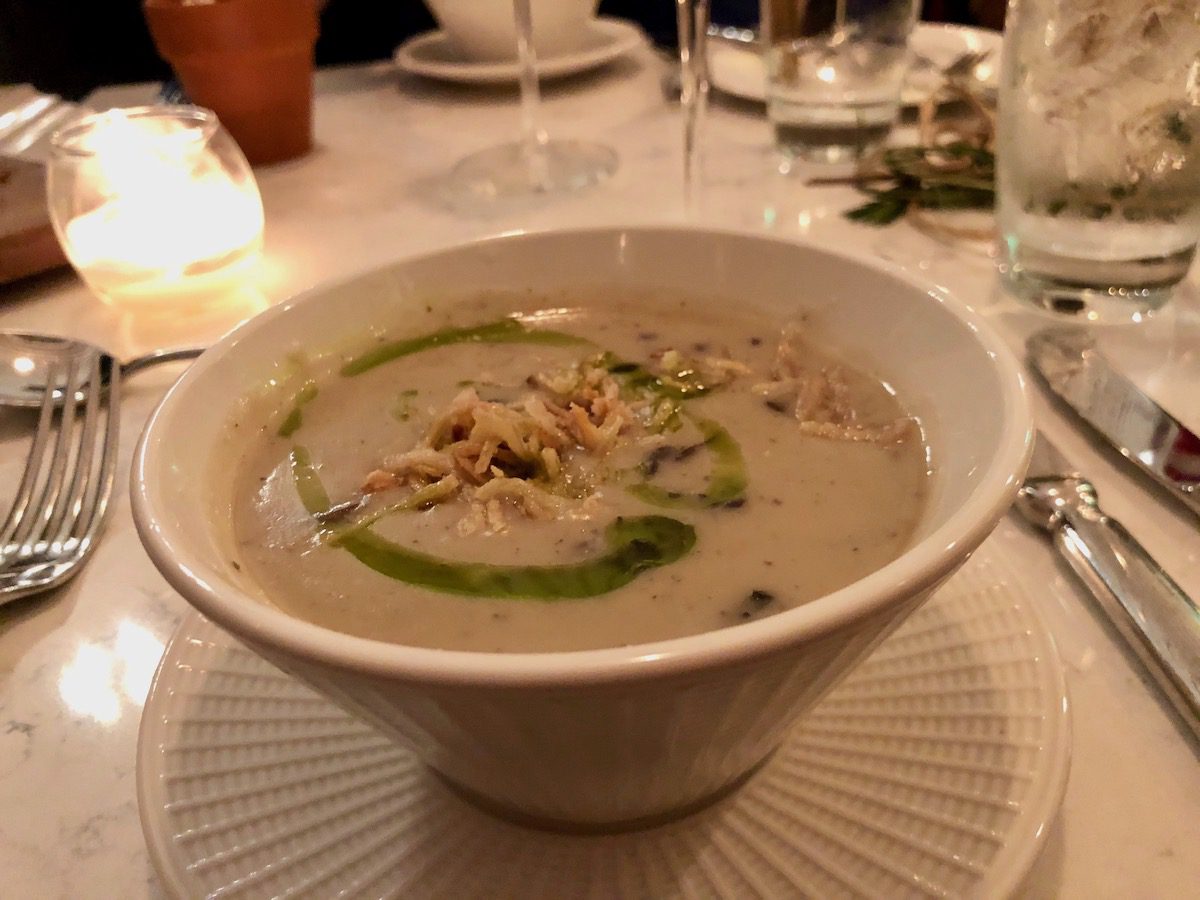 The Café offers ready-to-eat sandwiches & salads, hot entrée selections, freshly prepared desserts, and the delicious Longwood Gardens Mushroom Soup (it is truly amazing.) There is indoor and outdoor seating and reservations are not accepted so seating is first-come, first-serve.
1906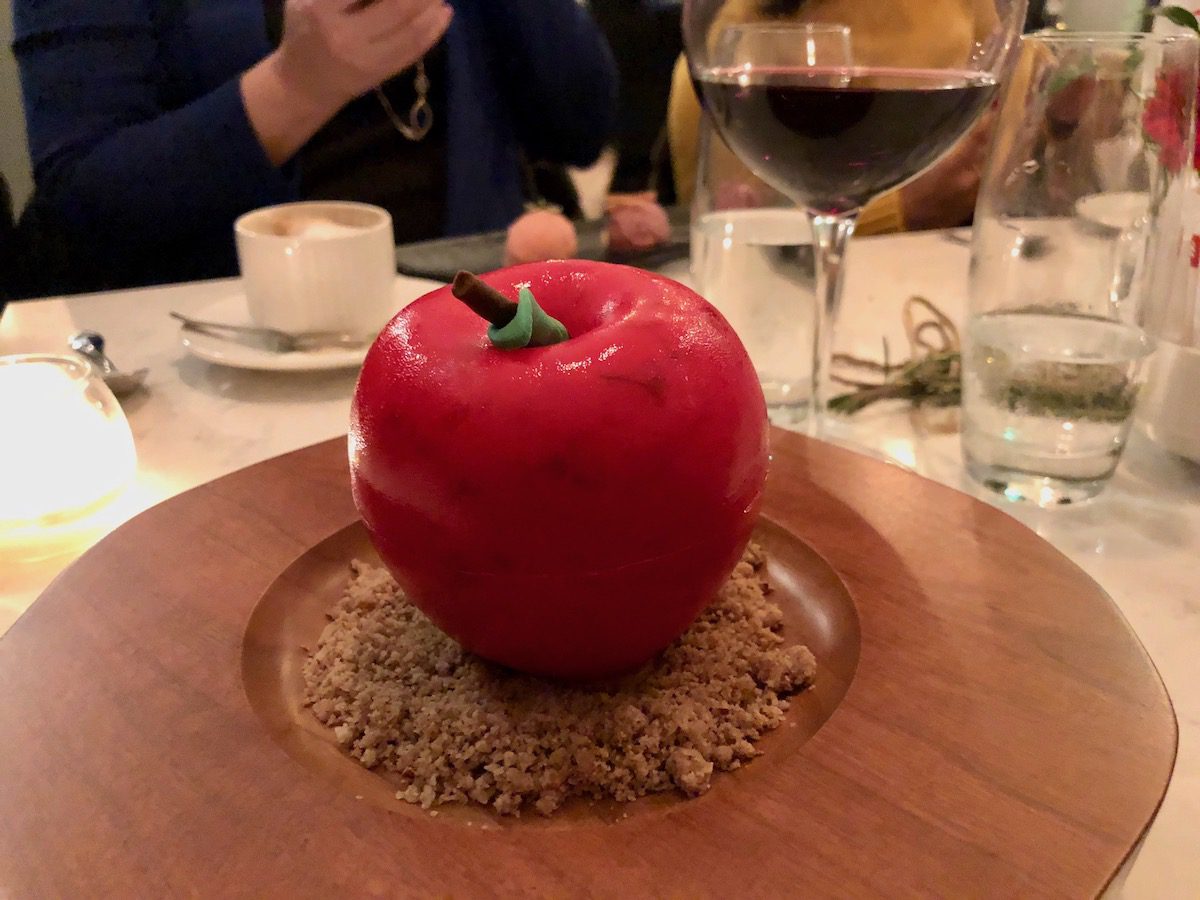 1906 is a fine dining restaurant at Longwood Gardens. Named in honor of the year Pierre S. du Pont (1870-1954) purchased the grounds that were developed into Longwood Gardens, 1906 offers seasonal fare using locally-source and sustainable ingredients. Reservations are recommended, especially during A Longwood Christmas. This may not be ideal for children but if you are visiting with foodies, I'd highly recommend making reservations for 1906.
Tips for Visiting Longwood Gardens at Christmas
Buy your tickets in advance — Longwood Gardens requires timed entry tickets for A Longwood Christmas. Ticket slots do sell out so purchase in advance to get the time and date of your choice.
Plan your visit to arrive around 3 pm — that way you are ahead of the crowds, can see the gardens by day and night, and avoid the late evening cold temperatures
Visit the Conservatory first — after a quick stroll through the grounds, you should head over to the Conservatory. With 4-acres of flowers and plants in the Conservatory alone, you will easily spend 1-2 hours inside. After your trip to the Conservatory, it should be getting dark and you can fully enjoy the lights and the fountain show in their full glory
Dress in layers — it will be quite warm in the Conservatory but chances are, it will be chilly outside at this time of year. Be sure to dress in layers and bring warm hats and gloves.
Hit the bathroom after the Conservatory — the Conservatory has an entire hallway of individual bathrooms so make a pit stop here before you head out in the cold and have to worry about finding a restroom later
Book your dinner reservation in advance — if you are dining on-site at the lovely 1906 Dining Room, be sure to book your reservation when you get your ticket, otherwise, be prepared to stand in long lines in the cold just to get a hot chocolate or snack at the Cafe. If you can hold off on dinner until after your visit, there are many options in nearby Westchester and I'd wholeheartedly recommend Avalon Restaurant (and their two wood-burning fireplaces just might warm you up!) If you want to have lunch (and do a little gift shopping) before your visit, I'd also recommend Styer's Garden Cafe in Glens Mills, PA. It is a lovely setting with a focus on fresh, local ingredients. Wherever you eat, be sure to try something with mushrooms!
Bring a camera — you will really want to bring your camera to capture all the beautiful displays.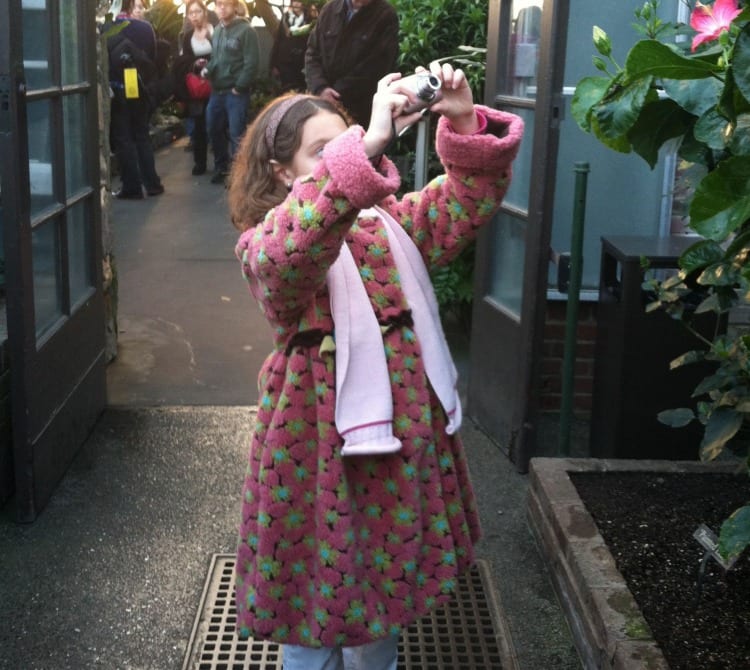 If you are visiting Longwood Gardens, you may also be interested in:
Find a Hotel Near Longwood Gardens