It is back to school time and you know what that means, right? No, not lunchboxes and homework, it means it is already time to start planning your holiday travel! If you are ready to start counting down the days until the next holiday break, take a look at this list of the best Christmas hotels and get ready to book, but stay tuned because I have a trick for you to save money on holiday travel (and the rest of your holiday shopping!)
We all know that Thanksgiving Weekend and the days right before and after Christmas and New Year's are some of the worst days to fly. But they are also when hotels in prime holiday destinations book up early. So the time to book is now!
Best Christmas Hotels
Note: This post contains affiliate links. If you click a link, I may receive a small commission. All opinions are my own.
Last year I shared some of my favorite places to go for Christmas, and now I want to get a little more specific and offer up ideas for hotels that go above and beyond to create a magical Christmas experience for guests. If this list doesn't give you enough ideas, see Travel Mamas' suggestions for the best hotels for families in the USA.
Gaylord Hotels (Multiple Locations)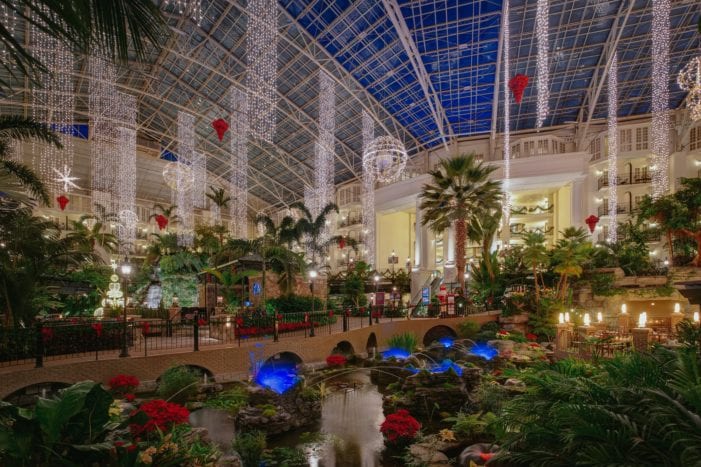 The Gaylord Hotels in Maryland, Nashville, Kissimmee, FL and Grapevine, Texas all offer a spectacular holiday experience, making it one of the top Christmas hotels. Each hotel features an ICE event with ice sculptures, displays, millions of lights and tons of family fun.
Every year the themes change, including How the Grinch Stole Christmas, Charlie Brown Christmas, and A Christmas Story! At each, you can have breakfast with featured characters, take photos with Santa, decorate gingerbread, eat cookies with Mrs. Claus, and so much more. The Opryland property also features a 6,000 square-foot ice rink, kids train, outdoor nativity, horse-drawn carriage rides, Christmas fountain shows, and riverboat cruise through the hotel atrium.
Check rates and reviews!
The Resort at Paws Up, Greenough, MT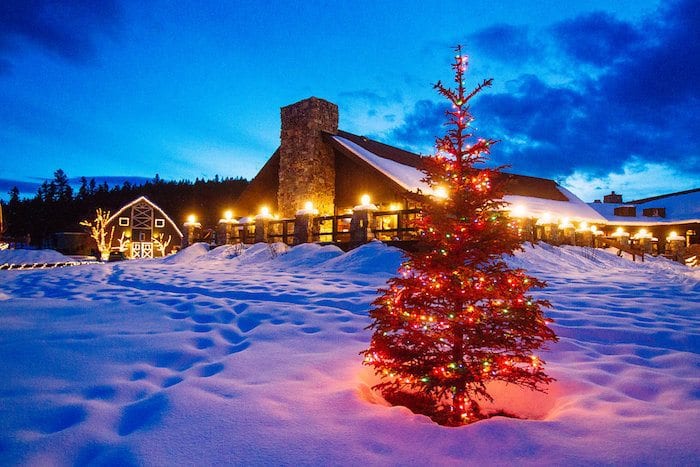 Photo credit: The Resort at Paws Up
If you want a storybook Montana Christmas, The Resort at Paws Up is the place to go. Families will enjoy real-life sleigh rides, gingerbread house building, cross-country skiing, snowmobiling, snow tubing, game nights, dogsledding, bonfires, even a Christmas Eve kids' party – all set against a background of snow-covered mountains.
Each guest has their own tree, in their own private home, and everyone gets a personal visit from Santa, complete with an exclusive Paws Up Christmas stocking. It is like Christmas at home, but so much better with fantastic holiday meals prepared in the resort's amazing restaurants (or delivered to your home on property.)
Check rates and reviews!
The Little America Hotel, Flagstaff, AZ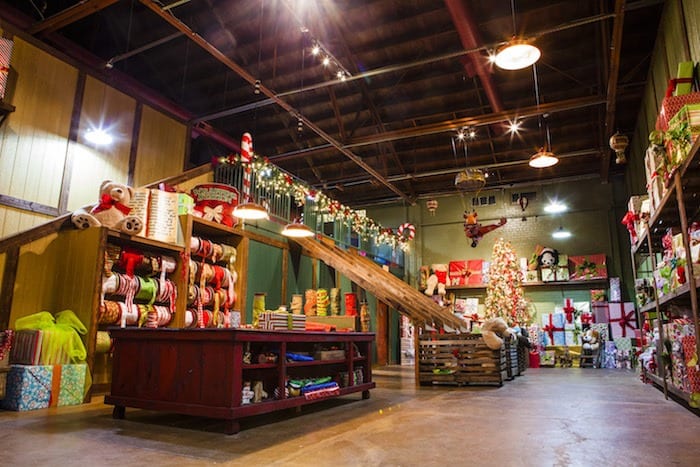 Photo credit: North Pole Experience
If you want something a little more affordable and not so cold, consider The Little America Hotel in Flagstaff, Arizona. This hotel's North Pole Experience allows kids and families to travel through the "North Pole" to explore Santa's workshop.
Nestled on 500 acres of pine forest, Little America gets decked out for the holiday season. The experience starts with a trolley ride through the forest filled with snow and over a million Christmas lights. Inside Santa's toy factory, guests work side-by-side with Santa and his elves to build toys, then attend Elf University.
They finish up with cookies and snowman soup inside Mrs. Claus' Bakery. Families can bunk down in one of their newly renovated lodges with all-inclusive package rates starting at $200 per night. Pair a visit with a Christmas visit to the South Rim of the Grand Canyon or ski at the Arizona Snowbowl.
Check rates and reviews!
Leavenworth Tiny House Village, Leavenworth, WA
Photo credit: Leavenworth Tiny House Village
The Bavarian-themed town of Leavenworth, Washington is a classic holiday destination with a Christkindlmarket, Nutcracker Museum, Reindeer Farm, and a magical Christmas Lighting Festival. Now you can combine the Winter Wonderland beauty of Leavenworth with the trendy tiny house movement.
The Leavenworth Tiny House Village is located in the Leavenworth RV Campground. These five Bavarian-themed tiny houses offer an affordable, unique, and fun way to celebrate the holidays. Plus, guests have convenient access to over 200 miles of groomed snowmobile trails, cross country skiing, and sledding hills located on site.
Check rates and reviews!
Sonnenalp Hotel, Vail, CO
Photo credit: Sonnenalp Hotel
Sonnenalp Hotel in Vail is a winter wonderland for those seeking a mountain Christmas. The resort is decked out in greenery, twinkling lights, and holiday decorations. Guests enjoy live music during cocktail hour at the King's Club and s'mores and Gluhwein by a roaring fire.
For those that stay for Christmas, they can enjoy Christmas Day carolers at the creekside fire pit and visits from Santa. With one and two-bedroom suites, as well as private residences with two, three, or four bedrooms, the Sonnenalp is perfect for families looking for a holiday ski experience.
Check rates and reviews!
Hotel del Coronado, Coronado, CA
Photo credit: Hotel del Coronado
The classic Hotel del Coronado in Southern California is well-known for its "Christmas Legend" holiday celebration. From late November through New Years, The Del brings wintertime fun to sunny Southern California with Skating by the Sea with a beachfront ice rink.
They have also added a new VIP lounge area and a special skate experience, as well as 16 cozy fire pits and luxury lounges.
Check rates and reviews!
Lansdowne Resort & Spa, Leesburg, VA
From late November through early January, the Lansdowne Resort & Spa outside of Washington DC transforms to a winter wonderland. The resort also offers a one-of-a-kind golf cart parade, carriage rides, and petting zoo.
In addition to thoughtfully curated holiday décor the resort features special seasonal packages and activities for children of all ages, as well as a holiday market for people to purchase the perfect gift for that special someone.
Check rates and reviews!
St. Regis Atlanta, Atlanta, GA
Photo credit: St. Regis Atlanta
Located in elegant Buckhead, The St. Regis Atlanta has long been a holiday destination for seasonal travelers. In recent years, the hotel raised the bar by partnering with Sugarfina, a luxury candy boutique, offering a gingerbread house, a holiday pop-up candy shop, and a Sugarfina-inspired special cocktail.
Check rates and reviews!
The Village at Squaw Valley, Olympic Valley, CA
Photo credit: The Village at Squaw Valley
The Village at Squaw Valley in Olympic Valley, California comes alive in the last two weeks of December with its "Merry Days and Holly Nights," Christmas celebration. Guests will enjoy visits with Santa, torch light parades, musical performances, ice sculptures, and more.
Events have included shows such as The Twisted Nutcracker and the Tale of the Rat King, holiday carolers, the Reno-Jazz Orchestra and the Toccota Symphony Orchestra. There has also been skiing/snowboarding with Olympian Jonny Moseley, Dawn Patrol early mountain access for the adventurers, and plenty of family fun off the slopes including live music, horse drawn carriages, Ice Gardens, and Moonlit Snowshoe Dinners in a mid-mountain Chalet.
Check rates and reviews!
The Edgewater, Madison, WI
Located on the shores of Lake Mendota, the historic Edgewater embraces the winter season to the fullest. It starts off on late November with a tree lighting ceremony of three large trees on the outdoor plaza. This is followed by a visit from Santa and Mrs. Claus, along with performances from many community organizations including local choirs, handbell ensembles, ballet troupes and more.
Even the inside of the Grand Ballroom transforms into a Holiday Village with crafts, story time, and ornament making. The hotel hosts various holiday events including Breakfast with Santa, Holiday Afternoon Tea, and a Christmas Brunch.
Check rates and reviews!
Williamsburg Inn, Williamsburg, VA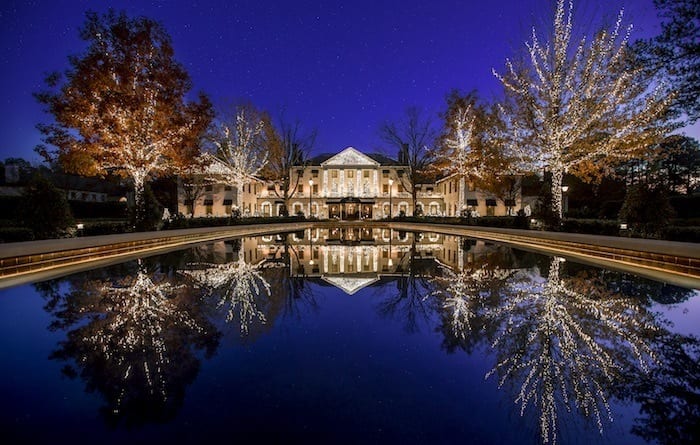 Photo credit: Williamsburg Inn
For a historic Christmas, head to Williamsburg, Virginia and the AAA Five Diamond and Forbes Travel Guide Five Star property, the Williamsburg Inn. The area is spectacular during the holiday season, filled with thousands of lights, decorative 18th century-style wreaths throughout the historic area homes, and dozens of uniquely themed holiday events.
Visitors can go ice skating, enjoy specialty holiday dining, and Christmas Town at the nearby Busch Gardens. The season highlight is the Grand Illumination fireworks spectacular in December.
Check rates and reviews!
Ahwahnee Hotel, Yosemite, CA
The legendary Ahwahnee Hotel (formerly the Majestic Hotel Yosemite) in Yosemite National Park offers elaborate Christmas celebrations including elegant and sumptuous Old England Christmas feasts called Bracebridge Dinners.
The meal is followed by a magical theatre performance originally directed by famed photographer Ansel Adams. The Ahwahnee's Dining Room is transformed to a manor hall for this celebrated Yuletide extravaganza.
Check rates and reviews!
Mission Inn Hotel & Spa, Riverside, CA
Photo credit: Mission Inn Hotel & Spa
Southern California's historic Mission Inn Hotel & Spa offers a front-row seat to the Annual Festival of Lights, named one of the "Best Public Lights Display in the Nation" by USA Today. This annual tradition attracts more than 500,000 visitors from all over the world for the free, six-week-long holiday extravaganza.
During the famous "Switch-On" Ceremony, the castle-like hotel is instantly illuminated with five million holiday lights followed by a full fireworks display. The Festival of Lights includes 200 animated figures including angels, elves and Dickens carolers; appearances by Santa Claus, the world's largest man-made mistletoe, horse-drawn carriage rides, elf tuck-ins, freshly fallen snow, elaborately decorated Christmas trees; and delectable holiday confections at the famous Casey's Cupcakes, among other festive offerings.
Check rates and reviews!
Topnotch Resort, Stowe, VT
How many resorts are there where you can bring home your own Christmas tree? Topnotch Resort in the scenic town of Stowe, Vermont has partnered with Paine's Christmas Trees for an "O'Christmas Tree" Package.
Guests can take a wagon ride through the tree farm to find the perfect tree and pick out an ornament from the shop. In addition to tree shopping, Topnotch offers a host of winter activities including sleigh rides, cross country skiing,and outdoor firepits. And, the tallest mountain in Vermont is only a short drive away.
Check rates and reviews!
HarbourView Inn, Charleston, SC
Photo credit: HarbourView Inn
Charleston, South Carolina transforms into a real-life Charles Dickens scene every December, with city-wide events like James Island's Annual Holiday Festival of Lights, Marion Square's one-of-a-kind holiday farmer's market, and Magnolia Plantation's Children's Holiday Village.
At the HarbourView Inn, in the heart of the Historic District, live Christmas carolers will appear with Santa Claus on Christmas Eve and a gingerbread house replica of the hotel is displayed in the lobby. Guests are also provided with an impressive list of holiday-inspired complimentary amenities including local artisanal chocolate truffle turndown, warm winter breads baked by famed Saffron's Bakery, and lavish holiday décor displayed in-room and throughout the property for a truly mystical Christmas vacation.
Check rates and reviews!
The Towers Mansion, Natchez, MS
The Towers Mansion in Natchez, Mississippi features a "Jeweled Christmas" featuring thousands of pieces of vintage costume jewelry. The Towers, which was originally constructed in the late 1700s, operates as a B&B throughout the year but each holiday season incorporates a dazzling display of diamonds, making one of the most unusual seasonal tours in the South.
From late November through early January, the tour embodies the welcoming spirit of the south mixed with old school glamour. In the area, many other antebellum homes offer special Christmas candlelight tours and host Christmas celebrations.
Check rates and reviews!
Barnsley Resort, Adairsville, GA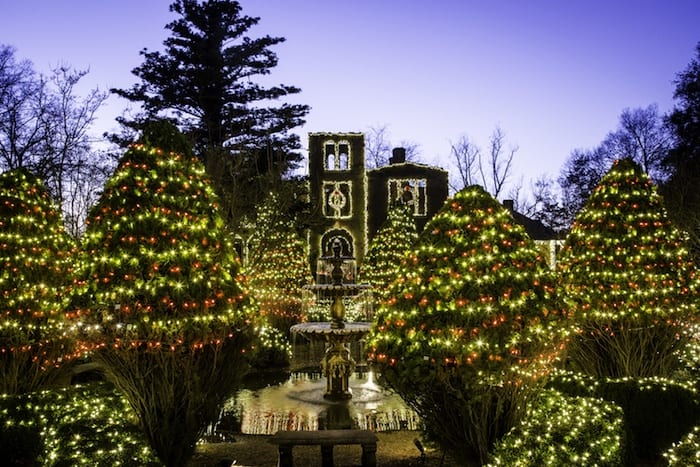 Photo credit: Barnsley Resort
The Barnsley Resort, located in the foothills of the Blue Ridge Mountains in Northern Georgia, lights up the night with an array of colorful holiday lights at the historic Manor House Ruins. From Thanksgiving night through January 1, guests can stroll the gardens or relax in the resort's hammocks while overlooking the twinkling lights.
In addition, the resort offers several holiday-themed events perfect for travelers looking to get into the holiday spirit, including Gingerbread House Crafting, Wreath Making Class, Harvest Hayride, Campfire Stories, and Cookie Decorating, as well as a Christmas Day Buffet.
Check rates and reviews!
The Broadmoor, Colorado Springs, CO
The Broadmoor offers the quintessential Colorado Christmas with a massive gingerbread display and a million twinkling lights. There are also elegantly decorated trees, music, games, activities, and special events including a concert with Debbie Boone and Breakfast with Santa.
2018 was The Broadmoor's 100th anniversary and they put on the biggest gingerbread display yet. Guests can also visit the nearby Seven Falls, one of Colorado's most captivating natural wonders during all seasons of the year, but in winter you can see the Frozen Falls and soar across them with The Broadmoor Soaring Adventure.
Check rates and reviews!
Harraseeket Inn, Freeport, ME
Photo credit: Harraseeket Inn
If you need to do some last minute shopping before your holiday, the Harraseeket Inn offers the perfect location for both preparing for, and enjoying the holiday. A family-owned and operated luxury inn, the Harraseeket is a classic Maine hotel just steps away from the flagship L.L. Bean store and more than 170 upscale outlets.
On Christmas Day, the Inn puts together a buffet that dreams are made of. The hotel is also beautifully decorated so that every guest can feel the holiday spirit and many of the rooms have fireplaces. Guests are invited to bring an ornament and write their name and the year they began staying at the hotel and find a place for it on the "Guest Tree" in the lobby.
And to not leave the kids out, owner and General Manager, Chip Gray, jingles the sleigh bells around 1 a.m. on Christmas Day to let the little ones know that Santa hasn't forgotten them, a long-standing tradition in the Gray Family.
Check rates and reviews!
JW Marriott San Antonio Hill Country Resort & Spa, San Antonio, TX
There is no need to freeze at the North Pole when you can enjoy the holiday in Texas Hill Country at the JW Marriott San Antonio Hill Country Resort & Spa. From mid-November through December 31st, the resort's annual "Light up the Night" holiday show will brighten and dazzle guests and visitors with more than 250,000 twinkling lights choreographed to holiday music in an outdoor wonderland.
Other activities include Breakfast with Santa, JW Elf Tuck-Ins with a bedtime story and a special keepsake from the JW Elves, Sandy the Snowman building contest, and a life-sized gingerbread display. Of course guests can also enjoy the resort's nine-acre River Bluff Water Experience featuring heated pools, two body drop slides, three water slides, and a 1,100-foot-long lazy river.
Check rates and reviews!
The Roosevelt New Orleans, New Orleans, LA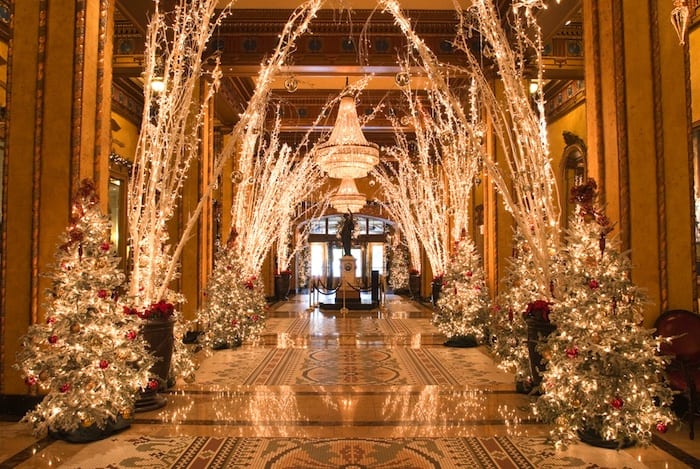 Photo credit: The Roosevelt New Orleans, a Waldorf Astoria Hotel
Every holiday season, The Roosevelt New Orleans, A Waldorf Astoria Hotel, opens its spectacular holiday Waldorf Wonderland lobby to welcome the holiday season. Ranked among the world's best displays by USA Today and the Wall Street Journal, Waldorf Wonderland incorporates over 100,000 white lights; 1,600 feet of lighted garland; 387 bows, over 4,000 glass ornaments; 78 birch trees; and 46 Christmas trees. The block long displays are free and open to the public through New Year's Day.
Check rates and reviews!
Historic Hotel Bethlehem, Bethlehem, PA
Bethlehem, Pennsylvania is also known as "Christmas City," not just because of the name but also the holiday decor, Christkindlmarkt, Christmas City Village, and the 81-foot-tall steel "Star of Bethlehem" that radiates atop South Mountain.
Historic Hotel Bethlehem is the perfect spot to soak in the Christmas spirit. When entering, guests are ushered into the 1920s, with elegantly-adorned floor to ceiling trees, a stunning Nativity scene, and glistening ornaments and lights.
Check rates and reviews!
Great Wolf Lodge (Multiple Locations)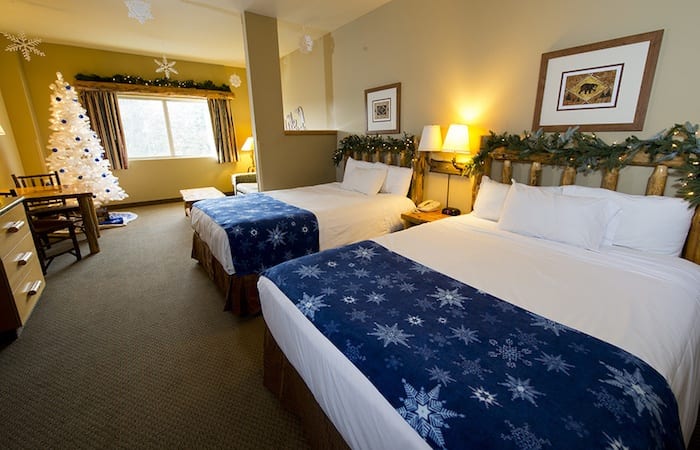 For a howling good time, take the kids to the Great Wolf Lodge. Known for the indoor water parks, the Great Wolf transforms into Snowland from November until the New Year. Entertainment includes festive family movies, a Snow n' Glow dance party when it "snows" in the lobby, and visits from Santa Claus.
Families will also enjoy North Pole University, where kids complete fun, holiday-themed assignments around the resort for the chance to earn a Snowploma and the Polar Wolf Walk, where a tour of a lobby teaches lessons about polar bears and penguins, and more. For something extra special, book a Snowland Suite complete with an in-room tree and holiday decor.
Find a Great Wolf Lodge near you
Grand Wailea, Maui, HI
Who said Christmas has to be snowy? The Grand Wailea, A Waldorf Astoria Resort offers a celebration of a different kind for those that want to flee the snow.
Special Christmas offerings including the Grand Wailea's Tree Lighting Ceremony (with eight miles of lights), a gingerbread display, holiday cookies and cocoa, breakfast with Santa, dive-in movies featuring holiday classics, and special holiday meals. Santa even arrives by Hawaiian canoe on Christmas Eve.
Check rates and reviews!
Hotel Hershey, Hershey, PA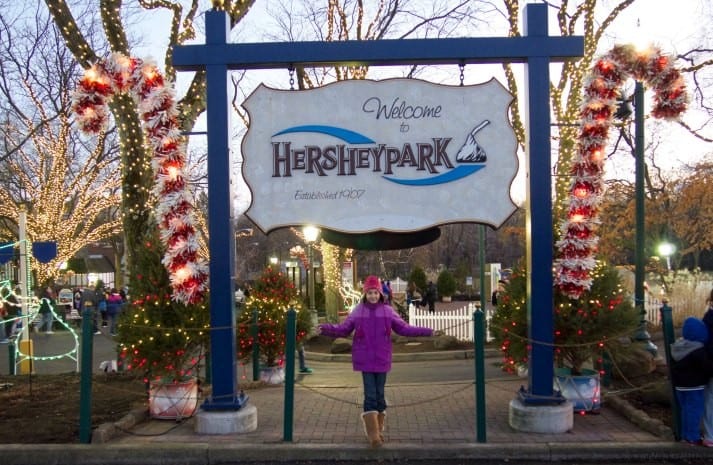 What better place to spend Christmas than in the Sweetest Place on Earth? Hotel Hershey offers special packages including a milk and cookie delivery. Plus, you can enjoy Christmas Candylane in nearby Hersheypark, where Santa, his elves, and live reindeer (including Rudolph), make an appearance.
With over 50 rides and 6 coasters, and a choreographed light show with four million lights, it provides the sweetest theme park holiday experience. Nearby, families can also enjoy the drive through "Sweet Lights" display of nearly 600 illuminated displays.
Check rates and reviews!
Saving Money for Holiday Travel
Note: This is a sponsored post written by me in partnership with Ibotta. All opinions are my own.
When I'm looking for a deal, I first jump over to some of my favorite hotel booking sites to check availability and rates. I usually look at a few to compare and debate whether or not I want to go with a "mystery deal" on Priceline or Hotwire. The mystery deal has actually worked out really well for me when booking at hotel for Christmas in New York City, but if you want to stay at one of my specific Christmas hotel recommendations, then you need to know where you are booking. A few of my favorite booking portals are Booking.com, Hotwire, Expedia, Priceline, and Hotels.com. I was thrilled to recently learn that all of these have partnered with Ibotta.
In case you haven't heard of it, Ibotta is a cash back and rewards app that lets you save time and money when you shop. Basically, you can receive cash back on purchases that you make online and in-store on hundreds of brands from hundreds of retailers and websites/apps. Frankly if you aren't using Ibotta, you are leaving cash on the table. With Ibotta, when you are buying ingredients for your holiday cookie dough, you are saving dough to use towards your holiday travel.
This is how it works:
First you download the free mobile app to your phone and open it up to look for offers on products you are planning to buy. You can search by category, retailer, or product.
Add your favorite offers to your app.
Purchase the products, either online or in-store.
Redeem your offer and earn rewards! To redeem in-store purchases, just scan the receipt and the product barcode. Online purchase offer redemption is even easier! Plus, you can earn extra cash through welcome bonuses and special offers.
Ibotta's travel partners offer some generous cash back rewards including:
Booking.com = up to 4% cash back
Hotels.com = up to 6% cash back
Expedia = up to 5% cash back
Hotwire = up to 4% cash back
Priceline = up to 5% cash back
[plan-trip]
Looking for more holiday travel ideas? Try these:
[/plan-trip]
PIN THIS FOR LATER