This post is sponsored by the Colorado Springs Convention and Visitor's Bureau, all opinions are my own.
Colorado is such an amazing summer destination — with National and State Parks, scenic train rides, hiking, ziplining, mountain biking, and just about every sort of outdoor adventure you can imagine — there are so many fun things to do in Colorado with kids.
We had so much fun enjoying Colorado this summer. Yet when I think of winter in Colorado, I immediately pull up visions of a winter wonderland with mountains draped thick in powdery snow, skiers and snowboards swishing down steep slopes, and families ice skating or curled up in front of fires with hot chocolate and s'mores.
But what about the people who want to enjoy the stunning scenery without getting on the slopes in the winter? If that is you, then Colorado Springs is the answer.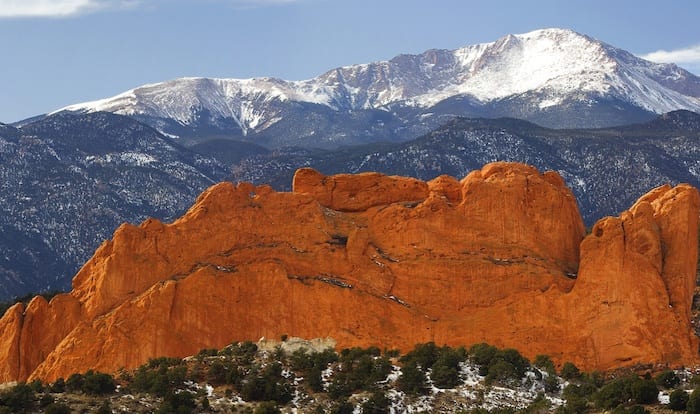 Just an hour and a half outside of Denver, it is easy to include Colorado Springs on a Colorado road trip. With average daily high temperatures in the 40s in the winter, Colorado Springs doesn't even get enough snow to make it a ski town, but it is still an outdoor enthusiast's heaven.
I'm a strong believer in active family adventures. In the winter, we usually turn in our hiking boots for cozy slippers and become couch potatoes for a few months. Which is why I was so excited to learn all the fun things that you can do in Colorado Springs in the winter.
These year-round activities in Colorado will warm you up, keep you moving, and create some special memories at any time of year.
7 Things to do in Colorado Springs in the Winter
Note: This post contains affiliate links. If you click a link and make a purchase, I may receive a small commission. All opinions are my own.
1. Ziplining
Many ski resorts offer winter ziplining, but most of those are either a single zip or just platform to platform over the ski trails. Near Colorado Springs, you can zipline across some truly stunning landscape.
You have your choice of locations from zooming over Colorado canyons, to gliding through Aspen glades and past waterfalls, to zipping over the raging rapids of the Arkansas River.
2. Rock Climbing
Ever since Hannah and I went outdoor rock climbing at Smith Rock in Oregon, we have been eager to try it again. The rock climbing in the Pikes Peak Region is world-renowned with some of the most beautiful and challenging rock formations.
With sunshine 300 days of the year and mild temperatures, this area offers year-round rock climbing. With a permit, climbers can take on the tallest rock walls inside Garden of the Gods Park. Front Range Climbing Company can teach even beginners how to climb.
Of course the Garden of the Gods Park is not just for rock climbers. There are 21 miles of trails to hike and walk between the stunning red rock formations, even in the winter. See these tips for visiting the Garden of the Gods.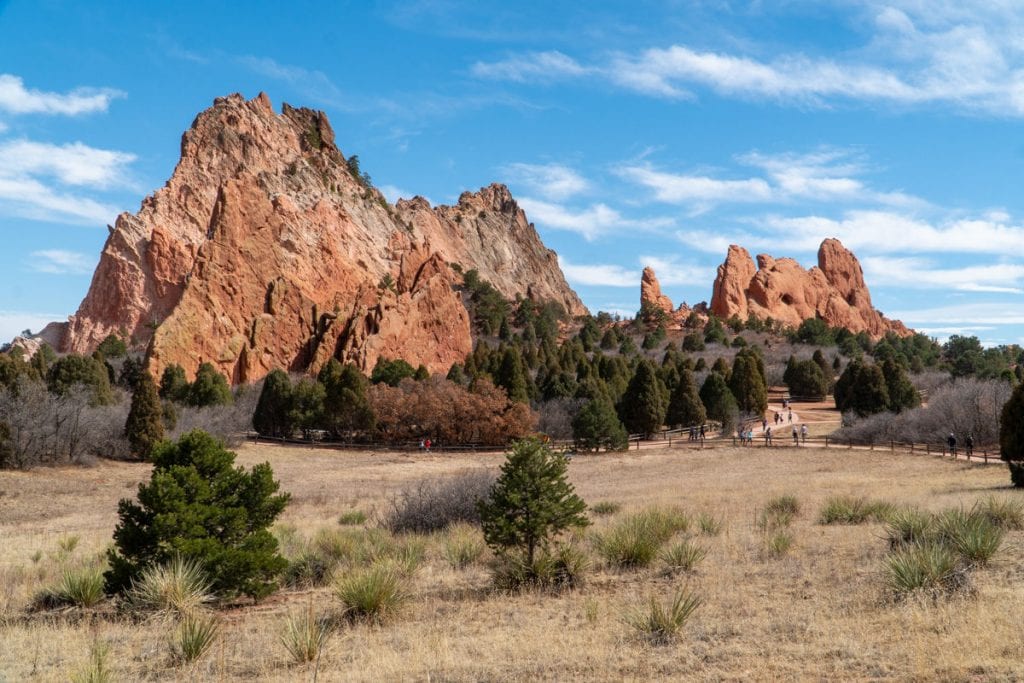 3. Cave of the Winds
The nice thing about caves is that no matter what the weather is outside, the inside temperature always stays the same. At the Cave of the Winds, it is a constant 54 degrees Fahrenheit. Families have a choice of three different cave tours.
But the adventure continues outside the cave. The Wind Walker Challenge Course is a ropes course that hangs over the edge of Williams Canyon, 600 feet above the canyon floor.
There is also the Bat-A-Pult tandem zipline with a 1,200-ft. round trip. Or the scariest, TERROR-dactyl, which launches guests 200 feet into the canyon at nearly 100 miles per hour.
4. Jeep Tours
A great way to take in the spectacular scenery and do some wildlife viewing is from the inside of a customized jeep on a personalized tour. Even pets can hop a ride!
5. Scenic Train Rides
The Colorado Springs area is home to some of the prettiest historic train rides. The Broadmoor Pikes Peak Cog Railway is one of the most scenic train rides in the United States, and is currently closed for repairs until spring of 2018.
However, you can still ride The Royal Gorge Route Railroad or the Cripple Creek & Victor Narrow Gauge Railroad. The Royal Gorge offers up specialty theme trains, dinner trains, and even Vista Dome cars for amazing panoramic views.
6. Meet a Wolf
Getting to see wildlife (in a safe way) is usually a sure winner when it comes to family travel. At the Colorado Wolf & Wildlife Center, you can take a tour to learn about and see wolves, coyotes and foxes. For an extra special experience, you can even get up close and personal with several of the wolves.
7. Laser Tag
I've only ever done laser tag inside. But Battlefield Colorado is Colorado's first and only outdoor laser tag adventure park. Open year round, right in Colorado Springs, it takes up a whole city block with three acres and six buildings for indoor and outdoor play.
In addition to outdoor adventures there are brewery tours, shopping, Ghost Town Museum, gold mining, the Dinosaur Resource Center, Garden of the Gods Visitor & Nature Center, and the Colorado Springs Pioneer Museum. Find out more kid-friendly things to do in Colorado Springs.
PIN THIS FOR LATER