Ski mountains are not just for skiing anymore and if you didn't know that, you haven't visited one recently. There are many summer mountain destinations that have really upped their game to attract families for three seasons, not just one. Copper Mountain in the Rocky Mountains of Colorado is certainly no exception. In August, we were invited to visit and experience everything that Copper Mountain in the summer had to offer. With just two-and-a-half days, we really packed everything in for an activity-filled long weekend of family fun.
From festivals and food, live music and outdoor activities, you will not be bored during a Copper Mountain summer visit!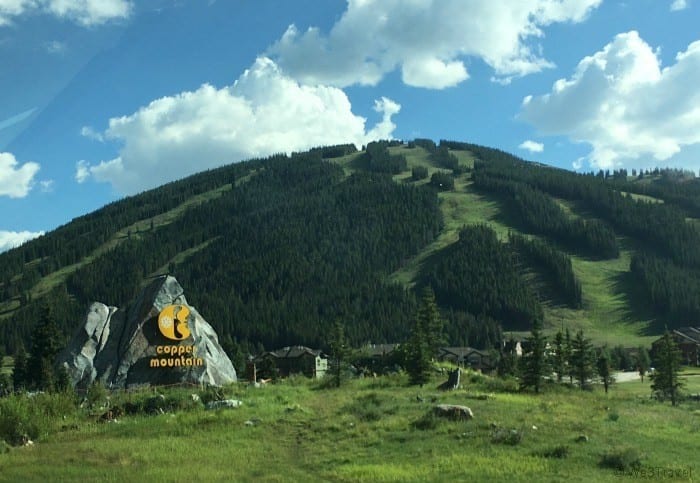 9 Ways to Enjoy a Copper Mountain Summer (or Fall) Visit
1 – Festivals. When we visited, there was not just one festival going on at Copper Mountain, there were two. There was the 33rd Annual Jazz and Wine Festival taking place in the conference center. This event required a separate ticket and featured headliners like Keiko Matsui over the course of three days. The other was the Colorado Burger Summit, featuring burger options from restaurants around Colorado and live musical performances in Central Village.
This fall brings more events like the Copper Country music festival, WitchCraft, UnderArmour Mountain Running Series, the Wrecktangle Championships, and the Big Island Rail Jam. Almost every weekend in the summer brings something new and fun to Copper Mountain.
2 – Wrecktangle Ninja Obstacle Course. If you have ever watched American Ninja Warrior and thought it looked like fun, a visit to Copper Mountain will let you give a similar obstacle course a try. Brand new this summer, the Wrecktangle at the base of the mountain offers nine different obstacles like cargo nets, balance beams, rope swings, and a ramp wall. It is kick-butt hard, it is hysterical, it is embarrassing, but most of all it is fun!
3 – Scenic chair lifts. Those less adventurous or physically fit can still enjoy the mountain views from the scenic chair lift rides. You can either get off at the top and walk down on the hiking trails (it is about a 1.5 hour walk), bike down, or ride the lift back to the bottom (the views are even prettier on the way down.)
4 – Mountain biking. Mountain biking is one of the most popular summer sports at ski mountains, but keep in mind that this is not for casual bikers. The trails switchback down the mountain and can be steep and narrow, but excellent fun for mountain bikers. While you can use the chairlift to bring your bike to the top and ride down, we also saw a number of riders on fat tire bikes slowly working their way up the mountain.
5 – Lake activities. In Central Village, there is a small manmade lake, which also offers up some fun family activities. There is a short zipline over the lake, bumper boats, and even hydro bikes.
6 – Village activities. You will find plenty of other fun activities in Central Village including a rock climbing wall, go karting, mini golf, trampoline bungy and giant lawn games. Evenings also shine at Copper Mountain with s'mores over the fire pit, live music, and fireworks over the lake.
7 – Big Island Terrain Park. If you are really missing your winter sports like skiing and snowboarding, you can snowboard in your shorts at the Big Island Terrain Park. This is more for the serious enthusiast than the casual dabbler, but so fun to have the option to get on the snow all year long.
8 – Woodward Barn. One thing we didn't even have time for is a visit to the 19,400 square foot Woodward Copper Barn. The Barn features indoor foam-pit jump features, trampolines, and more to either practice your skating/boarding skills or just jump around.
9 – Disc golf. If you want another fun and active way to explore the mountain, Copper Mountain offers a 9-hole disc golf course so you can frisbee your way up and around the mountain.
Plus, coming in the late fall 2017, Copper Mountain will also be unveiling a brand new mountain coaster.
Check out all the fun we had at Copper Mountain
Where to Stay in Copper Mountain
Copper Mountain offer many on-mountain lodging options from studio rooms, two-bedroom condos, three-bedroom condos and vacation homes. All can be booked through a central reservations and check-in. We were put up in a two-bedroom, two-bath condo at Copper One, a building conveniently located in Central Village.
As with each ski resort, you should do a little research on which lifts and runs you want to center yourself around, but in the summer, Central Village is where it is happening. The only thing to note is that music is piped through the village for most of the day and into the evening, so if you are late risers, nappers, or early to bed, you may want something not as central so the music doesn't disturb you. Also, when live music events are going on at the base of the mountain, it can be loud, even inside.
Our condo was equipped with everything we would need and more. Each bedroom had a flat screen TV, as well as one in the living area. The living space was also equipped with a pull out couch, so the unit could technically sleep six. One bathroom was off the living area, next to the second bedroom, while the other was ensuite with the "master."
There was very little difference between the two bedrooms except that one had the ensuite bathroom with a two-sink vanity, while the other you had to go outside the room to a slightly smaller bathroom.
The kitchen was also fully stocked, including a coffee maker and coffee, although we ended up eating out every meal we used the fridge for stocking beverages.
In our building, there was also a hot tub and ski lockers downstairs. To use the pool though, you would need to drive back up to the central registration building, home to the pool and spa.
Where to Eat in Copper Mountain
Copper Mountain has plenty of dining options, but you will want to keep in mind that their hours may be slightly more limited during the summer. For example, Solitude Grill up on American Eagle is open more limited hours, but the beer garden is a great place to hang out in the summer!
In Central Village, there are many options from C.B. Grille Fine Dining to pizza, sushi, grilled cheese, and even an Irish Pub. And, happy hours abound, with deals like $3 local craft beers at Eagle BBQ. Just be careful because alcohol makes an impact much faster at higher altitude!
Incline Bar & Grill
A typical après ski pub, Incline Bar & Grill in Central Village is perfect for when you want real food without getting dressed up. The options range from salads to steaks, but they are most known for their truffle potato chips. Did you really think I could ignore any type of fried potato with truffle? It was hard to stop myself from eating the whole giant portion, but luckily we were sharing.
Mountaintop Cookies & Crepe Stand
Pretty much all we needed to do was tumble out of bed and take the elevator downstairs to fill up on the most amazing selection of sweet and savory crepes. And I'm not talking simple nutella and strawberries. My favorite was the white chocolate, raspberry and lemon crepe. Every morning at least one person inquired, "where did you find that crepe?" It isn't hard, just look for the sign.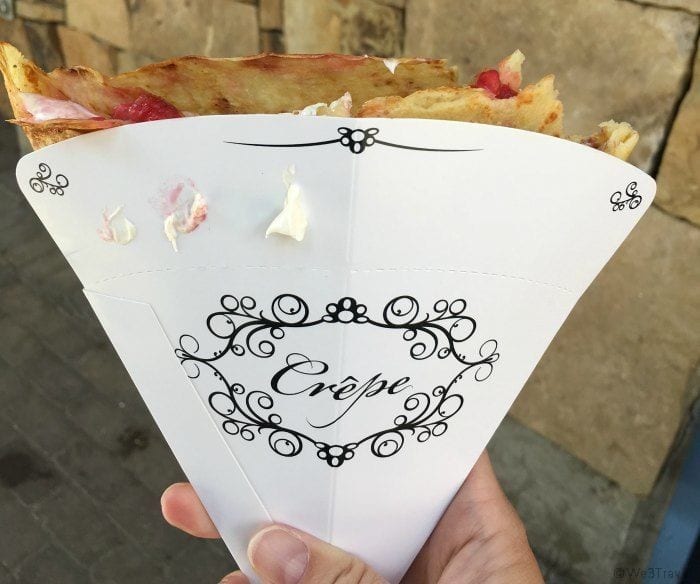 Mountain Melt
Take two of my favorite comfort foods, grilled cheese and macaroni and cheese and mash them together and you have Mountain Melt. They feature just about every kind of mac n cheese or grilled cheese combo you can think of, including the delicious pulled pork grilled cheese with mac n cheese on an asiago bun.
Storm King Lounge
After many jokes about the sign proclaiming Storm King to have the "best sushi on the mountain" (it was the only one we noticed at least), we gave it a try. Turns out though that we weren't in the mood for sushi so we all warmed up with some delicious (and slightly spicy) ramen noodle soup instead.
My only disappointment — we never made it to Sugar Lips for mini donuts. So learn from our mistake — don't wait until after dinner to have them for dessert because it closes kind of early. Just eat them any old time because they smell delicious.
I'd still love to go back and ski at Copper Mountain, but I'm really happy that we got the lay of the land while it wasn't too crowded. It was also so nice to stay in one place without driving from attraction to attraction, and still stay busy and active. With something for all ages, Copper Mountain in the summer is a perfect family experience. The best way to experience all the activities is with a day pass or a multi-day pass. And next time I need to add in a trip to Estes Park and Rocky Mountain National Park.
PIN THIS FOR LATER
Note: We were guests of Copper Mountain for purposes of this review. All opinions are my own.
SaveSaveSaveSave
SaveSaveSaveSave
SaveSave
SaveSaveSaveSave
SaveSave
SaveSave