As we pulled into Smith Rock State Park in Central Oregon for my first attempt at outdoor rock climbing, I was greeted by a sign that scared me much more than the fear that I was about to make a fool out of myself in front of my 10 year-old daughter and our experienced guide. No, it wasn't a fear of heights or fear of climbing, it was this:
You see, growing up in the Northeast I (thankfully) don't have any experience with rattlesnakes. And if you know me at all, you know that I have a phobia of snakes, to the point that if I see one (live or on TV), I'm apt to have nightmares that night…or for weeks after. But once again, like before we went white water rafting, I needed to suck it up and put on my brave face and stay a strong mommy.
So let me back up a bit. When the Central Oregon Visitors Association invited us to come explore Central Oregon and we started looking at all the things there were to do in the area (rafting, caving, hiking…), my daughter's eyes lit up when she heard those magical two words…rock climbing! She has been taking indoor climbing lessons for almost four years and just started competing this fall. While she has only done a couple of outdoor climbs with her gym last summer in Massachusetts, there really is nothing she likes more than climbing on rocks (except maybe eating sushi.) When her coach told me that Smith Rock, in Central Oregon's high desert, was an internationally renowned destination for rock climbing, I knew we couldn't pass up the opportunity to climb there.
Outside of an occasional climb at the YMCA's rock wall, I have zero experience rock climbing. But why should I let that stop me, right? Of course, it was a very busy summer and I didn't get to the gym as often as I'd hoped so I wasn't feeling in tip-top shape, but I was still willing to give it a try. But we obviously couldn't do it alone. I wanted to find a reputable outfitter that could provide a safe, instructive, and fun experience for both of us and Smith Rock Climbing Guides came highly recommended. They are AMGA (American Mountain Guides Association) certified and offer a variety of programs and instruction from beginner to experienced. We signed up for a half day (4.5 hours) with a private guide and arranged to meet our guide at the park. Prices vary depending on the number of people in your party, but we paid $125 per person for a half day. While it makes it cheaper to have more people, you will also have much less climbing time and trust me, you could climb there for months and still not hit everything. There are several thousand climbs, with over 1,000 already bolted.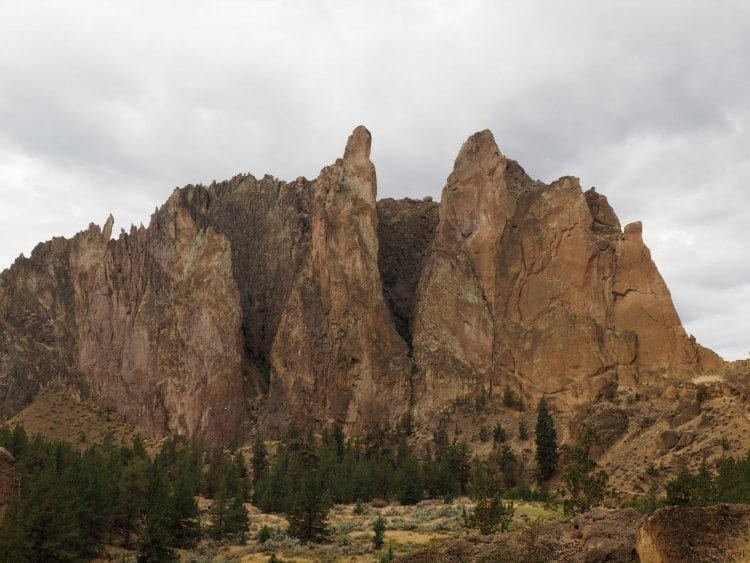 The park itself is absolutely gorgeous and a great place for family hikes as well as rock climbing adventures. Apparently scenes from the upcoming Reese Witherspoon movie Wild, based on the best-selling book by Cheryl Strayed, were filmed at Smith Rock State Park, giving me another reason why I can't wait to see the movie. Smith Rock State Park covers over 650 acres and attracts over 500,000 day use visitors annually. With only a $5 daily use fee, it is easy to see why people flock here. Its jagged cliffs were formed from volcanic ash and debris that hardened into rock millions of years ago, forming the Crooked River Caldera. The park became world famous in the mid-1980s as a rock climbing destination, but it also offers several miles of developed trails that provide access to rock climbing areas and offer expansive views of the valley.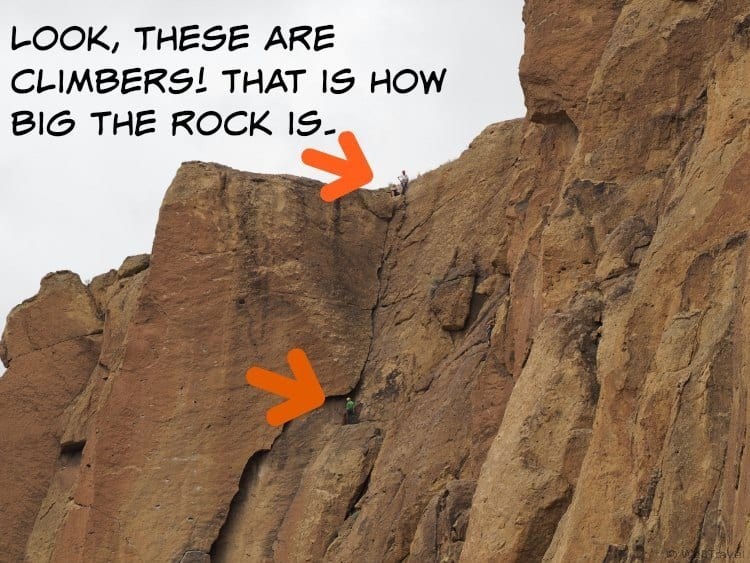 We met Jesse from Smith Rock Climbing Guides in the parking lot, geared up and began our hike into the park. We were headed toward Morning Glory Wall, the site of several beginner climbs (and luckily not up the steep, aptly-named Misery Ridge Trail.) Luckily, we got there early enough that there weren't a ton of other climbers out yet and we were able to stake a claim near some popular routes.
Jesse set our first route, graded a 5.8 in difficulty (about what my daughter climbs indoors.) The difficulty rating is really tough to judge because outdoor is very different than indoor, but also each climb is different. Some may have small holds, other large but require long reach, etc. The best approach is just to try something out and see how you do, then your guide can adjust from there. Since this day was really about her, I let my daughter go first and she pretty easily scampered up the first wall. Maybe her tiny feet and fingers came in handy here because this route was all about gripping the wall with your feet and using small holds to pull yourself up. I made it about two-thirds of the way before my fingers started cramping and my legs started shaking so I had Jesse lower me down. It wasn't bad, but I knew I could do better. I just needed a confidence boost.
Our next climb, rated a 5.7, was much easier for me and I wish we had done it first because then I probably would have tried harder on the first one. It wasn't graceful, but I made it to the top. I used a crevice in the rock for some easier climbing and then ended up with one arm on either side of a bush and its branches scratching my face. I eventually managed to disentangle myself and scramble to the top, my high point of the day.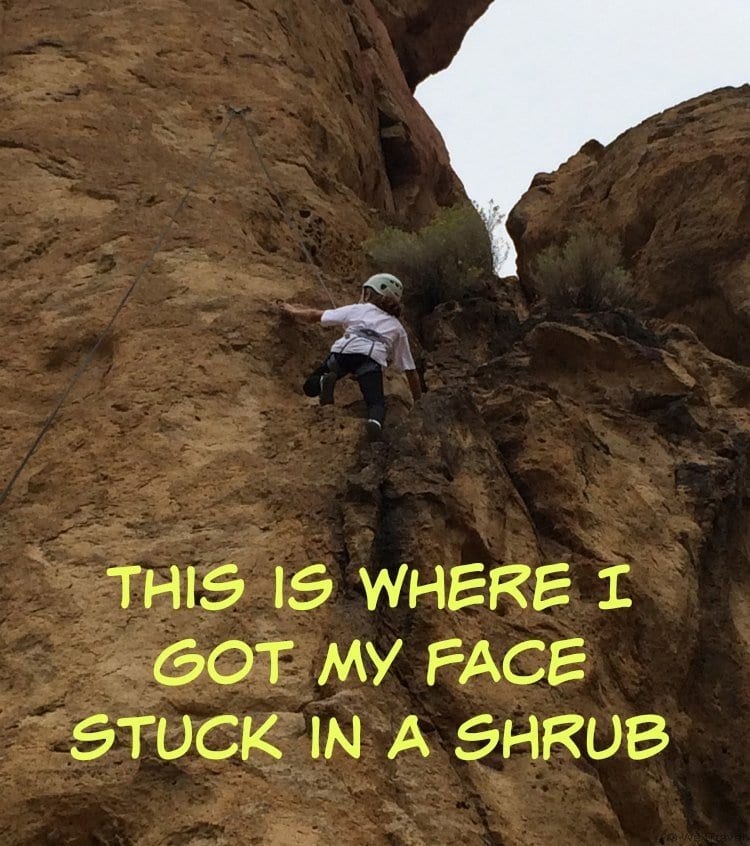 With time flying by quickly, I wanted my daughter to get as much climbing in as possible. Plus, I'm a strong believer in going out on top. So I sat back to enjoy the scenery while she geared up for her first 5.9 outdoor climb. And it was huge. Still single pitch (just one top rope, not a series of ropes), but at least 100 feet tall, with large holds but big reaches for her 10 year-old arms and legs. It took a while and I couldn't believe she stuck with it. My neck was hurting from craning up to watch her and at one point, I could barely see her at all as she crested a curve to reach the top of the climb.
I was so proud of her when she reached the top because I knew this was going to be a huge confidence boost for her. In fact, she still talks about the feeling she had when she was on the wall and how she considered giving up but kept pushing herself to continue. She told me when she got to the top she felt like shouting as loud as she could, she was just so filled with joy and pride at her accomplishment. I hope she remembers this lesson as she continues to become more resilient when she faces life's challenges.
Time went too quickly and soon we had reached the end of our half day session. She may have been able to keep climbing but I'm pretty sure my jelly legs would have had trouble driving the three hours up to Portland that afternoon if we had continued. Rock climbing together was a great mother-daughter bonding experience and I think we both took something out of it and gained more confidence in our physical strength and abilities. If we make it back to central Oregon, I'd love to spend a full day hiking and climbing at Smith Rock — but I'd still not want to see any rattlesnakes!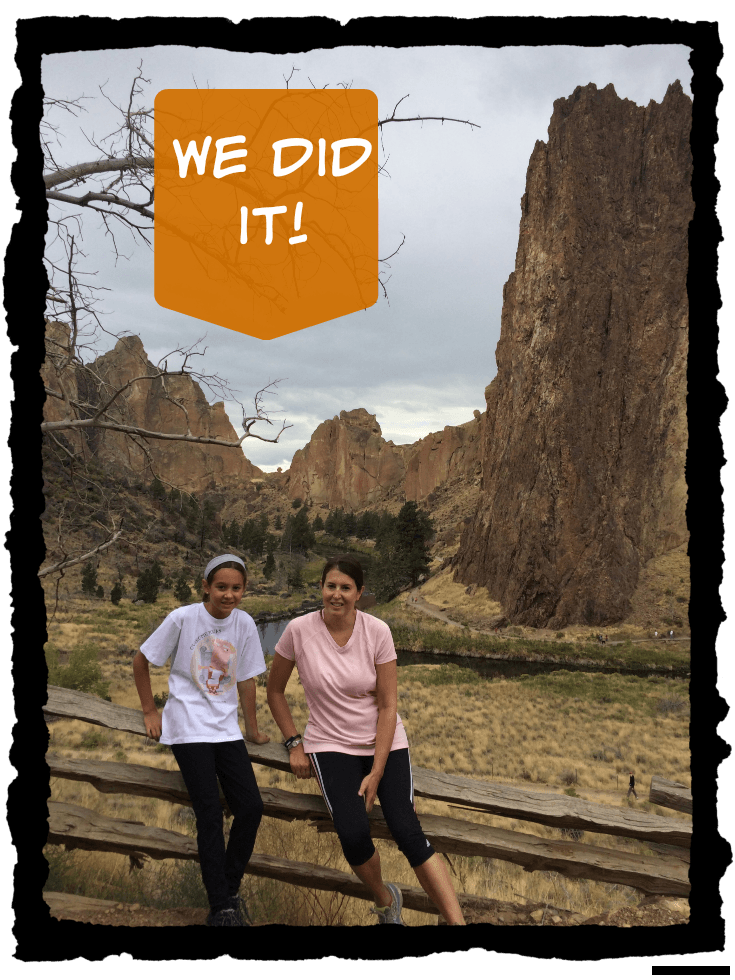 Tips for Rock Climbing at Smith Rock with Kids
Find a AMGA certified guide
Plan to meet early before the park gets too crowded so you can get onto good climbs without waiting
Bring a backpack large enough to hold your food, drinks, and gear
Wear hiking boots or sturdy shoes for hiking into the park and scrambling over rocks (your guide can provide climbing shoes, helmets, and harnesses if you don't have your own.)
Bring snacks and plenty of water, or a full lunch for a full day outing
Wear sunscreen and sunglasses, you might also want a hat for when you aren't climbing to keep the sun off
Use the toilets by the parking lot before you head into the park — it is a long, steep hike back out
Wear long pants or close fitting capri length pants as you will bang up against the rock some so expect a few scrapes and bruises
Watch out for rattlesnakes basking in the sun. We (luckily) didn't see any. We also saw a warning for a cougar/mountain lion sighting in the more remote part of the park.
If you want to get your own gear (like this awesome "Climb Like a Girl" shirt), stop by Redpoint Climbers Supply on your way in to the park. It is also a cool place to hang out and get a coffee or local beer.
If you are hungry for lunch or dinner after climbing, I strongly recommend the Terrebonne Depot. The place is full of rock climbers so don't worry about being dusty and scruffy and the pork belly lettuce and tomato is delicious!
Tell me about your rock climbing experience!