This year for her eleventh birthday, Hannah requested to go somewhere special with a friend, much like we did on our weekend in NYC two years ago. While I was really happy to see her value experiences above things and not request a cell phone or some other expensive gadget; we were then faced with the conundrum of where to go. We've done New York many times and she felt Boston was "too familiar" — so what could we do? I considered going back to the John Carver Inn for some spa and pool time, but then I thought of the Great Wolf Lodge New England.
I checked Groupon since they often have deals on the Great Wolf Lodge and sure enough, we were in luck. If we went mid-week I could afford to rent a Kid's Cabin suite, which sleeps up to six people, making for an awesome Great Wolf Lodge birthday party for Hannah and four friends. Great Wolf's online price was about the same, but Groupon included a $75.00 food voucher so the deal was sealed and the plans were laid. I'm not sure I could have picked a better choice for a tween birthday party. If you have ever considered a Great Wolf Lodge birthday, here are five reasons why you should.
5 Reasons to have a Great Wolf Lodge Birthday Party
1. Birthday ears. Your little wolf pup will get special wolf ears with a little birthday hat, making them feel special throughout their stay. Plus, the rest of the wolf pack gets ears too.
2. Unlimited ice cream. Not only does the birthday kid get special ears, they also get a birthday wristband, entitling them to free, unlimited ice cream at the Bear Paw Sweets and Treats ice cream shop.
3. Special treatment. The nice thing about wearing birthday ears around the resort is that everyone on the staff knows you are celebrating a special birthday. Hannah was greeted by "Happy Birthday" throughout our 24 hour stay from so many staff members. Even in the waterpark she was recognized by the staff by her birthday wristband. And to top it off, without prompting, the team at the Lodge Wood Fired Grill treated her to a free birthday treat (some "dirt" chocolate mousse with gummy worms) and a very special serenade.
4. Kids Cabin suites. Theme rooms may not do much for adults but the tweens in our group thought it was pretty cool. In addition to the lodge-like decor, which spruced up an otherwise unremarkable hotel room, they feature a private space just for kids — a true kid's cabin. In addition to a queen size bed and a pull-out love seat that sleeps one (in this case me), the kid's cabin is a walled off space within the room, designed to look like a log cabin, hosting bunk beds and a twin bed, with their very own TV. This room setup gave the girls a chance to have their own space to hang out and chat in private, without having to get a separate adjoining room, something I don't yet feel comfortable with at this age.
5. Unlimited entertainment. Included in every stay at the Great Wolf Lodge is entrance to their massive waterpark. At Great Wolf Lodge New England, the waterparks are divided into two separate areas, connected by a hallway. This makes it a little tough to keep track of a big crowd, especially as my less adventurous pups were hanging out at the Crooked Creek lazy river and Alberta Falls waterslides, while the more courageous were on the other side racing down the Howlin' Tornado and River Canyon Run. Luckily they were soon all enjoying everything the waterpark had to offer — again and again and again.
While the girls could have stayed at the waterpark all day and night, especially since there is a snack bar inside the waterpark, they did have to come out eventually to explore the rest of the resort. Also included for guests is access to the Howler's Peak ropes course in the Howling Timbers Play Park. Unlike our ropes adventure at Ramblewild, Howler's Peak is a bit more of a free-for-all with kids going every which direction across ropes, bridges and other obstacles.
Of course the fun doesn't stop there. If you are willing to spend a little extra, there are manicures and pedicures at Scoops, the kid spa, mini golf, a four-lane bowling alley, the Northern Lights arcade, a Mission Impossible-like laser maze called Lazer Frenzy, a 4D theater, and, of course, MagicQuest.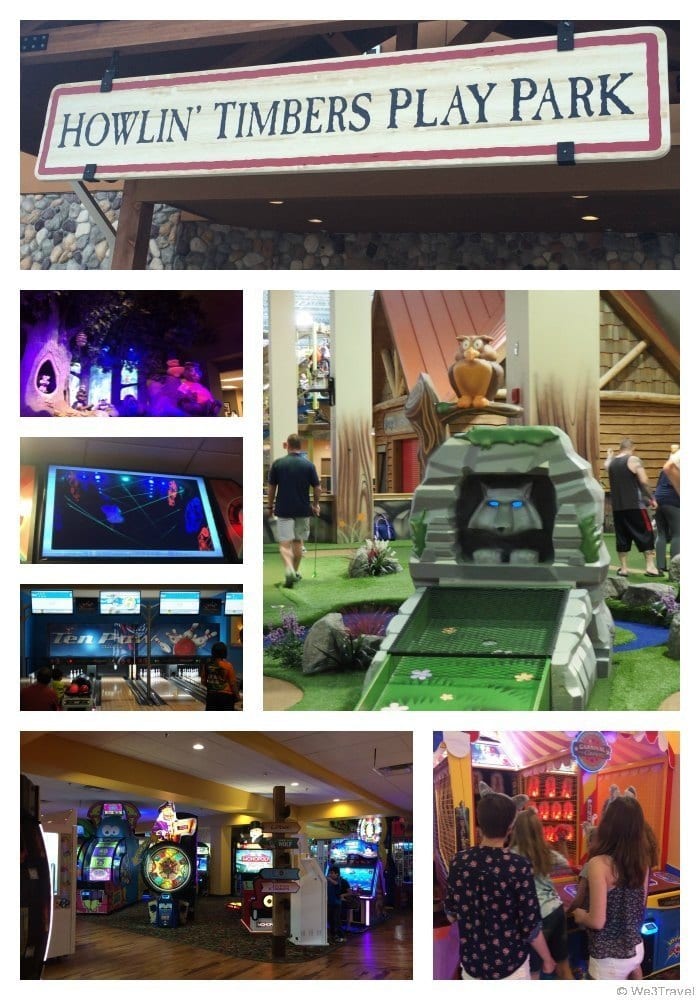 If you haven't been to a Great Wolf Lodge before, MagicQuest is their signature game, an electronically-enhanced scavenger hunt that sends kids on a series of quests throughout the resort to find runes and rewards to become a Master Magi. You'll need to purchase a reusable wand plus pay to activate the game, but the good news is that your partygoers can play as a team, which actually makes it more fun.
The best thing about a Great Wolf Lodge birthday party is the time spent together. Like my daughter said, experiencing something together brings people closer. Seeing the smiles on these girls' faces was the best reason of all.
Be sure to check out this ultimate list of Great Wolf Lodge tips for families!
See Inside the Great Wolf Lodge New England
I guess I need to start thinking about what to do for birthday number twelve. Any suggestions?
PIN THIS FOR LATER
SaveSave