As you walk in to Hersheypark in December, you are greeted by over two million twinkling lights and many smiling faces, most of them under 10 and thrilled to be in an amusement park decked out for the holidays. Sure, Disney is a popular destination around the holidays, and I'm sure it is magical, but sold out parks and ridiculously long lines are not so sweet. But in Hershey, everything is sweet, from the Hershey Kiss shaped street lights to the candies on your pillow — chocolate is everywhere.
We'd considered going to Disney at Christmas but after hearing that the week between Christmas and New Year's is the busiest of the year and that they reach capacity by 10:30 am, we quickly changed our minds. Then we learned that we could get the holiday amusement park experience a little closer at home in Hershey, Pennsylvania. [See other small towns to visit for Christmas]
Even if you haven't heard of Hersheypark, you've probably had a Hershey product, including Reese's, Krackel, Mr. Goodbar, Hershey Kisses and many others. When Milton S. Hershey returned to his hometown in 1903 to build a state-of-the-art chocolate factory, he built more than a business, he created a community that included a school, orphanage, and a place where his employees and their families could relax…Hershey Park.
Since 1927, Hershey Entertainment & Resorts has turned Hershey, PA into a tourism destination adding hotels, an arena, a zoo, a theater, a museum, a giant factory store, and the famous Hersheypark amusement park.
Christmas Candylane in Hersheypark
Today Hersheypark offers 110 acres of family fun with more than 70 rides including 13 roller coasters and 20 kiddie rides. In the winter, Hersheypark scales back its available rides and transforms into a winter wonderland with the opening of its Christmas Candylane. Open mid-November through December on weekend afternoons and some weekday evenings, Hersheypark welcomes visitors that are willing to brave the cold for some holiday cheer.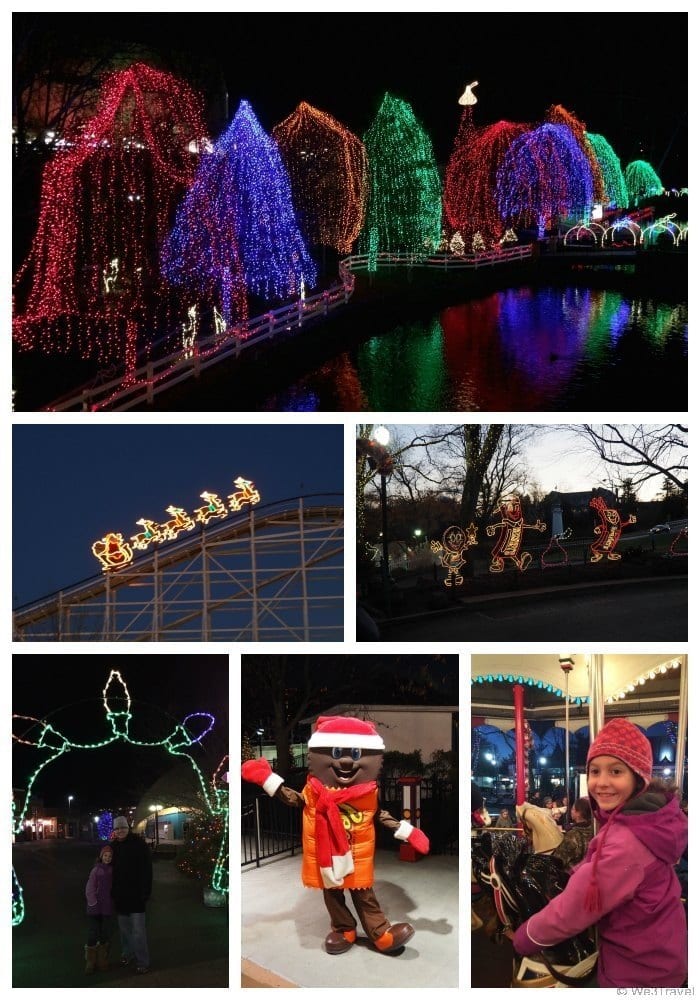 As we joined the crowds filing into the park at its opening at 5:00 pm on the Monday after Christmas, we got the sense that we were about to experience something special. Yes, it was only 25 degrees and the sun was setting fast, but as those twinkling lights began to glow, we were caught up in the holiday spirit with music blaring and children smiling.
It was cold, but the cold is what set it apart — we were hanging out at an amusement park in winter — a very different experience than standing in lines in the sweltering sun. While Hersheypark in general caters to families with young children, it was definitely the under 12 set who were getting the most out of the Candylane experience.
For obvious safety reasons, the larger roller coasters and water rides were shut down, but the parks' many kiddie and not-so-scary rides were open, and throughout the park the many varieties of holiday light displays beckoned you forward.
The lines weren't long, nothing seemed longer than 10 minutes, and there were heated pavilions next to the refreshment stands to warm up (although the warmest place was in the bathrooms!) We quickly jumped on the carousel, Himalayan, and took a couple of turns on the bumper cars, but we were a family on a mission.
Before leaving home we took a look at what Candylane had to offer and we discovered that Santa's Reindeer would be visiting the park. We couldn't pass up an opportunity to visit the reindeer, so we threaded our way through the park in search of the stables. Our noses, and a few signs, led us to our destination.
Finished with their work on Christmas Eve, the reindeer were already shedding their antlers, which apparently they lose every year around this time. One of their keepers kindly took some time to talk to us about the habits and lives of reindeer, and we were able to discern that they were visiting Hershey from the North Pole, by way of Buffalo, New York. After watching them eat and enjoying Prancer acting a bit more like Dasher with his galloping around the stable, we were ready to move on to our second planned destination — the skating rink.
As we were strapping on our $2 rental skates, I noticed a sign that said that they don't use ice but rather a plastic skating surface applied with a smooth-glide coating. Not sure what this meant, it didn't phase me until we got over to the teeny, tiny, wallless rink and attempted to "skate" on this surface. We might have as much luck on our kitchen floor as the surface was slippery, but also hard to get traction as you can't dig into it and push off the way you would in regular ice skates. Disheartened, we left glad that at least we already had one chance to skate this winter.
With frozen feet, we took another stroll through the park to see what rides we might have missed, like the Kissing Tower, Pirate Ship, or the frightening-looking (at least to ride wimps like me) "Claw." As we walked we were treated to the highlight of the park, the holiday light and sound show in The Hollow. Here, a row of trees dripping in different colored lights would light up in time with some of my favorite holiday tunes.
Not being ride die-hards and also not having packed hand or foot warmers, we decided it was time to take this show on the road — literally. We stopped into Hershey Chocolate World for a sweet treat at the bake shop to take in the car and then it was off to see more lights…more Sweet Lights.
Hershey Sweet Lights
Located just a couple miles away from Hersheypark in pitch-dark farmland, you will find the second attraction for families visiting Hershey at Christmas…the Hershey Sweet Lights. Hershey's Sweet Lights is a drive-through holiday light display. Looping around nearly 2 miles, the Sweet Lights feature nearly 600 light displays and can take at least about 30 minutes to navigate, depending on how many times you, or the car in front of you, decides to stop to take pictures.
Technically you are supposed to keep moving but once you realize how bad the pictures of lights turn out if you are moving just a little bit, even the most impatient driver is going to want to stop for a few pictures. But this really isn't an attraction for the time-crunched or the impatient. So relax, crank up the heat, open the snacks, tune your radio to the station broadcasting holiday music and just go with it.
Your first loop will take you past quite a few of the larger displays and as you get back towards what looks like the beginning, you might have a moment of disappointment when you say, "that's it?" (yes, I did), but don't worry, it isn't it. You'll then head off into the woods for the some of the smaller displays. Here, the displays are grouped in themes, like fairytales, Victorian village, and displays designed by local school children.
Even a Hershey child had their work featured, imagine that. What made us laugh throughout this section were the many, many Rudolphs peeking out from behind trees. Something about the way he seemed to be crossing his legs like he had to go made us think we snuck up on him relieving himself behind the tree. (By the way, make sure you go before you go because while there may be port-a-potties at the entrance and exit, there otherwise isn't anywhere to pull off along the route.)
We aren't going to win any awards for our backseat videography, but this quick Hyperlapse video will give you an idea of what it is like to drive through the Hershey Sweet Lights.
Ticket prices and park hours are subject to change, so I encourage you to visit the Hersheypark website for the latest information to plan your visit. Whether you are spending Christmas in Hershey or visiting at another time, Hershey is truly a family travel destination with family friendly hotels and plenty of attractions. Based on our experience I would recommend Hershey at Christmas for families with children under 12, as older children may be disappointed to find many of the more thrilling rides closed in the winter.
Stay tuned for more about lodging, dining, and attractions in and around Hershey to plan a family getaway.
Note: Our stay in Hershey and entrance to Hersheypark and Hershey Sweet Lights was provided by the Hershey Harrisburg Visitor's Bureau. We thank them for providing our family with this fun way to enjoy the holiday season, which does not influence the opinions expressed above.
Have you been to Hersheypark for Christmas? What did you think?