It isn't just the Obamas who like to vacation on Martha's Vineyard. According to my Facebook feed, Martha's Vineyard is a popular vacation spot for many less famous families too. A few years back we spent a week on the Vineyard with our good friends Greg & Tracy who are Vineyard veterans and have been vacationing on this lovely island for over 20 years. We were lucky enough to have them show us around and introduce us to what makes the Vineyard so special, but not all first time visitors have their own personal tour guides to tell them what to do on Martha's Vineyard.
So I asked our friends their recommendations for the 10 things every first time visitor to Martha's Vineyard should experience and here are our suggestions.
What to do on Martha's Vineyard
1. Take in the Sunset at Menemsha Beach — Pack a blanket, chairs, a picnic, and a bottle of wine and settle in for a beautiful nature show. But plan to go early because the parking lot fills up fast. You might want to to pick up your dinner at Larsen's Fish Market and enjoy some lobster with your sunset.
2. Go Bridge Jumping at "Jaws" Bridge — Located on Beach Rd at the border of Edgartown and Oak Bluffs, jumping off of Jaws Bridge (named for its appearance in the movie Jaws, filmed on Martha's Vineyard) is a summer visitor rite of passage. Go at high tide for a shorter jump!
3. Spend a Day at Long Point Nature Reserve — This is one of my favorite places that we visited on Martha's Vineyard. On one side you will find a peaceful, calm, shallow salt pond but walk across the dunes you find a beautiful long beach of white sand and rolling surf. Little kids start at the pond and graduate to the rougher surf. This was the first place my daughter could tolerate sticking her feet in the sand. Now you can even rent kayaks here.
4. Visit Aquinnah Cliffs— Moshup's Beach, which sits just below the famous Aquinnah Cliffs, is a beautiful place to fish, view the sunset, or explore.
5. Climb the East Chop Lighthouse — Open seasonally every Sunday at sunset, you can climb to the top of East Chop Light and watch the sunset. Admission is $5.00 for adults and children under 12 are free.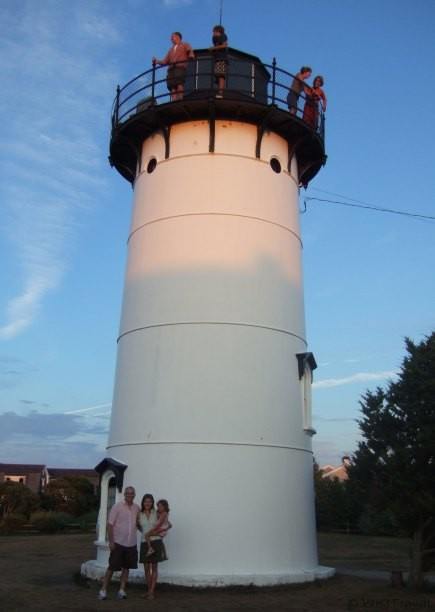 6. Catch the Brass Ring at the Flying Horses Carousel — The Flying Horses Carousel in Oak Bluffs is the oldest platform carousel in the nation and a National Landmark.
7. Shop at the Morning Glory Farmstand — Open May through December, the Morning Glory farm stand is a feast for the eyes and the stomach, filled with local produce and treats from their amazing bakery, perfect for stocking up the beach house kitchen or preparing a special vacation feast.
8. Visit Ben and Bill's Chocolate Emporium — Be prepared to stand in line, especially if it is raining, because Ben and Bill's is very popular for its truffles, barks, turtles and fudge.
9. Go Biking or Running — Martha's Vineyard offers 44 miles of bike trails, including section that runs from Vineyard Haven through Oak Bluffs to Edgartown, making it a perfect place to get some exercise. There are many bike rental shops on the island if you don't bring your own bikes.
10. Pig out at Back Door Donuts — After you line up and stuff your face with a gigantic apple fritter or donut, you'll need to go back to #9 to burn off those calories.
I'm sure many of you have been to the Vineyard at least once and probably have your own list of favorites and I'd love to hear about them to get even more ideas.
What are your favorite things to do on Martha's Vineyard? Leave a comment below!