Summer is in full swing and if you are running out of things to do with the kids, here are some ideas for day trips in Western Massachusetts. The area around Springfield is full of things to do with kids of all ages. I've driven through this area on Interstate 91 many times, but this spring I was invited to get off the highway and spend two days exploring the Pioneer Valley and Greater Springfield, Massachusetts. Here are a few ideas to get you out the door.
5 Day Trips in Western Massachusetts
1. Six Flags New England — One of the biggest draws in is New England's biggest theme park. New this year is the world's tallest, fastest, and longest virtual reality coaster — SUPERMAN The Ride. Riders wear wireless VR headsets to feel the heart-pumping adrenaline of steep drops, high speeds, powerful twists and turns as gyros, accelerometers and proximity sensors synchronize all of the action in a remarkably realistic 360-degree virtual reality world. 2016 also saw the introduction of Fireball, a 7-story looping coaster with over 6 inversions and epic speeds. Six Flags New England also offers four areas dedicated to small children including Looney Tunes Movie Town, Kidzopolis, Whistlestop Park and Splash Island and is home to New England's largest water park, Hurricane Harbor. They have even introduced new Pokémon Go events, which are sure to be popular.
Six Flags New England is located at Route 159, 1623 Main St,, Agawam, MA 01001. Tickets start at $48.99.

2. Naismith Memorial Basketball Hall of Fame — Just off the highway in Springfield, it is hard to miss the glowing sphere that is the Basketball Hall of Fame. Inside is a three-level experience, circling around indoor basketball courts. The Naismith Memorial Basketball Hall of Fame has over 40,000 square feet of basketball history. On the top floor you can find "The Honors Ring," with plaques, artifacts and biographies of the more than 300 inductees. One level down you will find the Coaches and team gallery, History of the Game, Media Gallery and the Players Gallery. In the Media Gallery, you can try your skills at play-by-play and see what it is like to be a game commentator. My favorite section was the Player's Gallery, where you can see things like Shaq's gigantic shoes, see how high you can jump, and practice your shooting skills. Downstairs you can take to the court and try some free throws. The College Basketball Experience in Kansas City is more interactive but true basketball fans would enjoy the Hall of Fame.
The Naismith Memorial Basketball Hall of Fame is located at 1000 Hall of Fame Ave, Springfield, MA 01105. Tickets are $23.00 per adult, $16.00 for children 5-15 and children 4 and under are free.
3. Springfield Museums — The Springfield Museums located in downtown Springfield is a complex of four museums situated around a quadrangle: Springfield Science Museum, George Walter Vincent Smith Art Museum, Michele & Donald D'Amour Museum of Fine Arts, and Lyman & Merrie Wood Museum of Springfield History. The Science Museum is quite dated and in need of a renovation, but the Art Museums are quite nice. In the George Walter Vincent Smith Art Museum, kids will love the Hasbro Games Art Discovery Center. This colorful exhibit will enchant the kids, as well the hands on activities and dress up opportunities. My favorite part was the Dr. Seuss Sculpture Garden in the courtyard and I look forward to the opening of a Dr. Seuss Museum within the next year.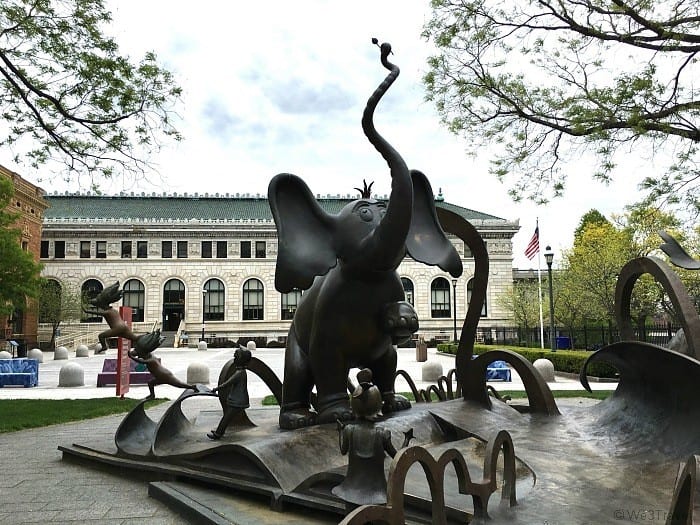 The Springfield Museums are located at 21 Edwards St., Springfield, MA 01103. Tickets are $18 for adults and $9.50 for children ages 3-17 and 2 and under are free.
4. Eric Carle Museum of Picture Book Art — Ever since I first heard about the Eric Carle museum, I've wanted to stop by. Popular for his own children's books such as The Very Hungry Caterpillar, Carle and his wife started the museum to celebrate picture book art and stories from around the world.
The Carle houses more than 13,000 objects, including 6,600 permanent collection illustrations. One of the most fascinating exhibits, at least for adults, is of Carle's own work. I learned that Carle likes to include the names or initials of his family members in his illustrations. Once you know that, it is fun to go on a scavenger hunt looking for them. In addition to his gallery, there is an an art studio, a theater, and the cutest picture book library. It doesn't take long to visit the museum so you will likely want to combine it with another attraction in the area if you are making a day trip.
The Eric Carle Museum is located at 125 West Bay Road, Amherst, MA 01002. Tickets are $9 per adult and $6 for children 1-18.
5. Yankee Candle Village — You may want to combine a stop at the Yankee Candle Village with a visit to the Magic Wings Butterfly Conservatory nearby (it was closed when I was there), but this attraction is much more than a candle store. The Yankee Candle flagship store draws three million visitors per year. Not only can you find over 250 fragrances, but there are also some theme areas like the Black Forest and Bavarian Christmas Village, which make you feel like you have crossed an ocean, stepped back in time and entered a winter wonderland. Following on that theme, you can find the Nutcracker Castle, toy shop and even Santa Claus. There is plenty to eat with a full candy shop, homemade fudge, flavored popcorn, and a cafe where you can enjoy the musical stylings of the animatronic Candle Mountain Boys. Families can also make their own jar candle or dip your own wax hand to bring home a special souvenir.
Yankee Candle Village is located at 25 Greenfield Road, South Deerfield, MA. Admission is free.
That is all that I could squeeze into my visit but some other stops for next time include:
Historic Deerfield
Old Greenfield Village
Northfield Mountain Recreation Center with Quinnetukut II riverboat cruises on the Connecticut River
Shelburne Falls
Deerfield Valley Canopy Tours
Zoar Outdoor white water rafting
Mt. Tom State reservation
Skinner Mountain
If you are planning on more than a day trip, there are plenty of cute inns but I was hosted at the convenient and practical Holiday Inn Springfield/Enfield.
Here are some other ideas for day trips around New England and if you want to head a little further west to the Berkshires, here is how to make a weekend out of it. What else would you recommend for a day trip in Western Massachusetts?
PIN THIS FOR LATER
Note: My trip was hosted by the Massachusetts Office of Travel and Tourism and the Greater Springfield Convention & Visitor's Bureau. My hotel stay and entrance to some attractions was complimentary for purposes of this review. All opinions are my own.