Have you ever noticed that there seems to be a "Grand Canyon" of everything? There is the Grand Canyon of the Yellowstone; Pine Creek Gorge, the Grand Canyon of Pennsylvania; Letchworth State Park, the Grand Canyon of the East, etc. This past summer, Hannah and I had fun exploring Ausable Chasm, the Grand Canyon of the Adirondacks in northern New York and we wanted to share our Ausable Chasm review.
Established in 1870, Ausable Chasm is the oldest natural attraction in the United States. It is a paid attraction and there are many things to do, so you can plan on spending a couple of hours up to a full day here. For the non-adventure seekers, you can take one of many trails along the chasm rim to take in the views. The more intrepid can get their thrills on the Family Adventure Trail across and along the chasm. You can even cool off with a rafting or tubing ride through the narrowest part of the chasm.
Ausable Chasm Review
We were visiting on a rainy day, so much to Hannah's consternation; I wasn't comfortable winding my way across the chasm on the ropes course so we took the old-fashioned route on foot. It was also a little chilly to get wet, but we did see some brave souls taking a raft and later learned that you don't really get too wet as you aren't really traversing wild rapids.
Hiking in Ausable Chasm
There are multiple routes to take, but the prettiest is along the Inner Sanctum trail. There is a rail along the edge in necessary places, but it still might cause your heart to flutter if you are scared of heights or edges. Through a series of bridges, walkways and stairs, you will descend 150 feet into the depths of the chasm. On the way back, we took the inland trail, but it seems silly to pay to visit Ausable Chasm without getting the full experience.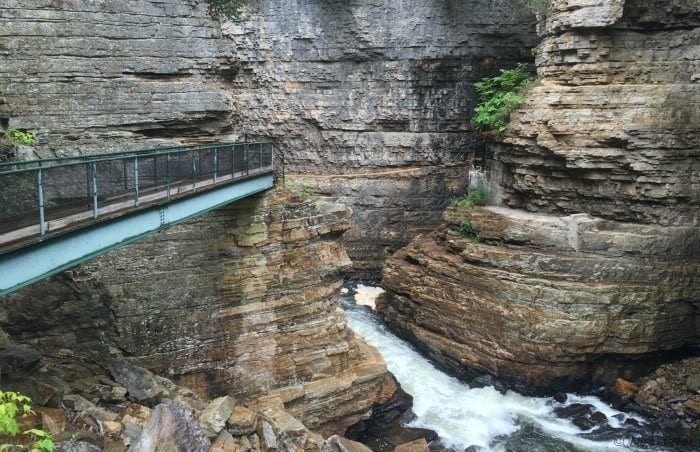 Family Adventure Trail
The next time we visit, I have promised (uh-oh) that we would do the ropes course. It doesn't actually look "that" scary, as long as you aren't scared of heights. But it did look like you need to be in decent shape to get through the obstacles. The Family Adventure Trail is open to children ages eight and up. Climbers have a minimum 63″ reach, weigh between 50-250 pounds, and have a maximum waist size of 54". Participants with a heart condition, back injury, neck injury, injured or immobile limbs, or while pregnant should not participate. You also need closed-toe shoes and you may want to bring tight fitting gloves. Rappelling and rock climbing packages are also available.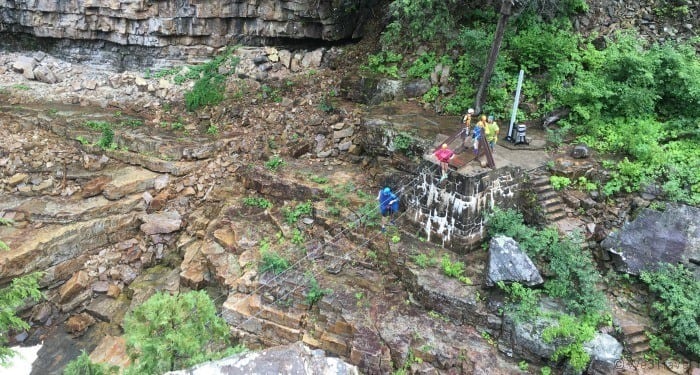 Rafting and Tubing Through Ausable Chasm
After hiking through part of the chasm, you have a choice to continue your journey on foot, or take a tube or a raft. It was really cool to see the raft coming through the narrow chasm at the end – like something from a movie – and I imagine it would be even better to be in the raft (another for next time!) If you do plan on rafting or tubing, go early as they are popular and can lines can back up for over an hour.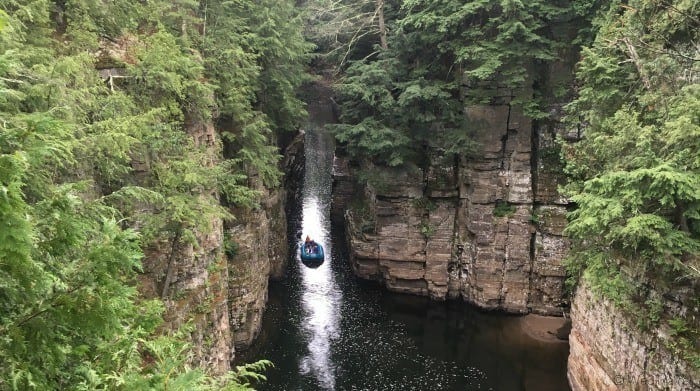 There is a snack bar at the visitor's center, as well as bathrooms and picnic spots, if you are planning on spending the day. I'd recommend a quick stop next door at the North Star Underground Railroad Museum. This small center opened in 2011 and showcases the hidden history of the Champlain Line of the Underground Railroad. You will learn the stories of fugitives from slavery who passed through Northeastern New York and the Champlain Valley on their way to Québec and Ontario, Canada. Exhibits also show the ongoing problem of slavery in the world today.
Ausable Chasm is located at 2144 Route 9, Ausable Chasm, NY 12911. Ausable Chasm is open 9am to 4pm daily April – November. Check the website for current hours, opening and pricing options.
Have you been to Ausable Chasm? What was your favorite part?
PIN THIS FOR LATER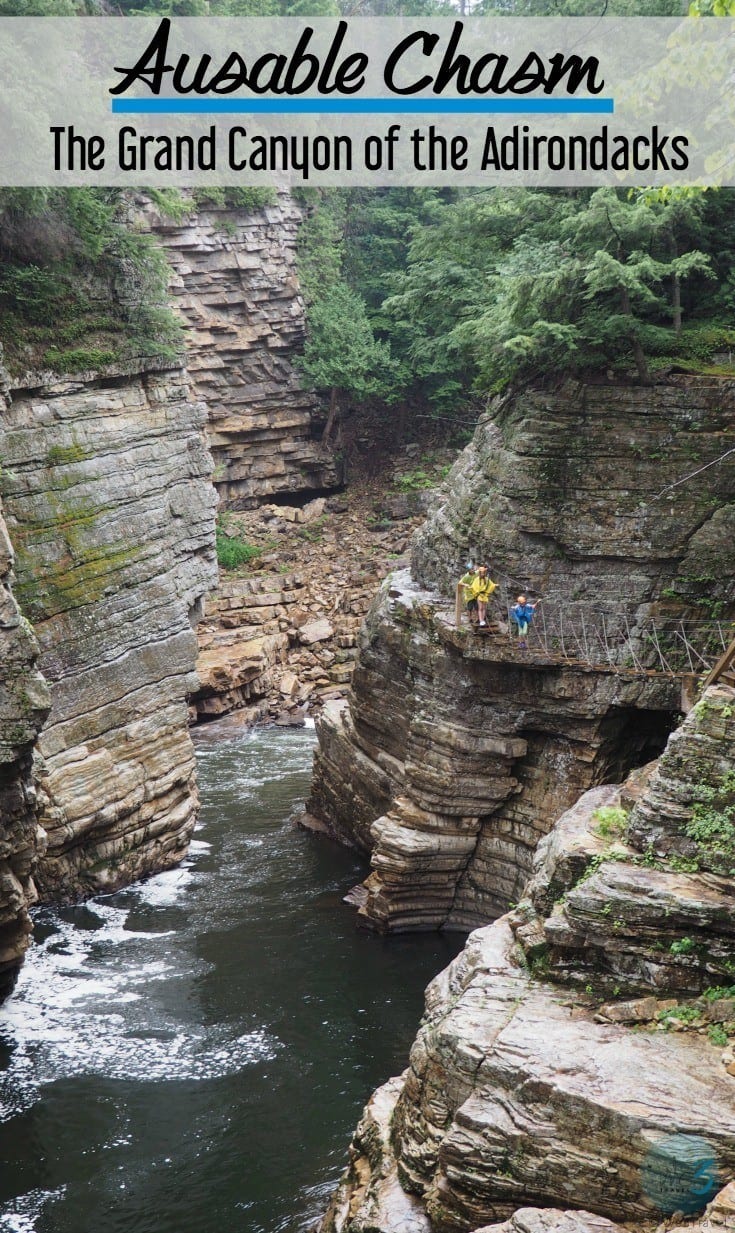 Note: We were granted free admission to Ausable Chasm for purposes of this review. All opinions are my own.
SaveSave