Have you ever noticed that there seems to be a "Grand Canyon" of everything? There is the Grand Canyon of the Yellowstone; the Grand Canyon of Pennsylvania (Pine Creek Gorge); the Grand Canyon of the East (Letchworth State Park), etc. Well, there is also a "Grand Canyon of the Adirondacks" in northern New York state called Ausable Chasm.
On one of our many Adirondack vacations, we made a point to visit this natural attraction and can definitely recommend it as one of the many must-see things to do in the Adirondacks. But before you go, be sure to read this full Ausable Chasm review to know what to expect, as we were a bit unprepared on our first visit and didn't get to take full advantage of the many activities on offer.
What is Ausable Chasm?
Ausable Chasm is a natural wonder located in the Adirondack Mountains in Upstate New York. It is a 2-mile-long sandstone gorge that was carved by the Ausable River over millions of years. The chasm is up to 150 feet deep and just 10-20 feet wide in some areas, creating a truly unique and awe-inspiring landscape. Established in 1870 by brothers William and Charles Steele, who recognized its potential as a tourist attraction, Ausable Chasm is the oldest natural attraction in the United States.
Today it is still a paid attraction that is privately owned and operated by the Ausable Chasm Company, which has been managing the attraction for over 140 years. The company has made efforts to preserve the natural beauty and cultural significance of the chasm through various conservation and sustainability initiatives, while also offering visitors an enjoyable and educational experience.
It continues to be a popular destination for outdoor enthusiasts and nature lovers, offering a range of activities such as hiking, rafting, and a Via Ferrata adventure course. Visitors can explore the chasm on foot or by boat, taking in the stunning waterfalls, towering cliffs, and lush forests that surround them.
Many visitors simply pop out of their cars at the visitor center and walk over Ausable Chasm bridge and think they have "done" Ausable Chasm. But no, no, my friend. That is just the beginning of the chasm and you will need to buy a ticket to explore the rest. With so many things to do, you should plan on spending a couple of hours or up to a full day here.
For the non-adventure seekers, you can take one of many trails along the chasm rim to take in the views. The more intrepid can get their thrills on the Family Adventure Trail across and along the chasm. You can even cool off with a rafting or tubing ride through the narrowest part of the chasm. But I'll explain more about each of those in a minute.
Getting to the Ausable Chasm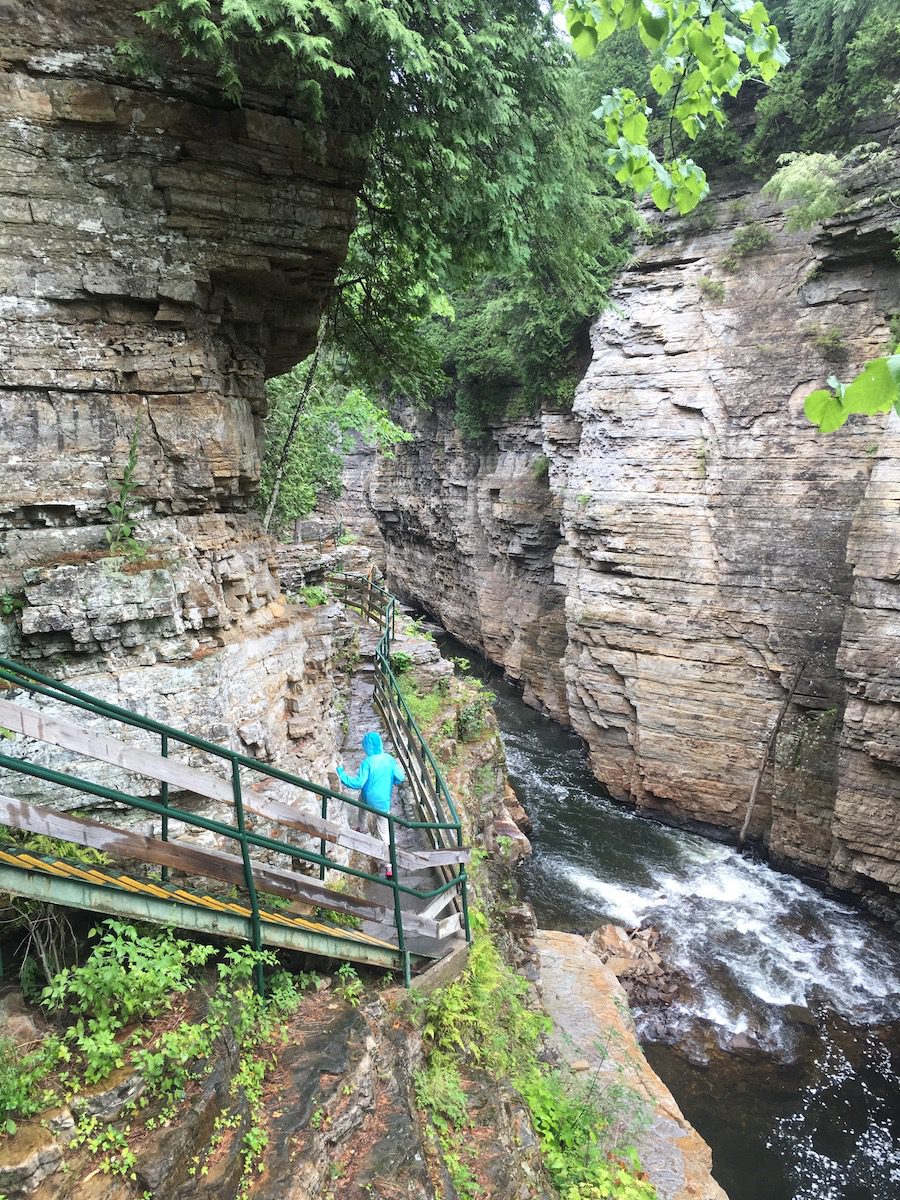 Ausable Chasm is located in the Adirondack Mountains in New York, approximately 20 miles south of Plattsburgh and 95 miles north of Albany. The easiest way to get to Ausable Chasm is by car. The attraction is conveniently located off of Route 9, and there is ample parking available on site. Additionally, several tour companies offer transportation services to Ausable Chasm from various locations in the region.
To get to Ausable Chasm from Burlington, Vermont, you can take the scenic route via the Lake Champlain Ferry from Burlington to Port Kent, which is about 13 miles from Ausable Chasm. The ferry ride takes approximately 1 hour, and from Port Kent, it's a 20-minute drive to Ausable Chasm, making the total travel time around 1 hour and 20 minutes.
Ausable Chasm is an easy day trip if you are staying in the Adirondacks. From Lake Placid, Ausable Chasm is about 25 miles away, and it is about 50 miles away from Lake George. You can even tack it onto a road trip to Montreal, which is about 75 miles (120 kilometers) to the north, and about a 1 hour and 40 minute drive, depending on traffic and border crossing times.
Ausable Chasm is located at 2144 Route 9, Ausable Chasm, NY 12911. Ausable Chasm is open 9am to 4pm daily April – November. Check the website for current hours, opening and pricing options.
Ausable Chasm Review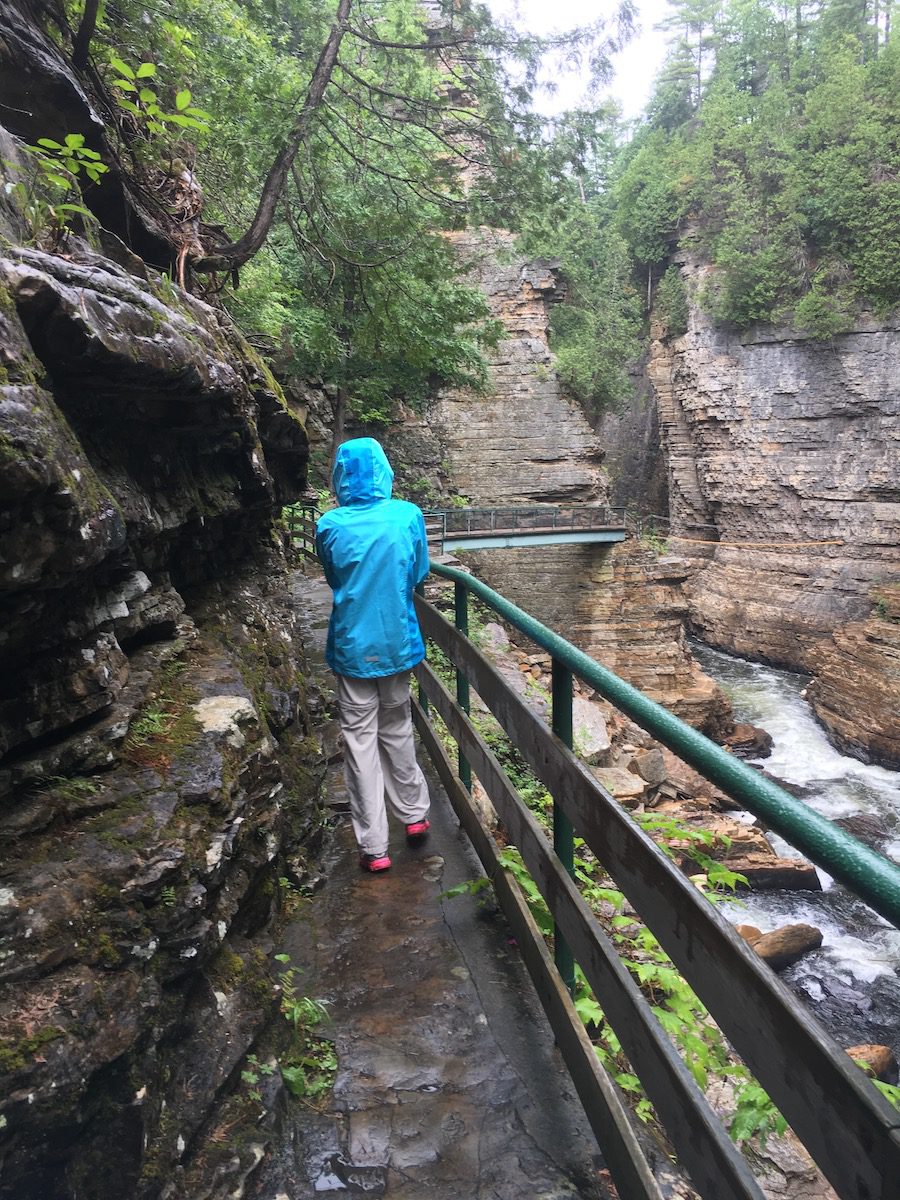 Note: We were granted free admission to Ausable Chasm for purposes of this review. All opinions are my own.SaveSave
Your first stop when you arrive should be at the Visitors Center, where you will also find the gift shop, picnic areas, and restrooms (note: there aren't any on the trails so be sure to use these before you head out.) This is where you can decide which adventure you feel up to trying that day. Just keep in mind that the rapelling and rock climbing requires an online reservation.
Because Ausable Chasm is located along a rocky gorge, with wet spray from the river that can make the paths damp, it is not recommended for people with difficulties walking or climbing and descending stairs. I'd also suggest wearing closed-toe shoes with good tread, such as hiking boots, sneakers, or a sturdy water shoe.
If you are visiting with young children, strollers are not permitted on the path (you will soon see why), but they do rent child backpack carriers at the welcome center. Pets are also not allowed.
We were visiting on a rainy day, so much to Hannah's consternation; I wasn't comfortable winding my way across the chasm on the ropes course so we took the old-fashioned route on foot. It was also a little chilly to get wet, but we did see some brave souls taking a raft and later learned that you don't really get too wet as you aren't really traversing wild rapids.
There are a few options available to explore Ausable Chasm NY and I'd recommend you check them out and decide what you want to do before you arrive. Keep in mind that some of the popular options like the River Walk tour or the Family Adventure Trail can book up, so arrive early to avoid long waits until it is your turn. Options include:
Trails only: self-guided access to five miles of trails
Riverwalk: guided tour for those ages five and up (closed-toe shoes required) that includes two cable bridges over rapids
River Float tour: children must be at least 30 lbs.
Adventure trail: Via Ferrata route for those ages eight and up, with a minimum 63″ reach and weigh between 50-250 lbs.
Rock climbing: 1.5-3 hour climbing adventure for those 13 years and up
Cliff rapelling: 2-3 hour course with two cliff rapelling opportunities and two traversing courses, for those 13 and up (under 18 must be accompanied by an adult)
Lantern tours: offered at dusk on Wednesdays, Fridays & Saturdays until Labor Day, Saturday only until Columbus Day, reservations required
Of course, many of these options can be combined into different packages, which is what makes it important to figure out what you want to do before you arrive.
Hiking in Ausable Chasm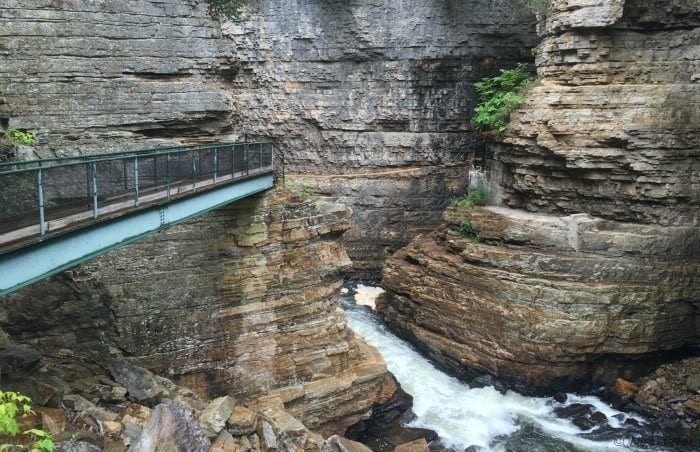 There are multiple routes to take, but the prettiest is along the Inner Sanctum trail. This is a one-mile trail on the inside of the chasm. Through a series of bridges, walkways and stairs, you will descend 150 feet into the depths of the chasm. There is a rail along the edge in necessary places, but it still might cause your heart to flutter if you are scared of heights or edges. You will pass by Rainbow Falls, Elephant's Head, Column Rock, Hyde's Cave, and Mystic Gorge.
When you get to the end, you can opt for the option to take a trolley back to the visitor center or do what we did, which is take the inland Rim Trail, which is two miles long and offers pretty overlooks of the Chasm. If you are scared of heights, this mild trail would be the way to go, but for us it seemed silly to pay to visit Ausable Chasm without getting the full experience and at least doing the Inner Sanctum Trail in one direction.
For more hiking options, you can also take the Dry Chasm Trail, which is 1.5 miles long and offers some fun opportunities to climb over boulders and through the old river bed.
Adventure Trail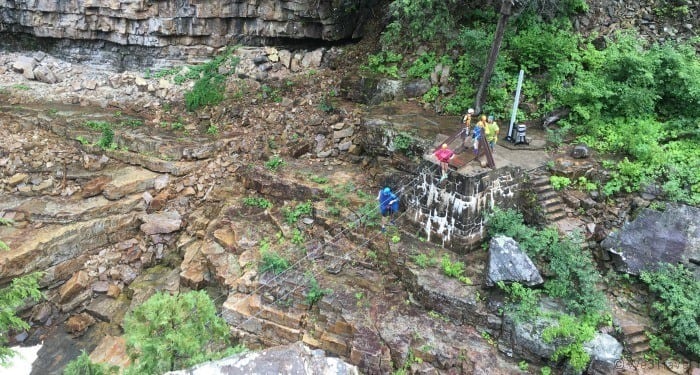 As I mentioned, we didn't do the Adventure Trail on our visit because I was a little nervous to tackle some of the obstacles in rainy conditions. My kid, who loves rock climbing and a good adventure ropes course, was disappointed. Luckily I made it up to her when we later conquered the Via Ferrata in Banff together.
It doesn't actually look "that" scary, as long as you aren't scared of heights and you are harnessed in for the majority of the course. You do need to be in decent shape to get through the obstacles though.
The Adventure Trail is open to children ages eight and up. Climbers have a minimum 63″ reach, weigh between 50-250 pounds, and have a maximum waist size of 54". Participants with a heart condition, back injury, neck injury, injured or immobile limbs, or while pregnant should not participate. You also need closed-toe shoes and you may want to bring tight fitting gloves. Rappelling and rock climbing packages are also available.
Riverwalk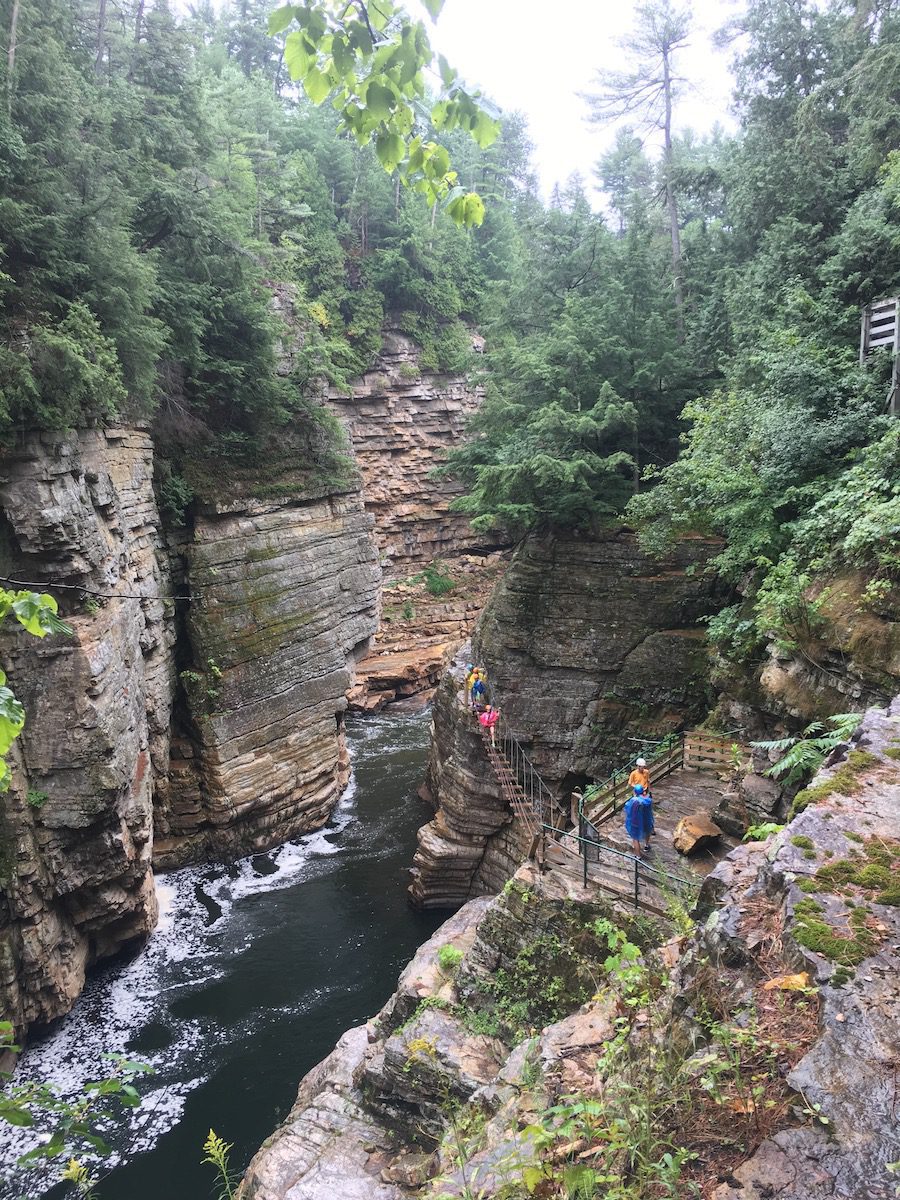 If you are looking for an Adventure Trail "light", the Riverwalk would be a good option. This guided experience takes you into the chasm and your tour guide explains the unique geological formations that were carved out from the melting glaciers following the last ice age. You then ascend a flight of stairs above the river to a wide cliff and the tour ends with two cable bridges from the adventure trail that are over 100 feet long and dangle 50 feet above class 3 and 4 rapids.
The cable bridge has a wide wooden plank down the middle and cargo netting on the side, so it does not require a harness, but helmets are required (and provided) and closed-toe shoes are required. The Riverwalk takes about 30-45 minutes and is available for everyone ages 5 and up. After the tour, you can explore the other trails on your own or add on a rafting experience.
Rafting and Tubing Through Ausable Chasm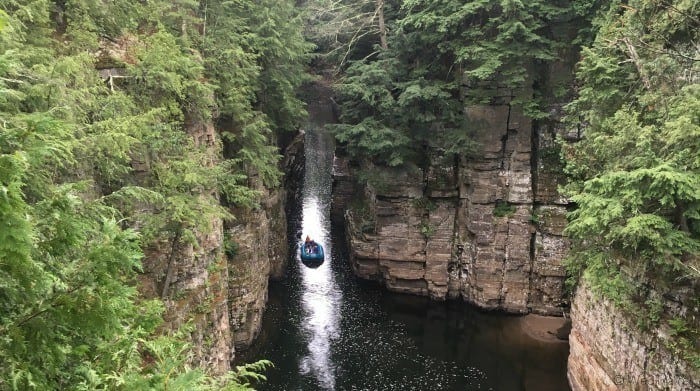 After hiking through part of the chasm, you have a choice to continue your journey on foot, or take a tube or a raft. It was really cool to see the raft coming through the narrow chasm at the end – like something from a movie – and I imagine it would be even better to be in the raft (another for next time!)
If you do plan on rafting or tubing, go early as they are popular and can lines can back up for over an hour. Also, if you are rafting, consider leaving your belongings in a locker or your car, or putting them in a dry bag. Similarly, if you are rafting, you are going to get wet so you may want to bring a change of clothes. Water shoes or sneakers are required for tubing (no flip flops!)
Things to do Nearby
When you are done exploring Ausable Chasm (or if you have to wait for one of your activities), I'd recommend a quick stop next door at the North Star Underground Railroad Museum. This small center opened in 2011 and showcases the hidden history of the Champlain Line of the Underground Railroad.
You will learn the stories of fugitives from slavery who passed through Northeastern New York and the Champlain Valley on their way to Québec and Ontario, Canada. Exhibits also show the ongoing problem of slavery in the world today.
Other nearby options include the following (also check out my post on things to do in Lake Placid for more information about many of these):
Lake Placid: This charming village is home to Olympic history, beautiful scenery, and plenty of outdoor activities, including hiking, fishing, and skiing.
High Falls Gorge: Located just a few miles from Ausable Chasm, High Falls Gorge is another breathtaking natural wonder that offers scenic views, hiking trails, and a fascinating glimpse into the geology and history of the area.
Plattsburgh City Beach: This sandy beach on Lake Champlain is a popular spot for swimming, sunbathing, and picnicking.
Adirondack Wildlife Refuge: Visitors can see and learn about the native wildlife of the Adirondacks, including wolves, foxes, and birds of prey.
Lake Champlain Ferries: The ferry service between Burlington, Vermont, and Port Kent, New York, offers stunning views of Lake Champlain and the surrounding mountains.
Ausable Brewing Company: This craft brewery in Keeseville, NY, offers tours and tastings of its award-winning beers.
Whiteface Mountain: Located in nearby Wilmington, NY, Whiteface Mountain is a popular destination for skiing, hiking, and scenic gondola rides.
Where to Stay Nearby
If you are camping, you will probably want to stay at the Ausable Chasm Campground, which is right around the corner. We stayed at the Lake Placid Inn the night before and then continued up to Plattsburgh for our final night in the Adirondacks.
Look for other options:
PIN THIS FOR LATER