As I look at the dwindling number of pants in my closet that fit, I'm beginning to regret the research that went into this article. But I can confidently say that I did not regret a bite as it was going in. Memphis has it going on in the music business, but it can definitely hold its own on food as well. We only had three days in Memphis this past summer on our mother-daughter Civil Rights Road Trip — but we packed it in, in more ways than one.
Before we left home, I did my typical research — checked a few blogs, read some restaurant reviews on TripAdvisor, and posted on Facebook asking for recommendations. This left me with more options than we could squeeze in. Yet still, when we arrived I started talking to locals about what they loved and that soon had me moving the plan around to prioritize these new discoveries.
Armed with all these recommendations on where to eat with Memphis, we set off to explore through our stomachs. These are our favorites.

Where to Eat in Memphis
Alcenia's Southern Style Cuisine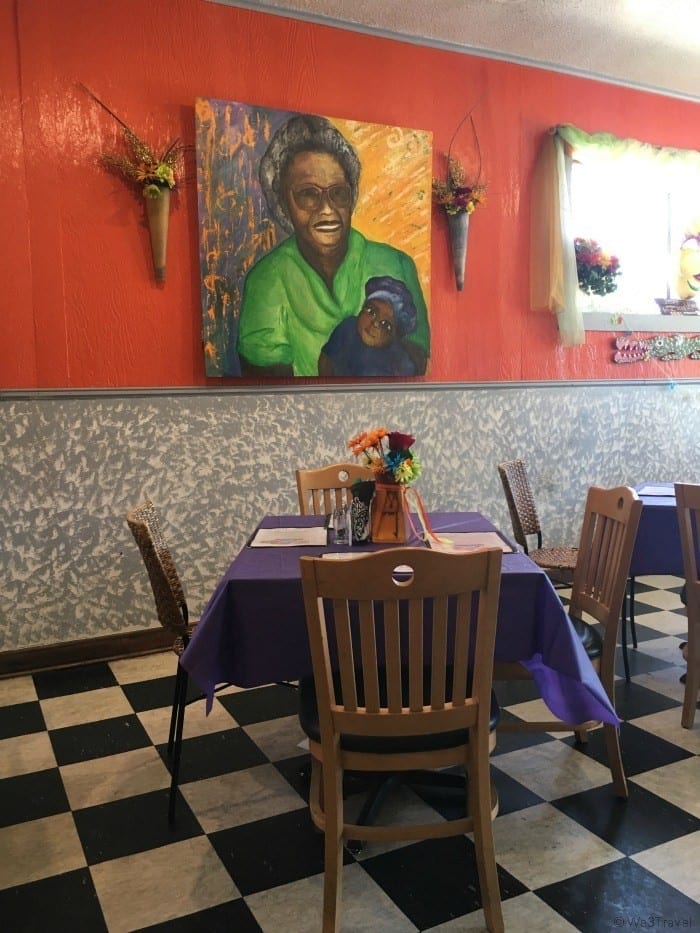 We first heard about Alcenia's from Queen on our Tour of Possibilities history tour. When we finished our tour, we headed right over and we were greeted by the owner with a hug. The decor is as warm as the staff, a colorful oasis in an otherwise drab neighborhood. The menu focuses on southern style soul food — not pretentious, just delicious. While Alcenia's has gained popularity by being featured on the Food Network, Travel Channel, and Oprah Magazine, we saw a mix of tourists and locals, eliminating the feeling that we inadvertently stepped into a tourist trap.
We were there for Saturday brunch, which included a ridiculous amount a food and the best sausage patty I've ever tasted. Of course, that didn't stop me from picking at Hannah's fried chicken. This is southern soul food at its best. Get yourself here the next time you are in Memphis!
317 N. Main Street, Memphis, Tennessee 38103, (901) 523-0200. Open Tues-Fri: 11:00 AM-5:00 PM
Sat : 9:00 AM-3:00 PM. They also offer call ahead ordering.
The Arcade
The Arcade Restaurant is not only Memphis' oldest cafe, it was also where Elvis would frequent (they even have a fried peanut butter and banana sandwich!) Located right in South Main, it is also a great spot for breakfast before visiting the National Civil Rights Museum. Just be prepared for a wait, although you can book a table online. Offering classic diner fare, the Arcade is better visited for its landmark status than inventive cuisine, but that doesn't mean it isn't tasty.
540 S Main St., Memphis, TN 38103(901) 526-5757
The Beauty Shop
When we walked into the Beauty Shop, I knew that it still maintained some of the decor from its previous life as an actual beauty shop. I thought the food would reflect the retro vibe. What I didn't expect was such modern, healthy and delicious cuisine. Luckily Hannah isn't too tall yet so she fit easily under the dryer (see below.) And even though the restaurant was quite lively, we ended up having one of the best conversations on our trip (she makes such a good dinner date.)
I think all the BBQ and heavy food was getting to Hannah because she ordered a series of small plates, primarily of fruits and vegetables. I guess that is pretty unusual for a teen as the waitress asked if she was vegetarian. I did go with the pork chop and pickled peach, because I can't remember the last time I had a pork chop (and when I did it probably tasted like shoe leather). This one was made with grilled peaches, muddled blueberries, creamed corn, chicharrons and scallions — a perfect example of modern southern cooking. Hannah's dishes were also delicious and the romanesca cauliflower was really a stand out. My only warning is to beware where you park! I was tricked by a no parking sign hiding behind a tree (and I wasn't the only one) on the street where I parked around the corner and I walked out of a great meal to find a parking ticket on my windshield.
966 Cooper St. Memphis, TN 38104, 901.272.7111
Central BBQ
Central BBQ popped up on our all recommendation lists and since Memphis is known for BBQ, it made it onto our list as well. Memphis is really a sprawling city and we wanted to explore its many neighborhoods. So while Central BBQ actually has three locations, we picked Midtown to kick off our eating spree through Memphis. You order at the counter and then take a seat in the dining room or outside patio and wait for your order.
The BBQ nachos is something they are known for, but we started off with their handmade BBQ chips. I was happy they offered a combination plate, so I got to sample not just their ribs but also the brisket and pulled pork. (And yowzer was that brisket good!) Add in a couple of sides and a roll and one combination plate equals lunch for two with leftovers. Don't miss a stop at one of Central BBQ's three locations when you are in town.
Midtown location: 2249 Central, (901) 272-9377. And you can also order online!
Gibson's Donuts
Yup, I'm a sucker for a good donut shop. We do live in Rhode Island after all — which seems like the donut capital of the world sometimes. When I heard about Gibson's, we thought about stopping by on our way out of town on the last morning, since it was quite a drive from our home base at the Peabody downtown. Then I looked at the map and realized when we were at dinner at Hog & Hominy that we were right around the corner. So problem solved. Dessert for one day, breakfast for the next all just a short drive away.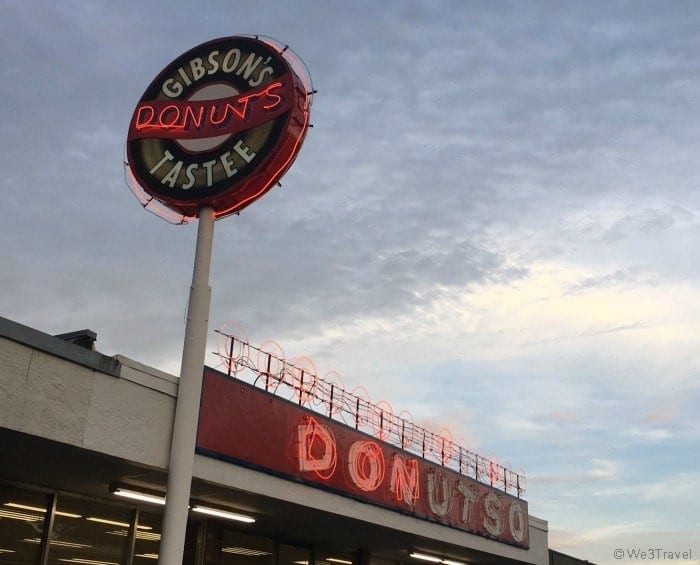 Gibson's isn't hipster…it has the look of an old fashioned donut shop. But that doesn't stop it from offering options like maple bacon. My favorite were the plain glazed — not that I tried too many 😉 Oh and bonus — they are open 24 hours a day.
760 Mt Moriah Rd, Memphis, TN 38117
Hog & Hominy
With a name like Hog & Hominy, you might expect pork belly and grits, but I was surprised with their Italian cooking with a southern flair. We actually started with the poutine, which felt neither Italian nor Southern, but it was delicious. We then split a wood-fired pizza, and had more than enough for two. The hardest thing besides picking a pizza is finding parking, so I'd recommend going early and avoiding the lunch hour when it might be harder to illegally park in one of the nearby businesses. But don't worry about staying for a while. With bocce courts out back, you'll want to take your time.
707 W Brookhaven Circle, Memphis, TN 38117
We only had three days in Memphis and could only eat so much. Do you have any Memphis restaurants to recommend for a return trip?
PIN THIS FOR LATER
SaveSave
SaveSave
SaveSave
SaveSave