Have you ever watched the HBO Series Westworld? It is this bizarre drama set in a futuristic "amusement park" in the American west where visitors are able to act out their violent fantasies against very realistic looking robots. Sound strange? So is stepping into the real-life Tombstone, Arizona during "Helldorado Days."
Of course, I was just there for a day trip to Tombstone from Tucson last October and had no idea what I was walking into. Helldorado Days is the biggest annual event in Tombstone, held on the third Friday, Saturday and Sunday in October. There are so many things to do in Tombstone AZ during Helldorado Days including gunfight re-enactment shows, street entertainment, fashion shows, carriage rides and even a parade. So while it made the town extra crowded, it was actually a great time to visit Tombstone.
After seeing the 1993 movie Tombstone with a star-studded cast, this small town has been on my list of places to visit when in Arizona, plus it has been called one of the top things to do in Arizona with families and included on AZ bucket lists I didn't know exactly what to expect, but since the events depicted in the movie are based on historical facts, I thought it would be an authentically preserved Western town. I've been itching to swing through the doors of an old-fashioned saloon and stroll down the boardwalk past the storefronts of the main street, so I was game.
I drove the hour and fifteen minutes straight from the airport into the bizarro world that is Tombstone during Helldorado days. I followed signs to the historic downtown and found parking by the library. I loved the look of the wide, dusty main street with shops and restaurants that looked as I had imagined. Immediately, I was surprised by the number of people walking around in full on Western gear — gowns, parasols, overcoats, vests, boots and oh the hats! It was like I walked into a Western version of ComicCon or onto the set of a movie!
It was so confusing at first — were they paid re-enactors, like when you go to Colonial Williamsburg and "townspeople" stroll around having deep conversations straight from the 1700s? Were they actors from the various gunfight shows taking a break? Or did people actually get dressed up to visit Tombstone? I finally noticed the "Helldorado Days" banner hanging across the street and stopped at a booth selling t-shirts to get the low down.
Truth was, it was a mix of everything. The gunfight shows were in full swing with plenty of actors coming from across the country to perform. Other groups of musicians, gunfighters, saloon girls, cowboys, story tellers, and dancers congregate in Tombstone for Helldorado Days.
At lunch I sat near a group from outside of Philadelphia, Pennsylvania and I realized that there are many people out there who have a passion for the Old West. (Hmm, could Westworld actually be a thing someday?) What was clear was that everyone was there to have a good time. And even if you aren't there for Helldorado Days, there is still plenty to do in Tombstone with kids.
Things to do in Tombstone with Kids
OK Corral — The OK Corral isn't the only show in town when it comes to gunfight re-enactments — you can take your pick. Of course many will opt to see where the legendary Earp Brothers and Doc Holliday took their stand against the "Cowboys" gang of outlaws. The famous gunfight is reenacted daily at noon, 2pm and 3:30 pm.
Each show lasts about 30 minutes. You need to buy your tickets on the day of the performance, but get there early and get your tickets 2-3 hours in advance, especially on the weekends, to ensure a seat. The timing didn't work out for me to see the show, but there are also other historic attractions including life sized figures (photo opp!), a multimedia "historama" narrated by Vincent Price, a newspaper museum, blacksmith, stables and more.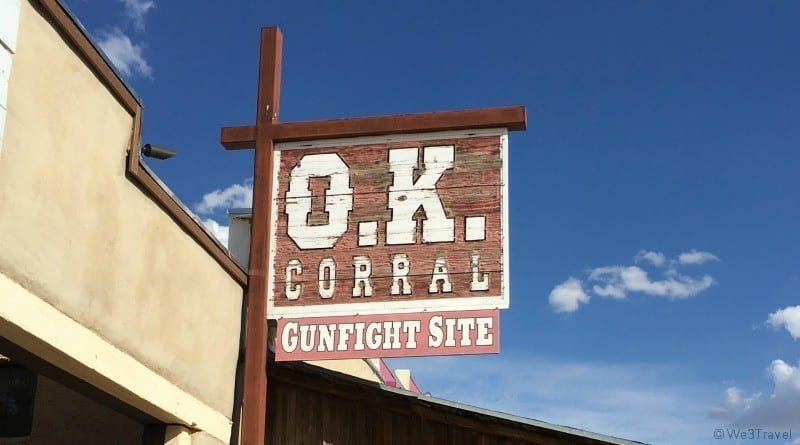 Old Tombstone Western Town — this little Western town inside of Tombstone is set up as a mini amusement park with a carnival-like atmosphere. You can pan for gold, practice your aim at a shooting gallery and even play mini-golf. How that goes together I don't know but it will make the kids happy. They also offer a combination ticket with a trolley tour. It is also one of the better places to grab lunch at Brenda's Chuckwagon.
I did take in the gunfight show here, since they claim it is the "best in town." It was a bit like watching a vaudeville show with some really campy acting and no real historical context, but hey, the people in the audience seemed to enjoy it. Just know what you are getting yourself in for and if you are looking for historical accuracy, maybe try the OK Corral instead and go here for a laugh.
Old Butterfield Stage Coach — ever wanted to ride in a stage coach, here is your chance. They offer a 20-minute narrated tour around Old Tombstone. Just watch out for bandits! Old Tombstone Historical Tours also offers narrated tours by stagecoach, wagon or other horse drawn vehicles.
Tombstone Mine Tours — one thing that sounded really interesting to me but I didn't have time to do it was an underground mine tour. It would be fun to go underground and see what it is like in a real mine (especially for all those Minecraft fans.)
Into the West Jeep Tours — you can get outta town…literally. These jeep tours take you out into the desert and even can include a cowboy cookout. Yey, haw!
Enjoy town — you need to leave yourself time to really enjoy the town. If you have kids in tow, the saloon might be a little rowdy (at least it looked it to me during Helldorado Days), but the shops are fascinating. This is where you will find your next Halloween costume, gown for a masquerade, or just a great cowboy hat! The clothing is great quality and variety. You may even want to splurge on some of those Oldtyme Photos to remember the trip.
[plan-trip]
[/plan-trip]
PIN THIS