When you mention taking a family vacation to Arizona, most people think about Scottsdale, Sedona, or the Grand Canyon. But if you head further south, there is a lot offer in Tucson, Arizona. While downtown Tucson has a cool arts scene and some great restaurants, most families will head to the ranches and hotels in the outskirts of the city and the Catalina Foothills.
If you are looking for the best resorts in Tucson, I've got you covered! After first visiting Tucson over five years ago, I have returned again and again, especially since my daughter is now a student at the University of Arizona. A visit to her is another excuse to check out another Tucson resort.
Planning a Trip to Tucson
Tucson is a great destination for families because it offers over 350 days of sunshine and because of its proximity to Saguaro National Park (if you haven't been to yet, you really should add it to your list!) This Arizona national park is a true gem. It also isn't too far to take a day trip to historic Tombstone or use Tucson as a jumping off point for a trip to include White Sands, New Mexico.
Just keep in mind that Tucson is located in a valley and it is quite sprawling. So if you are staying up in Ventana Canyon or Oro Valley it will take you 45 minutes to make it over to the western section of Saguaro National Park. And going downtown for dinner or attractions might take up to 30 minutes.
So give yourselves time when you want to explore, but with many Tucson resorts you never want to leave the property.
Best Resorts in Tucson for Families
I'm still making my way through all the resorts in Tucson, so I have also asked some of my blogger friends to share their favorite Tucson resorts for families.
Note: This post contains affiliate links. If you click a link and make a purchase, I may receive a small commission.
Westin La Paloma
Of all the Tucson resorts, the Westin is my top pick for families. The Westin La Paloma is a AAA Four Diamond resort nestled into the foothills of the Catalina Mountains. While there is a conference center, this resort has a lot of character compared to other Westin properties. It will appeal to business travelers and families alike (or families accompanying business travelers!)
The guest rooms are spacious with room for the whole family and laid out in wings of single-story buildings with outdoor walkways, stretching throughout the property. It can be a bit confusing to find your way around at first, but I appreciate the resort-like feel versus a high-rise hotel. The rooms themselves are large and offer a veranda and a very large bathroom. Like many of the resorts in this area, the rooms could use a bit of a refresh, but the space, amenities, and overall resort feel still keep it at the top of my list.
Where the resort really shines for families is in the pool area. There is the infinity-style pool for those that like peaceful sunbathing, and then the family pool, which wraps around and includes a water slide. Service pool-side was also very attentive with towels, shade, sunscreen, and water readily available. The hotel patio and pool also offer some of the prettiest views of the mountains of all the resorts on this list.
The Westin La Paloma Resort & Spa also has a beautiful spa and salon on property for relaxing downtime away from the kids, tennis courts, and a Jack Nicklaus Signature Golf Course with three 9-hole resort courses.
The restaurants were a bit pricey, especially the breakfast buffet, and nothing to wow me, but it is fairly easy to leave the property to visit local restaurants nearby. I also appreciate how easy it is to self park at the resort and not have to rely on pricey valet parking.
Tip: One of the things to keep an eye out for as you walk the dimly lit resort paths at night are the creatures that might be lurking. Plenty of warning signs throughout the property made me keep my eyes peeled but luckily I didn't have any unwelcome encounters.
Loews Ventana Canyon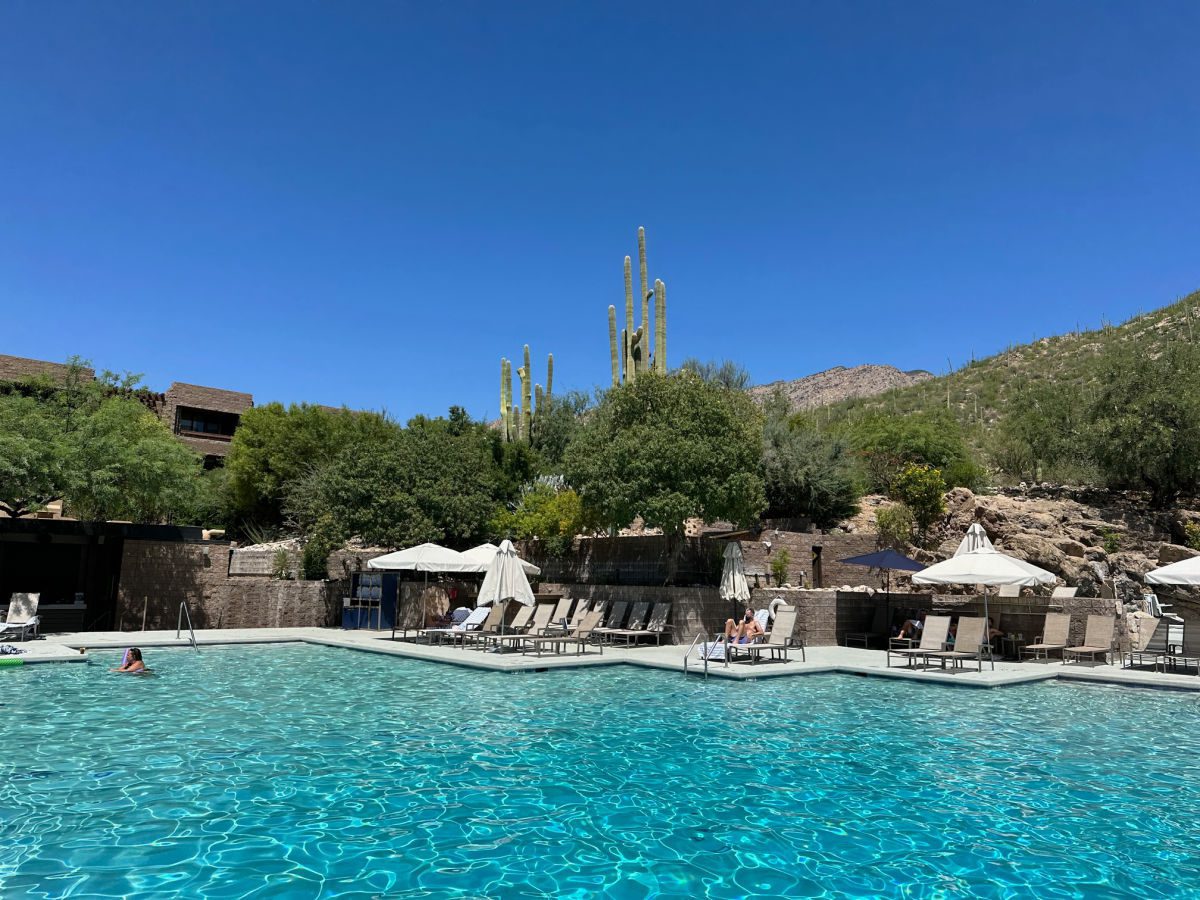 In contrast to the Westin, the Loews Ventana Canyon Resort strikes me as more luxurious in some aspects, making it my overall favorite resort in Tucson. However, because the pool is not as kid-friendly, I'd rate this one as better for families with teens.
The property is gorgeous, overlooking the golf course in front of the hotel with views from the entry sweeping across the valley to the mountains in the distance. Located walking distance to Ventana Canyon, the property backs right up against the stunning Santa Catalina Mountains, offering a beautiful vista but not as much of a sweeping view.
I've stayed at the Loews Ventana Canyon in both June and August, when it was quite quiet throughout the resort. If you can handle the heat, summer is a great time to visit for better rates! When I returned for a visit in October, it was definitely buzzing a bit more in the posh lobby area.
The rooms are laid out in two main wings that branch out from the central lobby, so it didn't feel as private as the Westin layout, but it was much faster and easier to get to your room. The rooms themselves were quite nice and comfortable and had a very similar layout to the Westin La Paloma.
Where the Loews and the Westin really vary are in the pool area. The main pool at the Loews is quite simple compared to the Westin, with a simple shape. There is another adults-only pool near the spa and tennis courts but it was across the driveway from the main building and not as convenient. Service was excellent and the view was very pretty, but younger kids would like the Westin pool better.
However, the food at the Loews was delicious, even in-room dining. The Loews offers one of the better hotel breakfast options as well. I've always found the staff at the Loews to be quite friendly and helpful, adding that luxury hotel experience that you don't necessarily find at all the other properties.
In addition to the pool, spa, golf, and tennis, there are other outdoor activities on property including a nature trail back to a waterfall in the foothills, and more strenuous hiking nearby. We were also able to head out to dinner with some great Mexican and Peruvian restaurants within a five-minute drive.
Tip: The Loews Ventana Canyon Resort is part of the American Express Fine Hotel + Resorts program. If you book using your American Express Platinum card, you can receive perks including early check in when available, free daily breakfast for two, a $100 resort credit, 4 p.m. guaranteed check out, and a possible room upgrade. This could also count toward your annual $200 statement credit and I often see special money-back offers on Loews properties for American Express members.
Hilton El Conquistador Tucson
The Hilton El Conquistador can't touch the Loews in terms of service or quality, but if you are looking for a place with great food, room for the kids to run around, and an awesome pool for young kids, this is your place. The kids' pool has a splash area and fun water features including a waterslide, while the main pool offers a pool bar and hot tub. Chairs are pretty limited though so you will sometimes see people laying out on towels on the lawn.
When you first walk into the El Conquistador, it feels as is you have entered a southwestern lodge. From the main building, the hotel sprawls across multiple interconnected buildings, which means it can take a while to walk to your room. Luckily, there is self parking around the exterior of the buildings, although it can be a bit limited.
Dinner at southwestern Epazote offers a pretty setting and delicious food, if a bit overpriced as is typical for a hotel restaurant. Luckily there are plenty of other places to eat nearby, including an Oro Valley outpost of downtown favorite Seis Kitchen. The only other downside is that it is pretty far up in the foothills.
Tip: If you are looking for things to do in Tucson with kids, the Biosphere 2 isn't too far away.
J.W. Marriott StarR Pass Resort & Spa
Located just west of downtown Tucson, J.W. Marriott Starr Pass Resort & Spa is close to Saguaro National Park, Old Tucson, and the amazing Arizona Sonoran Desert Museum. This sprawling resort has a lot to offer families including a family-friendly pool with a waterslide and lazy river (the splash area is currently under construction.) If you need a break from the sun, there are also cabanas available for rent. Just off the pool area, near the Plunge Poolside bar, there is also a small arcade / game room that the kids will love.
There are four restaurants at the J.W. Marriott Starr Pass, including Italian, BBQ, Mexican, and the southwestern grill, along with a Starbucks and a small market. Pricing is high, as is typical of hotel pricing, but the food and service are both good. Luckily, you are also only 15 minutes from downtown Tucson and all its fabulous restaurants.
The rooms are in need of an update, with furnishings a bit more Marriott-level than J.W. quality. But while they are a bit dated, the rooms are also spacious for families. When we visited, each afternoon they offered a small snack (such as bruschetta) and a complimentary drink in the lobby. In addition, every evening at sunset there is a complimentary tequila toast on the Salud Terrace to watch the sunset.
In addition to the pool and game room, the hotel offers the Hashani Spa and three nine-hole golf courses at the Starr Pass Golf Club. The on-site parking is a bit of a hike from the main building, but it is worth the savings over valet parking.
Tip: Drive out to West Gate Pass for a beautiful sunset view or incredible star gazing.
The Ritz-Carlton, Dove Mountain
The Ritz-Carlton, Dove Mountain is nestled right into the mountain terrain allowing for easy access to 20 miles of hiking and mountain biking trails. With three pools, a 235-ft waterslide and a splash pad, kids of all ages will have plenty of ways to stay cool in the desert.
My friend Karen's boys loved checking out the desert animals that the Rangers care for like snakes, tarantulas, and desert tortoises. The Ritz Kids Club and availability of in-room camping, round out some awesome fun for kids at this resort. Nightly S'mores, tours of Indian Petroglyphs and nighttime hunts for scorpions will keep the tweens and teens happy too. For the adults, you have Jack Nicklaus Signature Golf, and a spa and fitness center. Or just stay in your guest room and enjoy the large soaking tub and balcony with amazing views.
The only downside (beside the price) is that it is one of the furthest Tucson resorts from downtown.
Tip: Ritz-Carlton, Dove Mountain is also part of the American Express Fine Hotel + Resorts program. If you book using your American Express Platinum card, you can receive perks including early check in when available, free daily breakfast for two, a $100 resort credit, 4 p.m. guaranteed check out, and a possible room upgrade. This could also count toward your annual $200 statement credit.
White Stallion Ranch
Overlooking the giant cacti of Saguaro National Park north of the city is White Stallion Ranch. White Stallion Ranch has been the top-rated accommodation in Tucson on TripAdvisor for over 7 years and has a 65% returning guest rate, so it is clearly a top choice for Tucson travelers. It is certainly a different take on a Tucson resort, offering a more unique and authentic southwestern experience.
White Stallion is a family-run guest ranch with equal appeal for families, couples, and singles looking for a luxurious and laid back Southwest travel experience. Accommodations are what might be called luxuriously rustic. Southwest colors and motifs dominate the decor but with high-end touches. All the rooms are suites, with some that can sleep up to a family of five.
White Stallion is the dude ranch equivalent of an all-inclusive resort. While rooms can be booked a la carte, most guests opt for the American Plan rate that includes riding and three meals a day. The ranch has a number of on-site activities, from a swimming pool to a game room kids will love. Guests mingle at the pre-dinner cocktail hour in the main building and then join together for evening activities like country line dancing.
Hacienda del Sol
The Hacienda Del Sol, a small, luxury historic guest ranch resort in the foothills north of Tucson, has romantic old-west charm with modern amenities, making it best for families with teens. Built in 1929, the ranch started as girl's finishing ranch for young ladies of high society including the Campbell and Vanderbilt families. By the 1940's it was a hotel, and became a favorite desert hideaway for Hollywood's elite, including Spencer Tracy and Katherine Hepburn.
The resort offers lodging in the main building or more spacious accommodations in private casitas, with ample space for couples and families. The service is exceptional and the resort boasts countless awards.
The Hacienda De Sol has a bar and two restaurants on-property, including the award-winning The Grill, featuring five-star cuisine, a "Best Award of Designation" award by Wine Spectator every year since 2018, and breathtaking sunset views of Tucson and the desert. While the resort is definitely family-friendly, there is more activities for families with older children, including three pools, a spa, live music, and public art throughout the property.
While they no longer offer horseback riding on property, you can still set up a ride through Houston's Horseback Riding for a fun ride through the Sonoran desert.
A few other Tucson resorts on my radar for future visits include:
VISITING ARIZONA? YOU MAY BE INTERESTED IN…
PIN THIS FOR LATER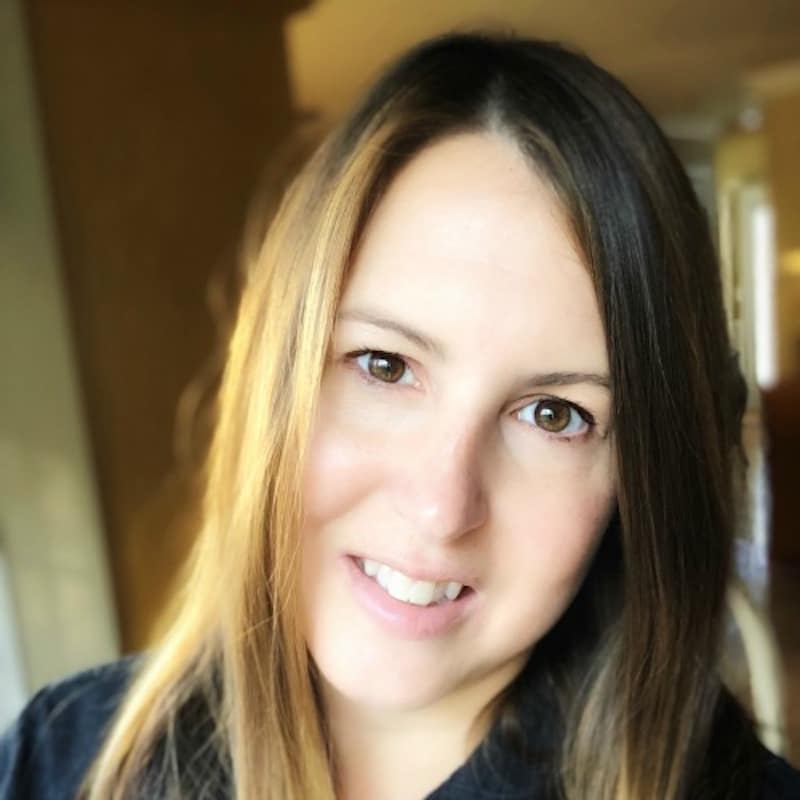 Tamara Gruber is the Founder and Publisher of We3Travel. A former marketing executive and travel advisor, Tamara is an award-winning travel writer and recognized expert in family travel. She is also the publisher of YourTimetoFly and the co-host of the Vacation Mavens travel podcast.