Tucson may be more famous for its Sonoran hot dog or frozen drinks from Eegee's, but like any college town worth its salt, its brunch game is pretty strong. With a daughter attending the University of Arizona, we often visit and love to treat her to various Tucson brunch places when we are in town. I often see other parents posting in Facebook groups looking for the best brunch in Tucson, so I thought I would put our favorite discoveries all in one spot to make it easier for anyone else looking for good Tucson breakfast spots.
If you live in Tucson, you probably know about even more great brunch spots, but for those visiting, my picks for the best brunch in Tucson are primarily in the downtown area, close to campus, near the resort hotels in the foothills, or they are convenient to the airport.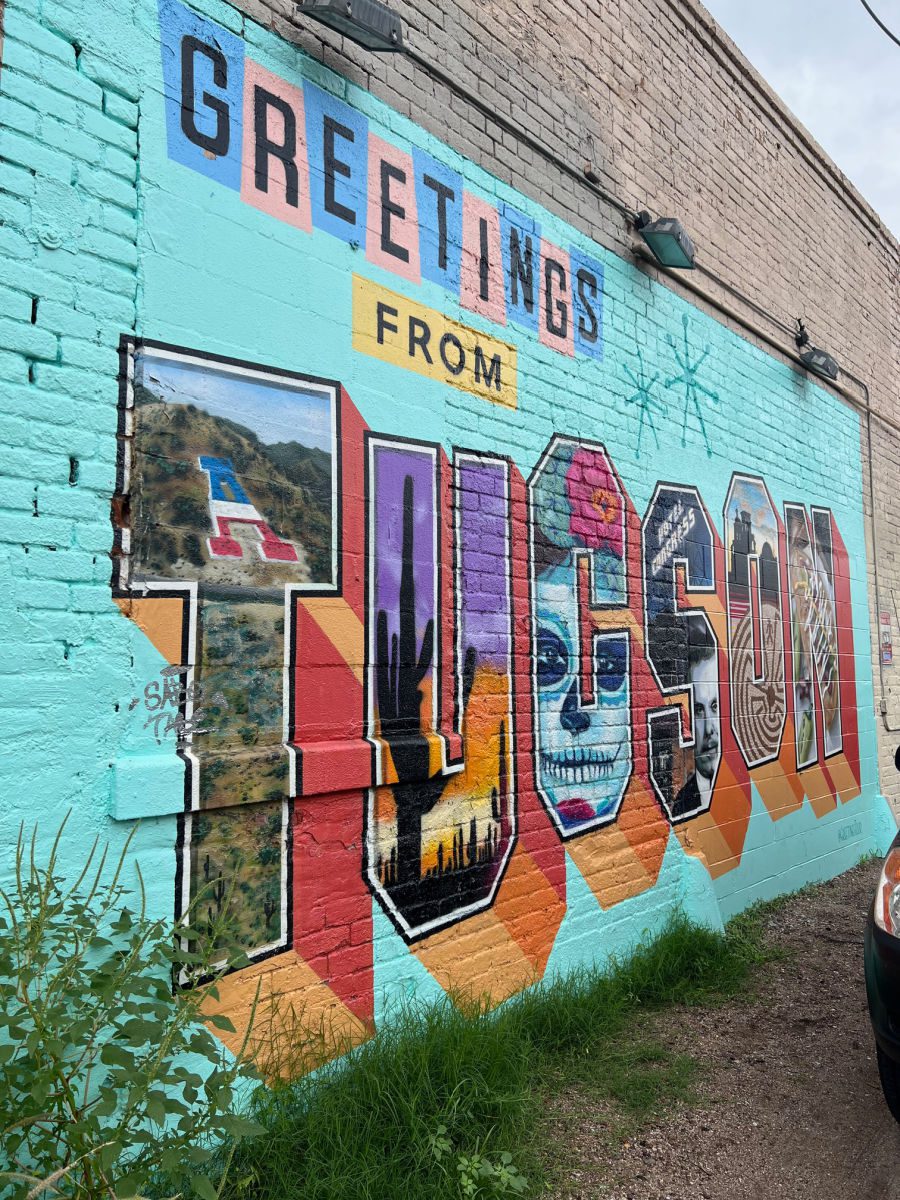 Quick Overview of the Best Brunch in Tucson
Before I get into all the juicy details, let me share some quick highlights for those that don't like to read and just want to get to the good stuff.
These are my personal picks for the best brunch in Tucson based on these categories, but there are tons of great options to choose from so be sure to keep scrolling to get to the the meat of the matter!
Tucson Brunch Places
Here is my curated list of where to go for the best brunch in Tucson. I've tried to include our favorite dishes and any tips and tricks for securing a reservation or a place on the waitlist.
The Monica
Anyone who has spent any time in Tucson has heard about El Charro Cafe, the nation's oldest Mexican restaurant in continuous operation by the same family. The Monica is a newer spot in Downtown Tucson from the same restaurant group and offering breakfast, lunch, dinner, and weekend brunch. It was named after Monica Flin, the matriarch of the El Charro family. The Monica is a hybrid restaurant and market that offers drinks as well as meals and snacks, artisan breads baked by three-time James Beard nominee Don Guerra, and full breakfast, lunch and dinner menus.
This beautiful and trendy restaurant covers the first floor of the Hexagon building at City Park and extends into a 2,500 square foot patio, complete with picnic tables and faux grass. Brunch is offered on weekends from 8:00 am to 3:00 pm. The brunch menu is a mix of Mexican favorites (like the chicken chilaquiles or huevos rancheros) and fresh takes on classic brunch dishes, like the tamale eggs Benedict. You can also get cocktails, specialty coffees, and smoothies to round out the meal.
The Monica is located in downtown Tucson at 40 E. Congress, Tucson, AZ and they offer a pet-friendly patio, but sadly do not take reservations.
Nook
Nook is aptly named, with a small space in downtown Tucson serving up New American cuisine for breakfast and lunch. The restaurant features exposed brick walls and displays work from local artists, while out back there is a cute private patio. Since Nook is small, I'd recommend you arrive early or make a reservation on Open Table.
The menu includes some specialties like the breakfast tamale pie, but the real star is the cinnamon roll griddlecakes, which taste like the best part of a cinnamon roll. And here is a little tip, if you aren't starving, the "little griddle" order of pancakes is a perfect size and only $5.00, which is helpful for college students on a budget!
Nook is located at 1 E. Congress St., Tucson.
Flora's Market Run
Flora's Market Run is one of my picks for a trendy brunch spot mostly because of the vibe. It is located close to the University of Arizona campus, yet away from Downtown, which makes the lines out the door even more impressive. This restaurant and market concept is from the Ares Collective, which also operates the popular Prep & Pastry.
The atmosphere is bright and airy, with exposed brick walls and a large central bar, along with outdoor sidewalk seating. If you are going for weekend brunch, be sure to make a reservation in advance on Open Table, or be prepared for a long wait.
The breakfast sammie, with pimento cheese, bacon, arugula, and a sunny-side up egg, along with the lemon ricotta pancakes, both get two thumbs up from my crew. Flora's also has a juice bar serving up fresh juices, smoothies, and acai bowls.
Flora's Market Run is located at 2513 E. 6th Street, Tucson.
Snooze: An AM Eatery
I first encountered Snooze: An AM Eatery when I visited Tempe (home of that other Arizona school), and I fell in love with the fun, retro, 50s dinner vibe of the place and was delighted to find the same in Tucson. Snooze Tucson is located on Grant Road, just a few minutes north of campus but off-the-beaten path enough that it is not too crazy to get into for brunch (although I'd still highly recommend joining the waitlist on Yelp when you are on your way!)
Snooze has a lot of fun cocktail, mocktails, juices, and hot drinks, and while the atmosphere may scream retro, the menu is much more modern. You will find plenty of plant-based options, traditional egg scrambles, pancakes and French toast, along with southwestern flavors like the breakfast tacos.
Snooze Tucson is located at 2500 E. Grant Road, Tucson.
Prep & Pastry
Prep & Pastry was the first concept from Ares Collective, who also runs Flora's Market Run. This bakery and cafe offers a modern take on brunch with modern cocktails, flavorful dishes and warm flaky pastries. Now, there are locations in Tucson, Scottsdale, and Gilbert, but the closest to campus is on North Campbell Avenue, just a few blocks north of the University. This location is quite spacious and includes a large outdoor patio, making it good for groups. While you can't make a reservation, you can join the Yelp waitlist if you go early enough (they close the waitlist when it gets too busy.)
Brunch is available at Prep & Pastry all day from 8:00 am to 3:00 pm daily. The menu is extensive, with classics and signature dishes like the cast iron duck confit or the smoked salmon hash, as well as sweet offerings like The Cure French toast. If you aren't hungry enough for a big meal, the pastries are delicious and worth a to-go box.
Prep & Pastry Tucson is located at 2660 N Campbell Ave, Tucson.
Augustin Kitchen
We have been to Augustin Kitchen for brunch and dinner and have been impressed with both. Located in the historic Mercado San Augustin, Augustin Kitchen features New American cuisine with French and Spanish influences featuring fresh, local produce mixed with other local flavors.
The brunch menu focuses more on the lunch and savory options, so choose this one when you are feeling hungry, not when you are in the mood for pancakes. The restaurant is beautiful, but it is also peaceful to sit in the courtyard under the calamondin trees. Reservations can be made on Open Table.
Augustin Kitchen is located at 100 South Avenida del Convento, Ste 150, Tucson.
Seis Kitchen
Seis Kitchen is one of my favorite Mexican restaurants in Tucson, with bold and authentic flavors. So while nearly every brunch in Tucson has some southwestern dishes, that is really all you are going to find at Seis Kitchen.
Breakfast, which is served from 8:00 am to 11:00 am during the week and 8:00 am to noon on weekends, is a mix of various breakfast burritos, breakfast tacos, and breakfast plates like migas or chilaquiles. There are three locations in Tucson, one is downtown in the Mercado San Agustin and the other is in the Oro Valley foothills, very close to many of the hotels mentioned above.
Seis Kitchen (Downtown) is located at 130 South Avenida del Convento, #100, Tucson.
The Hub Restaurant & Ice Creamery
Located in the heart of downtown, The Hub Restaurant & Creamery offers brunch on the weekends starting at 11:00 am. They offer sweet treats like stuffed French toast, filling options like the Hub market hash, and lighter options like the vanilla yogurt parfait. I love the tater tots at the Hub, so if you are hungry, try the brunch prime tots with shaved prime rib, HUB cheese sauce, grilled onion, two eggs over medium, and avocado.
The Hub is spacious, with a full bar and sidewalk seating. It is a popular choice but luckily you can make reservations on Open Table.
The Hub Restaurant & Ice Creamery is located at 266 Congress St, Tucson.
Cup Cafe
Cup Cafe is located in downtown Tucson in the historic Hotel Congress, made famous as the last place bank robber John Dillinger stayed before being captured. The hotel is a popular hot spot for its jazz club and dance club. But until 11:00 am, Cup Cafe serves up a delicious breakfast.
Fill up on the Cup Cafe's famous cast iron egg skillet with two poached eggs, ham, leeks, shallots, gruyère cheese, cream, fines herbes, breakfast potatoes, and toast. Those with a sweet tooth will prefer the brioche French toast or the buttermilk pancakes with any number of add ons.
Cup Cafe is located at 311 Congress Street, Tucson.
The Canyon Club, Loews Ventana Canyon
Over the years we have stayed at most of the nearby Tucson resorts, many of which offer Sunday brunch or special weekend breakfast buffet. I often avoid hotel breakfast because they are such a rip off, but when you are staying near the Catalina Foothills, it can be more convenient to eat at the hotel than to head downtown. One of our favorites is the Loews Ventana Canyon and the weekend brunch at The Canyon Club is actually quite good.
We find service to be excellent and on the weekends, you can choose between the a la carte breakfast menu or to partake in the breakfast buffet. Reservations can be made online through Open Table and if you are staying at the hotel and book through American Express Fine Hotels & Resorts using your AmEx Platinum, you will receive a credit toward breakfast for two daily. If you are hungry, opt for the chicken and waffle — it is a very large portion and quite delicious.
The Canyon Club is located in the Loews Ventana Canyon Hotel at 7000 N. Resort Drive, Tucson.
Teaspoon
If you are staying in the foothills, Teaspoon is not far from Hacienda Del Sol, Westin La Paloma, Hilton El Conquistador, or the Omni Tucson National Resort, if you want to have a great breakfast without paying hotel restaurant prices. Teaspoon is a creative modern eatery with a home-kitchen inspired and locally-driven menu.
Teaspoon has one of the more extensive brunch menus that include sweet and savory, breakfast and lunch items from the bubble waffle or challah vanilla bean French toast to a lobster and crab omelet or breakfast pizza. Afterward you can walk it off at the beautiful Tohono Chul Botanical Gardens nearby.
Teaspoon is located at 7053 North Oracle Road, Tucson.
First Watch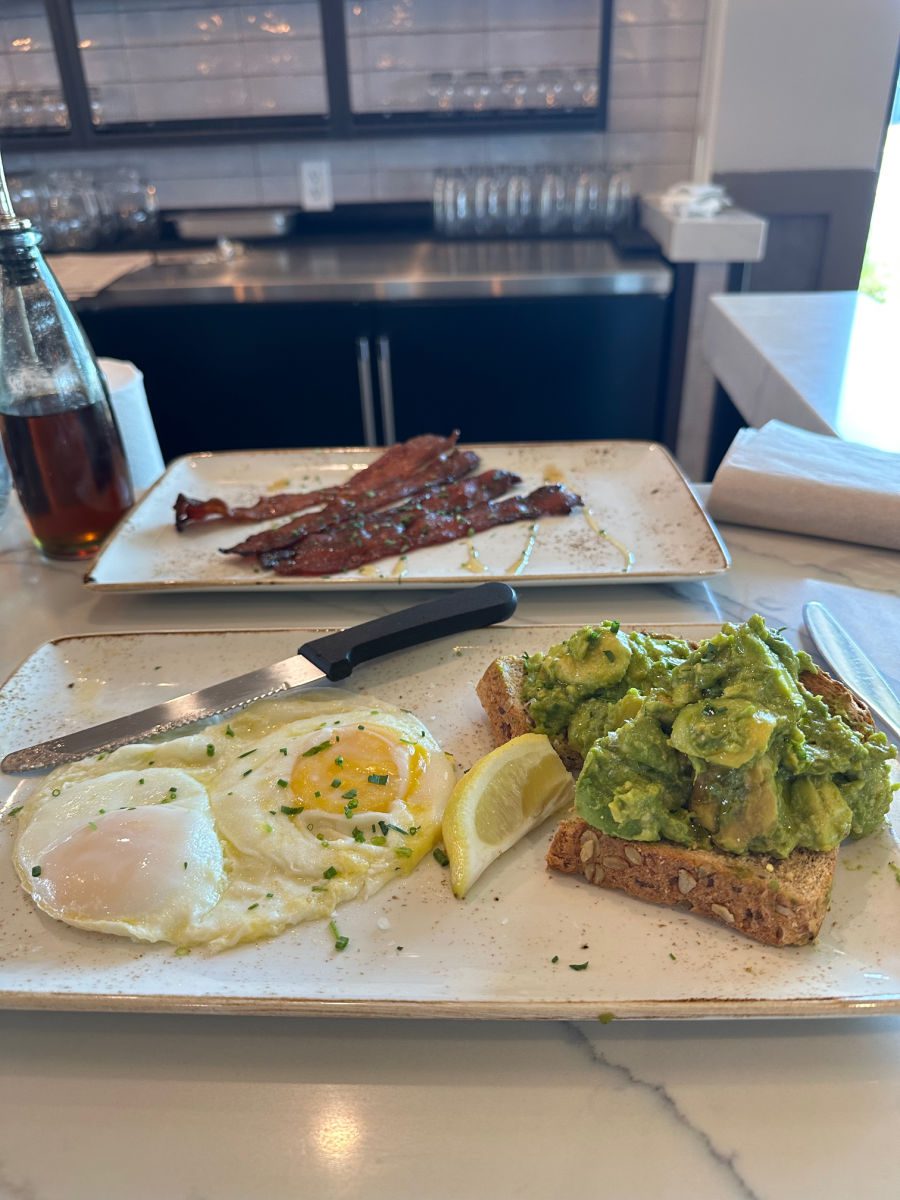 If you need a spot for brunch on your way to or from the Tucson International Airport, First Watch is breakfast and brunch chain that has a location in South Tucson just five minutes away from the airport. First Watch specializes in both traditional and innovative creations, all freshly prepared to order and they are open from 7:00 am to 2:30 pm everyday.
The million dollar bacon, which is hardwood smoked bacon baked with brown sugar, black pepper, cayenne and a maple syrup drizzle, is worth the extra cost and calories. Other menu favorites include the barbacoa quesadilla benedict or the cinnamon spice churros.
First Watch South Tucson is located at 1080 W. Irvington Road, Tucson. There are also other locations are throughout the Tucson area.
Casual Tucson Breakfast Spots
If you are looking for a more casual breakfast spot in Tucson or a quick pick me up, here are two places you can't miss:
Beyond Bread – Beyond Bread is a Tucson institution with locations throughout the city. They offer handmade breads, pastries, pies, sandwiches, and salads. At breakfast, you can also get breakfast quiche, French toast, and a variety of breakfast sandwiches.
The Scented Leaf – My daughter's favorite place in Tucson is Scented Leaf Tea Shop. If you just need a cold (or hot) drink, you can't beat Scented Leaf.
Visiting Arizona? You may also be interested in…
Save this to Pinterest