Whether you are staying downtown, visiting the University of Arizona campus, looking for a family-friendly resort, want an authentic experience in the American Southwest, or need a spa getaway, I've got you covered on the best places to stay in Tucson, Arizona.
Before I get into the more detailed reviews, let me start with my top picks based on my frequent trips to Tucson to drop off or visit my Arizona Wildcat:
Best Places to Stay in Tucson (by Type):
If this is your first visit to Tucson, here are my picks for best hotels in Tucson, depending on the type of trip you are planning:
Note: This post may contain affiliate links. If you click a link and make a purchase, I may receive a small commission. All opinions are my own.
AC Hotel by Marriott Tucson Downtown
If you want to experience the food, arts, and culture of the city, the AC Hotel by Marriott is right in the heart of downtown Tucson. Of course, being in the middle of the city's nightlife also means it can be pretty loud at night so pack your sound machine because the ear plugs the hotel provides probably won't cut it.
The modern vibe includes locally-inspired artwork in the lobby and beers and spirits sourced from Southern Arizona in the lobby lounge. Another benefit is the rooftop pool, which offers views of the city and those gorgeous Arizona sunsets. The hotel doesn't have a restaurant, but there are so many great options right outside your door including Charro Steak (dinner), The HUB (lunch), and The Monica (brunch/breakfast), with tons more within walking distance.
AC Hotel by Marriott Tucson Downtown is located at 151 E Broadway Blvd, Tucson, AZ 85701
Alternate downtown option: If modern isn't your jam, try the historic Hotel Congress, located right across the street from the Rialto Theater. Built in 1919, Hotel Congress is the cultural landmark with a nightclub, Cup Cafe restaurant, and a live music venue. Due to its historic nature, the hotel doesn't offer televisions in rooms or elevators. Plus, with a location right across the street from a very loud nightclub, you need to be a good sleeper to stay here, especially on the weekend.
---
Graduate Tucson
If you are planning a college visit to the University of Arizona campus, the Graduate Tucson is the place to stay. I've stayed at Graduate hotels across the country when looking at schools and I absolutely love how the brand personalizes each property with colors, decor, and symbols that represent the local community. It isn't fancy and the rooms aren't large, but they have a lot of character and you can't beat the location. The Graduate is located right at the edge of campus, across from the Arizona State Museum, and steps from the buzzing Main Gate Square area with restaurants and bars.
What really sets the Graduate apart is the rooftop pool, which is a nice option for an urban hotel in the heat of Arizona. You can enjoy the rooftop bar and restaurant, The Moonstone, or chill at the pool and take in the campus views. The Graduate also has a coffee shop in the lobby and complimentary bike rentals. TIP: book a rate that includes parking!
Graduate Tucson is located at 930 E 2nd St, Tucson, AZ 85719
Alternate campus option: If you would rather collect Bonvoy points for your stay, the Tucson Marriott University Park is right next door to the Graduate and is a full-service hotel with a restaurant (but no pool.)
---
ALoft Tuscon UniVersity
If you are visiting Tucson to see a football or basketball game at the University of Arizona, you can certainly stay at The Graduate or the Marriott on the west side of the university area, but it would be a bit of a shorter walk to Arizona Stadium or McKale Memorial Center from the Aloft Tucson University. I've stayed here a couple of times when visiting campus and it is often easier to get a room here than at the hotels near Main Gate Square.
Downstairs, the hotel has a spacious and modern lobby with workspaces and lounge areas, along with a bar and a market for grab and go snacks. The hotel also has self-parking and a tiny outdoor pool and patio. Plus, the Aloft is a Marriott property if you have Bonvoy points.
Aloft Tucson University is located at 1900 E Speedway Blvd, Tucson, AZ 85719
---
The Westin La Paloma Resort & Spa
I've written a whole post about the best resorts in Tucson for families, but the bottom line is that my favorite has been the Westin La Paloma Resort & Spa. While it is also a conference hotel and it has some of that typical Westin business hotel feel, it also is a true resort with beautiful grounds that look out at the foothills of the Santa Catalina Mountains. The rooms are spread out across multiple buildings on the sprawling property, with the pool in the center outside of the main lobby. They could use a little refresh but the rooms are spacious with a large private patio or balcony.
With multiple pools, a water slide, hot tubs, grassy shady areas, and lawn games, it is a spacious and relaxing place for families to hang out. The property also has tennis courts, a Jack Nicklaus Signature golf course, multiple restaurants, and a great spa.
The Westin La Paloma Resort & Spa is located at 3800 E Sunrise Dr, Tucson, AZ 85718
---
El Conquistador Tucson, a Hilton Resort
Since many of the resorts around Tucson can be quite pricey, if you are looking for a resort property that won't break the budget, try the El Conquistador Tucson. The service and the rooms don't match what you find at the Westin or the Loews, but it does provide the resort amenities.
Located in Oro Valley, the El Conquistador sits on 500 acres of high Sonoran Desert terrain with three nearby championship golf courses, 31 tennis courts, and your choice of four swimming pools with a waterslide, children's pool, sauna, and hot tub. While the pools are smaller than those at the Westin, there is also a gorgeous large grassy area around the pool that is great for kids that like to run around.
The lodge-like lobby features multiple restaurants and the Sonoran cuisine at Epazote Kitchen is delicious! The property is a bit far from downtown and other attractions, but there are plenty of restaurants and shopping nearby, including the excellent Mexican cuisine at Seis Kitchen.
The El Conquistador Tucson, a Hilton Resort is located at 10000 N Oracle Rd, Tucson, AZ 85704
---
Loews Ventana Canyon Resort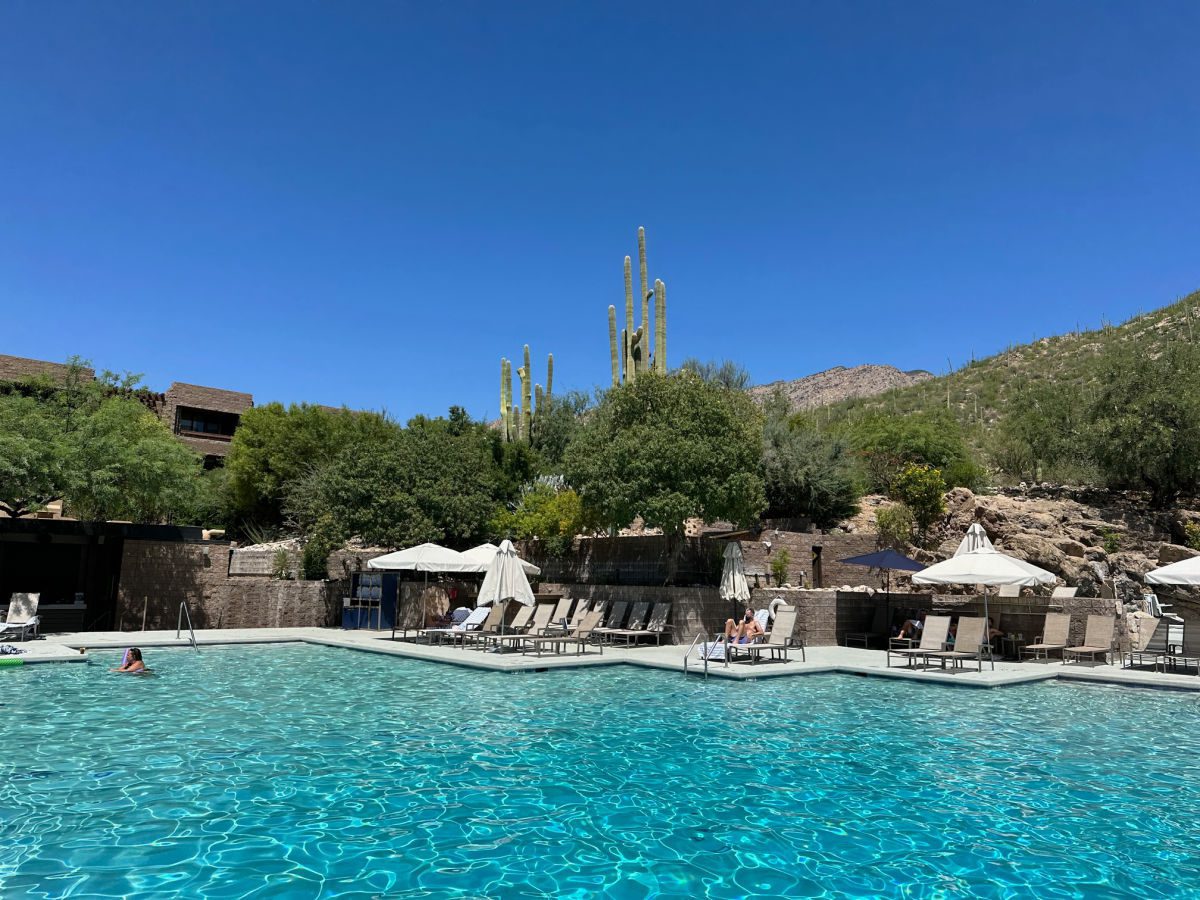 The service at the Loews Ventana Canyon Resort far surpasses that at the Conquistador or the Westin. The rooms are quite similar in size and layout to the Westin, but the Loews property feels more up-to-date as well. The pool is also smaller than those properties, and better suited for adults (or teens) than kids, as you don't find any extra features like waterslides or lazy rivers.
The Loews Ventana Canyon features a few restaurants and a market for grab-and-go items, along with a beautiful lakeside spa and, in conjunction with the Ventana Golf & Racquet Club, the Loews offers two Tom Fazio-designed championship 18-hole golf courses.
The location is good if you would like to do some hiking, with one nature trail to a waterfall on property and it is a short drive to both Ventana Canyon and the more popular Sabino Canyon. Star gazing programs are offered on site or you could drive up to Mount Lemmon and the Windy Point Vista.
TIP: Book through Amex Travel with your Amex Platinum and receive $100 resort credit, breakfast credit for two daily, and guaranteed late check out, along with other benefits. The property also sometimes has a discount code for University of Arizona visitors.
Loews Ventana Canyon Resort is located at 7000 N Resort Dr, Tucson, AZ 85750
Alternate luxury resort option: The Ritz-Carlton Dove Mountain is also a beautiful luxury resort property, but it is further from downtown and tends to be much pricier than the ones mentioned above. But if it is in your budget and you want to spend most of your time on property, give the Ritz a try!
---
JW Marriott Tucson Starr Pass
I really wanted to like the JW Marriott Tucson Starr Pass enough to put it in with my best luxury hotels, but sadly, it really needs a renovation before it can be in that category. The rooms are spacious but they have that general Marriott look and the furniture is old. With a facelift, this property could be great as it has some good restaurants and a nice pool, spa, and golf. The pool even has a lazy river and a waterslide, but the pool area isn't quite as spacious and beautiful as that at the Westin.
However, if you want to visit Saguaro National Park, Tucson Mountain Park, and the Arizona Sonoran Desert Museum (highly recommend all as great things to do in Tucson), the JW Marriott Tucson Starr Pass is in a perfect location.
As you may know, Saguaro National Park is divided into two sections, east and west. Personally, I like the western section (near the JW) better for the variety of saguaros, the visitor center, and those gorgeous western-facing sunsets. The hotel is also only 10 minutes to downtown Tucson and lively Fourth Avenue so it really gives you the best of both worlds when it comes to Tucson resorts.
JW Marriott Tucson Starr Pass is located at 3800 W Starr Pass Blvd, Tucson, AZ 85745
---
Miraval Arizona Resort & Spa
If you have been saving up your Hyatt points for a while and really need a spa and wellness getaway, then the Miraval Arizona is your answer. This property is still on my wishlist but those Hyatt points are piling up so hopefully someday soon I'll experience this luxury wellness retreat. Miraval focuses on mindfulness with wellness programs, spa treatments, nourishing cuisine, and a peaceful desert atmosphere. To keep it tranquil, Miraval is an adults-only and digital device-free environment, so you need to be ready to unplug.
Miraval offers inclusive packages that include resort credits to be used on spa services, workshops, and activities, as well as all meals and non-alcoholic beverages, gratuities, parking/valet, fitness, meditation & yoga, wellness lectures, hiking, and outdoor activities.
Miraval Arizona Resort and Spa is located at 5000 E. Via Estancia Miraval Tucson, Arizona, 85739
Alternate spa option: Like Miraval, Canyon Ranch Tucson is a luxury wellness resort offering curated personalized stay packages based on your wellness intentions, or medical-based immersive experiences with diagnostic services for targeted health improvements.
---
Tanque Verde Ranch
If you have seen the movie City Slickers, you probably have one idea of what a dude ranch might be like, but let me tell you that our family's dude ranch vacations have been some of our very favorite trips. While I have only eaten at the Cowboy Cookout at Tanque Verde and gone horseback riding at the White Stallion Ranch, I have friends that have stayed at both with their families and had great experiences.
Established in 1868, Tanque Verde Ranch is one of America's old-time cattle and guest ranches. Located on 60,000 acres in the desert, the Ranch offers guests comfy accommodations and a vast array of activities including horseback riding, mountain biking, fishing, hiking, and more.
Tanque Verde Ranch is located at 14301 East Speedway, Tucson, Arizona 85748
Alternate ranch option: The White Stallion Ranch is a family-run guest ranch with equal appeal for families, couples, and singles looking for a luxurious and laid back Southwest travel experience with rustic-chic rooms.
---
VISITING ARIZONA? YOU MAY BE INTERESTED IN…
Save this to Pinterest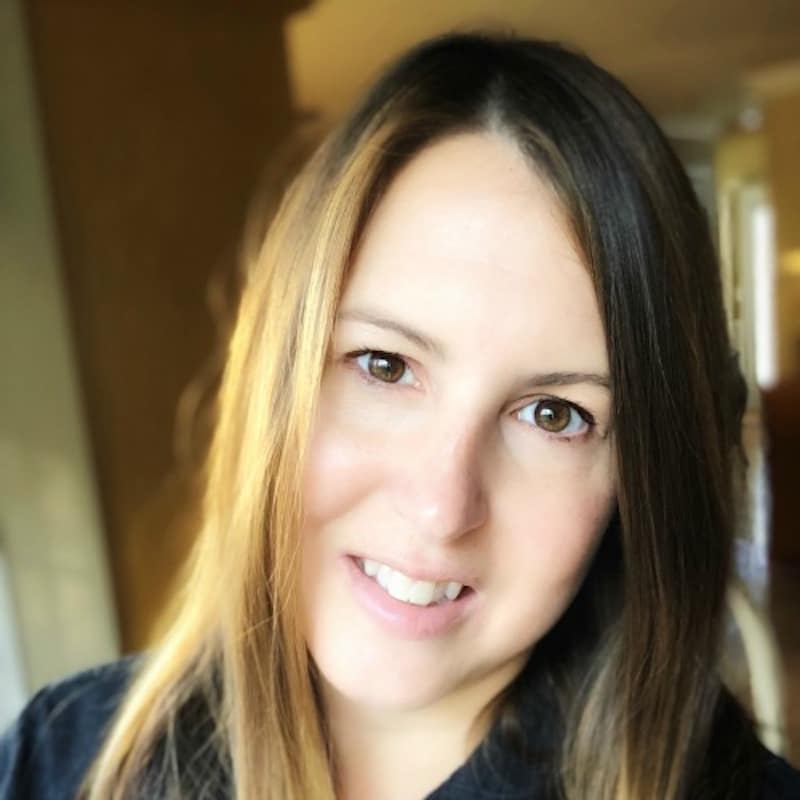 Tamara Gruber is the Founder and Publisher of We3Travel. A former marketing executive and travel advisor, Tamara is an award-winning travel writer and recognized expert in family travel. She is also the publisher of YourTimetoFly and the co-host of the Vacation Mavens travel podcast.