Our recent trip to Southern Delaware was full of joyful surprises. If you live in Maryland or Washington D.C., then the wide, flat sand beaches that stretch for miles are likely no surprise. Similarly, you won't be shocked by the cute boutiques, good restaurants, and gorgeous summer homes that line the streets of Rehoboth Beach. But, those that live outside of that 200 mile radius may have overlooked this little gem in favor of some of its more famous neighbors to the North or South.
Well I hope they don't mind too much if I let you in on that little secret, because this is one stretch of beach that should not be overlooked and there are so many things to do in Rehoboth Beach and the surrounding area.
First, let me give you the lay of the land. Southern Delaware has five major beach towns: Lewes, Rehoboth Beach, Dewey Beach, Bethany Beach and Fenwick Island. Each has its own distinct character so first you want to pick the one that best matches your style.
Southern Delaware beaches
Lewes — Lewes (pronounced Lewis, as I was corrected), holds the honor of being the first town in the first state. This history is evident from its quaint downtown streets lined with leafy trees and historic homes with their colorful flower boxes overflowing with blooms. Connected by ferry to Cape May, New Jersey, there is also plenty to do for families from kayaking, paddle boarding, fishing and more.
Rehoboth Beach — South of Lewes is the upscale beach town of Rehoboth Beach. While it still sports a family-friendly boardwalk with arcades, rides, and plenty of junk food, it is quite different from Ocean City, Maryland, its larger southern neighbor. The main street offers a good selection of stylish eateries and cute boutiques. There are a few motels but this is primarily a beach rental community, with some enormous homes along the beach road that are clearly executive summer homes.
Dewey Beach — The next town down is Dewey Beach, which has an entirely different vibe from the other beach towns in Southern Delaware. This is clearly the party town, with basic surf shops, motels, and beach bars. But it also has the gorgeous Delaware Seashore State Park, with access to both Rehoboth Bay and the Atlantic Ocean.
Bethany Beach / Fenwick Island — Known as the "Quiet Resorts," Bethany and Fenwick are the last stop before crossing into Ocean City, Maryland. Bethany is similar to Rehoboth, just smaller and with a less commercial boardwalk. Also more of a vacation rental town, there is now one nice-looking hotel, the Bethany Beach Ocean Suites.
We visited Southern Delaware in early June and, except for some windy days, the weather was perfect and, since the local kids were still in school, there were no crowds! It really made it the ideal time to be there and explore all the things to do in Rehoboth Beach.
Where to Stay in Rehoboth Beach
If you are staying for a week, a vacation rental is probably the way to go. Since we were in town for only four days, and it was just the two of us, it made more sense for us to get a hotel room. We stayed at the Crosswinds Motel right on Rehoboth Avenue, the main strip in Rehoboth Beach. Our double room on the second floor was surprisingly quiet.
I'm usually not a fan of motels for safety and comfort reasons, but the Crosswinds' rooms face the interior parking lot, versus the street, and they were surprisingly comfortable. Clearly the property has been recently renovated in a modern style with all your basic comforts including a flat screen TV and large vanity area. The air-conditioning unit blocked out any exterior noise and the wood laminate floors were perfect for a beach motel. The best thing about the Crosswinds was the location. It was a five to ten minute walk to the beach and boardwalk and just steps to some great restaurants.
We loved our time in Rehoboth Beach and, just like our other mother-daughter trips, we found spending quality time together and engaged in activities side-by-side a wonderful bonding experience, can't you tell?
9 Things to do in Rehoboth Beach Delaware
Since we were there to see what the region has to offer families, we packed in more than your average family might, but it was also too windy for us to spend long, lazy days at the beach. Even so, it ended up being one of those perfectly balanced trips where we moved from one activity to the next without feeling rushed or overtired. Here is a sample of some of our favorites:
Biking in Cape Henlopen State Park — We rented bikes from Atlantic Cycles right in downtown Rehoboth and then biked over to nearby Cape Henlopen State Park. There are a couple of different loops that you can take through the park and we took the shorter Gordon's Pond Trail to avoid as many busy roads as possible.
I'd recommend going in the early morning, not just to beat the heat, but also to beat the traffic in town. It only took us a few minutes to get out of town and onto the crushed stone and boardwalk trails through the park. If you can bring along a backpack, you can also spend some time on the beach. Also note that there are bathrooms at multiple points as well as air refill stations.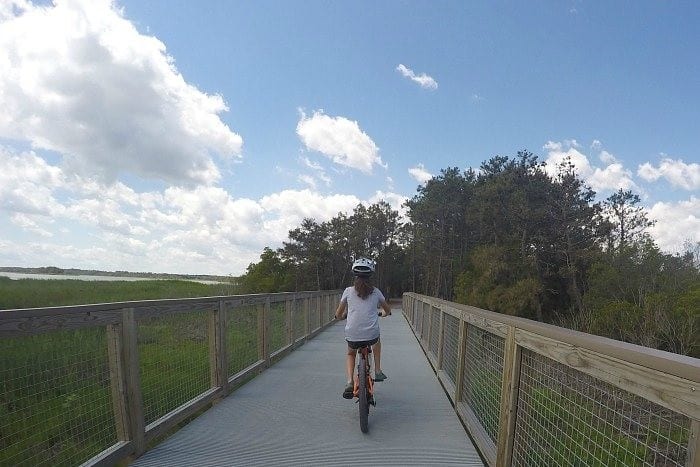 Even if you don't bike through Cape Henlopen, I'd definitely recommend spending some time there. In addition to the beach there are forest trails and acres of rolling dunes. You can climb a World War II observation tower and visit a WWII museum at Fort Miles. Definitely take the time to go up to the cape and take a look at the lighthouse that sits at the tip.
Swimming at Delaware Seashore State Park — Located near Dewey Beach, the Delaware Seashore State Park is a gem worth paying the out-of-state day pass for. This park stretches for six miles and covers both the bay and ocean side, with two full-service bathhouses on the ocean side. It was chilly and windy the day we visited, so we didn't go swimming, but even then the surf didn't look too rough and and the beach was so flat and wide.
While you are there, you can also stop by the Indian River Lifesaving Station, which dates back to 1876 and was built by the United States Life-saving Service, a pre-cursor to today's Coast Guard. We learned about the heroic efforts made by the men stationed here to save those shipwrecked offshore and the physical effort it would take to perform these rescues.
If you go, be sure to look into any programs they might be running as they have a full compliment of free (with park admission), family-friendly offerings all summer long such as beach bonfires, sandcastle building demonstrations, summer concerts, sea creature talks, and other naturalist programs.
Paddleboarding in Dewey Beach — If you are spending some time at the Delaware Seashore State Park, while passing through Dewey Beach, set up a stand up paddle boarding lesson or rental on the way. I've been wanting to try paddle boarding for a few years now and finally got the chance on our trip to Delaware. We had to postpone our paddle due to rough seas and the day we finally went, it was still a bit choppy but we both managed to get up and learn the basics. DelMarVa Board Sport Adventures is located on the bay side of Dewey Beach, in a small inlet ideal for paddle boarding. Of course, watching those doing SUP yoga next to us, I felt fairly incompetent but at least I didn't fall off!
Kayaking in Lewes — If you are a long-term reader, you will know that we do a lot of kayaking on our trips and Southern Delaware was no exception. This time we headed up to Lewes for some kayaking with Quest Kayak & SUP Shack. The owner Matt is a local who knows everyone and everything in the area, making for a perfect tour guide for our paddle and a great resource for exploring the area.
The weather was too windy for us to go into the bay, but these guys have some really fun options including their Dolphin Quest paddle, a Pints & Paddles tour to Dogfish Brewery (maybe not with the family), and they even set up beach parties. They have floating party mats that they will anchor for your family and group, and then set up beach chairs, games, kayaks, and paddle boards and even a fire pit! If you are vacationing with extended family in the Rehoboth Beach area, this sounds like the perfect capstone event for your vacation.
Sunset Cruise in Lewes — I wasn't sure whether to expect an eco tour or a booze cruise for our evening Delaware Bay Discovery Cruise with Cape Water Taxi & Tours, but what we got was a very pleasant surprise. The open air, yet covered vessel was set up with booths and tables, and guests were welcome to bring their own food and beverages (and yes, there is a small restroom on board.)
While they offer all sorts of cruises, from osprey tagging to live music, I can't recommend the evening sunset sail highly enough. Captain Dave had it timed so perfectly that we pulled up in front of the lighthouse just as the sun was setting behind it, making for perfect pictures. If you get lucky, you may just spy a few dolphins along the way too. We did but they were too fast for my camera.
Bethany Beach Nature Center — If you are staying in Bethany Beach, you may want to plan a stop at their small but sweet nature center. Inside there are some fun hands on activities for younger kids, but everyone might enjoy watching the live Osprey Cam in nesting season. Out back is a small nature trail and boardwalk overlooking a serene pond and salt marsh. You may spy ospreys, heron, eagles, and, unfortunately, snakes (one slithered across our path on the boardwalk.)
Try an Escape Room — Just like paint and wine studios, escape rooms seem to be popping up everywhere and we were eager to try one out at Escape Rehoboth. Hannah spent some time practicing with a similar app on her phone so I was counting on her to help get us out. In case you don't know the premise, the idea is that you are "locked" in a room with all the clues you need to figure out how to escape within an hour time limit. You just need to figure out where to start.
Our room was based on Jack the Ripper and we need to escape before he came home. We dug through books, inspected paintings, solved riddles and luckily got a few hints (they watch on monitors and help you out when you get stuck.) We managed to escape with less than three minutes to spare. I was really surprised by how fun this was. It is a great family activity because you really work together, with no other distractions or technology, to solve the problem. You know what they say about time flying when you are having fun!
Beer Tasting — With an up and coming beer, wine and spirits region, it seemed only fitting to check out some local brews on our trip to Delaware, starting with probably the most well-known, Dogfish Head Craft Brewery. I wish my husband could have come along as this is his favorite beer, but we still enjoyed our one-hour tour through the brewery and bottling facility.
It would be a little long for younger kids and they make it clear that the tour is rated PG-13, but our tour guide Tom made it very entertaining. Dogfish is such a fun place to visit even if you just stop by for a tasting and a bite to eat. We made another stop at the less commercial 16 Mile Brewery, which was a good stop for beer lovers but not quite as fun for families.
Marvel Carriage Museum — If your family is into quirky roadside attractions, then you might love the Marvel Carriage Museum. Maintained by the Georgetown Historical Society, this museum is home to a very large collection of horse-drawn carriages. But that's not all. They also have a one-room schoolhouse, a church (which is still used today), a blacksmith shop, a telecommunication museum and more. What I found most fascinating was the carriage that is used every year for the Returns Day Parade.
Don't know what Returns Day is? I didn't either. Apparently in olden days, townspeople would gather in the town square on the day after Election Day to hear the returns and who won the election. Georgetown has kept this tradition going with a parade each year that even Vice President Joe Biden has participated in.
Of course, the beauty of a beach vacation is spending time enjoying the beach. In Rehoboth you can also spend time on the boardwalk eating some Kohr's frozen custard, Fisher's Popcorn, and Thrasher's Fries, with stops for the rides, games and cheap skee-ball at Funland. For more ideas on where to eat in and around Rehoboth Beach, stay tuned!
PIN THIS
Note: Our visit was hosted by Southern Delaware Tourism. Our accommodations and many of our meals and activities were complimentary for purposes of review. All opinions are my own.